Short curly hair with bangs sounds like the most challenging hairstyle of them all. We're here to prove that it's absolutely flattering and that with the right tips you love it right away.
How to Cut Bangs on Curly Hair
Bangs are not the easiest thing to style or cut for ladies with curly hair. That is why so many women stay away from getting a fringe. Do not get discouraged, because they will be the best thing you've done in a while. The cut can actually become very simple if you are not into perfectly straight and blunt styles.
Begin by making a choice, whether you prefer the long, short, micro, thick, wispy, or even see-through. Whatever you opt for, cut the hair while it's dry. Start by styling it the way you always do, and the best idea is to let the curls air dry. That way they will get their natural bouncy shape.
Get the scissors and you're ready to start. Choose a section of hair that will be transformed into the fringe. Put the rest of the hair back with a clip. Stand in front of a mirror, begin with a small strand. Do not pull the hair strands down, because they might end up being too short after.
Always cut them a bit longer than you've imagined. Curly hair can easily change the shape, which means you might even end up with very short bangs. Continue cutting part by part and you can now dampen the bangs. Let them air dry and you'll know if you want to make any corrections.
Watch The Following Tutorial to Learn How to Cut Bangs on Curly Hair by Yourself
How to Style Bangs with Short Curly Hair
If you are a very low-maintenance girl, you won't have a problem with the short curly hair with bangs. But, that wavy fringe still needs some taking care of. You will need to treat the hair properly so that you can style it as well.
Always pick air drying, because that is the best way for the curls to get their best shape. Don't ever rub the hair with towels, it can cause frizz and damage the mane. You will need a styling moose and a heat-protecting spray as well.
Run your fingers with mousse through the hair and let it dry. Sometimes you can do twists all over and pin them with clips if your curls are in an irregular form. If you are obsessed with a straight fringe, you will definitely need to use a straightener.
How to Make Your Short Curly Hair Look Wavy
Women seem to be so in love with waves in the past few years. If you are blessed with gorgeous natural curls, but still want to try out waves from time to time, we have a short guide that you'll find very helpful. There is one secret that you need to know.
Most ladies are not even aware of this, but using the only conditioner when washing your hair will help to go from curls to waves. Forget about shampoo, turn the water on and grab your conditioner. This same thing applies for short curly bangs.
Wash it with cold water, instead of hot. You can now use rollers with a larger diameter to wrap the hair. Let it air dry, or even go to sleep with the rollers on. Take them off, and go through the hair with your fingers to separate the waves. You can even opt for a wide-tooth comb to make the wavy mane even messier.
Attractive Shor Curly Hairstyles with Bangs
Following are the top most short curly hairstyles ideas with bangs for women.
Girls with curly hair can get a pixie cut, and it will be as cool as this one.
Ideal for: So many women have been dreaming of getting a pixie cut, but they are not sure because of the curly hair. Now it's your chance to try it out.
How to style: Go through the short curly bangs with a straightener to get a softer look or you can keep it messy by giving your hair a wet look.
This short curls with bangs hairstyle that you can rock every single day look so chic.
Ideal for: Fashionable women are so into space buns right now, so you can really upgrade your overall look too.
How to style: The bangs can be wispy and curly. Part the hair in half, and do two buns high up.
See-through bangs are made to be imperfect.
Ideal for: If you've been looking for a fresh change in your short mane, these see-through bangs are the solution.
How to style: Straighten them just a little bit, and curl them towards the forehead.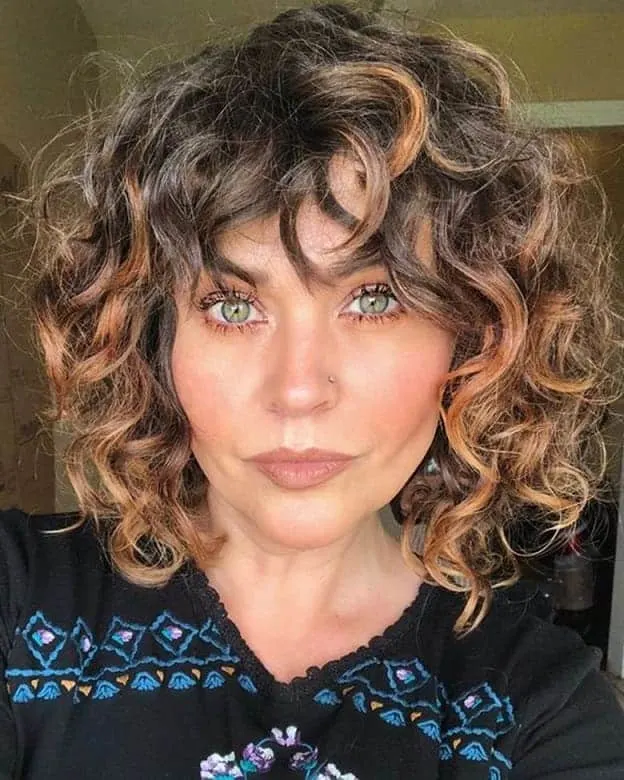 The classic short curly bob can be done with any type of fringe that you like.
Ideal for: Great for all women with short curly locks who want to add bangs as well.
How to style: Add some styling product and air dry the hair.
This blue color is so heavenly! This blue colored short curly hairstyle with bangs is total madness yet trendy!
Ideal for: Great for spring and women who are interested in hair coloring trends.
How to style: Visit the hairdresser so that you can get this exact shade. Stay away from heat tools to protect the color.
The easiest way to tame down short curls is by creating a messy bun or topknot.
Ideal for: Great for a day at work, going out, or coffee with the squad.
How to style: Just get a hair tie and put the hair up into an easy bun.
This spring is the best time for a change when it comes to cropping the hair shorter.
Ideal for: If you need to cut your curly do shorter, go for a long bob.
How to style: This fabulous short curly hair with bangs only requires all the regular products you use to keep the locks shiny and healthy.
The red dye will really get the best out of your short curls with bangs.
Ideal for: Always cherish your natural locks, only elevate them with messy fringe.
How to style: Do your regular hair care routine, but make sure to also use color-protecting shampoo and conditioner.
Headbands, scarfs, and other hairpieces can help you tame the bouncy curls. A chic short curly hairstyle with bangs.
Ideal for: Perfect for women who want an easy fix.
How to style: Place the headband right behind the fringe and put the rest of the hair up.
It's almost spring, so why not get playful with a range of hair colors. Purple, pink and rose gold hair color is such a stunning combination.
Ideal for: If you like vibrant hair dyes, this ombre technique is perfect for you.
How to style: Leave the curls bouncy and natural, including the fringe.
11. Baby Bangs with A Short Crop
Short bangs for short curly hair are an absolute score this year. Micro and baby are the two popular styles even celebrities are rocking.
Ideal for: It's an edgy and cool look, so make sure you're completely sure you want to experiment.
How to style: The fringe needs straightening, so get a quality hair straightener that won't do too much damage to the do.
Short curly hairstyles with bangs might not be the first hairstyle on your list of choices, but it is worth the try. These gorgeous styles will become some of your favorite go-to looks. If you have a hard time choosing the best option for you, you can always consult with a hairstylist.