Thick hair has never been a problem. In fact, every woman dreams of luscious voluminous tresses her whole life and if you are blessed with a thick mane and still get it when over 60, it's no less than winning a lottery.
But beauty apart, the same bulky locks are difficult to handle when it comes to styling them or choosing the right haircut, especially in old age when you don't have that much energy left to manage them.
No need to worry as we have collected the best hairstyles for thick-haired women over 60 that will help you out.
Best Hairstyles for Thick-Haired Women over 60
Whatever the hair texture and face shape, shed off some years while flaunting your thick hair with any of the following youthful hairstyles.
1. Layered Locks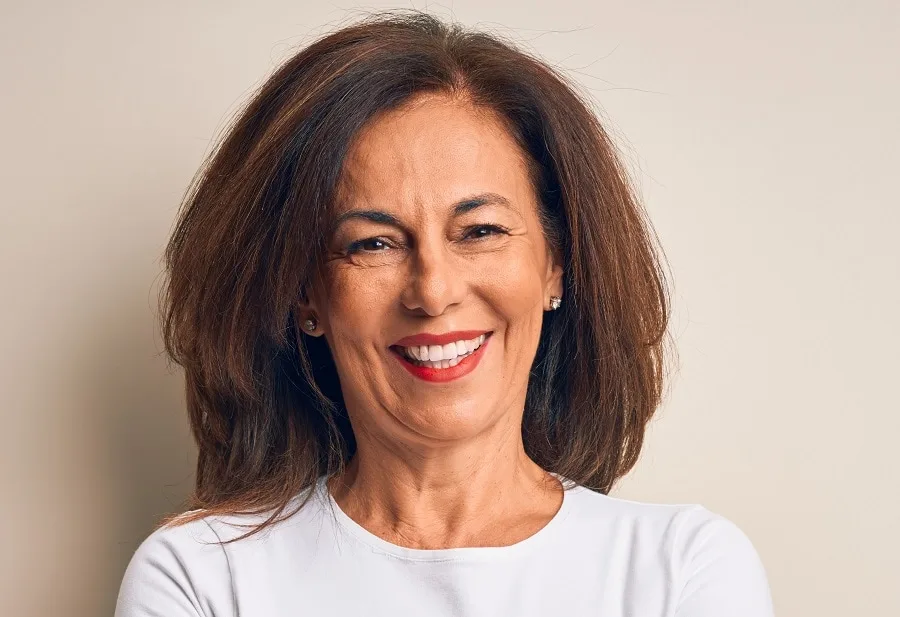 Layers are undoubtedly one of the best hairstyles for over 60 ladies with thick hair. How? They are elegant, low-maintenance, and work with all hair lengths and textures.
Couple them with a soft U cut and curtain bangs to turn some heads.
2. Long Bowl Cut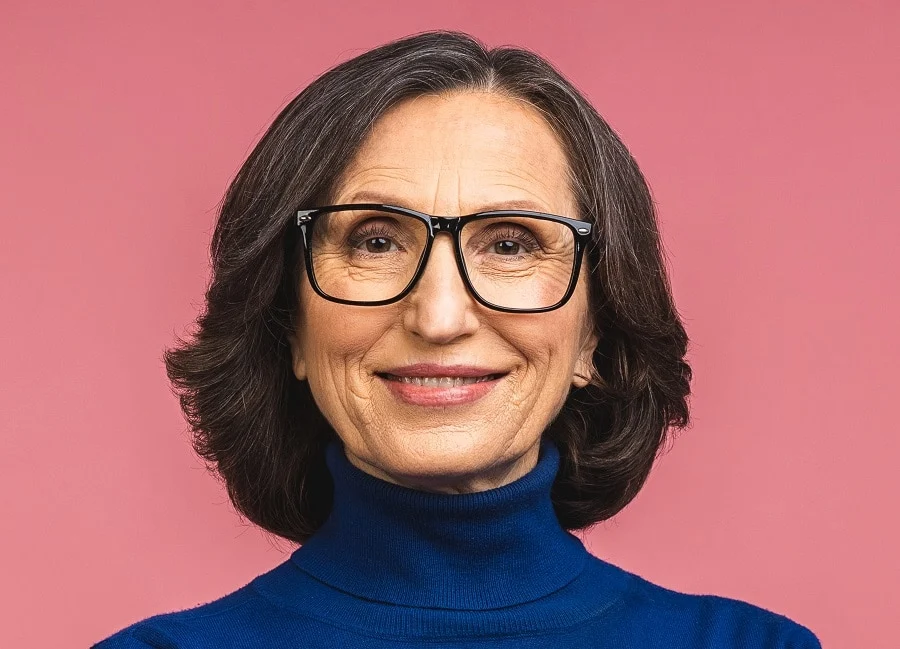 This hairdo is a modern take on the retro bowl cut. The short strands at the front elongate along the sides towards the back, creating a round shape like an upside-down bowl.
Rock your grays with utmost confidence and flip out the ends with a round brush and dryer. Chic!
3. Silver Ringlets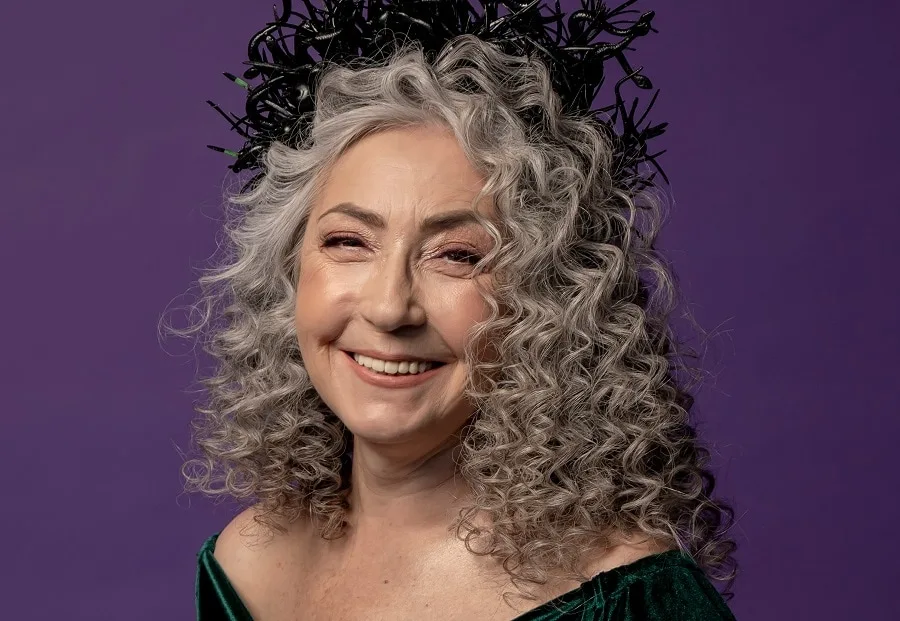 60 and above is the best age to dye your mane in a sparkling silvery gray hue. Spice up the style with delicate black lowlights for a salt and pepper look and add bouncy ringlets all over the head or opt for a curly perm instead. Graceful, right?
4. Sexy Pixie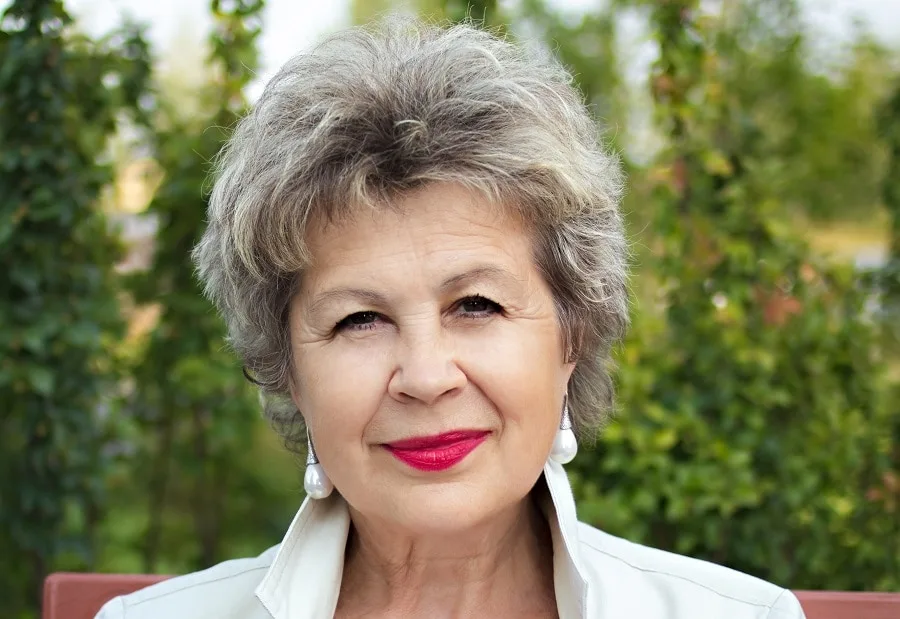 Take a break from those heavy tresses by chopping them off into a medium-length pixie. Ask for as many layers as possible adding some texture and body to the mane while preventing a bulky look. A hand-tousle and off you go!
5. Curly Bob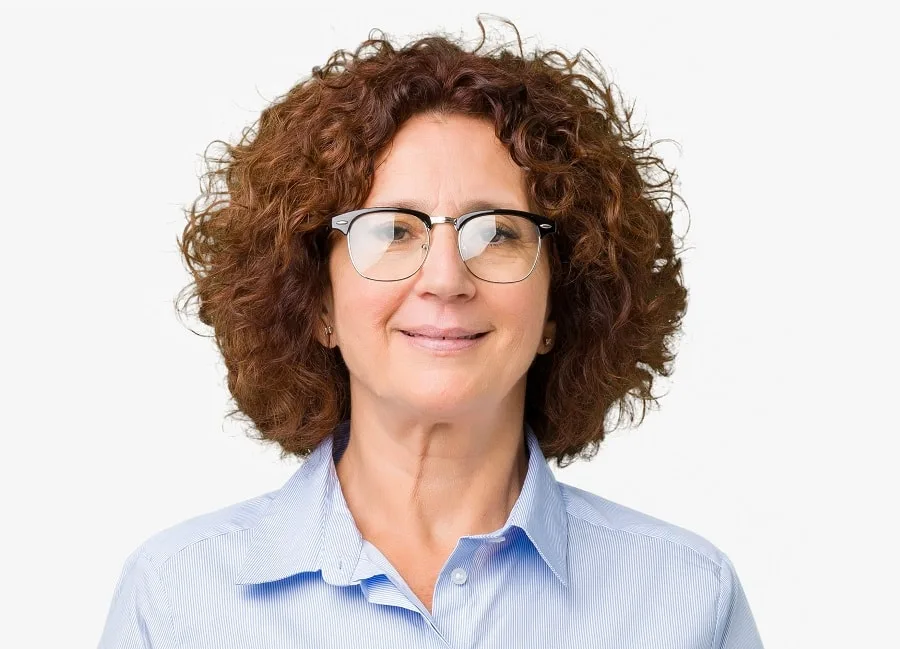 Senior ladies possessing a head full of curls can show them off with a round haircut. The thick strands fall around the face at varying lengths to look just like the mane of a lion.
Recreate the style with brown hair and subtle highlights and you'll love the results.
6. Chic Bixie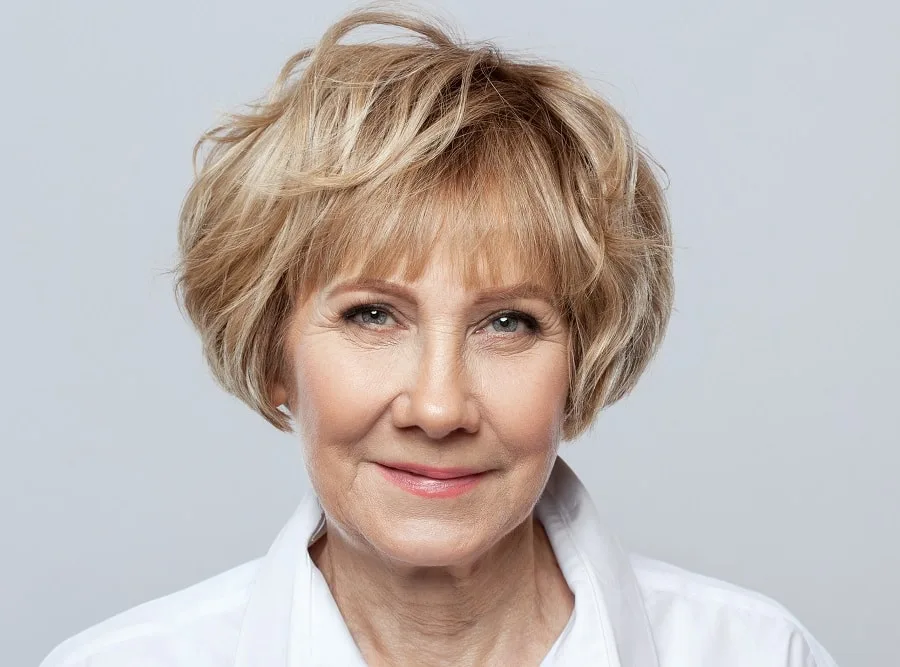 Neither a pixie nor a bob seems attractive enough? Combine their features to get a chic bixie ideal for thick hair.
Snip the strands at ear length with choppy layers and straight bangs grazing the brows. Take a step ahead and get an undercut too!
7. Brushed Back Hair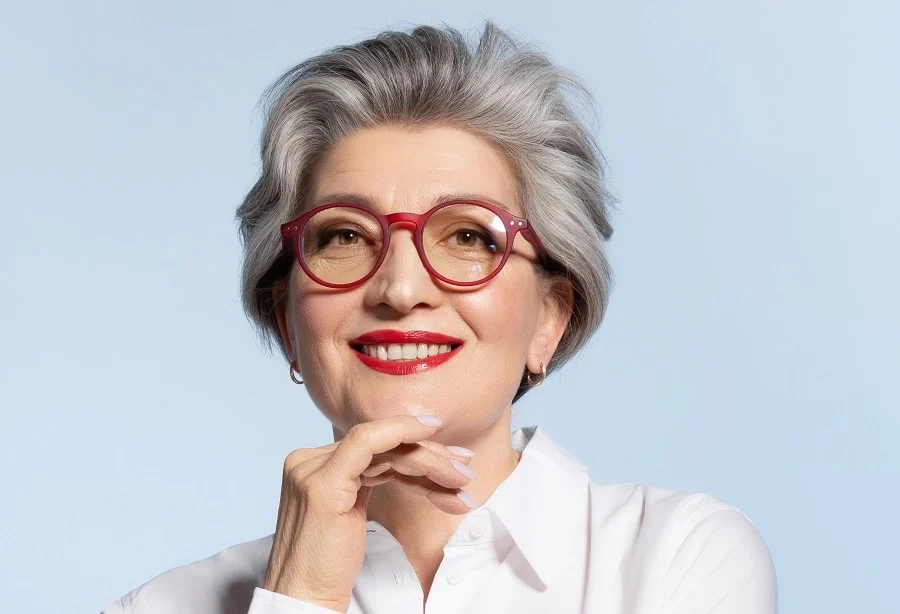 Bobs become the go-to hairstyle for women with glasses when getting old. They are versatile, go with all face shapes, and can be styled in numerous ways.
Take this look as an example where the short strands are brushed back away from the face for a professional appeal. Top off the look with red lips.
8. Frizzy Perm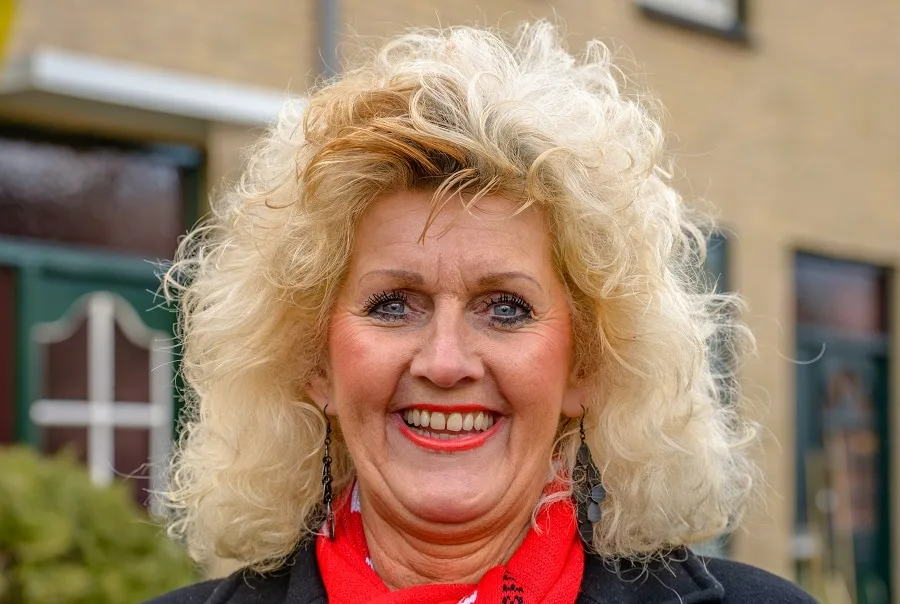 A throwback to those good old days when you were still young and rocked frizzy perms to stand out from the crowd.
Well, curly perms are back and look even sexier than before. Remember to get a nice trim and some micro bangs before fluffing up your thick mane.
9. Side-Swept Bangs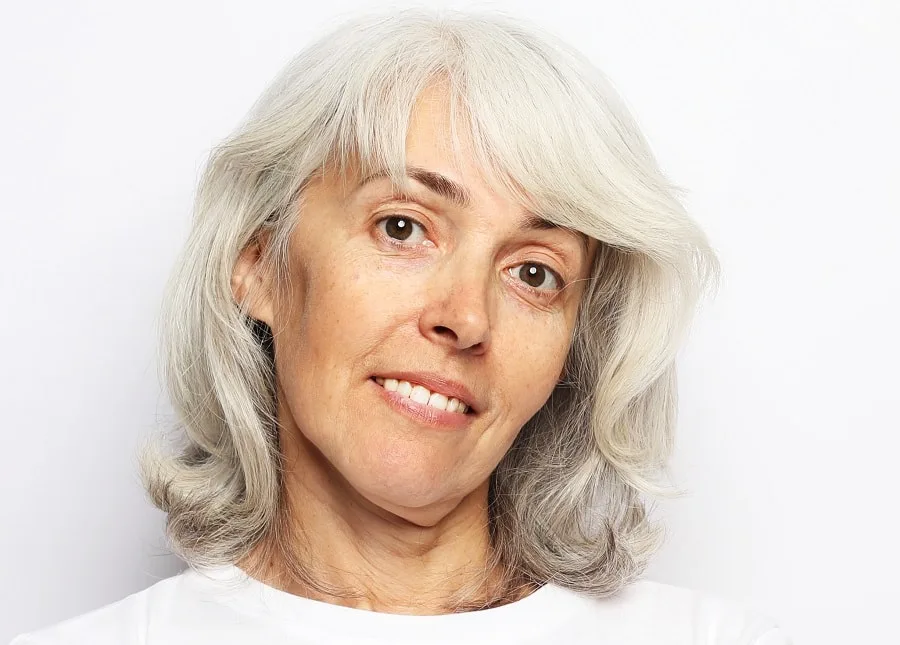 Thick hair saves the day when it comes to concealing a wide forehead or a receding hairline. Opt for a side-swept fringe with neck-length layers and flip out the ends for a chic vintage vibe.
This hairstyle imparts some youthfulness to a lean face making it ideal for women over 60.
10. Natural Fluff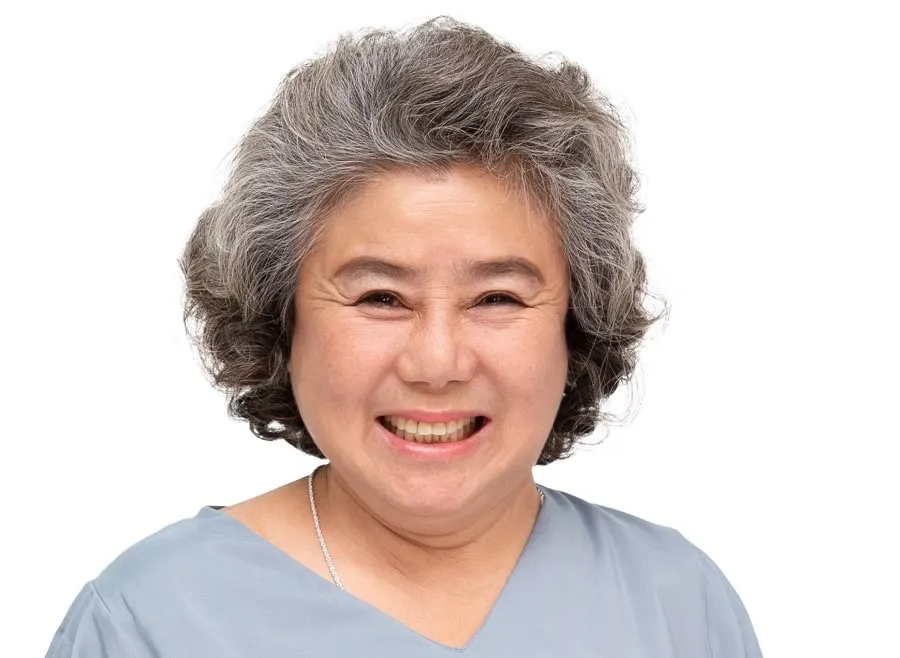 After years of straightening and curling, it's time to embrace your natural texture with pride. Experiment with a short round haircut to accent your chubby face with fluffy layers.
Set the look on fire with gray highlights and you won't regret it!
11. Feathered Look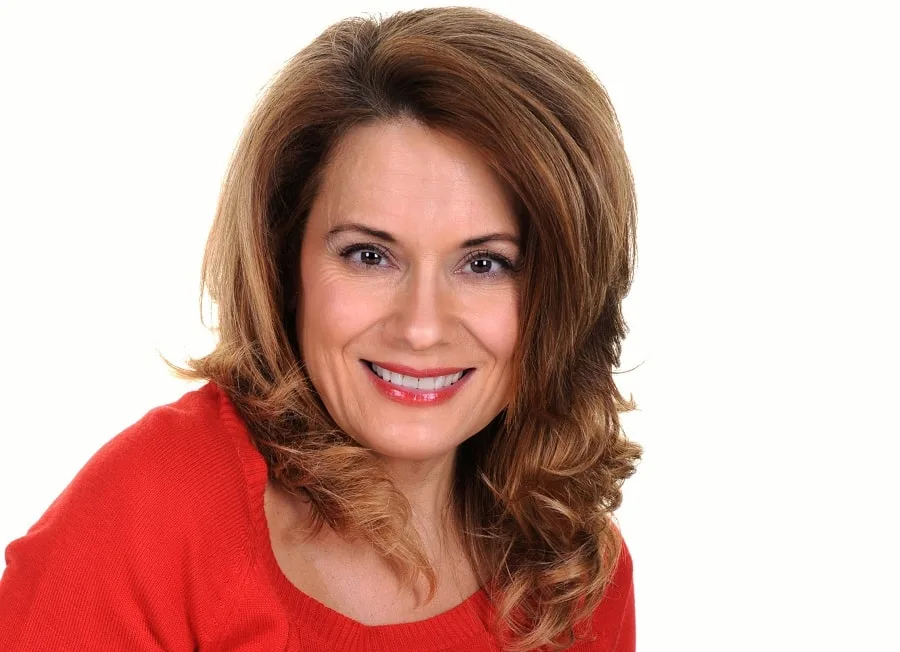 Just like perms and bowl cuts, feathered layers have managed to remain popular over the years. All the texture and layering are focused on the ends resulting in wispy tips resembling bird feathers.
A good blowout afterward is all that is needed to wow everyone around you.
12. Short Crop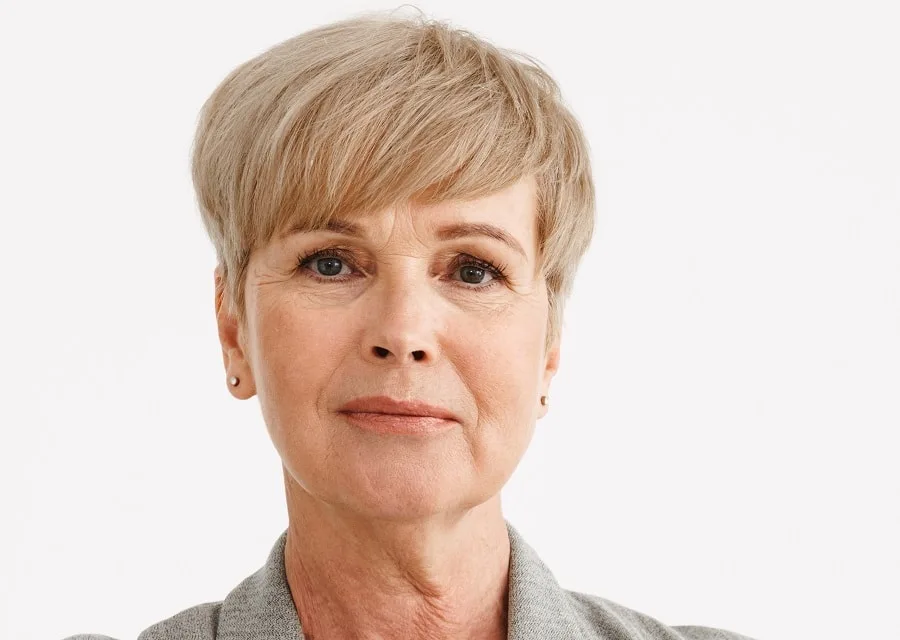 When you age, do it with style! Consider pairing your thick hair with an undercut for the long textured top to fall over it and angled bangs at the front resembling a mushroom haircut.
It is an ideal wash-and-go hairstyle for senior ladies over 60 who want to avoid hair styling at all.
13. The Lob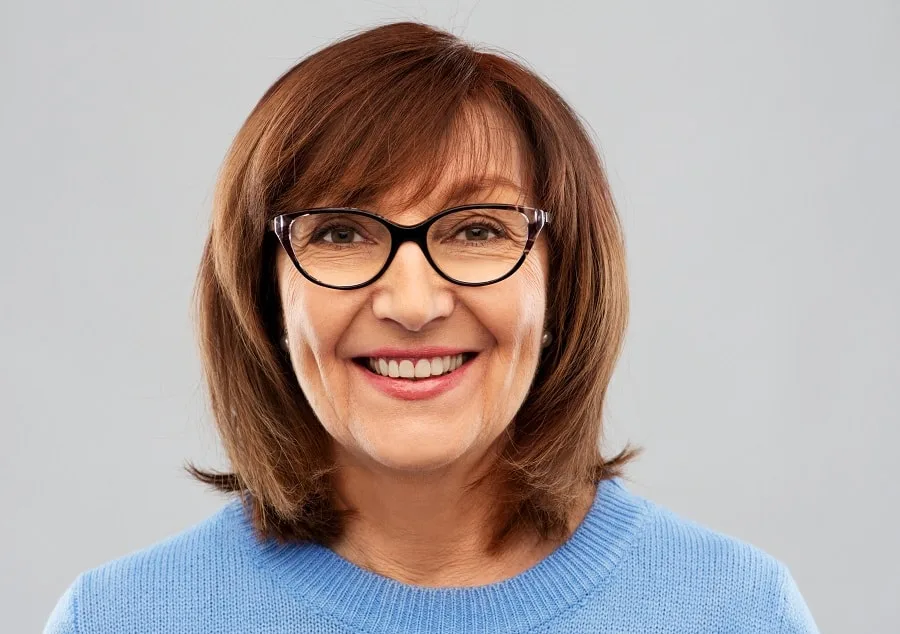 Make a style statement by trying out a straight lob cut dangling just above the shoulders. Opt for minimal layering to avoid a blunt look and couple it with wispy bangs grazing the eyes suitable to make a long face appear rounder.
14. Blonde Highlights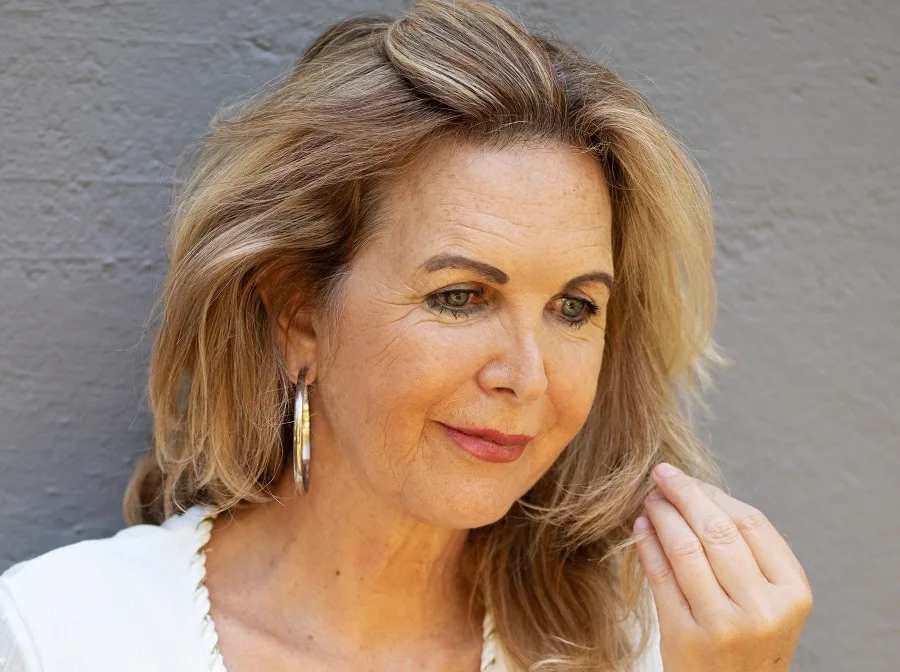 Refresh your look by asking the hairdresser for tiered layers at shoulder length and long face-framing bangs parted in the middle.
Don't stop here! Get an instant glow-up by adding golden blonde streaks on a dark base shade and get ready to stun everyone, including yourself!
15. Step Cut
Step cuts work wonders on naturally wavy and curly locks. In contrast to conventional layers that fall in a continuous flow, the layers in a step cut do not blend and have a characteristic space between them, just like this edgy short hairdo. Top off with platinum highlights and voila!
16. Long and Luscious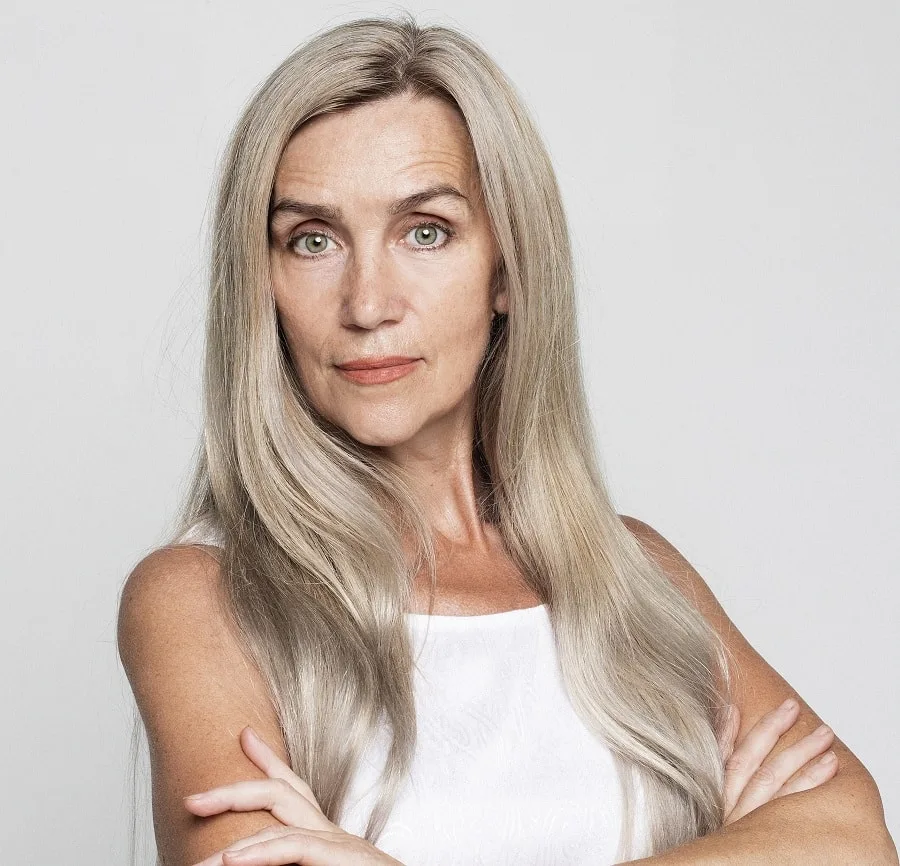 Another age-defying hairstyle for women over 60 who are lucky enough to have long, thick hair that is still healthy. Trim the ends and opt for subtle layers before dying the mane silver blonde.
Finish off with loose waves without fretting about the emerging dark roots, as they'll add up to the look.
All hairstyles listed above are easy maintenance and focus on taking off excess bulk of the hair, making them perfect for thick-haired women over 60.
Whether you opt for short, medium, or long tresses, remember to get some layers that are sure to add movement and lightness to the mane.