Most women are afraid to get short choppy hairstyles because they think they might end up looking less feminine.
We guarantee you, this is not the case if you opt for the proper haircut. Pixie haircuts or bobs can flatter you even more than a dull long hair.
Another aspect you don't need to forget is the good old low maintenance because once you get that short trim, you'll never want to go back to the long locks that always need styling, blowdrying, and care.
Short Choppy Hairstyles
Short choppy hairstyles are also very modern, provide more volume and texture, and are the best match for women who are not afraid of taking chances.
They will express their strength and personality through such confident hairstyles. You can transform a simple haircut into a statement and you will shine brighter than ever.
1. Blonde Choppy Bob
A short choppy bob haircut with waves is an excellent choice whether you're attending a fancy event or going to a club. The hairstyle is versatile and can become the ace in your sleeve when you need to look breathtaking.
2. Purple Pixie Cut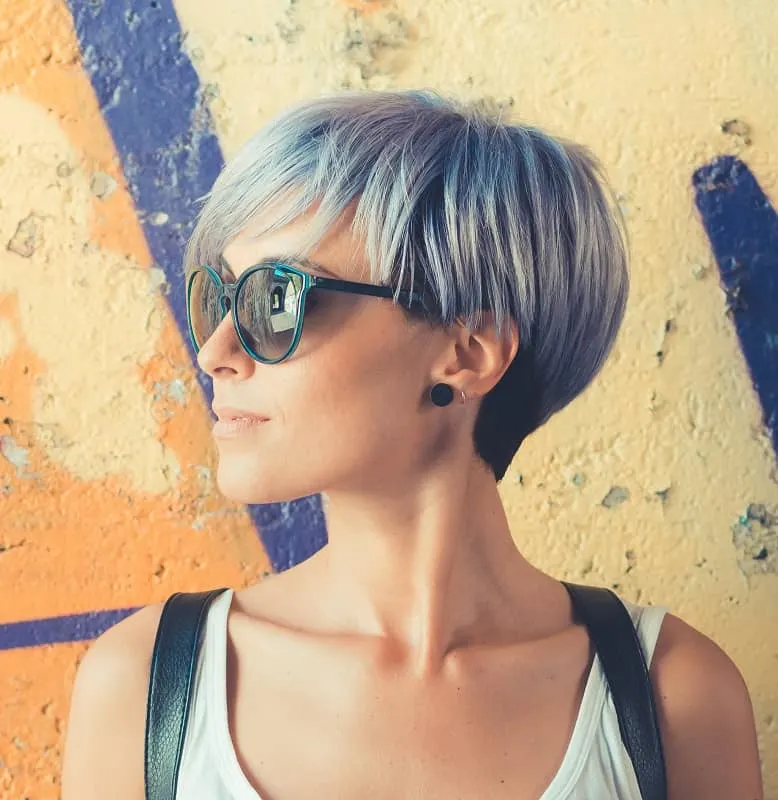 Build stacked layers and opt for a short choppy pixie cut. A pale purple color will instantly transform you into a trendsetter among all your friends. Get ready to receive all the compliments!
3. Messy Pixie Bob
Sandy and ashy blonde tones are among the most popular color choices. What can we say, they look brilliant on any hairstyle, and you can also opt for a short messy choppy haircut.
4. Choppy Medium Haircut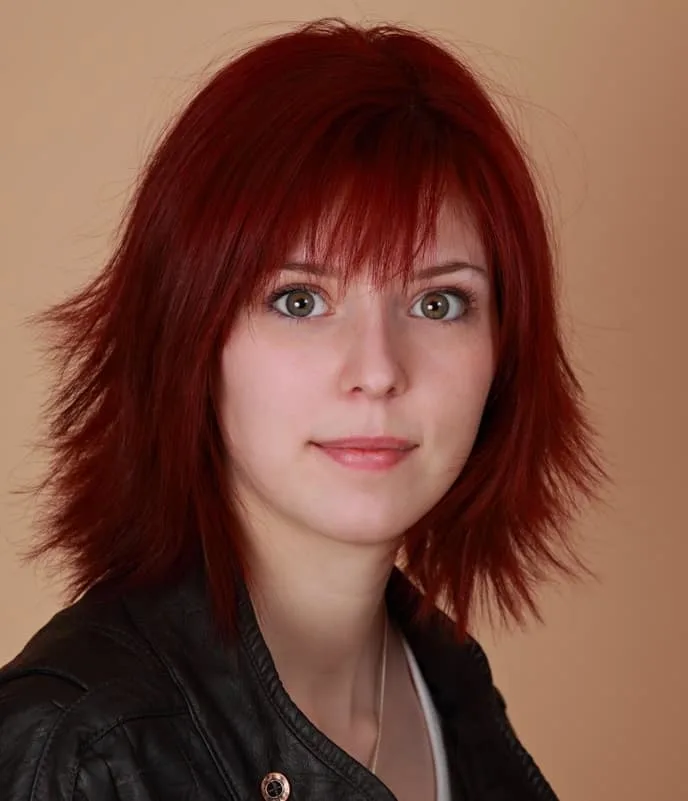 Feathered short choppy layered hair can be an option for you if you like getting a voluminous hairdo. Style the tips upwards to highlight the layers and keep the bangs covering your forehead.
5. Choppy Blonde Pixie
Go for a short choppy blonde hair when you want to look fab. Use a taper for the back and maintain your bangs long, reaching the chin line. Dye the top and fringe in a blonde hue and keep the back hair in its natural dark color.
6. Short Choppy Hair
If you want a messy look, this short choppy brown hair is the perfect choice for you. Use foam and hair spray when tousling your hair. Spike it up a little bit for a rebellious updo.
7. Choppy Hairstyle with Bangs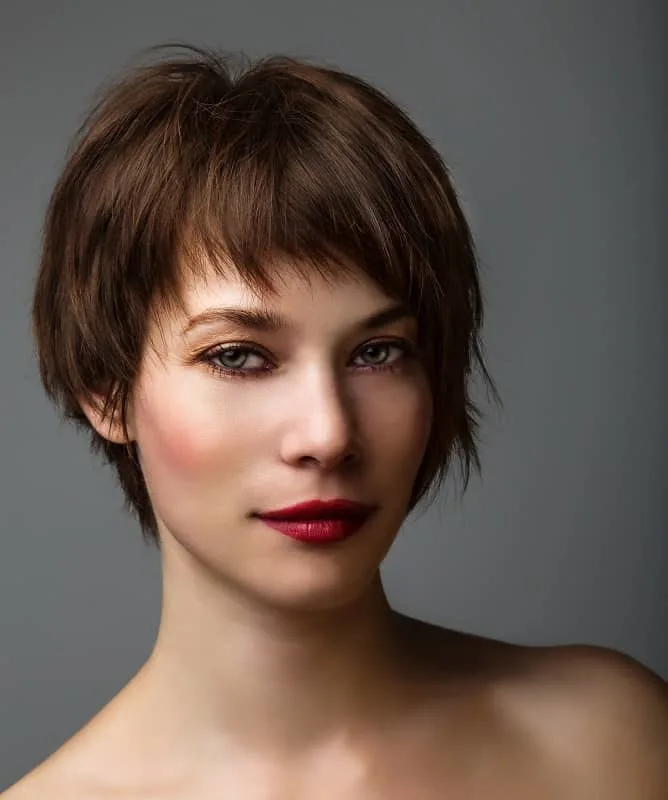 A short choppy hair with bangs can provide a gorgeous, memorable look. Keep it asymmetrical, and you won't have words to describe your new hairstyle. It will suit you like a glove!
8. Choppy Haircut for Older Women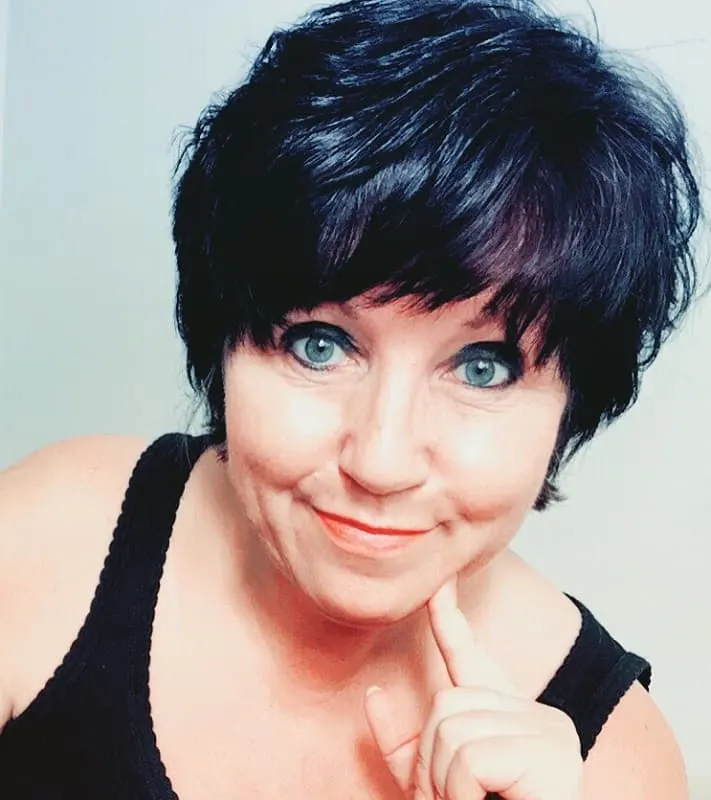 Who said you can't look ravishing when you're getting older? Or that you can't make a significant hair change? This short choppy hairstyle for over 40 dyed in a black shade with violet hues is a real statement and will make you look younger and glamorous.
9. Curly Choppy Hair for Women Over 50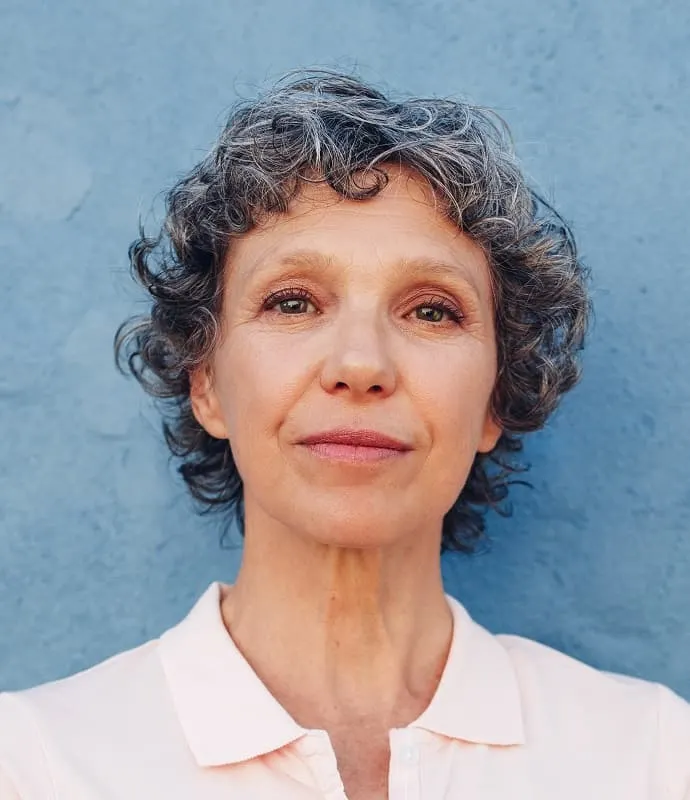 When gray threads appear, you can go for full coverage or embrace the change. Get a short choppy haircut for women over 50 and some baby bangs. Tousle your hair before going out.
10. Blonde Choppy Hairstyle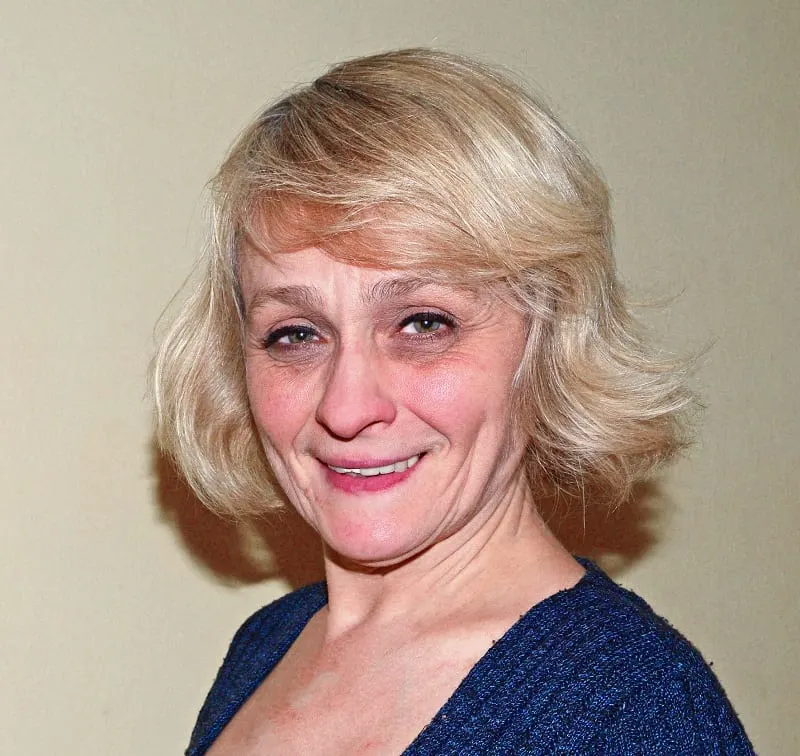 A short choppy hairstyle for women over 60 will instantly transform you into a marvelous elegant lady. Give your hair some volume and wear the bangs on the forehead, oriented on one side.
11. Red Choppy Hair
Short choppy haircuts for round faces help you build an illusion that makes your face look elongated. Play with two shades of color: a dark red and a bright hue. Slightly toss your bangs on one side.
12. Choppy Blonde Bob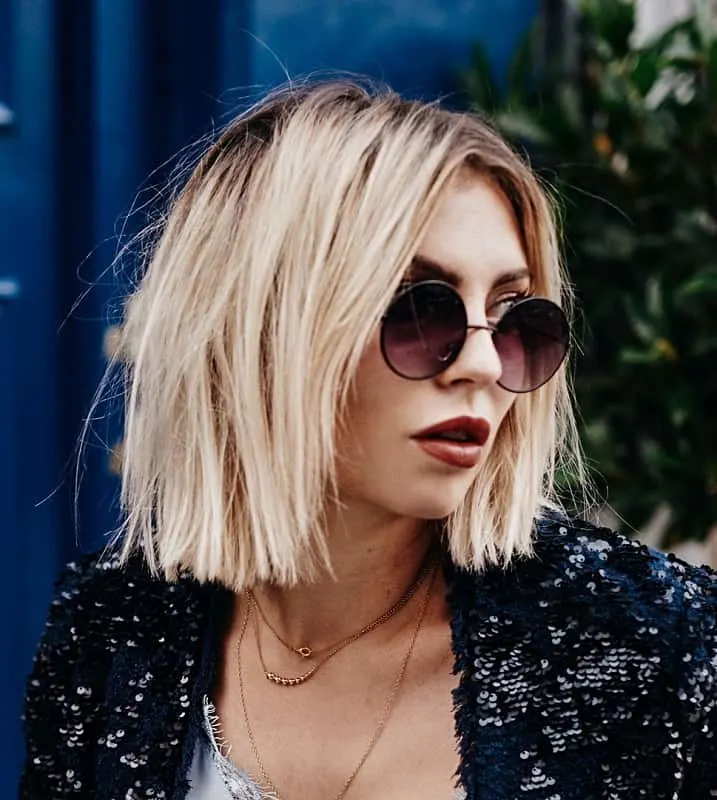 This choppy short hairstyle for thick hair is highly requested because even when the strands are messy, it still looks good! Keep your roots in their natural color and opt for a bright blonde hue.
13. Choppy Pixie With Highlights
A short choppy pixie is a perfect hairstyle for all women who want a modern touch and a low maintenance haircut. By going for blonde highlights, you'll get a gorgeous texture that will beautifully fit your brown shade.
14. Choppy Medium Curly Hair
Short choppy curls can stop the daily morning struggle. You can say bye-bye to all those time-consuming moments when you had to tame your mane. Baby, those days are over because this haircut is so low maintenance, and it also looks chic.
15. Choppy Bubble Gum Hair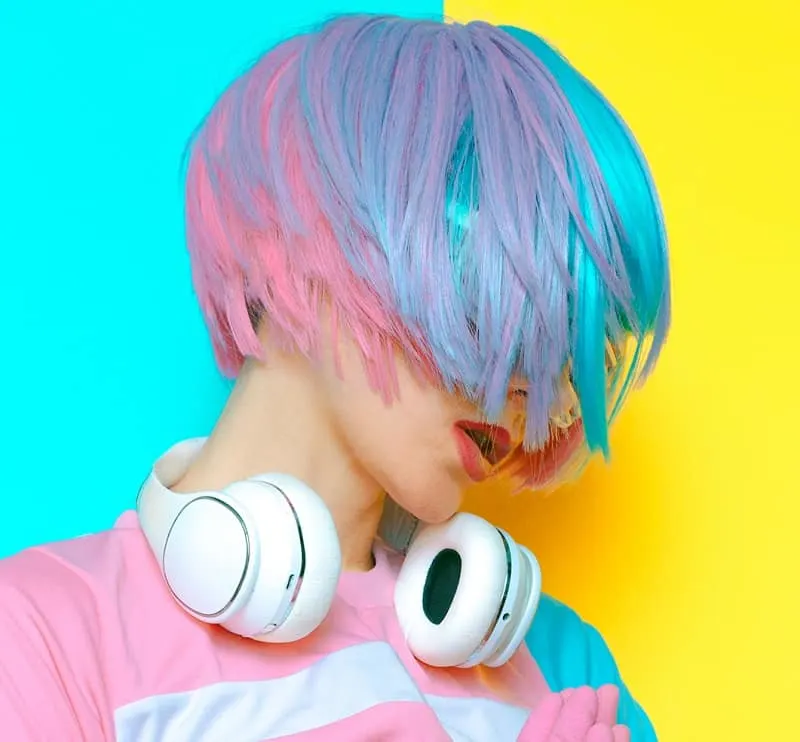 Create your own hairstyling rules! Go for vivid pink purple and turquoise nuances and cut the hair in a choppy bob. Straighten it to obtain that perfect look.
16. Choppy Mohawk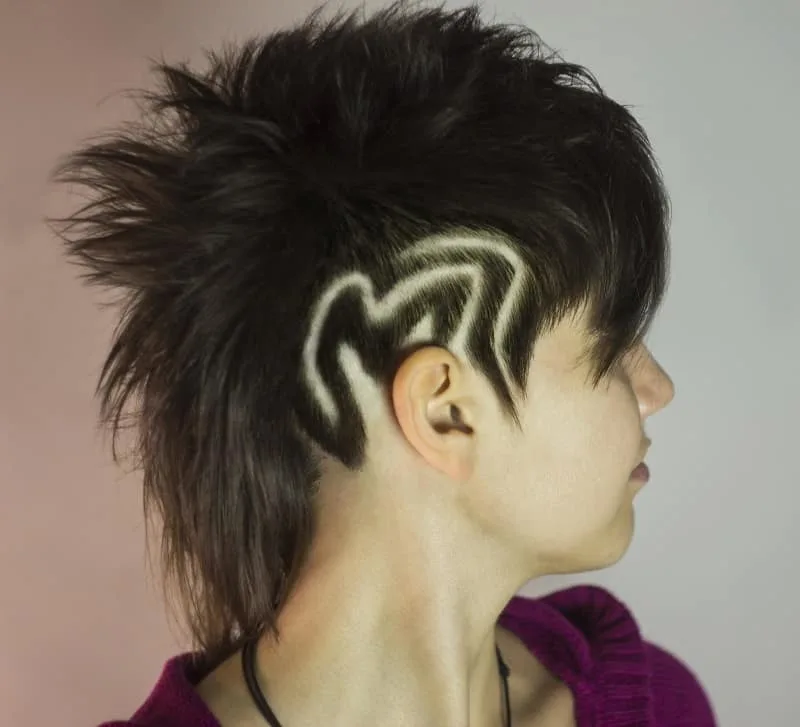 Wanna stand out and pull off a rebel? A choppy mohawk with a razored design on sides will always do the trick. Lift the hair with some spray and you'll get a hairdo that won't pass unnoticed.
17. Choppy Inverted Bob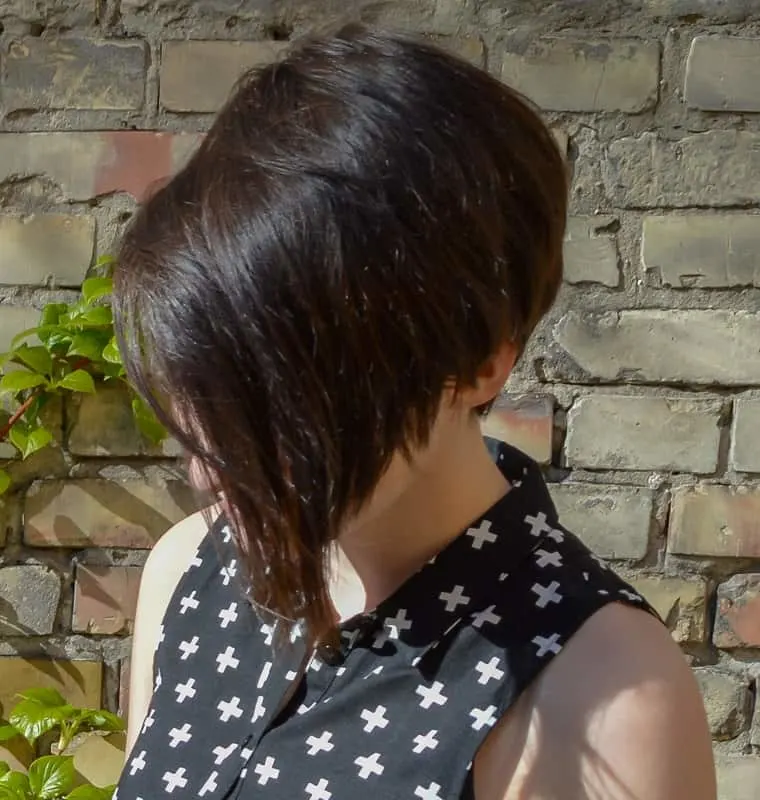 You are tired of all that hair that sticks on your nape during summer? Maybe it's time for the short choppy hairstyles to shine! Get an inverted bob with bangs tossed on one side, and you'll forget about all those inconveniences.
18. Choppy Wavy Hair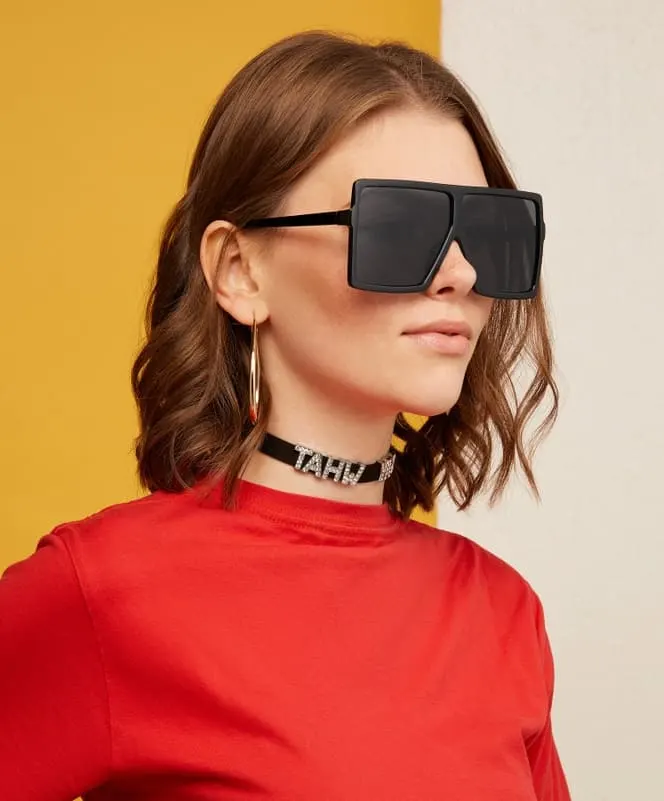 Modern, glamorous and always in the spotlight? In this case, you need a hairstyle to match! Go for a choppy bob and some loose waves. Tuck the hair over the ears because you'll be wearing enormous mindblowing sunglasses.
19.Pink And Red Ultra Short Choppy Bob
Get a bold creative look by mixing more color shades on your short choppy bob haircut. Pale pink, red and purple will make a marvelous statement hairstyle that will define your bubbly personality.
20. Choppy Caramel Haircut
When you love the way unkempt hair suits you, you are one step closer to achieving the ideal choppy haircut. A dark blonde shade will provide a natural look, and your strands will be so low maintenance.
21. Wild Colors
If you are going for a short choppy hairstyle, why not take it a little further? Wild hair colors, such as blue, green, and pink complement your image nicely especially when it's time to stand out of the crowd and make a statement.
22. Short and Cute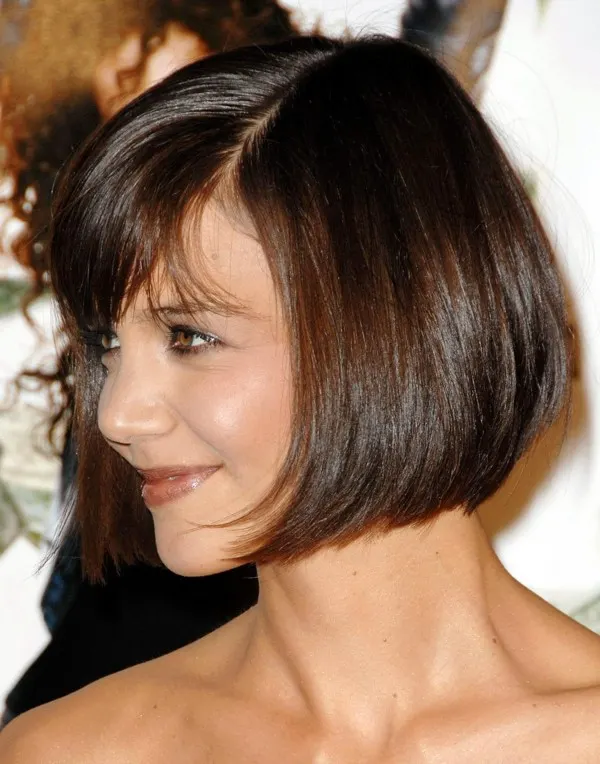 Choppy doesn't necessarily have to be wild. You can create a very cute choppy bob that's a wonderful choice for women with straight hair. While you'll need to put in some time for styling, the results should be worth it.
23. Choppy and Acute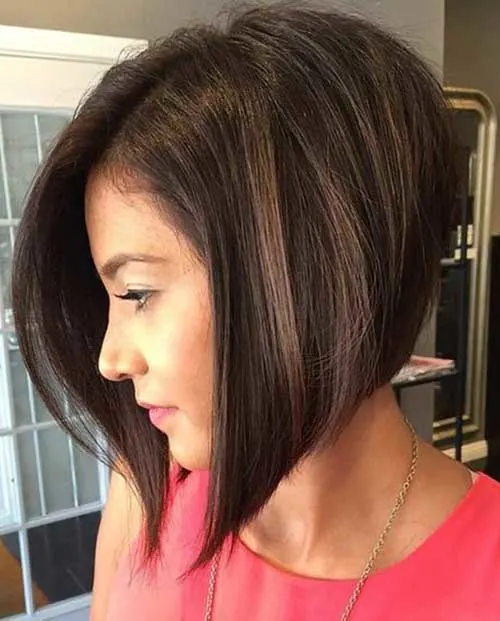 This stacked lob is can be a good choice for girls who don't like dealing with long hair but still want to sport some long strands. Enjoy the way this lob looks on any occasion. It can be either neat or messy depending on your mood.
24. Bright Addition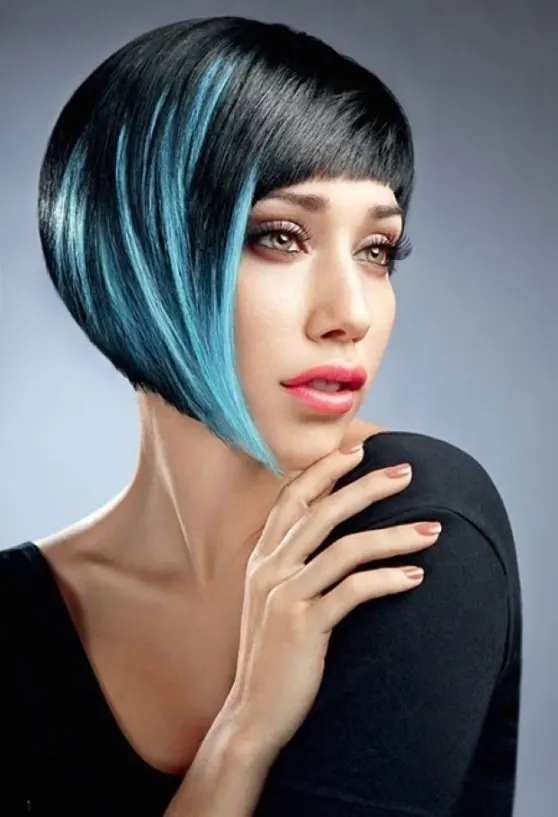 Short choppy hair can be arranged into a nice short bob with a touch of some wild colors. Black looks perfect with virtually any hair color you can come up with. So why not take a chance and experiment? Don't forget to chop the bangs too.
25. French Chop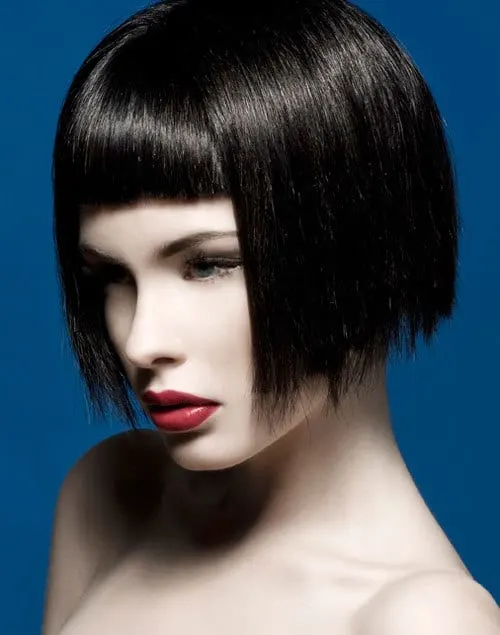 This chopped French hairstyle will never go out of style. The best part about it is that all the hair is the same length and you can make ponytails and buns out of it. It's a good choice for round and heart-shaped faces.
26. Straight Forward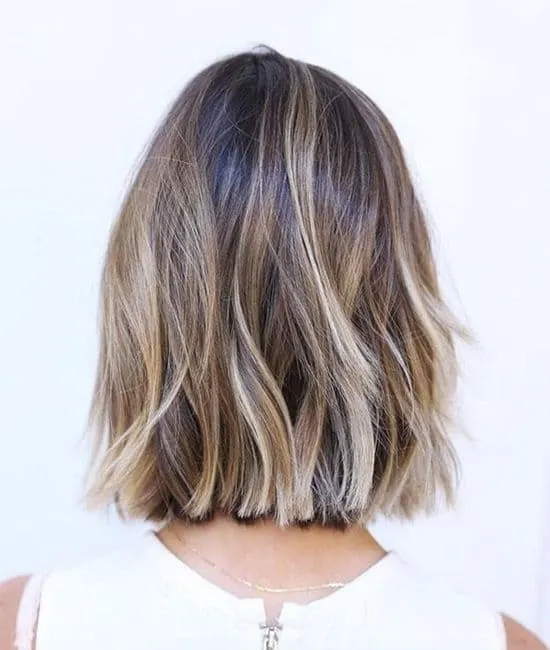 This simple chopped hairstyle can save you some styling hassle. Whether you have wavy or straight hair, this chopped bob is a wonderful choice. Many women choose to start with this option and go from there.
27. Layered and Chopped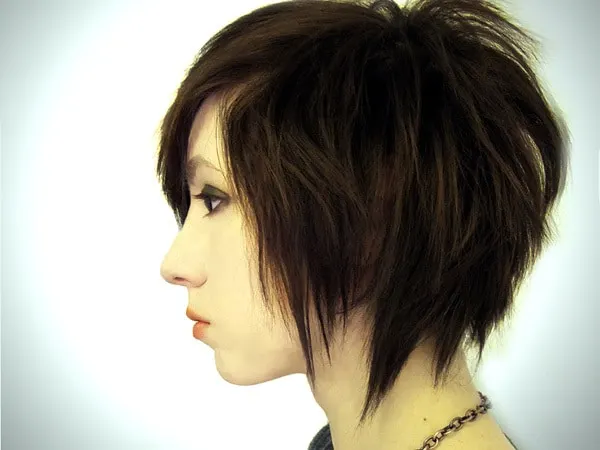 Layered chopped hairstyles are a no-lose option. This is a great choice for girls, who want to add their hairstyles some volume. You don't have to worry about the daily styling of this option as long as your hair is straight.
28. Beautiful Bangs
Short choppy bangs can complement any forehead. Besides hiding your fine lines, if any, they create a modern and youthful appearance. We would recommend this hairstyle for women of all ages but especially for those, who want to look younger.
29. Messy Statement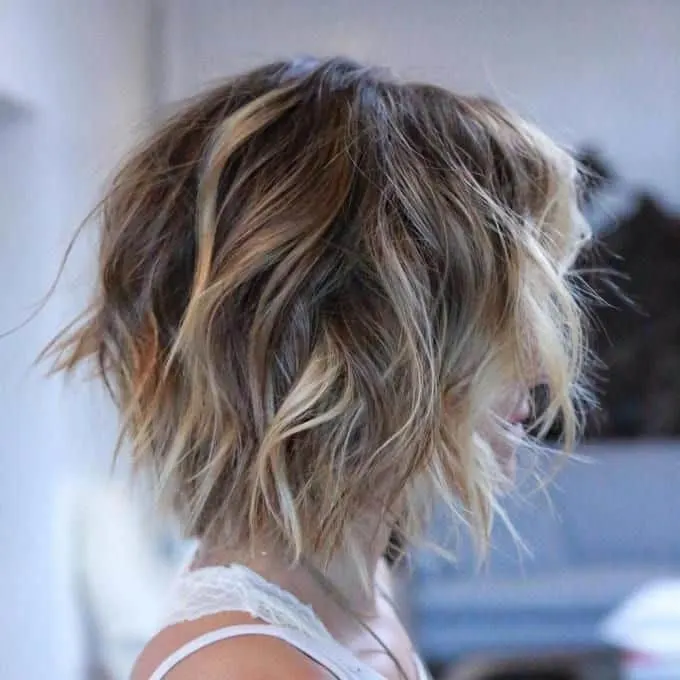 Short choppy hairstyles are famous for allowing your hair to look great when messy. If your locks are curly or wavy, you can enjoy this wild option. However, you'll still need some styling in order to outline the chopped ends.
30. Stacked Choppy Bob
Stacked bobs are the most popular choice for girls, who want choppy hair. This hairstyle looks especially appealing with chopped ends and bangs. No matter how short your hair is, you can come up with a nice A-line bob.
31. Sticky and Choppy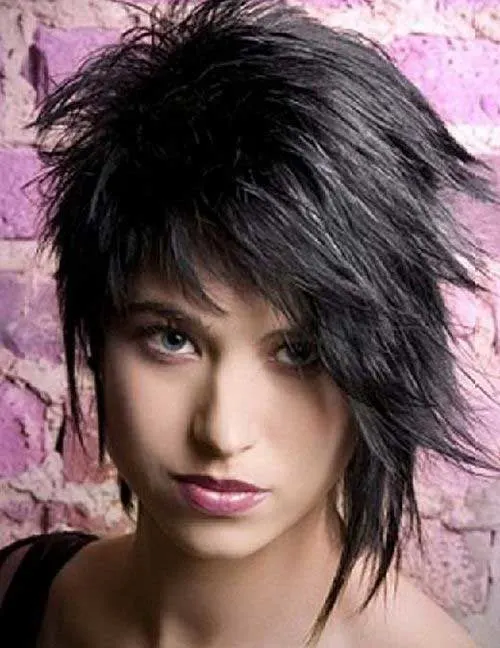 Such wild hairstyle is appealing to women, who want to make a statement with their hair. While it might look messy, you have to put in plenty of effort to make it look like it does in the picture. Are you ready for a fight? You'll love the result!
32. A-line Beauty
This A-line bob is not just beautiful for its neat appearance. The colors are wild yet seemingly natural. If you want to completely overhaul your image, especially if you are getting rid of long hair, this option is for you.
33. Mid-size Chop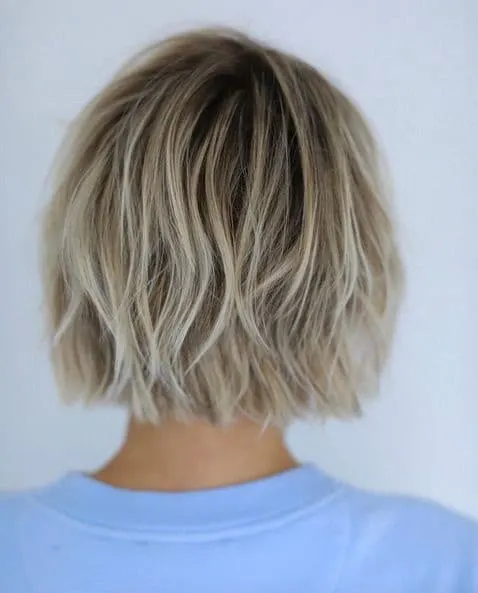 This is another classic example of short choppy hair. Here you don't have to go all out with the styling, no matter what type of hair you have. In fact, girls with thin, fine, and damaged hair can easily sport this nice bob.
34. Half Chop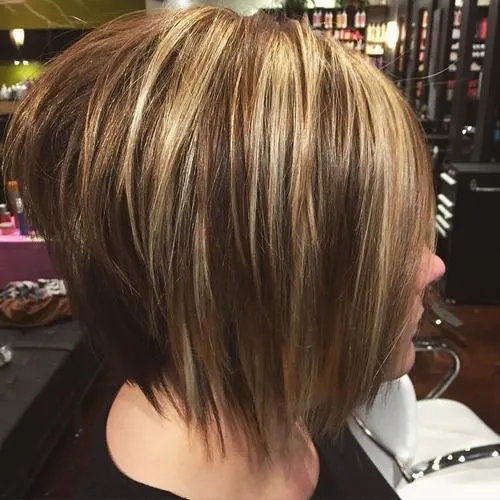 This is not a classic chop but a somewhat half-and-half solution for women, who want to do something different with their hair. Part of the locks is chopped while the other part is left longer. A great idea for anyone!
35. Short Bob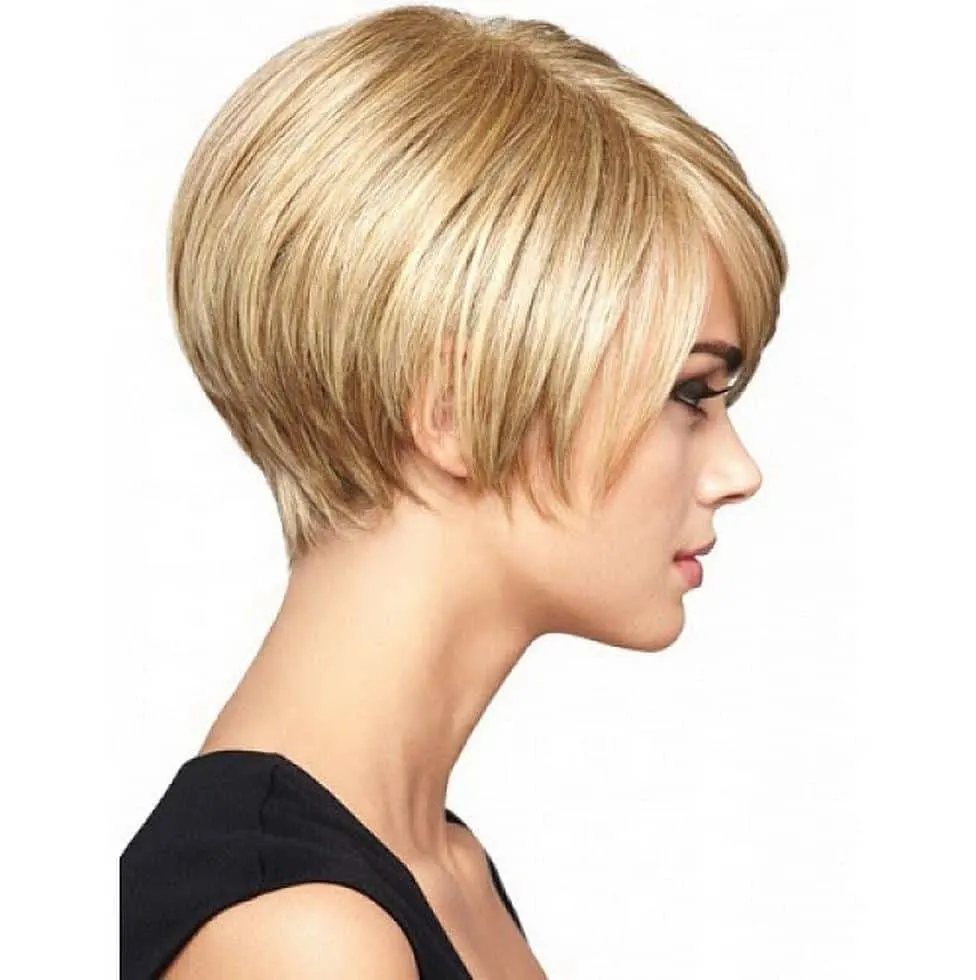 This short and pretty bob with chopped ends is a wonderful hairstyle for business women. It takes a few minutes in the morning to style it but it always looks neat and attractive. The best color for this bob is, of course, blonde.
36. Sunshine Blonde
This short sunshine blonde bob is great for girls, who have thick yet damaged hair. The shortness of this hairstyle allows you to restore your locks while sporting a wonderfully beautiful bob.
37. Chopped and Red
Many women choose different shades of red for their new look. Don't be an exception! A chopped short bob coupled with a great choice of color is bound to lift your mood and keep you upbeat regardless of the occasion.
38. Stunning Shag
A chopped shag is exactly what you need to outline your beautiful facial features. The short hair in front and chopped locks in the back allow you to combine two hairstyles of your dream. Don't hesitate to give this boyish look a try!
39. A Little Messy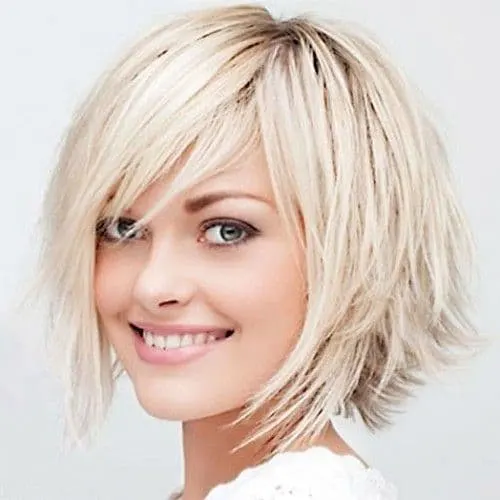 This is another great choice for girls with thick and heavy locks. You can allow them to stick out in all directions and still look fabulous. This option can become the short choppy hairstyle of your dream.
40. Fantastic Redhead
Become a fantastic fiery redhead with a choppy bob in just a couple of hours. When you sit in the stylist chair, show him or her this picture. This hairstyle is easy to make and fairly simple to maintain.
These short choppy hairstyles are just the tip of the iceberg, but they can still give you a good idea of what you can try today. Choose the perfect one for yourself and start enjoying a new look as soon as possible.