Tiktok has revived numerous forlorn fashion trends like high ponytails, claw clips, scrunchies, crop tops, and many more. But one particular style that has taken social media by storm these days is short fluffy hair.
Remember Meg Ryan and Cindy Crawford from the '90s? Well, their hairdos are exactly what we are talking about, except for being shorter.
A good blowout and velcro rollers are the key apart from a good haircut to achieving these voluminous, bouncy hairstyles.
So if you are ready to hop on the fluffy short hair bandwagon, we recommend going through the following guide.
Short Fluffy Hairstyles
Whatever the face shape and hair texture, these hair ideas are sure to include a look for every lady. Don't stop scrolling!
1. Big Bouncy Curls
Big bouncy curls are all you need! Recreate the look on chin-length locks using rollers or curling iron and accentuate those blue eyes with a light blonde hair shade and dark roots. Finish off with bright red lips and get ready to turn around some heads.
2. Razor Cut
Laid-back ones who don't want to spend much time styling their tresses but still want to take part in the short fluffy hair trend can opt for a razor cut. It results in wispy layers and thin ends, creating a lot of movement on the head. A hand-tousle and off you go!
3. Short Round Bob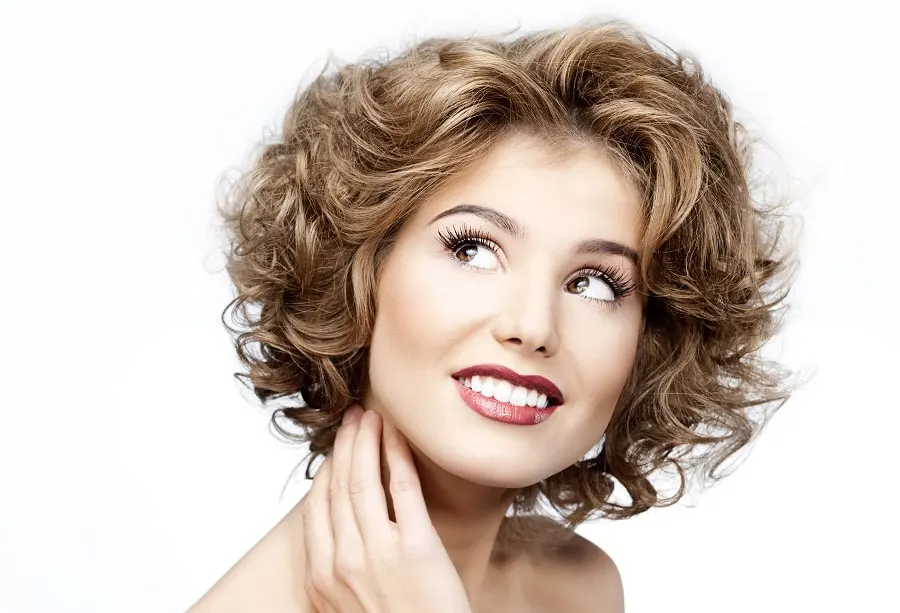 Recreate this iconic vintage hairstyle to steal the show at a formal event. The key lies in a round bob haircut with as many layers as possible for the strands to fall flawlessly around the face. Opt for tight curls and tease the roots for some extra volume.
4. Lob + Ice Blue Highlights
Refresh those boring tresses by choosing a blunt lob cut straight across the back with minimal layers. Add subtle icy blue highlights to shine through the creamy blonde base and finish off with curls leaving the ends straight for a chic finish. How about getting blue money pieces too?
5. Pixie Pomp
Pixies are sassy, sexy, and timeless all at the same time. Office-going ladies can consider this hairstyle to add up to their professional look featuring a long top with tapered sides and back. Use a round brush and hairdryer to create a puffy pompadour with or without a side part.
6. Dark Roots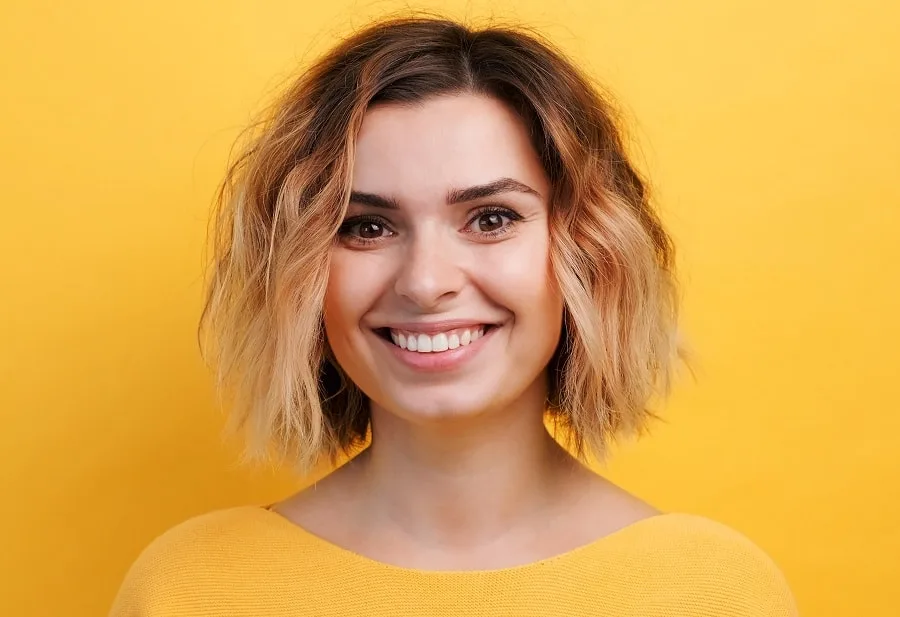 All fluffy hairstyles don't call for bouncy curls. Loose waves can do the job too. Couple them with a choppy neck-length haircut and one of the biggest trends of 2023 i.e. dark roots. Add a caramel tinge midway before transitioning to a blonde hue reaching the tips.
7. Pink Shag
Messy is sexy! Make jaws drop wherever you go by opting for a short shag defined by an angular cut with feathery layers elongating towards the front. Spice up the look with a bright pink hair shade and a deep side part covering an eye.
8. Side-Tousled
Sticking to a basic hairdo is sometimes the best choice. Chop the strands at chin length and dye them in a warm golden blonde tinge from the roots to the ends. Add curls and tousle them on one side topping off with a spritz of hairspray. Can't get any easier!
9. Fluffy Layers
Looking for something more dramatic? How about a retro platinum bob full of layers? The key lies in teasing the roots and flipping out the ends for a ruffled appeal. Set the look on fire with smooth side-swept bangs at the front and a winged eyeliner.
10. Carefree Curls
If you are blessed with a head full of curls no one can stop you from rocking the most stunning fluffy short hairdo every day. The strands are cut at varying lengths resulting in a perfectly round haircut with curly bangs grazing the eyes. Top off with subtle highlights.
11. Curtain Cut
Women with a thick mane can take off some weight with a classic curtain haircut consisting of a long fringe falling on both sides of the face with shorter sides and back. Get a wavy perm, if you don't have a naturally wavy hair texture, to enjoy a low-maintenance style for weeks.
12. Two-Toned Wisps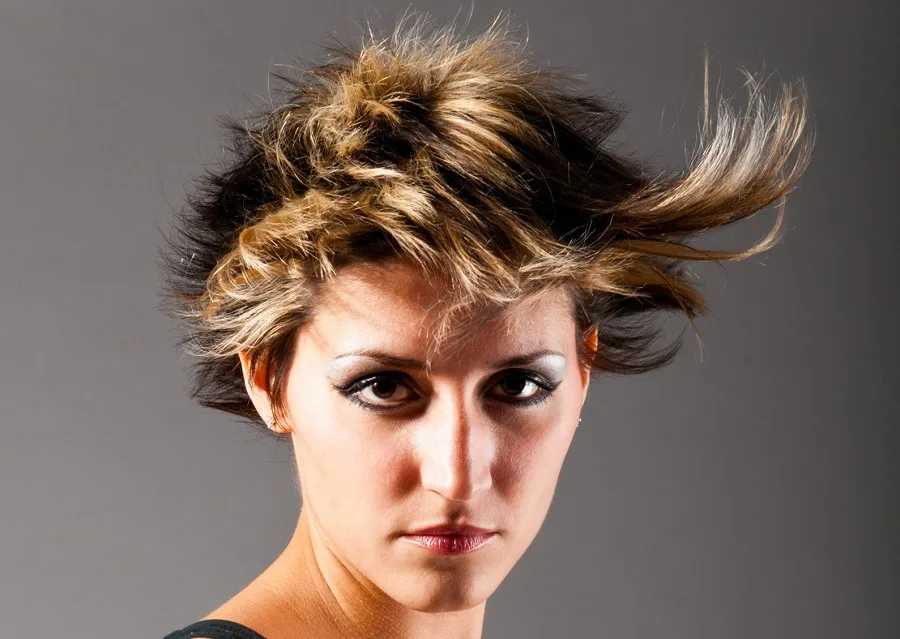 Bold ones can express their wild side by considering this unusual look. The mane is chopped into short wispy layers sparing long strands on one side that are swooped up for an edgy appeal. Paint some parts of the hair blonde for a funky two-toned look.
13. Simple and Chic
Why complicate? Look incredibly cool with a chin or jaw-length hairdo. Instead of keeping it blunt cut layers midway to the ends adding some body and texture to the tresses. Bend over while blow drying your hair and you will love the result.
14. Blunt Haircut
Blunt cuts can be fluffy too. The trick lies in chopping off chunks unevenly while the ends fall just beneath the ears in a perfectly straight line. Rock a cool pearl blonde hair color and tuck those strands behind the ears for a stylish look.
15. Kinky Afro Fluff
Mixed-race ladies are at a benefit when talking about short fluffy hair as nothing can be fluffier than those natural kinky afro curls. Ask the hairdresser to cut the hair in a perfectly round shape and tease the strands with a pick turning them into a cloud sitting on the head.
16. Asymmetrical Hairdo
Play with the symmetry of your locks by clipping one side ultra-short keeping the other one long enough to reach the ear. Create some texture with layers and place the round brush on the underside of the strands rolling downwards while drying them for a puffy top. Short and sexy!
17. Platinum Charm
Nothing can go wrong with platinum blonde. Accent your icy blue eyes by sporting this cool shade with a short bob at jawline and add some bounce to it by curling the strands away from the face. Classy and chic, what more to ask for?
18. Salt and Pepper Bixie
Ladies getting on in years can flaunt their salt and pepper locks with an elegant short haircut. A bixie is ideal in this regard combining the edginess of a pixie with the shape of a bob. Brush the strands back while drying for a fluffy finish.
19. Blonde Locks
Consider a sun-kissed look before your next salon appointment to grab some attention. Ask for a step cut with the shorter strands on top falling over the longer ones below around the face. Incorporate light blonde streaks on a golden blonde base and finish off with curls.
20. Arched Baby Bangs
Another short and fluffy hairdo for women who rather like a boyish appeal. The long top shortens towards the sides with wispy baby bangs framing the face at the front. Finger brush the strands fluffing them up for an undone look. Easy-breezy!
21. French Girl Bob
Look like a French Madame by snipping the hair at chin level with cropped curtain bangs skimming the brow line. Add loose curls or use rollers to flip the ends softly inwards enhancing the overall volume. Classic without a doubt!
22. Choppy Layers
Add some body to a thin mane by going for choppy layers involving cutting off chunks asymmetrically all over the head, resulting in a fuller look. Pair the short top and long sides with micro bangs and you won't regret it!
23. Bleached Hair, Don't Care
The short fluffy hair trend can be regarded as a lifesaver for those who have damaged their hair with repeated bleaching and dying. Give your puffy tresses a break and in the meantime sport a short layered haircut to stay stylish all along.
24. Curly Fluff
In the age of bobs and lobs stand out from the crowd with a funky mushroom hairstyle. It suits both men and women just as it goes perfectly with all hair textures. In the case of curls, let those strands bend in every direction for a carefree appeal.
25. Ravishing Red
Make a style statement worth remembering by choosing a textured pixie with a long angular fringe reaching the chin. Paint the head in the brightest red color available and curl the strands unevenly for a lively look. Sizzling hot isn't it?
We bet you didn't realize short fluffy hairstyles were so versatile. Now that you know, it is time to take out your hairdryer, rollers, and styling products before paying a visit to your trusty hairdresser. Remember that the right amount of care is indispensable to keep those fluffy locks frizz-free and bouncing.