Mixed girls with curly hair have a huge advantage when it comes to styling their hair: They can rock both curly and straight here and look just as good no matter how they decide to use their hair.
If this is your case, and you're looking for mixed girl curly hairstyles, then you've landed in the right page, because we've put together a list with the very best 25 hairstyles for mixed girls.
How to Style Biracial Curly Hair for Girls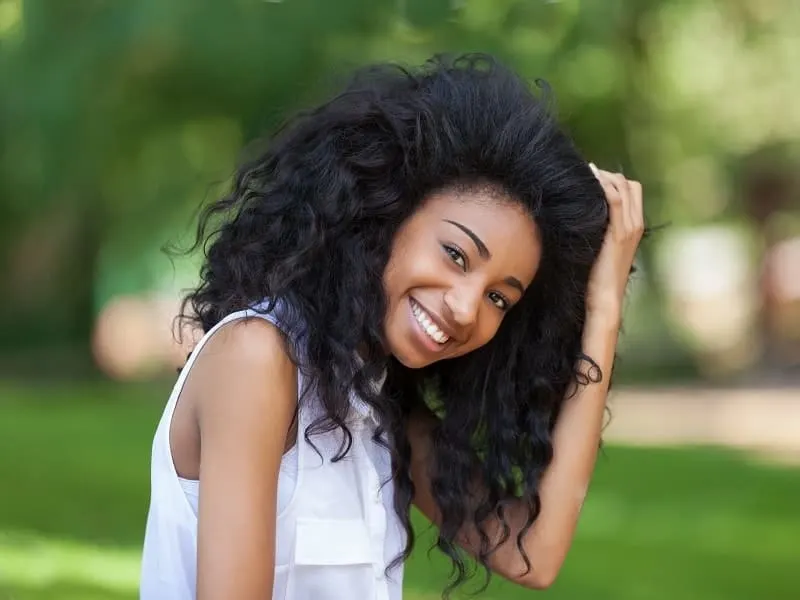 Before getting into the list, let's talk a little bit about the maintenance that goes behind biracial curly hair, and what you can do for mixed curly hair, to take care of it.
The first thing we recommend is for you to invest in good hair products specifically made to take care of curly hair. Even if your hair is somewhere between extremely curly and just wavy, it's better if you use products that will benefit your curls type instead of going for products made for straight hair.
It's important for you to understand curly hair gets tangled a lot and it's very dry, which is why moisturizing and hydration are a must, and you should incorporate them into your hair care routine.
As to how to style biracial hair, the great thing about long & thick curly hair is that it's versatile, and you can pretty much do any hairstyle that you feel comfortable with. However, remember to not tie the curls too tight or you'll break them, and try to use heat as little as possible to assure you're not damaging your hair.
Do's and Dont's for Mixed Curly Hair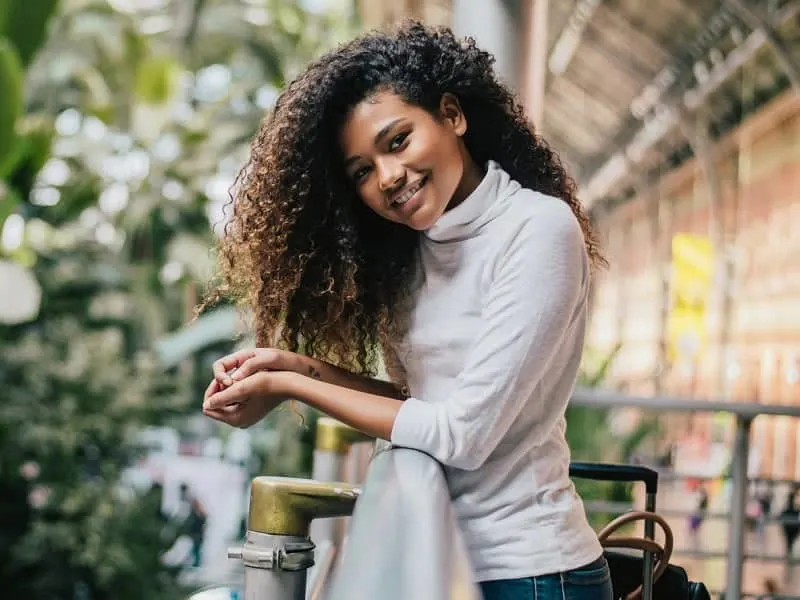 As a mixed girl with curly hair, you'll realize there are plenty of things you should be doing, and plenty of things you shouldn't if you really want to make the most out of your curls.
DO: Leave your natural hair to breathe every once in a while. Don't style it, don't comb it, don't do anything but let it rest in its natural shape at least for a day every two or three weeks.
DON'T: Apply heat constantly! Using hair straighteners and curling irons can severely damage your hair if you are constantly using them. Although using them every once in a while won't do anything, if you pick up this practice you'll soon enough lose the structure of your curls.
DO: Use coconut oil and coconut based products. Believe it or not, coconut oil and other products are GREAT for hairstyles for mixed race curly hair since they deeply hydrate the hair, help it bring their natural shape back and leaves a very nice smell.
DON'T: Crush your curls when doing difficult hairstyles! Remember, curls a very fragile and will basically break at anything. When doing hairstyles that require ponytails or similar things, don't tie up your hair too tight or over-comb your curls, you'll damage it.
DO: Cut your hair every three to six months! It's very important for mixed girls curly hair to regularly cut the ends of their hair or go for big chops to keep their curls as healthy as possible, so don't be afraid to cut things out, it's necessary.
Coolest Hairstyles for Mixed Curly Hair
These are the trendiest hairstyles for mixed girls with curly hair to rock.
1. Half Braids
Mixed girls might inherit that gorgeous Afro hair texture. If so, the hairstyling options are so various. With this hairdo, you will show off those amazing curls and build height and give the hairstyle a funky vibe with cornrow braids on one side.
2. Curls with Headband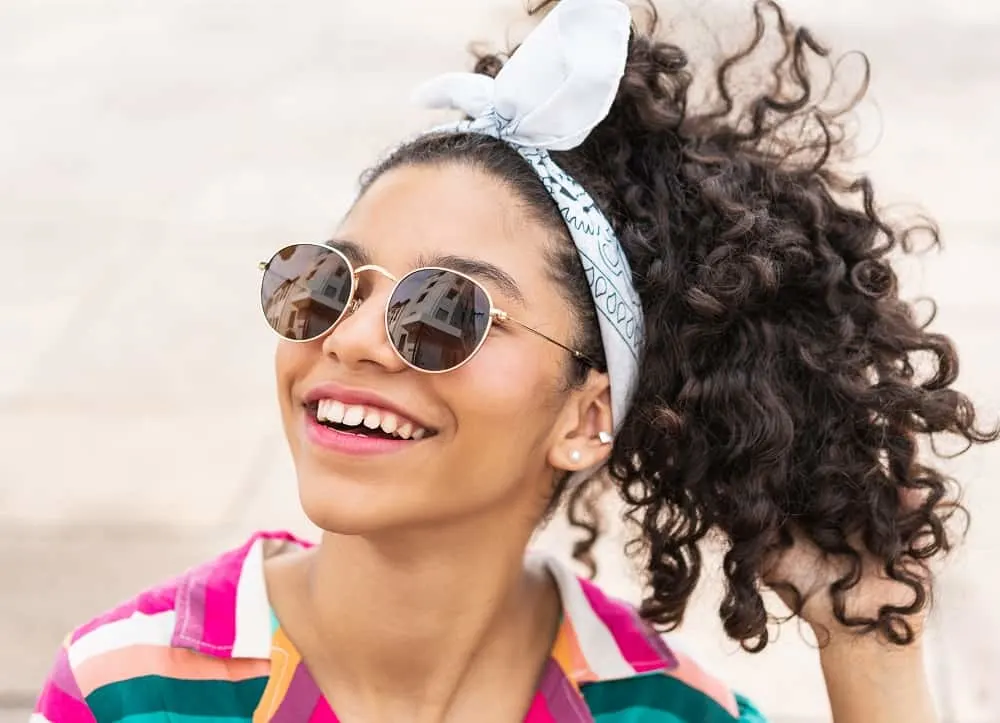 What's your biggest flex? If you properly take care of your hair, it can certainly be that amazing mane. A headband will complete your hairstyle for mixed girl curly hair and add funkiness and youthfulness.
3. 3c Blonde Curls
What a gorgeous texture and definition! You don't need long hair to show off and brag about that fabulous mixed girl curly hair. Dye the ringlets in a honey blonde color to create a contrast between your skin and hair, and use a hair conditioner for curly hair to soften them up.
4. Long Black Curls
To achieve this long gorgeous mixed girl curly hair can be like a part-time job. It takes hours to wash, style, and apply all the products that keep it in the best shape. However, if you know you can't pull this off forever, you can give it a try by applying hair extensions.
5. Curls and Bangs
Embrace your lovely curls and choose a layered hairstyle for mixed girls with curly hair. The layers will help you avoid that triangle shape and make the ringlets beautifully fall and form. However, to keep the hair away from your face, get bangs and cut the above the eyebrows.
6. Marine Blue Curls
Ready for summer, turquoise waters, and a huge amount of fun? In this case, you shouldn't ignore your look, especially your hair. Dye it in a dark blue color, and make sure you avoid getting it wet when swimming in the ocean. The salty water will make the color fade easier.
7. Ultra Curly Hairstyle
Do you want to make your ringlets tighter and with that super cool, wet appearance? While the hair is still wet, apply a hair gel to preserve the curls. The coils will be tight and very well defined, just the way you want them.
8. Blonde Afro
You better think twice before switching to a blonde color like this one. It's not suitable for all skin tones! However, mixed girls with curly hair can pull it off and transform this look into a great masterpiece. The hairstyle maintains the Afro and defines each ringlet.
9. Curly Palm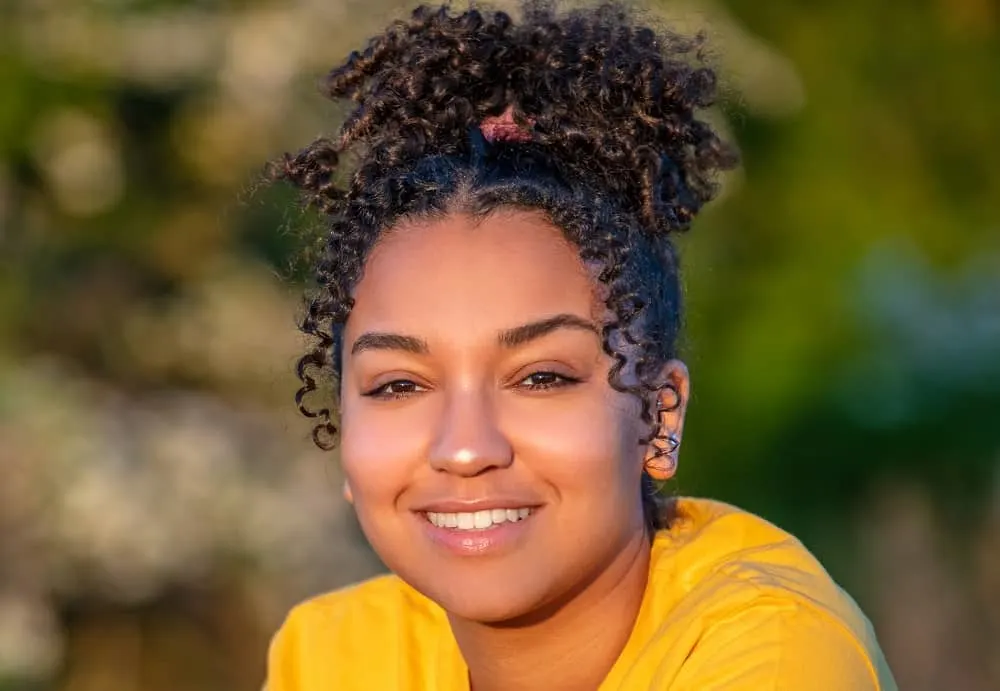 We know curly hair can be a lot to deal with, but certain hairstyles are easy to create and make you look sweet and cool. For example, this top ponytail. To better show off the texture, spare two strands from your bangs and let them fall on the corners of the forehead.
10. Pale Purple Look
Pale purple colors can be hard to manage, but if you love how this color suits you, you'll find the right way to keep it vivid. One of the best tips is to use special shampoo for curly dyed hair and plenty of nourishing treatments. The color fades quickly, so you'll need frequent touch-ups.
These types of box braids are one of the best hairstyles for mixed race curly hair since one, it helps to protect their natural curls, and two, they are easy to style into more manageable hairstyles, just like this classic high ponytail.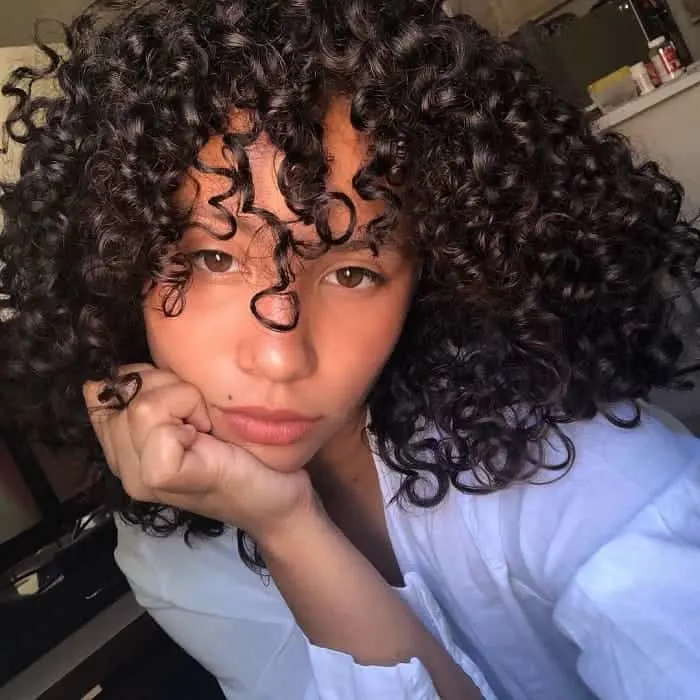 Mixed girls with curly hair are usually afraid to use curly bangs, but let us tell you: They add so much texture to your hair and help to frame your face! Let your naturals curls shine and add a little fun touch with curly bangs and there you have it, you'll rock this exact same hairstyle!
Like we said before, the great thing about being a mixed curly hair is that you can rock both curly and straight hair, and as long as you don't constantly do it (remember, the heat can damage your hair), it's a great hairstyle to rock every once in a while.
Simply blow dry your hair first to make it easy to straighten it. Then, to achieve the waves, curly it with a big curling wand and tore apart the curls until they have a more messy hairstyle.
If you want to go for a classic hairstyle for a fancy occasion, then this slick back low bun is perfect! Simply push the hair back with your hands or a soft brush, and then tie it around a ponytail to then convert it into a low bun. Remember to comb your edges as well to really get the tiny curly baby hairs under control.
Like we said before, mixed girls with curly hair can really benefit from braids since they tend to protect your hair, but when you put them up in a turban, you get a much more chic style than just wearing the braids alone.
If you're looking for comfortable, easy to do mixed girl's curly hairstyles, then this one is the right one for you! Simply separate your hair into two half, then put the top half of the hair into a ponytail and let the rest of your curls free.
Another great way to give a little twist to your mixed curly hair is to dye it. However, before you bleach it and dye it blonde, remember to have a hydration kit nearby to bring back the life to your hair once you've put it under a lot of damage and stress, this way, you can assure your curls will maintain healthy even after bleaching it.
Although mixed girls with curly hair already have curls, sometimes they aren't as big as you want them to be. If you want to achieve this hairstyle, curl your hair with your own fingers right after you wash them, and apply medium to low heat with a blow dryer to achieve these types of big curls.
A huge trend amongst hairstyles for mixed race curly hair is doing your edges and making them part of your whole hairstyle. To replicate this one simply push your hair back in a high ponytail and remember to leave the baby hairs around your forehead out so you can later own style them and add some texture to your hairdo.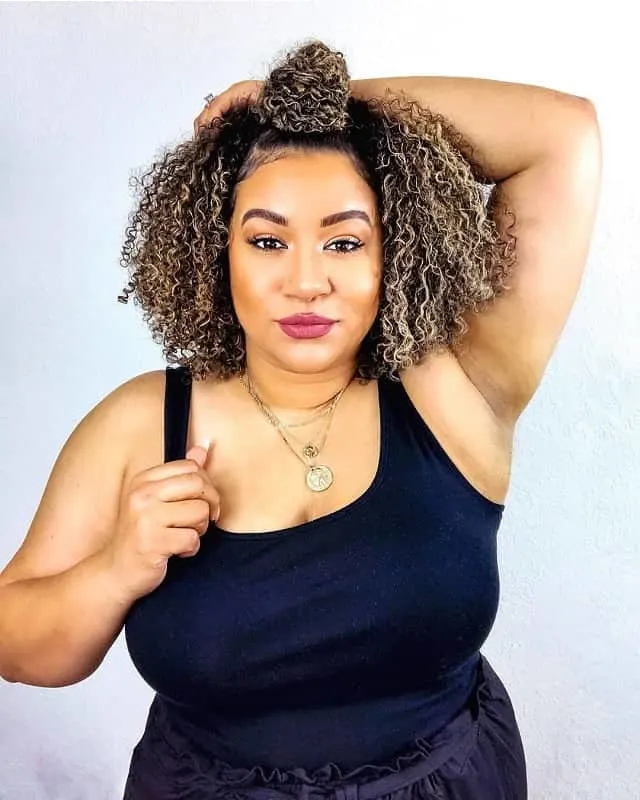 If you want to take some hair out of your face but you don't want to go for a high ponytail, try a top not! Simply take a section from the front of your head and tie it carefully in a knot. Make sure to puff the curls around the knot to make your curls seem bigger and that's it.
We love this curly hairstyle for mixed girls since it looks extra cute! To do it, divide your hair in two and push it back into two big buns, push the hair out a little bit to make them even bigger, and remember to leave some strains of hair naturally falling out of the buns to frame your face.
Consider this hairstyle a little variation of the one we just told you. Again, separate your hair in two, but leave the bottom out, falling naturally on your shoulders. Then take the top part and divide into two, putting each half on top buns!
Again, a great way to spice up these hairstyles for mixed girls with curly hair is to color out the ends of your curls to give your natural form a little fun twist! We recommend you using vegan/nontoxic hair dye so you won't damage your curls.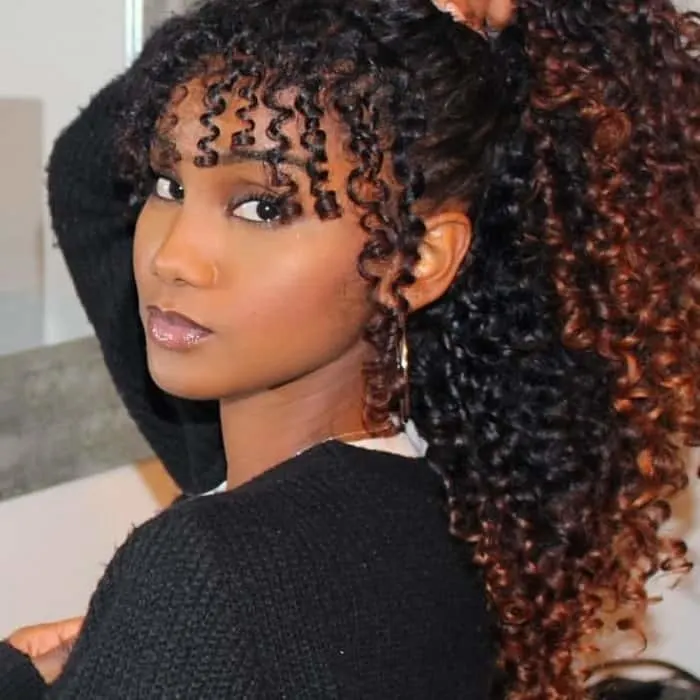 This biracial curly hairstyle is very easy to do, and it will look great on everyone. First, don't be afraid to cut some bangs, just remember to always cut them longer than you might think you need them so your curls have space to shrink without giving yourself accidental baby bangs.
Then simply put your hair up in a high ponytail and make sure to carefully shape every curl on the place to give yourself more volume and definition.
To do this, you'll have to go to your hairstylist to make sure your mixed curly hair doesn't get damaged in the process and that you get the style and design that you want!
If you do it right, recreating these mixed girls with curly hairstyles can be really easy! Your curly hair gives you the advantage of being able to pull out almost any hairstyle and it's time for you to have fun with it. Just remember to always take proper care before and after making any of these hairstyles and constantly hydrate and moisturize your curls to keep them in optimal conditions.