Short gray afro hairstyles are creating new sensations over the internet. Afro hair is gorgeous and suits all women regardless of their age.
While some hairstyles are too restrictive and unsuitable for every face shape, the afro is entirely different. It is an ideal choice for all women.
If you're in the group of people who think the afro isn't really an excellent companion to short gray hair, this article will prove otherwise. Scroll down to see some fantastic hairstyles.
Latest Short Gray Afro Hairstyles
If you have short and gray hair, the afro is a great style to choose. Not only does it frame your face and accentuate your eyes and facial features, but it's also youthful and playful. Scroll down to see gray short afro hairstyles you can try.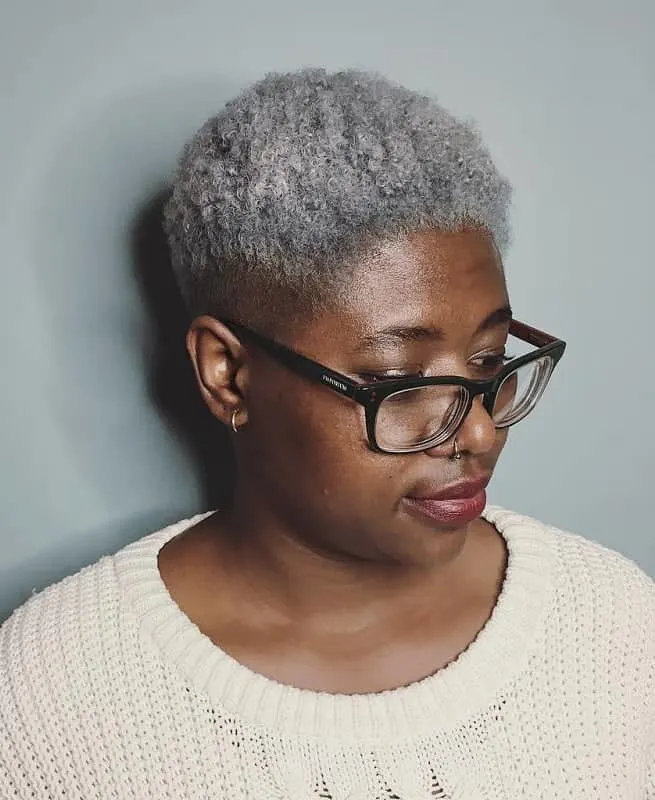 Gray hair may make you feel like styling options are limited due to the fact this hair color is supposed to look strict and old, but it doesn't have to be like that. In fact, this hair color is a huge hit even in younger girls.
So, regardless of how old you are, you can't go wrong by making your afro short gray hair edgy. Add undercut to get a more playful look.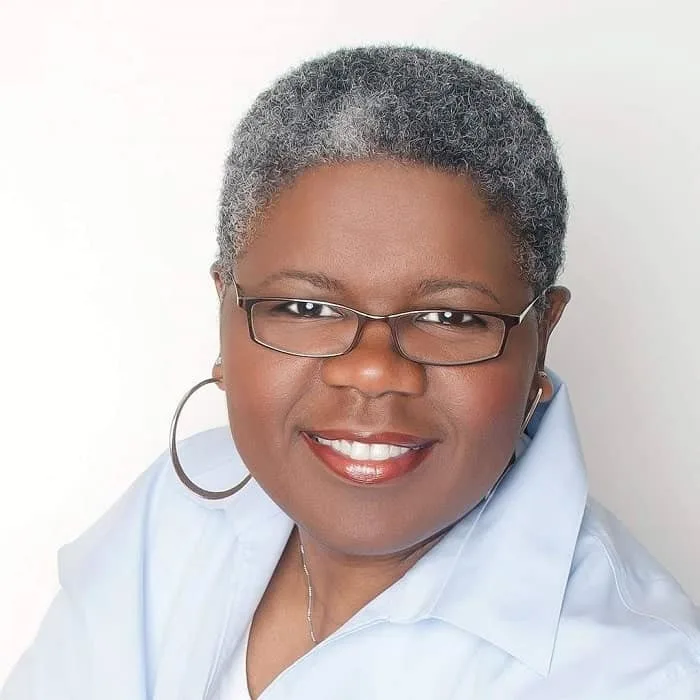 The main goal of short afro hairstyles for a round face is to provide a slimming effect while enhancing a woman's beauty. With this minimalistic gray look, you can achieve that goal easily.
Go for a simple, minimal afro that will accentuate your lovely cheekbones.
3. Voluminous But Short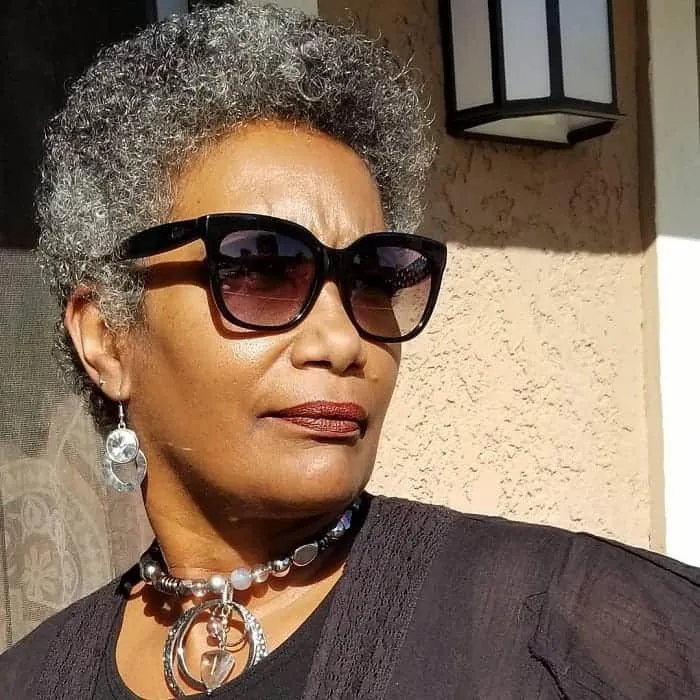 Do you think short afro isn't voluminous? Here's a good example that will prove otherwise. This short grey curly hairstyle is simple, yet it gives your hair more fullness. Just the way we like it!
4. Sporty Chic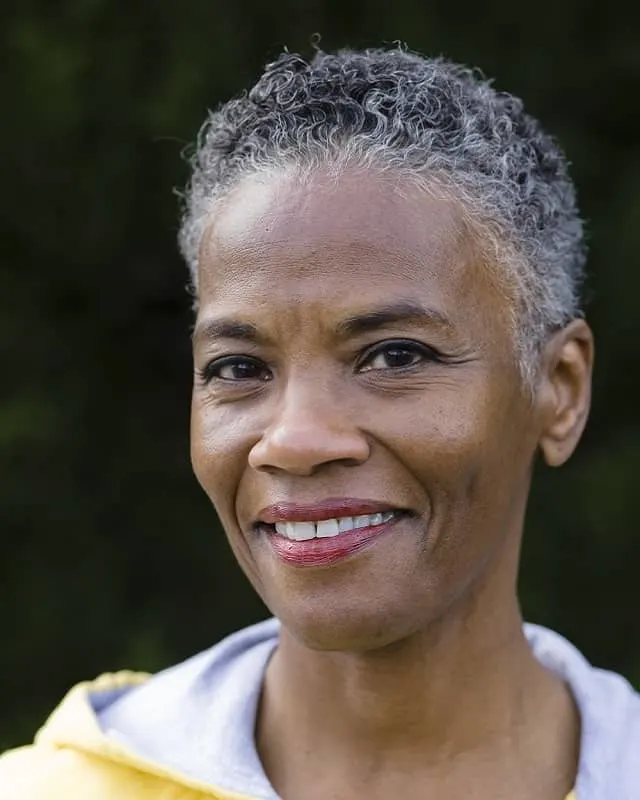 Are you looking for short gray afro hairstyles that are chic, yet casual or sporty at the same time? We've got you covered!
This ash grey hairstyle is simple, somewhat sporty, and it doesn't require too much care and styling. Both practical and stylish – just as many women want their hair to be.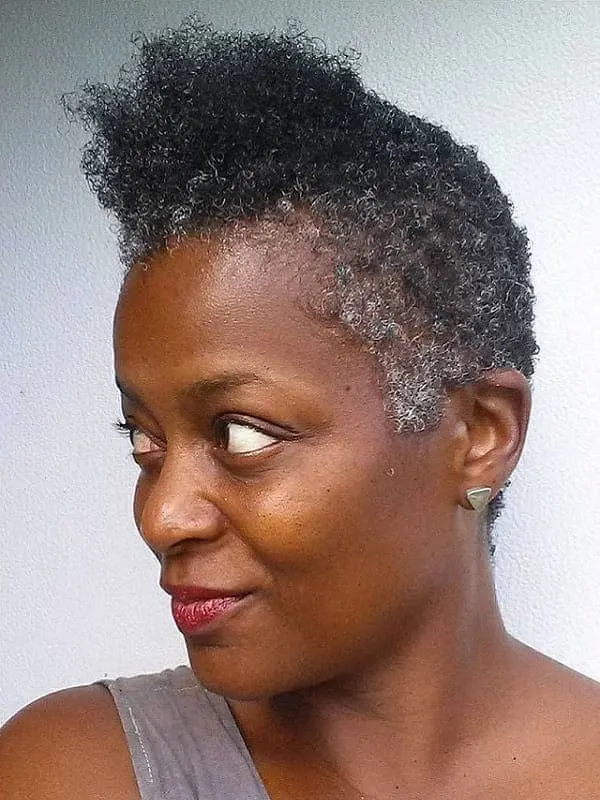 If you're a type of person who likes hairstyles that are on the edgier side, you'll definitely love this one. This Mohawk-like style will give you an adventurous vibe, and it looks absolutely gorgeous.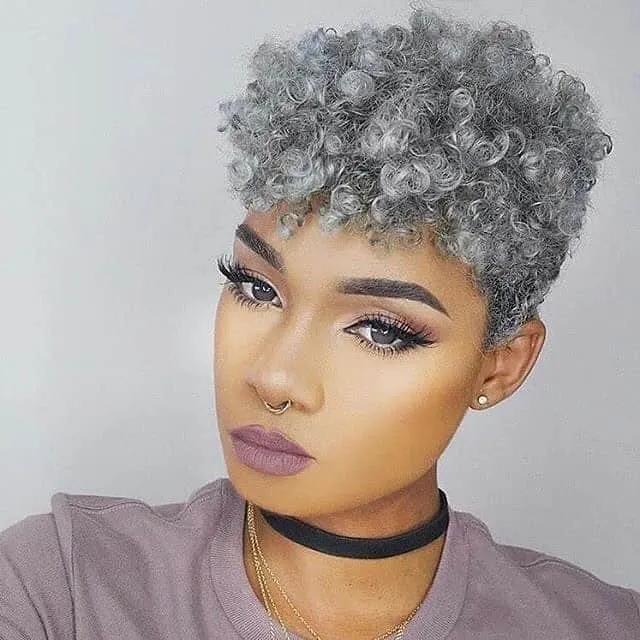 Pixie is one of those timeless hairstyles that will always be IN. Turn your short gray afro hairstyle into a seductive pixie for a feminine, yet bold and brave look.
7. Youthful Gray Afro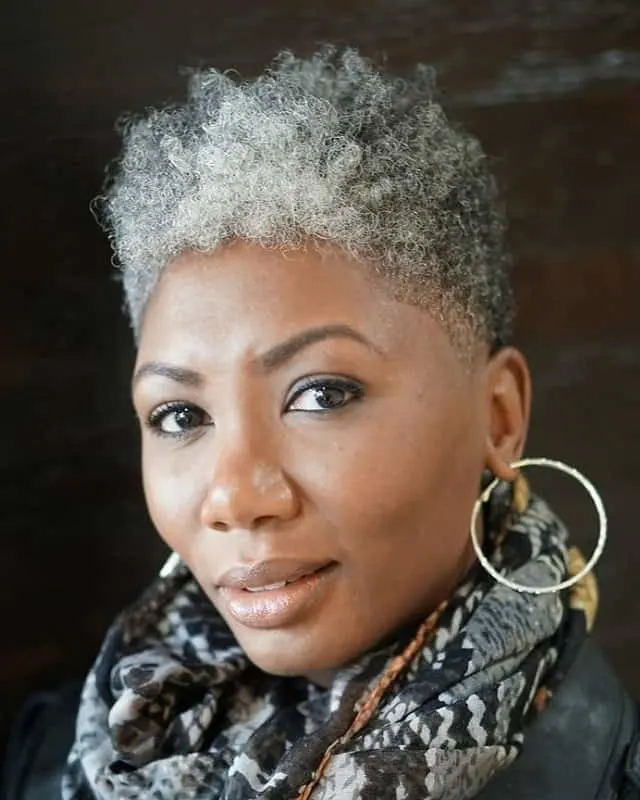 As mentioned above afro short gray hair is not reserved for older age only. Young women can rock this look with ease. This afro has two tones; lighter in the front and darker in the back. Beautiful!
8. Carefree Curls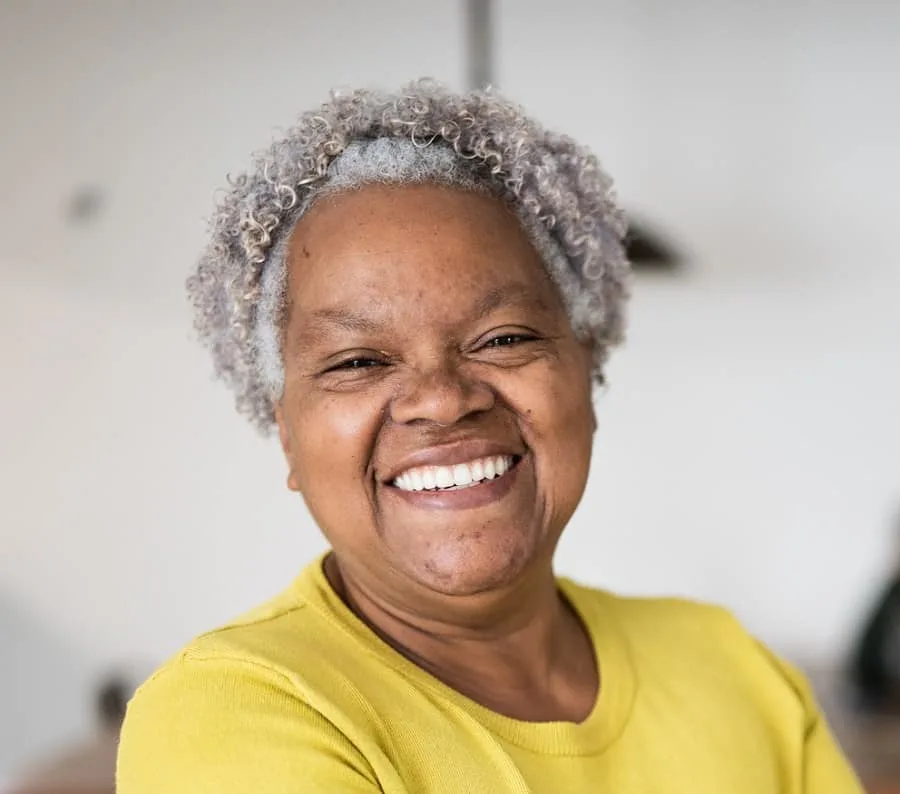 Get creative to turn your hairstyle into one of a kind. The sides, front, and back are buzzed about two inches behind the hairline while the strands in the middle of the head are kept long enough to fall over the extra-short section.
Style the hair into bouncy finger curls to finish off the look.
9. Gray Pixie-Bob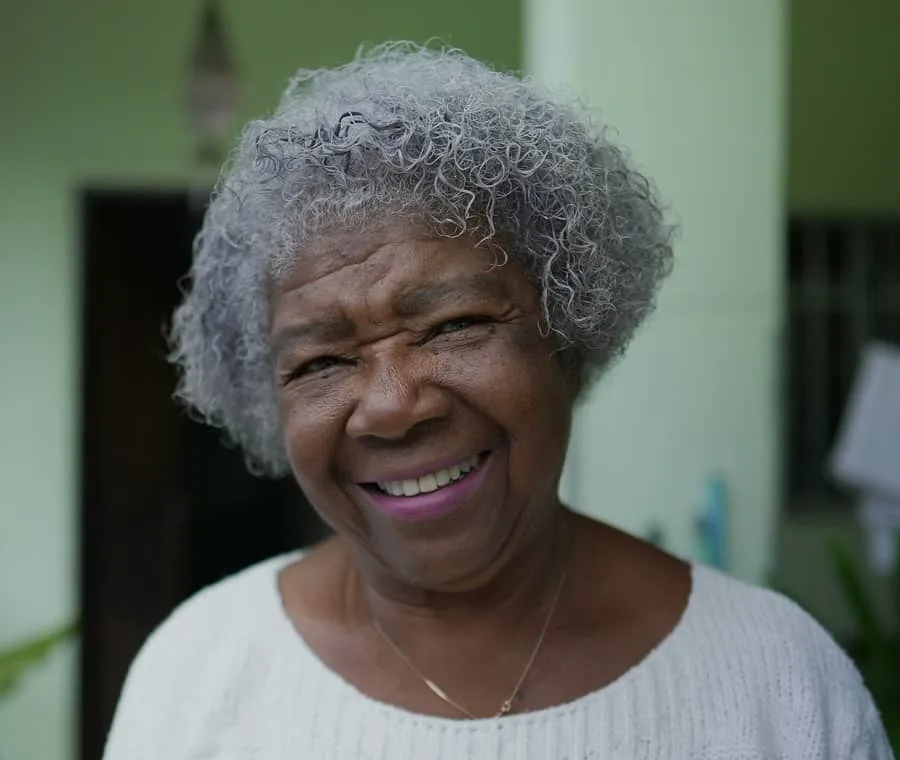 This short haircut is a long pixie with the shape of a bob. The top is kept long with ear-length sides and a comparatively shorter back. Create some movement by adding layers and rock a light gray hair color to turn around some heads.
10. Round Afro Bob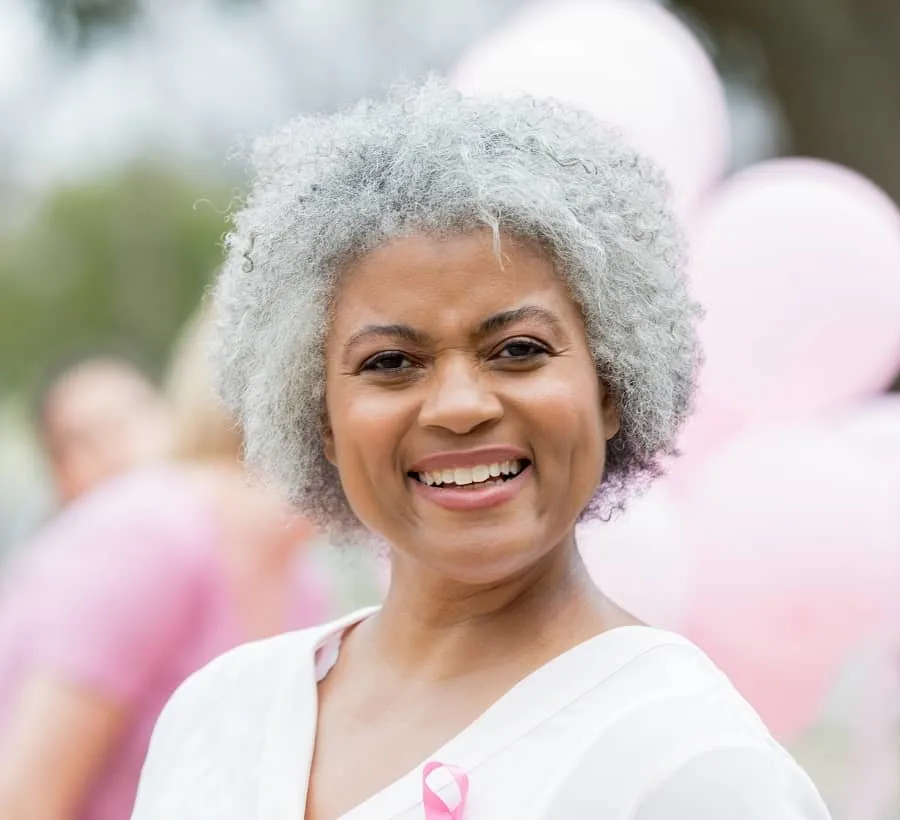 Those who want a softer look can go for a round bob that looks perfect with any hair texture. Ask the hairstylist to cut the strands at various lengths creating layers that frame the face elegantly. Finger brush the mane and the style is done.
11. Gorgeous Fluff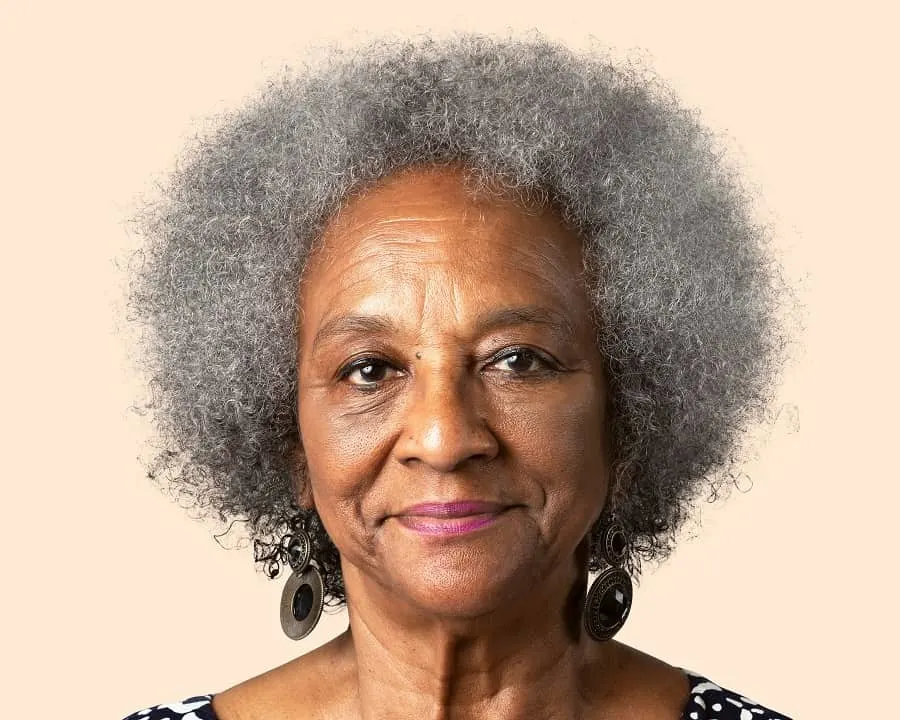 Women getting on in years can consider a low-maintenance haircut to save themselves from the hassle of styling their hair daily.
Cut the light gray strands at uniform length and use an afro comb to detangle the hair creating a perfectly round fluff on the head.
12. Buzz Cut
Talking about low-maintenance hairstyles, why not try a buzz cut? Although it is not for the weak-hearted and requires some confidence to pull off yet it is the easiest to maintain among all styles. You don't even need to comb it. Just get out of bed and you are ready to party!
13. Short and Stylish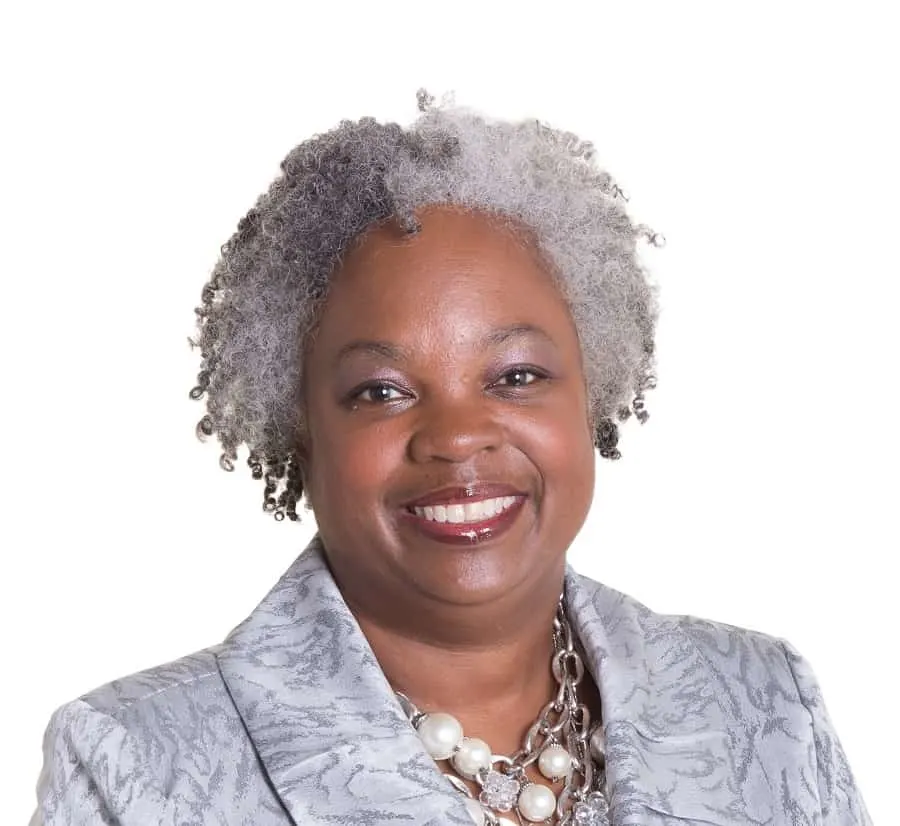 Here is another short afro hairstyle for gray-haired ladies. Layer the white strands and add a touch of dark gray or black to them to create a pretty salt and pepper appeal. Finger-curl the tips only to contrast against the remaining fluff. Stylish and elegant!
14. Deva Cut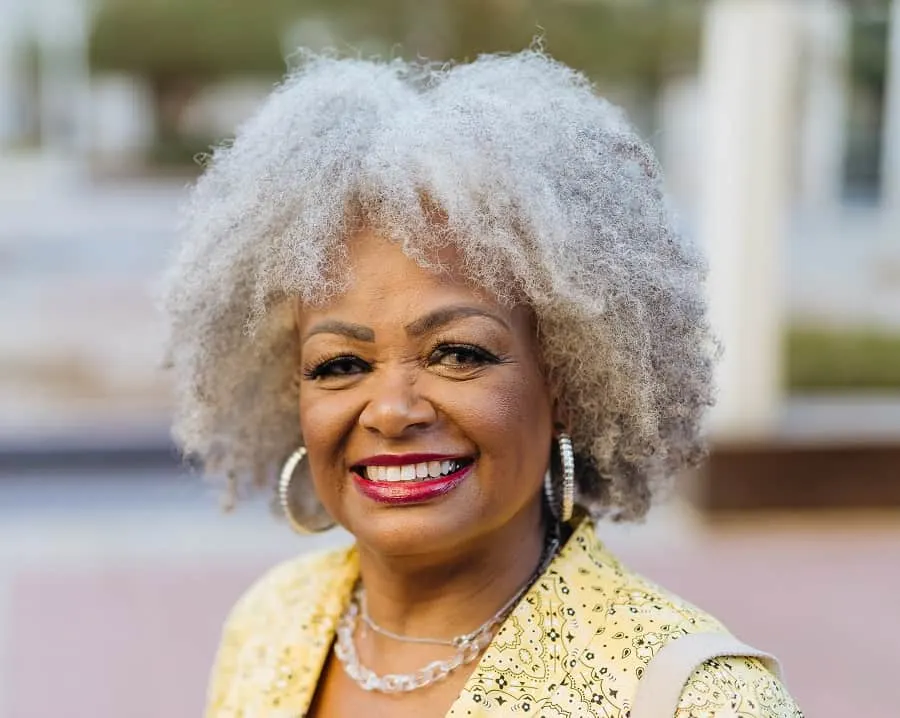 Flaunt those kinky curls with a deva haircut explicitly designed for curly tresses. Each strand is styled individually to fall around the face gracefully with a subtle fringe on the forehead at the front. Leave the hair loose with a middle or side parting, depending on the face shape.
15. Silver Puff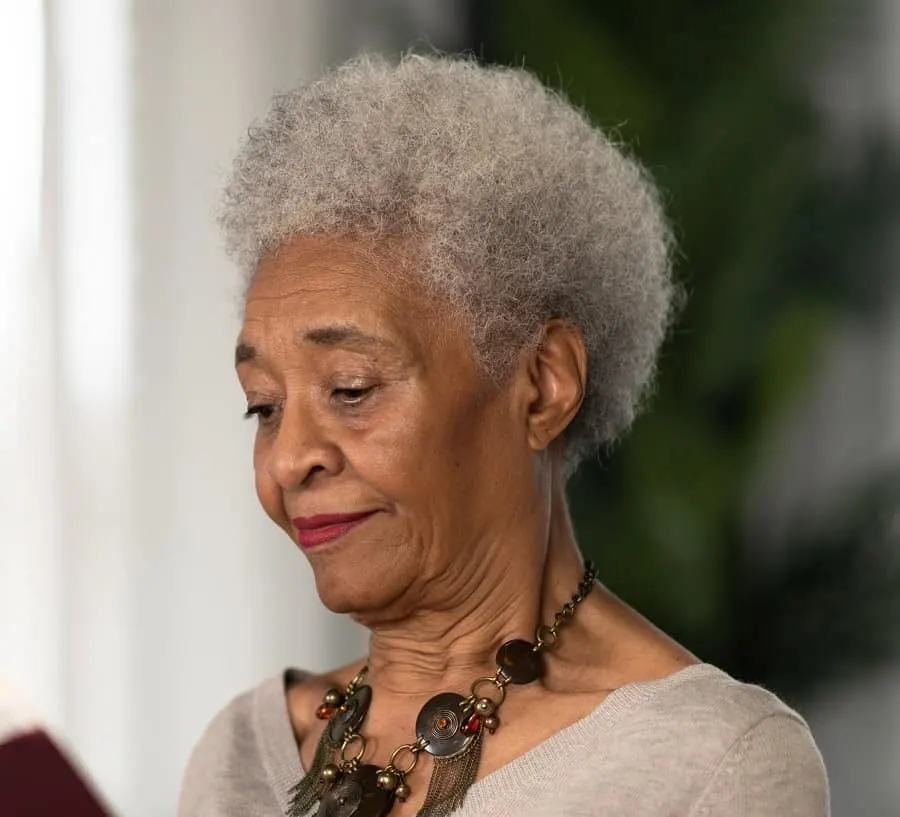 Start fresh with a buzz cut and let the hair grow a few inches, mimicking the beauty of a silver puff flower. Use scissors to cut away stray strands and maintain the round shape of the afro. This look is effortless to maintain and ideal for women over 50.
16. Pinned Back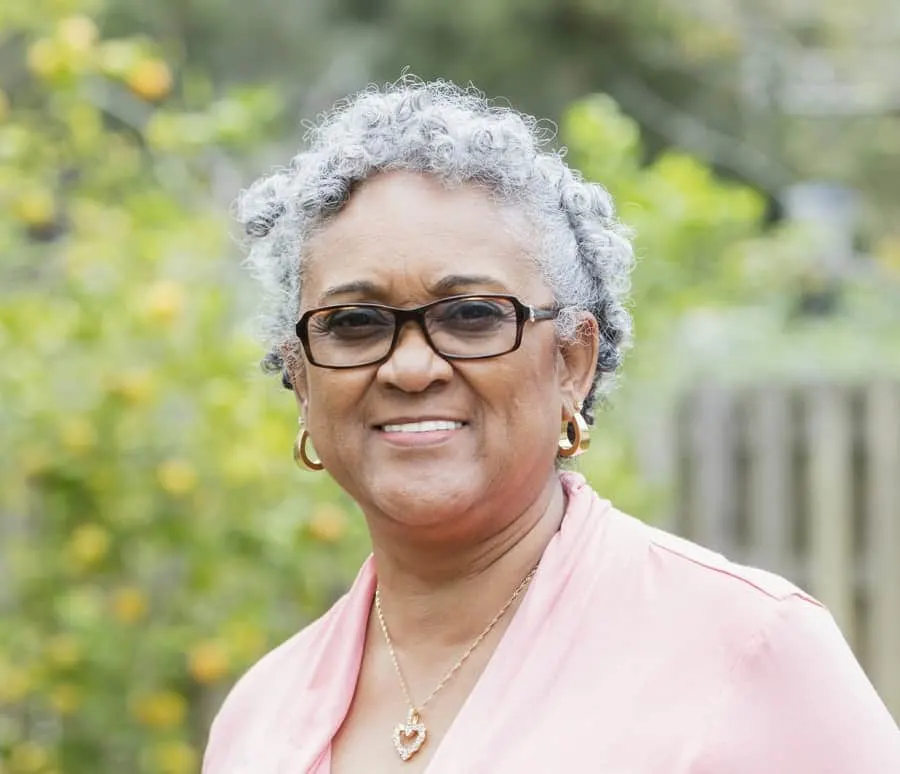 Short afro hair can be styled in a number of ways apart from keeping it loose.
Here is an example to follow. Style the strands into finger coils when wet and leave them to dry. Pin back the sides only leaving the front curls to fall forward on the face. Effortlessly chic isn't it?
17. Drawstring Updo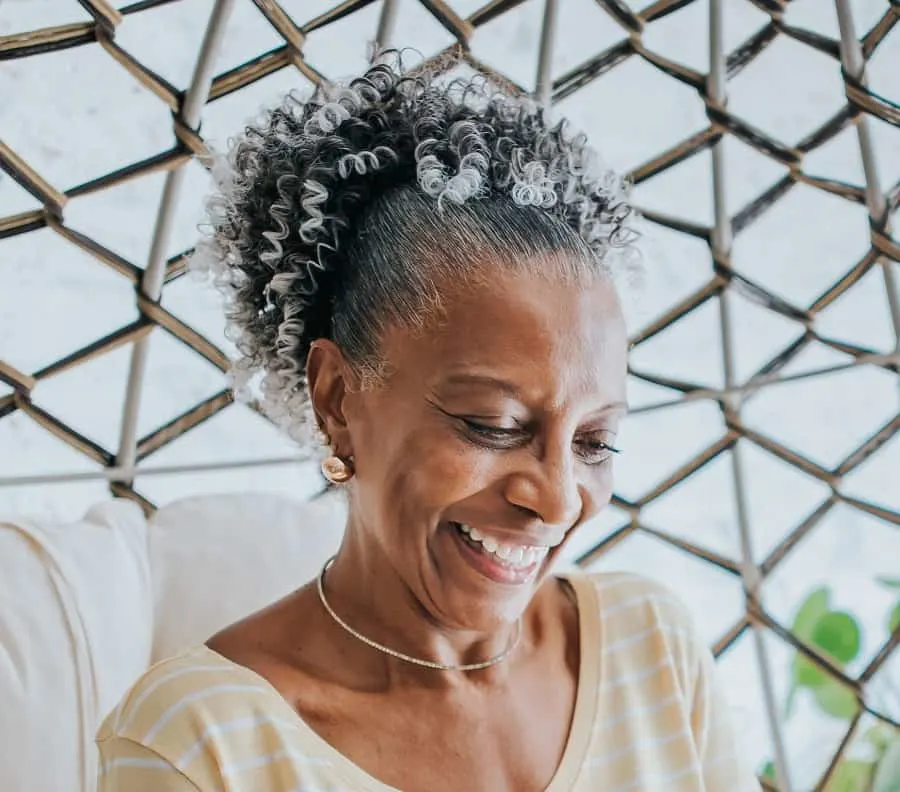 Drop some jaws by dying the tips of the black curls in a silvery gray tinge creating a two-toned gradient. Use the drawstring method to pile up the hair at the back keeping it away from the face all day long. Tame the flyaways with some pomade for a sleek finish.
18. Boyish Appeal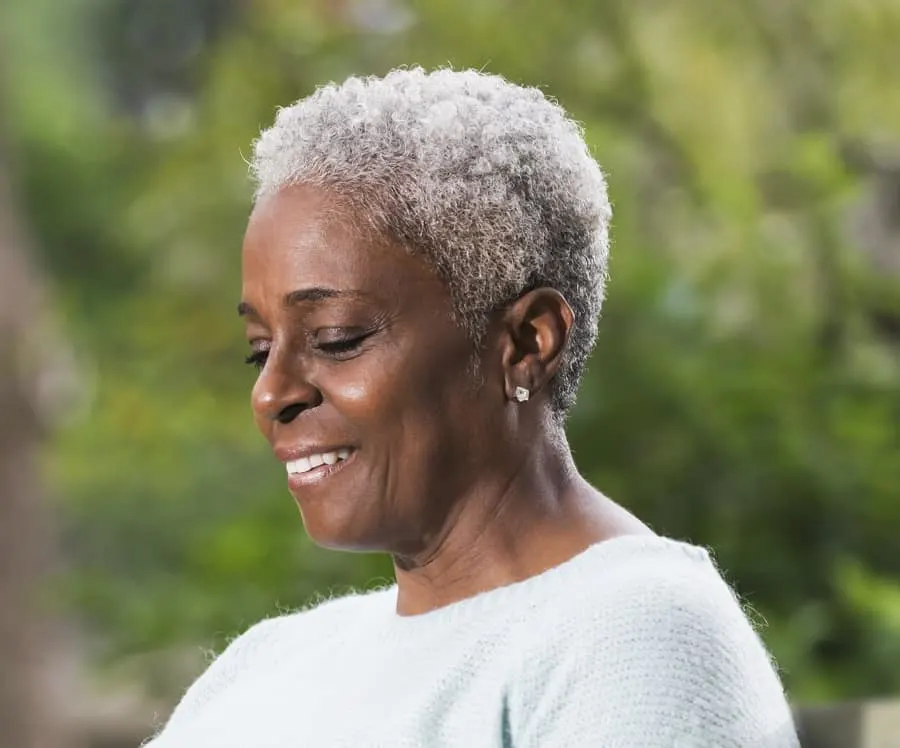 Keep it simple yet stylish with this boyish haircut. The short sides and back focus on the long curly top. Complete the style with a soft line up for a neat look. Finger-tousle, the top, and you are good to go.
19. Space Buns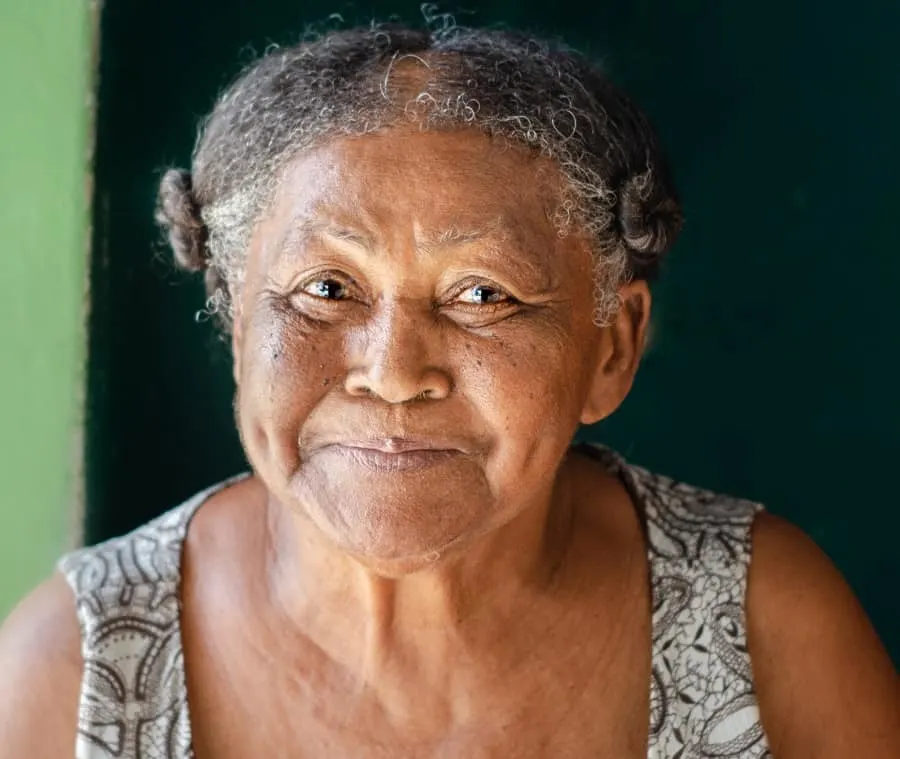 There is no age limit when it comes to rocking space buns. Detangle the gray mane with a middle parting and twist the sections into two tight buns just above the ears. Secure with pins. The buns can be positioned near the top too, for a funky appeal.
20. Gray Highlights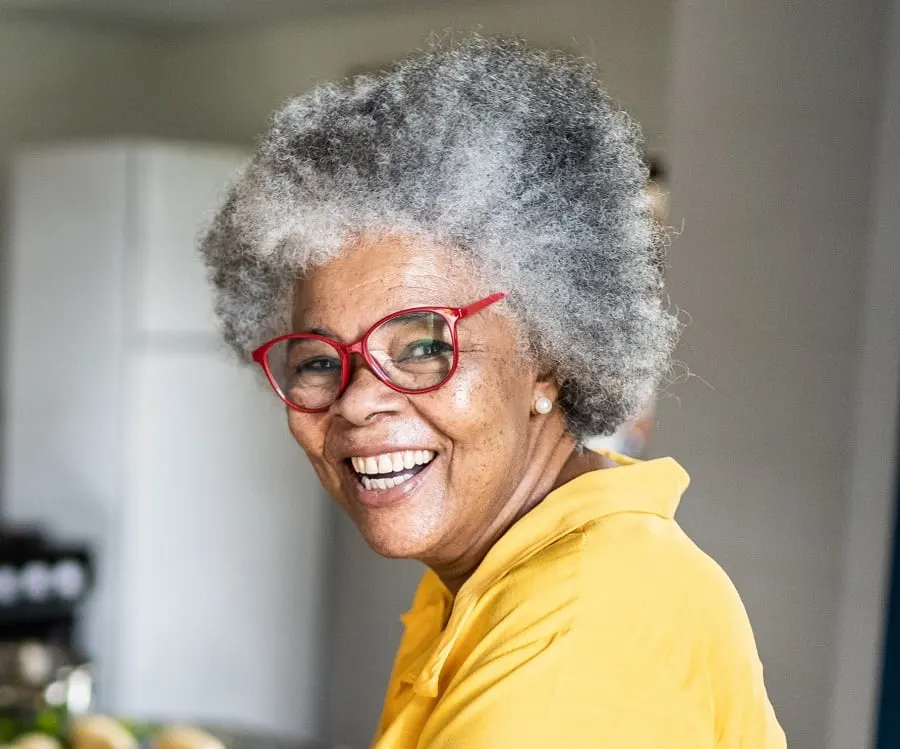 Considering the ladies who are not ready to embrace their grays yet, here is an idea to hide them. Try silver gray highlights! Ask the hairstylist to incorporate the streaks all over the black mane while concentrating on the front to add a soft brightness to the face. Voila!
21. Finger Coils
Recreate this on-the-beach short gray afro hairstyle by going for silver babylights. Wash the hair and apply a curl enhancer before wrapping the sections around your fingers. Twist and twirl the strands until a coil is achieved when set free. Try out this look with an undercut too.
22. Pretty Bangs
Though straight bangs look chic, without a doubt, curly bangs have their own beauty. Layer the curls to fall at varying lengths around the face while the front ones are cut short to fall on the forehead. Top off the look with black lowlights peeking through the silvery gray mane.
23. Bed-Head Look
One of the benefits of afro hair is that the messier it gets the better it looks. This ruffled style features a long top shortening the sides and back. Color the strands in a white blonde tinge with the emerging black roots adding up to the bedhead look.
24. Short Fine Hair
African-American women with fine hair can show off their grays with an elegant bob. The tresses are cut to chin length with soft layers to achieve some volume. Let the strands fall freely on both sides of the face without a parting.
25. Slicked Back
Lastly, stand out from the crowd by dying the afro curls in a cool platinum blonde hue contrasting against your dark skin tone.
Slick back the hair with some styling product into a bun or ponytail. Avoid pulling the strands too tightly to retain the texture of the natural curls.
As you can see, there are plenty of options for women who are looking for short gray afro hairstyles. Now you just have to choose the one you like the most and get it. Ensure you care for your hair properly, avoid washing it all day and reduce heat styling.