Short gray afro hairstyles are creating new sensation over the internet. Afro hair is gorgeous and suits all women regardless of their age. While some hairstyles are too restrictive and are not suitable for every face shape, the afro is entirely different. It is an ideal choice for all women. If you're in the group of people who think afro isn't really a good companion to short gray hair this article will prove otherwise. Scroll down to see some amazing hairstyles.
Latest Short Gray Afro Hairstyles
If you have short and gray hair, the afro is a great style to choose. Not only does it frame your face and accentuate your eyes and facial features, but it's also youthful and playful. Scroll down to see gray short afro hairstyles you can try.
Gray hair may make you feel like styling options are limited due to the fact this hair color is supposed to look strict and old, but it doesn't have to be like that. In fact, this hair color is a huge hit even in younger girls. So, regardless of how old you are, you can't go wrong by making your afro short gray hair edgy. Add undercut to get a more playful look.
The main goal of short afro hairstyles for a round face is to provide a slimming effect while enhancing a woman's beauty. With this minimalistic gray look, you can achieve that goal easily. Go for a simple, minimal afro that will accentuate your lovely cheekbones.
3. Voluminous But Short
Do you think short afro isn't voluminous? Here's a good example that will prove otherwise. This short grey curly hairstyle is simple, yet it gives your hair more fullness. Just the way we like it!
4. Sporty Chic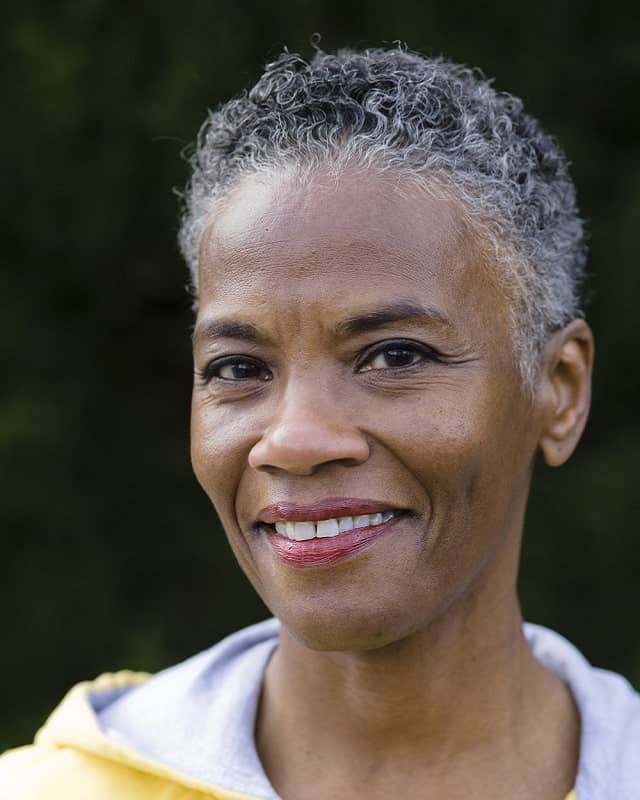 Are you looking for short gray afro hairstyles that are chic, yet casual or sporty at the same time? We've got you covered! This ash grey hairstyle is simple, somewhat sporty, and it doesn't require too much care and styling. Both practical and stylish – just as many women want their hair to be.
If you're a type of person who likes hairstyles that are on the edgier side, you'll definitely love this one. This Mohawk-like style will give you an adventurous vibe, and it looks absolutely gorgeous.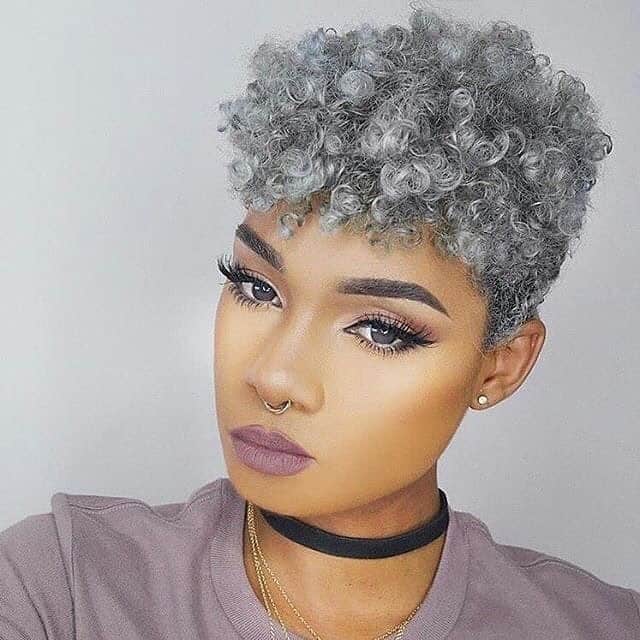 Pixie is one of those timeless hairstyles that will always be IN. Turn your short gray afro hairstyle into a seductive pixie for a feminine, yet bold and brave look.
7. Youthful Gray Afro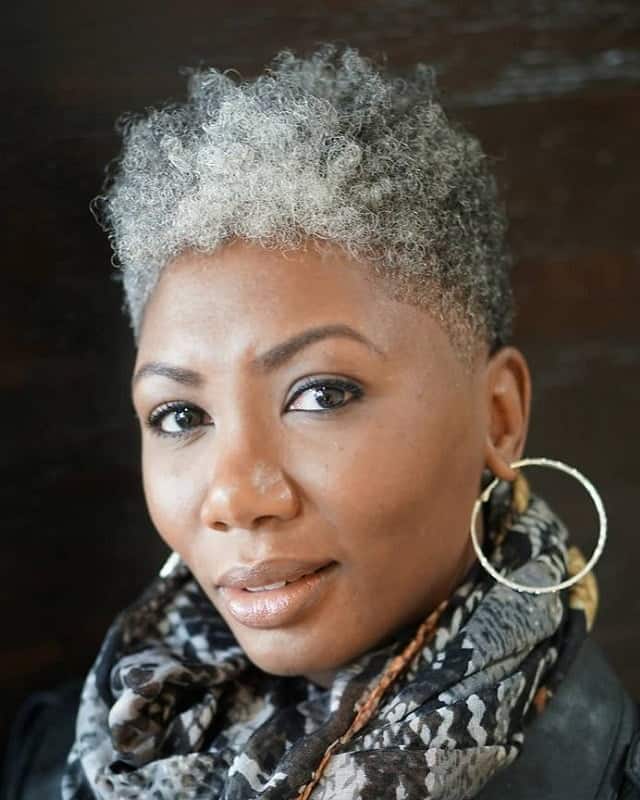 As mentioned above afro short gray hair is not reserved for older age only. Young women can rock this look with ease. This afro has two tones; lighter in the front and darker in the back. Beautiful!
As you can see, there are plenty of options for women who are looking for short gray afro hairstyles. Now you just have to choose the one you like the most and get it. Make sure you care for your hair properly, avoid washing it all day and reduce heat styling.