You need various yoga hairstyles while doing the side angle postures, upward or downward-facing planks, and backbends. These terms must be familiar to those who do yoga regularly or have just started doing it. They know how one pose changes rapidly to the another! And how it turns out to be the most annoying when hair fringes get in your way.
To prevent this from happening, you can rely on these easy-peasy favorable yoga hairstyling techniques to enjoy your sessions in the most accessible way.
Best Sweat-Proof Yoga Hairstyles You Must Try
Hairstyles for yoga enthusiasts require a few attempts, which are very helpful to concentrate better on your moves.
Bohemian Waves
Once in often feels great to just carry your wavy hair down naturally during yoga. Also, you can pair it up with a hairband or a bow ribbon on your head to avoid hair swaying on your face.
You can carry yourself with colorful scrunchies and hairbands to tie them up whenever you feel the need.
Brave Pixie Shot
When your hair is no more than just a distraction while you work out, choosing this beautiful yet casual pixie is worth it.
The best choice, especially during summers when you sweat profusely. It merely requires some of your fingers to adjust in itself. You just need to give it a try!
Tousled Ponytail
Morning routines are tirelessly annoying and irritating generally when you have something lined up in your schedule.
This yoga hairstyle with a ponytail is never out of date and yet so quick. This is a go-to look to carry when you are getting late which doesn't even require much effort.
Comfy Side Parted Sleek Bob
Most of the time, we admire short hair look for numerous factors for it is easier to style them in short or no time, more preferable during working hours, and also comfier.
Who says short hair is not fashionable for a knockout hairstyle? They are extremely effortless and cool to try at least once
Long Curled Tresses
This messy curly perm is an easy-going style to carry when you are noticing around for new hair inspiration for your exercise routine.
Part your hair to the middle or sideways and let some curls fall behind your earlobe struck with a bobby pin for a cutest-sassy and beautiful look.
Mini Bungee Bombs
This cute yet classy combo of buns as a crown over your head is not more than a 5-minute hairstyle.
First, take some hair from a side. Then, hold the hair up and twist it into buns. Finally, secure them with an elastic band and some bobby pins. And yes, you are done for the day!
Corn-Braided Ponytail
Whether you seek a little more determination from your boring hairstyle, this is an excellent style to begin with. This braided ponytail for this higher, clean, and voluminous alternative.
This outlook gave automatic confidence and a focused look on your overall personality. This is a must-try when you are into sporty attire.
Half Updo with Thick Bangs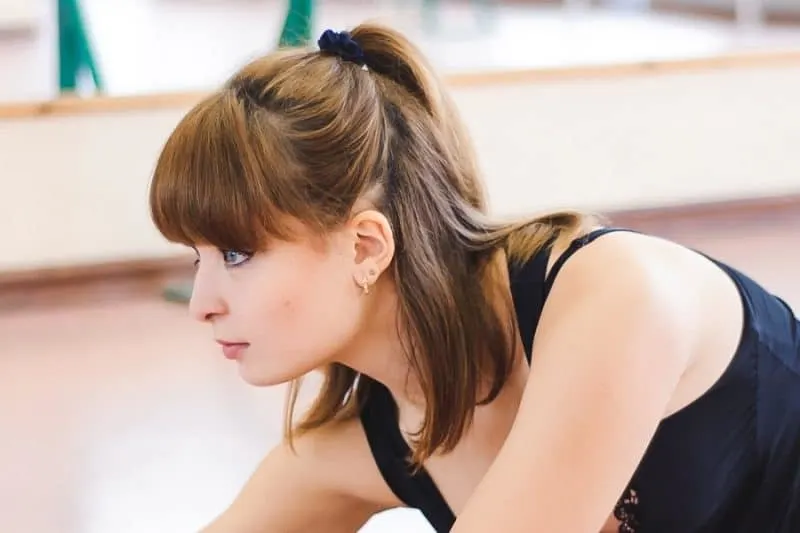 This ponytail style, along with some playful bangs, is in the trending catalog currently for short yoga hairstyles. If you wish for a lot of comforts and a pinch of style to boost your look, this is a must-try hairdo! This is a must-try for at least once.
Micro Braided High Pony
This box braids no doubt look effortlessly cool in the town. Still, they are versatile, flattering, and protective.
They do less damage to your strands and represent a brave and confident personality. Natural, beautiful, and feminine knot braids are perfect for showing off your free soul and creativity.
Chic Low Bun
This two-minute low bun is a chic style that doesn't even require a hairpin or a band. Instead, you can just pick, twist, and turn medium length your hair into a bun.
You can take out some strands in the front for a more stylish look, and you are all set to go to your gym and yoga classes.
Peek-a-Bow-Knot
This casual bun, along with some bangs in the front, can beautifully be paired up with a floral bow headband to enhance your yoga look. This hairstyle is extremely simple yet elegant and classy and gives a sporty look to the attire.
Casual Low Ponytail
You might worry about this hairstyle as more of a distraction than a way to keep your hair off your face.
So you can wear this hairstyle when your poses are simpler and if you are a beginner. For an effortless yet put-together hairstyle, tousle your locks into this beautiful ponytail look.
Rock and Roll Dreadlocks
A satisfactory way to keep your dreadlocks off your face is to do what any other person would act in this situation—updo them up into an untidy ponytail.
This hairstyle is especially perfect for working out on hot summer days. This dreadlock ponytail gives out a creative and artsy look.
Easy Crown Braid
A bun or high pigtail can be suitable if you have medium or long hair and want to keep them away from your face. Not only is this a great braided yoga hairstyle, but you can also wear it for a casual outing.
At the start, it may look difficult to create, but it's actually quite simple. In no time, you will be able to tie a crown braid and make others immensely jealous of your hairstyle's subtleness.
Natural Hair with Highlights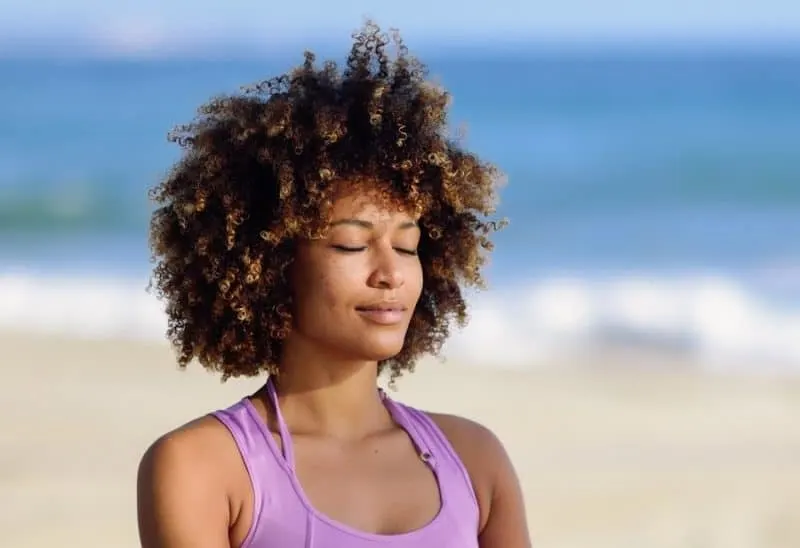 There's something acknowledgeable and almost daring about this afro hairstyle, isn't it?
If you are blessed with curly hair and seek a low-maintenance hairstyle, try one of these short natural hairstyles. The way it lets your hair flow swiftly down is absolutely gorgeous. Sporting this look won't be a regret anyway.
Pixie Blonde Bob
Pixie bob gives a much simpler look that gives you a cute look and, at the same time, is less time-consuming.
Possibly the easiest of styles which requires a few sprays or prep gels, your fingers, and nothing else! Who doesn't want that, am I right, Girls? Don't miss out on this simple yoga hairstyle.
Mid Sleek Bun
This sleek and clean look will help you to concentrate on your workout poses without any disturbance of the hair swaying all over your face.
In addition, the easy, elegant yoga hairstyle can be executed in minutes, making it a perfect option on those mornings when you're trying to get ready in a hurry.
Curtain Bangs with a Ponytail
Yoga involves playful exercises which calm your body and your mind. So why not try a hairstyle similar to that?
Curtain bangs—as the name suggests—are parted down the middle and swept to each side, perfectly framing your face and eyes, much like a curtain does with a window. This look is a child's play with a chic appearance.
Face Framing Highlights
These relaxed waves don't just have a comfortable feel; it is also a fun hairstyle and takes much less time to dress on.
They look great on everyone since the effortless look flatters all face shapes, hair types, and ages. It perfectly balances between curls and straight hair and works for almost every hair length.
Top-knots with Half Open Hair
This hairdo is as easy as it sounds, A quick and casual yoga hairstyle of open hair with two cute top knots to carry almost anywhere.
If front fringes are a distraction, then make two knotted buns. And keep the rest of the hair open; it will give you an elegant look.
Harlequin-Braid
It's wonderful how far lengthy hair locks can get you when styling your dreadlocks. For example, The charm of these highlighted aquae and teal layered dreadlock extensions only elevates the micro braided ponytail.
For the days when you can't manage with everyday styling, dreadlocks are like a breath of fresh air. They can safeguard your hair, protect it and let it grow, all while looking funky.
Crimped Mannequin Look
Looks like the pleated hair look did not die out even after the 80s! In fact, it seems to be making a major trend in this era!
This crimped hairstyle adds a sweet, playful effect.. Out of all the advanced techniques to get desirable organized hair, crimping is subtle and most stylish!
Double Dutch Braid
Dutch braids are flawless for yoga — as they are uniformed and will definitely allow you to nail that headstand and other such postures.
In addition, you can create them for your morning workout easily. they can add charm, cuteness or a dose of fun-lovingness to your look.
French Braided Updo
Ornaments crowns are no doubt the most beautiful. But what if we try making a crown out of our hair?
The braid crown looks stunning by making you look like the yoga goddess. It helps you focus on your postures while keeping your lengthy locks out of the way of your practice.
Criss Cross Pigtails
These criss-cross braided pigtails are obviously outstanding to adapt during your yoga practice, as these braids are just like regular knotless braids and are pain-free and lightweight.
But if you observe that you get pretty sweaty, then tying up your pigtails into cute little buns will keep your nape cool and sweat-free.
With these yoga hairstyles, you will get great freedom of movement and zero annoyance when lying on your mat. The listed looks show these hairstyles can be practically anything you like as long as they don't interfere with your fitness routine. The goal is to choose an equally functional and stylish hairstyle as you embark on your workout journey.
These fun and playful hairdos are something you must try for the very next session of your workout. So have a peaceful and calm session!
Related Topics