With the sea-inspired teal ombre hair color, you will bring the ocean into your home. The color of the deep blue ocean and the ocean vibes can easily be transferred onto your hair.
There are many different shades of teal that you can try, so if you are willing, keep reading on how to choose the right one and the look that it goes with. Teal is a bold color and it is best to apply it with the ombre technique, in combination with your base color or with some other bold one.
Teal Ombre Hair
Blue and green hair colors never ceased to amaze us. Be that as it may, teal ombre is adding more versatility to these shades and women are swooning over it. We have the best of teal ombre hair color ideas that you'll see trending this year. So, stay tuned!
1. Purple Teal Curls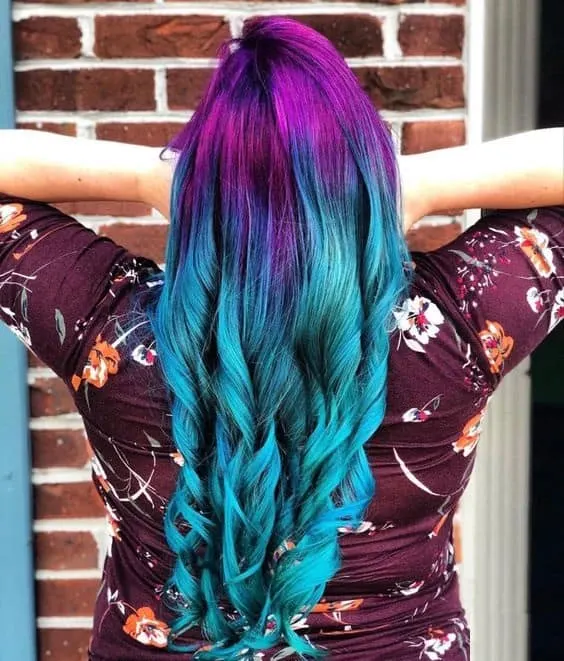 When you want a look that is both spectacular and mesmerizing, purple and teal ombre hair is certainly your best pick. Use a straightening iron and create curls only for the teal dyed section. You will adore your new look!
2. Box Braids with Teal Ends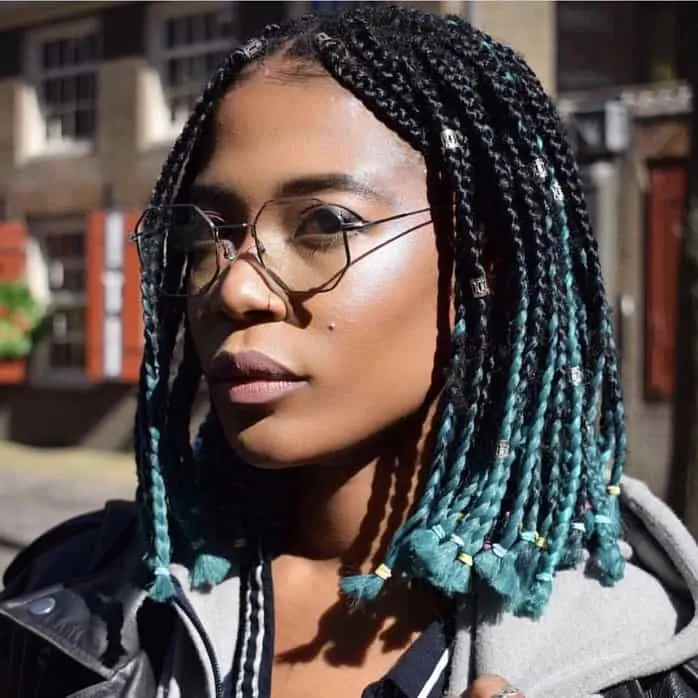 Dyeing your tips in a teal nuance can be a real game-changer when it comes to your box braids. You will create a fabulous ombre, and it will look even more mesmerizing if you decorate your hair with metallic beads.
3. Teal Ponytail with Bumps
You would normally be tempted to say that bumps are something you need to avoid but in this case, creating them is what gives this ponytail a fabulous outcome. Of course, the teal ombre is also eye-popping, and it looks amazing on long hair.
4. Inverted Teal Bob with Bun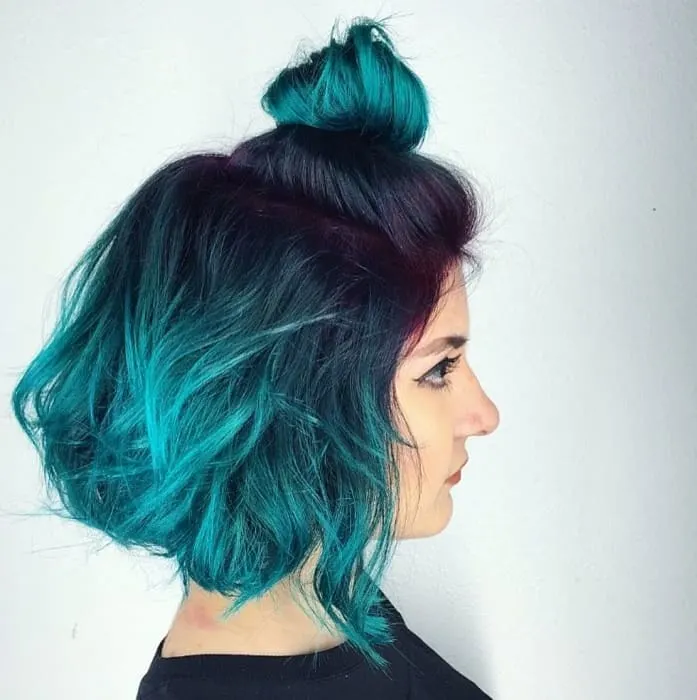 For the roots, opt for a dark purple shade that will transit into a glorious aquamarine teal color. Use the top hair to create a bun on top of the head and style some messy waves. Tousle your hair, and you'll get all eyes on you.
5. Pink and Teal Jumbo Braids
With this hairstyle, you can let your creativity loose and create all sorts of braids using Jumbo pink and teal ombre hair. These two electric colors will beautifully blend with your brown natural hair, and the outcome will be fascinating.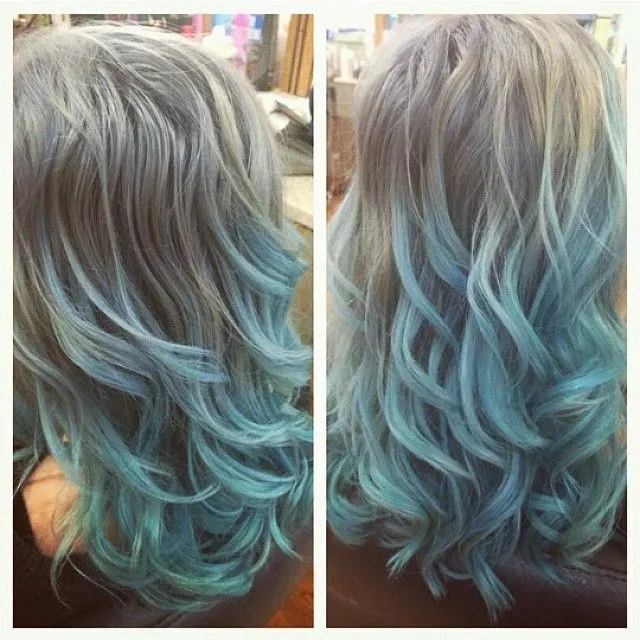 The combination of these two cold hues results in a look that is just like out of a fairytale. The silver hue is shiny, while the teal doses down the impact, leaving just enough accent on the color. Long wavy teal ombre is a must this season!
7. Short Wavy Brown to Teal Ombre Bob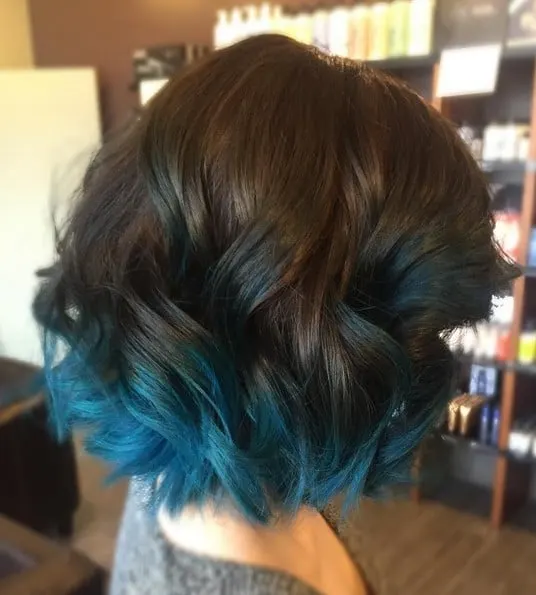 This look is perfect for those who want to try the ombre on their short hair. The wavy bob is suitable for the showing of the teal ombre, while the chocolate brown base gives warmth and freshness to the hair.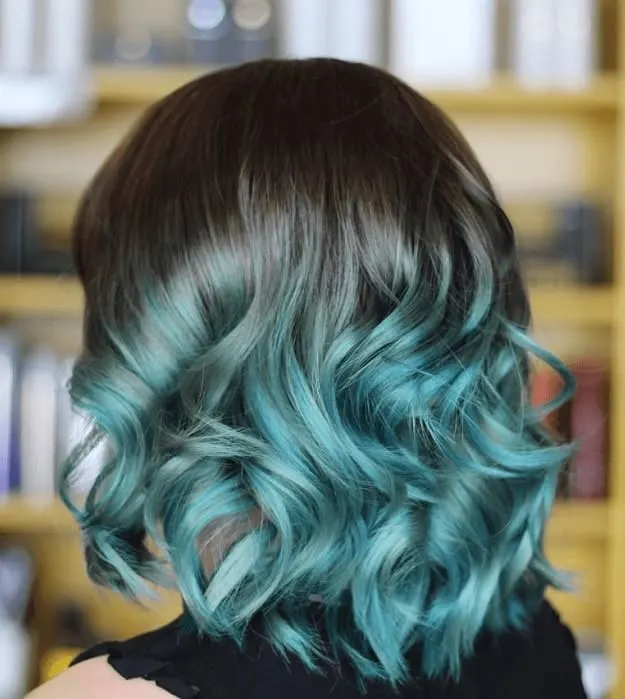 The ashy undertone of the dark blonde creates a perfect base for pastel teal ombre and the hidden layering makes it a fabulous look.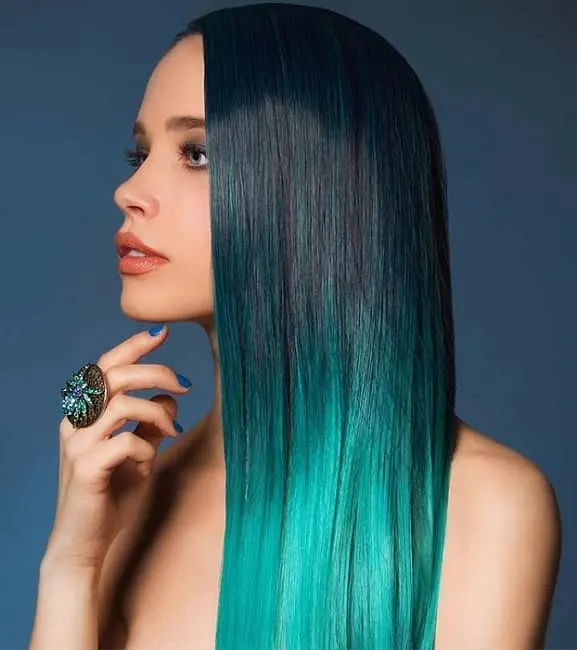 Another mermaid and the intense look is on a sleek straight hair, where the ombre is perfectly done and with utmost precision. The tones of teal a seen through all the hair, some starting with highlight up from the root.
10. Grey Ash to Pastel Teal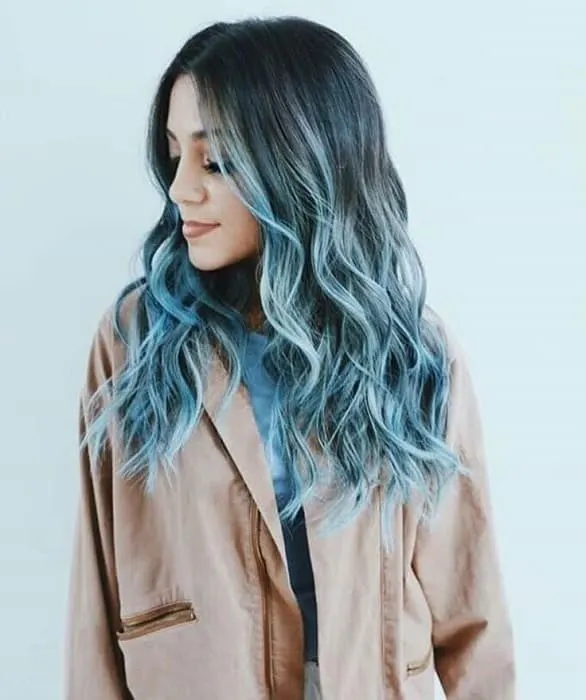 Another grey version maybe more accented one, is with strong grey base and variations of teal at the end. This teal ombre is best to be worn by women with longer hair, as it will define each layer and show off the beauty on a bigger canvas.
11. Blonde to Teal Ombre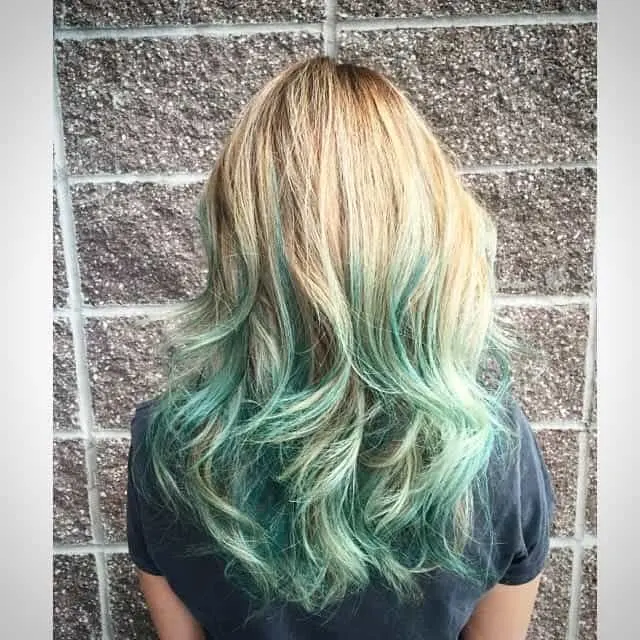 Blonde to teal ombre requires precision and the right dose of hair dye. That is because the yellow undertones of the blonde might easily turn teal to green, so it is suggested that more intense teal should be added. It goes well on both wavy or straight hair.
12. Brown to Teal Ombre
One of the most frequent teal ombre looks is on the long brown hair. These two shades mix perfectly and create a balance without color disruption. Wavy look is suggested!
13. Dark Blue to Teal Straight Ombre
Blue on blue is daring and bold look, but very beautiful. The ombre starts with dark blue at the roots and upper part of the hair and turns to bright teal. The color shades are best shown on straight hair.
14. Black to Teal Blue Mermaid Ombre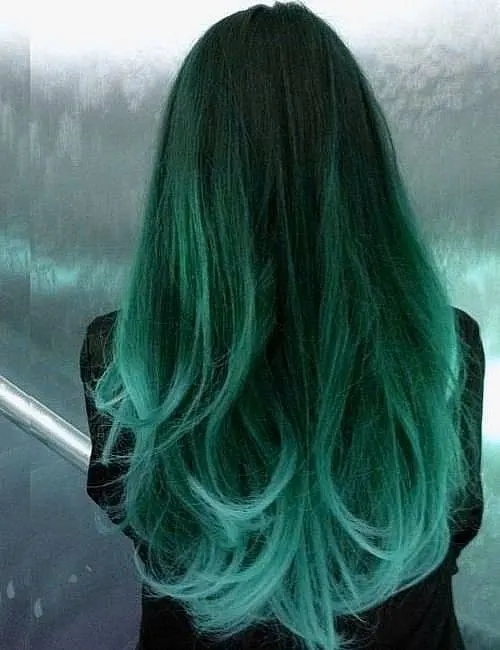 One of the currently trendiest looks that involve the teal ombre is the mermaid one. With a subtle tone of green and blue, the ombre starts from black, finishing in a light teal color.
15. Three Tonal Ombre Braid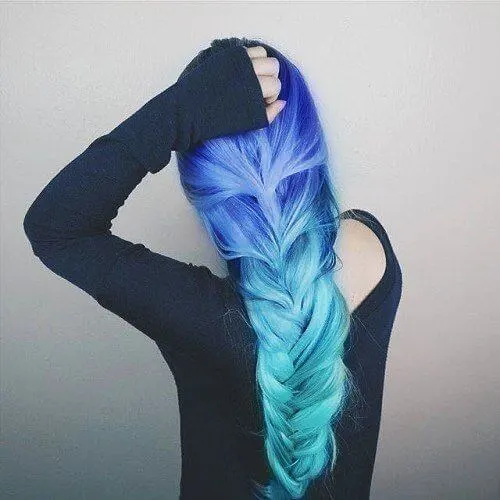 This extraordinary, extravagant and colorful look involves rainbow graduation starting from deep blue and ending in light teal. The braid will best show the change of color and is very feminine.
Turquoise Ombre Vs. Teal Ombre
The difference between these two ombre is the color. The technique is the same, but the final look differs in the shade.
Teal is more subtle, smokey, dark and ashy tone, while the turquoise is more shiny, bluish, vibrant, even neon. According to your personal likings, the amount of blue dye must be modified so that you can get the color you want.
How to Dye Teal Ombre Hair Color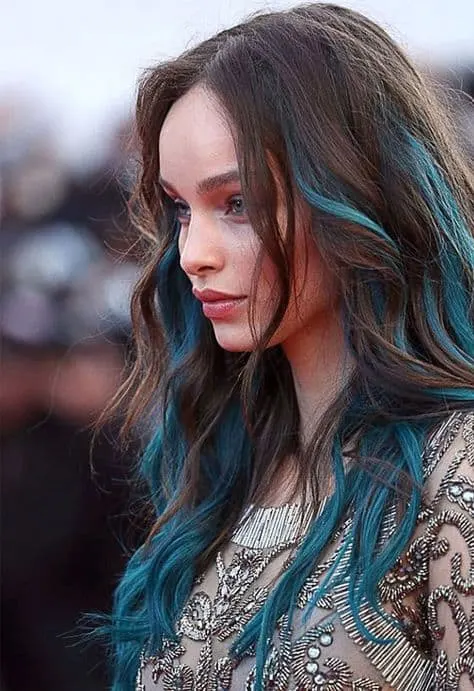 When it comes to choosing a teal as your ombre color, there are some things that need to be considered. If you have a dark base color of the hair, then you should know that bleaching is unavoidable.
And you might not get the desired color from the first time, you will need several attempts. These hair changes require a professional hand so do not do them at home.
The ombre is done at the ends of your hair, so the bleaching is unavoidable and over that goes the desired color. Depending on the tone you like, let your hair colorist do the trick in mixing tones.
After that, you will need to take care of your hair using the right shampoo, conditioner, masks, and serums that will keep your hair healthy. Teal ombre requires regular touch-ups because it fades quickly.
FAQs
Which skin tone is perfect for teal ombre?
The teal ombre suits those who have darker skin tone more than those with a fair one. The contrast between the teal and the darker skin tone leaves enough space for the hair to dominate, but not to put the face to shade. Women with fair and light skin tone might not get the same effect.
How long it takes to fade ombre hair?
Teal and all the shades of blue go under the category of colors that are not very permanent and fade very fast. Do not leave your hair unattended for more than two weeks tops.
Can I do teal ombre on my blonde hair?
The combination of yellow and blue results in green, so if you want to achieve a teal ombre hair, you must add ashy tones, like gray, that will neutralize the green and turn it to blue.
No matter if you have long or short hair, the teal ombre suits either one of them. Be a fairy, be a princess or just be a new version of you – try the teal ombre and be the trendsetter that everyone will follow and admire.