Silver-blonde hairstyles are still among the most requested and flattering hairdos. If a couple of years ago, women tried to avoid getting gray hair, the situation has made a 180 degrees turn. Nowadays, women all ages crave for it and visit salons to obtain that icy queen look.
But before you book an appointment to dye your hair in silver blonde hair color, you must know that this shade is even more fastidious than the regular blonde. It's high maintenance and not a suitable hairdo for lazy girls.
However, in the end, if you are bold enough to pull it off, it will totally worth the trouble because you'll get a fabulous state-of-art look. Scroll down and discover the best silver blonde hair ideas.
1. Silver Blonde Bob
This hue has just a pale tint of silver, making the whole look incredibly glamorous. If you are a girl with pale skin and blue eyes, this tint will help you get a marvelous color. Create thick black eyeliner lines if you don't want to look washed out.
2. Curly Silver Blonde Hair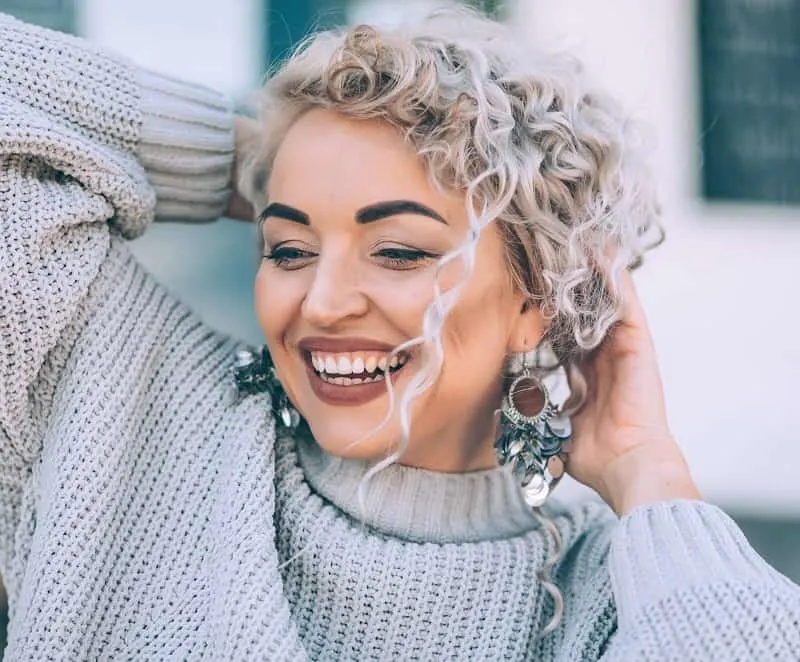 A curly silver blonde hair will maintain your strands in an ash brown blonde color, and those silver Pintura highlights will give such high definition to each ringlet.
3. Silver Blonde Balayage with Braids
If you have a long mane, a silver blonde balayage will provide a fabulous transition from the caramel top to those astonishing tips. If you need a hairstyle for a wedding, this is probably one of your best options. Style two braids that cross each other and obtain a relaxed bohemian look.
4. Silver Blonde Lowlights for Bob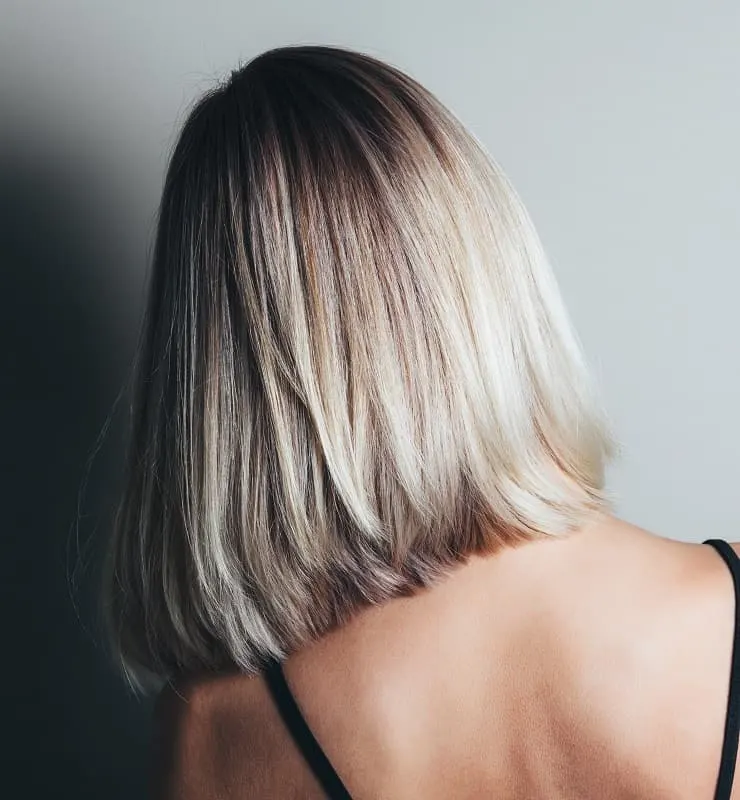 Go for a silver blonde hair with lowlights and a bob haircut that is layered at the tips. They will gorgeously fall one over each other, providing volume and a lot of texture. Straighten the hair and you'll obtain a state-of-art look.
5. Platinum Silver Blonde for Long Hair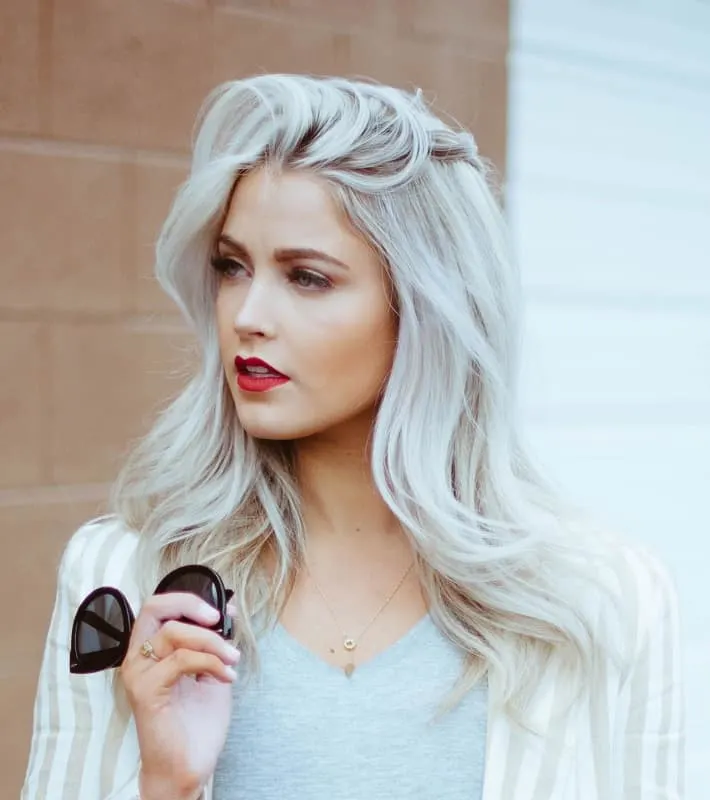 Platinum silver blonde hair color will beautifully work with your pale skin. Keep your mane long and toss the top on one side. Create a few loose wide waves to obtain a glossy fashionable appearance. Complete the look with a powerful red lipstick.
6. Silver Blonde Bob with Short Bangs
Layering your short bob will provide that stacked effect and at the same time, you will get more volume. To beautifully frame your features, style baby bangs that only cover half of the forehead.
7. Long & Straight
If you want to get a flawless look, opt for a silver blonde ombre hair that keeps your roots natural, in a dark shade. Style a blunt cut, straighten the mane with iron and wear it on your back.
8. Wavy Silver Blonde Updo
Obtain a natural silver blonde hair look by bleaching your hair. If you are a natural blonde, the procedure will not be as damaging for your threads, and the outcome will look mind-blowing.
9. Silver Blonde Hair with Dark Roots
This silver blonde hair with dark roots is ideal for all girls who want to stand out and pull of a grunge rocker look. This trend will certainly remain on top of all women's preferences, so get ready to obtain a lot of compliments for your flattering locks.
10. Silver Blonde + Inverted Bob
If you have short hair, opt for an inverted bob, keep your roots in a dark shade, and style a silver blonde hair with highlights for the top. For the rest of the mane, go for an ombre in the same hue and you'll get an unforgettable transformation.
11. Silver Gray Blonde Bob
This silver-grey blonde hair looks ravishing, and if you choose to wash your hair with that purple shampoo, you will obtain a marvelous pale lavender tint. Keep those strands messy, and you'll pull off a relaxed appearance.
12. Silver Blonde Pixie
A short silver blonde hair will look breath-taking if styled in a pixie cut. You can go for a dark blonde hue for the back and use a purple shampoo for the top and sides. The two colors will amazingly blend, and by using some wax, you'll be able to style your bangs however you want.
13. Silver White Blonde Curly Hair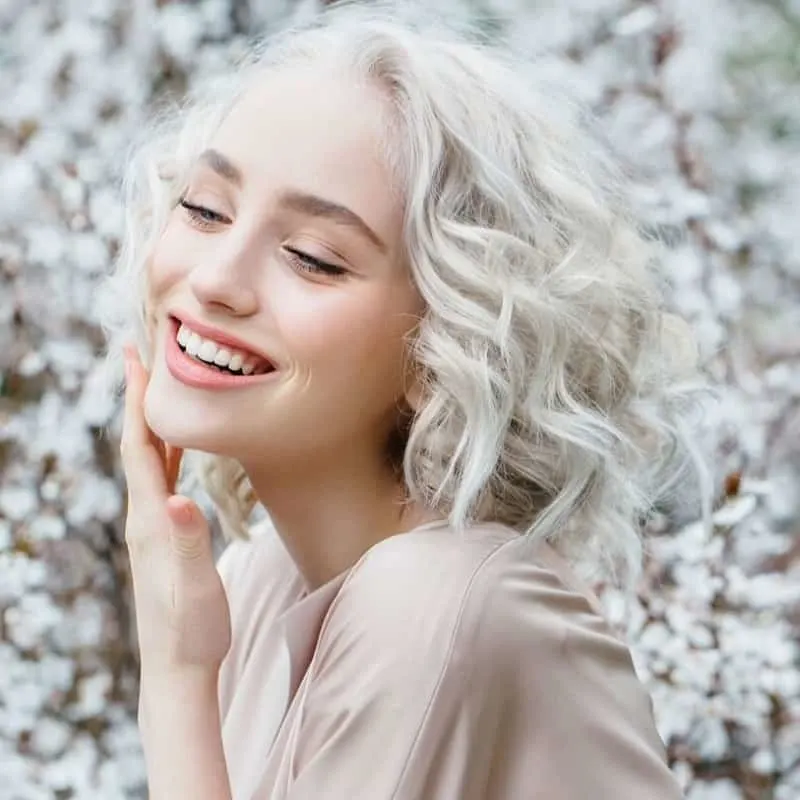 Even if a silver white blonde hair is hard to maintain, it will certainly be a good fit for girls with whiter skin. If you want to avoid the brassiness, schedule more often visits the salon for refreshing the tint.
14. Silver Blonde Balayage hair
Silver blonde balayage hair is a major hair goal for women who want a drastic modern change. Enjoy a gorgeous hue that makes any woman stick out and provides a brilliant shine.
15. Silver Blonde Highlights for Long Hair
Hop on the long blonde hair train by using highlights for the top mane, that ravishingly transit to a white silver tint. You are just one step away from glowing in any crowd.
16. Platinum Silver Blonde
Maintain your hair long and bleach your mane to obtain perfect hair color. This bold makeover will convince you never to go back to your other dull hairstyles.
17. Silver Blonde Pixie Haircut with Bangs
A silver-blonde pixie cut with bangs swept on one side is ideal for women with rebellious attitudes that want a hairdo that matches their bubbly personality. Also, this hairstyle is suitable for girls with round faces that need to look slimmer.
18. Wavy Long Hair
When you crave for an ice queen look, this silver blonde hair color is totally pitch-perfect! This shimmering hue will make your gorgeous waves and curls look effortlessly captivating.
When you have natural light hair, getting a silver-blonde hair is so much easier because all you need to do is add a gray tonner. Things get more complicated when you have a dark mane because you'll need to transform those strands into a white canvas that will provide the proper base for the silver hue.
However, in the end, you'll be bragging about your grunge or even bohemian gray look wherever you go.