Have you been eyeing those beautiful waist-length hairstyles often seen on runways and in magazines? If you don't already have hair this long, your best bet is to have extensions put in.
Of course, other habits help like eating protein-rich foods, getting trims regularly, and avoiding bleaching the hair (it damages hair making it more difficult to grow), extensions are the quickest way to get your desired long locks.
The three main types of extensions are clip-in, tape-in, and sew-in. Clip-ins are most popular because of their ease of install and affordability; they also last the longest.
Black women can opt for a waist-length weave which will also protect natural hair as it is growing out. Is your hair short like a pixie? Experiment with a waist-length wig for a weekend to switch up your style!
Waist-Length Hairstyles for Curly Hair
These 8 beautiful looks show the many ways you can wear your waist-length hair.
1. Waist Length Curly Hair
Waist-length curls look their best when left loose and draped over one shoulder or worn in a high pony. Add to the curls by using a curling iron or getting a perm. Protect your luscious curls by wrapping them up each night and sleeping on a silk pillowcase.
2. Waist Length Blonde Hair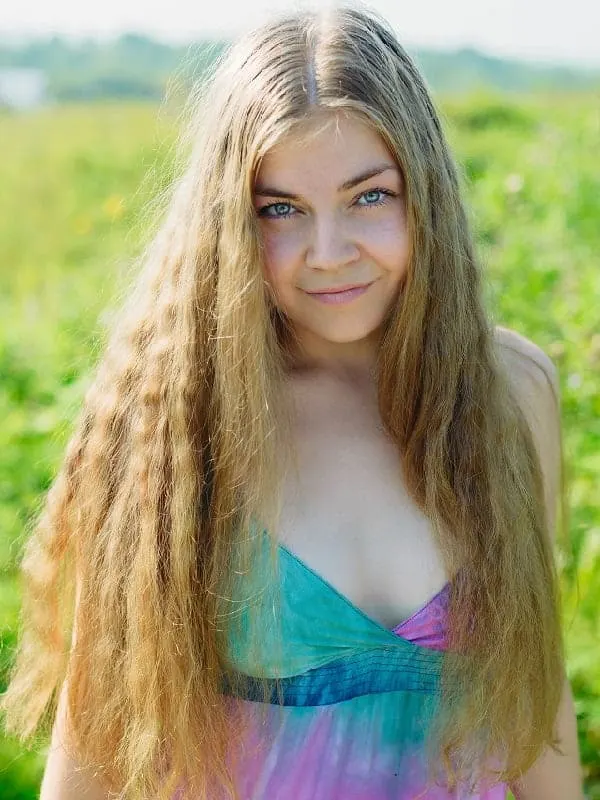 Long wavy blonde hair has a way of coming off very bohemian. To get subtle waves, wear overnight braids and unravel in the morning or use a curling iron. While wearing it parted in the center and loose is pretty, you can add details like headbands or flowers to dress it up.
3. Waist Length Braids
These waist-length microbraids come to life with varying shades of blue and pink hair color. For a round face, the straight braided style lies against the face for a flattering look. Microbraids take at least 6 hours to create and will last about three months.
4. Waist Length Wavy Hair
Gorgeous blonde waves grace long hair for a style that is perfect for a wedding or date night. Pull back hair near the face into a no-fuss half ponytail, secured in place by a lock of hair instead of an elastic. When adding curls, brush them out after using hot tools to create soft waves.
5. Waist Length Layered Straight Hair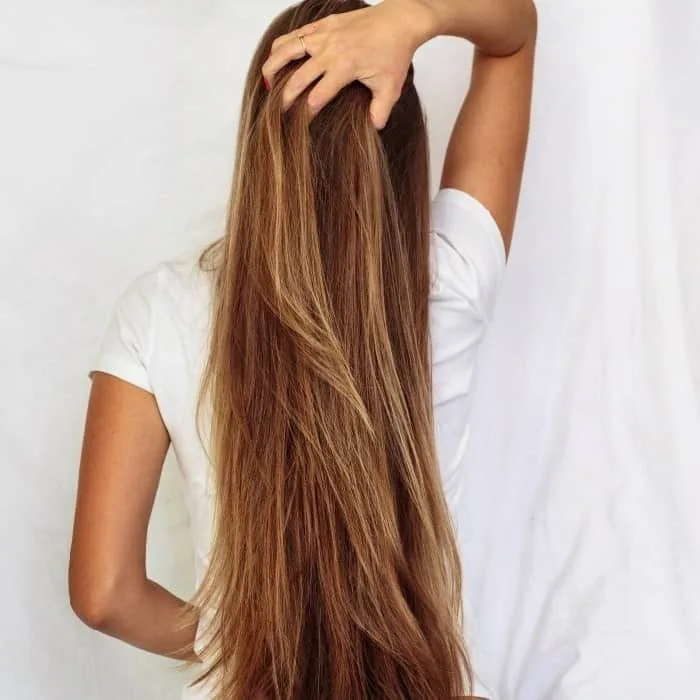 Layering straight hair is never a bad idea. Blonde highlights against a dark base give a beachy vibe, while the layers can create feathering – a beautiful technique that flatters both fine and thick hair. There are many options for wearing straight hair: two ponytails that look like one, low braids, or a single sky-high pony.
6. Waist Length Hair with Bangs
For a dramatic hairstyle, layer waist-length hair and add bangs that are pin-straight, glazing over it all with a copper color or burgundy. Cut them just at eyebrow level so your beautiful eyes are still visible. Whether at work or heading to a fancy event, this style is both chic and sophisticated.
7. Waist Length Natural Hair
If your hair is more afro-textured let it grow long or get a weave for waist-length hair. While leaving it loose will show off soft curls, pulling up the top half or doing a heavy side part is equally pretty. Use a flat iron to create a beautiful blend of straight and curly hair for a boho vibe.
8. Waist Length Hair with Extension
Find out if blondes really have more fun by coloring hair extensions blonde with a peppy pop of pink. A high pony sectioned off in three places is a fun, flirty updo great for everywhere from the gym to your office. To thicken up locks, pull the sections a little loose.
Take care of your naturally waist-length hairstyle by using conditioners and nourishing hair products that will retain moisture. If extensions are what you end up with, maintain them with regular washings, using conditioner to add shine.
Extensions typically start at around $100 and can increase in price depending on the quality and desired hair length. But, no matter the waist-length hairstyle you end up with, you are going to look amazing!