The blonde mohawk hairstyle has been an in-trend hairstyle for men. Who knew that the ladies of this generation could pull it off more charmingly than anyone else? The Mohawk hairstyles are essentially a short cut hairstyle with the front end arranged in an upper combed fashion. This stands such because of hair gel and wax.
Blonde Mohawks – How to Do
Blonde Mohawks are becoming highly popular these days. Women are trying out different Mohawk styles for themselves. For those of you new to creating a blonde look for yourself, here's a quick guide for you!
Get a Mohawk cut done of your choice. The night before you choose the suitable blonde shade for you, wash as well as condition your hair properly. Next, comb through the hair properly to remove the tangles, if any. Get started with using the bleaching kit. Put on the gloves and create the bleach mixture as per the instructions mentioned on the pack.
Start putting the bleach mix into your hair. Begin with the front part of the Mohawk and move towards the back. Once you are done, wait for the required time and rinse it off. Finish up the blonde Mohawk look by putting a good conditioner in your hair.
Watch The Following Video Learn More about How to Do and Style Mohawk on Blonde Hair
Best Blonde Mohawk Hairstyles
A blonde mohawk looks cool, fashionable and gives a very strong and raw vibe. Mohawk hairstyles for women look extremely bold on them and is an extremely brave move. Here is a list of 8 blonde Mohawk hairstyles for women that will help you out deciding your next look.
Arrange your blonde Mohawk with inward center fishtail braids. These braids are arranged in such a manner that they give a very neat appearance. The front of these braids is twisted in a puff curl enhancing these hairstyles furthermore. This is one of the most stylish ways to style your Mohawk haircut.
2. Shabby Mohawk
To give a bold appearance to your Mohawk look with half shaved head style. Line Mohawk on blonde hair for women in an uncanny manner. Keep the hair down and align it to different sides by applying hair wax, while keeping the front end free and messy. Pull this look by minimum work.
3. Ashy Blonde Mohawk with Hair Design
Utilize the faded area of your hair from the blonde Mohawk cut by designing it with a unique pattern of your choice or like the one shown in the picture. Color your hair and align it to one style of the hair revealing the amazing pattern on your head and flaunt this look like a pro.
4. Short Mohawk
Short Mohawk is essentially an extended version of the original Mohawk look where people find the style appealing but are hesitant to keep the long hair.
Cut the Mohawk hairstyle short and let it fit in with your looks just the way you wish it to be. Fix your hair as shown in the picture and give your Mohawk on blonde hair and yourself an altogether new look.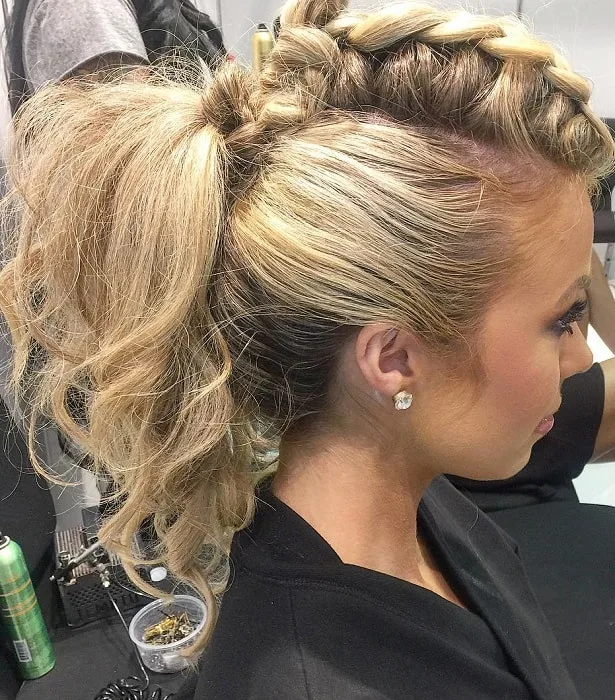 The picture above is exactly how a ponytail with Mohawk should look like. The right amount of boldness with an edge of classiness turning people's head around and giving you a confident feel about yourself.
Keep your head high and rock this extremely high fashion braided ponytail with blonde Mohawk look and speak your personality out by your look. Glam it up with a wind eyeliner to make them look even more attractive.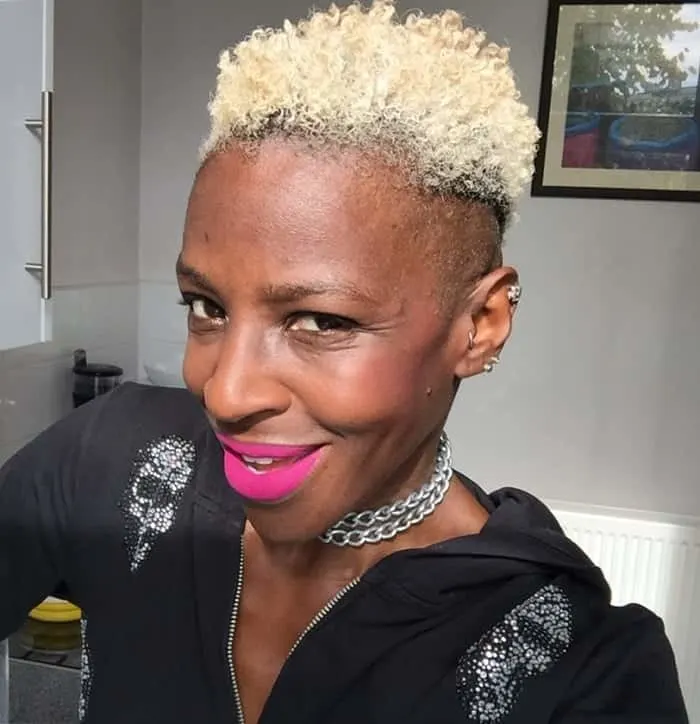 If you are wondering what you can't go for the Mohawk look because your hair is short, then you are wrong! The picture above is a classic example of that. Cut your hair exactly how you want it for the Mohawk look, add undercut and then let your curls do the rest of the magic. Curls never got this easier to maintain. This blonde Mohawk for black women is extremely exuberant and gorgeous and is a rebel hairstyle in its way.
7. Mohawk with Mullet
Yet another way of styling your Mohawk hair is by extending the lengths of your haircut. Again this cuts down on your needs of gels and waxes. This sandy blonde hair look is unique when compared to other hairstyles and is very simple to maintain.
It has a very shabby appearance which adds on to the concept of Mohawk look. Pair this blonde Mohawk hairstyle for women with loose fittings jeans and add on more to the concept and feel of this look.
If you have loved the mohawk appearance but don't wish to keep your hair high, then its absolutely not a problem. Comb your blonde hair Mohawk back and get the same edgy and daring look. Try this hairstyle even for a more modest version of the Mohawk haircut. Also, you can save your hair from hair wax, and hair sprays with this hairstyle while looking stylish and adapting your favorite mohawk look.
Style your in-trend mohawk look in a variety of ways and exactly the way you want to. Be that in classic bold manner or a subtle revolt to the norms of how a women's hair should be. Style your blonde Mohawk just the way you want. Embrace your uniqueness and your outlook with this look and get that touch of boldness.