Natural hair updos are taking control of 2023 hair trends in natural hair style choices. That's because natural hair divas are embracing the versatility and ready to show off their glorious textures. If you are among those looking for a good, natural hair updo, we have a few picks just for you.
Best Natural Updo Hairstyles for Women
Here are 35 natural hair updos for you try this season!
1. Twisted Updo with Bun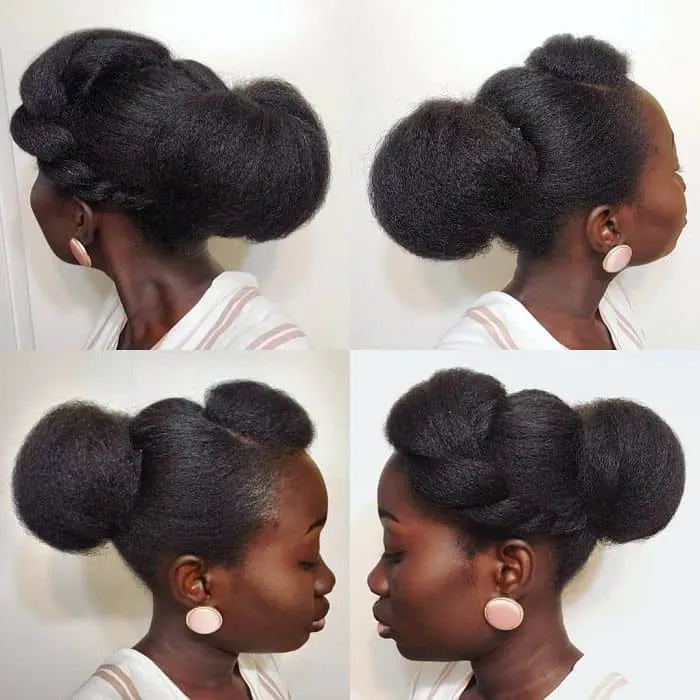 Women with thick, luscious black and voluminous hair should enjoy updo hairstyles. Bun is one of the smartest and gorgeous ways to style updo for natural hair. A protective style bun combined with front twists and a puff looks very sophisticated.
Make sure to tuck the side twist into the bun. This style adds dimensions and managed volume directed to the hair. Pair up this easy-to-make hairstyle with delicate jewelry and all eyes will be on you.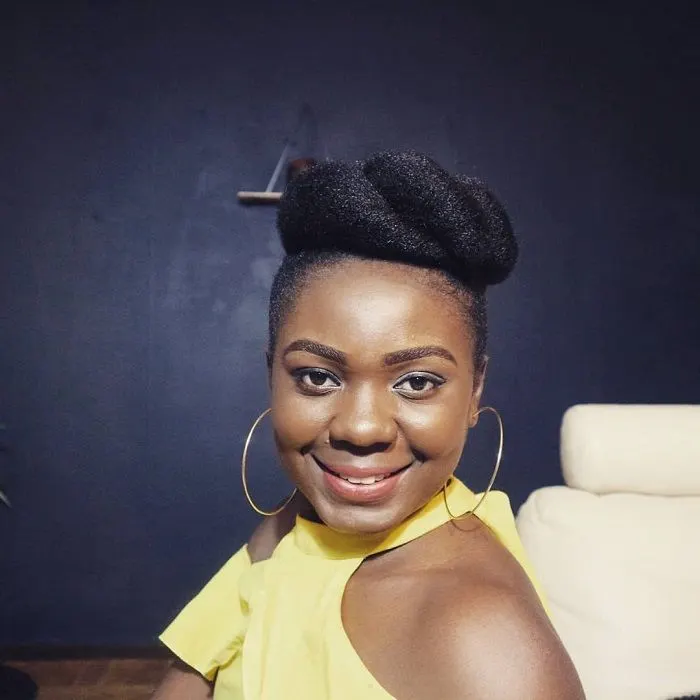 A pompadour is known for its bossy and sleek look. You can get this look with your natural hair. A fine pompadour with shaved sides or an undercut gives a neat and bold appearance. Contrasting hair lengths of shaved sides and top pompadour look very dramatic and bold for a woman.
What makes this pompadour stand distinct among others in the fine twists adding texture to it. If you have medium length afro, you should try this updo. You can pair up this natural style with a formal suit or a delicate top to oomph up the glam.
3. Curly Undercut with Fringes
Nothing is easier and more natural than a simple curly puff. A curly undercut with voluminous fringes on the front of forehead makes a dramatically natural updo.
Natural black curls with a caramel tint in between the locks add hype to the look. This hairstyle is best for casual events. It is easy-to-make and needs little maintenance.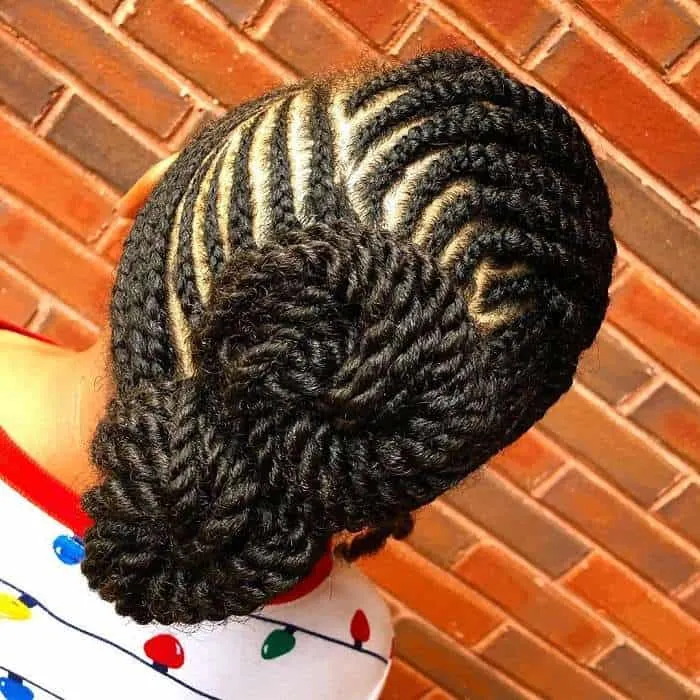 Tight cornrow braids look extremely artistic. Bidirectional braids tied to the back into two braided buns make a sophisticated natural updo. This hairstyle is perfect for curly and voluminous hair which are otherwise difficult to handle.
This style has a unique quality of making hair look voluminous in a manageable way. The updo requires a little effort but the final look is worth it! Make this hairstyle your style statement tonight and be in the limelight!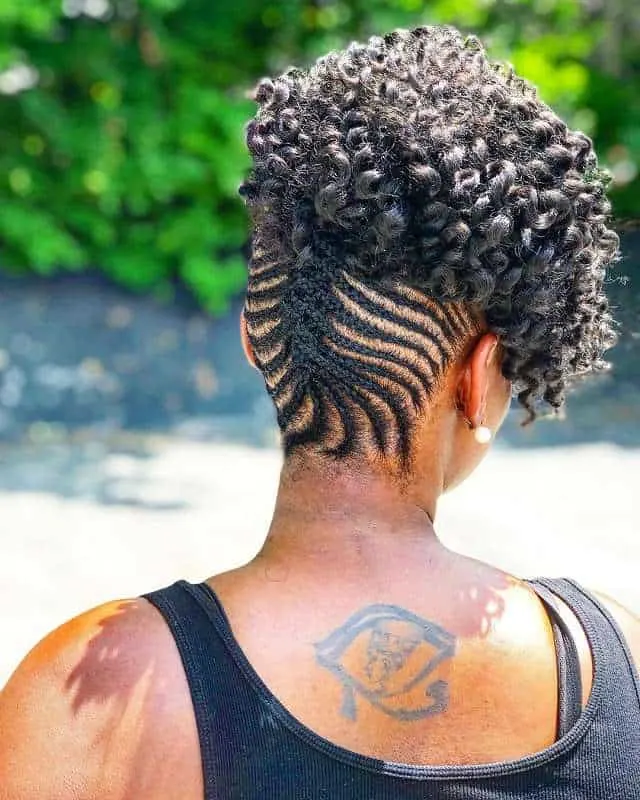 A little creativity in style does no harm! Tight and wavy crochet braids on the underside in a snake pattern paired up with a curly mohawk and front fringes create a very dramatic updo. For an ultimate sexy summer look, this hairstyle is a perfect choice.
The otherwise unruly curls look extremely gorgeous in this updo. If you have naturally thick hair with coils, it's time to play with them and make this style your upcoming style statement.
6. Bantu Knots
The African-inspired Bantu knots look effortlessly chic and many stars like Rihanna and Beyoncé have rocked them. Section the hair into different parts before twisting and wrapping it to form spiraled stacks on the head. Secure with hairpins or elastic hair ties.
7. Jumbo Bun
Here is a look ideal for busy days as it can be achieved in a flick. Gather the hair on top of the head and use extensions if needed to wrap it around into a jumbo bun. Finish off by pulling some strands loose for a romantic appeal.
8. Funky High Top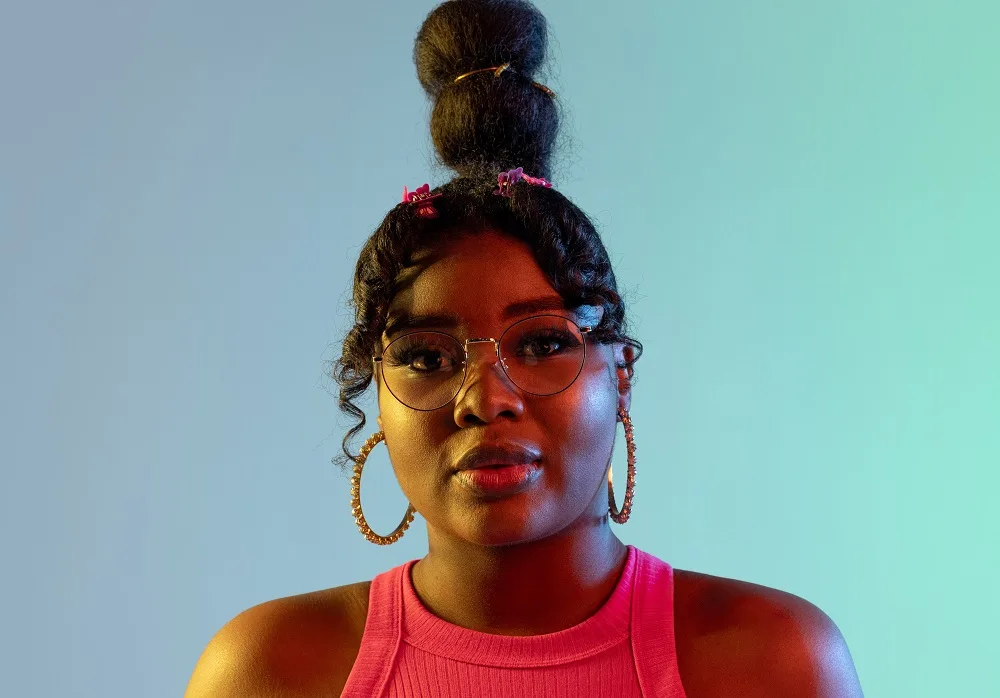 Keep all the eyes on you by going for this funky high top hairstyle. The hair is teased before being styled into two bubbly buns stacked on one another. Frame the face with a curly middle-parted fringe and top off with butterfly clips for a girly look.
9. Slicked Back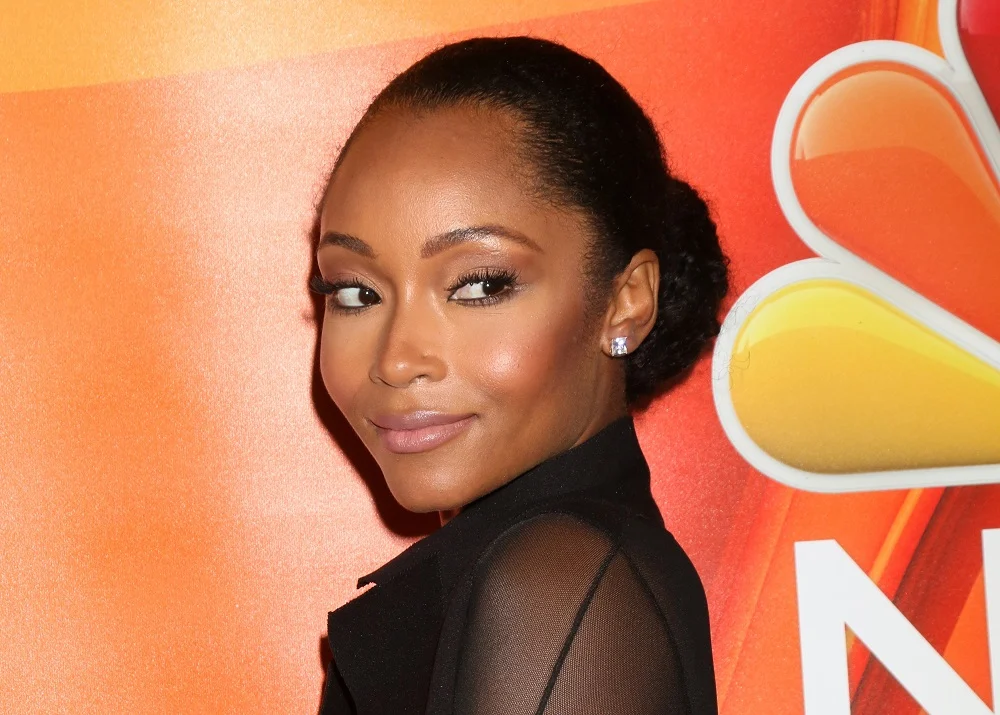 This simple yet beautiful natural hair updo is trending this year and African-American women can sport it with utmost elegance. Slick back the curls tightly into a bun at the back and secure it with pins. Use hairspray to tame the flyaways the look is done.
10. Wedding Vibes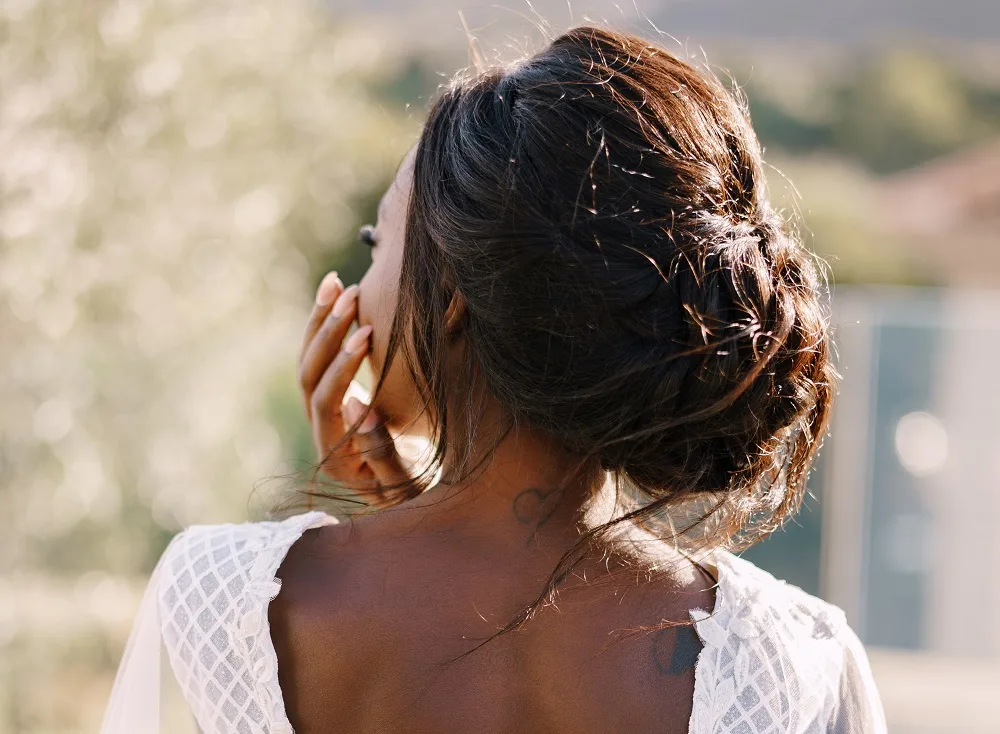 A messy updo surely looks romantic for a wedding event. Twist back the side locks with a subtle hair puff on the top and secure all the hair in a ruffled updo at the back. Tug some strands loose for an undone appeal.
11. Add Hairpins
Oversized hairpins have been in fashion for quite a time and come in handy to spice up a simple hairstyle for natural hair. Slick back the fluffy mane with a middle parting into a low bun and add as many hairpins as you want for a groovy finish.
12. Reversed Updo
Stand out from the crowd by rocking an updo at the front rather than at the back keeping all the attention on the face. Twist the chunky sections inward towards the center part and wrap them around into a puffy bun sitting on the forehead.
13. Straight Back Braids
Another protective hairstyle for natural curls is these straight-back cornrows look that can be kept for a few days. Section the hair and braid it while incorporating blonde extension for a highlighted appeal. Leave the ends free to fall on the nape.
14. Half-Up Yarn Locs
Black ladies can express their bold side with these thin dreadlocks. Ask the hairstylist to wrap some yarn around each strand for a neat appeal while securing half of them in a top bun sitting on the head to recreate this half-up hairstyle exactly.
15. Ballerina Bun
Dance around like a ballerina with this simple yet graceful natural hair updo. Use hair extensions while slicking back the afro curls creating an oversized bun on the top. Secure with pins and apply hairspray to keep the style intact all day long.
16. Tilted Crown Braid
This crown braid will turn you into an elegant queen. Start by braiding or twisting the strands and instead of moving around the circumference of the head tilt the braid on one side for an edgy finish. Spice up the look by incorporating burgundy extensions creating a subtle highlighted effect.
17. Pineapple Updo
A pineapple updo is a to-go hairstyle for lazy girls. Put those curly coils together on the top of the back while securing with a hair clip or pins sparing the fluffy side-parted fringe at the front for a carefree finish.
18. Boho Space Buns
Here is another natural updo hairstyle best for women who want a chic bohemian look. Spare the front chunks while the remaining hair is secured in ponytails that are wrapped around creating funky space buns. Braid the chunks to frame the face for a hipster finish.
19. Undone Look
Feeling too lazy to style your hair? Don't worry as this is just the look for you. Whether curly or straight, detangle the locks and secure them in a clip at the back leaving some strands loose to fall freely along the sides of the face.
20. Curly Side-Swept Fringe
Flaunt those natural curls with utmost confidence by going for a deep side-parted fringe falling on one side of the face while all the remaining hair is styled in a top knot bun. A bit of hairspray will keep all those curly strands in place the entire day.
21. Carefree Curls
Take things up a notch by recreating this carefree yet lovely look. Dye the tresses in an ashy brown hue and add caramel highlights for a two-toned appeal. Clip the curls in a loose bun at the back with the side-parted front strands accentuating the face gracefully.
22. Afro Puff
Keep those natural curls away from the face with this chic updo hairstyle. Slick back the strands with a deep side parting into a fluffy afro puff at the back using the drawstring method. Swoop down the baby hairs using a toothbrush and pomade and you are ready to rock.
23. Big Twists Updo
If you are a natural hair diva with long, lush, thick natural locks, you can fashion your hair into a regal updo hairstyle. Don't worry. It's not that complicated. With a band, pins and four big twists, you can pin hair in a matter of minutes to form a bountiful top knot.
45 Brilliant Braided Updo Styles
24. Gorgeous Updo for Kids and Women!
This updo which blends tight curls with two cute braids demonstrates the ability to move in more than just one direction with a French braid. Also, for those who do not wish to confine their naturally curly locks, there is always the option freestyle your hair to create a versatile look.
These curls are soft and held in place by pins or a ponytail holder.
Short Natural Hairstyles Ideas for Black Women
25. Large Cornrow Braids with Twist Out Style
Mix things up with your natural hair updo with a natural twist-out and cornrows that do not follow the standard pattern. Hair is bountiful and follows a forward flow to give hair a full look.
26. Natural 85's Natural Hair Faux-Hawk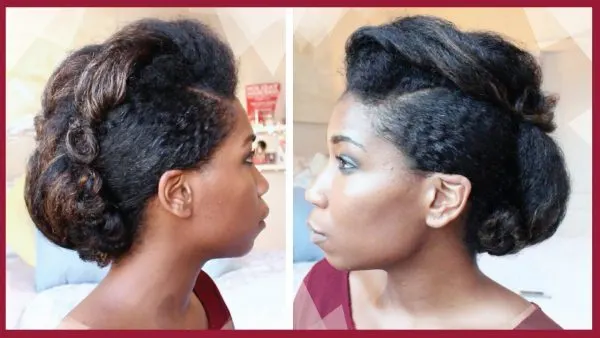 Natural 85's Natural Hair Faux-Hawk is an excellent, edgy style for those who are seeking a different look.
This style shows that a simple two-strand twist on medium length hair can prove useful in creating an inspiring new look for natural hair. Once again, the simple can be made to look complex.
100 Exclusive Braid Styles for Black Girls
Flat twist updo is an understated description of this fabulous natural hair style. Once again, thick hair with gorgeous length reigns supreme as the wearer of this style has rows of small flat twists and large flat twists. This unique natural hair updo gives hair a multi-dimensional look.
29. Large Cornrow Buns
Are you looking for a simple but classic updo? There's nothing like cornrows that meet at the back of the head to form a classic bun style. This style is the naturalist's go-to style when the complicated becomes too much.
These braided buns are a retro look that never goes out of style. They can be fun for a night out with friends or worn just as easily on casual outings.
31. Braided Top Bun
A chic updo is a wonderful look for almost every avatar. No matter if you are a teenager or a granny! A protective hairstyle made of tight cornrows tied on the top into a braided bun makes life easy yet stylish.
This is a multi-dimensional and extremely artistic hairstyle for a perfect summer look. Wear this style with a funky T-shirt and be the punk!
32. Crown Cornrows
Just liked simple crown braids, cornrow crown is a must-to-try updo. Make a simple braid crown and twist the central hair into cornrow braids instead of leaving them simple.
This hairstyle will do justice to thick and black hair. Not to forget, the delicacy and style with cuts with this updo are unmatchable.
33. A Scarf Tied Coils Updo
Looking for natural updo hairstyles? What about simply tying your hair up with a scarf? Thick afro hair makes the true ground to play in. For this simplest look, hold your afro on the top and tie a scarf around the base.
A funky colored scarf will do wonders and add life to the style. That is it! This is a true summer updo which is very easy to make and requires almost zero maintenance.
34. Crotchet Braids with a Twisted Bun
When it comes to an updo, buns always stand in the front line. However, new innovations and creativity to the buns make the style work having.
This amazing hairstyle consists of thick crotchet braids on the front and underside tied on the top into a voluminous twisted bun.
Make two braids on the front with a center part and repeat the process on the underside. Thick and voluminous hair makes a perfect texture for this updo. This natural hair updo is perfect for casual as well as formal look!
For a sophisticated Diva look, nothing looks more effortless and beautiful than a updo on natural hair. Tie all your hair into a neat low side bun. Take the front section of hair and twist them into a side bangs with a whorl.
This look is ideal for bridesmaids and even the bride herself. Wear this style with delicate diamond jewelry and fresh pink lip color and you will see all eyes turning towards you.
These are just 35 gorgeous natural updo hairstyles that you can easily replicate.