In the 1920s, hairstyles for long hair involved curls, ringlets, waves, and many decorations such as pearls, headbands, or feathers. These years represent a great transition for women in fashion thanks to their hairstyles, attitude, and behavior.
The 1920s era gives us the well-known flapper girls: young women who wore short dresses (for those times, a skirt that covered the knees was very short), excessive makeup, and exquisite hairdos.
Long Hairstyles Inspired from 1920s
If we go deeper into these 1920s long hairstyles, we'll discover women's necessity to build pitch-perfect trendy hairdos that have volume or coiffures with various hair decorations such as hair rolls or braids. If you want to catch a glimpse of these evergreen hairstyles, get your inspiration out of the examples below.
1. Layered Wavy Hair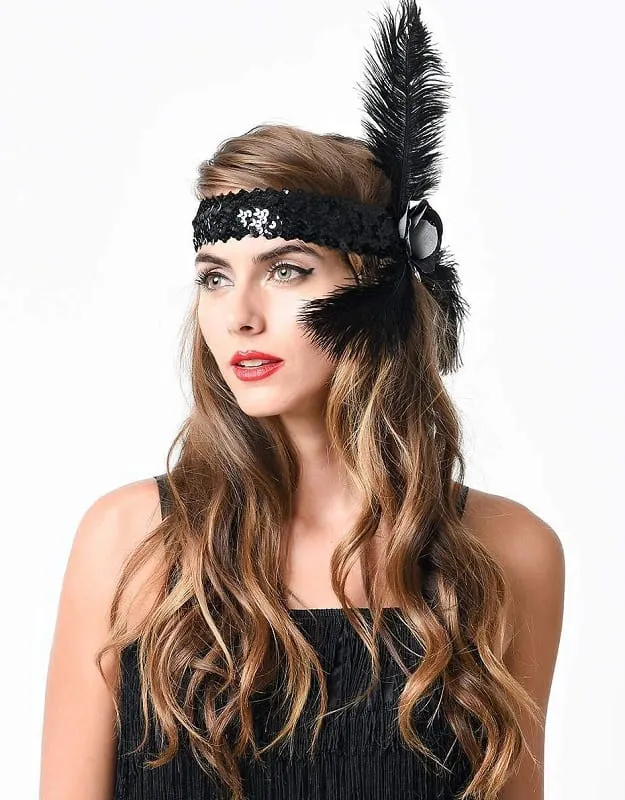 A long flapper girl hairstyle also uses decorations such as headbands made of lace or sequin applications. Feathers were most of the time attached on one side, and the hair loosely curled.
2. Brown Long Waves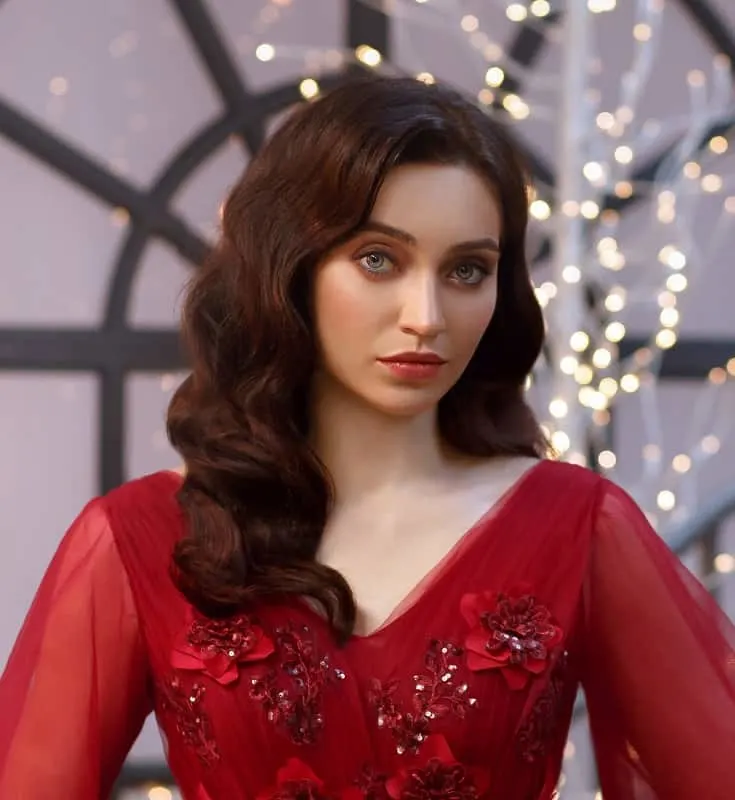 Brush your hair and use a thermal serum that provides heat protection to your strands. Use a thick wand and roll your strands on the curler, using small sections. Once you are done, brush the hair with a big tooth comb. Also, tease the roots to get more volume for your 1920s wavy long hairstyle. Use hair clips to define the waves, apply some spray, and let them set for a while.
3. Blonde Waves and Curls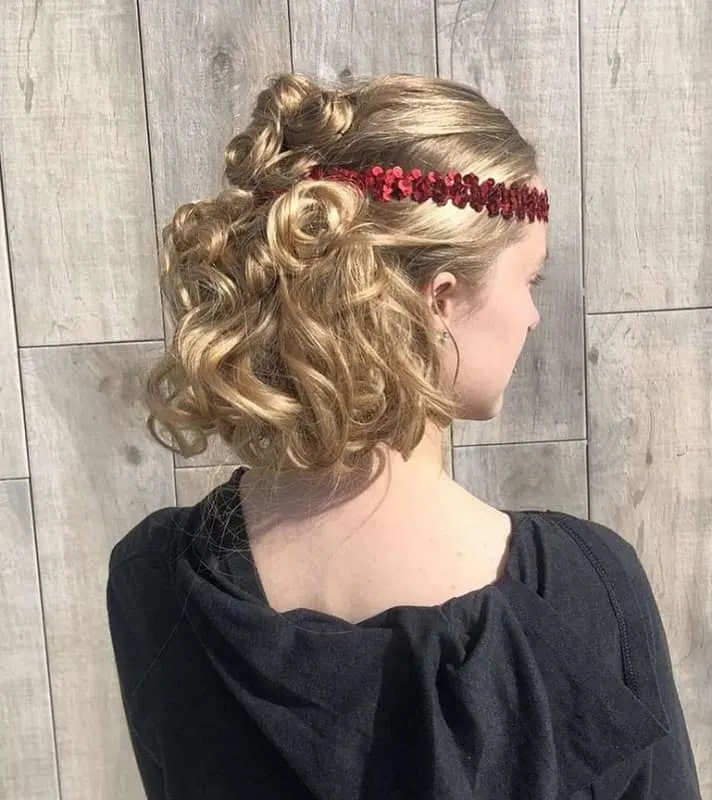 Use a red headband for your 1920s long curly hairstyle and, in the back of the head, build waves and curls that you will beautifully gather in a tucked-in covered bun. On top of the head, create some hair rolls and secure them with bobby pins.
4. 1920s Hollywood Finger Waves
In the 1920s, long hairstyles with finger waves were trendy, and all women pulled them off each time they appeared in public, at mindblowing parties or events. These years are all about the glam, the perfectly shaped waves that are quite challenging when it comes to styling.
5. Wavy Long Tresses
In the 1920s, long curly hairstyles were a must, and if you want to recreate one of the coiffures that marked that period, we recommend you to start with something simple. You can use a triple iron to get the waves presented above or, if you don't want to use heated devices, braid your hair overnight. Also, don't forget about the jeweled headband.
6. Elegant Updo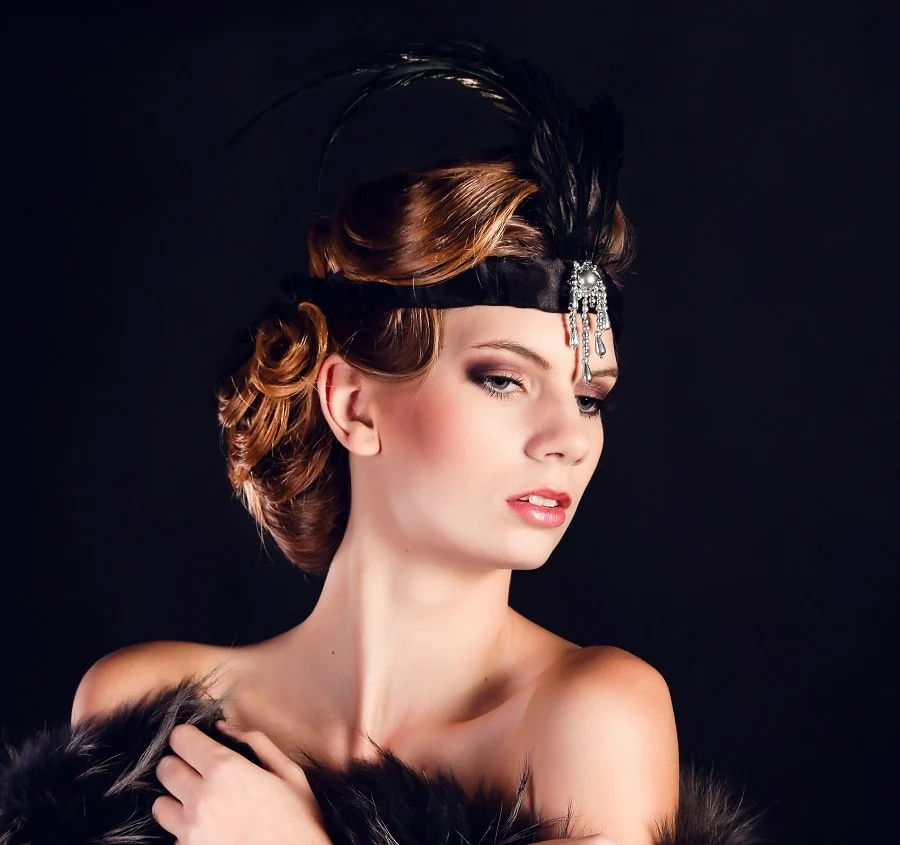 Steal the show at a formal event by rocking an elegant retro updo. The side-swept fringe and long locks are styled in finger waves while the remaining tresses are wrapped in a chic rolled bun at the back. Top off with a black ribbon headband and shiny feathers matching the outfit.
7. Side-Tousled
Cloche hats were the biggest trend in the 1920's. Look like a French Madame by rocking one and coupling it with a simple hairstyle. Go for bouncy long curls and tousle them on one side to be secured in a side ponytail falling forward on one shoulder. Simply stunning!
8. Double Buns
These double buns existed even in the 1920s, long before Princess Leia from Star Wars popularized them in the 1970's. The long mane is middle parted and knitted into two braids with subtle finger waves at the front. Wrap the plaits around the ears and secure with pins. Voila!
9. Pinned Back
Keep it elegant with a pinned back hairstyle. The side locks are twisted and pinned at the back with some chunky strands framing the face at the front. Create hair rolls by wrapping the ends while the remaining tresses are styled in a flipped ponytail. Don't forget to add a feather hair clip.
10. Chic Side Bun
Chic and versatile, that's what side buns are! Recreate this 20s retro long hairstyle by going for a deep side part and creating finger waves using some mousse and a comb. The remaining hair is swirled around in a bun behind one ear. Finish off the look with a cute flower hairpin.
11. Two-Toned Fauxhawk
Sport a bold fauxhawk without even cutting an inch of your hair. The two-toned look features highlighted blonde tips contrasting against the dark roots that are rolled into spirals and secured with pins in the middle of the head. Add a flower and done!
12. Perfect Swoop
Turn around some heads by adding a vintage touch to a simple everyday hairstyle. Take the side-parted fringe and swoop it into a perfect spiral on one side and fix it in place with hairspray and pins. Add loose curls to the remaining hair, and you are ready to go.
13. Tight Pin Curls
Pin curls are a signature look from the 1920's and are rocked by many even today. Take a chunk of hair, wrap it around your fingers, and secure with pins on the top. Repeat until no hair is left. The result is a chic updo that won't be ignored.
14. Pink Love
Express your wild side with a vibrant balayage. Add streaks of hot pink on the dark tresses with a touch of salmon pink in between. Braid some strands and hand-tousle the waves for a messy appeal. Don't skip the embellished headband!
15. Victory Rolls + Bumper Bangs
Make those boring long locks pop with color by adding stripes of orange, yellow, and magenta all over the head. The side locks are wrapped inward and fixed in place creating half-up victory rolls with inward-rolled bumper bangs at the front. Curl the tips of the remaining hair at the back. Tada!
16. Sleek Low Ponytail
Set the stage on fire with this 1920's-inspired long hairstyle. Slick down the hair into a low ponytail with a middle or side parting and wrap it around with a shiny rhinestone hair chain from the base to the tip. Can't get any easier!
17. Buns and Rolls
This long updo hairstyle has several elements that you need to build. On one side, use small hair sections to make some rolls, while at the nape, you style a bun. To give the bun some volume, you can even use a sponge that will be entirely covered with hair, forming the shape. Add some bobby pins to set the whole updo and a fabulous headband.
18. 1920s Wedding Hairstyle
A wedding hairstyle like this gives the roots a lot of height, creating a gorgeous wave at the top. Tease the hair before you place the headband and in the back, build a big curly detailed bun. Also, don't forget that red lips are a must!
19. Braided Bun
Even in the 1920s, long hairstyles with braids were highly fashionable, whether women used them only to decorate their hairdos or to create elaborate hairstyles. Decorations such as comb applications can be often used to get that elegant vibe.
20. Intricate Curly Hairstyle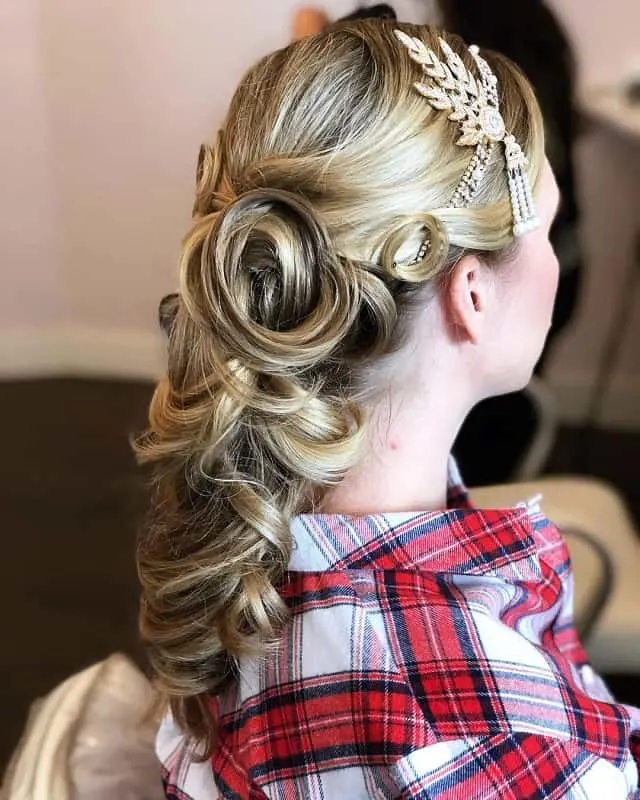 Use the top and the fringe to side sweep them into hair rolls. Curl the rest of the hair, and build a glamorous construct in the back. Use bobby pins to guide the shape and create more hair rolls to give the hairstyle a detailed look.
21. Finger Waves with Rhinestone Jewelry
This hairstyle is not only about the finger waves that have to look glorious, but also about the mindblowing rhinestone decoration placed on top of the head. Even if you might think the application gets all the attention, the side waves give the hairstyle an elegant touch.
Long hairstyles from the 1920s are not low maintenance, and they require some practice before you perfectly nail the finger waves and curls specific to this fashion trend. If you want the coiffure to be a real success, make sure you have clips, bobby pins, a wand, and some setting spray before you start.