Long hair gives you endless hairstyle options and braids are skyrocketing as the trends. Do you ever see those beautiful braid styles for long hair, but aren't sure how to do them yourself?
Although there is a number of braid tutorials out there, sometimes they're a little difficult to follow. Luckily for you, we've gathered the trendiest braids for women with long hair and included tutorials for each one.
From braided half buns, chunky side fishtail braids, to everything in between, there's a braid style for any skill level you're at. Check out the beautiful options below!
Braids For Long Hair Tutorials
Fishtail Braided Half Bun
This fishtail braided bun only takes a minute! Gather together a small section of hair at the top of your head, then loosely braid it. Secure it in a ponytail at the crown, twisting the ponytail and winding it around the base to make a half bun.
If you know how to make a side braid, these thick milkmaid braids will be a cinch for you. Comb your long hair all the way through, then part it in the middle to make two sections. Starting at the hairline of one section, Dutch braid hair through to the end. Repeat on the other side, then criss-cross the braids and secure ends to your head.
Twisted Side Braid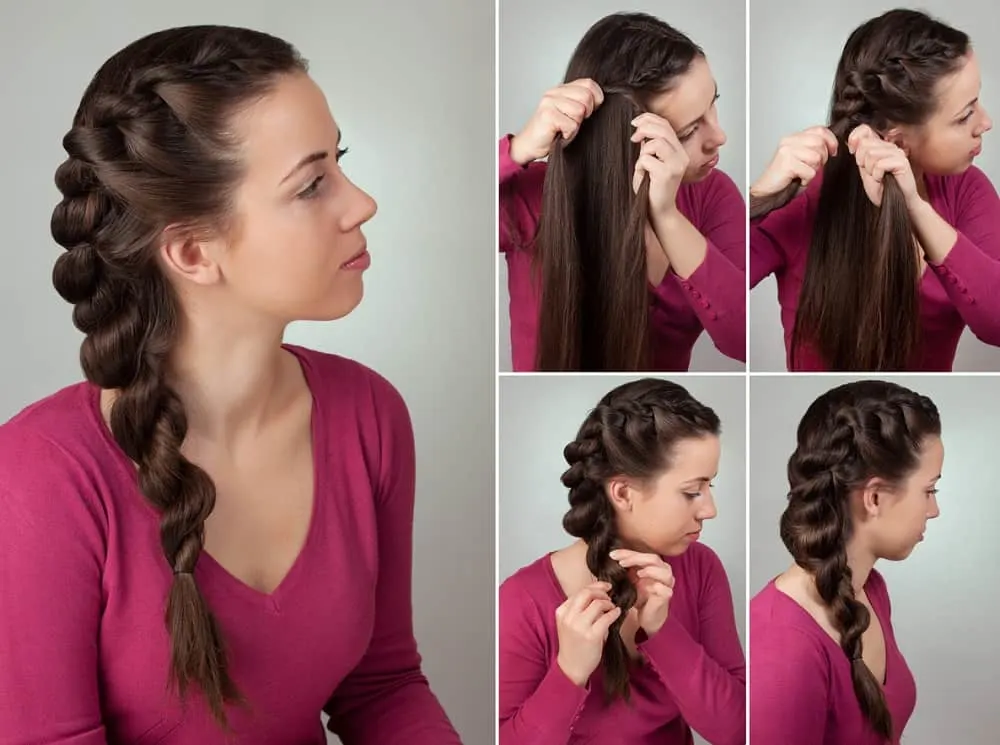 Again, this long luscious braid is a cinch if you know how to do a regular side braid. Comb your hair straight back from the hairline, then start your braid at the temple of one side, regularly bringing in a little more hair as your braid gets longer.
Eventually, you'll get a thick braid. When you reach your neck, secure it with a ponytail, then twist the rest and secure it again at the end.
Overlapping Fishtail Braid
This long hair braid is intricate. Gather one small section of hair from either side of your head and secure them in a ponytail. Grab two more sections underneath that ponytail and secure them right above the first hair tie. Do this all the way to the end of your hair, then tuck in the end. You can loosen your 'braid' if you want to make it look thicker.
Bun Wrapped in a Braid
You'll love how your long hair looks delicately wrapped in a braided bun. Start with a high ponytail, separating a small section to make a braid. Then wrap the unbraided part of the ponytail around the base, pin it in place, and follow it up by wrapping the braid around that.
Waterfall Side Braid
If you love detailed hairstyles, try this gorgeous waterfall braid! Start with two small sections of hair at the temple and criss-cross them. Bring in another section of hair and drape it over so it falls between the criss-cross (creating a 'waterfall').
Repeat to the end of the side of your head. After securing that ponytail, braid it. Then begin making thin braids down the side of your head, bringing each one back and tucking it into your braided ponytail.
Intertwined Braid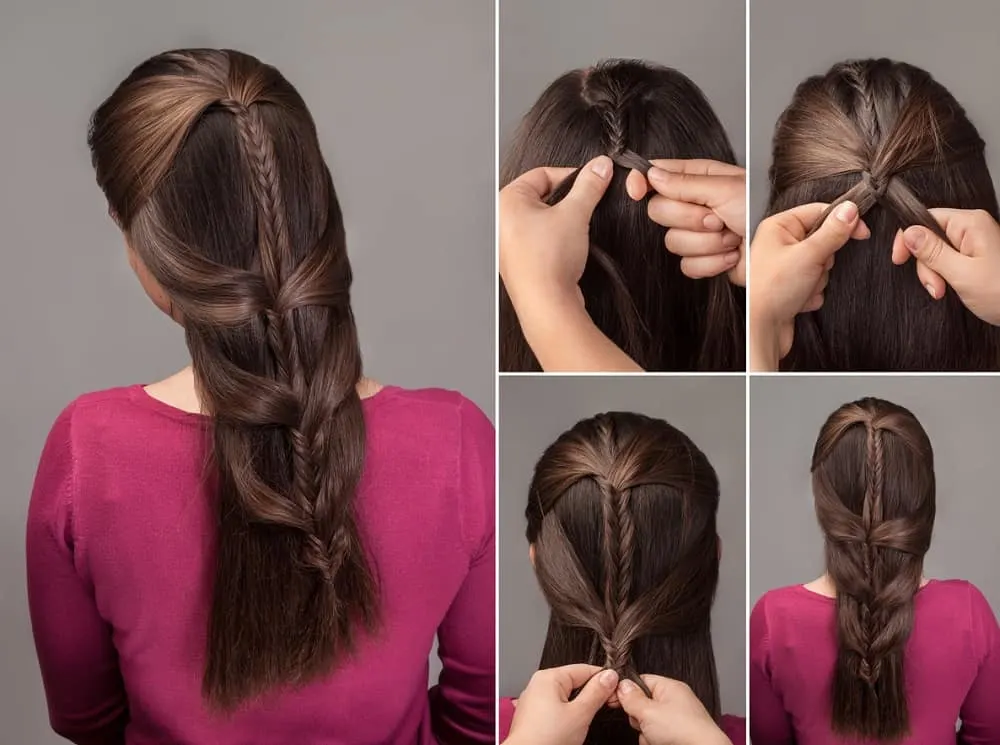 To get a sophisticated and chic braid for long hair, braid one small section of hair from the hairline to the crown. Then take two larger sections of hair from the sides and braid them into the little braid. Switch back to a small and tight braid, and repeat bringing in two larger sections of hair.
Upside Down Braid
For this unique French braided bun look, make sure your hair is combed through to free it of tangles and knots before flipping your head over and French braiding from the neckline up. When you get to the crown of your head, make a ponytail and wind the hair around the base to make a bun.
Romantic Loose Side Braid
Prep for this beautiful low side braid consists only of combing through hair first, perhaps with a little mousse in to help with styling. Starting at the temple, make a side French braid, occasionally pulling in those extra pieces of hair.
After your side braid has been formed, you can loosen each piece to widen the braid. If you wish, curl a loose tendril to hang loose by your face.
Jumbo Pull-Through Braids
For the more advanced, two high pull-through braid ponytails are a fun look to create on long hair. Separate your hair into two sections. Then make two smaller ponytails at the hairline on each side.
You'll connect the two to make their own ponytail, then repeat the process through ends. Loosen the sections when you're finished to create a 'ribboned' effect.
Braided Hairstyles for Long Hair
Long hair braids are suitable for all kinds of events, and we highly recommend you start learning how to knit them (if you don't already master this technique) and get ready to amaze people wherever you go. They work on all hair types, and facial features, and uniquely complete any outfit.
1. Pull-Through with Thin Braids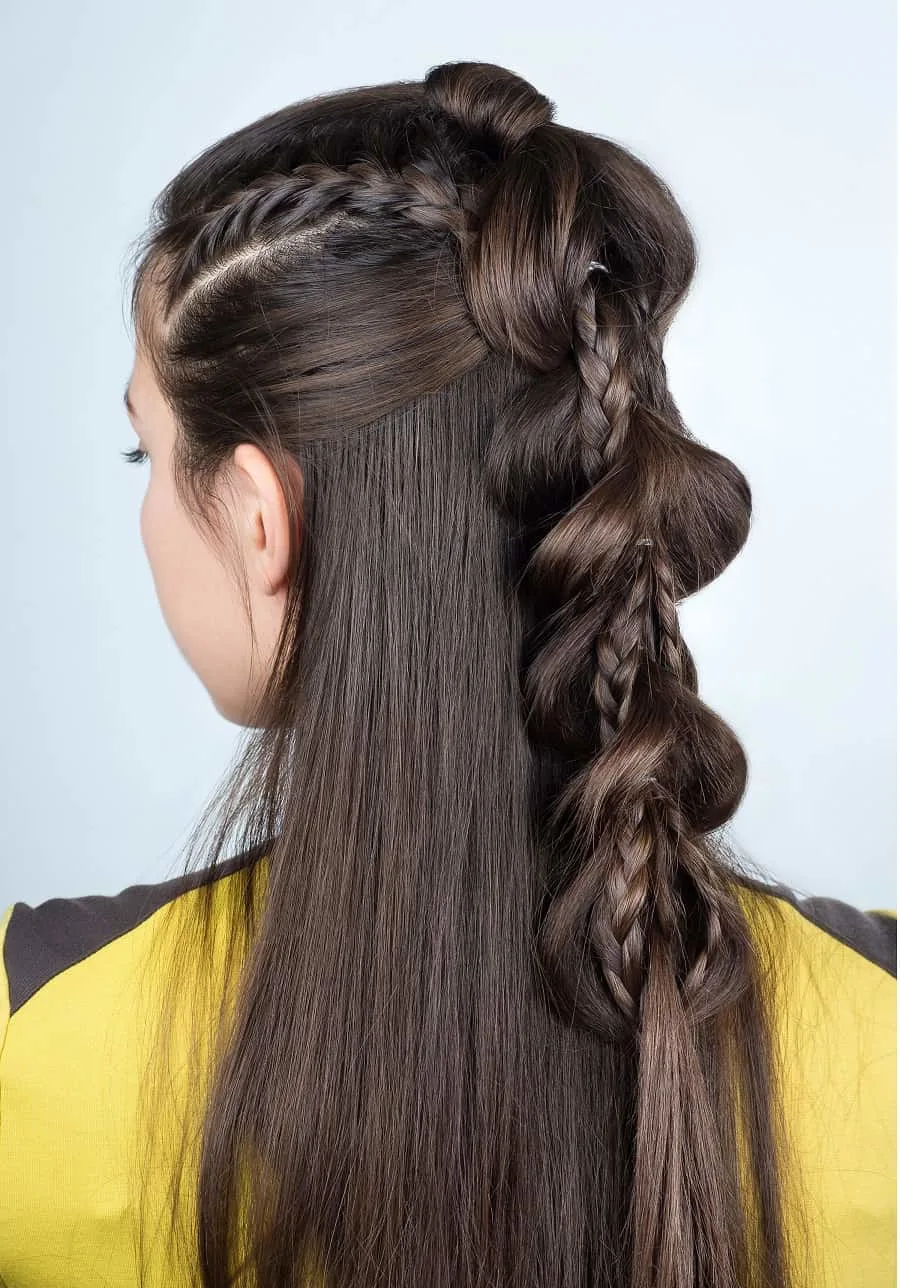 For women whose long hair is mostly straight, this style is ideal. Make one or two thin braids starting at the hairline and going all the way to ends. Then make a high half ponytail loosely sectioned off. Take the braids you made and wind them through each of the ponytail's sections.
Do you have really long curly hair? Show it off in a gorgeous low side braid. This one can be traditionally braided or feature an intricate braid. Just gather hair at one side before braiding it, taking care not to make it too tight. Loosen sections for plumpness.
Another gorgeous style for long hair is this upside heart braid. Make a small half ponytail first, then flip it up. Separate the ponytail into two sections, making one half a braid that winds through the hair. Repeat on the other side and connect the braids at the bottom.
French braids are stunning in long hair. Start by combing your hair all the way through. Separate one-half of the hair with a scrunchie before flipping your head over. Braid the loose half of hair just to the crown of your head and secure it in a messy bun. Repeat with the other side.
A simple braid that starts from your forehead goes on one side, and ends in a voluminous low bun can make an excellent choice for events or even a day at the office. Slightly pull out some strands from your knit to achieve more volume.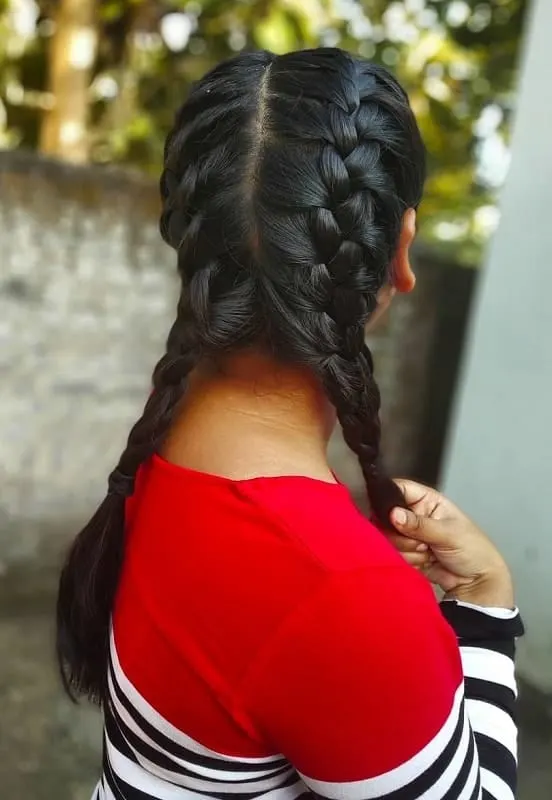 You can easily master this childish but astonishing look. Split your hair into two sections and start braiding from your forehead. Direct your French braids to the back and knot them in the middle. Wrap a strand of hair around the knot.
Braids for long hair can make your hairstyle look fabulous, even if the hairdo itself is quite easy to recreate. Make two hair sections and knit two relaxed braids. Give them dimension by pulling out each strand used for the twist.
8. Fishtail Braid
Fishtail braids will make you become an elegant bride. First of all, create some relaxed waves for your hair and decorate them with a braid that starts from one side and builds a gorgeous hair crown. Leave out a few strands from your bangs for a more romantic and stylish look.
9. Waterfall Braid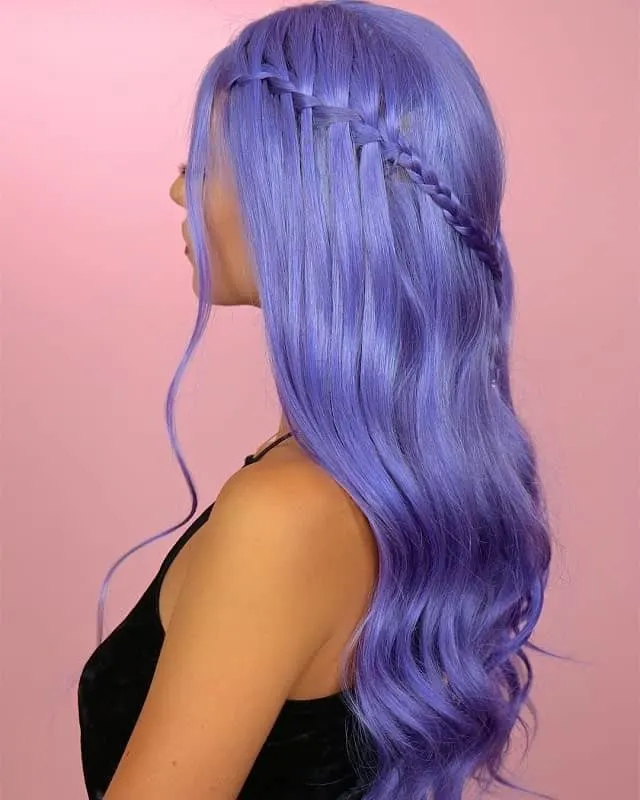 You can try this fantastic braided hairstyle for long hair whenever you run out of ideas that make your hair stand out. Use a bright mauve hair color and create some relaxed waves for the ends. On each side, knit a waterfall braid that starts from your forehead and smoothly goes down. Meet the two braids and knot them to create a perfect V on your back.
Long braids are probably the most adored hairstyles for black women. These protective hairstyles make your locks look charming, especially if you blend red and blonde box braids between the simple black ones.
A gorgeous long braided hairstyle for ladies with curly crochet hair. This is one of the best ways to give your hair length and tons of volume. Order a few packs of dark red curly bundles and braid them with your natural hair because you want the curls to be visible; only knit half of the braids and wear all your hair on one side.
12. Braids for Long Straight Hair
When you have naturally long, rich hair, you have many options to make an outstanding look. First, select your crown hair and split it in 3 braids that will gorgeously fall over your loose hair. To make this hairstyle for long hair look even more stunning, you can create an ombre for the tips.
13. Long Braid for Wedding
This braided hairstyle for a wedding is pretty whimsical, but the final output is one of the best-brided hairstyles for long hair. First, you'll need to get your hair wavy and create several types of braids that you will mix and integrate into the hairstyle. Knot your locks here and there and use tiny flowers for decoration.
14. Loose Braid
Make your hair your playground by mixing various violet, mauve, and purple shades. Keep your roots in their natural color and braid a relaxed messy knit on one side. Gently pull out the edges to make it look fuller. Also, lease some long strands of your sideburns out.
Use your crown hair to create a big voluminous braid. Gather all the remaining hair in a low ponytail and use a thick strand to secure the pony and the mohawk braid. Let your hair fall on your back, and use a curling iron to build some curls for the tips.
Why wear an ordinary back-to-school hairstyle when you can choose this outstanding hairdo with braids. Split your crown hair into two pigtails and crisscross them. Then, section the remaining hair in two braided ponytails and use the top twists to build two little hair hearts.
Big hair clips for women with long hair are very trendy at the moment, and you should definitely take advantage of them. Plait a relaxed braid from one side and secure it from place to place with cuffed beads. Then, use a pearled hairclip to decorate the braid.
Start from one side of your forehead and create a full French braid for women with long hair, using your bangs. Then, let it fall on the other side, and let the rest of your hair drop on your shoulders.
19. Long Twist Braids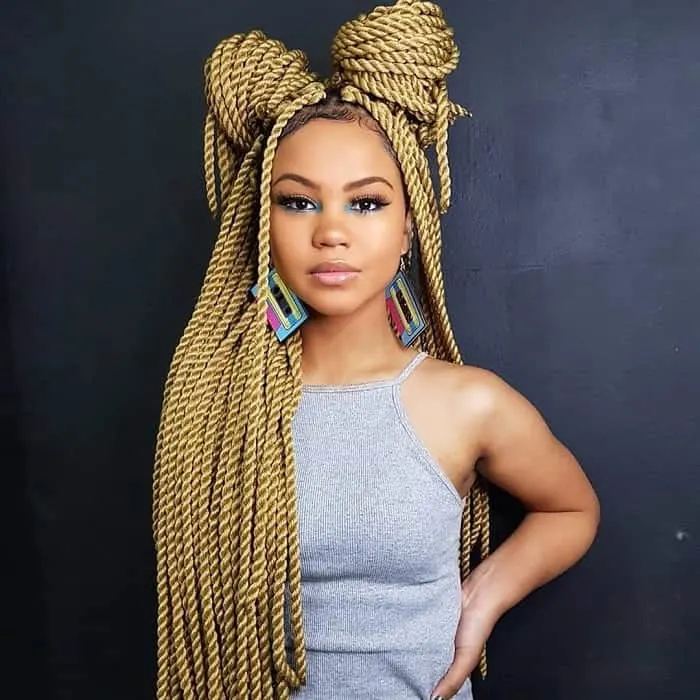 Long blonde twisted braids suit any black woman with long hair. Attach them close to your scalp and use your crown tresses to create two big twisted space buns. Remember that you must wear outstanding makeup and earrings with an outstanding hairstyle like this.
20. Braided Bun
Choose a blonde ginger color for your hair and get a rounded pair of bangs. Then, braid the rest of your hair and create a big braided bun that is ideal for women with thick long hair. Also, give this hairstyle a romantic touch by leaving a few strands loose, just above your ears.
21. Long Hair Braid for Prom
Part your bangs in two, take the rest of your hair and flip it on one side. Start braiding a regular braid for women with long hair from the top of your head and finish the hairstyle with a fishtail plait.
22. Braids for Thick Hair
With this braided hairstyle, you will undoubtedly rock any party you attend. Keep your roots dark and dye the rest of your hair in electric fuchsia color. Next, create some tight curls to give your hair volume, and on one side, tress three braids. Then, flip your crown hair on the other side to make those knits stand out.
23. Small Braids for Long Hair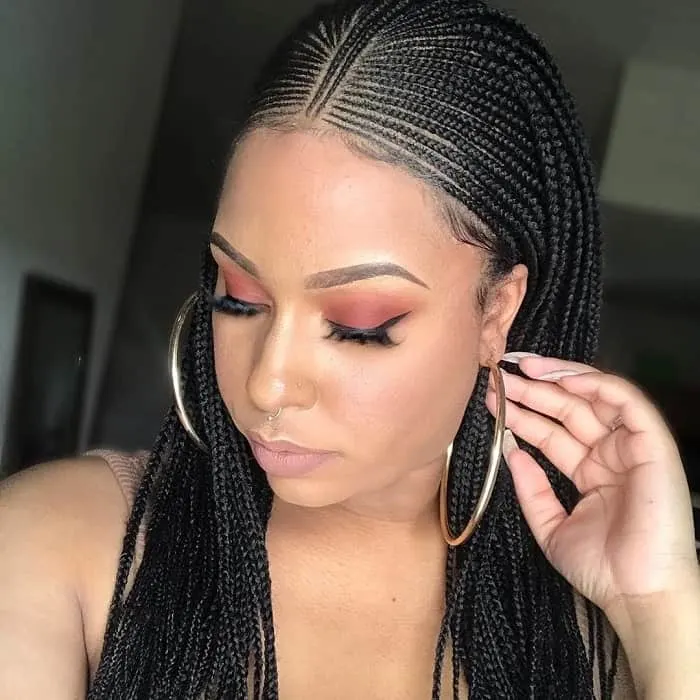 It will be a shame not to try a mesmerizing hairstyle with braids like this, especially if you have long hair and don't need hair extensions. Braid two knits in the center of your head to create a part. On each side, make skinny cornrow braids.
24. Braid for Long Blonde Hair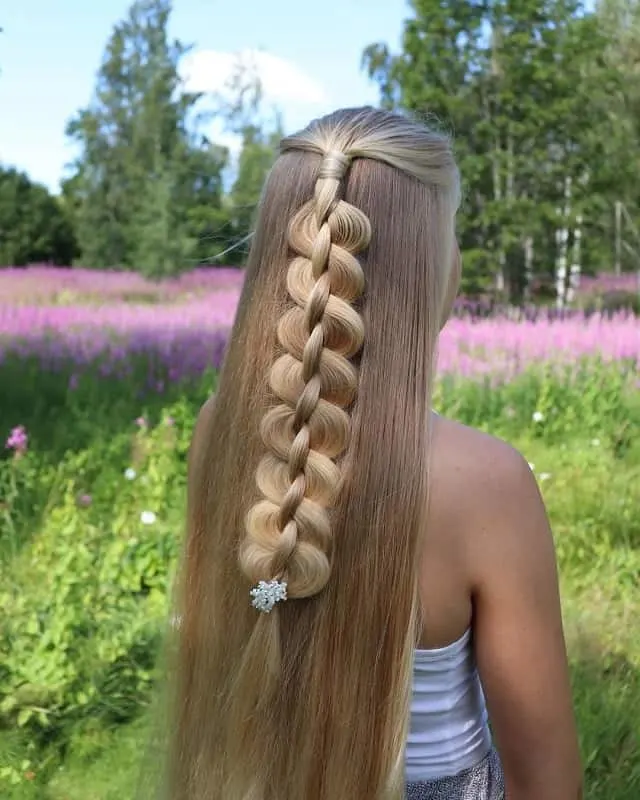 This hairstyle is among the best braids for very long hair. Take your crown hair a twist it into a fabulous full weave. Then, use a silver accessory to tie it up.
Take two thick strands of hair from each side and roll them. Meet them in the back of your head and build a fishtail braid for women with long hair. Then, create smooth waves for the rest of your locks and beautifully arrange your hair on your back.
Knit a Dutch braid from one side of your head, and build a hair crown until you reach your starting point and run out of hair. Gently pull the edges for a fuller look. Accessorize the hairstyle with cuffed beads.
Build a halo braid, but remember not to include your bangs this time. Before you start braiding, spare a few thin strands of hair near your ears area. Always pull out the edges if you want your Dutch braid to have dimension.
28. Long Box Braids
When we're talking about box braids for long hair, you have many options to make them look simply stunning. First, braid your natural hair and add colors like mauve or pale teal to create an ombre effect.
You don'ț need to buy a headband when you have long hair. Instead, build one with your tresses. Let your hair fall on your shoulders and make wide waves for a simple yet chic look.
30. Boho Braid
Boho hairstyles get their inspiration from bohemian and hippie looks, and if you choose to create a hairstyle that follows these style guidelines, your braid will become adorable!
This long braided hairstyle for women is a true statement thanks to those teal and thick white strands that beautifully blend with the brown locks. On one side, create several braids that go upwards and knot them with teal cuffed beads. Then, flip your whole hair on one side.
FAQs
How long does my hair need to be for braids?
You need enough to wrap around your fingers to complete the braiding process. This is at least 5 or 6 inches of hair. Once your hair reaches this length, you should be able to do at least a French braid. Other braids may require long hair.
Will braids make hair grow longer and faster?
So far, there is no evidence stating that hair grows longer and faster with braids. The rate of hair growth is genetically determined.
Taking care of your hair with shampoos, conditioners, hair treatments, and oils is the way to improve hair health. Styling your hair in a certain way will not make it grow longer and faster.
Should I braid my wet or dry hair?
Wet hair makes it harder to braid and difficult to maneuver because it is heavier. When you have damp hair, it extends 15 times more than when it is dry. Braiding your hair while it is wet can cause breakage.
If you want to braid your hair while it is damp to make a crimping effect, let it air dry until it is almost dry to the touch, then braid.
Are long braids an unprofessional hairstyle?
At present long braids are considered an acceptable hairstyle in the professional world. As long as your hair is neat, it is a professional look. Braids keep your hair out of your face and look sleek and smooth. A clean look is considered a professional way to wear your hair regardless of the style.
Should I sleep with my long hair braided?
Putting your hair in braids to sleep is a good way to keep it healthy, especially if you have long hair. Braids can reduce friction caused by tossing and turning in your sleep.
If you do sleep with braids, try to keep them loose. Loose braids do not usually pull or hurt your scalp while you sleep.
If you find that you wake up with your braid loosened or unruly hair, try sleeping with a slightly tighter braid. You can also try sleeping with a silk pillowcase to tame your hair while you sleep.
Can long hair braids cause hair loss?
No, braids themselves do not cause hair loss. However, the braiding process can aid in something called "traction alopecia." Traction alopecia is hair loss caused by repeated tugging and pulling on your scalp.
Over time, the braiding process causes damage to hair follicles that lasts for a long time. This causes permanent hair loss in the areas where braids are done.
You May Also Like