By the age of 40, a woman has either tried all of the craziest hairstyles or hasn't changed her hairdo since a long time.
In both circumstances, a change that's more on the side of moderation, sophistication, and elegance is a must when entering this new era of life.
Hairstyles for 40-year-old women don't need to be boring at all. You can, in fact, choose anything that suits your styling routine as long as it goes well with your face shape, hair texture, and hair density.
Take a look at the following inspirational hairstyle ideas before calling up your hairstylist!
40-Year-Old Women Elegant Hairstyles
Low-maintenance and easy-to-style yet trendy hair might be your preference at the age of 40 and that's exactly what we've got enlisted below!
1. Soft Wavy Layers
Here is a long hairstyle for women aged 40 and wearing glasses. To start with, your hair might have gotten dry and brittle after all these years of heat-styling.
Let go of those dead ends with a handful of layers that'll add the much-needed bounce and body to that thinning mane. Dye your hair with a fresh auburn hair color for a unique look.
2. Inverted Platinum Bob
Inverted bobs are a must-try super modern hairstyle for 40-year-old women wishing to shed off a couple of years.
The back is kept short and round with plenty of stacked layers that elongate towards the front. Make your eyes pop with an icy platinum blonde hair dye.
3. Curl-By-Curl Cut with Bangs
Embrace those natural curly tresses by opting for a deva haircut where the hairstylist cuts each individual coil, when dry, to fall exactly where intended around the face.
Short bangs are perfect for hiding forehead wrinkles or a receding hairline without creating a suffocated look.
4. Teeny Weeny Afro (TWA)
Afro hairstyles demand a lot of styling and care. Minimize the maintenance with a short hairstyle that's quite trending for women aged 40.
The fluffy strands of the TWA haircut are snipped in a rounded shape with less length and volume, compared to the actual big afros, making them easy to maintain.
5. Elegant Lob
A good lob haircut will never disappoint! Ask the hairdresser for a shoulder-length chop with soft wispy layers, especially near the ends, to avoid a boring flat look.
Light airy bangs will further elevate your facial features for a rejuvenated look that won't be ignored!
6. Sassy Buzz Cut
Take a break from regular hair styling and start fresh when hitting your 40s by snipping off all that hair into a bold buzz cut.
Stay a bit on the longer side to make room for texturizing layers and baby bangs with an eye-popping cool platinum hair shade.
7. Side-Swept Bangs + Highlights
Keep the attention away from those wrinkles and sagging skin by opting for the good old side bangs to achieve a little asymmetry.
Add a sun-kissed glow to that pretty face of yours by opting for light golden blonde highlights and you won't regret it!
8. Short Dreadlocks
African-American women can keep celebrating their culture by going for dreadlocks that are low maintenance and also protect their natural strands like nothing else.
Ask for uni-length short chunks all over the head to style them into the funkiest ponytail. Can't get any simpler!
9. Straight Ombre Tresses
Here's another hairstyle for 40-year-old women wishing to make a statement but with little commitment.
Get a neat shoulder-level trim with minimal layers and a subtle blonde ombre hair color. No need to touch up the roots as those emerging strands will add up to this classy look.
10. The Blunt Bob
Long hairstyles, sometimes, tend to drag down the face making you look older than your actual age.
Stay on the safer side by going short. A basic blunt bob, like the one depicted here, can work wonders to lift up your features. Simply stylish, what more to ask for?
11. Subtle Wolf Cut
Give yourself a good style shake-up with a pretty wolf haircut. It features short choppy yet voluminous layers around the crown region that elongate and thin down towards the back and sides.
Finish off with curtain bangs or the classic side-swept ones instead!
12. Low Middle-Part Ponytail
Get through a busy day or avoid a shower with style by playing around with a simple low-lying ponytail.
Slick down all the hair with a middle or side parting to be tied securely just above the nape. And that's pretty much it!
13. Top Knot Bun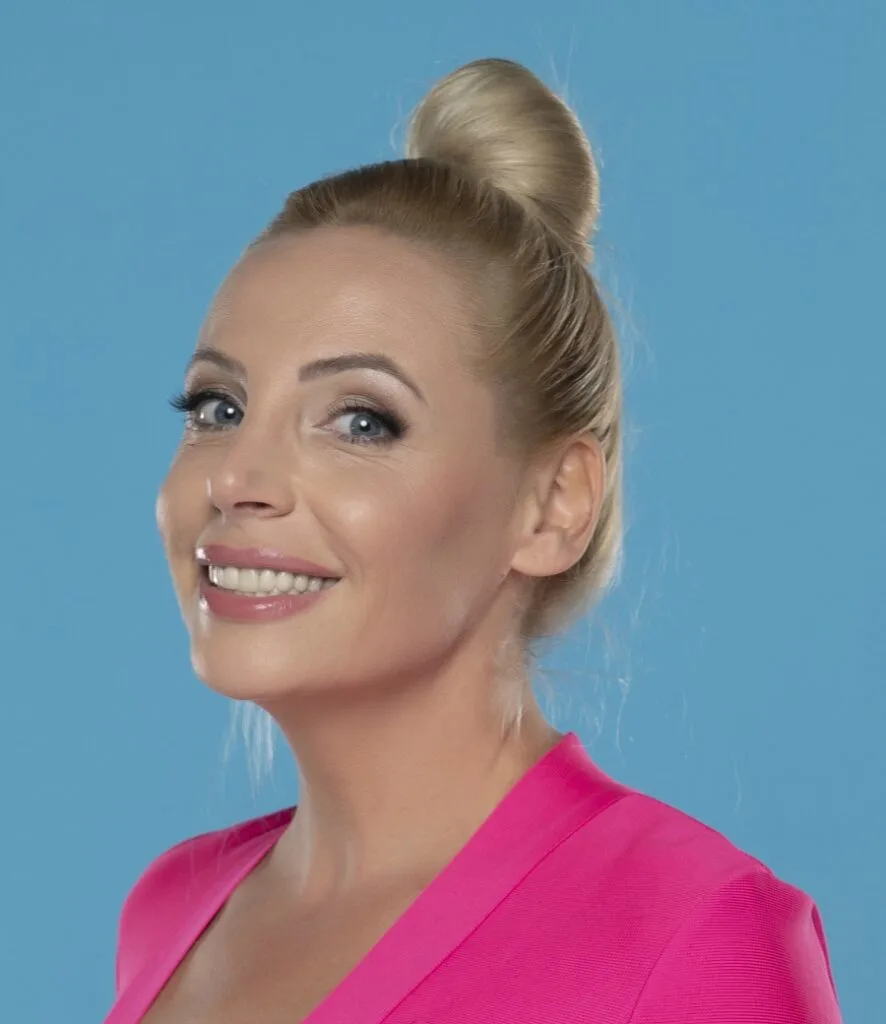 Contrary to the low ponytail hairstyle stands this funky, rather playful, top knot bun.
Bend down your head to create a ponytail on the very top and swirl it around to be secured with pins. Pull out a chunk or two to frame the face or don't. Voila!
14. Curly Crop
This short curly hairstyle for 40-year-old women with glasses is another life-saver for all the lazy gals out there.
Opt for a long top that tapers seamlessly around the sides and back with or without bangs and leave the rest to those gorgeous curls. Zero regrets guaranteed!
15. Messy Side Braid
Experiment with a messy side braid if you can't think of anything else!
Entwine the strands loosely on one side above the shoulder leaving a couple of chunks out to frame the face achieving a carefree earthy vibe that's sure to turn around some heads. Messy is sexy!
16. Sophisticated Half Updo
Allow your precious tresses to dance with the wind while keeping them away from the face with a half updo.
Try a half-up high bun, braid, or a mere ponytail with a middle parting making the hairstyle workplace-appropriate. A gentle sprinkle of highlights won't hurt ever!
17. Long Bob + Beach Waves
Little changes go a long way when it comes to hairstyles. Stand out from the rest with a slightly off-centered parting that's perfect to break down the bluntness of any face.
Pair a shoulder-grazing bob with some loose waves to achieve that sexy on-the-beach vibe.
18. Pretty-In-Pink Hair
Every woman loves pink regardless of her age. Go for a soft dreamy appeal by painting your entire mane in a pastel pink tinge.
Don't worry about the emerging natural roots as they'll create the best hair color combination you've ever rocked before!
19. Ruffled Natural Curls
Any hairstyle for 40-year-old women that makes you embrace those emerging shiny grays is worth a shot.
Layer your messy curls to get rid of the dead ends and dye them in any shade of white blonde or gray to welcome the new stage of life along with its challenges.
20. Long Box Braids with Undercut
Long hair may be high maintenance but these gorgeous box braids worth it. This hairstyle is perfect for chubby women.
Choose your favorite-colored extensions while entwining down the strands and express your wild side by pairing the braids with a clean undercut along the sides. Wait till you wrap them up in a bun!
21. Angled Pixie Cut
Asymmetrical haircuts sharpen your features like nothing else just like this sassy coppery pixie.
A long textured top with clipped sides and an angled fringe elongating towards one side of the face are all you need to ask for to make your boring specs appear super stylish.
22. Uneven Fringe + Blonde Curls
Lighter shades like those of blonde are ideal to make those emerging gray hairs seem less obvious.
Go blonde for a sun-kissed glow while coupling your curly tresses with a funky uneven fringe that features both short and long angled strands. Level up the look further with babylights.
23. Straight Lob, Blunt Bangs
Why complicate when a simple look does the job? Considering all the minimalists out there, a good straight trim with no layering at all can make a thin mane appear thick and healthy in no time.
Bangs are, again, ideal to add a little youthfulness to the face.
24. Bobbed Teal Tresses
Bob haircuts are super versatile and come in so many shapes, textures, and lengths making them a number one favorite among ladies of all age groups.
Get out of your comfort zone for a change by dying your bobbed tresses in the brightest teal hue available. Gorgeous!
25. Pompadour Pixie
Here's a chic hairstyle for 40-year-old women looking for something more professional and office-appropriate.
Set your ordinary pixie cut on fire with a long top and neat undercut. Brush back the long strands while blow-drying to achieve the pompadour of your dreams!
26. Formal Messy Bun
A high top knot bun might get you through a casual day while a messy one will make you the center of attention at any formal event.
The trick lies in leaving the ends loose and curling them up along with the chunks at the front to look like a queen even without a crown!
27. Easy Short Ponytail
Although short hair is meant to be left loose to sway with the wind, tie it back in a simple ponytail to open up the face.
Use hairspray to slick down the flyaways or pull out some tendril for an I-woke-up-like-this vibe. The position of your pony will make a huge difference too.
28. Low-Lying Chignon, Face-Framing Chunks
Low-lying chignons resting on the nape are the epitome of style and class without a doubt!
Wrap all that hair into a basic bun or vintage roll with some long tendrils accompanying the face. Finish off with pearl jewels for a luxurious look.
29. Quirky Headband Hairstyle
There's absolutely no harm in going a little crazy when entering your 40s!
Try a short pixie with chopped-up layers and thick bangs. Spice it up with a dramatic headband or a bandana, winged eyes, bold lips, hoop earrings, and a big smile of course!
30. Permed Short Wavy Locks
Concluding the list of best hairstyles for 40-year-old women, get your hands off any styling tools by asking for a good wavy hair perm that'll last up to weeks when done right.
All you need is to tease and tousle the strands with your fingers and call it a day!
Whether you're thinking of going classy or a little playful, these hairstyles for 40-year-old women are sure to make you look appealing and much younger for your age. It's time to get a fresh chop keeping in mind what features of your face you wish to stand out the most!