Long hairstyles for women over 40 don't necessarily have to be dull and so damn classic. While some women are afraid of turning this age, others discovered that their 40s are a new chapter of their life where they can experiment with different things, including new hairstyles.
As a young woman, you always wanted to hit the latest trends and went with the flow, but now, when you're over 40, you already know what you like and what suits you. You're probably searching for a hairdo that makes you look younger, but one that isn't too bold and suits your age.
How to Grow Hair Long Even If You're Over 40
Growing long hair is about more than just getting it cut less often. Change up your routine to include these:
Trim the ends regularly. While trimming the ends doesn't necessarily promote hair growth, it does take off the damaged parts of your hair, making it stronger and healthier in the process.
Brush your hair. This may seem like a no-brainer, but combing your hair stimulates scalp circulation and encourages your hair's natural oils to disperse down the follicle.
Massage your scalp. When you're shampooing your hair or when you apply a hair mask, use your fingers to gently massage your scalp to stimulate growth.
Use a hair protein treatment to strengthen the hair. Once a week, apply a mask or protein treatment to your hair from scalp to the ends.
Water and vitamins.

Drinking enough water and taking your vitamins are also two key habits that will help you grow your hair long. Biotin, or Vitamin B7, is available OTC, and has been known to help grow hair long.

Try hair oils.

Anything with biotin is great for encouraging hair growth, and so is coconut oil.
Long Hairstyles for Women Over 40
Any of these long hairstyles will look gorgeous on you and make you feel like a whole new woman!
1. Long Hair Pinned Back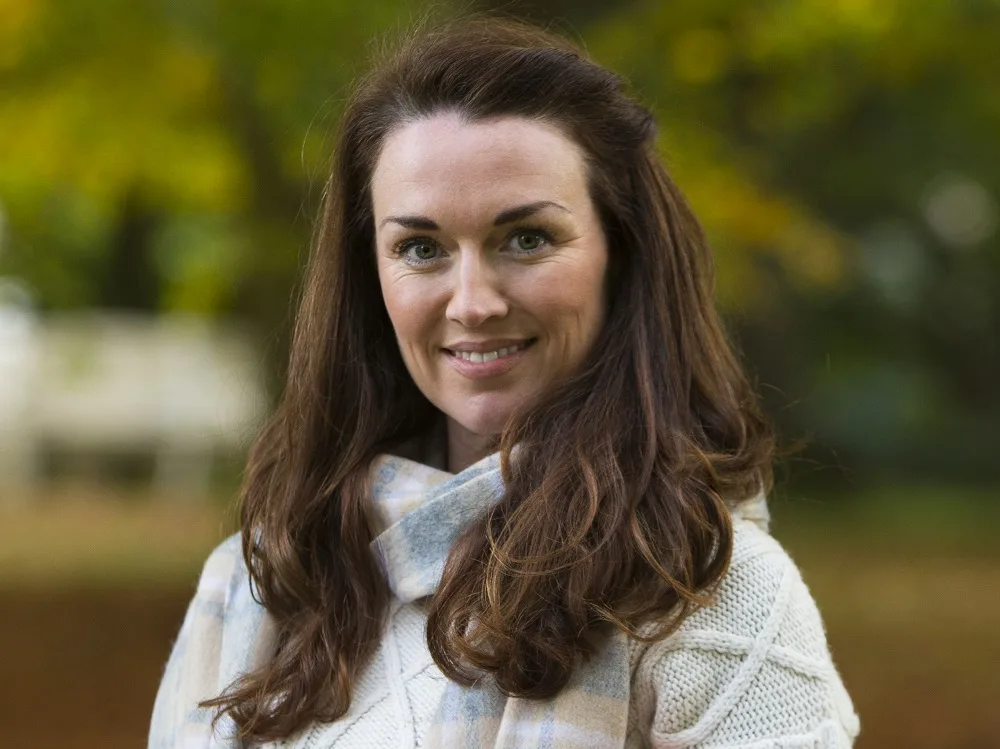 For shoulder-length hair and longer, take a small section of the hair above one temple and pin it back with a neutral clip or one with a little more dazzle for fancier occasions. Fill the bottom of your hair with soft waves.
2. Simple Side Braid

What woman doesn't love braids? A long low side braid that drapes over one shoulder is beautiful at any age, even for women over 40. Complete the look with loose tendrils along the face or a cute side bang.

If you're over 40 with naturally wavy hair, create a beautiful mermaid look by scrunching in a little sea salt spray and wearing your long hair loose and natural. To get the waves on less voluminous hair, braid your hair overnight and loosen in the morning.
4. Both Sides Pinned Back

Wear your long hair down but retain style by pinning back each side slightly. Part your hair off-center first before smoothly combing back each side and securing with a small bobby pin.
5. Salt and Pepper Ponytail

Whether you work out a lot or you're going to be on the go and want your hair out of the way, a high ponytail is ideal. It gives women over 40 with long hair a super cute perky, youthful look.
6. Wavy Ombre Hair

This hairstyle is a winning look for any lady. A combination of a soft wavy body with light blonde ombre will instantly have you feeling like a beach babe. An off-center part is great for switching up face dimensions, too.
7. Long Hair Updo

Quick style is only a minute away with this easy updo for long hair on women over 40. Leave your bangs or face-framing fringe loose, but finger comb the rest of your hair back into a medium or high half-bun.
8. Long Hair with Lowlights

Do you have long light brown or blonde hair? Ask your hair stylist to add lowlights for a natural-looking color that gives your hair contrast and depth. It's a great color option for older women with long locks in any texture.
9. Half Updo with Bangs

If you have bangs and you're looking for a long hairstyle you can wear confidently to work, try this chic half ponytail. Maintain a longer fringe that covers your eyebrows, and feel free to add body to the bottom half of your hair.
10. Long Hair with Layers

Adding long layers to long hair is one of the easiest and prettiest ways to give your refresh your mane and give it shape. We love this blonde hairstyle with a partial side part and soft waves throughout.
11. Low Bun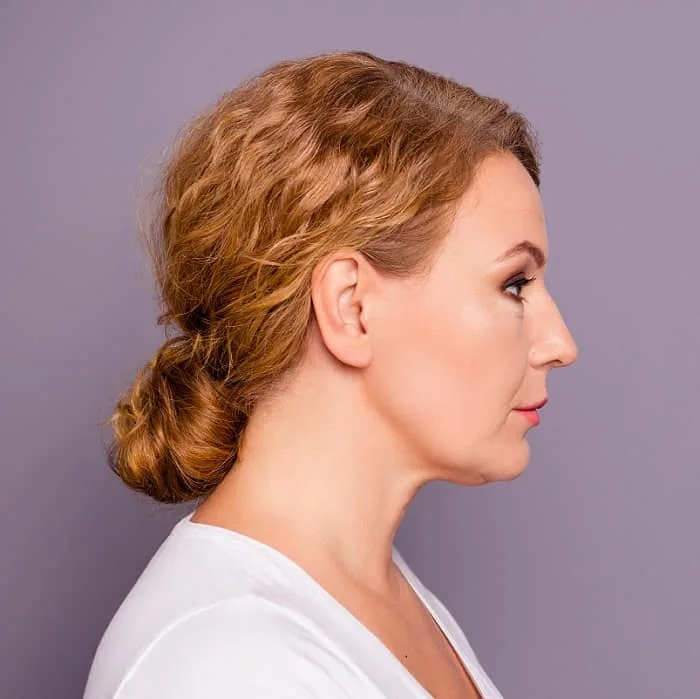 Did you imagine that hairstyles for long thin hair can look so eye-popping even if you are a woman over 40? If not, here is the best example! To recreate it, build waves to gain more volume, create a side part, and pin all your mane in a low bun.
12. Ponytail with Highlights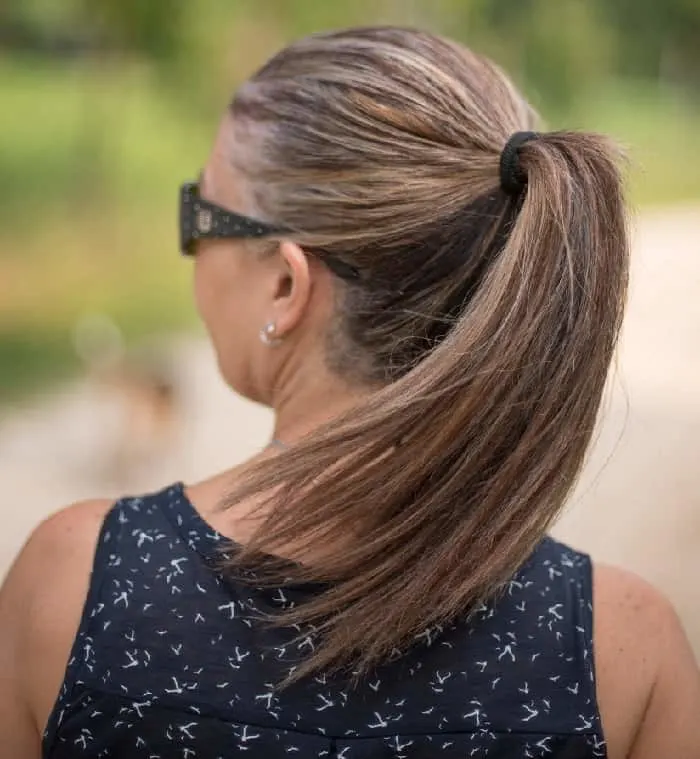 Sandy blonde hair mixed with ashy brown nuances can look fabulous on any 40-year-old woman with long hair. Pin all the mane in a ponytail and you'll have an easy-to-do look that makes you seem so much younger.
13. Curly Hair with Bangs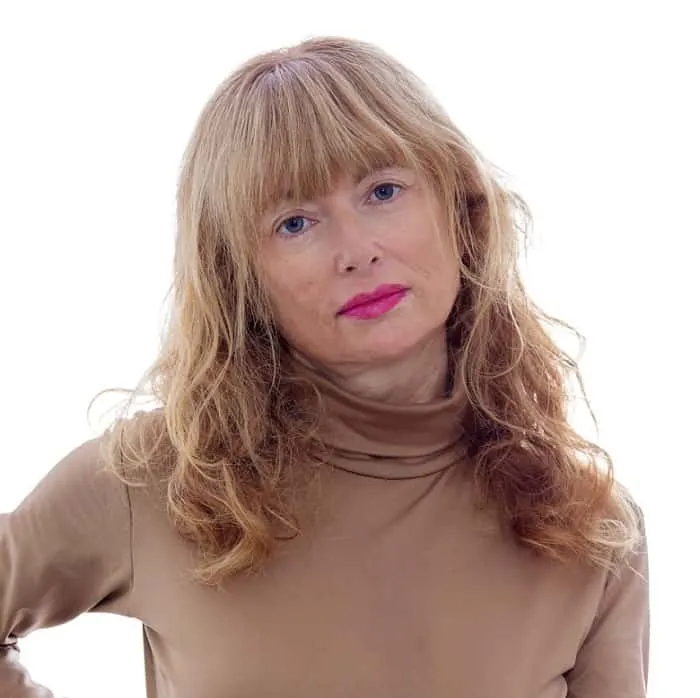 One of the best long hairstyles for women who are over 40 years old and want the proper frame for their round face is this blonde haircut with bangs. Opt for a blunt fringe that covers the eyebrows and highlights your deep blue eyes. Build the curls only for half of the hair.
14. Rolled Bun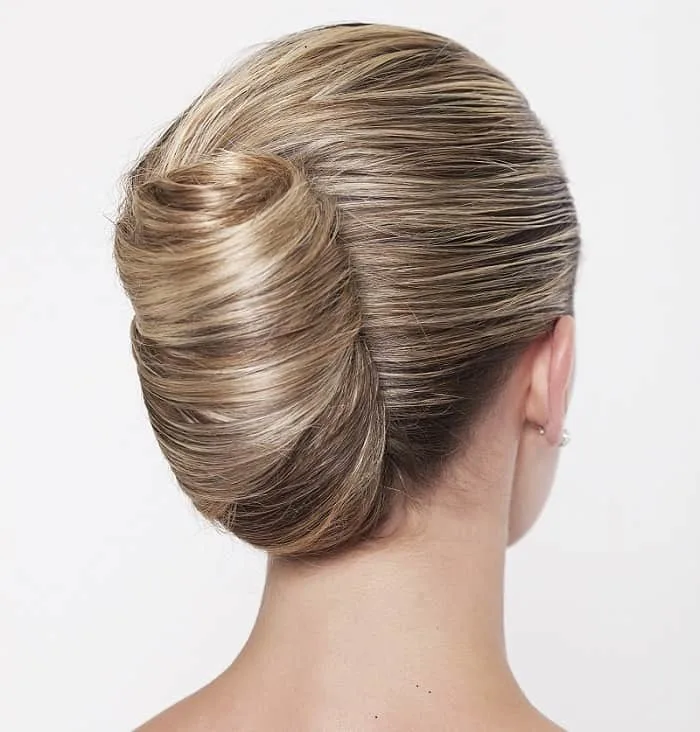 Elegant and sassy! This is how you'll look if you roll your hair into a vertically elongated bun. If you want to gain that fantastic texture, you better pay your colorist a visit and ask him for thin blonde highlights. They will not only look impressive but will also help you mask all gray threads.
15. Long Layered Ginger Hair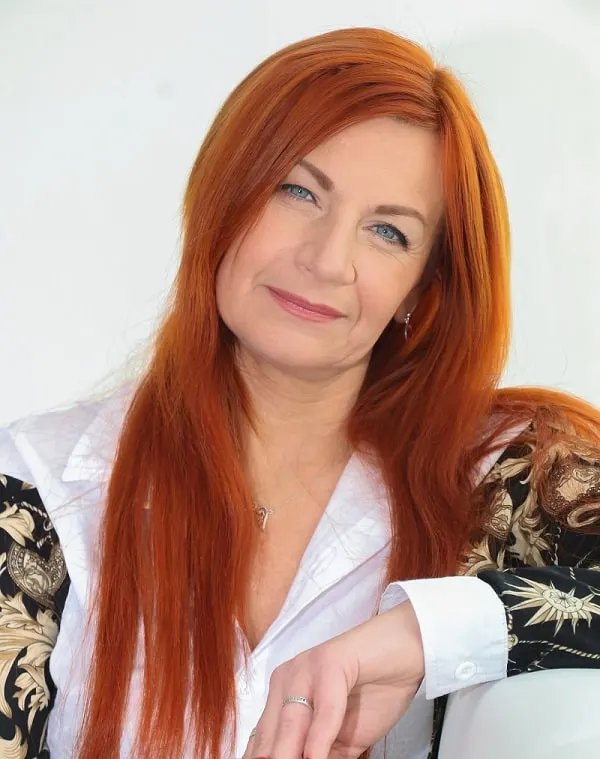 When you are a fierce woman who adores being in the center of attention, a long layered hairstyle will gorgeously suit your personality. The color also plays an important role, so go for a stunning ginger color that will beautifully suit your skin color.
16. Box Braids with Bun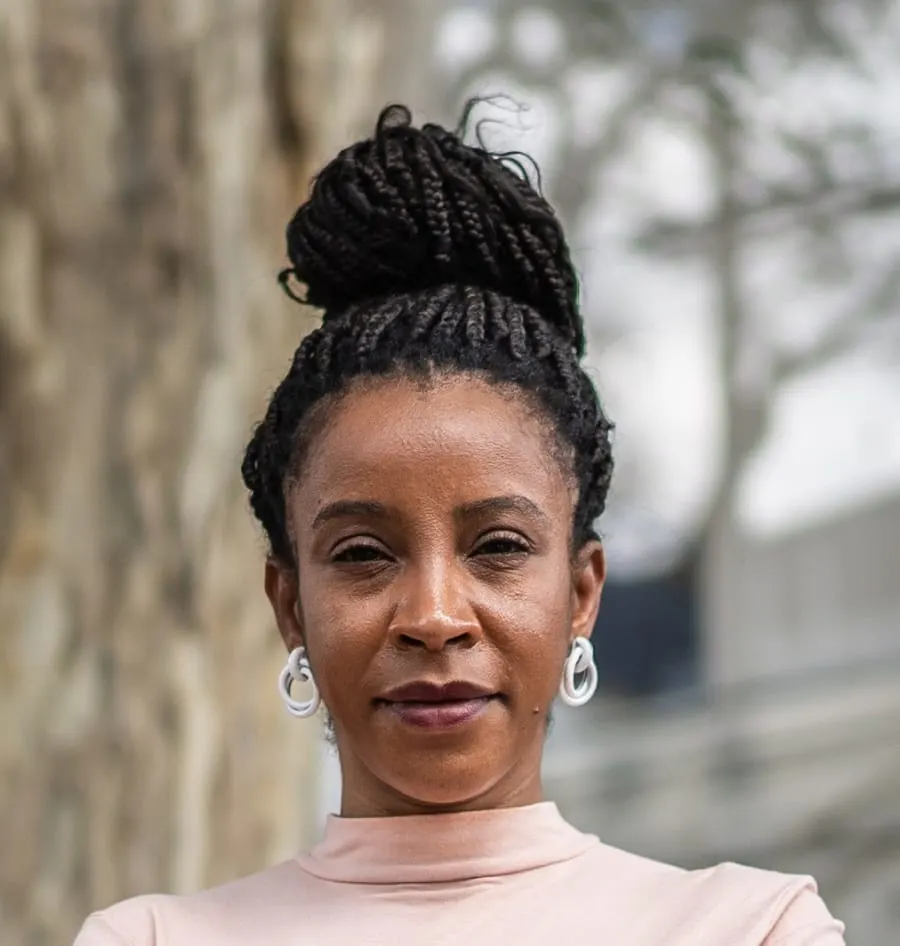 Black women over 40 can rock a long hairstyle without even waiting for their tresses to grow with box braids. Protect your natural mane by plaiting it down while incorporating extensions going as long as you want. Swirl the knits in a chic jumbo bun sitting on top of the head and done!
17. Sexy Blonde Balayage
Flaunt your long tresses with a sexy blonde balayage. The hairstylist will hand-paint highlights, without using foil, concentrating them towards the ends to achieve a seamless dark-to-light gradient. Level up your hair game by opting for two slightly different tones of blonde instead of a usual single shade.
18. Long Crinkle Locs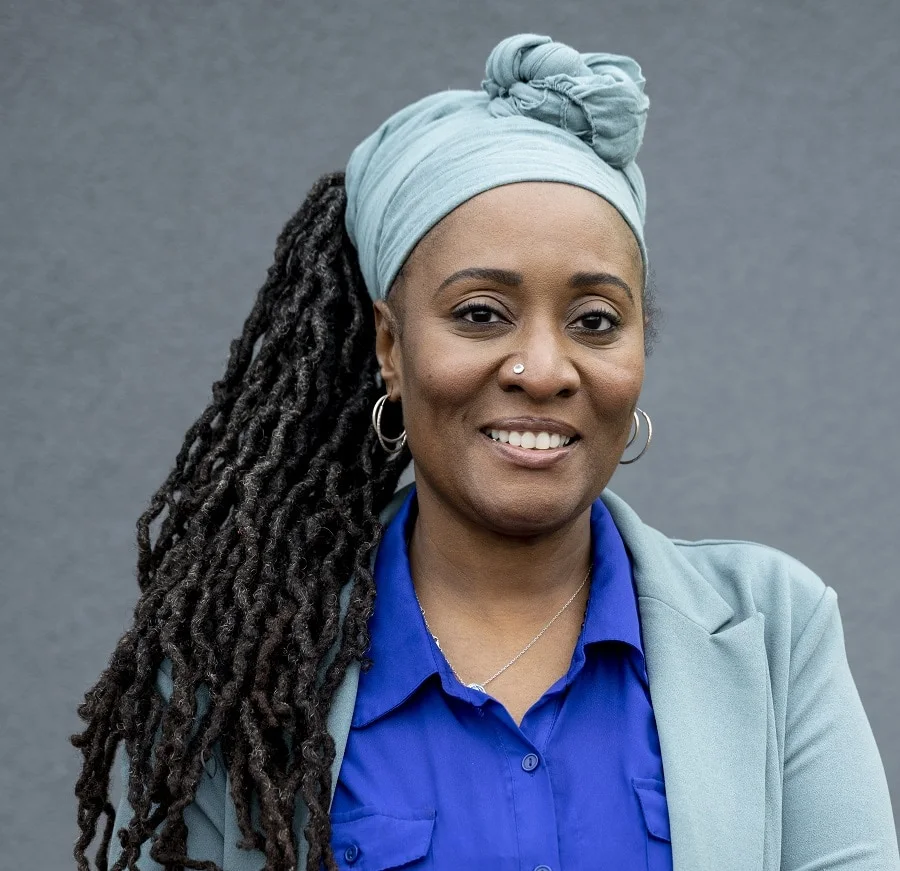 Dreadlocks are the to-go hairstyle for low-maintenance babes out there. And while straight locs don't surprise anymore, crinkled ones surely will! The trick is simple; braid your dreads while damp and leave them overnight. Gather your curly chunks using a head scarf to recreate this simple yet stylish look exactly.
19. Soft Updo
Updos never disappoint regardless of the occasion. Add curls, if not natural, and wrap chunks of hair around your fingers to create tiny rolls. Secure them in place with pins. Loosen up the strands while sweeping the front ones slightly towards one side for an elegant appeal.
20. Side Pony with Curtain Bangs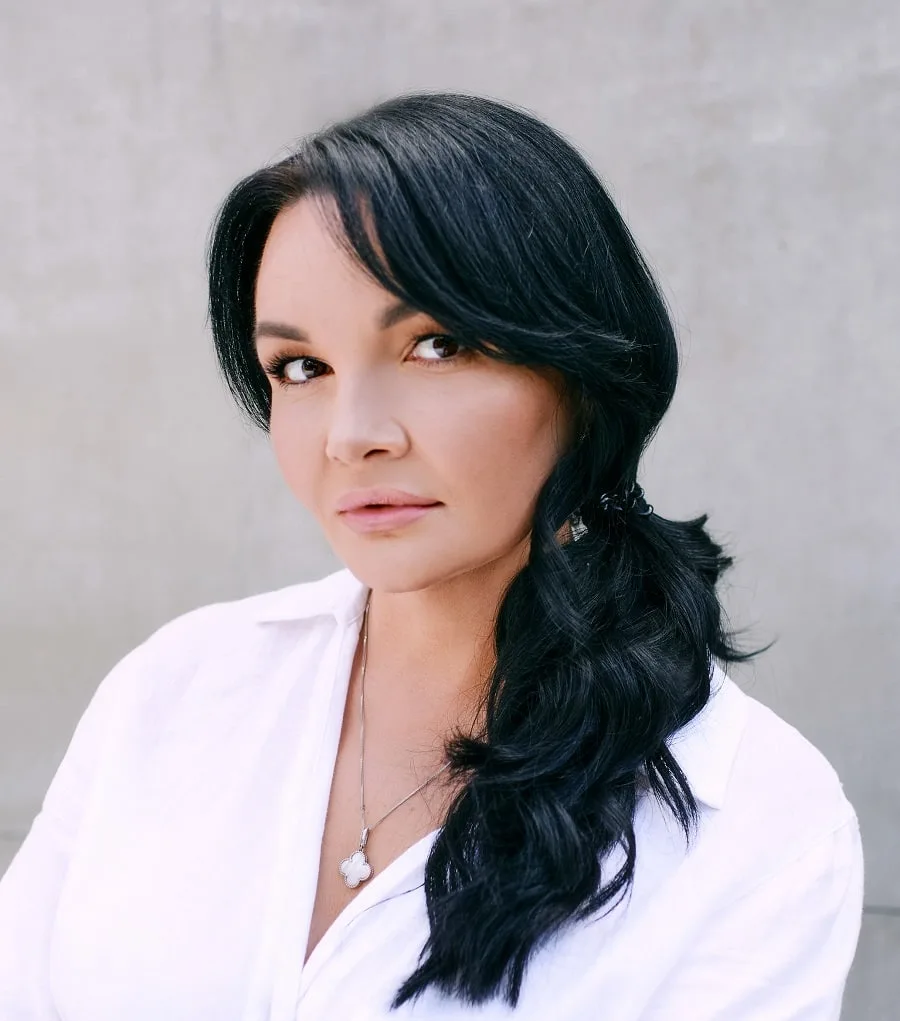 Ponytails are ideal to shed off a few years when turning 40 or above. Opt for curls or waves and assemble them in a stylish low pony. Add further youthfulness to the face by framing it with the good old curtain bangs that work with all face shapes and are easy to maintain.
21. Auburn Tresses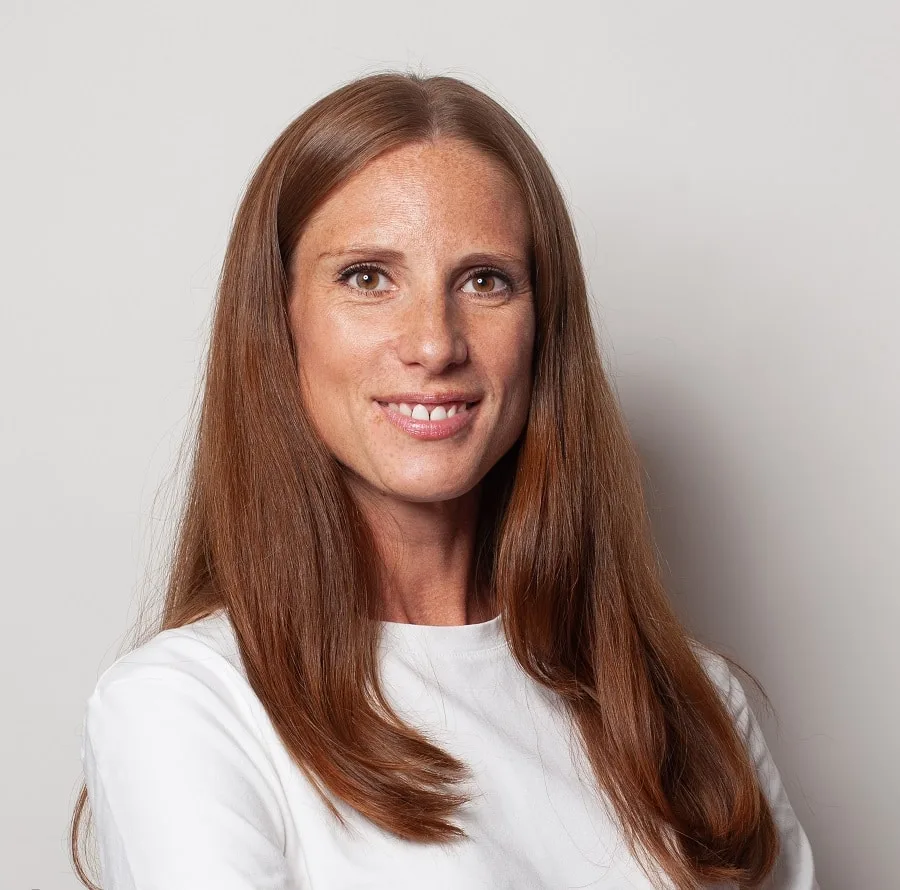 Changing the color of your mane is the perfect way to refresh your look if you don't want to snip off the length. Consider getting a warm auburn hair shade. This gorgeous color has many different hues to suit every skin tone and is the best choice for the upcoming holiday season.
22. Salt and Pepper Knits
Gray hairs begin to appear rapidly once you turn 40. Here is a salt and pepper hair look for mixed-race ladies who wish to embrace their shiny grays with confidence. Incorporate silvery-gray extensions when knitting the hair into box braids or cornrows and show them off with a simple half-up hairstyle.
23. Ponytail for Thin Hair
Thin hair can be tricky to style at times. And while extensions can be used to boost the volume of a thinning mane, a simple low ponytail can do the job for ladies who want to keep it simple. Add loose curls to spice up your basic look and tousle them forward.
24. Wedding Updo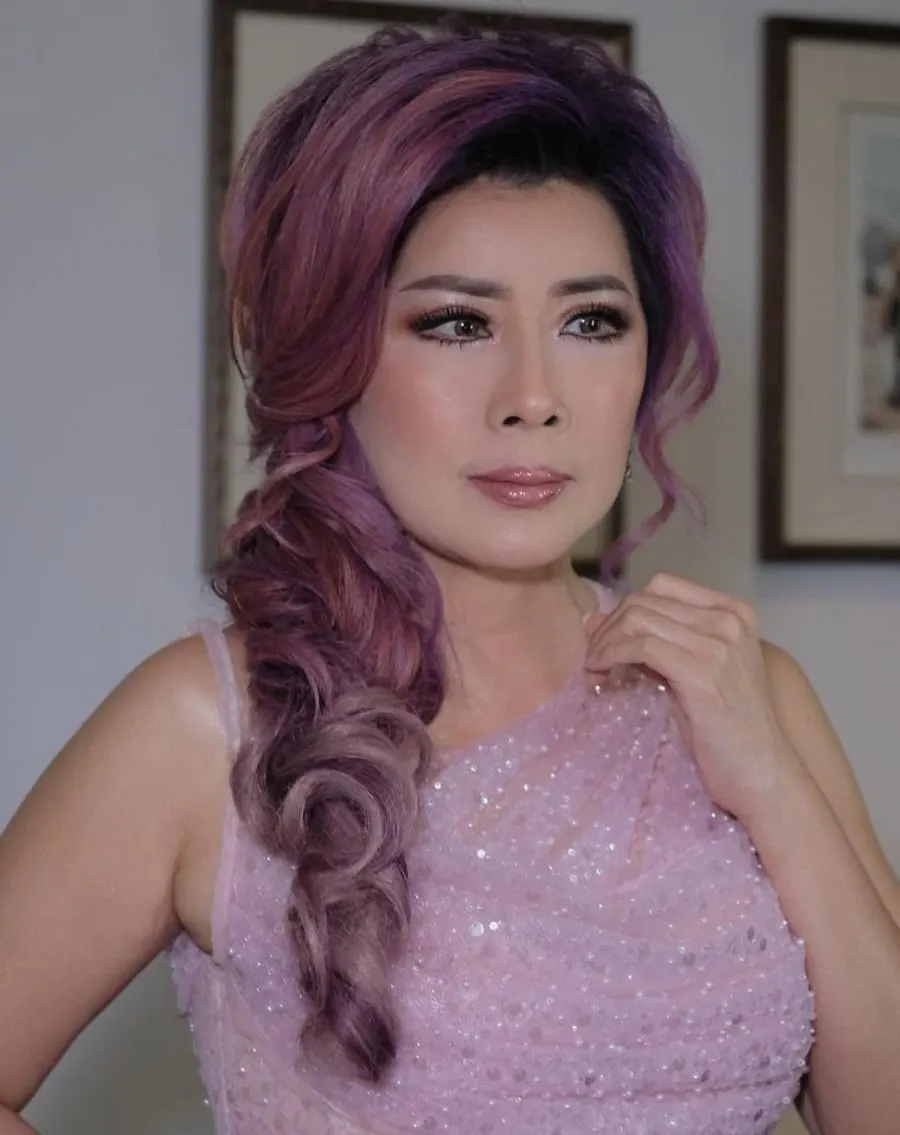 Another long hairstyle for women over 40 who want to drop jaws at wedding events. Make a style statement by rocking unconventional hair colors including lavender and dusty rose pink tones as depicted here. Finish off by gathering the curls in a loose ponytail updo falling forward on one shoulder.
25. Twisted Braids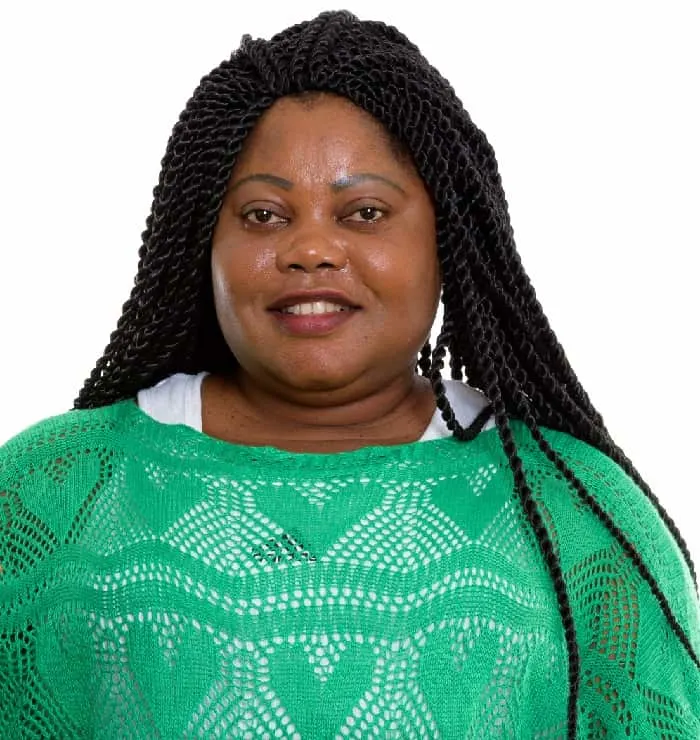 Black African American women take a lot of pride in their braids. If you are a black woman aged over 40 with short hair, this is the best way to get a long hairstyle that suits women all ages. One of the perks of twisted braids is that you can buy packs that are pre knitted and just attach them to your natural coils.
26. Thin Dreadlocks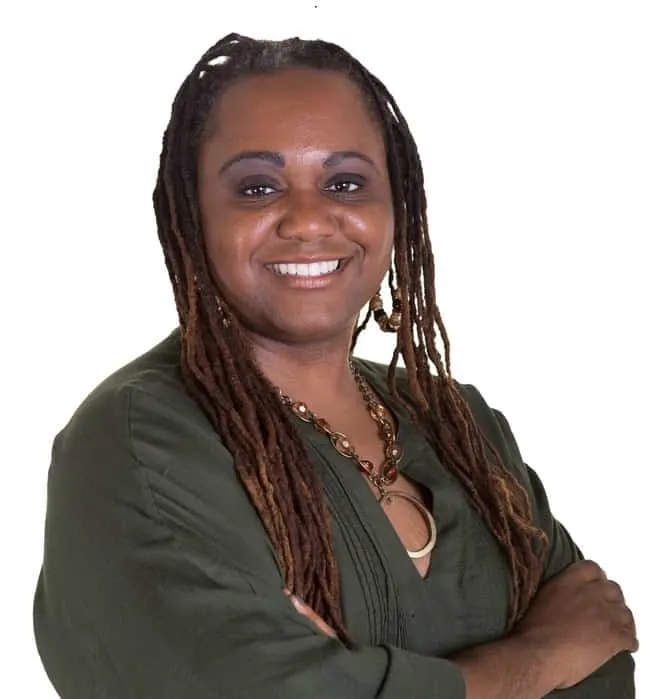 Dreadlocks are perfect long hairstyles for women over 40 who want a hairdo that is low maintenance and extends their hair. Of course, you can keep it simple and use your own mane to build them.
27. Protective Braids
Protective hairstyles are ideal for women over 40 who want to grow their hair. The key to preserving them is wearing a scarf overnight and sleeping on a 100% silk pillow. Also, if you don't want to get dandruff, hydrate your scalp with oils. This way, you will also prevent all that annoying itching.
An ombre on long hair is what you need in your life if you want a modern long hairstyle when being in your 40's. Drew Barrymore has a beautiful blend of chocolate brown hair and champagne blonde, and she looks great with that middle part and layered locks.
Natural curls look best when kept in a long layered hairstyle. Use special shampoo and conditioner if you want to make them look bouncier. Also, this long hairstyle looks fantastic with thick black-framed glasses.
Julia Roberts is more than a pretty woman, and she proved that through all her career. To recreate this elegant hairstyle, get one-sided bangs that reach the jawline and tease the hair when creating a bun in the back.
As you can see, Gwyneth Paltrow went for a beige blonde color that beautifully matches her fair skin with pink undertones. The whole hairdo makes her blue eyes glow, and she uses a dark eyeliner to highlight them even more.
32. Big Bun
When it comes to black African American hair, we all know that taming it requires a lot of time spent in the mirror. A big bun on top of the head can be an exquisite option for all those ladies who want to look flawless the whole day.
Messy long hairstyles make you look fresh and highlight your gorgeous honey hair color. Create a subtle side part and build a loose messy thin braid on the other. Pull off some strands and let them carelessly fall around your face.
If you want thick hair, castor and olive oil hair masks must be added to your hair care routine. Also, if you crave for a hair color that is modern and makes you look younger, a brown caramel blonde ombre will look absolutely stunning.
When you want an exotic look, whether you are on holiday or just going out for dinner in a fancy restaurant, this long hairstyle with wide curls will create a gorgeous frame. Wear your long tresses on your back and one of the shoulders and accessorize the hairdo with a big red flower.
One of the most incredible long hairstyles for women over 40 is a layered haircut that you can coif in so many ways. For an elegant touch-up, create a side part and use hair clips to pin one of the sides in the back, while the other falls on your shoulder.
Just tie your long hair into a medium-high puff ponytail, leaving the bangs falling loosely on both sides of your face. Tease the ponytail a little bit to make it look more voluminous.
Elle Macpherson is not only known for her long, sculpted, and beautiful legs, but also for her long blonde hair. Most frequently she wears her hair loose, wavy and voluminous, and we think it's so stylish and iconic. And it won't take you a long time to try and create it.
As we have stated in many of our picks for best long hairstyles for women over 40, simplicity is more often than not the key to a great look.
One good trick for a youthful appearance is to get a layered hairstyle. Layers add dimension, so they are a great choice, especially for round and oval-shaped faces.
40. Neat and Elegant Sleek Bun
If you are a fan of sleek, neat and formal hairstyles, here is an idea you should try. It works best on oval and heart-shaped faces because it includes your hair parted in the middle.
After you part your hair, make a big bun at the back of your head and you are ready to shine brightly on that gala dinner.
This updo is equally as enchanting and elegant as the previous one, just a little bit less complicated. Make your long hair slightly wavy and make a low, relaxed, romantic updo.
Leave the bangs loose around your face to make them look even softer. You can also decorate it further using a headband.
If you have a layered haircut, it doesn't mean that you can't wear a curly hairstyle. If you think that a hairstyle like this looks good and that it enhances your facial features, don't be afraid to rock it proudly.
If you often don't feel like doing your hair, straightening it, curling it, sometimes even washing it – well, it's okay. Truth be told, it happens to every woman. In a strange way, it can even look great, even if you don't think so.
Rather than wearing it loose and looking like you haven't combed it in a weak, try tying it in a simple low ponytail.
There is something about the boho style that is truly irresistible. And so is this romantic low bun. If your bangs are a little short, leave them loose. Then make a beautiful braid going all around your head and ending right above that messy low bun.
Braids look great on various occasions, especially if you have highlights because the two add a dimension that is just unbelievable.
Related Articles:
Another classic, isn't it? Should we even explain why this long hairstyle is flattering and appropriate for over 40 women on many occasions?
If you like it, you can create it by first parting your hair to the side and making a low bun to the side. Leave a few random strands loose to make the look seem more effortless.
Did you know that there are red carpet hairstyles that you can make at home all by yourself? Also, did you know that there are red carpet hairstyles that women over 40 with long hair can easily pull off?
Well, the answers are – yes and yes! J Lo looks great wearing this messy bun that took a few bobby pins and even fewer minutes to make. And you will look great wearing it too!
If you thought that beach wave perm is something that should be left in the eighties, we are happy to announce that perm is back in fashion. Not only that, but it also came back with a lot of new techniques, thus new styles.
If you dare to try it, chances are you will completely fall in love with your beautiful curls. How great would it be if you wouldn't have to put so much effort into your blowout every time you wash your hair?
48. Long, Sleek and Straight
Perfectly straight, perfectly sleek, and perfectly gorgeous. That medium long hair that is cut perfectly straight can look great straightened, with a part on the side.
If this is something you like doing on an everyday basis, don't forget using products to prevent frying your hair.
White hair is gorgeous and eye-catching. And if cold tones look good with your complexion, you should definitely try it. You can also try wearing a fringe to make it look even more modern.
50. Long Tousled Waves
Did you wake up like that? Well, it looks great! Just use a spray for the beach wave effect, part your hair in the middle and you are ready to go.
If you are over 40 and your hair is this thick and long, you really don't need any more reasons to brag. Make gentle waves and swipe it to the side and all eyes will be on you!
There are a few ways to fool people into thinking that you are younger than you actually are. One of them is straightening your hair. If you have highlights, the effect will be even stronger.
What matches a bold red lip and an elegant dress like nothing else? –An elegant bun, of course! After a little teasing, make a low bun without smoothing the long hair too much to keep it sophisticated.
Even if you like your hair curly, there is no reason to curl it every day so that those curls always have a perfect shape. Even when they get a little looser after a day or two, they can still look great.
An afro hairstyle sure pops. However, it doesn't have to be the same every day and in every occasion. Tie it in this bun that is so big and extra.
Waves don't always have to be so plain and boring. And you don't have to look pretentious wearing them and looking like you were on a red carpet. Just try combining them with a fringe, or tuck it behind your ears.
57. Wavy Blowout
A good blowout on long hair is absolutely gorgeous with any attire for any event! Women aged over 40 would love to wear this low maintenance long hairdo!
This is one more variation when it comes to ponytails – with a part in the middle. You just have to choose whatever works best!
Long, layered and curled all the way. Sophisticated but powerful at the same time and any woman over 40 will look awesome wearing it!
Side bangs on long hair is a statement. But who would have thought that after cutting your bangs you won't have to do anything to your hair for it to still look great?
FAQs
Here are some frequently asked questions about long hairstyles for women over 40.
Will bangs suit long hairstyles for women over 40 years?
Bangs can work for any hairstyle, and women over 40 shouldn't avoid bangs because they're sometimes associated with a younger look in popular culture.
Bangs can add a new level of sophistication to long hairstyles for women of any age.
Should women over 40 cut their long hair short?
Not really. You don't have to go grandma-chic the minute you turn 40. There are many stylish short hairstyles out there for women of every age. But if you're in love with the long hair look, rock it!
Does long hair make you look older after 40?
No way! Look at Heidi Klum, Nicole Kidman, Lucy Liu, or any other fabulous women wearing long hair in their fifties. For many women, long hair can make you look younger.
If you're concerned your long hair is making you look older but want to keep the length, consider adding layers.
Can women over 40 wear braids?
Women over 40–heck, women into their sixties and seventies–can wear braids. You're over 40 and you're fabulous.