Don't think that you have to wear short hair just because you've reached 40. Medium styles are stunning on mature women as the length effectively frames and shapes the face. It will transition well with age as well when hair becomes more subject to aging. Luckily we've pulled together all of the top medium hairstyles for you to choose from.
Medium Hairstyles for Women Over 40
Read on for 30 incredible and inspiring medium styles for truly beautiful women.
1. Simple Low Ponytail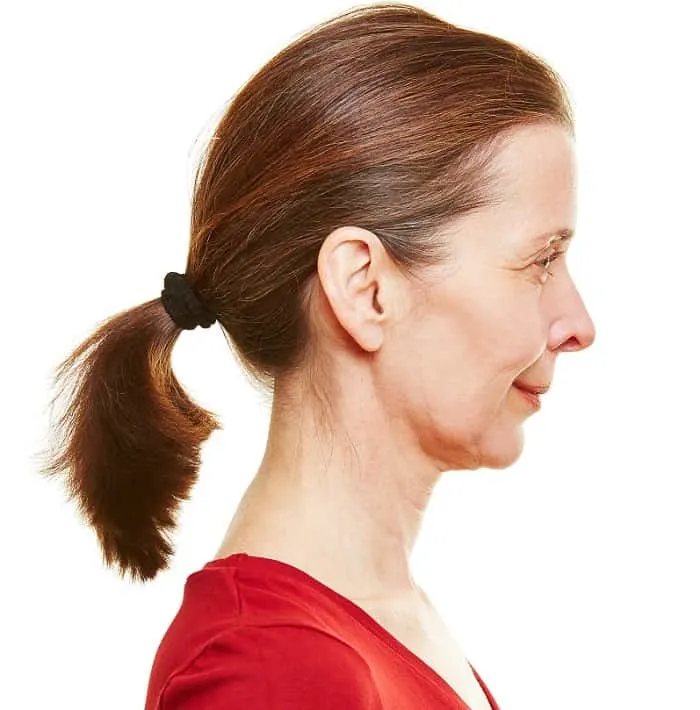 Whether you're at work or at play, a simple low ponytail is a must. Sometimes the low-key looking ponytails are actually the fussy ones, so try spraying hairspray onto your brush before slicking back into a pony.
2. Messy Chignon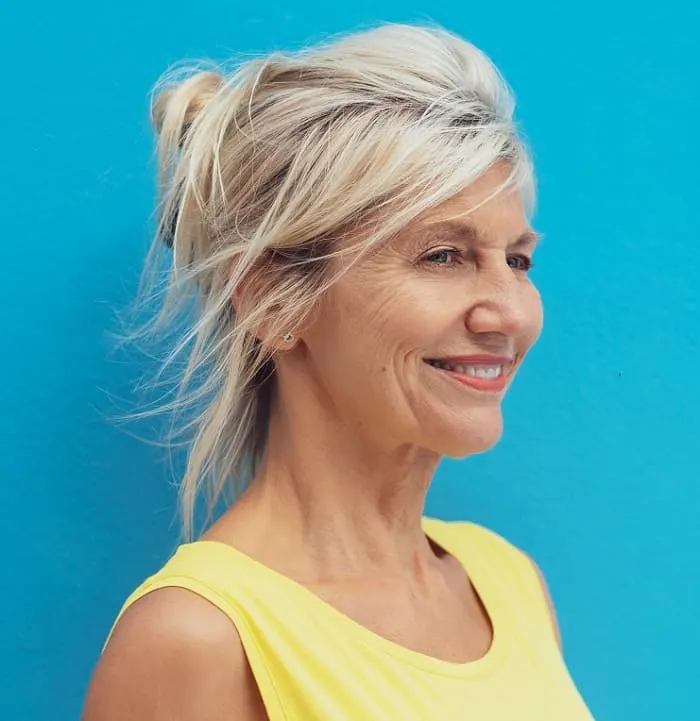 Layers are a must for medium-length hairstyles for thick hair over 40. This wispy, sexy up-do is perfect for casual occasions. To create on your own, make sure you add height at the front and crown of the head.
3. Voluminous Waves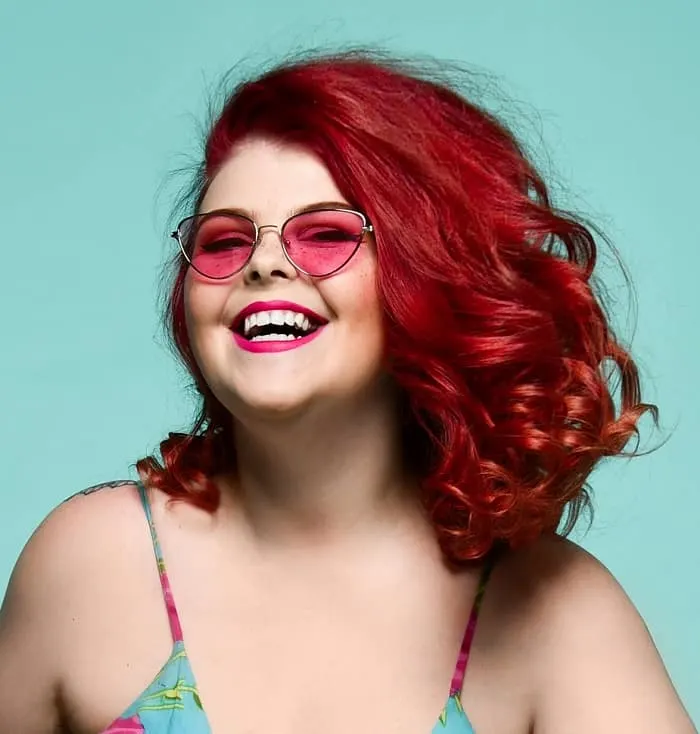 Don't fight fuller cheeks but rather enhance them with a voluminous medium-length hairstyle for plus size woman over 40. The sexy style has so much energy and life and brings the best out of your styled curls. Think about height when you first start with a blow-out. If you want to grow your hair longer, get inspiration from these long hairstyles for women over 40.
4. Layers for Tight Ringlets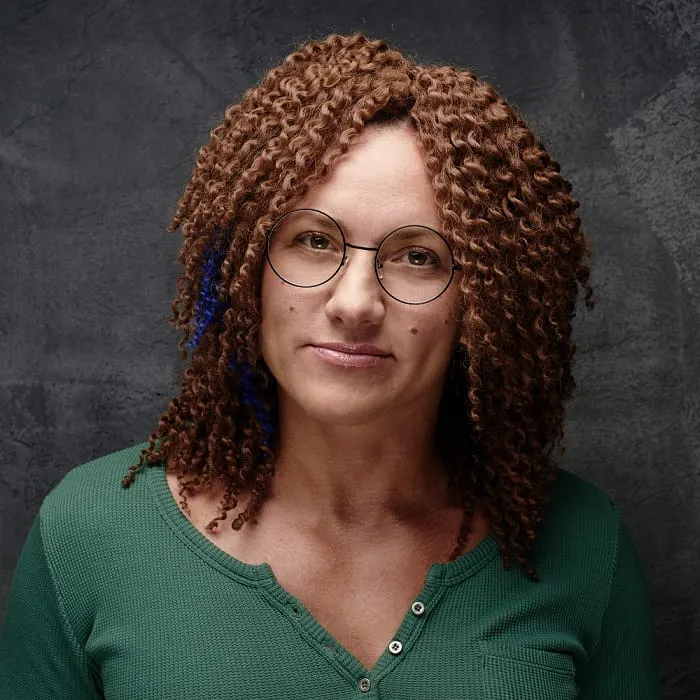 For perfect ringlets, you'll need perfect layers. The first layer of hair should hit around the cheekbones to enhance the beautiful contour of your cheeks. Choosing a middle or side part is truly up to you!
5. Braid with Wispy Bangs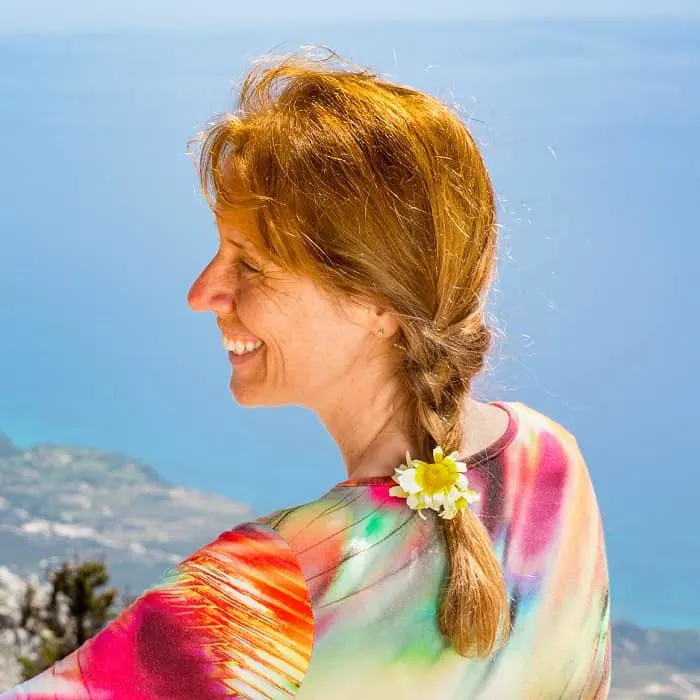 Relaxed braids are often underrated when buns and ponytails are involved, but they are so feminine and pretty. Braid your medium hair slightly to one side to drape over your shoulder. This will match the relaxed nature of your wispy bangs.
6. Piecey Bangs for Thin Hair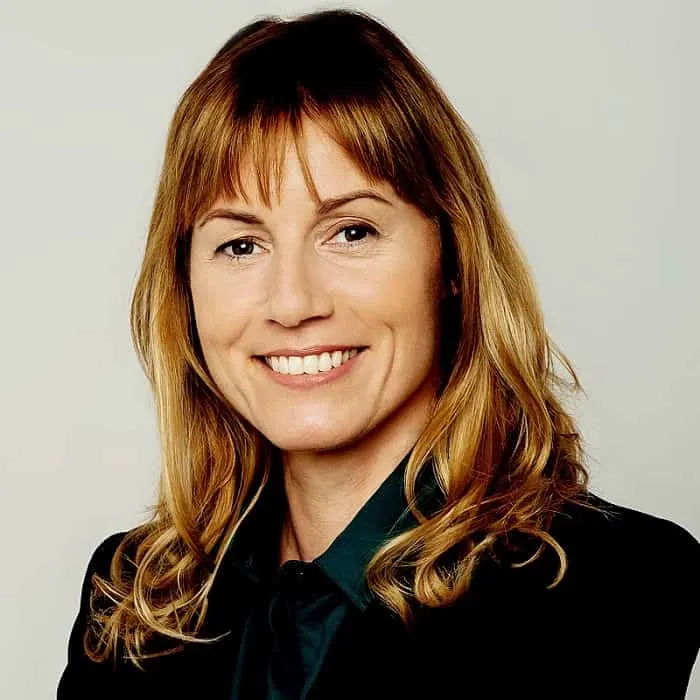 Nice features like piecey bangs and soft layers add so much weight to medium length thin hair for over 40. Round or square face shapes should make sure that the eyebrows can be seen through the bangs to elongate the face.
7. Golden Braids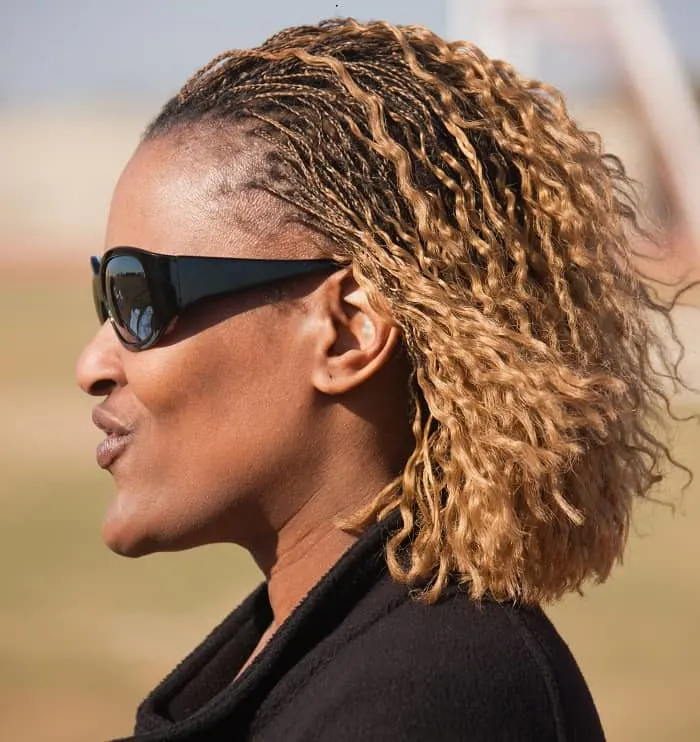 These tiny box braids are beautiful as is, but the golden caramel color is a total win. Compliment your skin's warm undertones and really bring your medium style to life.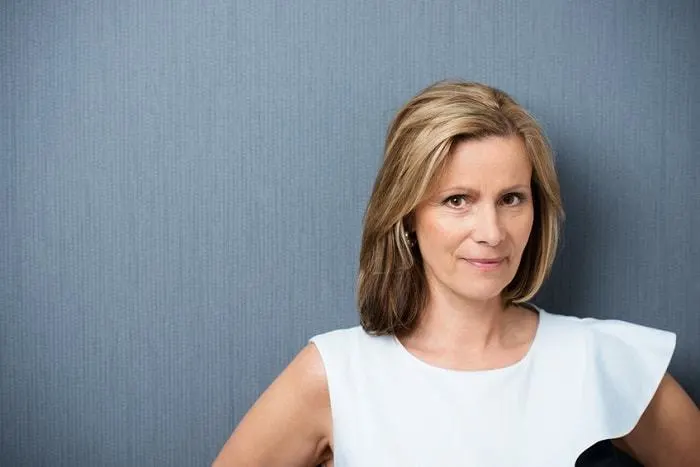 This medium hairstyle is for a busy, working, modern woman over 40. It is timeless, classic and makes you look like you run the world! The best part is that you can finger-comb it and still look so well put up.
Ideal for: This being an adaptable and all-around hairstyle, will suit all face shapes.
How to Style: You can either work with the side or middle part hairstyle. Brush through your hair for a put-together look. You can also improvise by finger-combing if you are going for a no-effort look. Or straighten it up and look like a woman on a mission!
9. Stylish Side Swept Hair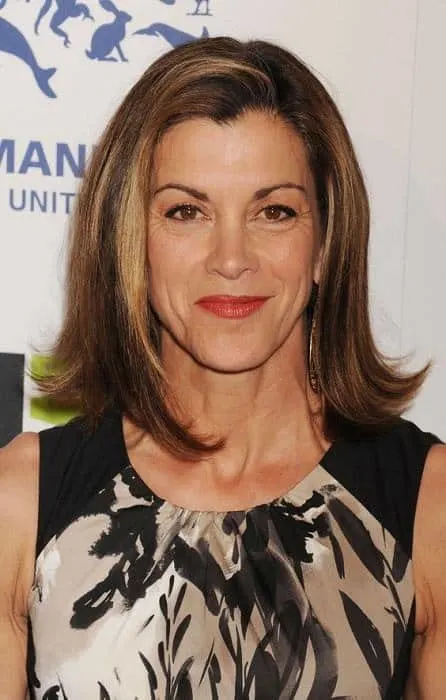 Nothing says chic and sleek like this hairstyle we have here. This is one of the most popular hairstyles that women go for. This hairstyle is manageable and ups your style game several notches.
You can go to a business meeting in this look or to the grocery store. It doesn't matter where you go because you will look just as stylish on both ends of the spectrum. This too, like the first hairstyle is pretty versatile.
Ideal for: This is ideal for women with a round, oval, or diamond-shaped face.
How to Style: This is a no-effort hairstyle, and is one of the perfect medium length hairstyles for women. Just side part your hair, brush it down and you can try to bring the ends inwards or outwards. Either way, it will make you look timeless and ravishing.
Take some cue from Halle Berry and rock this hairstyle. This is a glamorous but very easy hairstyle. Pair these golden brown tousled layered medium hair with some bangs if you like, and you are ready for a date night!
Ideal for: Round-faced women can really benefit from this hairstyle. It is because this is a messy look and hair will fall over your face. This can also look good if you have a square face.
How to Style: This is a really trending look, and you can customize it according to your own preferences. If you have fine-medium hair, this hairstyle for over 40 can make your hair look thick by adding volume.
This looks perfect even without coloring your hair. However, if you do want to go a step ahead and color it in, it will look even better.
If you have curly medium length hair and are looking for a quick hairstyle, this is something for you. Cherish your curly locks with confidence. This hairstyle is the way for you to rock those romantic curls.
Ideal for: This is best suited for an oval, diamond or heart-shaped face.
How to Style: The only catch is you need to make sure your curly locks are well moisturized. If they are dry, then you will miss the bounce, and as everyone knows, curly hair and bouncy hair go hand in hand. Moisturizing is the key to make your locks look full of life.
Notice how Kate Hudson sports this oh-so-romantic hairstyle? The short beach waves already lay the premise for a beautiful date-night. The side parting makes it look even more feminine and gracious. This is a perfect fit for women over 40 with medium hair.
Ideal for: This hairstyle looks best when you have a diamond or a square face. The sharp angles of your face can complement the hairstyle well.
How to Style: This look is easily achievable even without a hairdresser. Wear your hair in braids after a wash. Wait till they dry and open them up. The more the number of braids you do, the more intense your waves will be.
So consider this aspect before venturing into it. After opening and lightly brushing through your hair, and shaking out your waves, you may use a setting spray.
13. Shaggy Curls
This is another smart but fancy hairstyle that ups your oomph quotient. These beautiful wispy curls can make any outfit look pretty. If you are looking for mid-length curly hairstyles for women over 40, this is it.
Ideal For: This hairstyle is suitable for oval, heart-shaped or diamond-shaped faces.
How to Style: Wet your hair a little, apply crème and then twist sections of your hair into small curls. After that dry your hair on low and use a curling iron from the top down. That is it. But do not forget to finish with a hairspray.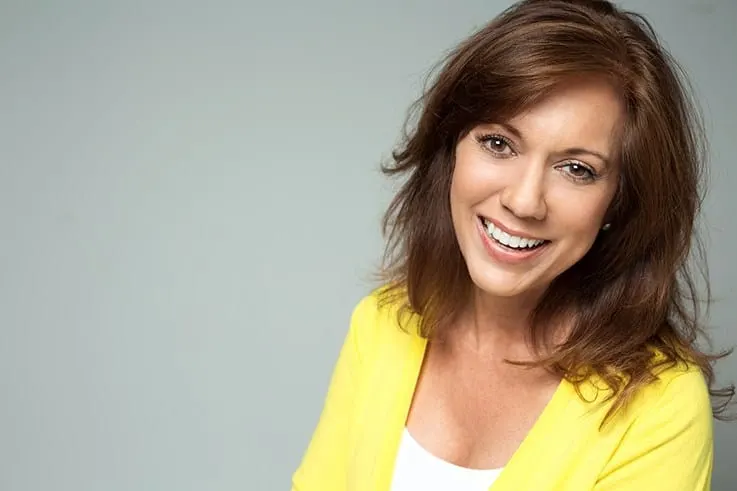 This shoulder length hairstyle that most women over 40 love is a particularly easy one, but it can serve you a lot of purposes at the same time. This is one hairstyle that can look formal and effortless at the same time.
Ideal for: This will look good on all face types.
How to Style: You can straighten your hair on low heat; do not straighten it too much lest it looks too done. Do not forget to ruffle it a little bit before you leave your house. This gives an effortless but chic look to your entire face.
15. Perfect Fluffy Curls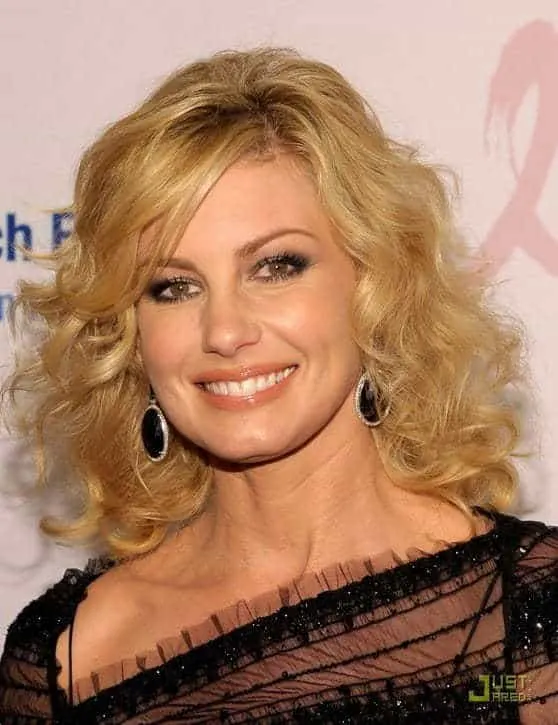 As you can see, this feathery bob looks quite classy. As the hairstyle is quite bouncy, it brings youthfulness to your face. The wavy side swept bangs are another pretty addition to this already gorgeous hairstyle.
Ideal for: This hairstyle will look extremely cute on people with round faces. This is one of the most popular medium hairstyles that women over 40 can easily ace.
How to Style: Feathery bob can look brilliant on people who have not colored their hair. In case you do want to highlight your hair, this hairstyle will bring them into focus.
Your hair should be asymmetrical in order to get this medium hairstyle. This is quite a modern hairstyle for women above 40.
Ideal for: This is such a flexible hairstyle that it can look good on any face shape. Do not hesitate to try this hairstyle out.
How to Style: It can be achieved by teasing towards the roots and tousling towards the end. It has that touch of bed head look which looks quite sexy!
17. Easy Tousles
Quite a laid back and easy-breezy look, this is perfect for a relaxing vacation.
Ideal for: This type of hairstyle looks extremely good on people with a heart-shaped face. The pointy chin complements the frayed ends. This is also good if you have thin hair as it gives an illusion of volume.
How to Style: This is a no-hassle hairstyle. After a shower, take a wide-toothed comb and brush through your hair. Make a few tight braids and wait for your hair to dry. Open after they are dry and set them with spray.
If you think ponytails are all the same, then you are wrong. A ponytail can be set up in fun or stylish ways. Look at JLo for instance. She has worn a high ponytail but not sleek straight. This makes it look very effortless, but at the same time, the waves add the much-needed drama.
Ideal for: Anyone. A ponytail is the best of all hairstyles as it suits everyone.
How to Style: The essence of a ponytail lies in the art of styling it. You can work out or go to a formal event in a ponytail. It does not really matter. The only thing that matters is the way you decide to style it – straight, wavy, curly, low or high.
In this picture, we have a high wave ponytail. You can easily achieve this by curling the ends of your hair just a little bit and then tying your hair at the top. If you are looking for low maintenance medium length hairstyle for over 40-year-olds, then this is the one.
19. Retro Big Waves
These gorgeous waves could be the reason why people ask you about your youthfulness. The bounce that comes with these big waves is impossible to miss.
Ideal for: This is a little shorter than medium hairstyles. We would recommend that you do not go with these hairstyles if you have a strong jaw.
How to Style: You have to strategically wield your curling iron to get the desired amount of wave.
20. Medium Curls
This is a short to medium hairstyle which goes well with any kind of event. These kinds of hairstyles look cute and charm the onlooker.
Ideal for: These hairstyles will look good on all face shapes as these are quite basic.
How to Style: It is a no-brainer to style this. You can simply use your curling wand to get this look. Make sure you do not use large chunks of hair.
You cannot go wrong with this. Formal and flirty at the same time, this medium haircut will look great on most women over 40.
Ideal For: Anyone. The flirty flicks at the end give a fun vibe to the entire look.
How to Style: It is quite easy to style this look. Comb your hair making sure you flick the ends outwards in order to get your desired look.
22. Natural Side Swept Curls
This is a safe way to style your hair. This hairstyle is easy to style and maintain. It is loved by many and is quite common as medium length hairstyles for women in their 40s.
Ideal for: Ideal for square or diamond-shaped faces.
How to Style: Brush your hair and part your hair to the side. Use low heat and curl the desired amount. Shake off the curls to get light waves.
This is a sleek and neat mid-length hairdo for above 40 years & is best suited for formal and official events and places. If you want to take it to a casual outing though, it will still work.
Ideal for: This hairstyle suits people with a heart-shaped face as you can see in the above image.
How to Style: Part your hair from the middle and straighten your hair sleek. This looks quite sophisticated too.
This is an unusual medium hair pick for women over 40. However, the bangs do look really cute when paired with a tiny ponytail. If you have short bangs, then you can go for this updo which brings out the inner girl in you.
Ideal for: This looks best suited for round and oval face but if you want to try these out, you can.
How to Style: Put your hair up in a bun or ponytail and straighten the bangs that you have. This way you will retain the original texture of your hair at the back and have straight bangs in front.
This is a loose wavy hairstyle for women over 40 with shoulder-length hair which brings out the carefree soul in you. The hairstyle gives a fresh feel although it is a basic one.
Ideal for: Basically, the cut suits all face types. Will definitely look good on oval and round-shaped faces.
How to Style: It does not require heat as you can very easily use the braiding beach hair techniques that have been mentioned.
26. Spunky Afro
Enjoy your natural curls and embrace them without using heat with this low maintenance hairstyle.
Ideal for: All face Types.
How to Style: In order to get this look, you need to wash your hair and use moisturizing mousse on your hair. That is all.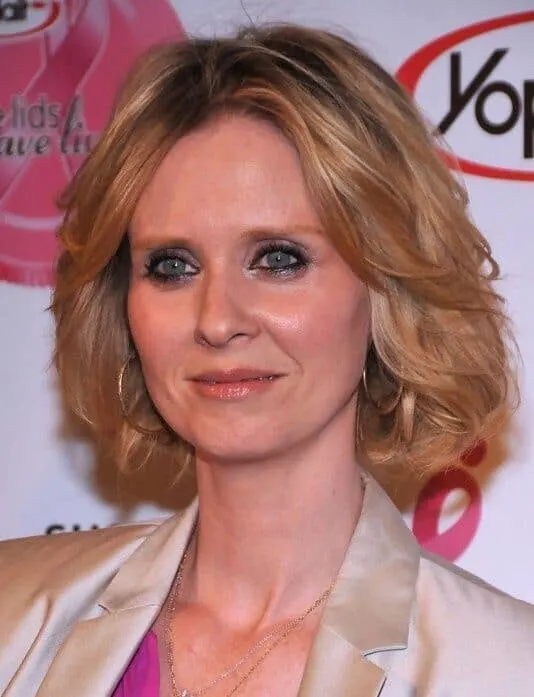 If you do not feel like doing much to your hair but still want to look glamorous, this is the medium haircut for over 40 you should opt for.
Ideal for: Suits most of the face types and is ideal for diamond-shaped faces.
How to Style: Curl small chunks of your hair but on low heat. This will not curl your hair unnaturally but keep it up to waves.
28. The Ethnic Spirals
These ringlet curls are sure to make everyone's head turn towards you. Popular medium hairstyles, this is sure to get you some attention.
Ideal for: This over 40 hairstyle is ideal for oval, round and heart-shaped faces.
How to Style: Use a large curling iron to curl parts of your hair, and after doing so make sure you have used a moisturizing mousse.
Salma Hayek carries this curly updo with such oomph, and you can do it too! Your hair may or may not be colored. But if the ends are colored, it gives a very diva-like vibe to the entire look.
Ideal for: If one has a long face; this updo is for the women over 40 with medium length hair.
How to Style: This is almost like a messy updo, but you have to make sure the curls are not too frizzy.
This is the most basic of all hairstyles. All you need is a hair holder, and you can get yourself this wonderful half up-do.
Ideal for: Rectangle-shaped faces.
How to Style: It is very easy to style this as all you need is teased hair and a clip. Put up half of your hair and run your fingers through your hair. Make sure it looks messy and pretty. These medium hairstyles for women over 40 are quite in vogue.
Fashion is always on the move and people always like different things every other day. But today we have listed medium length hairstyles for women over 40 that are sure to remain classic.