Many black women like using hair extensions to manage their hair. However, there is always time for a TWA hairstyle. These haircuts are exactly what you need when you are tired of sporting a long mane and want something neat and easy to maintain. Short haircuts have plenty of benefits. They open up your face and neck while outlining your facial features and letting the world see your eyes. They are easy to maintain and require almost no styling in the morning. Meanwhile, they can be dyed just like long hair so you can enjoy many different style changes.
What is a TWA Hairstyle?
Many women have no idea about what a TWA hairstyle is. And they are missing out on a lot of fun. TWA stands for 'Teeny Weeny Afro'. It's actually a pixie with the hair cut short on the sides and a little volume on top but can also mean short hair which is all the same length. These hairstyles don't really have much to do with the large voluminous afros. They are just another way to keep the hair maintenance to a minimum while making you shine. The length of the top hair can vary from very short to rather long but should exceed about 3 inches. Most women prefer to go for 1.5 – 2 inch length.
Short Natural Haircuts and Hairstyles for Black Women
How to Style TWA Hairstyle with a Scarf?
If you are planning to go for a TWA hairstyle, you might want to learn about the accessories that can make it look amazing. Yes, that's right, even the shortest hair can look amazing with accessories. The main addition to your TWA hairstyle is a scarf. Be it a cotton, polyester, or a silk scarf, it can change your appearance. The scarfs are mostly used as headbands that run around your head in the forehead area. They are used to outline the teeny afro and make it look a little more voluminous.
Best TWA Hairstyle That Can Rock Your World
Some people think that it isn't much you can do about short hair. It's completely untrue! We collected 12 amazing TWA hairstyles to prove them wrong. No matter what type of haircut you had in the past, these wonderful options can make you look stunning. Whether you are going from a long hairstyle to a short one or trying to forget about hair extensions, TWAs are exactly what you need to have fun and enjoy the new image. Hair experiments are the easiest way to a style change.
1. Undercut with designs
Some TWA haircuts are similar to undercuts. The hair on the sides is short and the hair on top is long. You can use this opportunity to take advantage of various hair designs on your head and neck.
Short Curly Hairstyles for Black Women
2. Scarf style
This is a great way to decorate your hairstyle without any dyeing or cutting. Just wrap a pretty silk scarf around your head and tie it on one of the sides. You can use a headband for the same purposes as well.
3. Mohawk style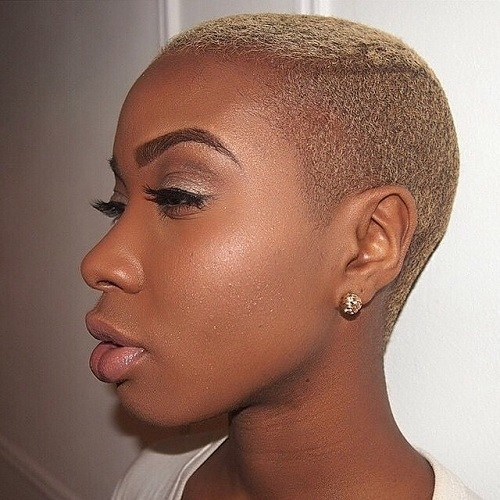 This TWA hairstyle reminds of a mohawk. There is only a slight difference between the hair length on the sides and the top. It's a wonderfully simple haircut that requires absolutely no styling.
4. Lines and figures
When creating TWA haircuts, many women see it as a chance to go all out with dyes and designs. Take a look at how unique such a hairstyle appears thanks to the burgundy colors and outrageous lines.
5. Flaming red
If you are tired of your black locks and looking for the opportunity to do something about your image, TWA is a great chance. Consider all kinds of various dyes to make your hair look stunning.
6. Blonde outline
If you want your TWA to look a little more voluminous, use the hair color trick. Dye the top part of your hair blonde while leaving the rest natural. The contrast created by the two colors will achieve a great result.
7. Classics
This classic TWA hairstyle is exactly what you need when you are tired of hair maintenance. There is absolutely nothing you have to do about it besides regular washing. No gel, no spray, no accessories.
8. The labyrinth
Creating a labyrinth on your head is not something every woman is ready to do. If you want to make a statement, ask your hairstylist to go all out with the designs. Don't forget the wild colors.
9. Curly fun
This is another simple way to create a TWA style. All you have to do is cut all of your hair the same length but not longer than 1 inch. You'll need to keep the curls styled in order to achieve a neat look.
10. Short and stylish
This TWA is recommended for girls with oval or long face types. The hair is a little longer on top than on the sides. If you want to give the TWA a little charm, you can add a line or two as designs.
11. Blonde TWA
TWAs are a wonderful opportunity to experiment with colors. Dark-skinned girls often look fabulous when they dye their hair blonde. Choose the shade of blonde you like the most and give it a chance.
12. Color mixes
Since you can't cut your hair any shorter to create a different hairstyle, take this opportunity to have fun with the colors. If you have short locks, it doesn't mean you can't experiment with ombre and highlights.
Sew-In Hairstyles for Black Women
TWA hairstyles are a perfect way to free up the time you used to spend on hair styling while enjoying a completely new image. Each girl should try a TWA at least once in her lifetime. Perhaps the time has come for you to do it?