Many black women like using hair extensions to manage their hair. However, there is always time for a TWA hairstyle. These haircuts are exactly what you need when you are tired of sporting a long mane and want something neat and easy to maintain.
Short haircuts have plenty of benefits. They open up your face and neck while outlining your facial features and letting the world see your eyes. They are easy to maintain and require almost no styling in the morning. Meanwhile, they can be dyed just like long hair so you can enjoy many different style changes.
What is a TWA Hairstyle?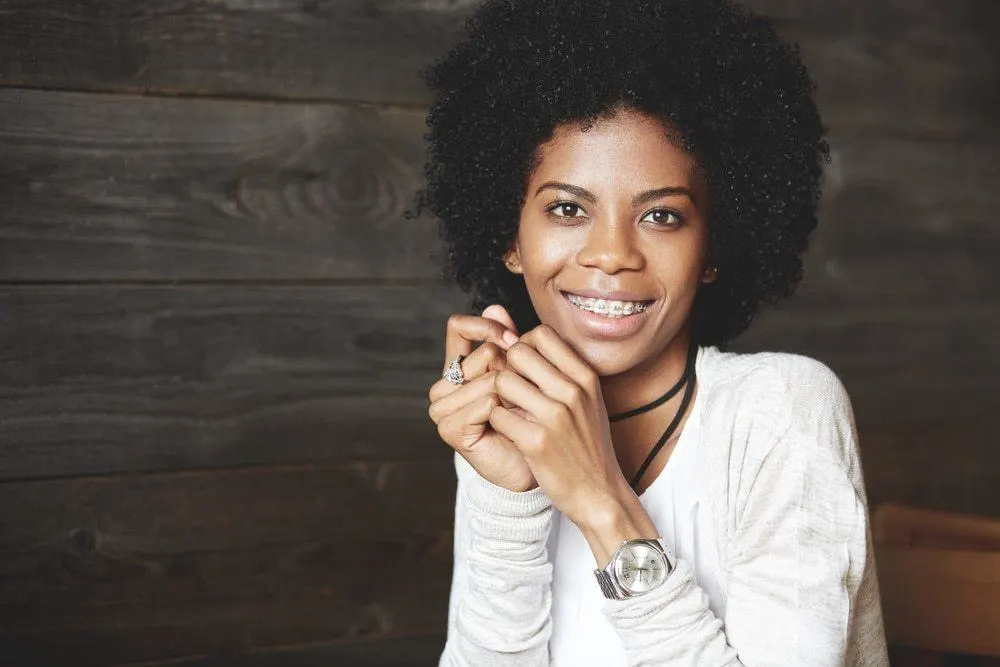 Many women have no idea about what a TWA hairstyle is. And they are missing out on a lot of fun. TWA stands for 'Teeny Weeny Afro'. It's actually a pixie with the hair cut short on the sides and a little volume on top but can also mean short hair which is all the same length.
TWA hairstyles don't really have much to do with the large voluminous afros. They are just another way to keep the hair maintenance to a minimum while making you shine. The length of the top hair can vary from very short to rather long but should exceed about 3 inches. Most women prefer to go for 1.5 – 2-inch length.
Short Natural Haircuts and Hairstyles for Black Women
How to Style TWA Hairstyle with a Scarf?
If you are planning to go for a TWA hairstyle, you might want to learn about the accessories that can make it look amazing. Yes, that's right, even the shortest hair can look amazing with accessories.
The main addition to your TWA hairstyle is a scarf. Be it a cotton, polyester, or a silk scarf, it can change your appearance. The scarfs are mostly used as headbands that run around your head in the forehead area. They are used to outline the teeny afro and make it look a little more voluminous.
Best TWA Hairstyles for 2023
Some people think that it isn't much you can do about short hair. It's completely untrue! We collected 50 amazing TWA hairstyles to prove them wrong. No matter what type of haircut you had in the past, these wonderful options can make you look stunning.
Whether you are going from a long hairstyle to a short one or trying to forget about hair extensions, TWAs are exactly what you need to have fun and enjoy the new image. Hair experiments are the easiest way to a style change.
1. Undercut with designs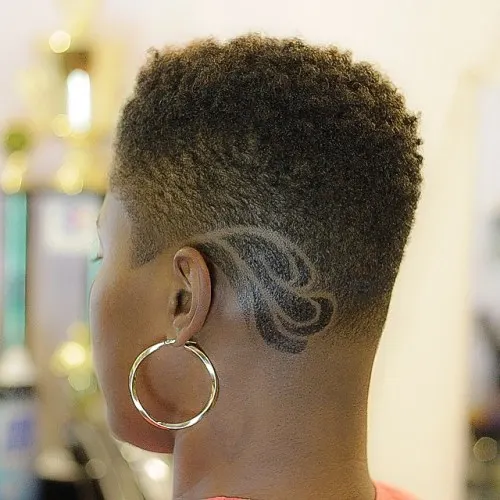 Some TWA haircuts are similar to undercuts. The hair on the sides is short and the hair on top is long. You can use this opportunity to take advantage of various hair designs on your head and neck.
Short Curly Hairstyles for Black Women
2. Scarf style
This is a great way to decorate your hairstyle without any dyeing or cutting. Just wrap a pretty silk scarf around your head and tie it on one of the sides. You can use a headband for the same purposes as well.
3. Mohawk style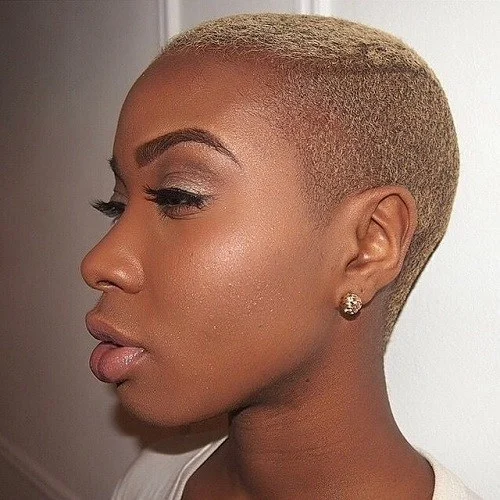 This TWA hairstyle reminds of a mohawk. There is only a slight difference between the hair length on the sides and the top. It's a wonderfully simple haircut that requires absolutely no styling.
4. Lines and figures
When creating TWA haircuts, many women see it as a chance to go all out with dyes and designs. Take a look at how unique such a hairstyle appears thanks to the burgundy colors and outrageous lines.
5. Flaming red
If you are tired of your black locks and looking for the opportunity to do something about your image, TWA is a great chance. Consider all kinds of various dyes to make your hair look stunning.
6. Blonde outline
If you want your TWA to look a little more voluminous, use the hair color trick. Dye the top part of your hair blonde while leaving the rest natural. The contrast created by the two colors will achieve a great result.
7. Classics
This classic TWA hairstyle is exactly what you need when you are tired of hair maintenance. There is absolutely nothing you have to do about it besides regular washing. No gel, no spray, no accessories.
8. The labyrinth
Creating a labyrinth on your head is not something every woman is ready to do. If you want to make a statement, ask your hairstylist to go all out with the designs. Don't forget the wild colors.
9. Curly fun
This is another simple way to create a TWA style. All you have to do is cut all of your hair the same length but not longer than 1 inch. You'll need to keep the curls styled in order to achieve a neat look.
10. Short and stylish
This TWA is recommended for girls with oval or long face types. The hair is a little longer on top than on the sides. If you want to give the TWA a little charm, you can add a line or two as designs.
11. Blonde TWA
TWAs are a wonderful opportunity to experiment with colors. Dark-skinned girls often look fabulous when they dye their hair blonde. Choose the shade of blonde you like the most and give it a chance.
12. Color mixes
Since you can't cut your hair any shorter to create a different hairstyle, take this opportunity to have fun with the colors. If you have short locks, it doesn't mean you can't experiment with ombre and highlights.
Sew-In Hairstyles for Black Women
13. Marilyn Monroe Inspired Hair
Inspired from legendary fashion diva Marlin Monroe, this TWA hairstyle is perfect for the ultra-sophisticated women of today. Women all over the world love to adopt her iconic looks. All you need is nude eyes and bold red lips for a striking transformation.
14. Frosted TWA Hairstyles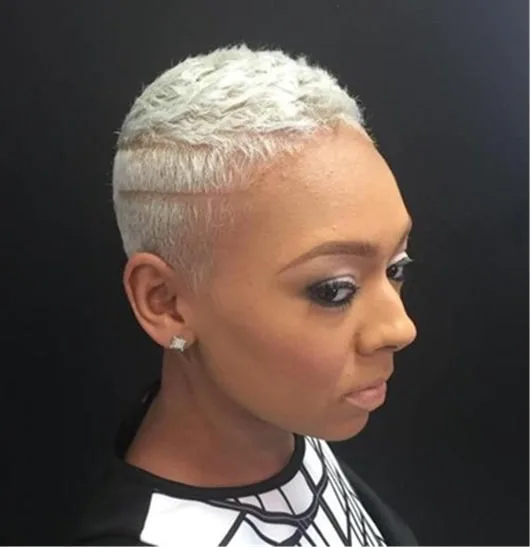 It needs a lot of courage to carry something against the norms. FROSTED short TWA haircuts are the perfect example of such audacity. White hair covers your crown area like frosted snow. Extreme shaved sides increase the intensity of the look.
15. Neat Haircuts
So, you are dressed up till nine, and still confused about your hair? Just put some gel in your hair and comb them nice and neat. A little trick will make you look ultra-posh within seconds.
16. Pot Style Hair
You can style short TWA hair in multiple ways. The most basic style is to grow hair of equal length and trim them in the shape of the head. Thus, creating a pot like round effect that looks natural and casual.
17. Ombre Spikes
Ombre hair is a popular way to blend contrasting colors with your natural hair color. It looks stunning when done with curled hair. Try to blend lighter earthy tones with natural hair that will give a subtle and decent look to the existing spiky hair.
18. Fake Fade TWA Haircut
Fade cuts result in uneven hair growth. To avoid this, you can imitate the fade by using hair wax. Thus, giving the exact impression without changing the natural hair length. As a result, a Mohawk will be created, which will surely look spunky.
If you have a well-structured head, then the blanched shaven TWA natural hairstyles are just for you. It will enhance your strongly shaped skull and bring out your facial features.
It is low maintenance and time-saving kind of haircut, which look enigmatic on black women.
20. Tiny Noodles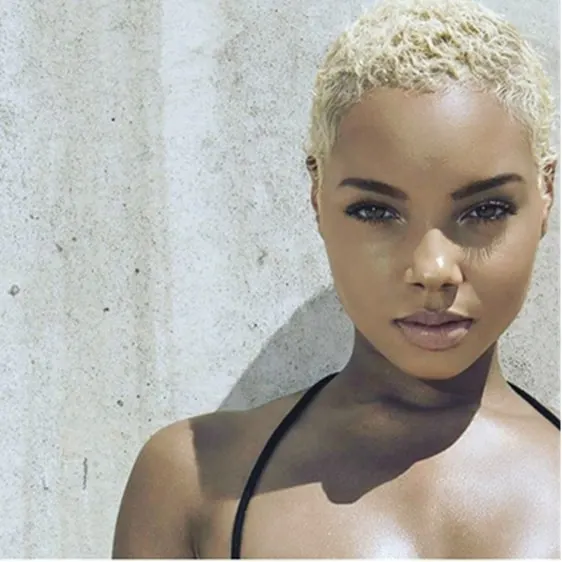 Modern women prefer adapting short natural hairstyles. But to make the ordinary look extraordinary, you can try something off-limits such as decoloring your hair up to ninth level or beyond.
With perfect toning, a beautiful yellow shade comes out, which resembles noodles. It is a fun way to carry your TWA hair.
21. Spiraled TWA Hairstyles
Afro hair has generic curled traits. Lengthening them will result in long spirals. Select suitable natural hairstyles to manage your growing hair. Keeping them short will prevent breakage and dyeing them in different colors makes them look pretty.
The color magenta holds magnetic power. The hair dyed in magenta bewitch the spectators by their charismatic effect. This TWA haircut looks simply ravishing on its own when styled neatly. People with a broader perspective towards life carry it wholeheartedly.
23. Pink Hair with Faded Ends
Be your style guru. Try some of the fades and funks to spice up your appearance. Dark pink roots fading out in the lighter tones of baby pink gives a theatrical look to natural TWA hair.
It's quite fun to carry such hairstyle, but it needs proper care and nourishment also. Dyeing your hair to such extreme levels might damage them.
24. Superhero Hairstyles
So, your little one loves the character? Surprise them by carving a logo at the edge of your TWA hair. Your hairstyles serve as a canvas to express your creativity. Bring out your inner artist and create the most visionary designs.
25. TWA Hairstyles for Slim Faces
Slim face cuts possess grace and elegance. Natural hairstyles with heavy crown area give an aesthetic look to high cheekbones.
A large modish shade and winged-liner will also add breadth to the facial structure. Young girls and petite structured women can carry such hairstyles with absolute ease.
26. Honey Brown Short Hairstyles
Drastically change your overall look by dyeing your hair in a lighter tone than the normal such as honey brown. You can upgrade your regular hairstyle by making such amendments.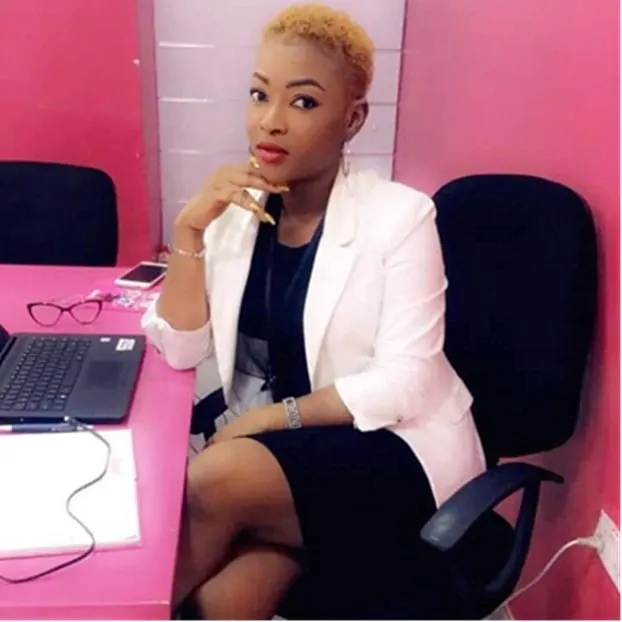 Remember, that beauty has no shape and no form. It is rather a sense of glow and satisfaction that radiates from one's inner self. Therefore, never hesitate to showcase your appearance and attire in a manner, which exhibits your personality the best.
If you love stylizing your TWA hair, then try dying them in a soft tone of ginger. It will surely highlight you from others and display your calm, composed personality.
28. Micro Haircut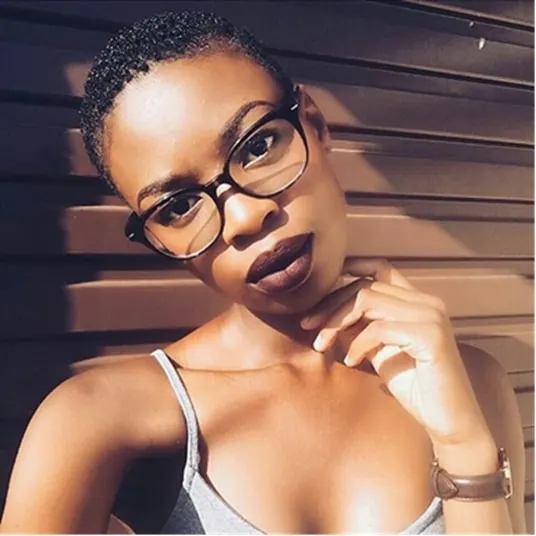 Are you tired of your long frizzy hair, which demands considerable time and effort every day? If so, then try out this micro hairstyle that will save you from the trouble while retaining style and glamour.
29. TWA Hair for Elderly
Do you think it's too late to try something different, something new? Come on, never let the thought of being late wander your mind as there is always some time to make an effort and bring a positive change in your life.
Also, its 21st century with the fashion industry evolving every minute and every second! So, do not stress yourself and visit your nearest hairstylist to get your hair transformed into one of the ravishing TWA hairstyles.
30. Cap Style Haircut
If you are a make-up enthusiast with some quality skills, then open up a dimension of class and glamour with cap style haircuts. Try out enhancing your make-up with this bold cap style TWA hair and become a trend-setter!
31. Modern Brunette Hairstyle
With time the hairstyles have evolved rapidly, however, the natural TWA hairstyles have always remained ever-green. The brunette toned hairstyles will make you a part of the trend-setter community in this modern era!
32. Retro 60s Hairstyles
Even in today's advanced world, there is a large community which admires the previous historic fashion that immersed black women in a pool of sophistication and exoticism.
Try out this retro 60s TWA hair and style it up using a vintage choker to revive the classy trends of the past!
33. Golden Beads
Are you searching for a down to earth look? Well then a golden bead hairstyles would be perfect for you! The mellow golden color compliments all dark skin tones and gives you that sweet earthy-natural look with a hint of glam.
Moreover, the extremely short curls make you appear nonchalant and approachable.
34. Airblown Short Hairstyles
Resembling an afro, Airblown short hairstyle give a voluminous look for those you want to go for something different than the traditional TWA hair look.
The Airblown look in natural black hair color is manageable and easy to style. Another quality about this hairstyle is that it makes you appear simple yet appealing.
35. Pastel Power
Got extremely curly hair and now you're too hesitant to try any "out of the box" look? Well, fret no more for you can look like a complete diva in pastel haircuts! Moreover, the pastel pink on short hair will give you that statement TWA appearance while maintaining your femininity.
36. Neon TWA Hairstyles
TWA haircuts are known to be one of most daring haircuts out there, and if you are planning to go for that big chop, then you should experiment with the iconic neon hair colors.
Pink neon is the most suitable option in the market because it will add a glitzy mien to your personality and make you look a little less dull.
37. Formal TWA
TWA haircuts are all about looking bold and glamorous. The hairstyles look classy in natural hair color and further enhance that cliche formal look you can play around with statement bold accessories like huge hoop earrings.
Golden accessories are a plus point since gold gives an alluring appearance on dark skin tones.
38. Tip-dyed Hairstyles
Dyeing your long hair is classy, but dyeing your teeny weeny afro coils is even classier! Tinting your short TWA hair with caramel and auburn shades can reinvigorate and hike up your snazzy haircut, enhancing your everyday, casual look.
Wearing small, delicate earrings and chain along with an on-fleek eye-liner can further stylize your overall look.
39. Crew Cut
Perhaps, it's time for you to jazz up your everyday attire with this sensational and unbelievably convenient crew cut.
This wash-n-go hairstyle will not only save you a great deal of your time by eliminating styling complications, but like all other TWA natural hairstyles, it highlights your cheekbones, jawline, and most importantly, your eyes!
40. The NYC Look
Fashion has no limits, no definitions. And a haircut is absolutely the best depiction of the fact. Level up your TWA game, and give your hair an NYC look.
The slight volume at the crown area will heighten up your energy and give a pronounced look. You can infuse the swank of NYC with fur-coats and latest round-glasses look of 2023.
41. Hard Part
Short hairstyles look best when carried in an aligned and symmetrical manner. The almost-shaved sides and a minimal yet considerable chunk of aligned coils at the top gives a neat and composed look.
Such TWA haircuts are best suited for those who do not appreciate interference in their work by the dangling tresses.
42. Chic Short Haircuts
Short TWA hair are all that you need, to broadcast the fashionista in you, that goes unnoticed otherwise.
With chic short hairstyles, you can glam-up and shock the world every day and in every way. For a bolder broadcast, play around with shocking lipsticks and dazzling shades to bring out the best of you!
The heavy coils at the crown-area coupled with drooping teeny-weeny fringes distinguish this particular tapered natural hairstyle from other TWA look.
With cropped or shaved sides, such haircuts are known to be short, but ten times more modish Mohawks. The peculiar combination goes well with sporty and punk looks.
44. Versatile TWA Appearance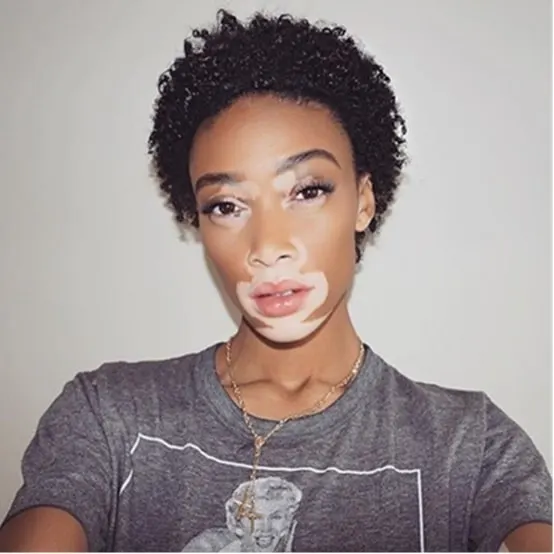 The epitome of versatility, TWA haircuts are one of the few looks that can be carried by almost anyone and everyone. Whether you're carrying a dyed and ornamental style or one of the many hairstyles, you're going to look as unique as the hairstyle itself.
45. Undone Voguish Hairstyle
So why would one want undone hairdo? Well, that's because it's a voguish celebrity look! Adopted by many renowned singers and actresses, the undone voguish hairstyles comprises of a fleecy, condensed mesh of hair. When dyed in blonde shades, this look can make the heads turn.
46. Caramel Hair with Long Lengths
Long lengths and TWA hair – Yes, you read that right. If you go easy on the maintenance, and let your hair grow a little, the tiny coils will transform into extended, limply, and coil-textured hair.
Along with giving a new shape to your hair, it will bring forth the jolly side of your personality, especially when died in caramel or other warm tones.
47. Edgy Silhouette
When it comes to hair, imagination is your limit. Make your simple TWA natural hairstyles stand out by wearing huge statement earrings.
Moreover, you can make these types of haircuts look chicer by using wax to gel back your edges and by using darker shades of lipstick.
48. Flower-power Inspired TWA
As irony suggests, it is not necessary to dye short hairstyles in popping colors or style them with statement accessories or require bold makeup to look appealing.
Sometimes, the natural and simple hairstyles appear just as alluring. Wearing fresh flowers on your hair will add an aesthetically pleasing touch to your whole look!
49. Graphic Undercut
TWA haircuts are all about expressing yourself. Make your short hair look unique by giving it a graphic undercut.
Remember, the limit is your imagination, so don't hesitate to pick the funkiest graphics undercuts. For instance, clean zigzags are considered a great artistic choice!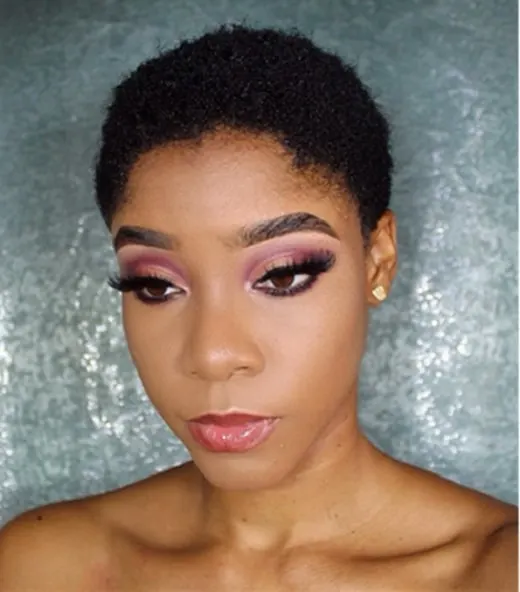 TWA suit long faces as much as round and diamond-shaped face. The short hairstyles significantly highlight your facial features along with creating an asymmetric balance.
TWA hairstyles are a perfect way to free up the time you used to spend on hair styling while enjoying a completely new image. Each girl should try a TWA at least once in her lifetime. Perhaps the time has come for you to do it?