Whether you want to experiment with a shorter hairstyle or you just want a new bad, bold look, there are a multitude of bald hairstyles for women just waiting for you to try.
Buzzed Bald Hairstyles
Buzzed pixies close to the face flatter an oval or round face while shaggier pixies with more texture do better on square and heart-shaped faces. The best part is they are all low maintenance so can spend more time on other things!
For 35 ways to style bald hairstyles, scroll through the unique looks below!
1. Thin Buzz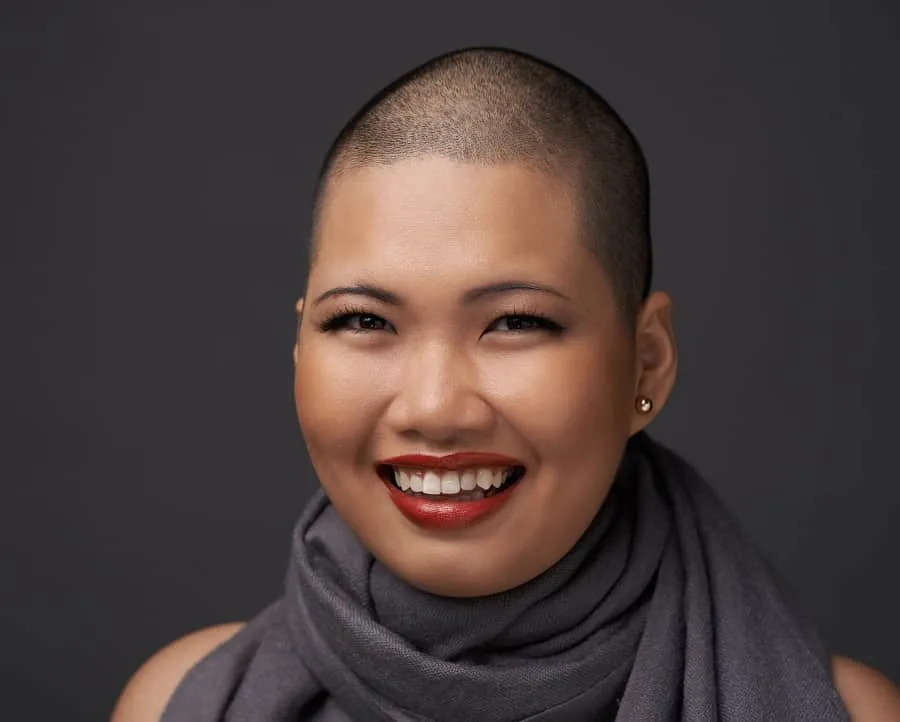 For ladies whose hair is on the thin or fine side, style a bald hairstyle with a thin buzz cut. Your beautiful skin tone will shine through on this edgy look.
2. Dark Pink Faux Hawk
If your hair is already short and you just want to switch up the style, a buzz cut faux hawk in a bold shade like dark pink is for you. Buzz the sides short, letting bald sections separate the sides from the colorful top.
3. Buzzed Undercut
A hard part is the perfect edgy detail to separate a side cut from one buzzed side. If you're feeling bold, make it a bald undercut. You can use product to scrunch into the longer side for texture or neatly comb it.
4. Curly Top, Shaved Line
Let your beautiful natural curly locks shine on a bald hairstyle. This one features a burgundy colored top and faded sides with a shaved line. There's plenty of room in this cut for personalization, including the smoothed baby hairs that soften the look.
5. Head in the Clouds
Do you consider your hair to be your own canvas of creativity? Get your head in the clouds with a light blue bald hairstyle boasting white 'clouds.' This bright color is flattering for any skin tone.
6. Cropped Pixie with Fade
A brunette-cropped pixie with buzzed sides is cooler for those warm summer months. Play up color with a blonde streak for flair.
7. Buzzed Black Hair
A black buzz cut with the same length all over can be edgy or feminine, depending on what you wear with it. A pink lip and dangle earrings will bring out your girly side while a smokey eye makes it punk.
8. Lime Green Buzz Cut
Lime green is an eclectic color for any short haircut. Shape the widow's peak to be pointed for punk vibes – touch ups will be minimal.
9. Platinum Textured Pixie
On both dark and light skin, choose platinum for a flattering color. When your hair is this short, use texture creme to manipulate hairs into a wavy or messy style.
10. Buzzed Blondie with Wavy Lines
Frost the tips of a short haircut with blonde while keeping the base dark. For detailed sides, have your stylist shave in waves or line designs.
Bald Hairstyles for Black Women
11. Blonde & Bald
A blonde or golden bald hairstyle will give your dark skin tone a warm glow. Try leaving the top only slightly longer than the sides to really emphasize your face shape.
12. Curls with Shaved Shapes
The kinked curls many Black women have can be enhanced with a bald hairstyle. We love how these coiled beauties contrast with shaved sides. Jazz them up a little with shaved lines in shapes or zig zags.
13. Platinum with Hard Part
A woman of color's dark skin tone will stun with a bald hairstyle in a super light color, such as platinum blonde. This style uses a thin shaved curved line to make the look both sexy and edgy.
14. Pixie with Bald Fade
There's no better short haircut to flaunt afro texture than a bald hairstyle. The thick top is framed with a bald fade.
15. Blue and Bald
Bald is definitely beautiful in unique hair colors. This dark blue will really bring attention to your bald hairdo. You can make it stand out even more with blue-winged eyeliner or eyeshadow.
16. Wavy Red Pixie
When you go with a bold red pixie, tint the eyebrows to match. Again, use hair creme to get a textured feel while keeping edges at the forehead choppy.
17. Super Short Hairstyle for Balding Black Women
A bold super short haircut like this shows everyone you're comfortable in your skin. It also best flatters oval and round faces.
18. Platinum Blonde with Hard Part
Platinum blonde will show off your brown eyes and caramel skin. To get dimension, shave in a hard part that's just wide enough to notice.
19. Blonde Finger Waves
The classic 20s finger wave style looks best when kept short, so try it when your hair is at least two inches. The whole style will last about 2-3 days.
20. Bald with Lined Details
Another option for when hair is close to bald and you want a little detail is shaving in this zig zag on one side. It's less maintenance than having two detailed sides and still gets all the looks.
Bald Fade for Women
21. Blonde Pixie and Undercut
Want to keep some of your lengths? A long blonde pixie with a fade and undercut is the best of both worlds. Shape the top into a mohawk and add major detail to sides for all the edge.
22. Finger Waves and Hard Part
On a finger wave hairstyle, shape up sides to a bald fade and shave in a hard part that aligns with your eyebrow. This rounds out your head shape beautifully.
23. Bowl Cut and Bald Fade
The bowl cut is typically a man's hairstyle, but give it an edgy feminine take with a pop of pink, high fade, and wavy texture.
24. Pink Buzz Cut with Fade
A peppy pink covers a buzz cut, keeping the style flirty while paired with a punk bald fade and undercut. This wake-up-and-go look is super low maintenance yet stylish.
25. Spiky Pixie and Undercut
Short spiky yellow hair tops this style. A shaved curved line details the undercut, making this look far from plain. Use fingers to apply and shape texture creme for this piecey pixie.
Thin Balding Hairstyle for Women
26. Messy Platinum Pixie
For thinning or fine hair, platinum or a very light blonde messy pixie is just the color to soften and distract. All you need to finish this style is a spritz of hairspray.
27. Buzzed Pixie
Another great buzzed pixie, but this one features a brushed up front. To get this effect, you'll want to let the hair on top and toward the front grow longer than the rest of the hair. You can use your fingers and hair mousse to brush it up.
28. Long Pixie with Shaved Sides
When it comes to pixie hairstyles, there's no better way to draw attention to a spiked top than by adding a bald fade. Of course a platinum hair color doesn't hurt for a mix of femininity and edge.
29. Shaved Pixie for Oval Face
The interesting thing about bald hairstyles on oval faced women is that they really accentuate the curves of your face. This buzzed cut is glossed with a beautiful dark pink as well.
30. Blonde Flat-Top Pixie
A flat top haircut is not often seen on women, but if you're wanting an edgy hairstyle, this bald beauty should definitely be in the running. The flat top is emphasized with a bluntly-cut top and faded sides.
Dyed Hairstyle for Balding Women
31. Spotted Buzzed Pixie
Not all spots come in black and white! For your chosen bald hairstyle, consider a light pink color all over detailed with dark pink spots. These shades nicely flatter women with a light or pale skin tone.
32. Copper Pixie with Pointed Sides
Whether you're used to rocking short hairstyles or you just want to go short for the summer, a buzzed pixie will keep you cool. A classy shade of copper only adds to the style and even emphasizes pointed sideburns.
33. Shaved Ombre Cut
It's not often we see feminine colors like pink or purple on bald haircuts for women. This is why we love the unexpected contrast a gorgeous purple ombre gives this shaved cut.
34. Two-Tone Futuristic Cut
Living in the future is no longer a dream when you've got a bald hairstyle featuring different shapes and patterns! Make sure those shaved lines are noticeable by opting for a two-tone color, like the blonde and black seen above.
35. Green Buzz Cut for Oval Face
When it comes to hair color, a lime green is both eclectic and electric! The color not only brings a bald haircut to life, but complements olive and dark skin tone beautifully.
These bald women's hairstyles come with no shortage of style. Choose a closely shaved cut or a smooth pixie for oval faces, and bald hairstyles with a bit more length for square and heart shapes. Any style will stun with the best combination of edge and softness.