Many people view grey hair as an indication of aging. However, a younger generation of celebrities defies this norm and, as things stand, there is a steady rise in the number of actresses with grey hair.
Many celebrities and non-celebrities ditch hair dye in favor of rocking their natural grey hair. More interesting is that even others with naturally black hair have been embracing the use of grey dye to start the trend.
Famous Actresses With Grey Hair
Grey hair is becoming more fashionable. If you're ready to join the fun, here are 10 Hollywood actresses with grey hair to look to for inspiration.
1. Melissa Mcbride – Salt N Pepper
Ever watched the Walking Dead show? You must then be familiar with Melissa Mcbride.
At the tender age of 16, she knew the power of transforming from a teenager to an older woman just by dying her hair to attain its grey status. Melissa asserts she now looks better with lat and pepper hair than just black.
2. Blythe Danner – Grey Curls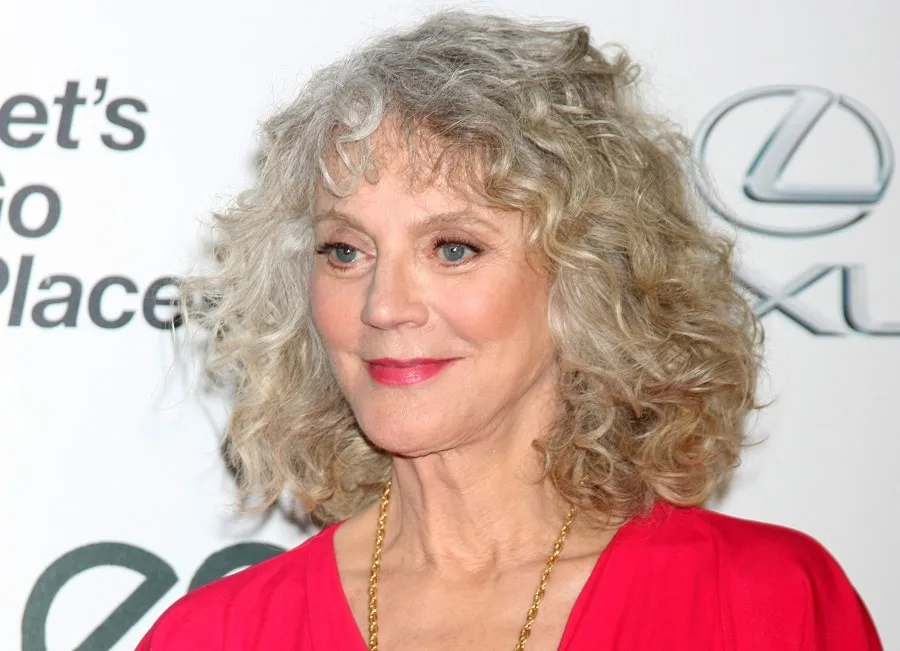 Blythe is in her late 70s but maintains her lovely silver strands effortlessly. Her gorgeous grey strands bring out her beautiful clear blue eyes.
Her recent variant of buzz cut demonstrates that she is undoubtedly in love with her hair.
3. Nichelle Nichols – Grey Waves
Nichelle Nichols is a celebrated veteran American actress, voice artist, and singer. She gets more admiration thanks to her wavy grey hair, which adds to her natural beauty.
She styles her hair in waves to make it look more voluminous and appealing.
4. Glenn Close – Transitioning from Blonde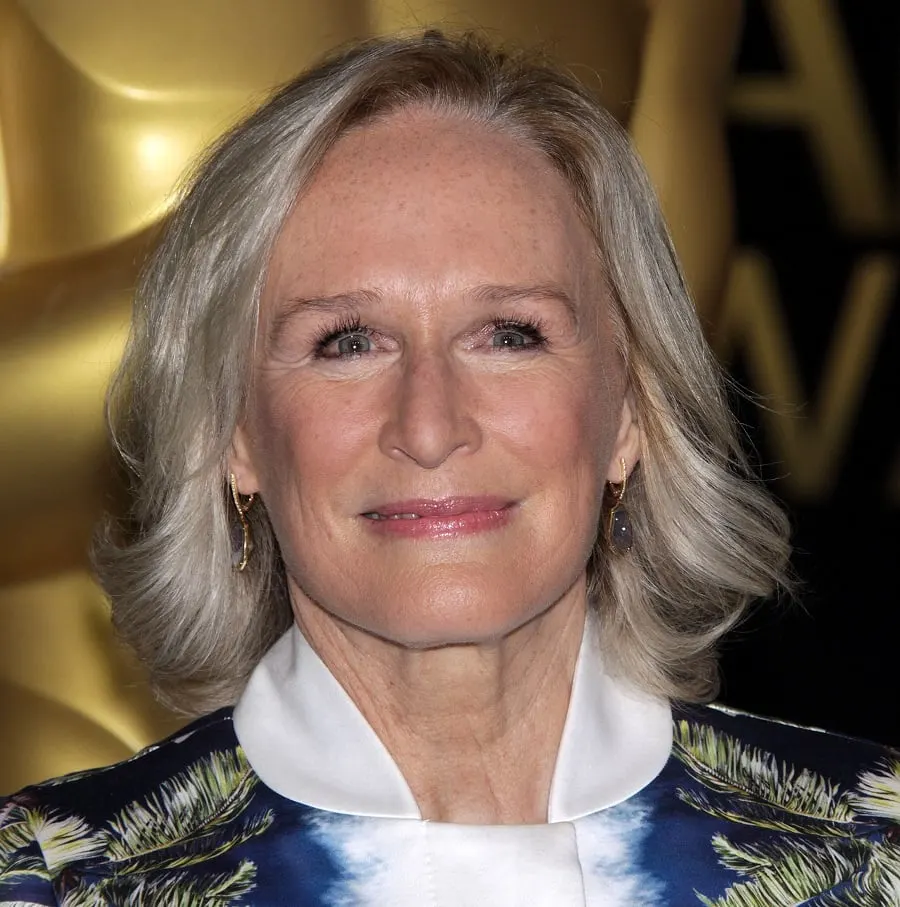 Glenn's greyish blonde makes her naturally gorgeous. She's among the actresses with grey hair who believe that anyone who naturally looks great has absolutely no reason to go over the top with heavy makeup and big hair.
Glenn has been over and about showing off her gorgeous tones of grey hair and stylish looks. She's elegant in her layered crop cut.
5. Jamie Lee Curtis – Icy White Hair
For a long time, this actress has been known to rock grey hair. Her latest decision to give it a touch of an icy white hue has given her an even more fantastic look.
To gain a perfect look, she matches her icy white hair with a silver embellished long-sleeve gown and newly dyed tresses via a sleek. Her clutch and coordinating earrings naturally add to the beauty.
6. Jane Fonda – Feathered Bob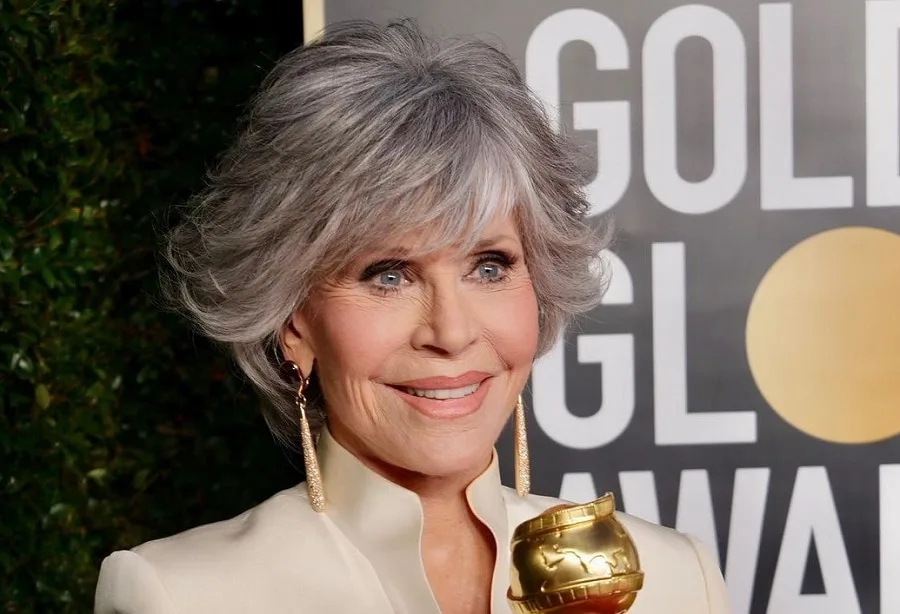 Jane Fonda's stunning silver hair is more like a short bob. It's modern and trendy, suitable for women with slightly wavy hair.
The subtle heights close to its roots create an illusion of additional texture and depth. Though simple, it adds a lot of charm to her looks.
7. Rita Moreno – Silver Pixie Cut
Many a time, actress Rita has indicated that when it comes to grey hair, everything scales down to the cut.
Her grey pixie cut stole the show at the Critics Show Awards, and many fans could not hide their thrill. Her luminescent skin seems to blend perfectly with her signature silver pixie.
8. Meryl Streep – Sleek Straight Locks
Meryl is a celebrated legendary actress known for drastically changing her looks for her roles. Her grey roots seem to accord her extra confidence.
The sleek light grey locks are in choppy layers and are generally ideal for ladies craving androgynous looks.
9. Zosia Mamet – Antique Grey Bob
Zosia Mamet is among the latest young celebrity to jump into the grey-haired bandwagon. Earlier on, she had been rocking platinum blonde hair.
Mamet admits that at some point, she just got bored with her virgin brown hair and thought it was time to try new stuff. She tried the granny-chic grey look and has loved it big time.
10. Keke Palmer – Bluish Grey Steaks
Lately, she has been switching up her strands; this time, she's gone a notch higher by adding a little touch of color. She uses a styling gel to keep the hair lying in the middle combed back.
Her style is suitable for people with wavy or straight hair. If your face is oval or diamond-shaped, you can try it out.
Actresses with grey hair are few. However, they're doing a fantastic job eradicating the long-standing stubborn stigma around grey hair.
When you wear your hair short with a natural whitish-grey color and play it up with the right outfit, you gain unique, fashion-forward looks.
That's probably why, more than ever, more actresses are dying their locks the white hue or embracing their natural grey hair. It's beautiful, it's fashionable, and it's adorable.