Actresses who have short hair always inspire many women who are afraid of maintaining long hair. When asked to picture beautiful ladies, most people's minds quickly race to celebs with long hair flowing halfway down their backs.
In reality, women can be just as elegant and beautiful with short hairstyles; no wonder short haircuts are steadily taking over the beauty world more than ever.
If you're thinking of saying goodbye to your long hair, these short-haired actresses will inspire you into seismic transformation.
Popular Actresses With Short Hair
The popularity of short hair for women is traceable to the 1920s. Check out how these actresses have worn their hair short, and select a style that not only ignites your imagination but also flatters your face. You can also get inspired from celebrities who rocked short hair.
1. Evan Rachel Wood – Silver Pixie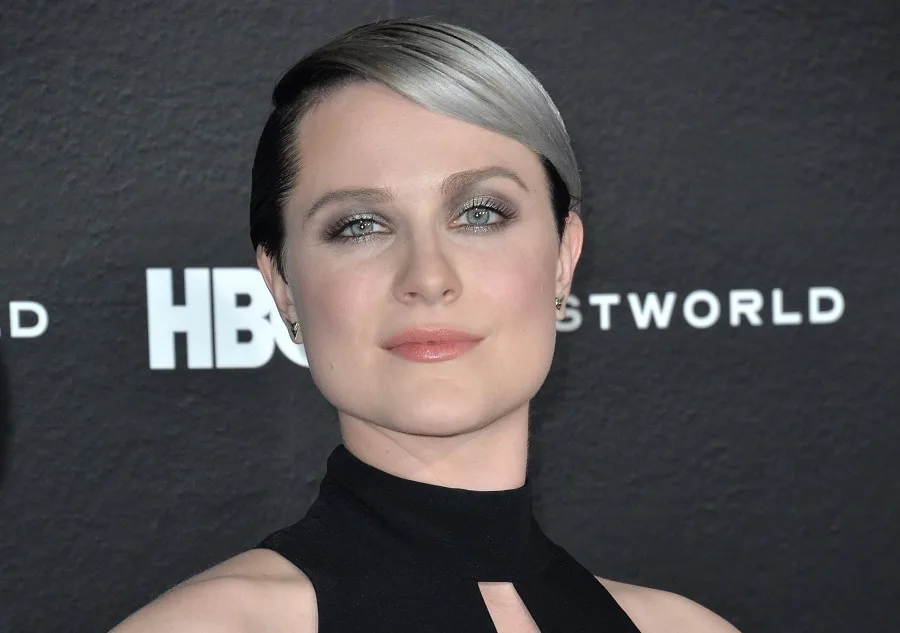 If you're doubtful about how you would look with short hair, actress Evan Rachel has a strong message for you.
Many people opined that she had no face for short hair, but when she eventually decided to go against the odds, even the naysayers couldn't hide their excitement.
She's both androgynous and quite daring in her looks.
2. Rose Byrne – Sleek Bob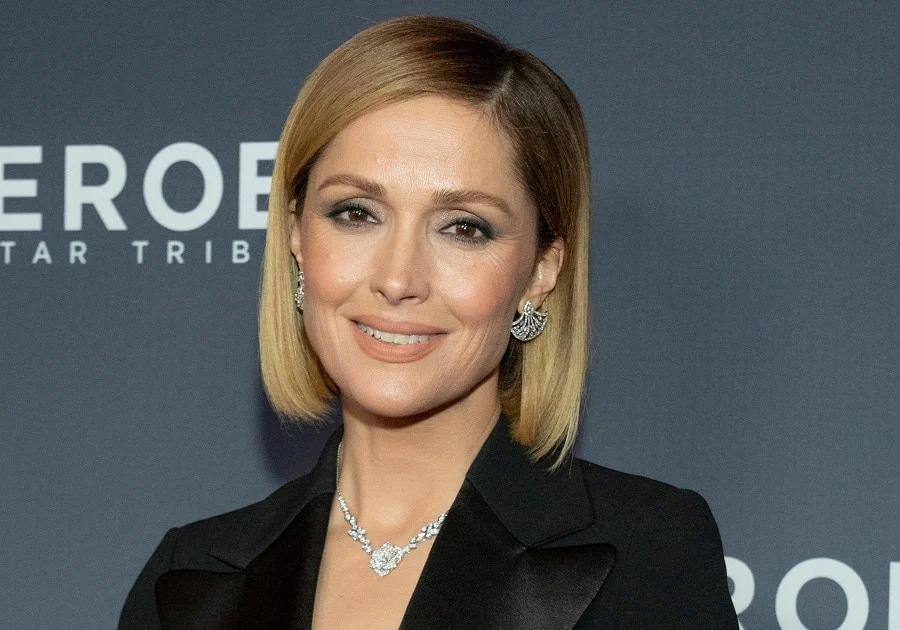 What if you could gain that anxious feeling with hair whose ends are blunt, just like Rose Byrne's? This actress has the ends of her bob hairstyle jagged cut and blow-dried.
Her fantastic side-part hairstyle perfectly frames her face. This talented Australian actress has a suitable short hairstyle for every woman with light brown hair.
3. Emma Stone – Medium Blunt Waves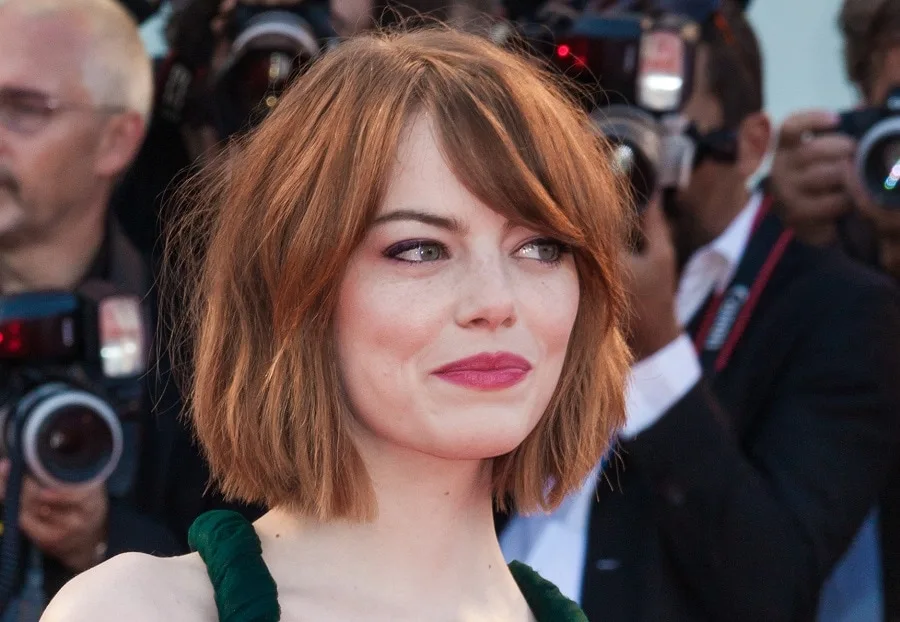 Emma Stone is a glamorous A-List actress relatable to rocking short redhead hairstyles. Her blunt red waves hairstyle is an effortless style that emanates from a short scissor cut.
Her thick waves have enhanced attraction thanks to her shine-enhancing lotion.
4. Emilia Clarke – Short Fluffy Hair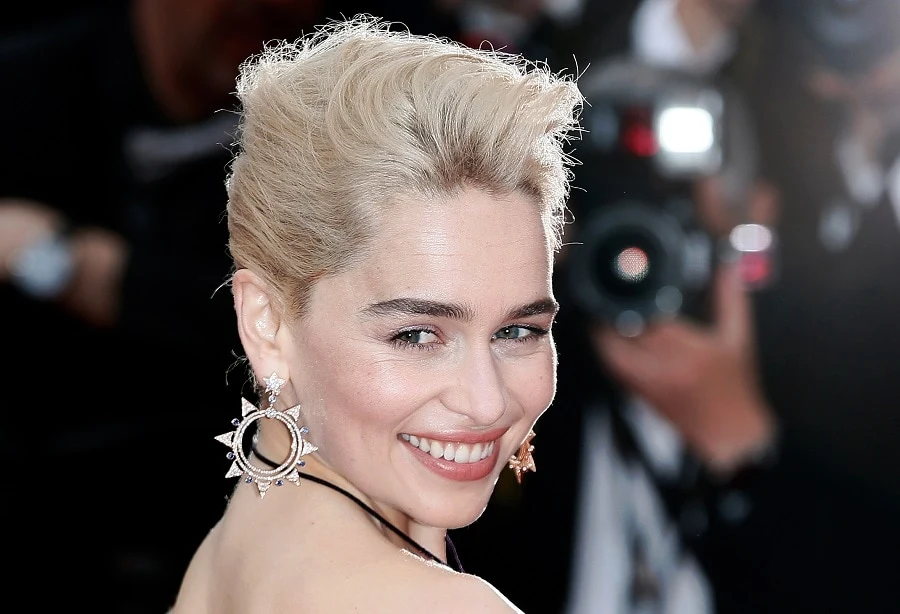 If you are a fan of Game of Thrones, you must be familiar with its star, Emilia Clarke. She has become the latest pixie cut ambassador and looks so beautiful in it.
Her new fluffy style is quite transformational for her according to the reactions of most netizens who loud her for joining the list of actresses with short hair.
5. Christina Hendricks – Curly Bob
Actress Christina Hendricks is a genuine motivation to short ladies who wish to do a wavy bob hairstyle.
Her style has plenty of bounce and movement thanks to the gorgeous large curls dressed through the mid-lengths to tress ends. The loose curls added to the sides give it an overall look of bounce and movement.
6. Lucy Hale – Middle Parting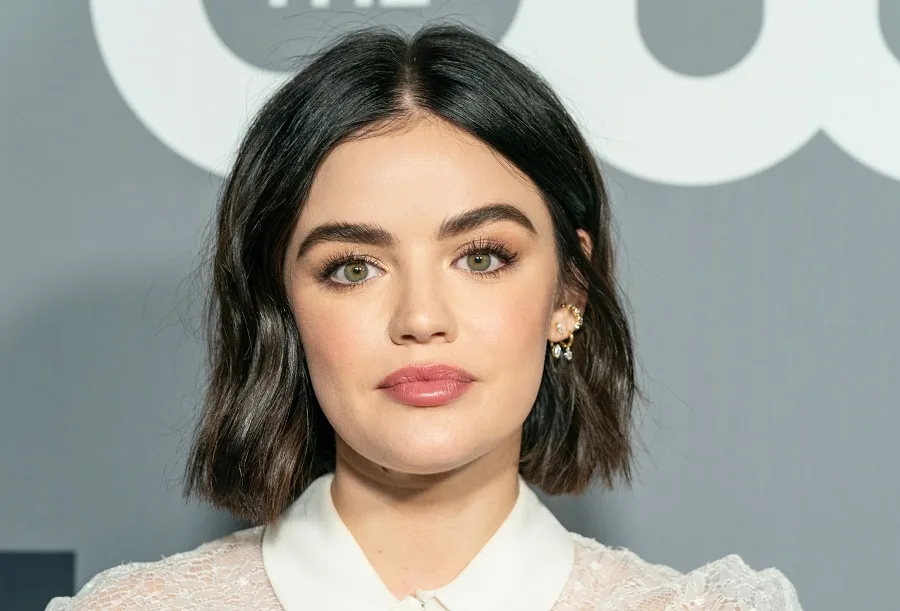 Lucy Hale is one of our favorite brunette actresses. She goes for a cool brunette bob hairstyle with center parting characterized by kinky waves. The look is all about being relaxed and adorable.
Her locks feature subtle layers cut into the edges, encouraging an effortless movement of the soft waves.
7. Kiera Knightly – Queen of Blonde Beauty
Kiera Knightly, a celebrated English model and actress, achieved international fame in 2013. Her unique queen blonde pixie hairstyle resonates well with most ladies looking to adopt short hairstyles.
Forget the face-framing layers; Kiera's blunt ends do the framing for her.
8. Kate Hudson – Cropped Hair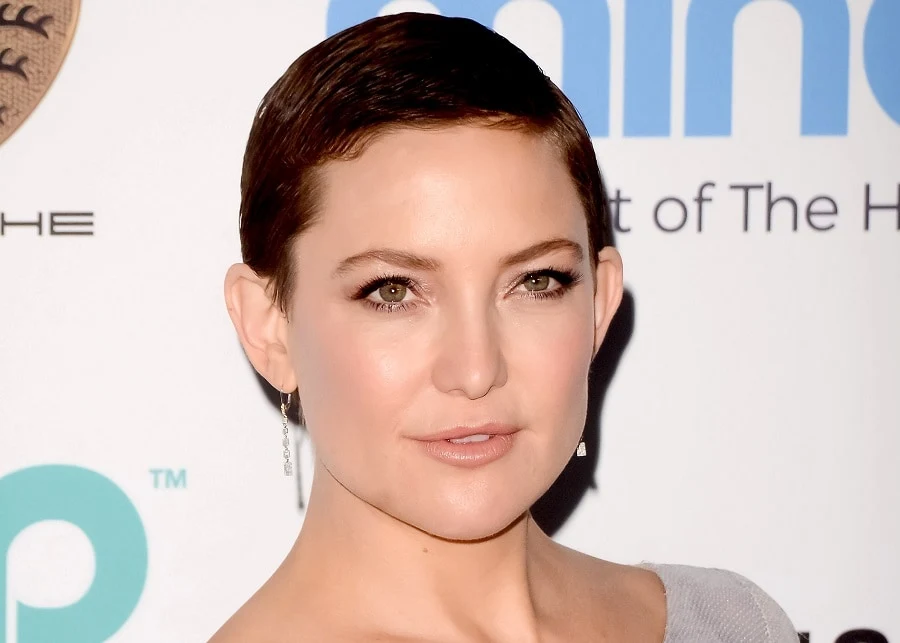 While preparing for her role in the American musical drama film 'Sia,' Kate opted to shave her hair back in 2017.
Whereas she did this to prove the extent she would go to have the job done, the actress found much beauty in short hair and has since embraced the same. She looks so cute with her textured crop pixie.
9. Margot Robbie – Pompadour Bob
She is an Australian blonde actress and producer who loves to style her hair. If you're thinking of a hairstyle that will make your head look like a queen's, then Margot Robbie has your back. She is the blonde bombshell who sets the pace with an ever-changing but short hairstyle.
Her new lob with pompadour hairstyle stands out with its incredible versatility.
10. Rachael McAdams – Brunette Bob + Bangs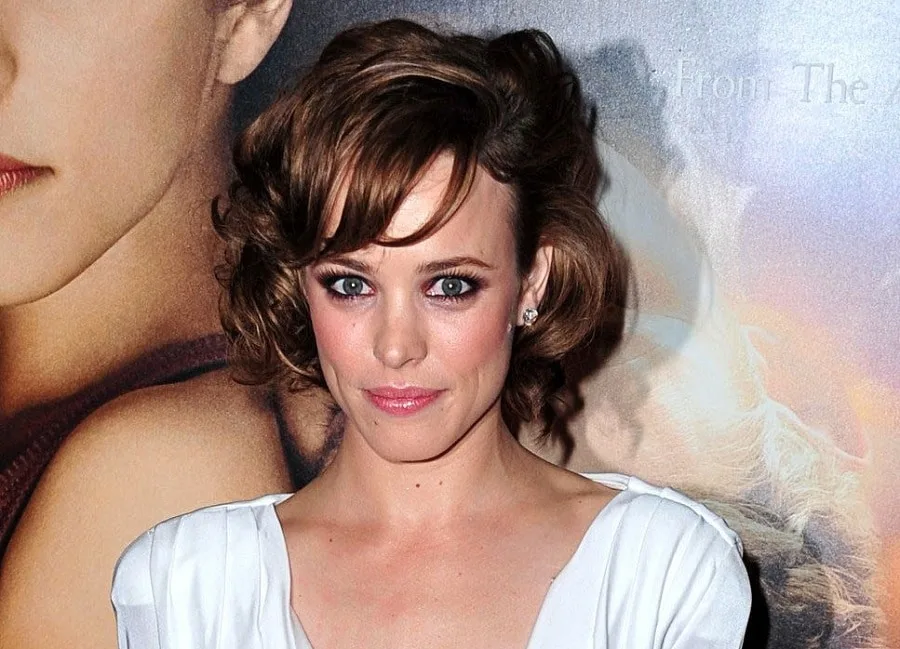 Whether she chooses to do long blonde layers or just her all-time favorite curly brunette bob hairstyle, Rachael keeps rocking.
Rachael McAdams is a famous curly-haired actress who often keeps her short haircut flirty and fun just by flipping out its ends. Her natural brunette warms up her color with her reddish-brown hue.
11. Ruth Negga – Short Curls
Ruth Negga is an Irish-Ethiopian actress who understands much about range, especially haircut and style. She admits to snipping her hair between stylist appointments.
Her natural curls echoes her sensibilities and significant forward-thinking roles.
12. Sienna Miller – Boho Chic
Sienna Miller is another fantastic actress with short hair. She works with every color, from peach and rose gold to the perfect beach blonde.
Her straight hair seems to ogre well with every design she opts for, and her hair length is serrated to chin level with short-shaped layers cut on both sides and at the top.
13. Zoe Saldana – Side Part Bob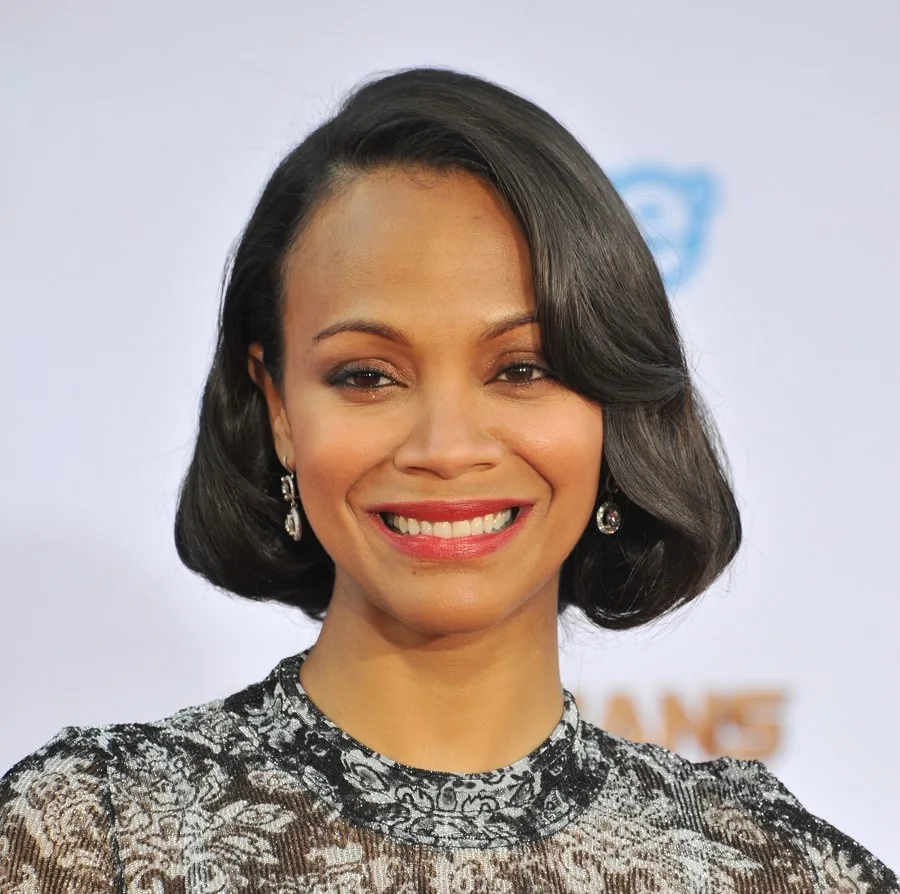 Rocking in her short straight hair, Zoe acquires stunning nice looks that complement her natural beauty. This hairstyle features locks on each side, giving the face a great shape.
She rocks this haircut with a side part, which makes it more exquisite and stunning.
14. Paris Hilton – Short '90s Hairstyle
Paris Hilton reveals that her glam Lavin campaign inspired her to transform her waist-length hair into a stunning chic chin-length bob.
This hotel heiress couples her hairstyle with glossy lipstick and false eyelashes to give her an overall glamorous look.
15. Hayden Panettiere – Slicked Back with Tousled Top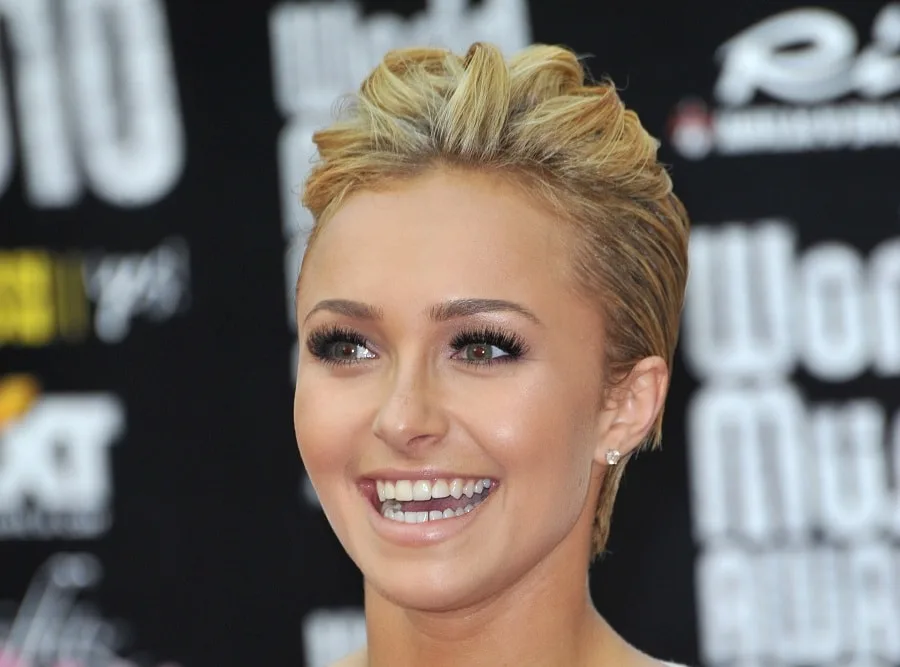 Actress Hayden Panettiere has recently excited her fans with her dramatic short hair. She had been looking for radical change, and when the right time came, she actualized her desire for short hair.
She now prides herself on her modern version of the classic pixie style, which resonates well with her blonde hair.
16. Carey Mulligan – Messy Layers
During the 15th Annual Critics' choice Award, actress Carey opted to model her short playful hairstyle. Her back features short layers with a divide in the center of the back and side swoop bangs.
If you're into bangs, try these bangs hairstyles donned by celebrities.
17. Anna Faris – Bob with Bangs
Until now, actress Anna is hilarious and perpetually blonde. She has become a hair icon for ladies with fine hair.
She makes the most of her fine hair and still looks right on trend. Anna's dramatic short bob cut features uniform length and eyebrow skimming bangs.
18. Penelope Anne Miller – Blonde Curls
If you're in your 40s and looking to copy an actress's hairstyle, you should find it quite fulfilling to emulate Actress Penelope's short and soft blonde curly hairstyle.
The lady is known for her glamorous looks, especially when she dresses up her platinum blond locks with an overly captivating curl crown.
19. Jane Fonda – Golden Layers
Most of Jane's photos online demonstrate that a layered golden blonde haircut can significantly soften a cool-toned face.
This senior actress has never shied away from switching up hair color and length. Her cut is about layers, especially the short fringe around her face.
20. Cameron Diaz – Bed Head Look
Cameron Diaz is among the top beautiful American actresses with short hair. Apart from her impressive performance in historical romance, her messy bedhead red carpet looks make her look radiant and glowing.
Her hairstyle shows more flattering under her charming blue eyes.
Whether you crave something more classic like the above actresses with short hairstyles or wish to acquire the boldness that comes with it, you should keep it on celebrities' websites for trendy updates.
Trending Topic