Emma Stone, the popular actress from movies like "La La Land" and "The Amazing Spider-Man." But aside from her incredible acting skills, she's also known for her ever-changing hairstyles. If you're looking for a redhead for hairstyle inspiration, copy one of the Emma Stone hairstyles!
Emma has rocked so many different looks over the years, from fiery red locks to platinum blonde, and even a dark brown bob. It's like she can pull off anything! Let me give you a quick rundown of Emma Stone's hairstyles.
Emma Stone Hairstyle Timeline
Debuts auburn hair with side-swept bangs (2007)
Sports a long, wavy bob at the MTV Movie Awards (2008)
Opts for long, red locks at the "Zombieland" premiere (2009)
Rocks a auburn, shoulder-length hairstyle at the "Easy A" premiere (2010)
Debuts a messy blonde updo at the Met Gala (2011)
Goes platinum blonde for "The Amazing Spider-Man" premiere (2012)
Opts for a medium blonde look with side swept bangs at Oscars (2013)
Experiments with a short, wavy bob at the Venice Film Festival (2014)
Showcases an elegant updo at the Oscar Vanity Fair (2015)
Flaunts a chic lob at the "La La Land" premiere (2016)
Returns to signature red hair with soft waves at the Oscars (2017)
Surprises fans with a dark bob at the Louis Vuitton show (2018)
Embraces natural waves at the "Maniac" premiere (2019)
Sports a long strawberry blonde hair at the "Cruella" premiere (2020)
Opts for classic, blunt red hair(2021)
Flaunts sleek middle parts with updo and ponytail Met Gala(2022)
Emraces long dark hair for the movie Poor Things(2023)
Best of Emma Stone's Hairstyles
Sure, you can pull off an Emma Stone hairstyle. That's the beauty of choosing to steal her style—like Emma herself, her aesthetic is relatable.
Emma may be a natural redhead, but she has never shied away from a light blonde hairdo, proving that women with light or pale skin tone look amazing whether their hair color is dark or light.
From shoulder-length straight hairdos to chic loose buns, you'll see Emma Stone has tried just about every hairstyle there is. Find your new hairdo in our list of Emma Stone's best hairstyles below!
Long Side Braid
Emma Stone's long low side braid is a super easy hairstyle to copy, taking only minutes, so you can spend less time in front of the mirror and more time out having fun. Comb in a middle part before gathering hair at one side and braiding.
Bottleneck Bangs
Bottleneck bangs that cover the eyebrows are typically wispy and blend into face-framing layers. Emma Stone rocked hers with a sleek low updo. You can do the same in a low bun or even a mid-height chignon.
Middle Part Updo
Not all updos need to be slicked back. Emma's updo features a simple middle part, which helps to soften the hairstyle. If you wish, you can leave very small tendrils loose around the face to help with framing.
Sleek Low Ponytail
When you're going out for the evening, you can always confidently resort to a sleek low ponytail. Part your hair off center, then straighten your locks using a heat-protectant and flat iron. Finally, gather your hair in a ponytail right above the nape of your neck.
Side-Parted Blunt Lob
Not even Emma Stone can resist the allure of a bluntly-cut lob. The straightened hairstyle shows off her beautiful red hair, while a side part and blunt cut complements her diamond face shape.
Wavy Blonde Ombre
Emma Stone's pale skin looks great with this blonde ombre. It blends nicely into her natural red hair color. To get this look, part your hair off-center for a voluminous lift. Finger comb your hair to get the soft beachy waves.
Cruella de Vil
When it's Halloween, reference everyone's favorite villainess and dress as Emma Stone a la Cruella de Vil. Lots of teasing and hairspray will give you this pumped-up, frizzy hairdo.
Young Cruella de Vil
Before Cruella became her evil self, she was Estella. Her medium-length wavy hair with straight bangs was a gorgeous dark red. You can pair your hairstyle with a cute newspaper boy hat or French beret.
A ponytail is a girl's best friend! Emma Stone dressed hers up with some waves and a fancy red dress for a swirly, twirly hairdo. Make a small part before gathering it back in a ponytail.
When it's summertime, and you're looking to go lighter with your hair, copy Emma Stone's blonde bombshell hairstyle. Several shades of the blonde combine for one sophisticated and chic look that looks amazing straightened.
Low Curly Bun
To get Emma Stone's beautiful low bun, first comb, and part hair off-center so you have somewhat of a side bang. Loosely gather hair into a bun, letting any natural texture (waves or curls) pop out on its own.
Pinned Back Wavy Hair
Emma Stone's ginger hairstyle above takes on a flapper vibe with all the soft waves. Whether you use rollers or curling iron, make the waves tight enough to keep hair above shoulders. Then use a neutral bobby pin to clip back one side of the hair.
The sleek pony is another easy hairstyle for any girl to rock. Emma Stone took a break from the red and went to a very light blonde. Her hair was neatly combed back into a ponytail, perfect for an evening out, and her classy star earrings!
Many women worry about how to wear bangs, but Emma Stone proves out gorgeous long straight ones can look! We love how she gathered her hair into a teased low ponytail, letting loose wavy tendrils frame her face.
Low Messy Bun with Headband
Another gorgeous hairstyle Emma Stone flaunted with blonde locks was this super pretty low messy bun. Finger comb your hair into a low ponytail, then make a loose bun at the nape of your neck. Top with a jeweled headband.
Shoulder Length Wavy Half Hair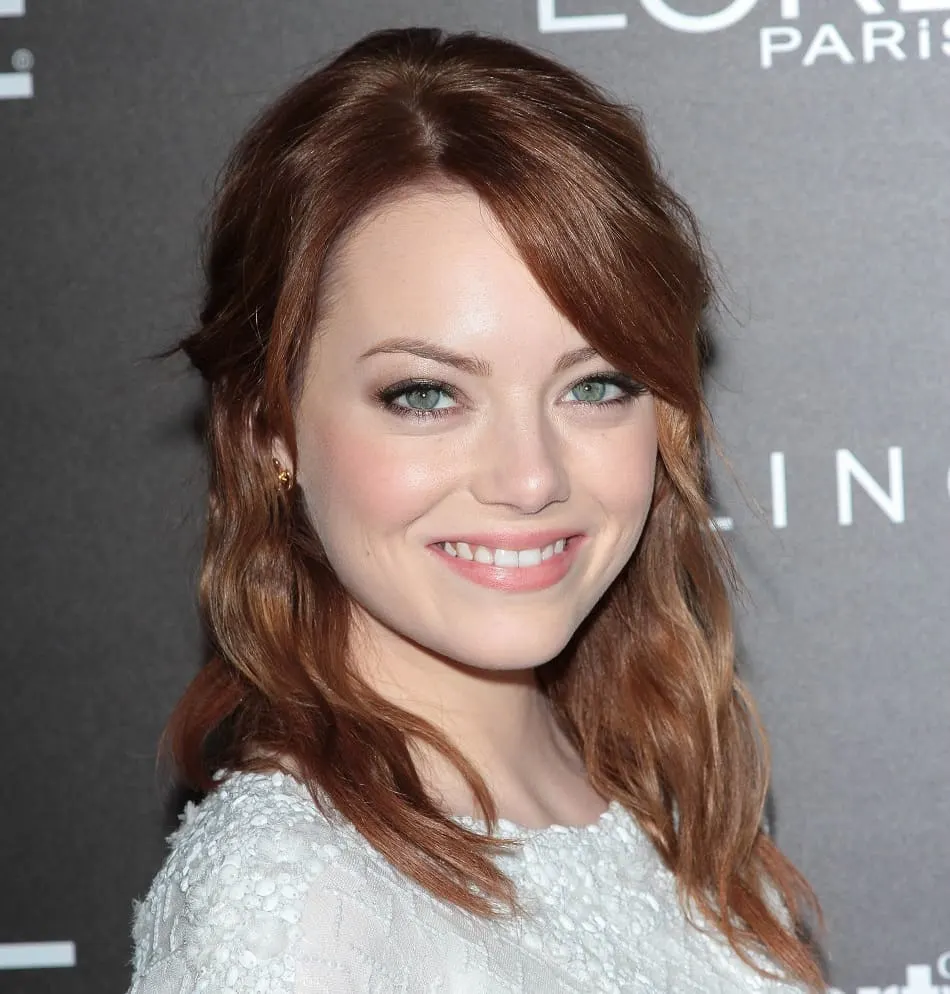 For a perfect evening look when you're going out with friends or to a fancy dinner, copy Emma Stone's wavy locks with a half updo. She took two small sections of hair at either side of her face and secured them at the back.
Surfer Babe Blonde
Emma Stone is the hottest beach babe around when she's rocking a low messy bun in platinum and warm blonde. Make a side braid to incorporate into your wavy hair for surfer-casual.
Dark Red and Straight
Fall is the perfect time for dark hair colors, like Emma Stone's dark red! The color graced her long locks and looked fab against a sequined dress. The key to this hairstyle is loading up the ends with curls.
Light Blonde Half Updo
Prefer low maintenance? Emma Stone's straight hairstyle may be for you. Her bluntly-cut hair featured a small top half gathered in a low ponytail. Straight bangs helped frame her face.
Pinned Back Front
This look was very popular in the 2000s, and Emma Stone knew it too. The pinned back front made sure all the attention was focused on her gorgeous eyes and the wavy locks cascading over her shoulders.
Platinum Blonde
This sleek platinum blonde hairstyle is the latest Emma Stone hairstyle seen on September 2023 at the Toronto International Film Festival.
Brunette Appeal
It's rare to see one of Emma Stone's hairstyles in this shade. The natural blonde and de facto redhead doesn't usually go brunette. However, her porcelain skin, stark eyes, and rosy lips allow her to carry off the color like she was born with it. Dark hair colors don't always complement fair-skinned women, but Emma's an exception.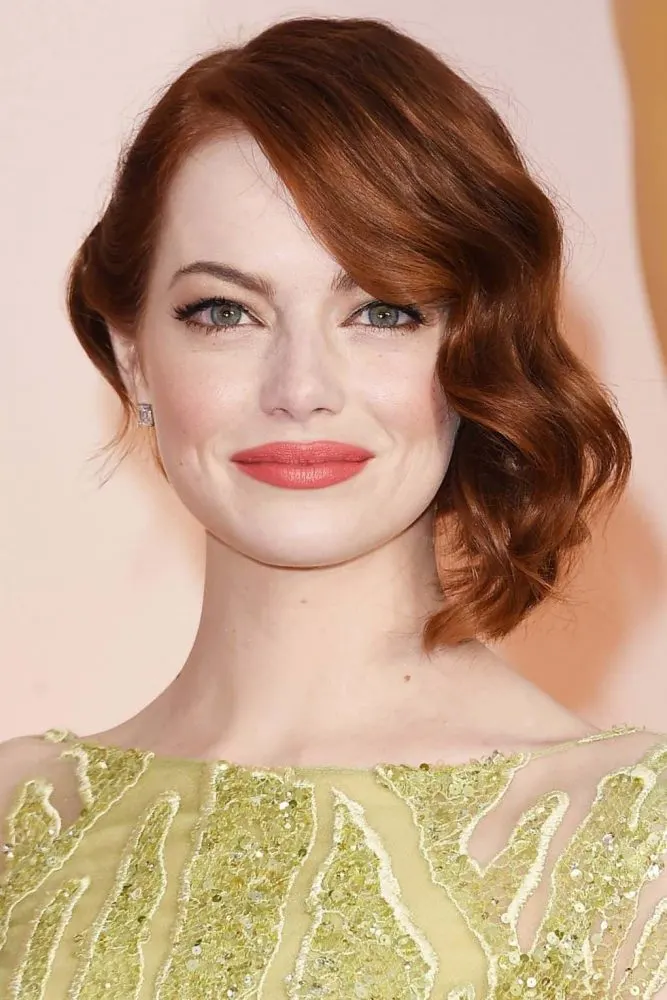 Emma's well-known for her red carpet hairstyle. Her formal coiffures are out-of-this-world. The good news is that her updos are easy to mimic, and they're ideal even if your hair is on the shorter side. In fact, to pin up one side of your hair in a similar manner, a bob is an excellent length. Observe how this 'do elongates the neck and highlights the eyes and cheekbones.
Medium Hairstyles for Women With Round Faces
Texture for Days
Whether your hair is stick straight or has a natural wave, you can copy Emma's textured, layered bob with a bit of sea salt spray. The salt spray creates enviable beach waves in almost any type of hair. The layers keep the hair from being too heavy, which means you get extra volume. Can't complain about that.
Old Hollywood Glam
There's nothing better—nothing—than Emma Stone's hair with attitude. This girl knows the Old Hollywood glam aesthetic better than any actress walking the red carpet. Pin curls and finger waves help to achieve this style. You can also ask your stylist to do you upright and then show you how it's done. You can also try hairstyles donned by Taylor Swift.
Blonde Ambition
Did you know Emma Stone is naturally blonde? Not many people do. Even when she goes back to her roots—so to speak—people are tempted to think she's just trying to be blonde when in reality she is. Because she has such fair skin, she looks like an ice queen, and I frigging love it. Those bangs are next-level, as well. You can rarely go wrong with a side-swept fringe.
Women's Short Hairstyles Inspired By Celebrities
Do you love Emma Stone's hairstyles? Which coif are you eager to steal? I'm always partial to her redheaded looks, regardless of what they are.