Butch cut is a low maintenance, super cool, and a highly recommended style for all the men who want to get rid of the mess of long and unruly hair. This haircut has the power to make people drop their jaws once they look your way.
Amazing Butch Haircuts for Guys
Butch cut can be styled in a variety of ways so, can easily become your most favourite haircut. This haircut not only gives you a neat look but also makes you look super attractive. It is best when it comes to giving you a true gentleman look.
Scroll down to find from top 15 butch cuts, that works best for you:
The buzz cut is the best butch look in town so far. Having a heavy face can sometimes give you a tough time but, getting a super short cut can soften that effect a little. Adding a high fade is also suggested for added perfection. There is no way you can just resist this haircut.
If you know how to carry sun-kissed blonde hair, they are bound to suit you so well! With a neat fringe and a trim low to the skin, you are going to look fabulous enough to steal everyone's heart! Sun-kissed blonde hair should be your go-to look for all the times.
If you think chopping your hair short will eliminate all the cool options of styling your hair, then you are completely wrong! Because, with butch cut, you can go as far as styling your hair into short spikes which are obviously super cool. Side part and undercut will add more style to your haircut.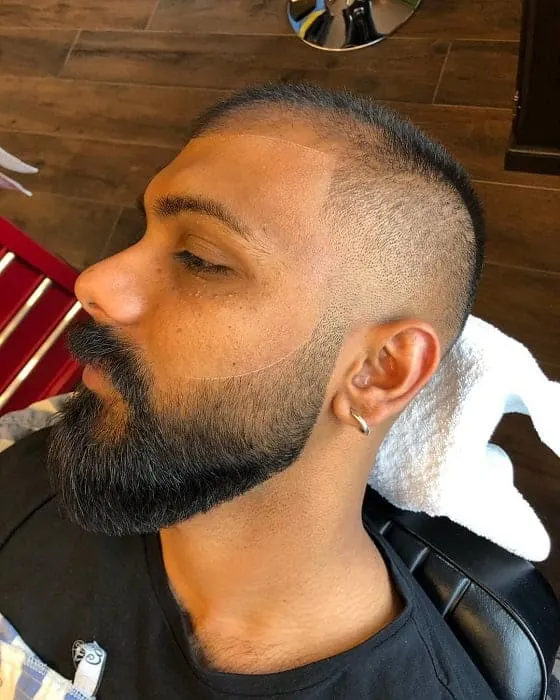 If you are all about sharpness, then it is time that you add that sharpness to your hair too by getting a sharp trimmed haircut.
Really short sharp trimmed top hair and a low fade to the side hair can make you look stunning. You can wear this haircut to almost everywhere on this planet.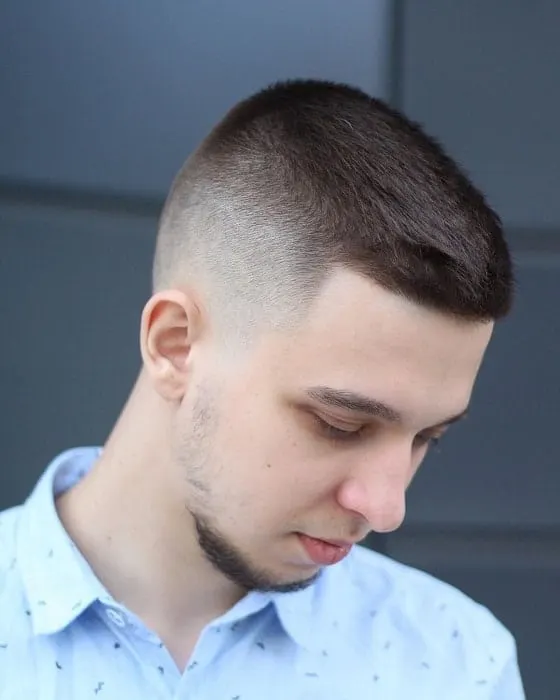 If you have got an elongated face and you want a haircut that won't add to your already long enough face, then try going for flat top haircut. This hairstyle is low maintenance and gives you a pretty neat look without using a lot of styling products.
To take your very short hair game up a notch, go to your favourite stylist and ask him to give you a clean cut. Once you are done with the butch cut, ask your stylist to add a hard part to your hairstyle too for increased charm.
If you have got thick hair and you want to lessen that weight of excess hair from your head, get a thick long top short side haircut. Leave the middle section of your hair thick, plus, short and add a side part. Ask your stylist to give you a high fade to go with your look.
8. Turquoise Hair
For a funky but clean look, get a turquoise hair color. Get your hair dyed a bezique shade of turquoise for the funky part. But, before that, get your hair trimmed for a clean butch look. Now, get ready to rock your fabulous look.
For a true gentlemanly look, try getting a crew cut. Take the top hair, neatly trim them, and then side-sweep them using some gel.
Chop the rest of the hair low to the skin to add to your already perfect hairstyle. This haircut is perfect for all the occasions, be it a wedding ceremony or a birthday party.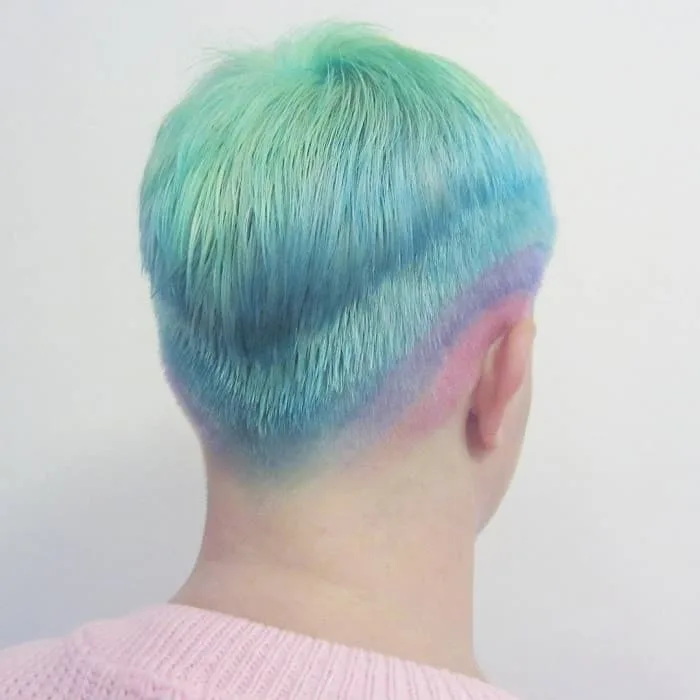 If you don't want to go all bald, don't worry because the butch cut has a lot to offer. You might like the idea of partial butch look which goes for the side and back hair.
Leave the top hair long enough and then trim the lower hair into a buzzed style. Add layers of pastel hues to this hairstyle for added awesomeness.
Short haircut with temple fade is an amazing hairdo which gives you a handsome look. By trimming the top hair short and adding a temple fade to the side hair, you can successfully achieve this fantastic look. Get ready to go out with style and make people jealous of your haircut.
12. Butch Cut with Front Fringe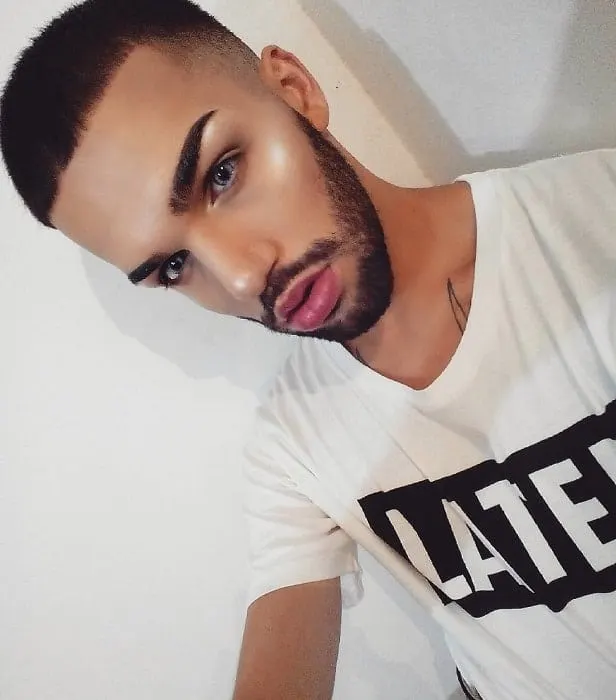 Front fringe can add a superb twist to your plain cut. This haircut is also ideal if you have long face syndrome. An undercut to the side hair can increase the beauty of crew cut with front fringe and will give you a more confident appearance.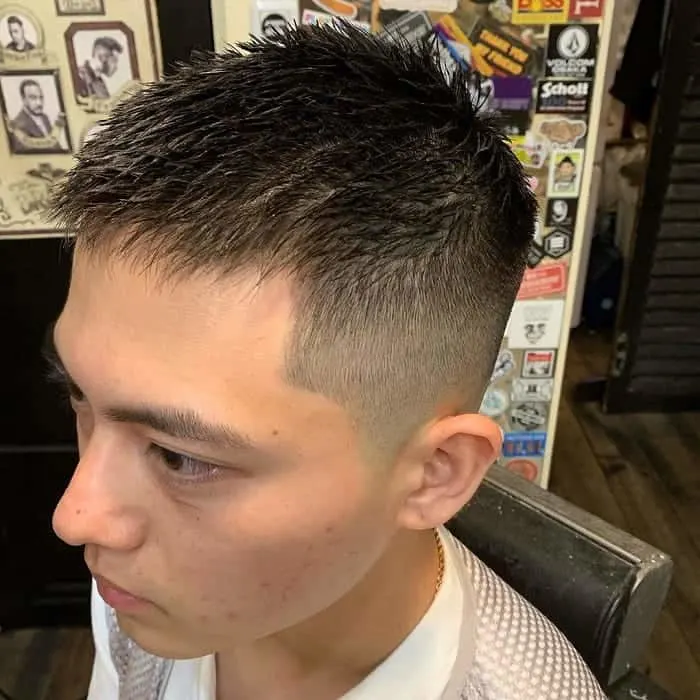 Textured butch cut can be your next most favourite look. If you want to achieve this look, chop your faux hawk hair short and use gel to raise them into textured spikes. Work your fingers through your hair to add extra texture if you want.
Give your hair a refreshing style by pushing them forward into a forward-swept hairstyle. By including an undercut to your hairstyle, you can easily level up your hairstyle game and look absolutely stunning.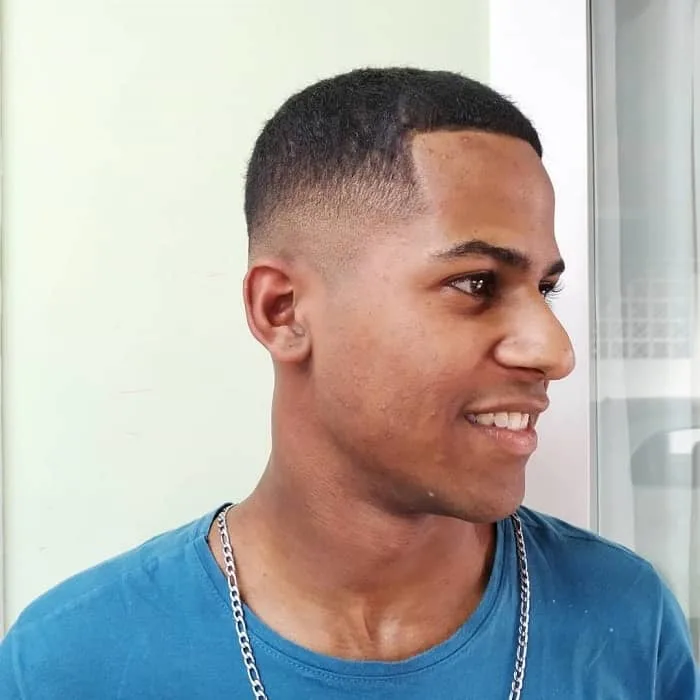 Though black men have a unique hair texture and type, a butch haircut can work for them really well too. With trimmed top hair, a neat frontline, and a middle fade, you are going to love your new cut for black men hairstyle.