Blonde and purple hair is an ideal choice for women, who enjoy different hair colors and aren't afraid of wild experiments.
Purple highlights look perfect on blonde locks regardless of how many you decide to make. Even if you are not a fan of extravagant hairstyles, a touch of purple can make you enjoy your hair much more. Do you like standing out of the crowd or want to add some extra zest to your image?
The purple and blonde mix is exactly what you need to make a great impression. The time has come to enjoy the combination.
Blonde and Purple Hairstyles
Do you want to wear a hairstyle that allows you to get your kicks? Purple and blonde hair is exactly what can make you enjoy your reflection in the mirror. There is a big variety of purple hues that look stunning with the many shades of blonde.
If you are bold enough to bleach your locks and become a blonde, why not throw another catchy color into the mix? The cool autumn days are coming and a few purple strands are exactly what you need to warm them up.
1. Long Pixie Cut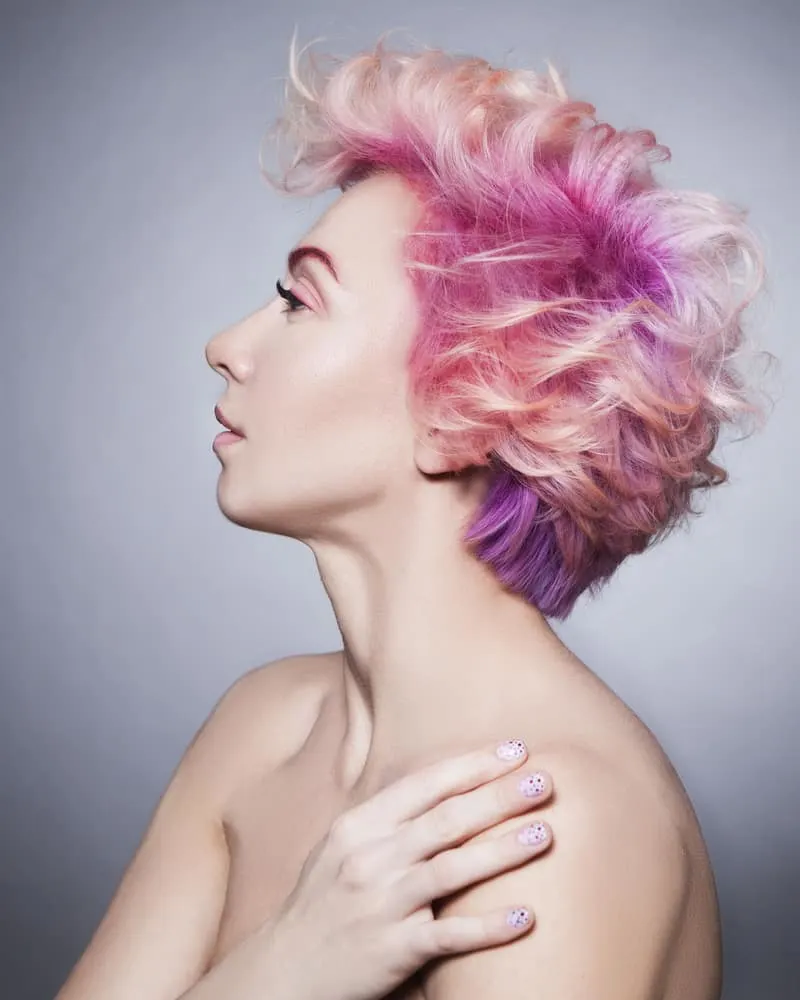 This short purple and blonde hair is as special as a gemstone. Instead of keeping your light blonde color at the root, turn your style inside out. Ask your stylist to create artful pink and purple highlights close to the scalp and tease out the blonde at the tips of your hair.
2. Pink and Purple Ombre Fade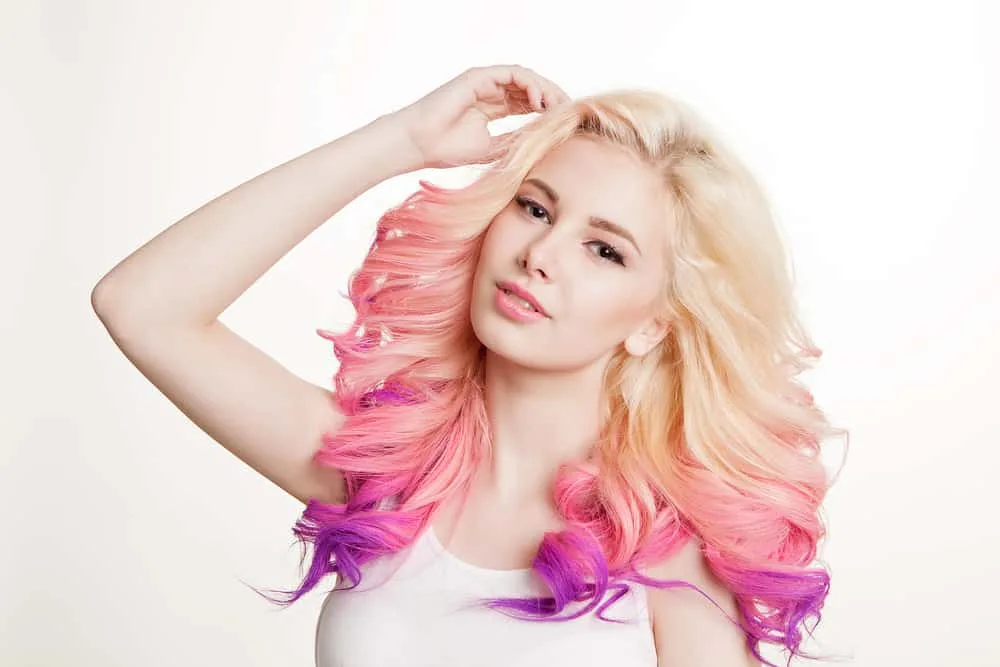 A tricolored ombre look is great for long hair. Incorporate a touch of pink into your blonde pink and purple hair if your skin has pink undertones. The overall effect is bright and beautiful, and it incorporates electric purple into your look with ease.
3. Peek-a-boo Highlights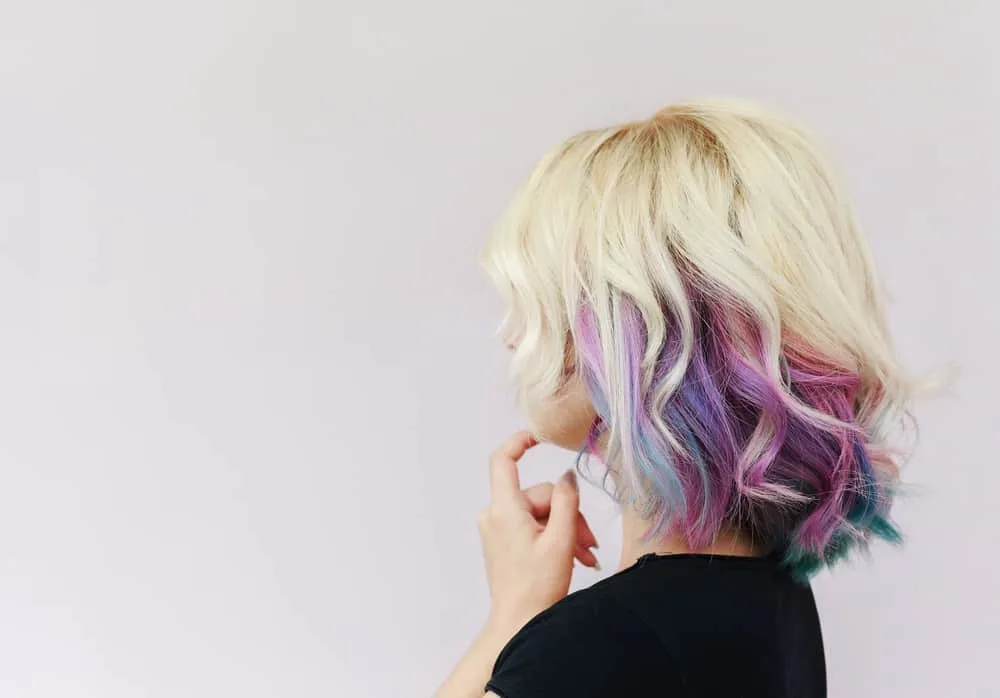 If you want the overall effect of your locks to appear blonde, try blonde hair with blue and purple highlights underneath. This peek-a-boo style lets you play with lots of colors without the full commitment or any drastic altering your appearance.
4. Blonde and Purple Braids
Why not have a little fun with your look and create purple and blonde braids? Box braids are a great way to try out dynamic color because they can be removed when you're done with the style without any damage done to your natural hair.
5. Amethyst Ombre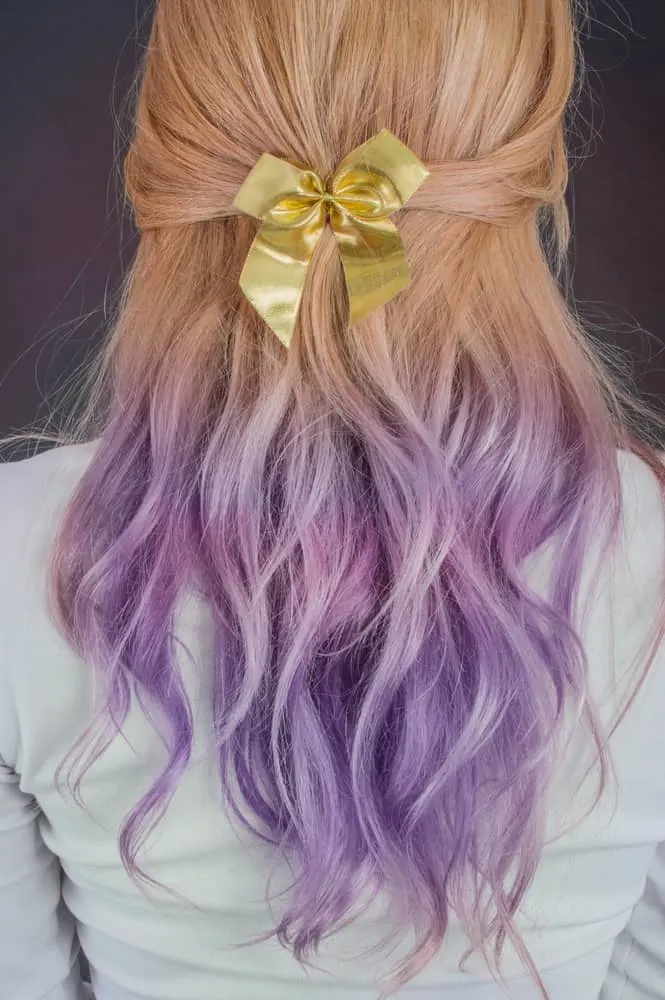 Cool purple tones like smoky lavender and light amethyst are popular iterations of purple. Create light purple and blonde hair by focusing bold color on the ends of your hair. This way, your blonde color can still frame your face and play off of your skin tone.
6. Halfway Up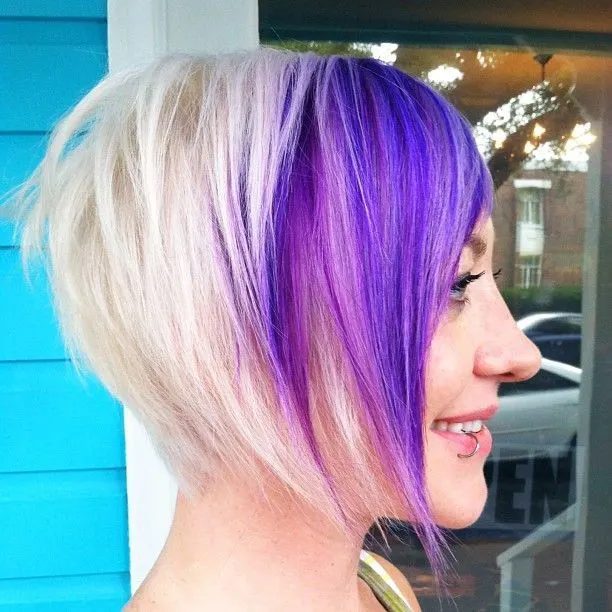 This half-and-half hairstyle is exactly what you need to make a bright impression. Platinum blonde locks coupled with rich purple colors can keep your spirits up for days at a time. This hairstyle looks grand from the front.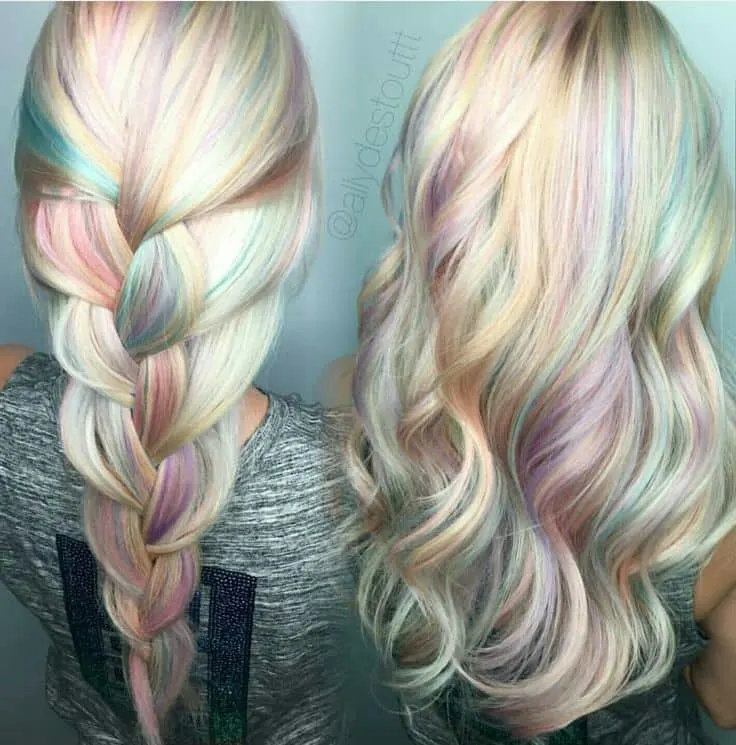 Blonde hair looks perfect with the touches of unusual colors. Besides purple, you can go for pink, blue, and even green. Add as many as you want into the mix especially when using temporary color sprays.
8. Purple Roots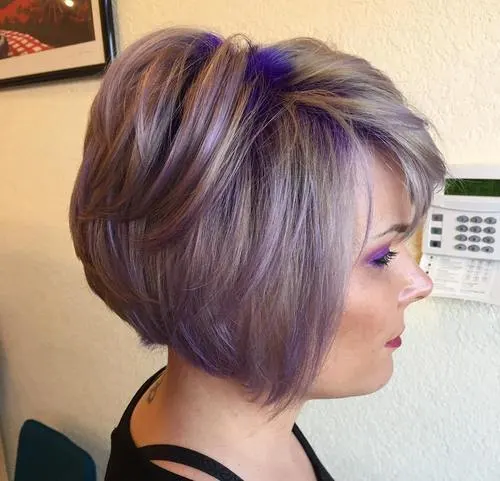 Does this hair look unusual? It certainly makes an amazing impression. Coloring the roots purple instead of blonde while adding a few light purple highlights can turn a simple bob into a masterpiece.
9. Shiny Magic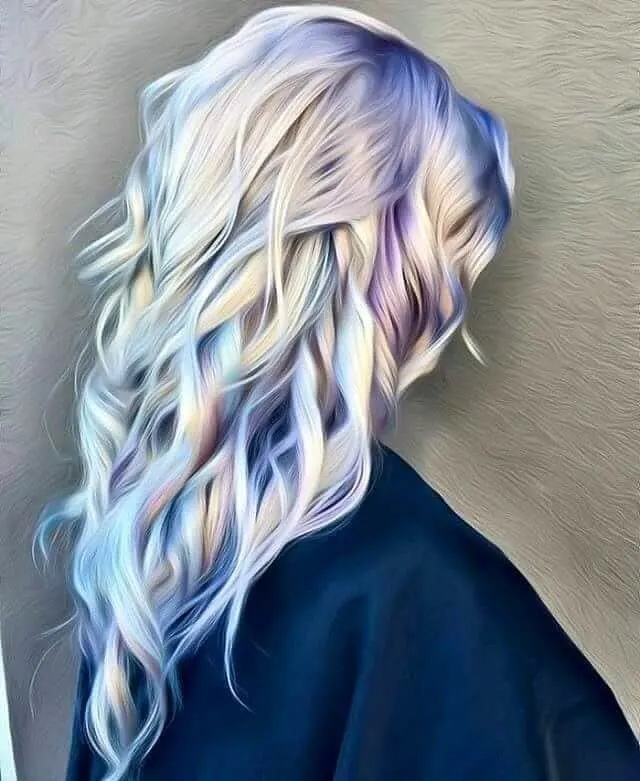 The shine of this blonde and purple hairstyle is achieved thanks to the smart highlighting. Bright touches of blue and purple on platinum blond hair make it look rich and perfect. What a great choice for a special occasion!
10. Smart Highlighting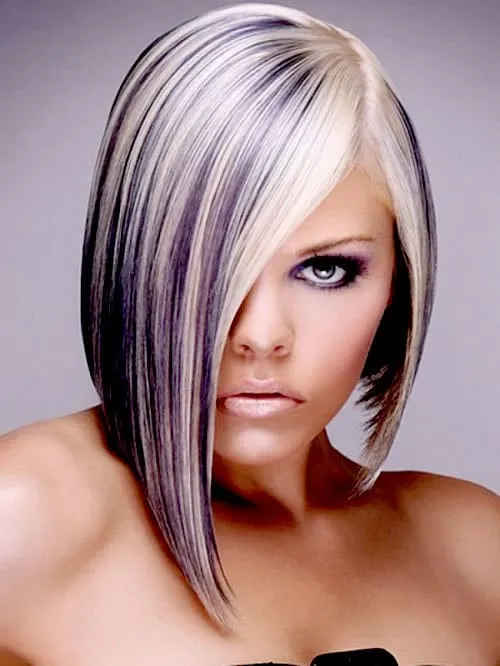 Highlighting techniques can vary depending on your mood and the skill of the master.In the picture, you can see how the purple color is well integrated into the blonde locks. The result is truly priceless.
11. Beautiful and Subtle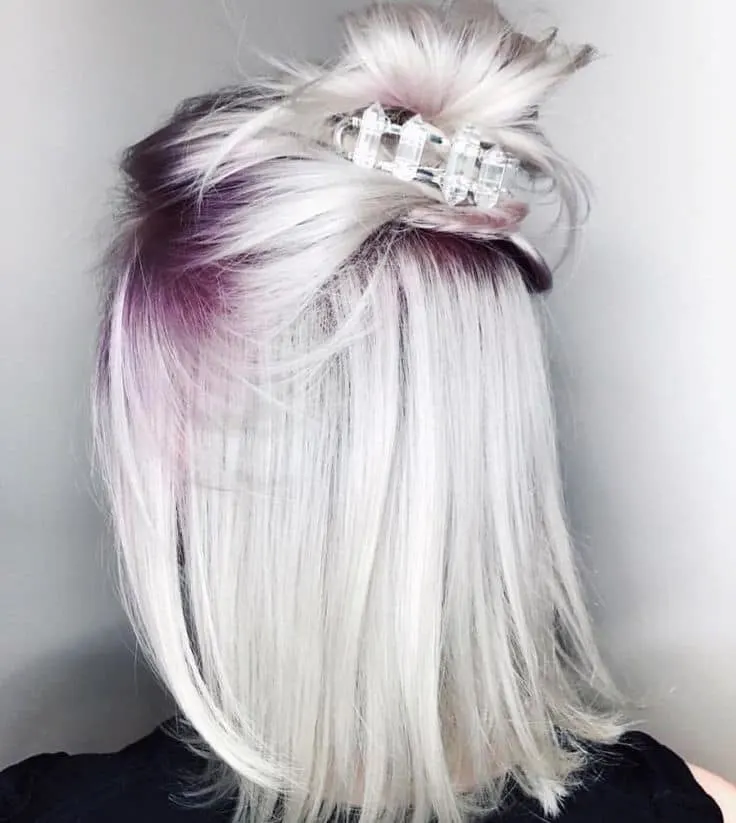 Subtle touches of purple on white hair are exactly what you need to make an impression. If standing out of the crowd is your wish but you don't want to make drastic changes, such subtle approach can become your favorite.
12. Purple and Stunning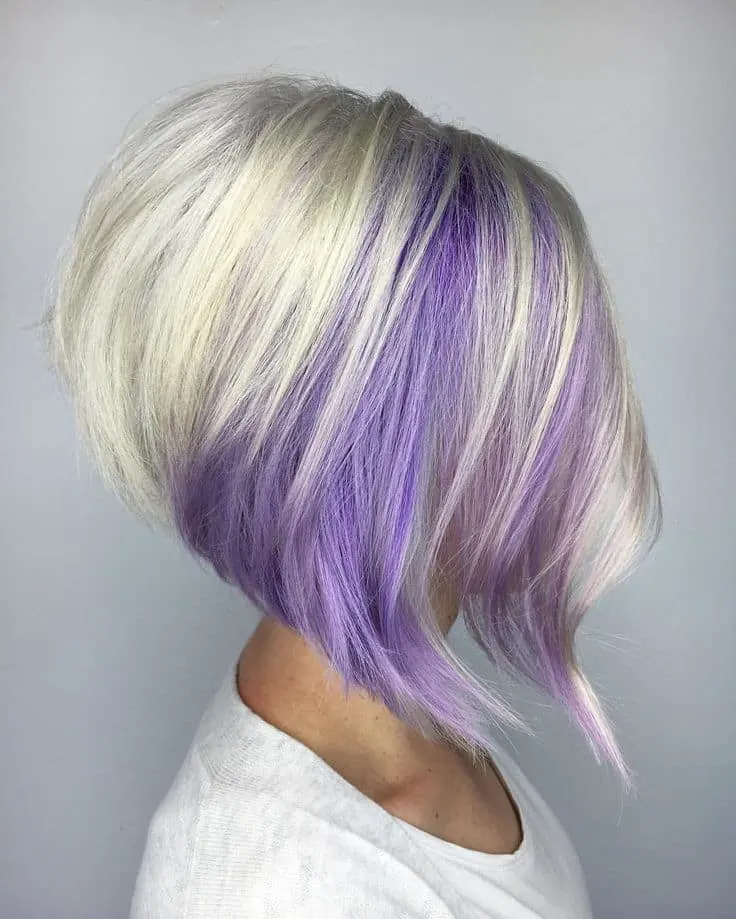 If after a bleaching session your hair looks yellowish blonde and you hate the color, there is no need to panic. Add a few purple strands and you'll see how they can neutralize the yellow shades and add an extra oomph to your style.
13. Pretty Lowlights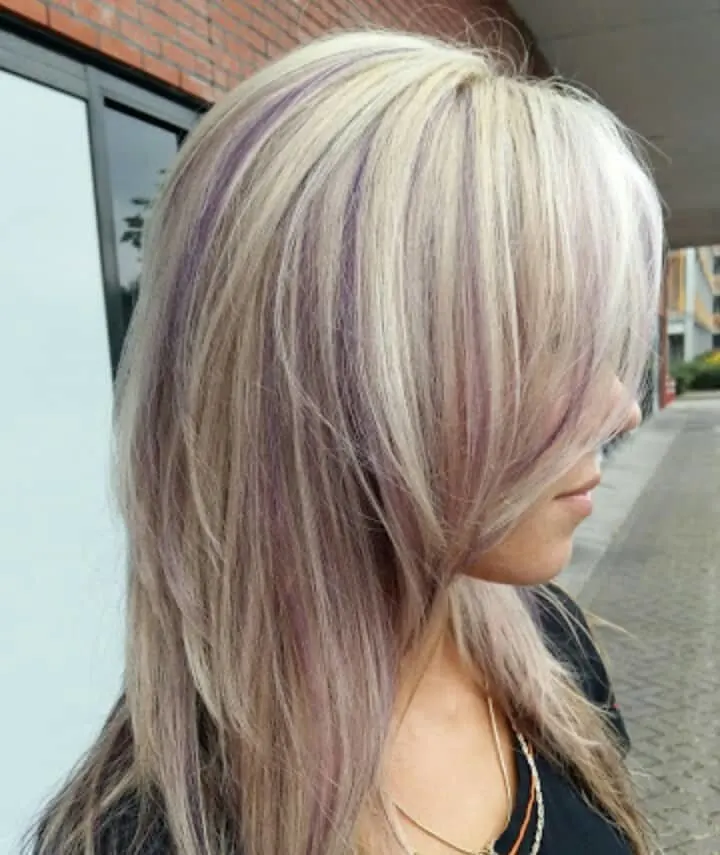 Blonde and purple hair looks amazing in many variations. Take a look at these lowlights. The purple shade is hidden but peaks through the blonde strands. This is a great way to accentuate your blonde hair.
14. Get Creative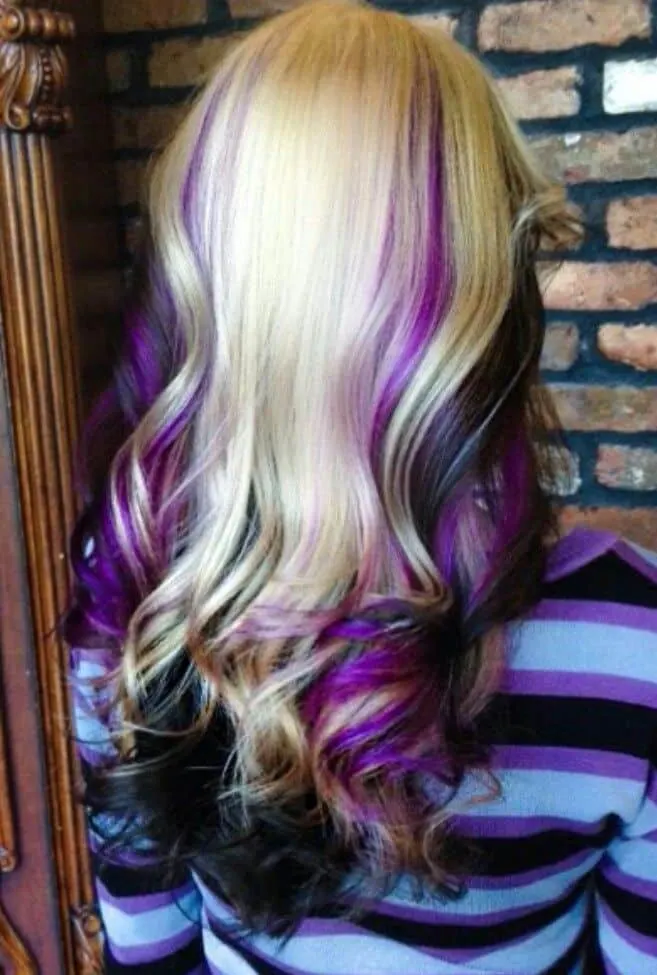 Surrounding your blonde hair with purple and black highlights creates a luxury looking hairstyle many women would wish to copy. This hairstyle is easy to achieve and doesn't require any complicated dyeing.
15. Blonde Tips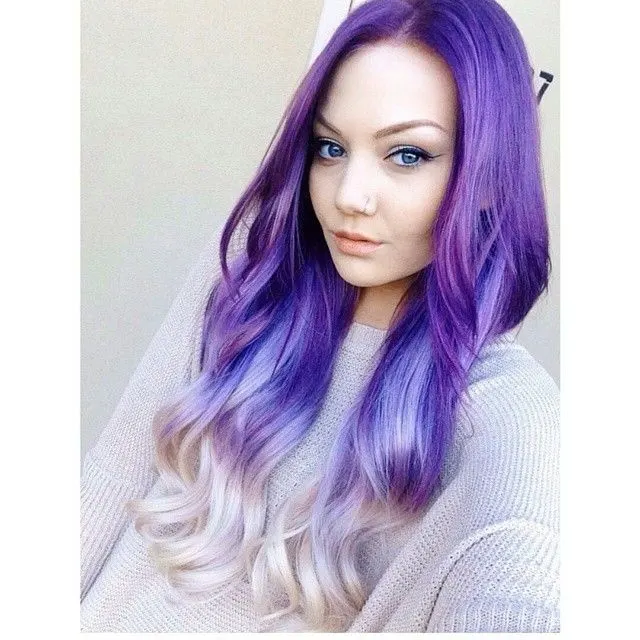 An easy way to make an impression is to reverse a hairstyle. While most people are used to seeing blonde on top and purple on bottom, they'll love how the vice versa option looks. Use blonde tips.
16. Partial Purple Highlights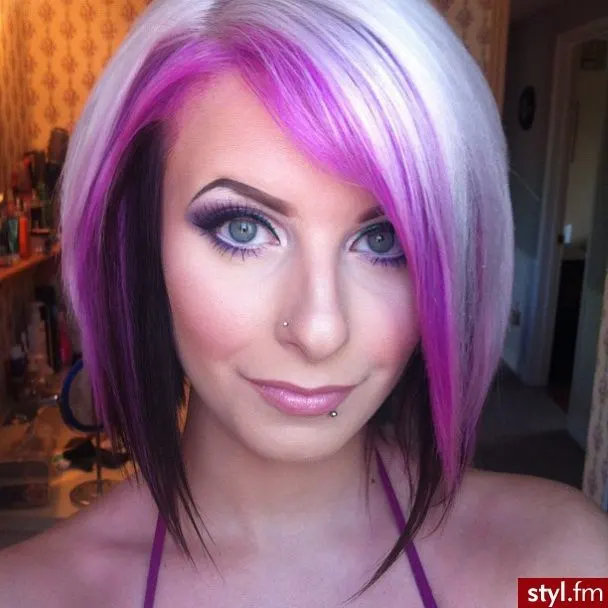 Partial purple highlights are all you need to enjoy the purple and blonde hair color. Just make sure that you dye the front strands. This way your whole impression will change and the reflection in the mirror will shine.
17. Dark Purple Ombre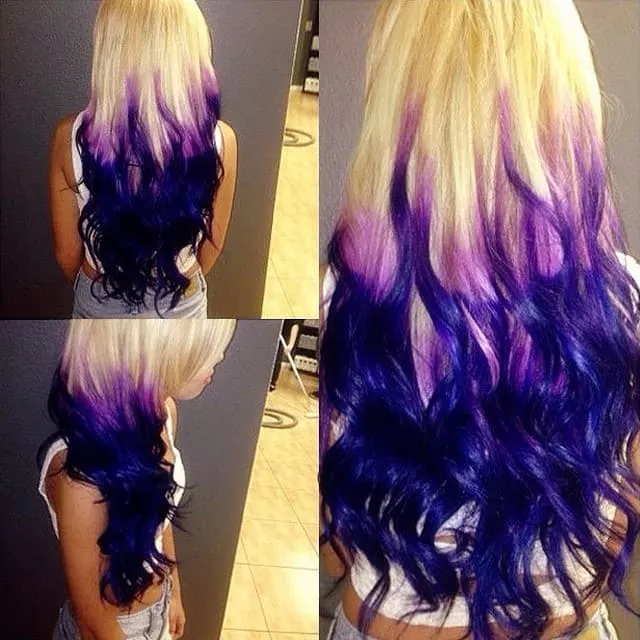 Mixing three colors for an ombre is always a great idea. It's even a better idea when two out of three are purple. Allow yourself to have fun with mixing these hues. The result you'll get is bound to be amazing.
18. Hidden Pleasures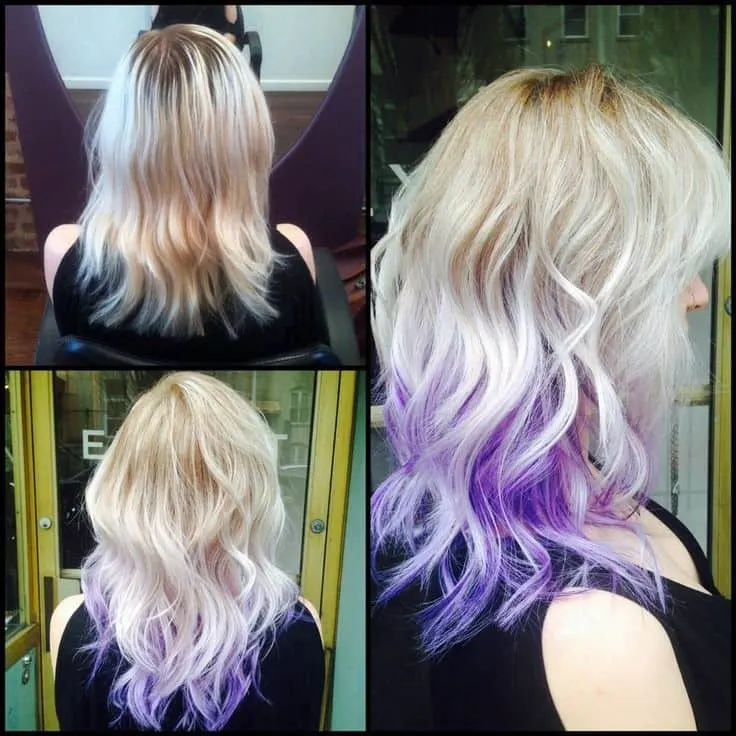 Hiding purple hair under blonde tresses is a wonderful way to achieve a unique hairstyle. You can play around with the way your purple strands interlace with blonde ones. This will look especially well in a bun or ponytail.
19. Purple Streaks
Simply mixing purple and blonde hair is not that stylish anymore. Every hair stylist tries his or her best to come up with something special. Take a look at this photo. You may want to show it to your barber.
20. Dark Purple Strands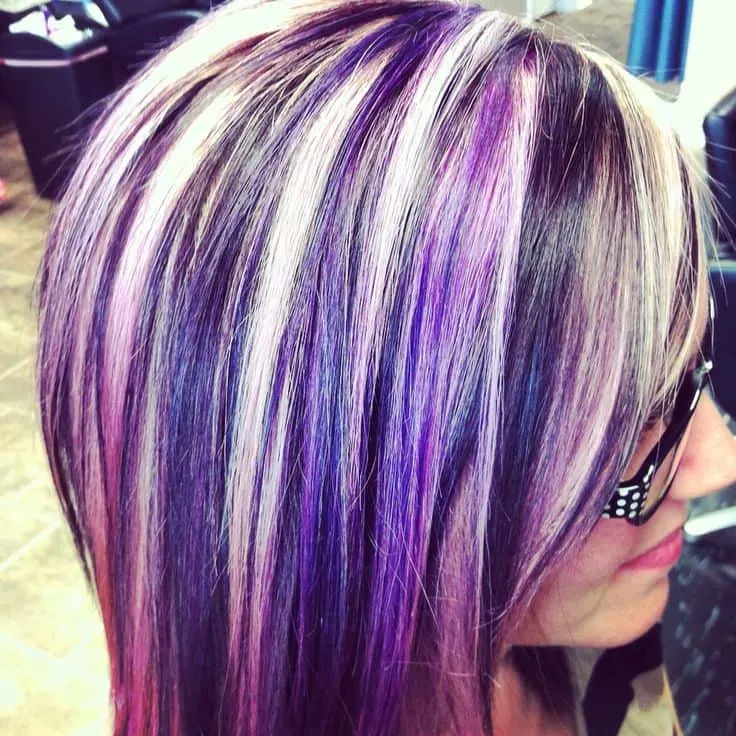 Dark purple looks great with white hair. The contrast allows you to enjoy a stunning hairstyle without dyeing too many strands purple. Only a few are enough to make the right impression.
21. Purple and Detached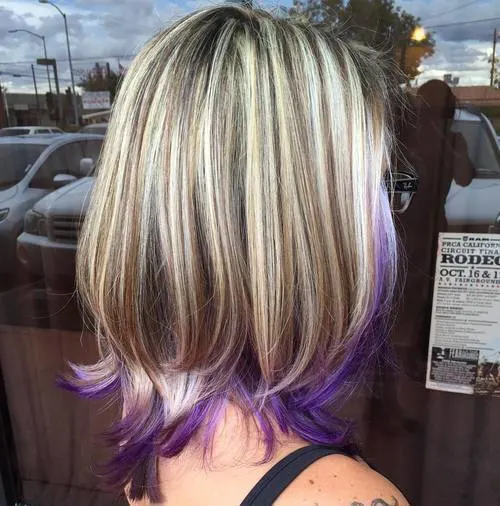 This innovative approach to dyeing allows the blonde and purple hair mix to look stunning yet somehow detached. It seems as if the purple strands are separated from the blonde ones. A unique hairstyle for your collection.
22. Asymmetrical Waves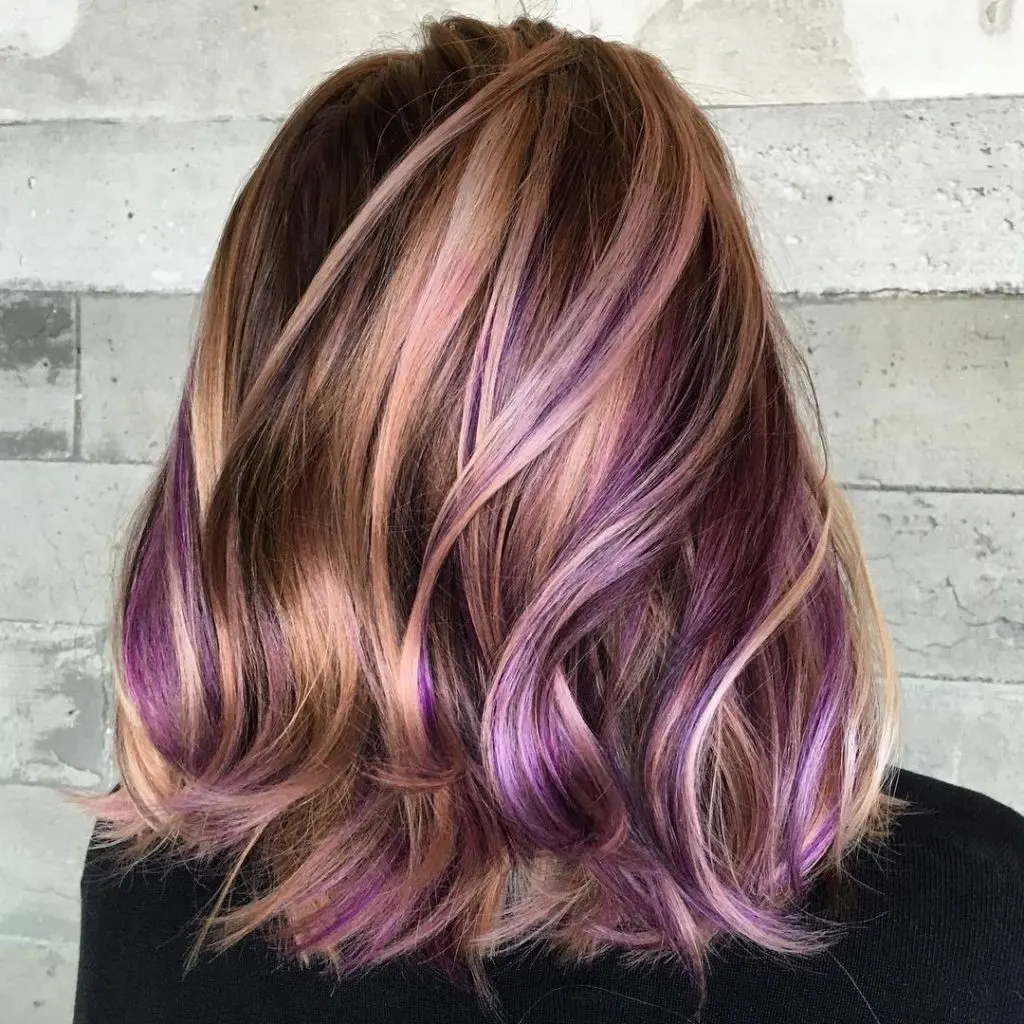 Wondering how to arrange your newly acquired purple strands? Consider making asymmetrical waves. The highlights look wonderful when you arrange them in this unusual way and help you stand out of the crowd.
23. An Interesting Ombre Approach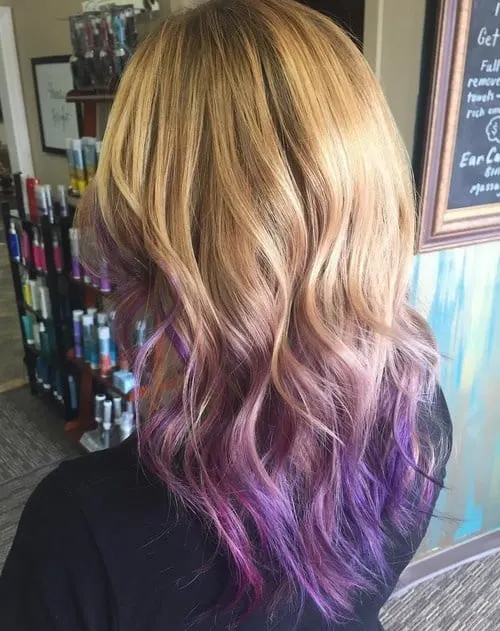 A honey blonde and light purple ombre can make your dream of extravagant hair come true. When the roots grow dark, consider dying them purple as well. You'll be amazed at the result.
24. Light and Soft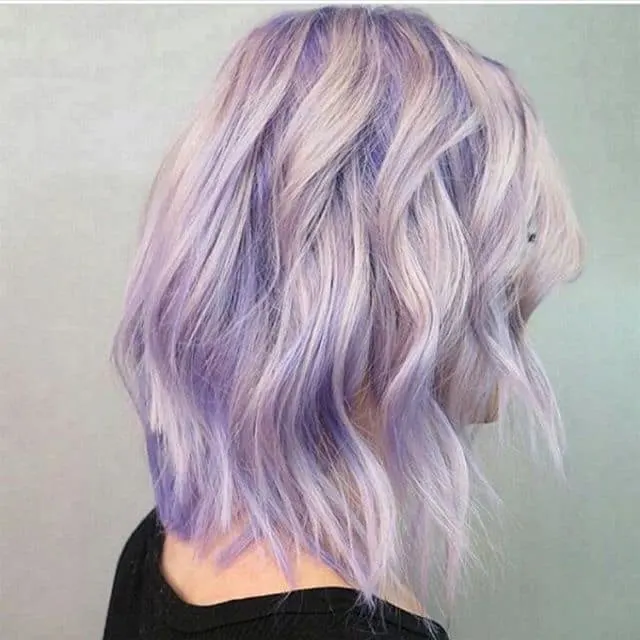 Platinum blonde and light purple hair are a striking mix that doesn't look too unnatural. This hair color is suitable for women who don't want to stand out too much but still wish to enjoy the outrageous colors.
25. Blonde, Gray, and Purple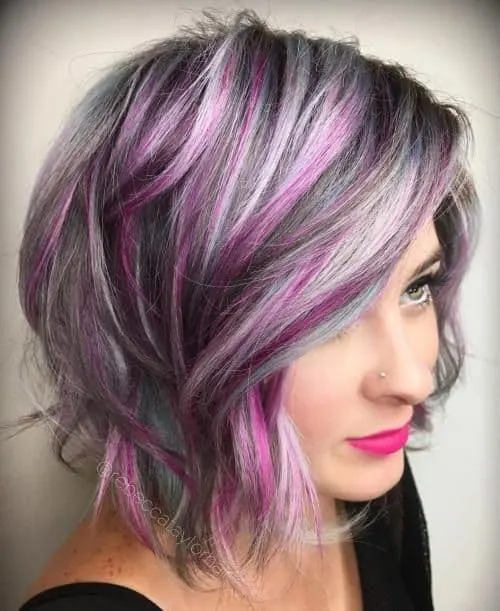 Whether you have graying hair or want to go for the popular silver hair color, this mix is for you. The three shades look fabulous together and allow you to keep the touch-ups to a very minimum.
These blonde and purple hair color mixes are designed to make you sorry for not trying them for so long. Pick the one you like the most and enjoy it as soon as possible. Purple blondes are in style today!
Tips
As a stylist who loves rainbow hair colors, I would advise you to:
Wash your hair with a sulfate-free shampoo and to use a treatment. Especially if your hair is dry after bleaching.
Purple shampoo will also be an investment to help keep your hair a beautiful blond.
Wash your hair with cold or cold-ish water (more cold than warm). This will help your funky color to last longer. Warm water can wash out your color a lot quicker.
Don't wash your hair too often or the color is going to wash out faster.
The more you touch up your funky color the longer it will last.