If you're getting bored with your current look, have you seen how gorgeous short blue hairstyles can be? Combine your favorite short haircut – pixie, bob, etc. with any shade of blue for a bomb style worthy of all those selfies you take. The best part is this color flatters any and all face shapes as well as all textures. Take a look for yourself!
Beautiful Short Blue Hair Looks
For 30 hot short blue hair colors to inspire your transition to bold color, take a look at our list!
1. Short Dark Blue Hair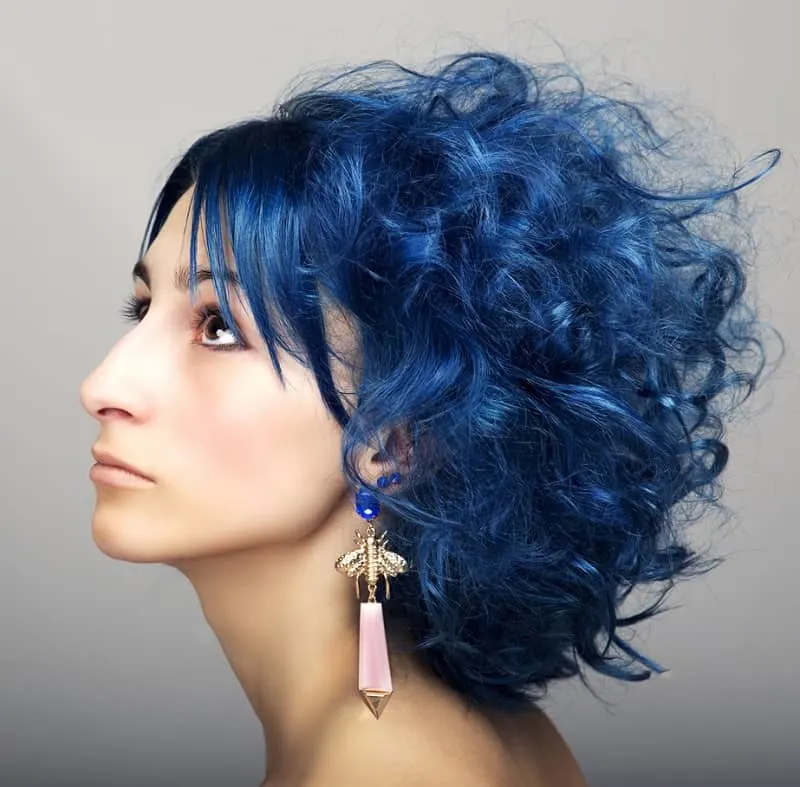 Get amazing volume and texture by teasing and combing in hairspray at the back of your short haircut. A cover of dark blue color is all you need for hip, edgy style.
2. Short Blue Ombre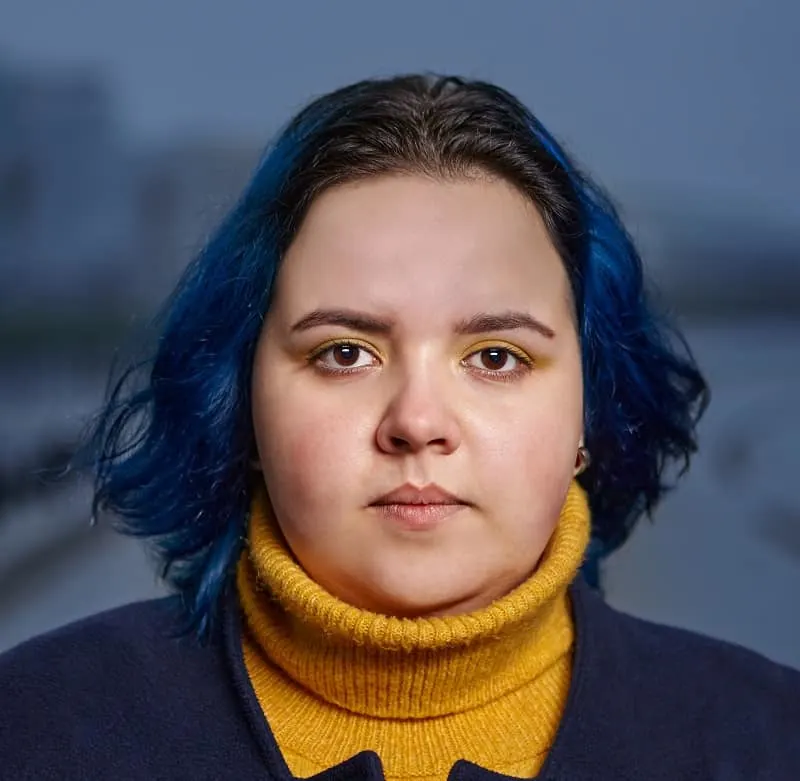 Blue ombre is one of the hottest hair color trends in 2023. On a dark base, dark blue hair is a beautiful pairing. Pick a short bob to accompany your round face and part it in the center, styling the ends with curl creme for waves.
3. Short Hair with Blue Highlights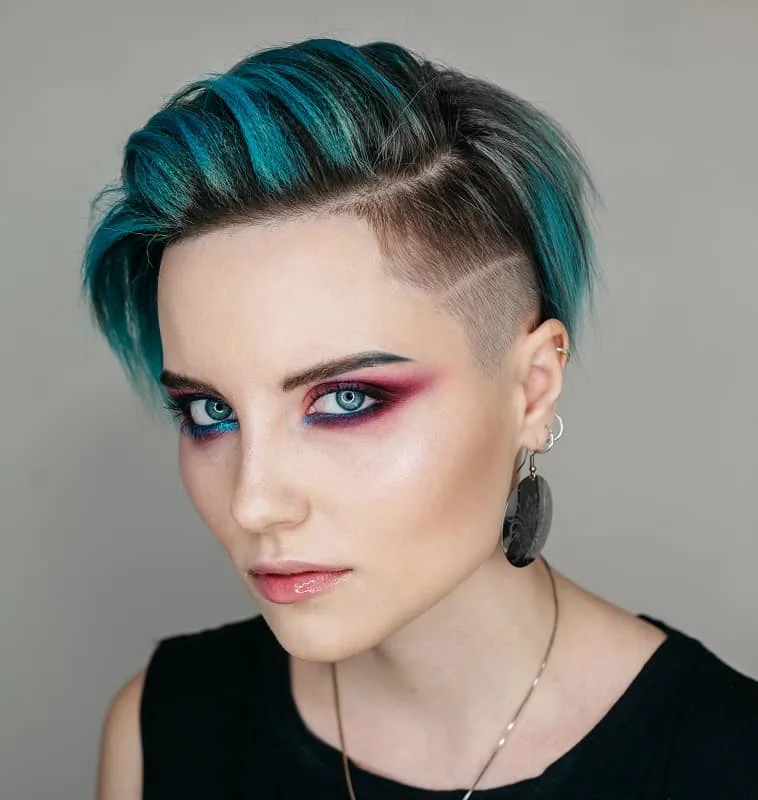 Another edgy blue hairstyle for short hair. This short pixie with a fade is super hot with its turquoise highlights. The style is parted off-center and straightened for easy manipulating of the locks.
4. Short Black and Blue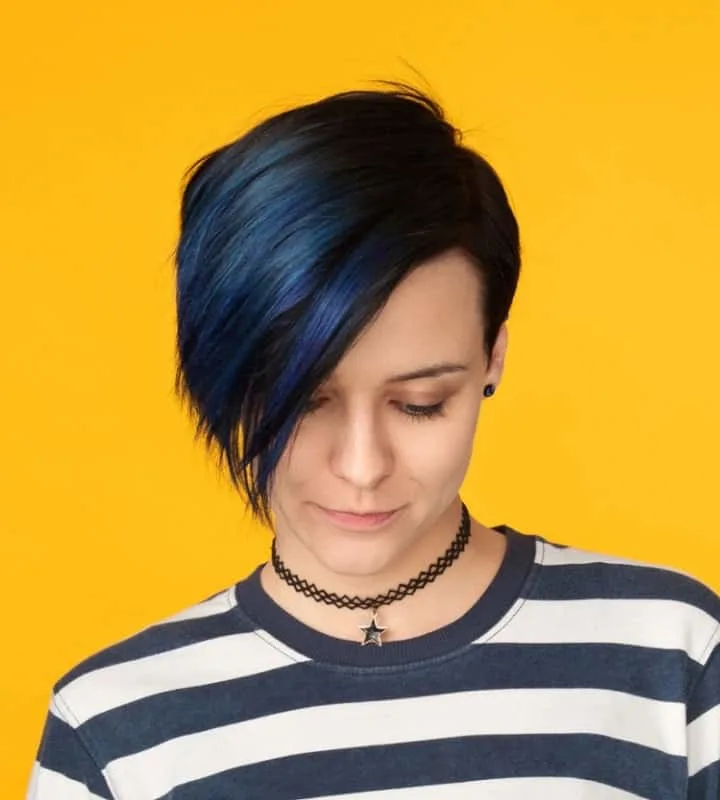 A midnight blue and black are two dark colors that flatter light and pale skin tones. This long pixie is longer on one side and short on the other for a fun dimensional twist.
5. Short Blue Hair with Bangs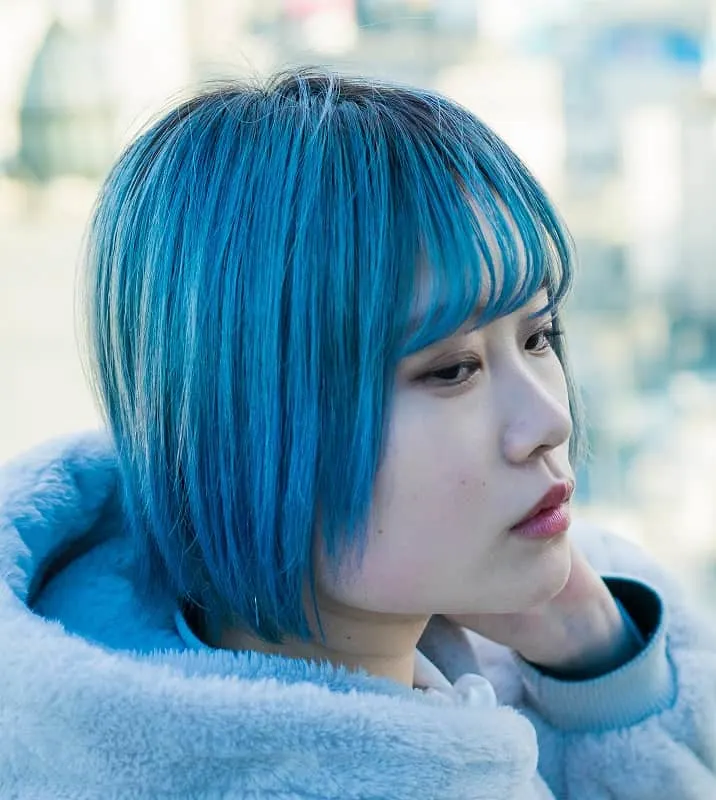 Do you tend to wear your hair straight and short? Keep the length at the jawline and wear with long, piecey straight bangs. A light shade of blue is wintry and unexpected.
With purple at the back and dark blue upfront, there's no way you won't stand out. Wear this color on a layered short bob parted at the side.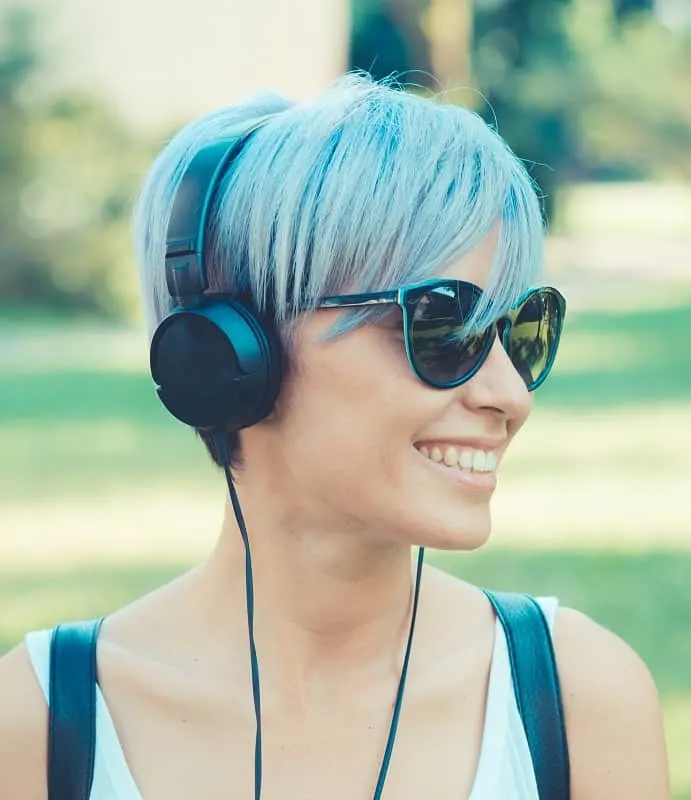 Want to wear a unique short blue hair? Try this icy blue hair color! It brightens up any complexion and looks especially beautiful on a straight pixie with long bangs.
8. Short Navy Blue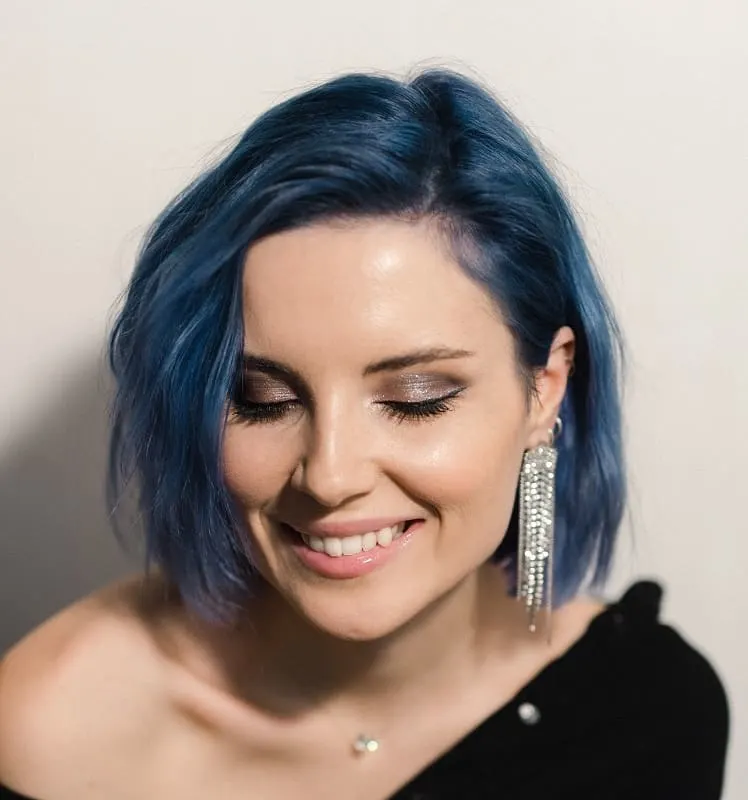 If you have a job that requires you to look professional, but you still want to show off some color, try a navy blue. Wear it against a dark base or just as highlights on lighter hair.
9. Short Light Blue
This light shade of blue is all sorts of mermaid vibes. On a soft wavy bob paired with a leather jacket, it's an edgy look, but it can be equally feminine on a summer dress.
10. Short Blue Balayage
If your hair is pixie-length, tie back the front two sections into small buns. Opt for a glow of light blue mixed with teal to give your short hair artistic style.
11. Short Blonde Hair with Blue Highlights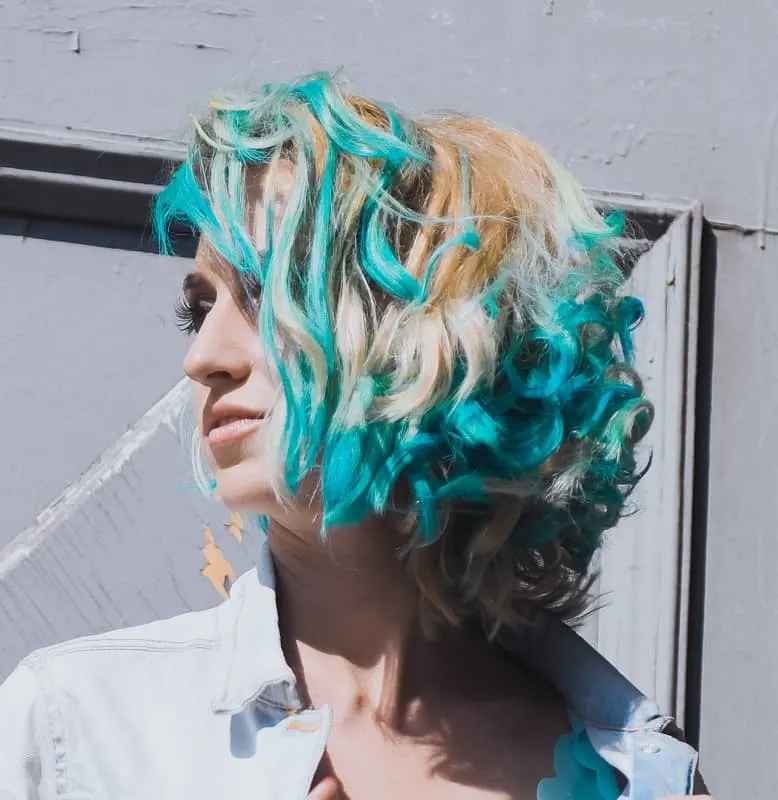 Looking to try short hair with blue highlights but not sure what to do with your blonde hair? Combine these two! Long layers will make it tameable and encourage any texture. Highlights in teal or a sky blue will pop against the blonde.
12. Short Blue Hair Color for Black Women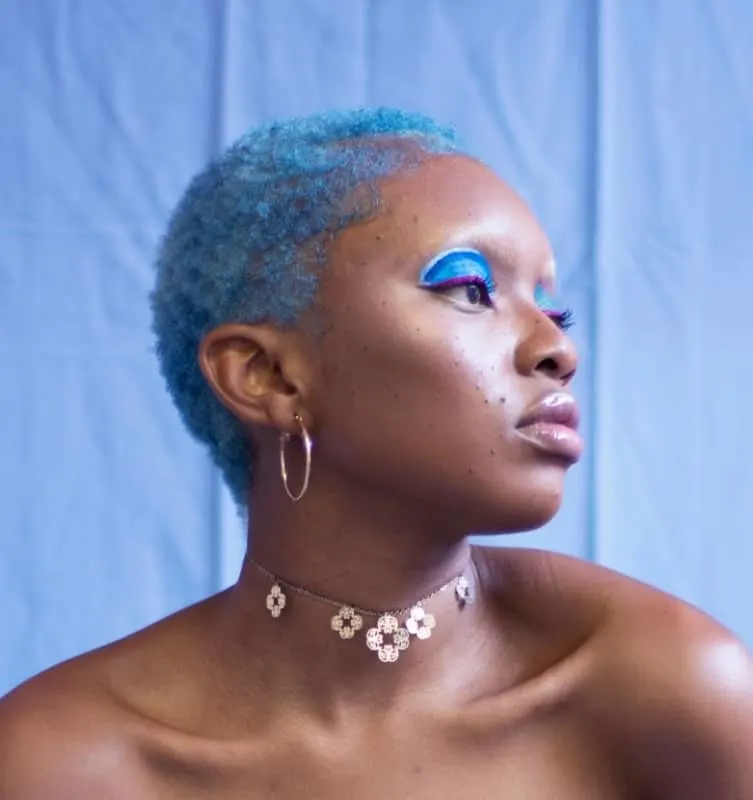 Are you in-between hairstyles and trying to encourage natural growth? Play up the short hair with a beautiful light blue to decorate the tips of your black hair or be bold and go for all over color.
13. Short Midnight Blue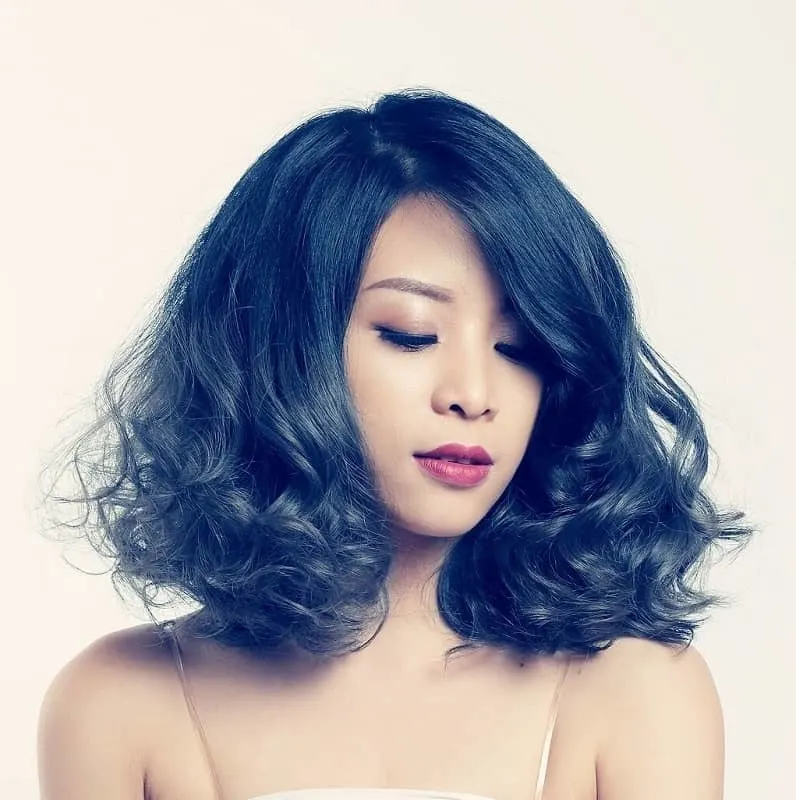 Midnight blue is subtle yet still noticeable. On a short haircut for thick hair whose ends are packed with texture, the short midnight blue hairstyle is professional for work and still enough to get you feeling amazing.
14. Older Woman with Short Blue Hair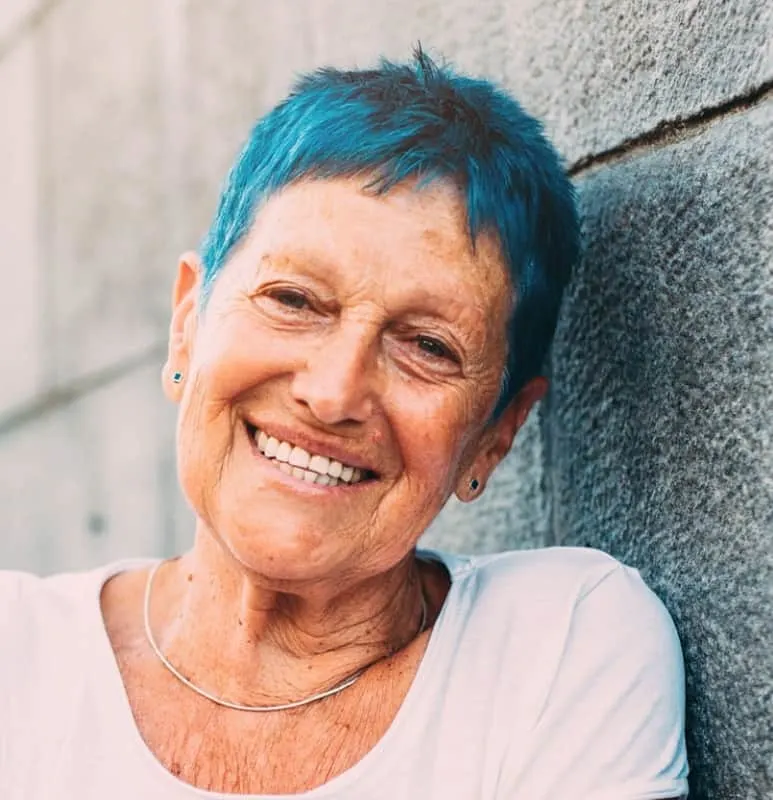 You may be getting older, but that doesn't mean you have to keep your hair color boring or traditional. Liven your short hair with any shade of blue and you'll be hooked on trying all the colors!
15. Short Pink and Blue Hair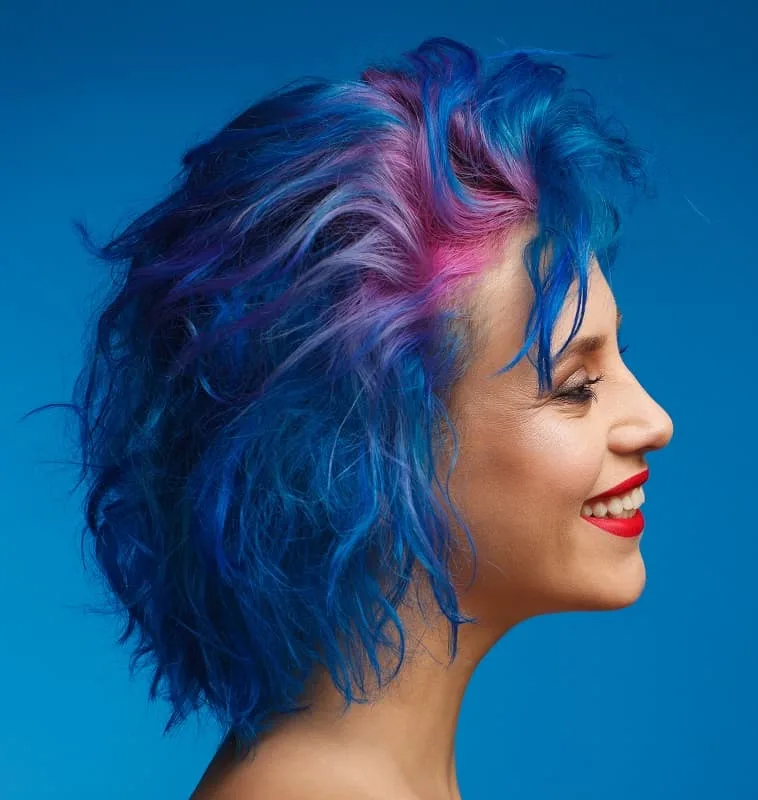 Pink and blue are two colors every girl needs to try as a hair color at least once in her life. On this shaggy bob, they're flirty and fun to help bring out the best of your personality!
Related Blue Hair Ideas:
16. Blue Layered Pixie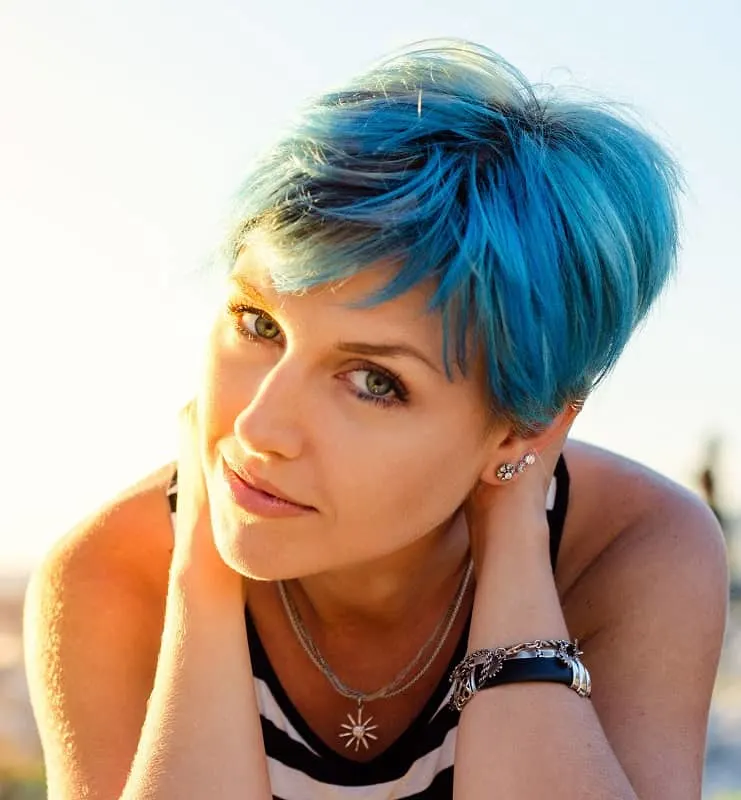 17. Blue Natural Hair with Cornrows
18. Blue Hair with Short Bangs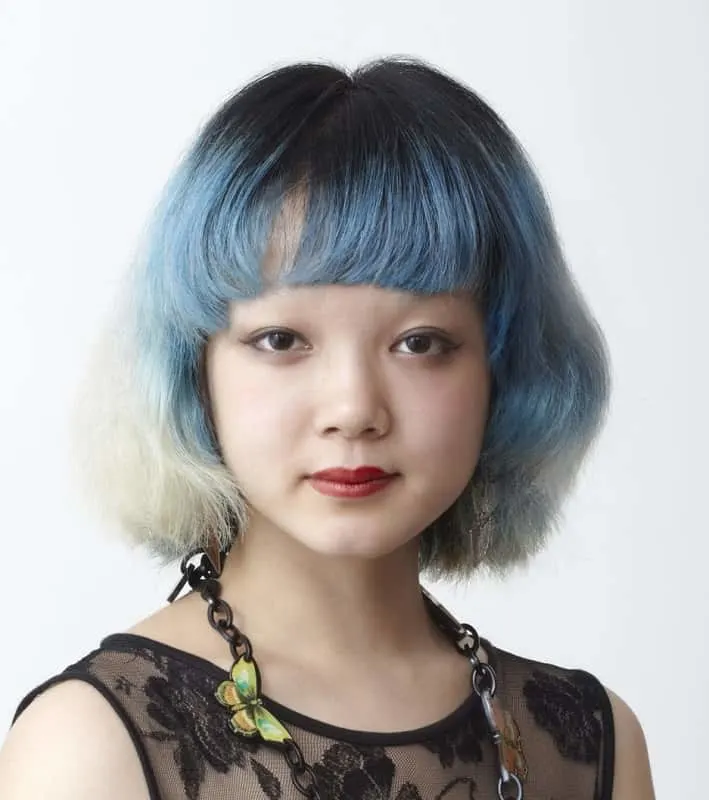 19. Blunt Bangs with Dark Blue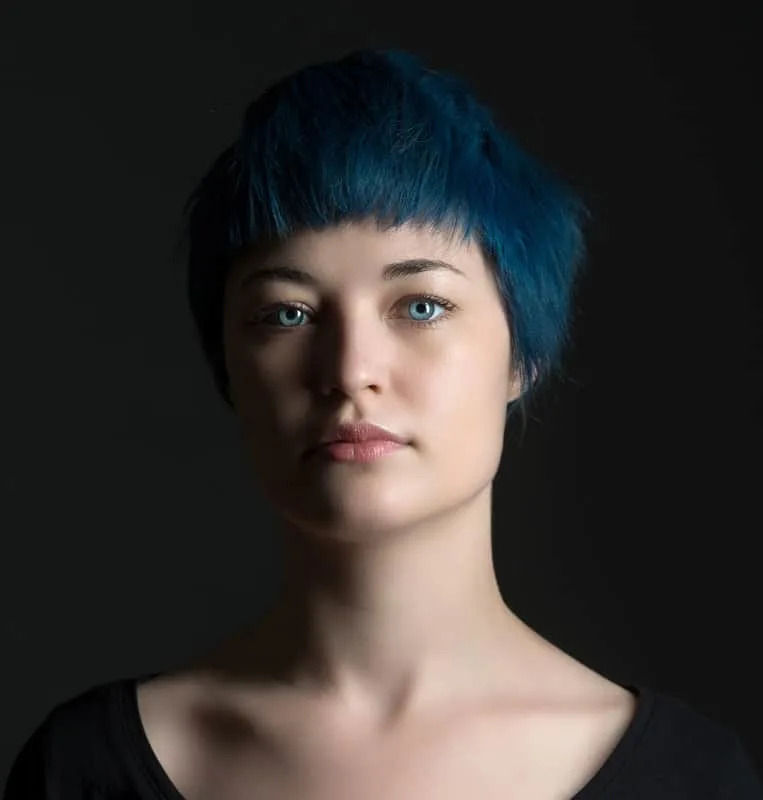 20. Spiky Blue Haircut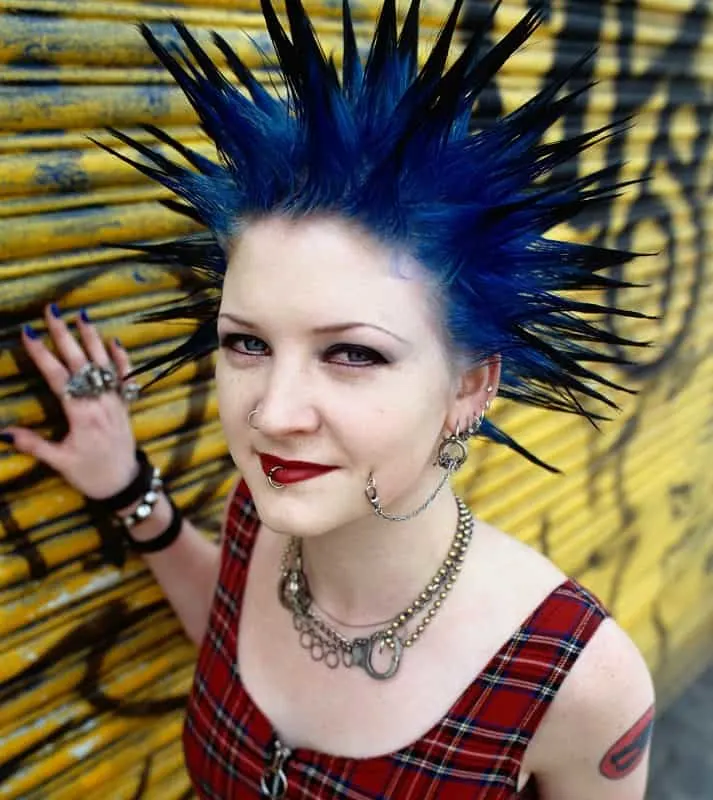 21. Blue Pixie with Undercut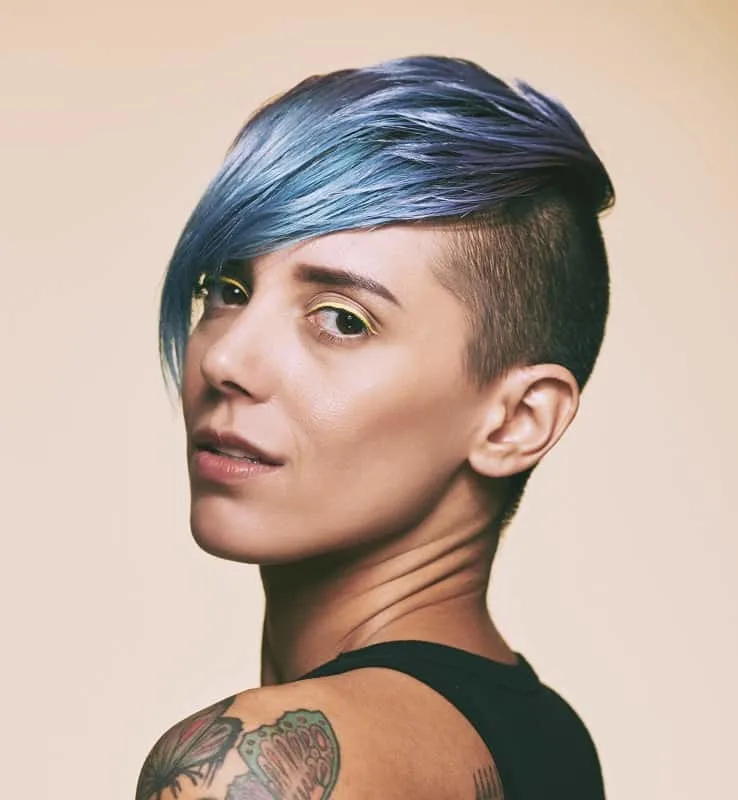 22. Blue Bob with Blunt Bangs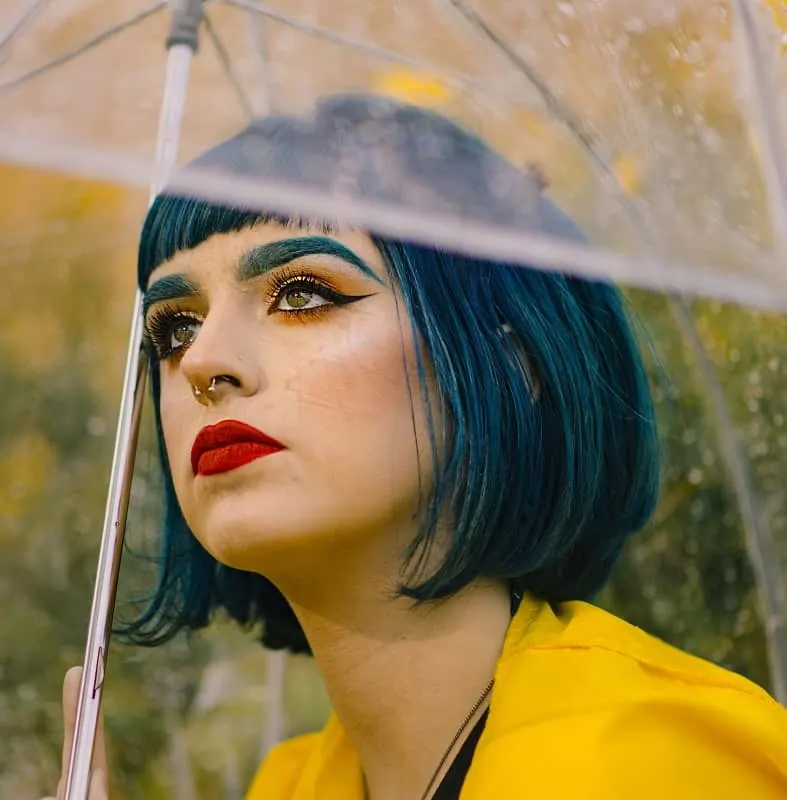 23. Half Pixie with Braided Fade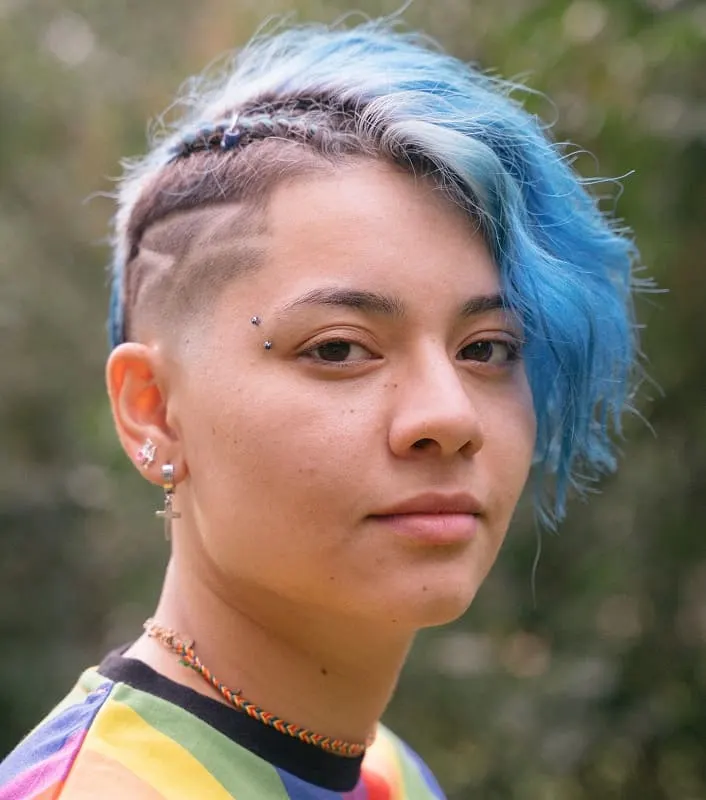 24. Blue Asymmetrical Bob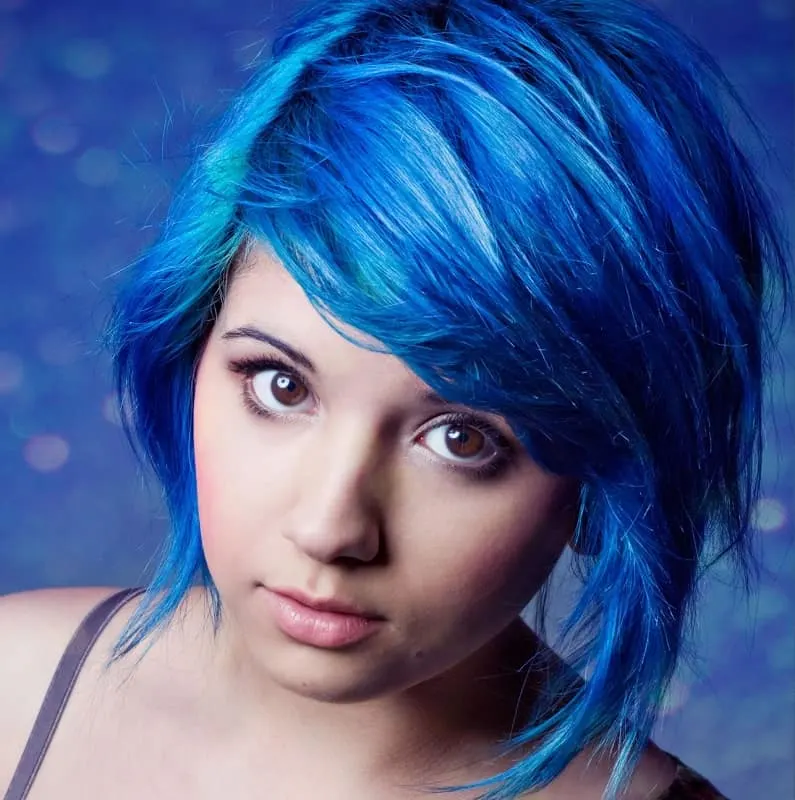 25. Bob with Blue Ombre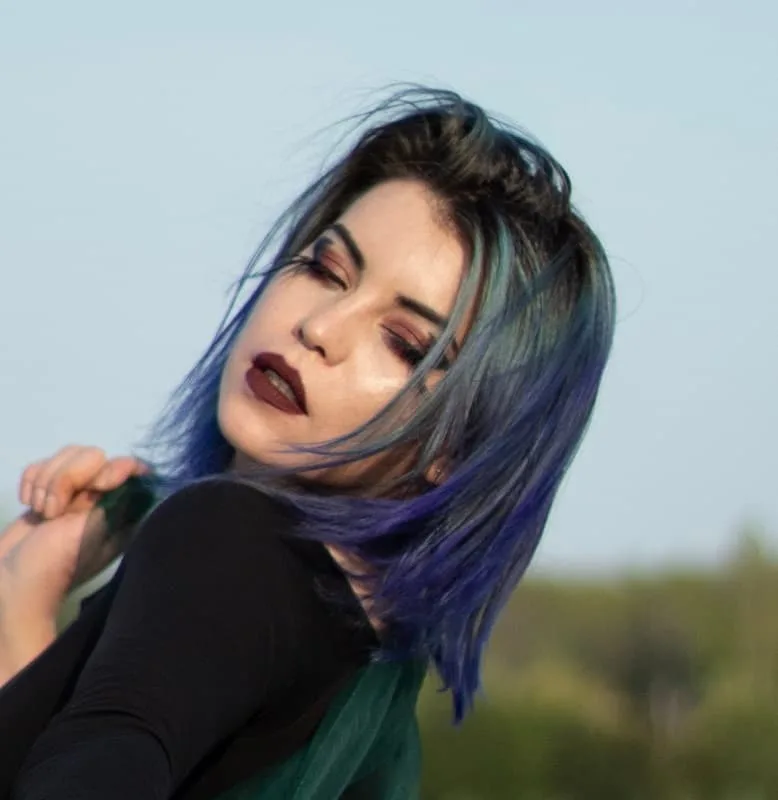 26. Light Blue Bob with Fade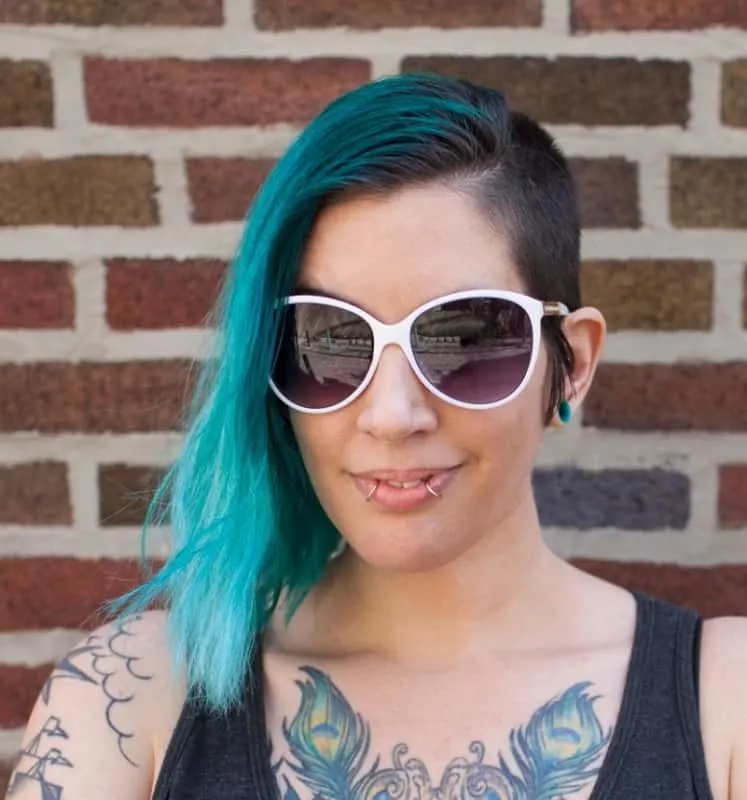 27. Light Blue Blowout Pixie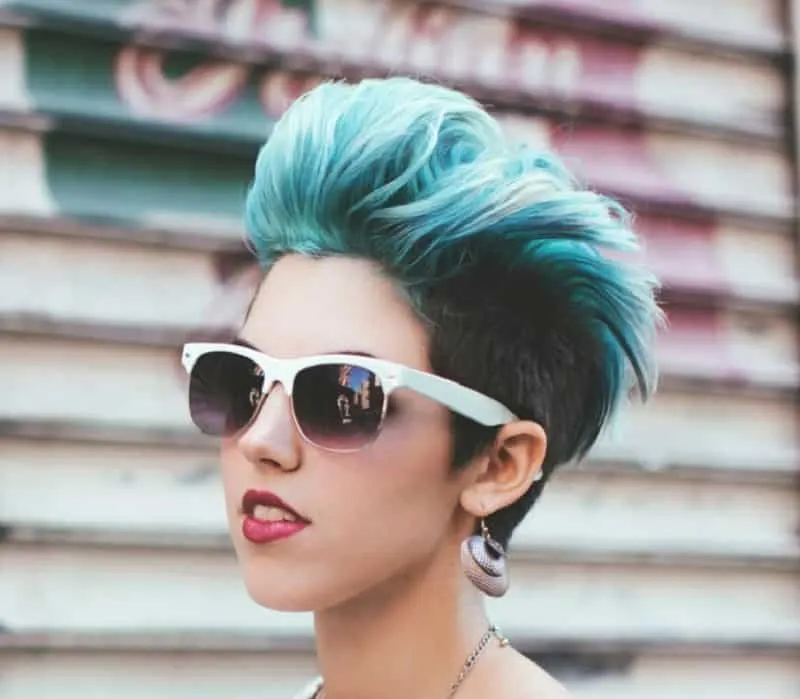 28. Dark Blue Short Haircut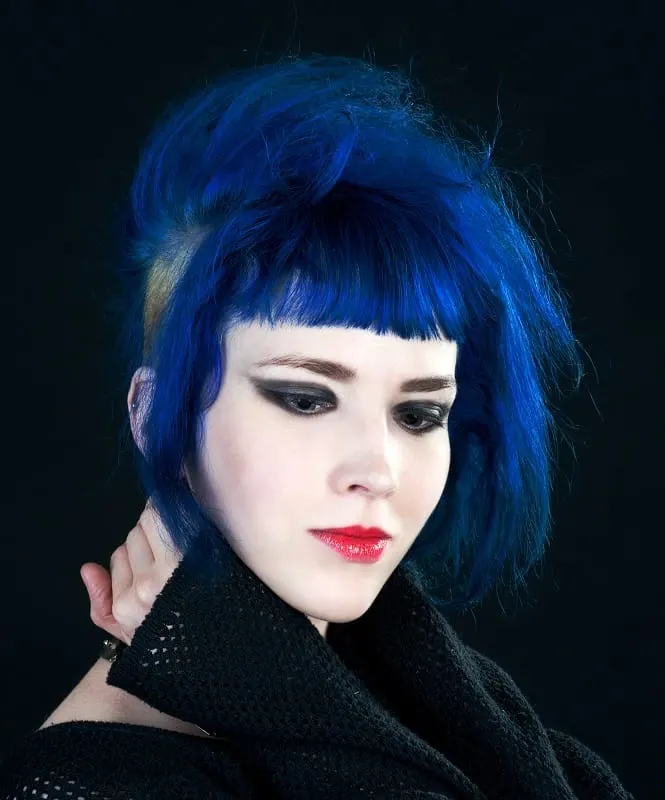 29. Baby Blue Pixie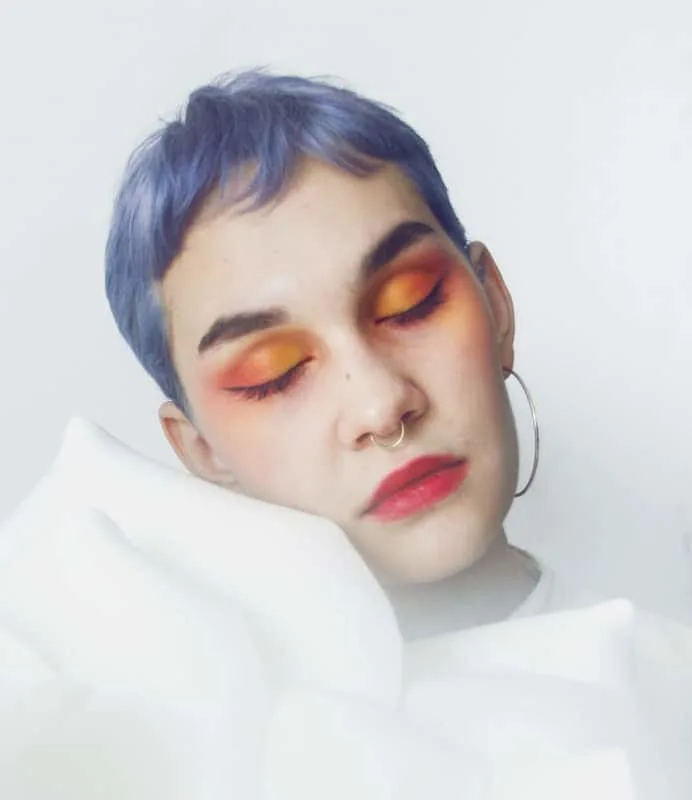 30. Turquoise Textured Pixie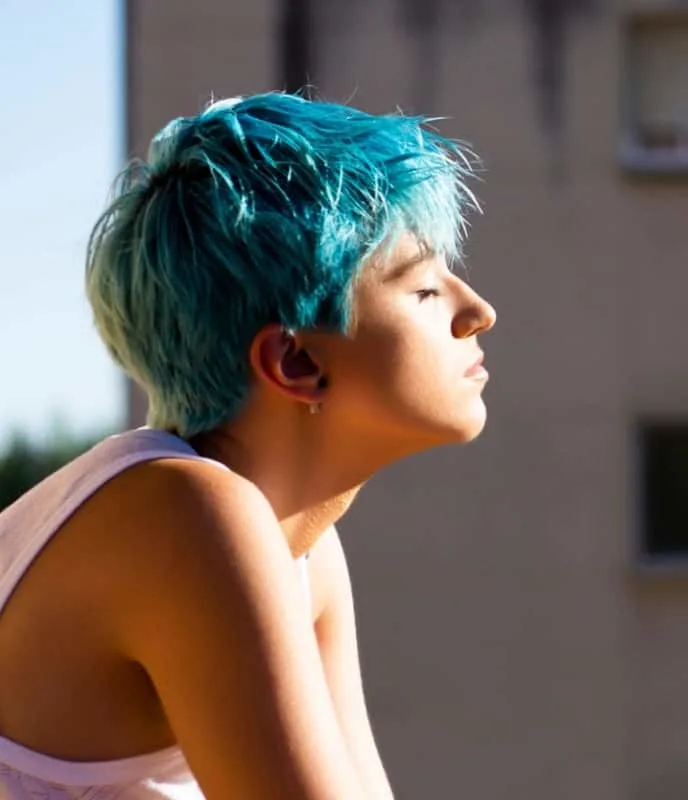 For the best looking short blue hairstyles, avoid washing your hair with hot water, condition often, and try to style your hair without hot tools. Your color will stay lasting and luscious!