If you've ever dyed your hair blonde or ombre, you know the feeling of leaving the salon with total confidence in your warm and cool tones. However, after a few weeks, you might notice that your hair doesn't have the lustrous color it did when first colored.
How did the blonde go brassy, and how can you fix it? Don't worry – you are not the only one who has experienced brassy hair.
We have a complete guide for you, complete with what brassy hair is, where it comes from, and how to fix, prevent, and avoid it at home. You don't have to go back and redye your hair every three weeks to keep it blonde with a few simple tips.
Highlights
Brassy hair refers to unwanted warm undertones in blonde hair, often due to incomplete bleaching or lifting.
It occurs when the hair dye job wasn't done correctly or hair wasn't properly toned.
To avoid brassy hair, choose cooler tones, take time to achieve desired shade, and tone hair regularly.
Use color-protecting hair products to preserve hair color.
Deep condition and use purple shampoo to maintain hair health and color.
Avoid sulfates, use color-specific shampoos, and limit sun exposure.
Invest in a shower filter to reduce mineral deposits and maintain hair color.
Anti-brass purple hair masks can help maintain strong, bright blonde hair.
To fix brassy hair, use color-wheel opposite pigments to neutralize unwanted tones.
Consider hair toner to correct brassy tones.
Toning shampoos, like purple for blondes and blue for brunettes, help cancel out brassy tones.
DIY options include using lemon juice to lighten hair and reduce brassiness.
For persistent brassiness, visit a salon for a professional toning service.
What Is Brassy Hair?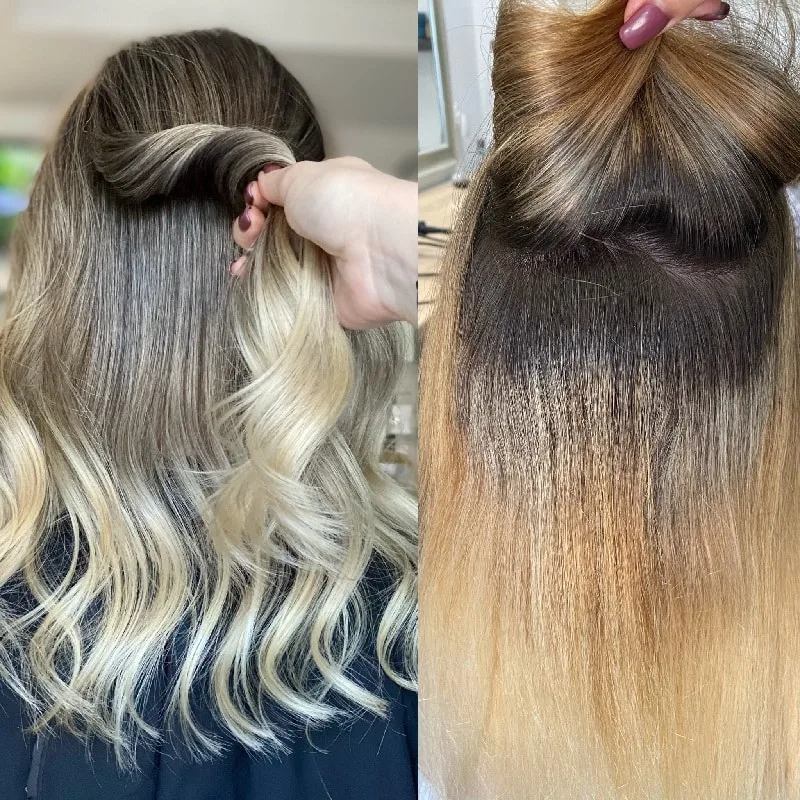 Brassy hair basically means you have an unwanted warm undertones where the hair should be blonde.
Brassy hair occurs when unwanted warm tones, such as red, orange, or dark blonde, show up a few weeks after you dye your hair blonde. While this usually happens for people with naturally darker hair, it can also occur in any blonde highlights, bleaching, or dye job.
Essentially, dying hair blonde involves bleaching all the natural color out of it. To do this, hairstylists use a mix of ammonia and peroxide, which take the natural color out and prepare it for the dye. Once this step is complete, the stylist can add whatever color you want.
With a lighter color dye, such as blonde, the melanin in the hair cuticles will start to creep back in after a few weeks. If you want to lift dark hair, the unwanted warm tones will be yellow, orange, or red tones. When you want blonde hair, this looks brassy and bit unnatural.
So, when you talk about brassy hair, you're simply referring to the warm, darker tones that start to show off in your dyed hair.
Why Does My Hair Go From Blonde to Brassy Blonde?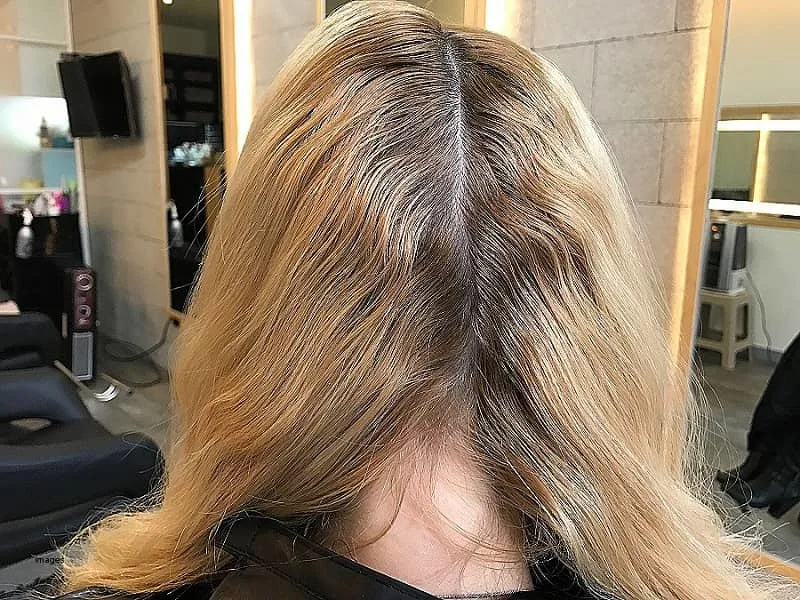 Now, we know this is the question you have been meaning to ask all the time and the one you want an answer for, and believe it or not, the answer is quite simple: Because the job wasn't done right.
You see, although brassy blonde hair can happen even to a professional hairdresser, the very truth is that you can see people having more orange undertones when they dye their hair themselves rather than doing it so in a salon.
This happens because the bleaching process wasn't done properly, especially when it comes to bleaching very dark hair to almost platinum blonde or white hair.
Many people with dark brown or black hair want to dye their hair blonde and want it done in a single session, which leads the hairdresser to put a lot of damage into the hair and not bleach it correctly.
If you didn't know, black and dark brown hair do not bleach to blonde; they bleach to ORANGE… yes, that's right, orange. And it's only when you apply bleach again that the orange turns into blonde, and then the dye is applied.
So, if this process isn't done correctly, the orange undertone is never really gone, and you will still have it in your hair, even after applying the hair dye.
Now, doing a rushed bleaching session isn't the only reason why your hair can turn into a brassy blonde tone; there's also the fact you might now be toning it down properly.
To give you some context, toning down your hair is a very important part of any dying, or bleaching process that includes a blonde or white tone. Without toning, your hair would have a very dark undertone that would ruin the whole look.
With toning, you can avoid these dark undertones in a very easy way. You see, toning is nothing more than a product hairdressers apply after the dye to neutralize the tone of your hair.
Toners tend to be almost like shampoo and they often come in a dark or light purple tone. It is this purple color that successfully takes out the orange tones in your hair, making your whole hair be an even tone.
So, to answer your question about 'why does my hair gets brassy?' It's because of two main reasons:
1. The bleaching process wasn't done properly on your hair.
2. You didn't tone it as you should have once the dye was applied.
How to Stop Getting Brassy Blonde Hair
If you have undergone a process to chemically lift dark hair and don't want any warm tones peeking back through, try these steps to keep all the underlying pigment locked away.
Choose The Right Color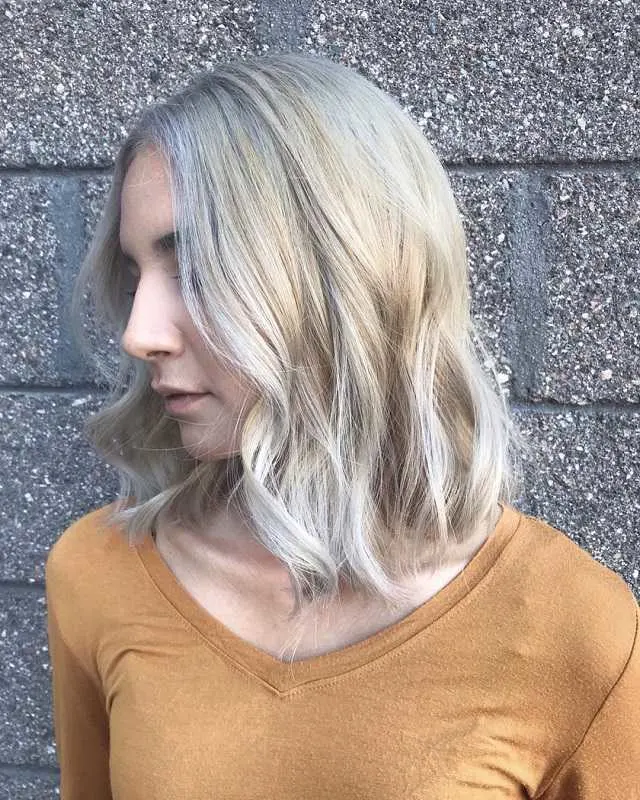 One way to avoid brassiness entirely is to choose the right hair color before you go ahead and dye your hair.
Ideally, you should opt for cooler tones, such as those that come with the word "ash" in their name. These colors are less likely to become brassy, unlike the warmer shades.
Understand It Takes Time
The very first thing you should know is that achieving blonde hair takes time, and you won't be able to get the tone you want in a single session with the hairdresser. And if they do promise you this, they will likely damage your hair.
Of course, if you have naturally light hair and you just want to go a few tones up, it is possible to do so. But if you have dark or light brown hair or straight-up black hair, it will require more than one bleaching session to get you to a light blonde tone.
Make Sure to Tone Down Your Hair Through Every Session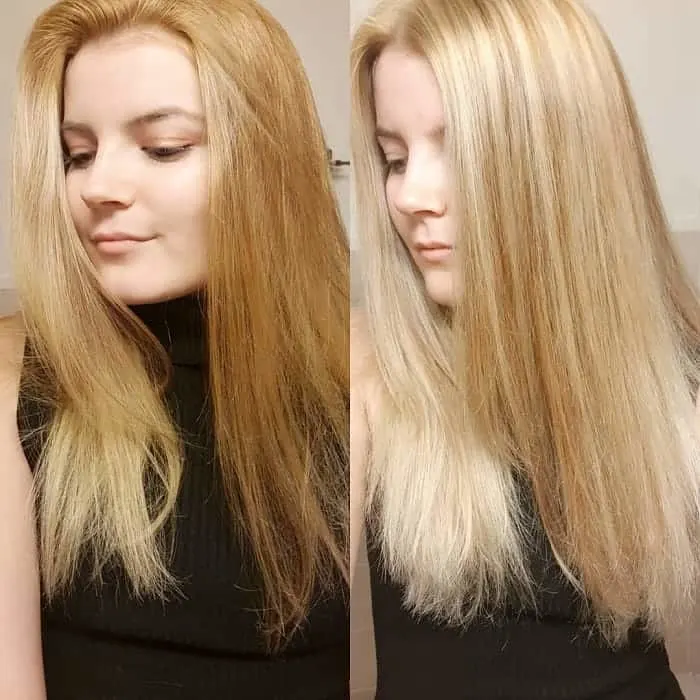 This is why you need to go to a hairdresser if you really want to avoid the brassiness in your blonde hair because professionals know you need to tone down your hair color even when you're just at the bleaching part of the process.
Meaning every time you go to a bleaching session to get your hair lighter, you will need to use a toner to get rid of any bad undertones and prepare the hair for the next session.
Deep Condition
The simplest step is to keep your hair healthy. Although this might not keep out all the brassy tones, it will help with all of the other steps if your hair is healthy, glossy, and conditioned well.
You can treat color-treated hair with a hair mask once a week and use the best conditioning agents during and after your showers. Leave-in conditioners and masks benefit the hair's health, which can prevent color breakage.
Use A Purple Shampoo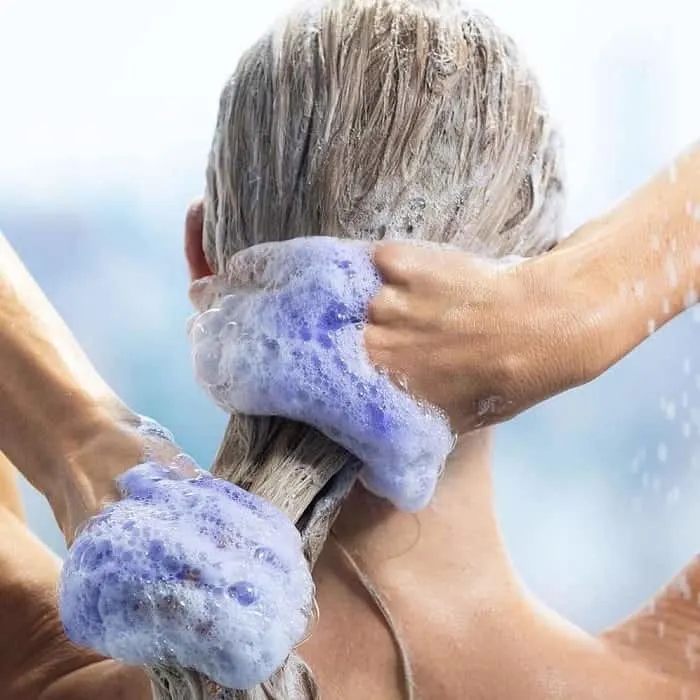 Believe it or not, toning doesn't end at the beauty salon. The reason why blonde hair turn brassy after a while it's because you aren't taking proper care of it!
You need to buy a shampoo that doubles as a toner, or what is also known as purple shampoo. This will help you preserve the blonde tone of your hair for way longer, avoiding the orange colors to show off after a week or two.
Purple shampoo is mentioned a lot lately and rightly so. Girls and women with light blonde hair may want to consider getting purple shampoo which neutralizes unwanted warm tones in your hair. Due to the fact, these shampoos are opposite of orange and other warmer hues their violet pigments eliminate brassiness and restore your color.
Yes, it can be that easy! Besides the best purple shampoo, you may want to use purple conditioner too to get rid of brassy hair.
Get Rid of Sulfates
You may have heard about sulfates, a common set of ingredients in most shampoos. While sulfates aren't all bad, you shouldn't use them on chemically altered or colored hair. Shampoos with sulfates can strip the hair of color, increasing brassiness and natural melanin.
If your hair is already dry and damaged, sulfates will increase this. It's not too hard to find sulfate-free shampoos and conditioners. Many blue and purple shampoos are sulfate-free, specifically for people who have dyed hair.
Use an Appropriate Color Shampoo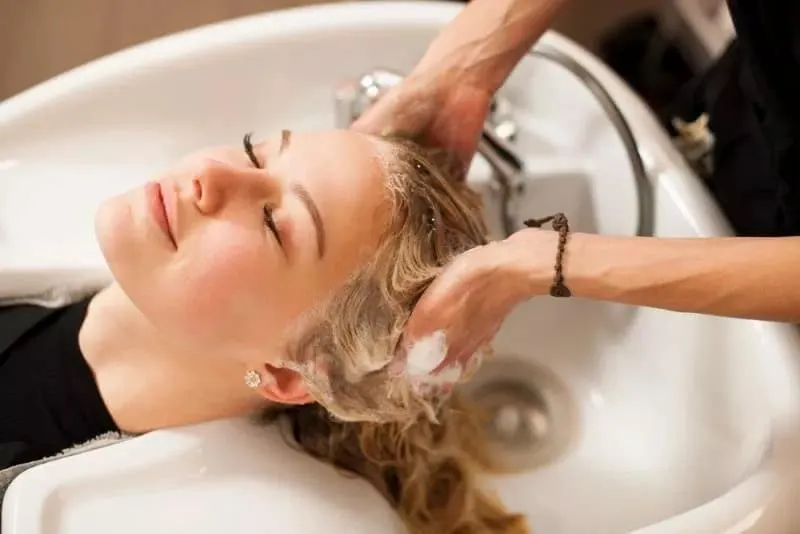 Once you dye your hair, you'll need a specific shampoo to keep the color in. You can't just choose any color shampoo, however. According to the color wheel, you'll need to pick one that works with your specific hair color.
It may seem strange, but a color shampoo on the opposite side of the color wheel will work best to hold your hair color when you wash your hair. For blonde tones, a purple shampoo works well. However, you'll need a blue shampoo if you have more orange or red tones.
Hair Color Secrets: Should You Wash Your Hair Before Dying?
Get a Shower Filter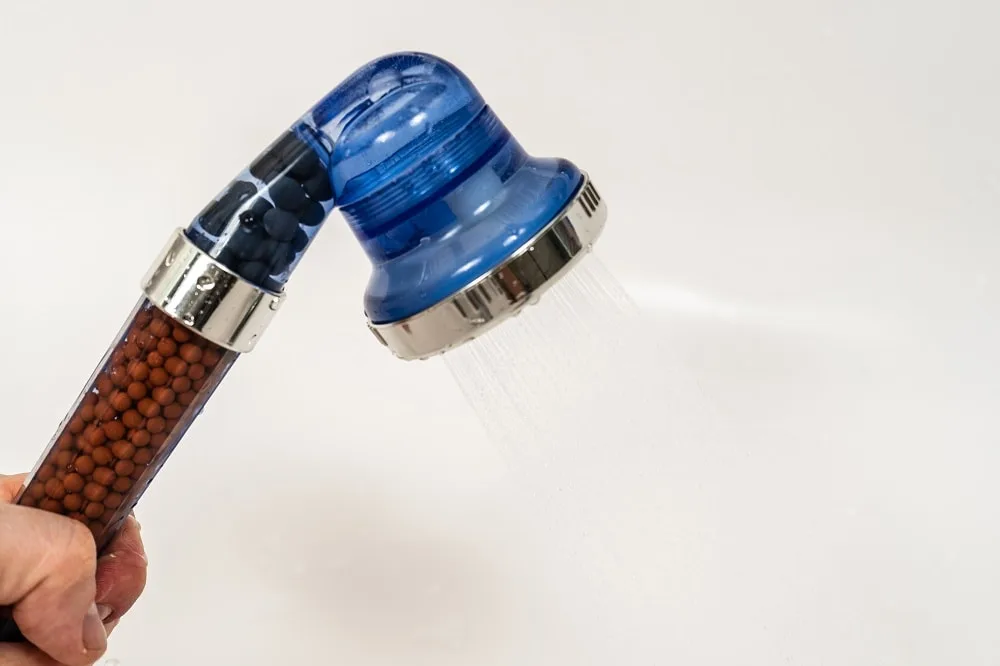 Hard water damage is difficult to undo but relatively easy to prevent. If you have hard water, it will leave a film on your hair, making it difficult for moisture and vitamins to keep your hair healthy. This does not help retain any hair dye and will increase brassiness.
If you plan on keeping your hair blonde for a while, you will want to ensure the water you wash your hair in is filtered enough. A shower filter is an excellent investment because it can filter out unwanted minerals, hard water, and other particles that could harm your hair.
Avoid Chlorinated Water
Whether you have dyed hair or not, chlorinated water is bad for your hair. Chlorine in public swimming pools and hot tubs keeps the water clean even as hundreds of people spend time in the water.
However, chlorinated water will strip your hair of its natural oils and anything else you may have added. Your hair will get dryer and less healthy. This increases brassiness, as well as a host of other hair problems.
Limit Sun Exposure
Sun's harmful UV rays are not only bad for your skin but your hair as well. How? Hair fades faster when exposed to the sun and the brassy blonde tone becomes even more visible. Summer is almost here, so a great way to avoid all this hassle is to wear a nice hat.
Plus, the hat is a great accessory; it's so fancy! Try not to spend too much time outside when the sun's rays are at their strongest. Speaking of summer, try not to spend too much time in the pool or at least make sure you protect your hair. Chlorine dries out your hair and also aggravates brassiness.
Get a Toner for Brassy Hair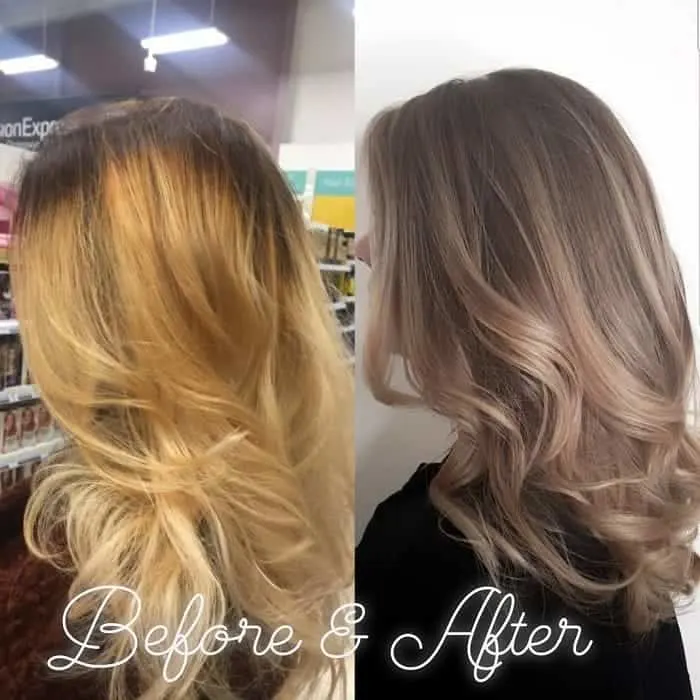 So brassy hair shows up and now what? You may want to consider some quality hair toner. Toner is, essentially, a translucent deposit of hair color that fades away after a few weeks. Not only is it practical for changing your hair color temporarily and without too much hassle, but toner also acts as a quick fix for brassy blonde hair.
Toner successfully corrects the unwanted orange, yellow, or reddish undertones due to the fact it contains a sufficient amount of pigmentation to fix your brassy tone. At the same time, toner makes your hair shiny and smooth. If you don't want to use a toner, here's how to fix your brassy hair without toner at home.
If you've recently gotten blonde hair and are experiencing brassy hair for the first time, we hope these tricks can help you get rid of your unwanted cool tones.
The steps and DIY solutions in this article will help you solve your hair problems and get your beautiful, healthy, blonde hair back in no time.
DIY: HOW TO GET RID OF BRASSY HAIR
The best advice is simple – Go visit a professional salon and get rid of brassy blonde hair. Avoid the salon that caused your brassy hair in the first place. If your hair color is fading or brassiness is driving you crazy, head to the salon for a pro gloss service between color treatments. This quick, 20-minute fix will keep your color looking fresh and brass-free for up to 6 weeks.
But if you're into DIY route there are a few ways to fix your brassy hair at home. While none of them will be quite as effective as going into the salon and getting a new toner or dye job, there are cheaper options you can do yourself with ingredients from around the house.
Many people choose to use baking soda, apple vinegar, or tea to lighten their hair and reduce brassiness. However, we are going to focus on lemon juice, as it's the most effective for getting naturally lightened blonde hair and reducing brassiness. You can use these same steps for any of the other three ingredients.
How to Reduce Brassiness Using Lemon Juice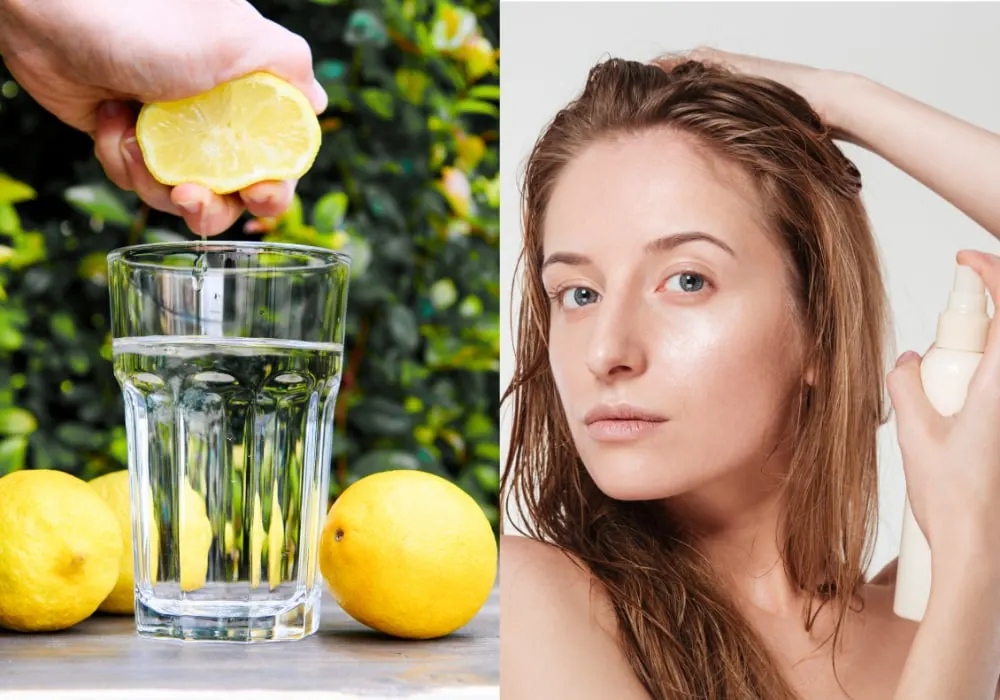 Lemon juice has natural bleaching and lightening properties. It will take out some of the darker, brassy tones and leave the natural blonde. Here are the steps for lightening your hair with lemon juice:
Use one part lemon juice to two parts water.
Mix the lemon juice and water.
Spray the mixture over the brassy sections of your hair.
Sit in the sun for 1-2 hours, with adequate sun protection for your skin.
Rinse the lemon juice out of your hair.
IMPORTANT: Deep condition your hair to prevent dryness or breaking.
These steps should give you lightened blonde hair, taking out some of the brassy colorings and bringing a natural lightness to your hair (and it will smell good).
You can also opt for below options to get rid of brassy hair.
Toning Shampoo
Got brassy hair? Toning shampoos are here to help! They're packed with pigmented formulas to kick brassiness out of your hair between salon visits. Blondes, use a purple shampoo, while brunettes should opt for a blue-tinted one. Use it 1-2 times per week to keep your color looking fresh.
Color-Treated Shampoo
Don't overdo it with color-depositing products, or you'll end up looking like a Smurf! On other days, use color-protecting and sulfate-free products to keep brassiness at bay.
Anti-Brass Hair Mask
To maintain strong, bright hair, add an ultra-pigmented hair mask to your routine. In just 5 minutes, you'll transform from brassy to classy. For even more options, check out color-depositing masks for icy, rose, and honey tones.
Frequently Asked Questions
Will toner help my brassy hair?
Hair toner is a great way to help tone down the brassiness of an old hair dye. You can purchase toner at the store and apply it at home, or ask your hairstylist to add a toner on top of the dye to help reduce the brassiness.
Should I go to a colorist?
If you've tried all of these steps and the DIY color correction, it is okay to go to a colorist for correction. Colorists can add professional-level toner or dye and assist you in finding the perfect hair color. Don't be afraid to ask for help – it's your hair, and you should love it!
How long does it take for brassy hair to fade?
A permanent dye job will color your hair, but the brightness of the color will fade within 6-8 weeks. You may experience brassy coloring for a little longer than this, but the color will eventually fade and become closer to your natural hair color.
Related Topics