Blonde hair with pink highlights became popular when Christina Aguilera or Avril Lavigne have worn it, and it hasn't gone out of fashion ever since. Pink highlights are such a great way to spice up the classical blonde hair and there are some great techniques and hairstyles that can make you look stunning.
How to Do Pink Highlights
It's hard to do a neat and precise job when working with colorful highlights on blonde hair. However, if you like this look and you'd like to try it out, there are two common solutions for this problem.
The first solution is to section your hair out and start applying pink hair dye on pieces of your hair. In this case, we suggest using temporary or semi-permanent hair dye just because it's easier to remove it from your hair in case you don't like the end result.
The second solution that is probably easier and far more practical is to use hair extensions. You can take your time to carefully dye them and then clip them on. In this case, you can also use permanent hair dye if you're not planning on wearing the extensions in a different color.
Watch The Following Video of DIY Pink Highlights on Blonde Hair
How to Get Pink Hair Dye Out of Blonde Hair
If you have used temporary or semi-permanent color, there are some homemade solutions that could be useful. For instance, vitamin C from a freshly squeezed lemon juice can help get the color out of the hair or mixing baking soda with some shampoo.
Options that are a bit more aggressive but also very efficient are dish soap or detergent. However, if your hair has already been heavily bleached and you don't want to risk damaging it at home, we suggest going to the salon for a quick bleach treatment.
Popular Pink Highlighted Blonde Hairstyles
Following are the most amazing blonde with pink highlights hair ideas that girls will love this season.
Pink highlights complement blonde hair really well, especially on girls with a warm skin tone. That is because strawberry blonde hair already has a pink undertone so it will go beautifully with highlights in almost any shade of pink.
The highlights shouldn't be too chunky, but also not too thin. Make sure they are distributed evenly to blend well into the hair. Style the hair completely straight to see the full effect of the highlights.
Here's an example of how natural pink lowlight can look on blonde hair. Make sure the pink highlights are distributed evenly and that opacity of the highlights complements the opacity of your hair so that they blend well.
This blonde hair with pink highlights is so gorgeous and irresistible and it's a perfect example of how to use your hair extensions in the best possible way. Dye your hair extensions baby pink. Clip them on and use a hair straightener to curl your hair into nice loose natural curls.
Short blonde hair also looks awesome with some pink highlights that make it stand out. Your hair should be cut asymmetrically, with the front part left up to chin-length. The pink highlights should be bright. The important thing is to leave the top layer of your hair completely blond so that the bright highlights only come through from underneath.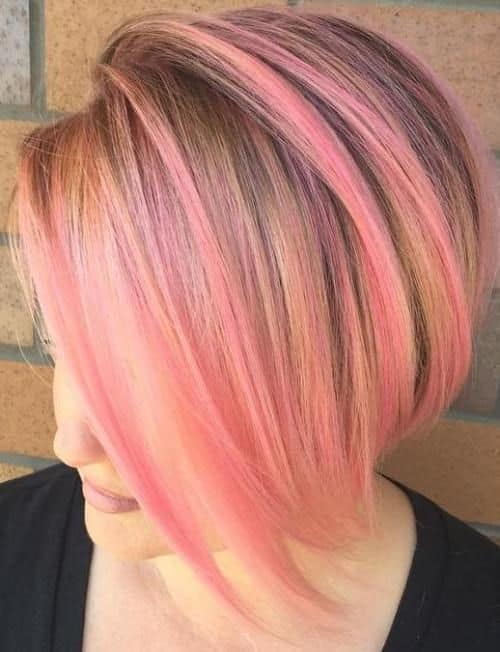 Strawberry pink is an example of a pink shade that matches warm blonde tones really well. A great example of that is this dark blonde bob haircut with pink highlights. Do a mix of highlights and lowlights on your short stacked bob, and then tone them into a beautiful strawberry pink color that completely matches your natural dark blonde hair.
6. Subtle Pink Highlights on Messy Bob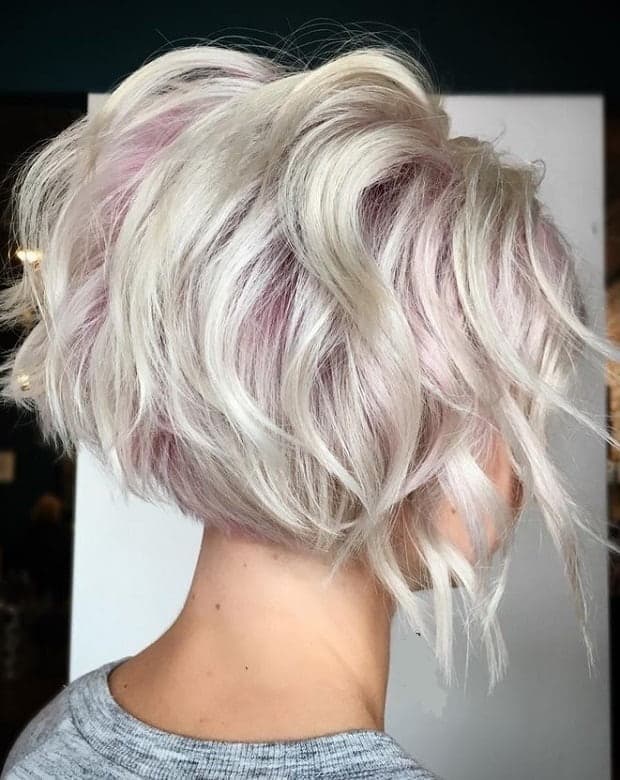 This technique where the ashy pink highlights are visible on the underneath layers helps bring out the best of your ashy blonde hair, especially if it's short. Parts of your hair should be toned with an ashy pink toner.
That will only help enhance the beauty of your pink highlighted blonde hair without making it look excessively pink. Wear the hair curled into loose waves to show the effect of the highlights.
Another way to use your colorful extensions is to braid them into a nice side braid. In this case, we've chosen this beautiful fishtail braid with baby pink highlights on blonde hair. Clip on your pink hair extensions. Tease the top part of your hair. Braid a side braid and mess the top part out a little bit to make it look boho and natural.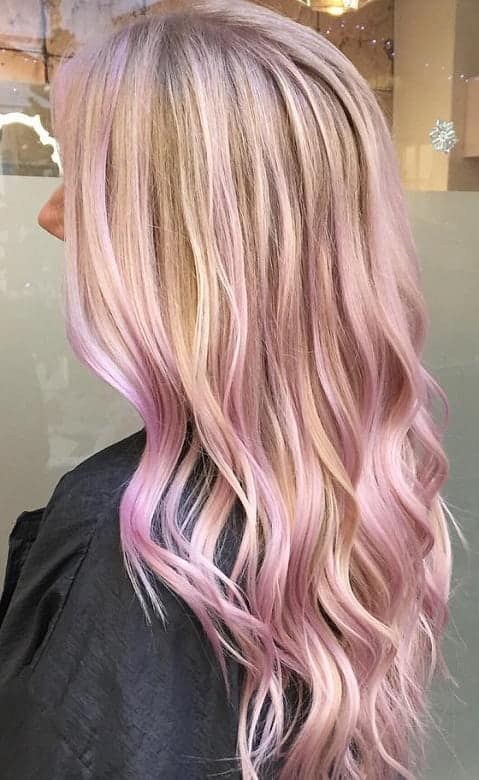 A pink balayage highlight also looks amazing on naturally blonde hair, especially if your blonde hair has a cool undertone. Highlights in different shades of pink will blend so well into the hair if you style it into beach waves.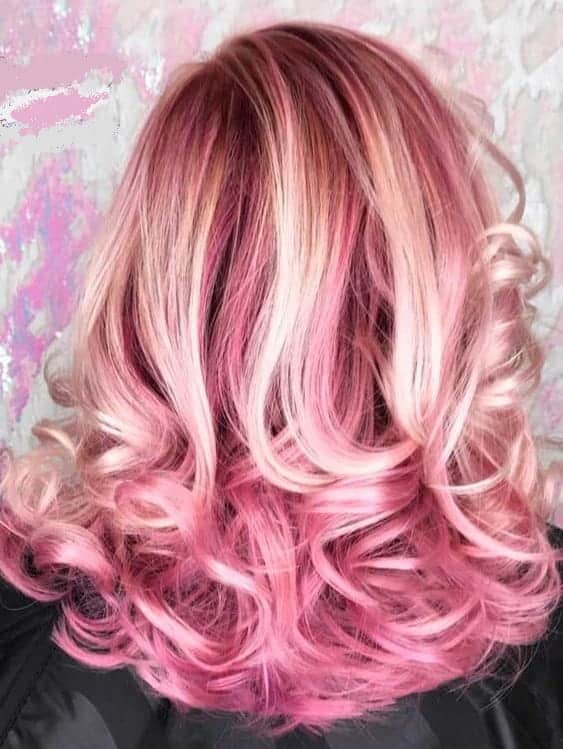 This is a perfect idea for those ladies who want to go big with their blonde hair with pink highlights. Use multiple different pink hair dyes to achieve these highlights. The highlights should be really dense so that in the end only a few pieces of hair are left blonde.
Dying only some random pieces of hair pink can look really charming, even if you're just trying it for fun. Dye a few strands from underneath the hair and also some top layer strands blonde. When you curl your hair, you will achieve this interesting blonde hair with pink streaks.
FAQs on Blonde Hair with Pink Highlights
Q. Which Pink Shades Go Well with Blonde Hair?
Ans: This depends more on the shade and undertone of the blonde base and on your personal preference than on the pink shades.
If you have a warm skin tone, we suggest honey blonde tones combined with warm or bright shades of pink hair. And if you have a cool skin tone, go for cool blondes with ashy or lilac hair highlights.
Q. How Long Does Pink Hair Dye Last?
Ans: The average time is usually indicated on the box, but, in general, there are many factors that you should consider. First of all, it depends on whether the color is permanent, semi-permanent or temporary. Secondly, it depends on how light and heavily bleached your hair is. Bleached hair tends to cling on to the color longer than hair that has some pigment left in it.
By now you've probably gathered some new ideas on how to get your blonde hair to a whole new level with some gorgeous pink highlights, and we're living for it! So which one of the pink highlighted blonde hairstyles are you gonna pick for yourself?