Are you in your 30s and looking for brunette hair color inspiration? Do you feel that you've been told throughout your life that brunette hair equals boring? Just look at our list of brunette actresses in their 30s and you'll find how attractive brunette hairstyles can be!
When we think about brunette hair color, it's easy to just think of it as simply "brown". We've heard the phrase "blondes have more fun" more times than we can count.
However, brunette hair color is just as fun as blonde and adds an air of sophistication and class to any look. It has such a wide range of rich, beautiful shades, it's truly so much more than just boring old "brown".
Iconic Brunette Actresses in Their 30s
When looking for hair color inspiration, there's no better place to look than the red carpet. Hollywood actresses set the trends when it comes to hair color and they do not disappoint in the brunette hair department.
We handpicked our 15 favorite brunette actresses in their 30s to prove that brunettes are anything but boring. If you're younger, check out these brunette actresses under 30.
Selena Gomez – Brown Layers
Selena Gomez may run a makeup empire but she also knows how to be a stunning brunette! The chocolate brown with the chestnut pieces throughout is a winning combo we love.
Shailene Woodley – 50s Bouffant with Curtain Bangs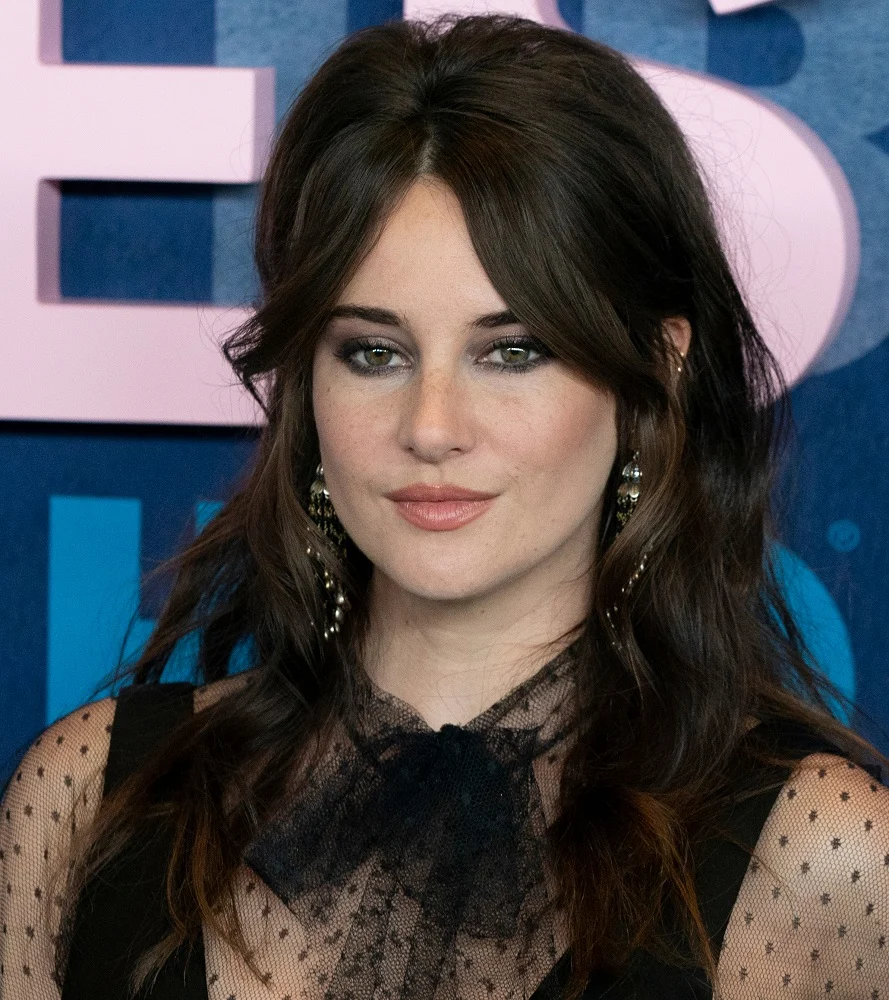 Shailene Woodley's 50s-inspired bouffant paired with this deep chocolate brunette hair color makes us swoon. Notice the little caramel balayage pieces at the very ends of her hair, it's little details like those that keep brunette hair fun and interesting!
Emma Roberts – Chocolate Layers
Dark chocolate brunette looks stunning on Emma Roberts. We love how her eyebrows match perfectly with her chocolatey hair and also the way this hair color makes her lip color pop!
Emma Watson – Hollywood Updo
Emma Watson wears a great example of ash brown hair, this color looks amazing on our Harry Potter princess. This color looks great with her freckles and gorgeous brown eyes.
Lily Collins – Caramel Brown Waves
Lily Collins stuns with this caramel-brown hair color. The shine of this hair color alone is sure to turn heads. This is a great example of how an all over brunette without highlights or balayage is still eye-catching.
Elizabeth Olsen – Sandy Balayage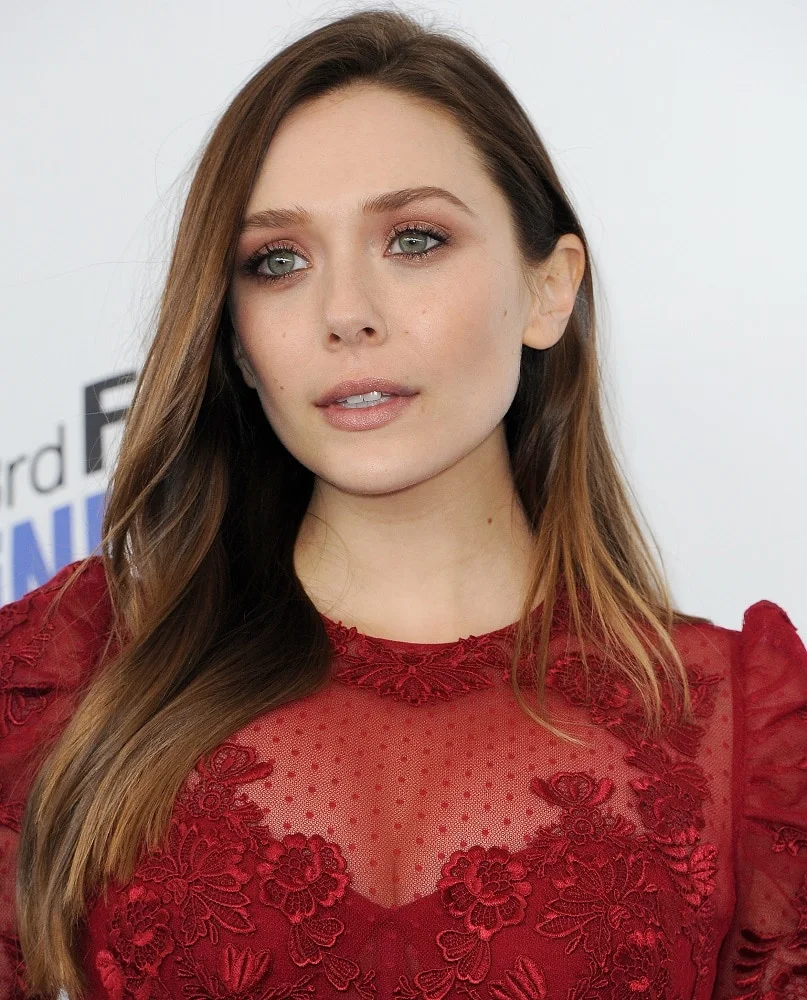 Elizabeth Olsen is one of our favorite brunette actresses over 30! Her sandy brown, balayage brunette is magical! This hair color would look great on long hair like hers or would also work well on a shoulder-length bob.
Riley Keough – Mahogany Brown Hair
Mahogany hair color at its best. Riley Keough's brunette shows us you can have quite a bit of red in your hair while still being a brunette. The combination of her blue eyes, fair skin and reddish brown hair make a beautiful statement.
Allison Williams – Classic Center Part
How pretty is Allison William's caramel brown hair with sandy brown dimensional pieces! This hairstyle proves that a brunette can have a beachy, carefree hair color just like a blonde.
Anna Kendrick – Side Swept Locks
Who could resist Anna Kendrick's long, luxurious chocolate locks. We love the subtle dimension on the ends of her hair and the deep side part style (va va voom!).
Megan Fox – Front Layers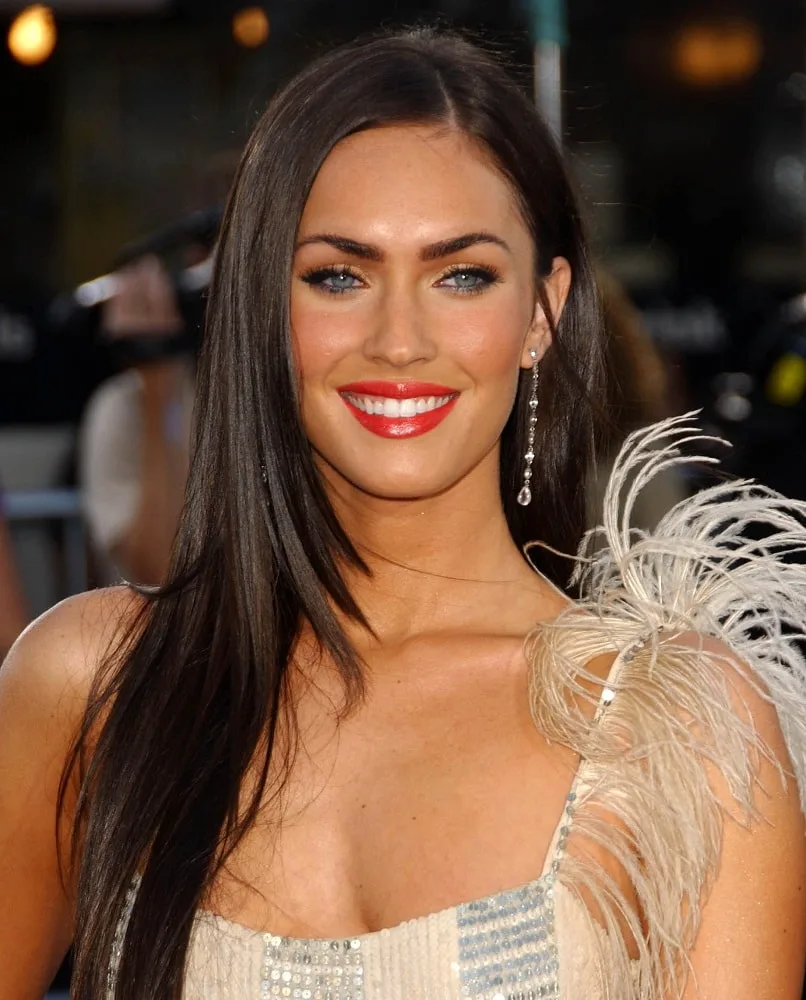 We love the mystery and glamor of Megan Fox's super dark, chocolate brunette. The darker the brunette, the more shine you'll see and this dark hair is positively radiant! Notice how this hair color really makes Megan's blue eyes pop!
Gal Gadot – Wavy Lob
This all over caramel brunette hair color is fit for any superwoman. Gal Gadot pairs this gorgeous warm hair color with a sophisticated bob for hair that could be worn on the red carpet or for running a casual errand… it's perfect for any occasion.
Kiera Knightly – Tousled Updo
A rich, chocolate brown makes porcelain skin like Kiera Knightly's really glow. The perfect brunette shade can highlight delicate facial features in the most flattering way.
Aubrey Plaza – Long Curtain Bangs
Aubrey Plaza shows us that with curtain bangs and caramel locks you're sure to shine. The subtle balayage ribbons make this hair color absolutely perfect.
Mandy Moore – Choppy Bob
Mandy Moore is the picture of sophistication with this brunette bob. She is one of the most famous brunette actresses in their 30s who is still turning heads with her hairstyles.
Notice how the caramel balayage adds the perfect amount of dimension and defines the soft waves of her classic Hollywood hairstyle.
Olivia Wilde – Golden Brown Locks
We cannot get enough of this hair color! The ashy brunette base is perfectly combined with the caramel brunette ends. Olivia even has a few blonde pieces thrown into the mix, we are obsessed!
Brunette Hair Color Shades
Chocolate: Chocolate is a dark shade of brown made up of gold and red tones. The chocolate brunette is warm, bronzy, and beautiful. Makes blue eyes pop. Looks great on both light and dark skin tones.
Chestnut: Chestnut is a medium shade that has subtle red undertones. It's universally flattering and brightens up every skin tone. Looks good on everyone, universally flattering.
Caramel: Carmel brown comes in both light and dark shades. It's a golden-toned brown and one of the most popular brunette hair color choices. Looks best on darker skin tones and brown eyes.
Mahogany: Mahogany is equal parts brown and red. When mixed together these tones create a rich, deep brunette. Mahogany is a warm brunette and looks best on cool to neutral skin tones.
Ash: Ash brown is a medium shade in the brunette family. It includes gray and silver tones. We usually think of brunettes as warm but ash browns are perfect for those who prefer cool tones. Looks great with blue eyes and cooler skin tones.
Sand: Sand is a lighter shade of brunette. It is neutral to cool-toned brown and is often described as beige or honey. It combines warm tones like gold and cool tones like purple or silver to create its sandy effect. Looks great with green eyes and all skin tones.
Pro Tip: Keep in mind that you can use more than one of these brunette hair color shades in your hair. For example, a dark chocolate brown base with caramel balayage ribbons. Gorgeous!
We hope these brunette celebrities in their 30s were able to show that brunette hair is not only glamorous but fun and sexy as well!
Let these famous beauties be your brown-haired inspiration and bring your favorite pictures to your next hair coloring appointment so you can get the brunette hair you've been dreaming of!
Key Things to Remember About Brunette Hair in Your 30s
Brunette hair is just as fun and eye-catching as blonde or any other hair color out there!
Brunette hair comes in many different shades and tones so there is a brunette shade out there for everyone.
Brunette hair is perfect for women in their 30s as it provides an extra boost of class and sophistication.
Trending Topics