Thick beard! A dream for some guys. To grow a beard thicker is really a challenge for those guys who do not have this ability in their gene. They quit growing their beard because of a lot of hectic tricks and go with a clean-shaven face instead.
The main question that arose while reading these first few lines is why people consider beard as an important factor in men's personality? It is because the beard has the power to transfer the guys from babyish appearance to powerful masculine men.
If you are among those men who face challenges while growing thicker beard, worry no more! Here, you will explore the ways of growing and trimming the thick beard hair as well as the beard styling ideas that will make you the "one" in the crowd.
How to Make Beard Look Thicker
The thickness of beard depends on the genetics, male hormone level and lifestyles of a man. If you want to grow your beard fast and thick, you must follow the below steps;
The first and most major step in growing your beard thick is "not to trim your beard at all". Some guys fed up of the itching that caused by new-grown beard follicles and in order to get rid of that itching, they trim their beard. It not only causes the slow growth of beard but also affects its thickness.
Use beard oil once you start growing stubble. Beard oil will make your beard hair thick and also prevent the severe itching.
Eliminate the stress from your life. The more stress-free you live, the more thick and fast beard you will grow.
Exfoliate your skin by using a scrub. It will remove the dead cells from your face and prevent the open pores as well as ingrown beard hair.
Do exercise regularly to boost up blood circulation for thicker beard growth.
Eat a healthy diet. The protein you will take into your diet, the more you will be able to grow a thicker beard.
Take multivitamins as zinc, iron, and vitamin D and E play a vital role in growing a thick beard. Take minoxidil, if you are older and worried about your beard thickness.
Take adequate sleep and water intake. Five to eight hours of sleep is a must for men as it increases the hormonal level which ultimately improves beard growth and thickness.
How to Trim Thicker Beard Hair
Once you succeeded to grow a thicker beard, you can shape it into any shape and size by trimming it. You can trim your beard by the following ways;
Wash your beard and dry it completely because when you trim the wet beard, you may trim it more than you desire.
Now with the help of clipper, shape your cheeks line into curve cut or step cut. Whatever shape you like.
Trim the neckline completely to achieve well-maintained neckline shape.
If you want a medium length or short beard, trim the whole beard with a clipper. If you want a long beard, just shape it into a round, ducktail or square shape according to your facial features.
Trim the sideburns for a neat professional look.
While trimming, continue the use of beard comb for symmetrical trimming.
After trimming the beard, now it's time to shape the mustache. For this purpose use a small beard scissor. First, comb your mustache and cut the extra-long hair with the help of scissors.
Apply beard oil or gel for a glossy and attractive look.
Watch The Following Tutorial about How to Trim Thick Full Beard
Attractive Beard Styles with Thick Facial Hair
These are the most masculine beard looks for men with thick facial hair.
It is surely a decent way to style your thick beard. It is a perfect choice for businessmen who want to look professional and inspiring.
It is a stylish beard style but requires a lot of maintenance and care. The hairstyle choice is awesome as the bald face short haircut will give you a balanced look with a thicker lumberjack beard.
It needs to maintain on a daily basis because of its length and texture. Brush it daily to remove tangles. Blend the thick beard with the shaved head for an edgy look.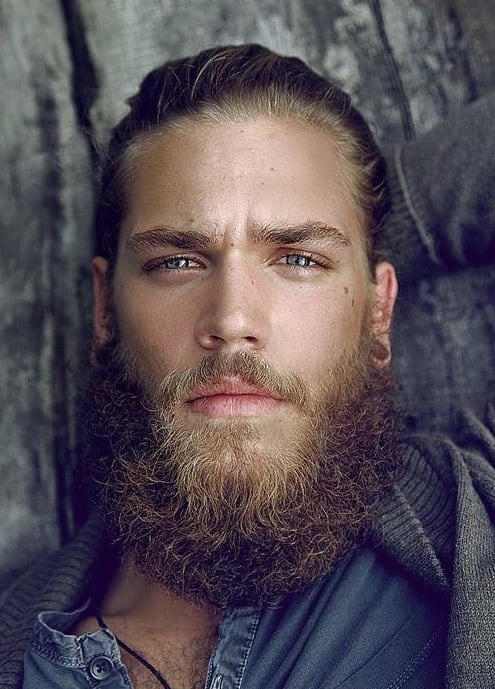 Give your thick hair beard a stylish and charming look with blond color. Slick back hair or bun hairstyle looks awesome with this round-shape medium length beard.
Ideal Short Hairstyles with Beard Looks for Men
If you have round and chubby face, grow your beard thicker with a side fringe hairstyle for an impressive look. Trim your mustache for a well-groomed look.
What a graceful look! It is balanced, evenly grown fuller & thicker beard style that looks superb with any hairstyle. It is easy to maintain a beard, just trim it when you think it becoming longer than its actual size.
7. Gentlemen Look
A bit wild but well-controlled look. Let your sideburns and thick beard hair grow freely, later shape the chin area into a square shape. Do not trim the mustache into pencil shape as thick mustache looks good with this look.
8. Salt n Pepper
Two-toned beard always looks enchanting on matured and over 30 years old men. George Clooney's beard style is one of them. A comb-over hairstyle looks perfect and completes the look of men.
It is thick chest-length beard style with a long mustache so, it is a bit difficult to maintain for some guys, as they might find difficulty in eating or drinking something.
But the above guy is wearing it in a very polished manner that's why it's looking delightful to eyes. Front bangs will make you look more stylish with the given beard style with thick facial hair.
Trendy Beard Styles with Mustache
10. Charlie Hunnam's Style
Make your personality more alluring by growing a beard like Charlie Hunnam. The beard looks disconnected from the sideburns. It looks more like an extended thick goatee with a blonde mustache. Brushed up hairstyle is a perfect choice to wear with a beard.
It is one of the most virile thick textured beard styles. Trim the cheeks hair shorter than the chin hair. Trim the chin bear into a square shape for a wide look. Let the walrus mustache cover your upper lip. Buzzcut goes well with the given beard style.
It is very intensive and impressive ginger beard style. Trim the sideburns shorter and let the whole beard to grow longer to get a medium length size. Grow the mustache longer but in a well-groomed way. Give the beard a bit rounder shape. The slick back hairstyle looks very elegant with a thick beard.
It is a very neat and professional look. It is a thicker & shorter beard style but gives one of the most effective looks to men. Comb over with taper fade hairstyle looks stunning with this beard. Apply a handsome amount of beard oil or gel to give a glossy appearance to your facial hair. Trim the mustache shorter for an even look.
14. Christian Bale's Style
It is a little messy beard style for thick facial hair. It resembles extended goatee with an untrimmed neckline. Shave the cheeks area completely and shape the beard into a goatee. Connect your mustache with the beard. A short spiky hairstyle will look stylish on you if you are thinking to adapt the Christian Bale beard style.
It resembles long stubble. Disconnect your mustache and connect it with your beard. If you have thick facial hair, it would be a plus point. Brushed up hairstyle will make your beard more promising.
If you love to grow a beard but do not want to spend time in trimming it, this men's thick beard look is surely for you. Grow your beard freely till you get the desired length. It will give you a Viking look. The side part hairstyle will look good with the bushy beard.
Coolest Mustache Styles for Men
Thick medium length hair makes a perfect combination with a heavy beard. Keep your cheeks line naturally. Grow your beard fully. Trim your mustache a bit for a neat look. Medium length hair with side-swept bangs gives your masculinity uber bewitching factor.
18. Vibrant Green Beard
Want to try something unique and unusual that will not affect your masculine features, why not try a vibrant green dye on your long and bulky beard. A spiky hairstyle with shorted side and back of the head will give you a funkier and extra modish look.
19. Medium Line up Beard
It is really a sophisticated beard style. Give your thick beard a look that no one can drive their eyes away from it. Trim the cheeks area into a line-up shape. Trim the sideburns and neckline for a neat and clean look.
Trim the mustache into a pencil shape that disconnects from the beard. For a more modish look, wear a comb-over hairstyle with a disconnected undercut and tapered back of the head.
It is an impressive choice for black men to wear. Round shape beard with a well-trimmed mustache looks awesome with a lineup hairstyle.
Does shaving make your beard grow thicker?
Absolutely not. However, the misconception is an understandable one. As it happens, there are several ways to encourage a lusher, thicker beard, but it doesn't have anything to do with your razor. Shaving doesn't impact hair growth, full stop.
For years, women have labored under the fear that shaving their legs, pits, arms, bikini lines, and unibrows will result in a jungle of hair once it grows back. There's also the popular but untrue idea that trimming your hair frequently will make it grow faster.
None of these things are true. No matter how often you shave, it won't affect your hair follicles.
FAQ's on Thick Beard Styles
What Makes A Beard Thicker?
It depends on various factors such as a person's lifestyle, genetics, diet, age, and male hormonal level. Apart from these factors, using good quality beard oil also makes your beard to look thick. If you are over 30 years old, you can take minoxidil as it stimulates beard growth eventually makes your beard thick.
Can Everyone Grow A Thick Beard?
No, everyone cannot grow their beard hair thicker. Some males grow thick facial hair easily but some have to struggle a lot to achieve it. Every person has his own genetics and growing a thicker beard depends approximately 80-85% on genetics.
What Should Be The Thick Hair Beard's Length?
A thick bushy beard looks good at any length, it's just the way that how you groom or maintain your beard. You can grow it long, medium, or short. But if you don't maintain your beard, even the short length will not suit you. Ideally, short length full beard looks elegant on men. It not only looks attractive but is easy to carry as well.
Does Heavy Beard Suit in Every Face?
Yes, a thicker & fuller beard can suit any face. It's the way how you shape it. The most ideal shape is an oval and heart face shape. If you have a round face, you can grow a long beard. If you have a narrow chin area, you can shape the beard into a square shape. If you have a square face shape, you can shape it into a ducktail.
Growing and then choosing the most suitable thick beard style is always a hard decision. Hope, the above discussion has helped you a lot about your queries. Do follow the above tips and tricks of growing and trimming the beard for a powerful and manly look.