Let's be honest, it's not easy to find box braids inspiration for white girls. Adventurous girls who aren't afraid of any challenge will rock this style with ease.
Many have the idea that box braids can damage Caucasian hair which isn't true at all! If done the right way, you can rock box braids without any issues.
Scroll down for the best box braided hairstyles that will inspire you to get it.
How to Style White Girls Box Braids
In order to make box braids for white girls, you need to part the hair in individual boxes one at a time. Then, proceed to split the section of hair in the box into three equal subsections, braided down to the ends. Like other forms of braiding, box braids are versatile and allow you to style them in different ways.
Depending on the mood, outfit, or even occasion and event you attend, your braids can be casual or elegant. Yes, your box braids can be sophisticated, too; it all comes down to the style you create.
To keep your braids lovely at all times, try to care for your scalp properly, avoid constant up-dos, and don't pull too tightly when styling. When you pick your preferred style, better to know how long you can expect box braids to last.
Best Box Braid Styles for White Girls
You've decided to go for a box braid and now what? What style to choose? How to rock this hairstyle? Get your inspiration from the below box braids that will look good on white girls too.
1. Half Blue Half Pink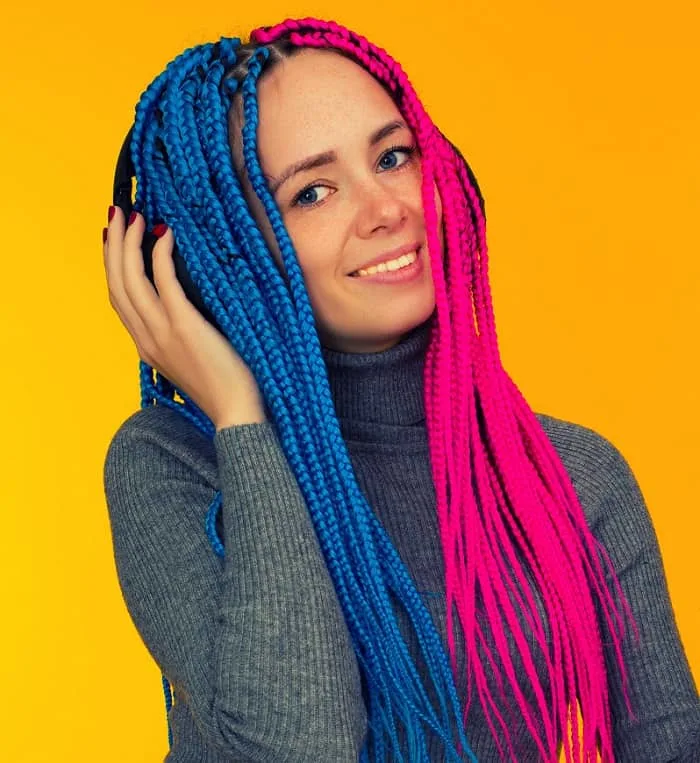 If you want to do a half blue, half pink look, you must find the right colors and make sure they match each other. In order to obtain the best-mixed medium box braids for white girls, go for squared or triangle parting and make the braids really tight, without any ends sticking out.
2. Yarn Braids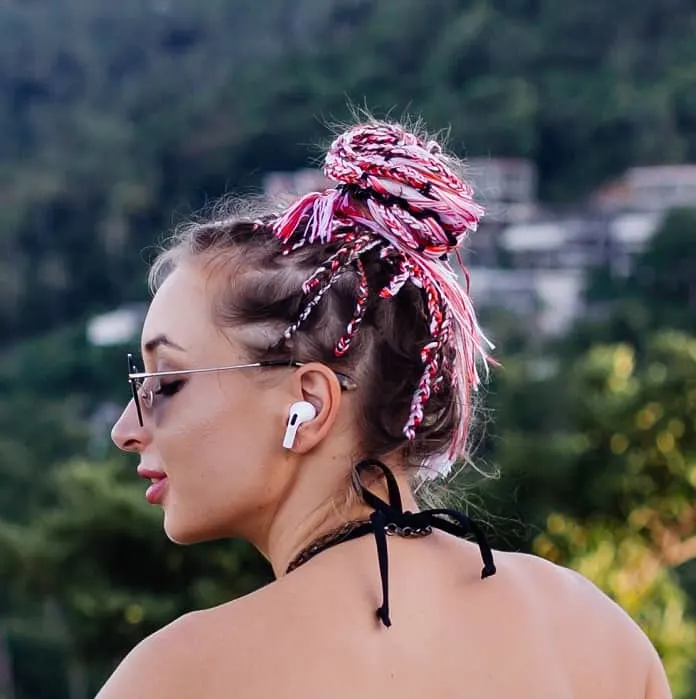 Even if the braiding technique is quite the same for these small box braids, this time, you won't be using hair bundles but yarn threads. It is a more rustic look, perfect for white girls who want to step out of their comfort zone,
3. Ombre Box Braids
Box braids are pretty versatile not only because you can use them to extend your hair, but you can also cut them in the shape of your favorite haircut.
To get these short box braids ideal for any white girl, make sure you pick ombre bundles. Once you did the braiding, dip the tips into boiling water to secure them.
4. Blonde and Casual
One of our favorite box braids for white girls. The easiest way to style this is to keep them casually glowing over your shoulders and back.
Spring and summer are just around the corner so lighter shades such as blonde can work great with your outfits. Plus, you can easily pull it up in a bun whenever necessary.
If you're looking for a hairstyle that will add more drama into your whole look, then you'll definitely want to try super long braids. Use extensions to add fullness and length to your natural hair.
Dramatically long box braids for white girls allow you to stand out and they're great for creating different styles from buns to high ponytails.
You're a type of girl who loves to try out some edgy hairstyle from time to time? In that case, colorful braids can bring out all your edginess.
This white girl with box braids is cute, vibrant, and bold at the same time. Use extensions of different colors to mix and match. You can either opt for lighter shades, darker ones or mix both kinds to achieve a unique effect.
There comes the time when you just want a simple hairstyle, but it also needs to be fabulous at the same time. Not a problem! White girls with bob box braids let gently flowing down above your shoulders are simple, minimalistic, yet they give out an ooze of fabulousness.
Let's not forget these braids shape your face perfectly. The best thing of all is that it's super easy to get ready and go out.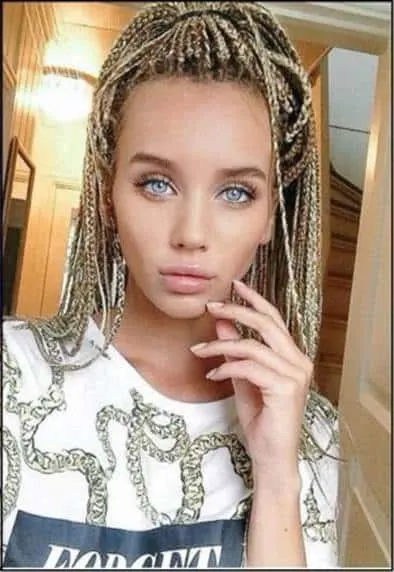 Here's a cute hairstyle to try with your box braids; pull them up in a high ponytail. Not only are ponytails cute, but they're also quite classy.
You can pair this white girl's box braid hairstyle with a dress or even some casual outfit, and it's your choice. For extra effect, add extensions to your hair for bigger volume. When you pull the hair up in a ponytail, it will be fierce.
9. Box Braid Meets Cornrows
A great way to style box braids on white girl's hair is to combine them with other braids and dos. The photo is a great example of how box braids can act in synergy with cornrows.
Just create cornrows on one side of your head behind your ear. That way, one side will be tighter while the other side (without cornrows) will be more relaxed with box braids gently framing your face.
Even though in most cases we see white girls with blonde box braids they also look great in darker shades. Let's be honest, and you can opt for any color you'd like and still look fabulous.
This hairstyle involves extensions that add fullness and length to your hair. Pick up your hair in the bun but instead of using all to make a super big bun just let it flow down over your shoulder.
Beautiful Blonde, Red and Burgundy Box Braids Styles to Explore
If you're feeling quirky then this box braided look is perfect for you. Make two buns that resemble Minnie Mouse ears to show off your fun side.
These cute braided buns are ideal for girls who love to party and aren't afraid to experiment with their hair.
12. Box Braids in Red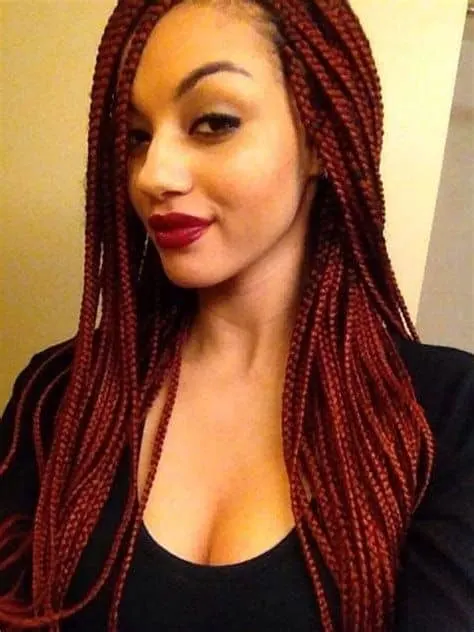 Braids are a sensual twist on luscious red hair that we know and love. Keep braids straight and long or pull them up in a bun, you decide. For this look, you can also opt for a red lipstick that will make you look super hot.
13. Box Braids with A Pink Strand
Long box braids with a few pink strands are ideal for girls who want to make some tweaks in their hairstyle but don't want to change color entirely. Add more drama to your look with a huge, rich bun.

If you are looking for trendy box braids for white girls, this is one of them. It's not just about buns and ponytails, and you can style your hair in other ways too. Combine your box braids with silver or grey color and add a cute cap for a chill look.
15. Black and White Box Braided Bun
You will probably need around 8-10 packs black and white ombre hair for this hairstyle, if you want the knits to be thin and long.
Before you start braiding, use apple cider vinegar and warm water for bathing the tips of your hair. Let it sit for about 20 minutes to get out that alkaline coating off.
16. Blue Ombre Space Buns
If you're a patient girl, you might try to recreate this look at home but we have to warn you that it might take you a couple of days to do the full head. Before you start braiding, make sure the hair is prepped, moisturized, and thoroughly combed.
17. Box Braids for White Girls
Your daughter will love this look because it is colorful, vibrant, and so cool. It would be best if you had purple, pink, and pastel mauve, and pink yarn, and you'll mix these threads to install those gorgeous box braids.
Ensure the sectioning is done in the shape of a triangle and the bangs are side swept and not braided.
18. Red Ombre Box Braids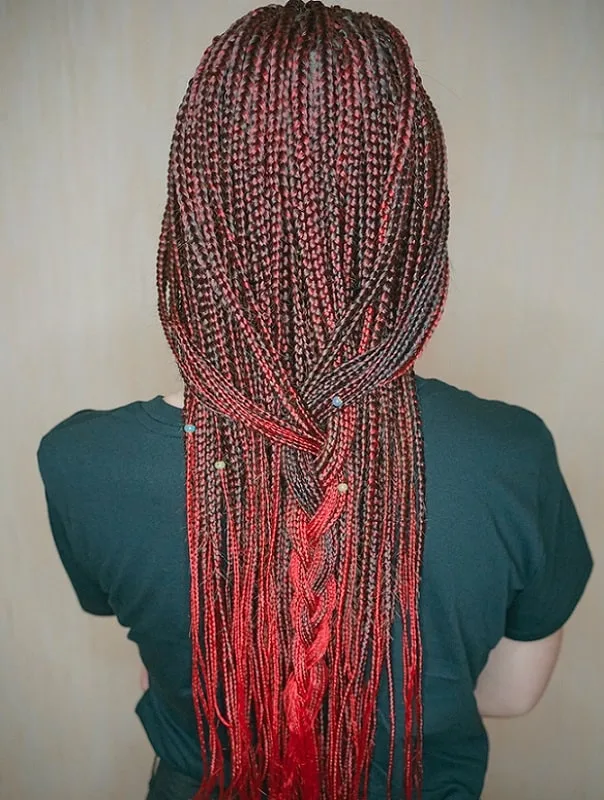 As a woman with dark hair, by using red Jumbo hair you will get a gorgeous ombre effect. Dip the tips in hot water to secure them and build a loose braid in the back, keeping the frond knits away from the face.
19. Mauve Pink Ombre Box Braids for White Girls
When having light skin, pastel ombre box braids will work their magic on any white girl. Section the hair in triangles on the top and do the diamond parting on sides because you'll get a fuller appearance and it allows the hair to fall in between the spaces.
20. Chunky Blonde and Mauve Braids
As a white girl, platinum blonde jumbo box braids with pastel mauve pieces will perfectly suit your skin color. Apply a fair amount of edge control on the roots and underhand the braid to make it tighter.
21. Half Up Half Down Dark Copper Braids
Copper brown box braids are a great base for all sorts of decorations: from hair rings to golden threads wrapped around some of the knits. For white girls, with fine hair, we recommend you to make the braids chunkier and tight.
22. Teal Box Braids for White Girls
These box braids look mesmerizing, especially thanks to that unusual rounded section parting. Use plenty of hair gel and edge control to make sure your natural hair stays within the braid and knit them as tight as you can.
23. Inverted Bob Box Braids
As we have previously mentioned, you can use box braids to replicate all sorts of haircuts, including bobs that are shorter in the back and with more length in front. To do so, you will need very thin braids that can be styled and flipped just the way you please.
FAQs
Can I wash box braids?
Of course, all hairstyles require a little bit of maintenance and box braids aren't an exception. Although they don't require too much maintenance, you still need to learn how to care for them properly.

Of course, you can wash white girl box braids but make sure you don't do it too often. Ideally, you must wash your hair about once a week or two. That being said, you need to keep your scalp clean and take care of it more often.

To clean your scalp, you need to dampen a washcloth and dip it in warm water combined with witch hazel astringent. Next, part your hair and rub the cloth on your scalp to clean it properly.
How long do box braids last?
Box braids can last four to six weeks. In fact, six weeks or two months is the longest time it's recommended to keep these braids in your hair.
Box braids and feed-in braids, are they the same?
Braids come in different shapes and forms, and although they may appear almost identical at first glance there are subtle differences.

Box braids are, basically, individual plants that are usually divided by square- or box-shaped hair divisions, hence the name.

While these braids can be of varying width or length most women usually add extensions for bigger volume but also to make them longer.

On the other hand, feed-in braids are essentially cornrows that got their name after feeding in increasingly thicker strands of hair as the braid is formed. The similarity of both styles is in the fact that girls usually opt for a combination of their natural hair and extensions.
If you've ever wanted to try out box braids despite being a white girl now is an excellent time to go ahead and do it finally. Throughout this post, you've seen 23 amazing styles that are bound to inspire you. Remember, proper maintenance is vital to make sure you clean your scalp regularly.
You May Also Like