Let's be honest, it's not easy to find box braids inspiration for white girls. Adventurous girls who aren't afraid of any challenge will rock this style with ease. Scroll down for 23 box braided hairstyles that will inspire you to get it.
How to Style White Girls Box Braids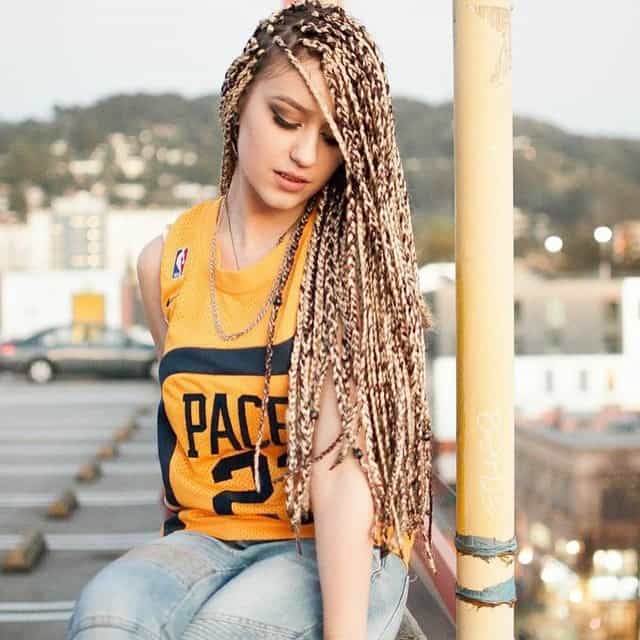 In order to make box braids for white girls, you need to part the hair in individual boxes one at a time. Then, proceed to split section of hair in the box into three equal subsections, and it's braided down to the ends. Like other forms of braiding, box braids are versatile and allow you to style them in different ways.
Depending on the mood, outfit, or even occasion and event you attend your braids can be casual or elegant. Yes, your box braids can be sophisticated too; it all comes down to the style you create. To keep your braids lovely at all times try to care for your scalp properly, avoid constant up-dos, and don't pull too tightly when styling.
Best Box Braid Styles for White Girls
You've decided to go for a box braid and now what? What style to choose? How to rock this hairstyle? Get your inspiration from the below box braids that will look good on white girls too.
1.
medium box braids for white girl
2.
small box braids for white girl
3.
short box braids for white girl
4. Blonde and Casual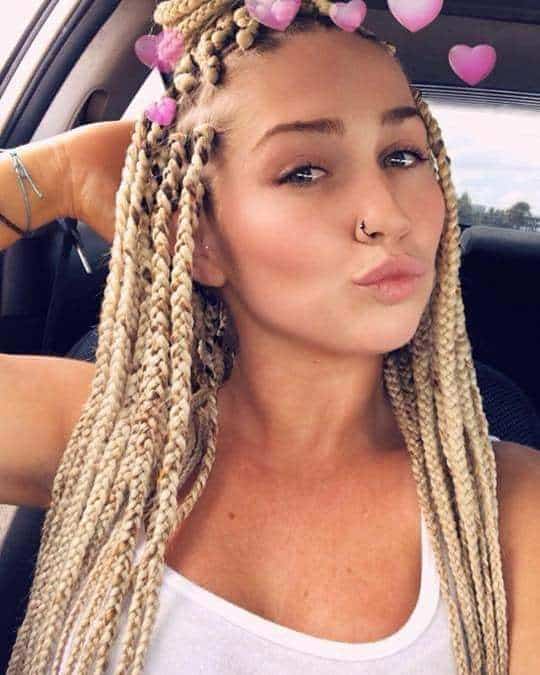 One of our favorite box braids for white girls. The easiest way to style this is to keep them casually glowing over your shoulders and back. Spring and summer are just around the corner so lighter shades such as blonde can work great with your outfits. Plus, you can easily pull it up in a bun whenever necessary.
If you're looking for a hairstyle that will add more drama into your whole look, then you'll definitely want to try super long braids. Use extensions to add fullness and length to your natural hair. Dramatically long box braids for white girls allow you to stand out and they're great for creating different styles from buns to high ponytails.
You're a type of girl who loves to try out some edgy hairstyle from time to time? In that case, colorful braids can bring out all your edginess.
This white girl with box braids is cute, vibrant, and bold at the same time. Use extensions of different colors to mix and match. You can either opt for lighter shades, darker ones or mix both kinds to achieve a unique effect.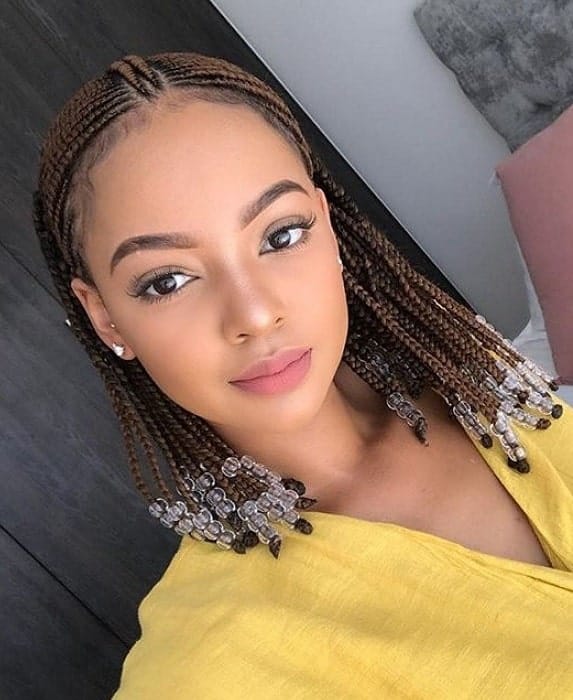 There comes the time when you just want a simple hairstyle, but it also needs to be fabulous at the same time. Not a problem! White girls with bob box braids let gently flowing down above your shoulders are simple, minimalistic, yet they give out an ooze of fabulousness. Let's not forget these braids shape your face perfectly. The best thing of all is that it's super easy to get ready and go out.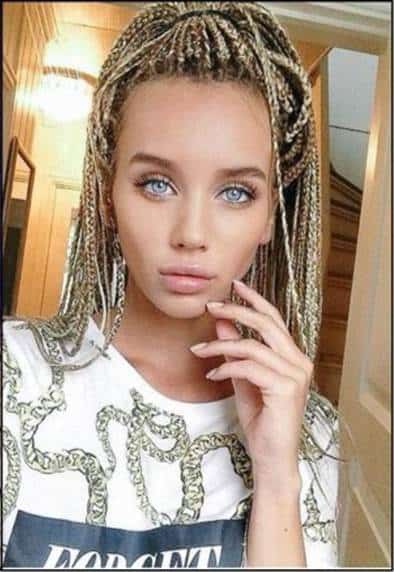 Here's a cute hairstyle to try with your box braids; pull them up in a high ponytail. Not only are ponytails cute, but they're also quite classy. You can pair this white girl's box braid hairstyle with a dress or even some casual outfit, and it's your choice. For extra effect, add extensions to your hair for bigger volume. When you pull the hair up in a ponytail, it will be fierce.
9. Box Braid Meets Cornrows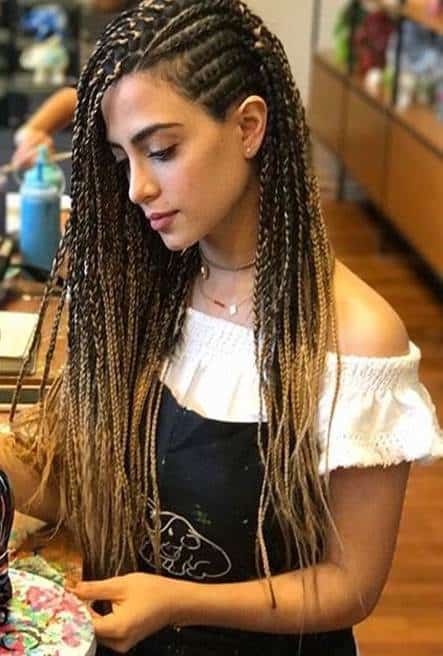 A great way to style box braids on white girl's hair is to combine them with other braids and dos. The photo is a great example of how box braids can act in synergy with cornrows. Just create cornrows on one side of your head behind your ear. That way, one side will be tighter while the other side (without cornrows) will be more relaxed with box braids gently framing your face.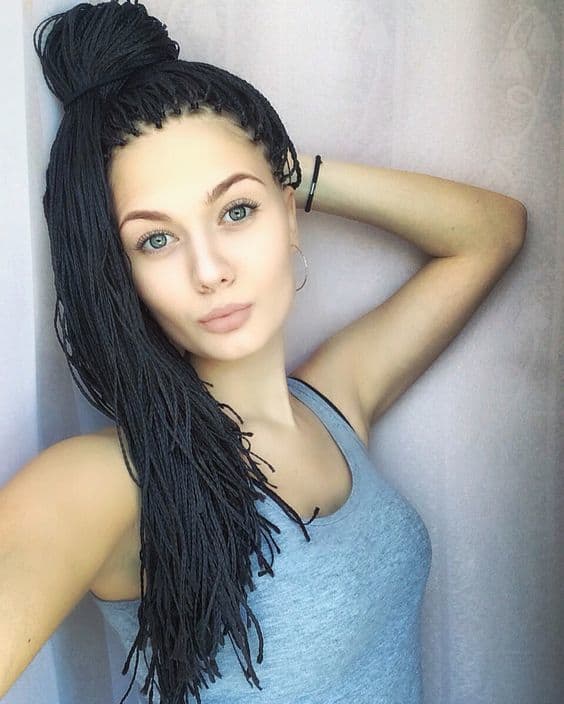 Even though in most cases we see white girls with blonde box braids they also look great in darker shades. Let's be honest, and you can opt for any color you'd like and still look fabulous. This hairstyle involves extensions that add fullness and length to your hair. Pick up your hair in the bun but instead of using all to make a super big bun just let it flow down over your shoulder.
Beautiful Blonde, Red and Burgundy Box Braids Styles to Explore
If you're feeling quirky then this box braided look is perfect for you. Make two buns that resemble Minnie Mouse ears to show off your fun side. These cute braided buns are ideal for girls who love to party and aren't afraid to experiment with their hair.
12. Box Braids in Red
Braids are a sensual twist on luscious red hair that we know and love. Keep braids straight and long or pull them up in a bun, you decide. For this look, you can also opt for a red lipstick that will make you look super hot.
13. Box Braids with A Pink Strand
Long box braids with a few pink strands are ideal for girls who want to make some tweaks in their hairstyle but don't want to change color entirely. Add more drama to your look with a huge, rich bun.

If you are looking for trendy box braids for white girls, this is one of them. It's not just about buns and ponytails, and you can style your hair in other ways too. Combine your box braids with silver or grey color and add a cute cap for a chill look.
15.
16.
17.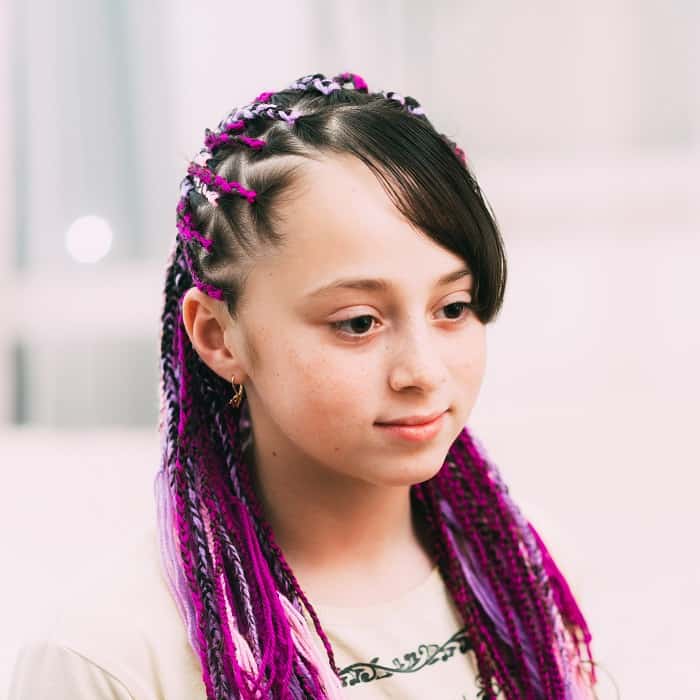 18.
19.
ombre box braids for white girl
20.
jumbo box braids for white girl
21.
brown box braids for white girl
22.
23.
FAQs
Q. Can you wash box braids?
Ans: Of course, all hairstyles require a little bit of maintenance and box braids aren't the exception. Although they don't require too much maintenance, you still need to learn how to care for them properly. Of course, you can wash white girl box braids but make sure you don't do it too often. Ideally, you need to wash your hair about once a week or two.
That being said, you need to keep your scalp clean and take care of it more often. To clean your scalp, you need to dampen a washcloth and dip it in warm water combined with witch hazel astringent. Next thing to do is to part your hair and rub the cloth on your scalp to clean it properly.
Q. How long box braids last?
Ans: Box braids can last four to six weeks. In fact, six weeks or two months is the longest time it's recommended to keep these braids in your hair.
Q. Box braids and feed-in braids, are they the same?
Ans: Braids come in different shapes and forms, and although they may appear almost identical at first glance there are subtle differences. Box braids are, basically, individual plants that are usually divided by square- or box-shaped hair divisions, hence the name. While these braids can be of varying width or length most women usually add extensions for bigger volume but also to make them longer.
On the other hand, feed-in braids are essentially cornrows that got their name after feeding in increasingly thicker strands of hair as the braid is formed. The similarity of both styles is in the fact that girls usually opt for a combination of their natural hair and extensions.
If you've ever wanted to try out box braids despite being a white girl now is an excellent time to go ahead and do it finally. Throughout this post, you've seen 23 amazing styles that are bound to inspire you. Remember, proper maintenance is vital to make sure you clean your scalp regularly.