Children usually have thin and short hair. That's why crochet braids can be a great way out for kids on a special occasion when you want your child to sport long and voluminous hair. Be it a beauty pageant, a photo shoot or a wedding, crochet braids for kids are a perfect choice.
The main advantage of these braids compared to the other types of hair extension is attachment simplicity. The special crochet hook that comes with a package of crochet hair allows you to easily weave the locks into the kid's natural hair. All you need to do is learn how to make cornrow braids. The rest can take less than 1 hour.
Should I Color Kid's Crochet Braids?
It's not recommended to dye your kid's hair but it doesn't mean you can't experiment. Buying crochet braids with color allow you to create any kind of color mix on your kid's head. Children love color experiments so you can even allow your child to choose the color she wishes.
Don't be afraid to go with outrageous blue, green, and violet shades. If you don't like the result, the crochet braids take just a few minutes to remove.
Here is a video tutorial showing exactly how to style crochet braids for kids:
Wonderful Crochet Braids for Your Kids
When you buy kid's crochet braids, you can save a lot of money. These hair extensions are usually the cheapest of their kind. Since children don't like to stay in one place for a long time, you need an option which is the fastest.
That's what crochet braids are. You start with creating cornrows. Then you use the special hook to attach the weave to the little girl's cornrow braids. The time it takes to complete the hairstyle depends on the thickness of the kid's hair.
Give the girl a voluminous and stunning hairstyle with Senegalese twists. They are a big hit all over the world and any kid would love to sport them. Remember, such hairstyle is heavy and might be uncomfortable for younger children.
Havana mambo twists are a great way to make your little girl shine. Add some hair rings to make the hairstyle neater and easier to manage. The longer the crochet braids for kids are, the more voluminous they appear.
3. Large twists
Large twists create plenty of volume while not being too heavy. A child's neck is not strong enough to bear large amounts of hair. That's why lighter versions of hair extensions should be used.
Cutest Little Girl Hairstyles For Your Princess
4. Thin twists
These twists are exactly what you need for a child. They are not too heavy and look perfectly suitable on a small head. You can buy use any length to make the kid look beautiful. However, such braids take longer to attach.
5. Natural curl
You can use crochet braids for kids when you need to add a little volume. You don't have to use twists or other braiding techniques for the girl's hair. A few curly hair extensions are enough to create a polished appearance.
6. Loose beauty
Loose twists look wonderful on little girls especially if you don't overdo the length. Short bobs look extremely cute especially when they are complemented by the smooth and neat hair extensions.
7. Pageant look
You don't have to cover the cornrows, which you create to attach the crochet braids. You can use the hair extensions as part of the pageant hairstyle. The natural hair is braided on top and the weave creates a voluminous ponytail.
8. Stylish bob
You can use crochet braids to make a fashionable hairstyle for kids. This bob is created by using hair extensions of different length. The hairstyle is perfect for special occasions and for everyday wear.
9. Partial braids
It's up to you which crochet braids to choose. You can buy loose hair extensions and create any hairstyle you wish. You can do partial braids by braiding just the top half of the strands and leaving the rest curled.
10. Headbands
Headbands do a great job keeping together the new crochet braids hairstyle. Since hair extensions are usually long, they are hard to deal with. Consider buying hair accessories to make the child comfortable.
11. Colored braids
Crochet braids come in different colors and it's a wonderful opportunity to allow your child to shine without any harmful hair dyeing. Use any colors you or the kid wishes to create a fabulous hairstyle.
12. Tight twists
Tight twists make the crochet braids for kids look smaller and allow you to come up with various long hairstyles. The longer the braids are, the more fun you can have creating pageant looks.
Best Hairstyle Ideas for Little Black Girls
13. Color Mixes
You can use natural colors such as black and brown to make the kid's hairstyle even more impressive. You don't have to arrange the extensions into twists. Loose hair also looks stunning.
14. Short and fabulous
The shorter the crochet braids for kids are the cuter they look. Consider getting short hair extensions for girls younger than 6. Long and large hair often looks strange on little girls' heads and makes them uncomfortable.
15. Crochet Mohawk
Use crochet braids to have fun with various outrageous hairstyles. For example, you can create a mohawk by braiding the hair on the sides of the head and attaching hair extensions on the top and the back.
16. Lustrous curls
Crochet braids can add some fantastic luster to your natural curls. All you need to do is learn how to make small cornrow braids and attach the hair extensions. You'll get fantastic and long lasting hair as a result.
17. Crochet bangs
You can use crochet braids to create fantastic braids on your kid's head. All you need is short hair extensions and a little patience. Crochet braids for kids are a wonderful way to check out various hairstyles.
If you use crochet braids just to make a voluminous ponytail, your braiding work can be greatly reduced. You only need to attach the hair extensions in a few places so your girl sports a magnificent hairstyle.
19. Tight and cute
These tight hair extensions are a wonderful addition to the little girl's style. They are easily attached and styled to create something unique on top of a kid's head without too much effort.
20. Simply twisted
You don't have to go all out when it comes to attaching crochet braids. If you are looking for a simple daily hairstyle, you can just attach a few strands in order to avoid great volume so your girl feels light and beautiful.
Just because you braid in extensions does not necessarily mean you have to opt for hairstyles that have your hair open 24/7. Tying the extensions up into a side high pony with a colorful hair tie can add more dimension, fun, and color.
22. Side part with tight braids
Side parts can make a lot of difference in terms of crochet braids for kids. As you can see, the tight twisty braids complemented with a side part look simple yet adorable. You can add some color by braiding in hair threads of different colors.
23. Pink voluminous braids
The best way to change crochet hair for kids is to play with braids sizes. These pink little girls braids that are larger on the top and taper down towards the bottom is a perfect way to do something different with a pop of color.
If your girl desires to have extremely long hair, this hairstyle can be something that she can style her hair with. Here, the braids are extensively long but tied in a high pony. This crochet braided ponytail for kids is chic, and yet the blue color and accessories make it equally fun.
Neat crochet styles for kids have an aura of their own. They look sleek and are perfect for a formal event. This tight braids hairstyle done neatly is an excellent hairstyle for school or even a special occasion.
This hairstyle has multiple elements and its great for a day where you need your child to dress up in entirety. The curls at the bottom perfectly go along with the tight braids, and the half up gives a radiant look to the hairstyle.
Two ponies are coming back into style; it's the perfect way to style braids. The ponies can be spiced up with accessories and hair thread. This crochet hairstyles for kids is perfect for having your child's hair away from her face and yet make them look pretty.
Dreadlocks hairstyles never go out of style, and this hairstyle on kids looks especially adorable. The pink strands in between are perfect for an extra girly touch; it's a great way of matching your child's outfit to her hair. This crochet hairstyle is easy to carry out and also looks amazing.
29. Voluminous ponytail
Ponytails are a great way to show your child's features. Tight ponies look amazing on children; you can transform from tight braid into a voluminous ponytail. The fusion of two makes one of the best crochet styles for kids.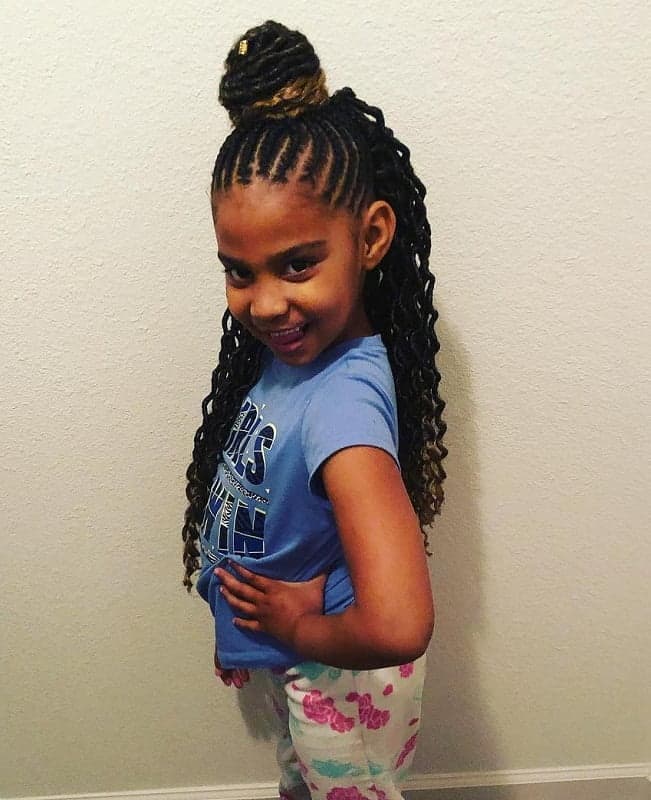 Who said topknots were only for young adults? Here, a perfect example of how great top knots look on kids. If your child likes long hair, then this hairstyle is an ideal way to style her hair. With braids towards the top and ringlet curls towards the bottom, this crochet braided hairstyle is everything perfect for your pretty little girl!
31. Long twist with exposed cornrows
Just because you are attaching crochet extensions doesn't necessarily mean you have to hide the cornrows! This hairstyle is a perfect way to incorporate the cornrows and still make the look seamless and elegant. Add color to the hairstyle to make it more playful.
Short bobs never go out of style. This kid's micro crochet braids style can easily be manipulated to individual preference. It's a perfect hairstyle that's on the go, goes with everything and is super easy to do.
This hairstyle is another alternative to have your child's hair styled in a high ponytail. The braids that are positioned in curves, which lead up to the pony, add a perfect personal touch. This hairstyle is cute and sophisticated; it's perfect crochet hairstyles for kid's idea.
34. Twists for braids
Instead of braiding the extensions, you can opt for thin twists. It gives the same effect but takes less time to carry out. It's a perfect crochet hairstyle which looks like it took a huge investment of time, but in reality, it's quite the opposite. Chic and quirky, this crochet style for kids is perfect!
35. High bun with hair accents
Buns are the most convenient hairstyle that exists; they are easy-to-do, and they look great with just a little effort. To turn it up a notch, braiding the hair on the top and adding gold accents is perfect.
36. Detailed braids
A great way to incorporate cornrow braids is by detail braiding in. This way, you don't have to make an effort to crochet the braids right up to the front. Instead, you can just create a voluminous pony towards the end. This is one of the more innovative crochet styles for kids.
37. Intricate topknot + braids + curls
Pairing braids with curls have become a trend, and there is no denying that it looks great! If you want to go an extra mile, a topknot and colorful accents ought to do that. It's a fun hairstyle but sophisticated enough to wear for a formal occasion.
Detail braids on the scalp can be a hairstyle that turns a lot of heads. They are not common and might take time, but the result is worth it. It's a perfect little girls hairstyle with crochet braids for a school function or a birthday. Top it up with a bun so that you don't steal away attention from the details.
39. Short hair topknot
The best thing about topknots is the versatility that comes along with it. You can pair it with any hairstyle, and it would look great. Additionally, you can include it in any hair length, and it will look amazing.
This topknot is a great idea not to have to weave the extension up to the front. This is one of the most convenient crochet hairstyles for kids.
Tight, short curls can work as a perfect compliment when fused with another hairstyle. Here, the braids create a zigzag pattern adding a certain amount of detail. The details that are then secured in a bushy pony looks extravagant.
41. Full braids with accents
This hairstyle is perfect for when you don't want to put in too much of effort after you weave the crochet braids in. All that needs to be done is that the hair needs to be pinned halfway behind and accents have to be added for extra oomph.
42. Bushy side pony + braids
This crochet braids for kids is perfect for an occasion like a wedding, the bushy pony on top with purple highlights make the hairstyle a very princess-by one. The braids towards the front add some edginess and make it a little fun that just girly.
The best part of cornrows braids is that they can be weaved and braided into several different hairstyles and designs. These square braids are a little on the complicated side, but they look amazing.
It is okay to invest in a hairdresser who can braid professionally. The result is certainly worth it. The braids towards the end add length and bring the hairstyle together. It is certainly an extravagant crochet hairstyle for kids.
44. Red braid details
Crochet braids are often used as a way to include color in children's hair. This way, they don't have to use harsh chemicals yet still have the opportunity to have colored hair. If your girl loves red, these tight black and red braids can be the next iconic hairstyle she should have!
Huge accessories can sometimes make all the difference for an otherwise regular hairstyle. This picture is an example as to how you can get huge beads to dress up your daughter's hair and make them look more fun, quirky, and full of color.
46. Thick twisted braids
If you are running out of ideas about how to style thick twisted braids, here's one! This hairstyle allows your daughter's features to be seen yet have her full length of hair. These crochet braids for kids are both simple and dressy and hence can be worn to several occasions.
47. The hairband effect
If you look at this hairstyle, it gives an illusion of a hairband worn like a crown on the head. This little girl's hairstyle is perfect for small crochet braids.
It is easy to do and hence, can be done in little or no time as compared to the others. This hairstyle is also dressy enough to be worn for a special occasion with a nice flair frock to go with it.
48. Cornrow Style Braids
This hairstyle is more of an adorable princess look. The four cornrow braids blend in extremely well with the crochet extensions. The long curls at the back are also the perfect complement to the tight braids in the front.
49. Detailed bun
This hairstyle is a perfect variation to half up half down. Instead of having the part at the back, change it up by having the part straight done the sides as well. It's one of the cutest crochet braided hairdo for little girls.
This is a great way to incorporate space buns and crochet braids all in one for kids. The hairstyle is incredibly cute and can be worn just anywhere. You can add accessories to dress it up or leave it as is.
Wondering whether or not crochet braids for kids are worth your time? Take a look at the above options. You'll understand how much you are missing out on. Crochet braids can help you discover amazing hairstyles for you and your kid.