Bows have been in style for ages. Modern hairstylists came up with a myriad of different interesting ways to make bow hairstyles. It is not necessary to tie your hair with an actual bow. You can make a bow out of your own locks. Large bows on top and small bows on the side, voluminous arrangement and smallest clips – all of them look amazing on girls and women.
Learning how to make a simple bow is an absolute must for any woman. It's a fast way to create a complicated hairstyle. If you master the art of hair bow making, you will always have a backup plan for any occasion. Bows look great on both short and long hair and will fit any face types. If you still don't know how to make a bow out of your hair or need some advice on how to attach one, the time has come to learn.
Creative Bow Hairstyles For All Girls Out There
There are three ways to make a bow hairstyle. You can either use your own locks to make it, attach bow accessories or use hair extensions. These three hairstyles will surely make you look amazing. All you have to do is try.
We have handpicked a short list of interesting bow styles for you to consider. If they look complicated at first glance, don't be fooled. It will just take two or three tries to get really good at making a simple bow. There are more complex bow hairstyles that will require professional assistance. They are usually good for special occasions.
Take a good look at the best bow hairstyles for women and you will surely like one of these bows.
1. Thin bow
This thin bow hairstyle is one of the simplest ones to make. Take two strands from both sides and tie them in the back with an elastic band. Pull one part of the ponytail upwards but not fully out of the band. Pull this part with two hands to the opposite sides. Take one hanging strand and tie it in the middle. The bow is ready!
2. High bun with a bow
High buns look especially well when coupled with well-chosen accessories. Make a nice high bun on top of your head. Then get a large bun and clip it in front to make it look as if the bun is tied with this bow. It will look like an amazing bow hairstyle.
3. Bow weave
If you want a beautiful bow but just don't have enough hair to make it, opt for a weave. Bow weave looks very impressive and will be a great addition to any high hairstyle you choose. Just make sure to get the one that matches your hair color.
4. The bow on the side
A bow will look great on the side of your bun. In order to make this complicated hairstyle, all you will need to do is leave one strand on the side when making the bun. After the bun is ready, use the loose strand to make a bow and clip it to the bun.
5. Large bow on top
This is one of the most popular bow hairstyles. It is very easy to create if your hair is long enough. Make the ponytail very high and follow the instructions for the regular bow. Use some hair gel to make it look neat.
6. Natural accessory
There are some accessories that will make your bow hairstyle look especially natural. You won't need to grow long hair to make this one. Just purchase a bow that matches your hair color. Attach it to your bun with one hair strand in the middle.
7. Loose bow
If your hair is not too long but you still want a large bow, make it loose. It will not look as neat as the other options but it will allow you to sport a fashionable hairstyle without much effort. Just make sure you clip it well so it doesn't fall apart.
8. Learning the basics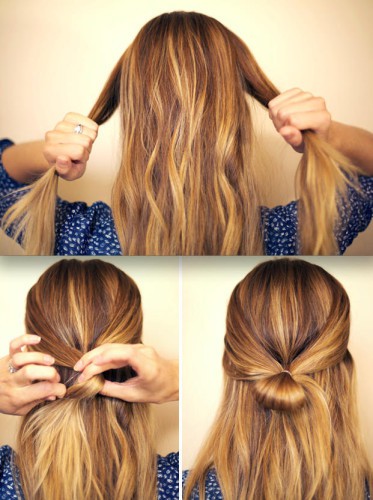 These are the first easy steps to making a basic bow. After you've done the first three steps, pull the hair apart to opposite sides to make two parts of the bow. Take one strand and run it through the middle. Your simple bow is ready!
9. Silk Bows
If you learn how to tie a silk bow into your hair, you will have a great number of bow hairstyle options available to you. Pink silk bows look especially romantic on long hair. Since silk bows are hard to keep tied, use elastic bands and clips to help you.
10. Fun bows
If you have short hair, it's no reason to forget about bows. You can make small fun bows on top of your head using the short top strands. If you want to get creative, make several of them on both sides. You will surely look stunning.
11. Bow on top
This large bow will look fantastic on any woman's head. All you need to do is get the right weave. Pull your hair upwards and tie it really tight on top. Attach a weave at the place where your hair is tied. Apply some hair gel to make your own locks neat.
12. Bow and curls
If your natural hair is wavy, the bow will be a little hard to make. You will need to straighten out the strands you will use for a bow in order for it to look neat. You can leave the rest of your waves intact for a voluminous appearance.
13. Weave headband
If you want to add some diversity, this bow hairstyle will surely help you make an impression. There are bow headbands made out of real hair. Try to find the one to suit your hair color best. Otherwise, it might look too unnatural.
14. Cute bows
Don't be afraid of looking young and foolish with bow headbands. In fact, girls look really sweet with nice bows that hold their hair. Even older women can find a bow to suit their image best. If you are still a little scared, go for thinner ribbons.
15. Keep it neat
The worst thing you can do about your bow hairstyle is to leave it messy. Bows made out of hair look their best when they are neat and sleek. Make sure to apply enough hair gel to keep the bow intact for as long as possible.
16. White bow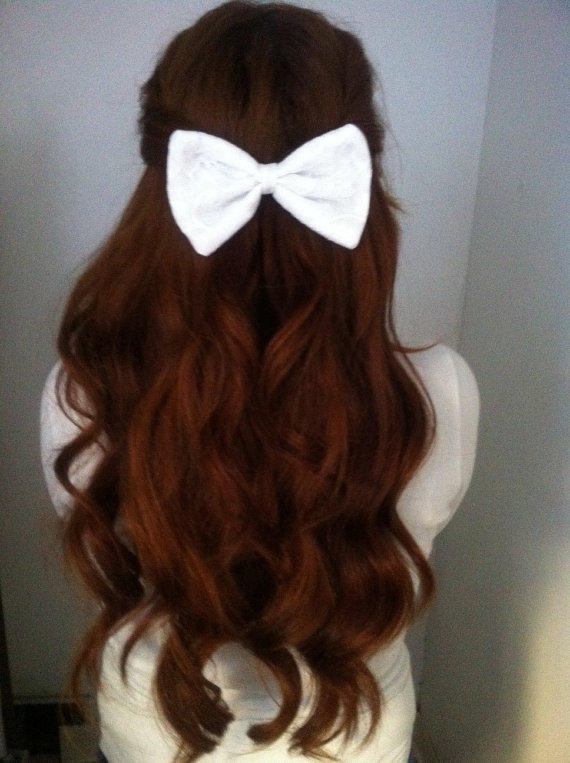 White bows make us think about special occasions. They look very impressive on any hair type. However, they make the best contrast with dark locks. A nice simple bow will be a great addition to your wedding hairstyle.
17. Large bows
Large bow hairstyles look unique however, they don't fit all face types. If your face shape is round, try to avoid voluminous styles. If you still want a bow, go for smaller ones. You can make several of them if you wish.
18. Minnie bow
If you want a bow to look a lot like Minnie's, then you will need a large elastic band to lift up your ponytail as high as possible. The higher the bow, the funnier it will look. Just make sure it suits the rest of your style.
19. Find the right bow
If you have decided to use a bow as an accessory, you will need to spend some time choosing the right one. There are two simple rules: the bow must suit your color style and shouldn't be large. Never attach a large bow to short hair.
20. Be creative
If you want a really impressive hairstyle made for a special occasion, show your hairstylist this photo. You will doubtfully be able to create something like this on your own, so ask for some professional help. The result will be unbelievable.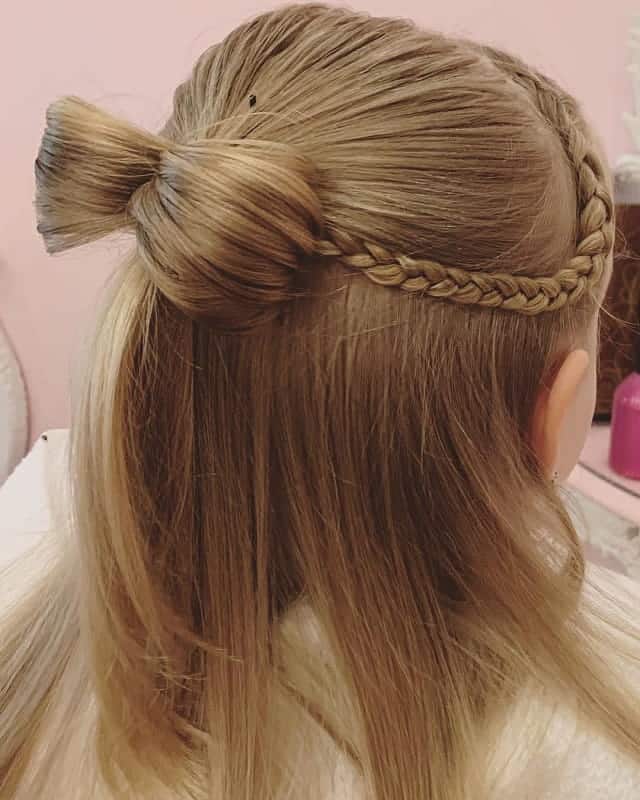 These bow hairstyles will help you diversify your image and have fun with accessories. Never be afraid of making bow experiments. They always turn out to be very impressive. The time has come to learn how to make a bow.