When you think about your brown hair, you've probably never considered silver highlights, right? Many women think of silver hair as being for older women along with grays. But silver highlights can actually add a fun edge to neutral hair colors.
So if you're bored with your brown hair, no matter what length it is, you can plan on getting excited over seeing some new hair inspiration below!
Silver Highlights for Brown Hair
This list of silver highlights on brown hair will give you plenty of ideas for a gorgeous new hairstyle!
1. Silver Highlights on Brown Curly Hair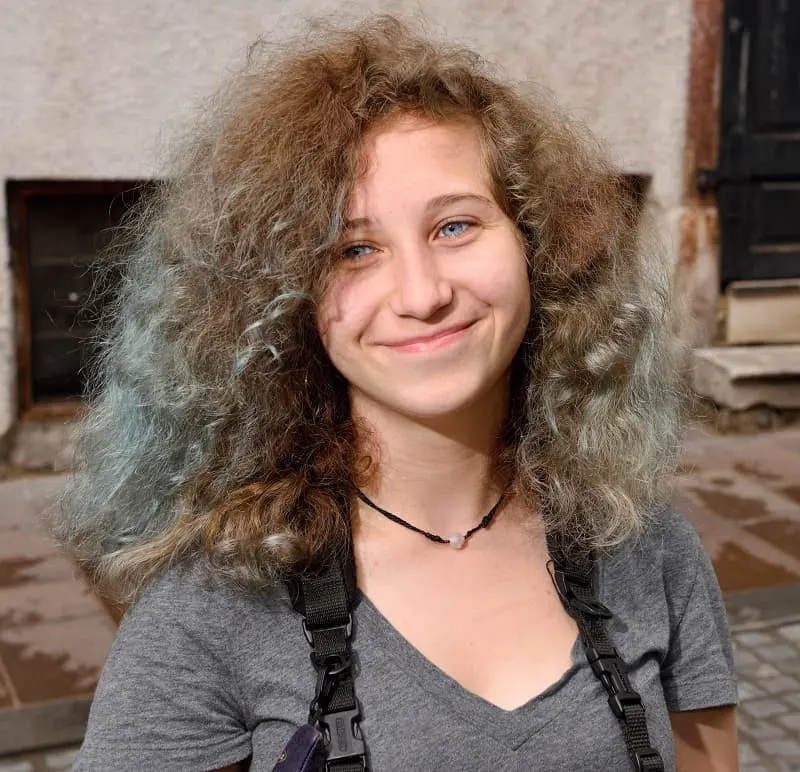 Naturally brown hair pops with a dash of silver highlights. Let your locks go free but avoid puffiness by using hair oil to seal the cuticle before it air dries completely.
2. Silver Highlights on Dark Brown Hair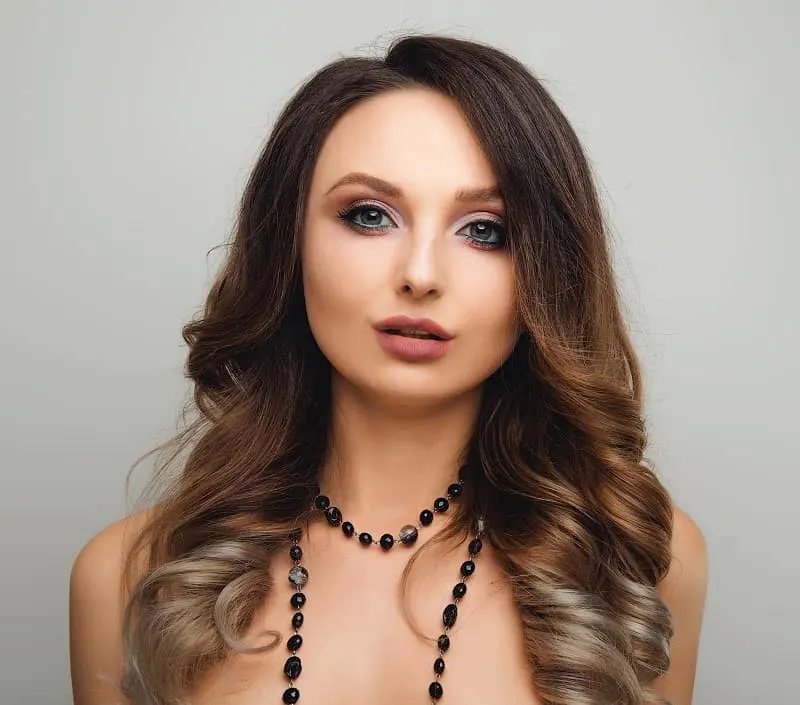 These silver highlights on a long hairstyle with tight waves at the bottom really help the texture stand out. Adding highlights to ends is great for when you don't want to add them all over.
3. Silver Highlights on Reddish Brown Hair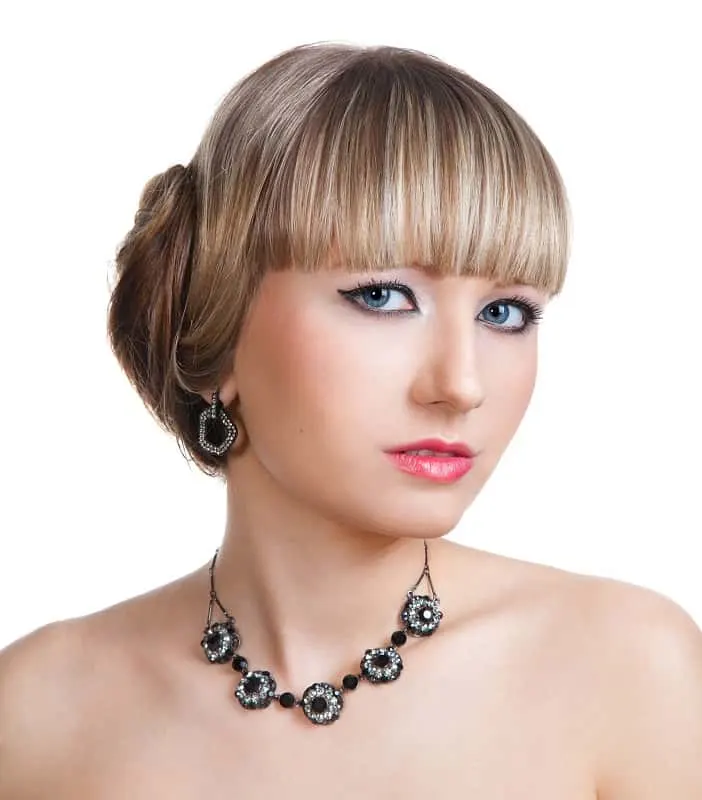 For reddish brown hair, add a blunt cut bang if you don't already have one. Then your silver highlights can be added there as well for consistency.
4. Full Silver Highlights on Brown Hair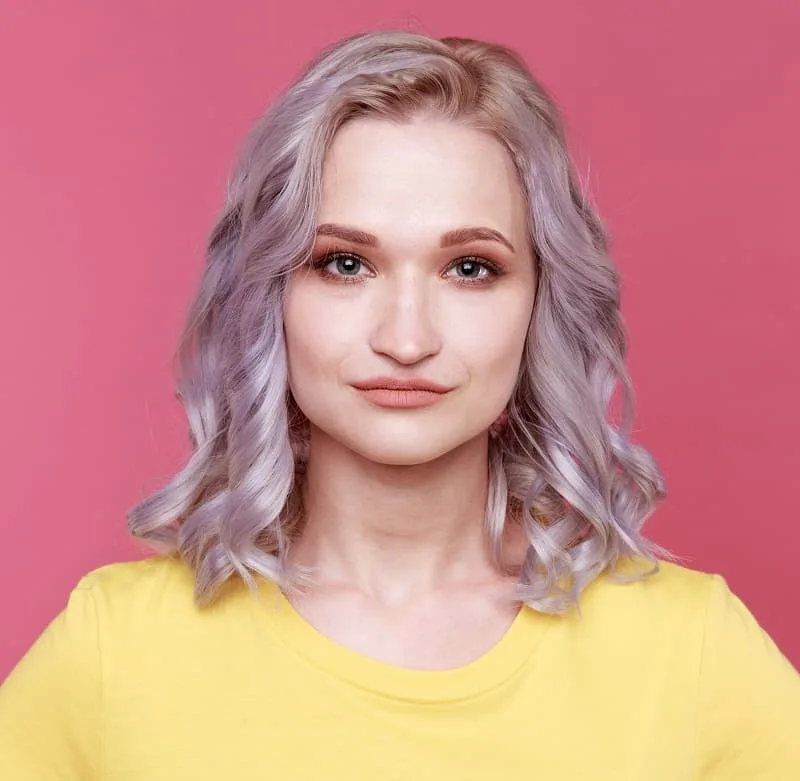 On a short brown hairstyle, silver highlights combine with a light pastel purple for a flirty result. Finish with waves to the body and you're done!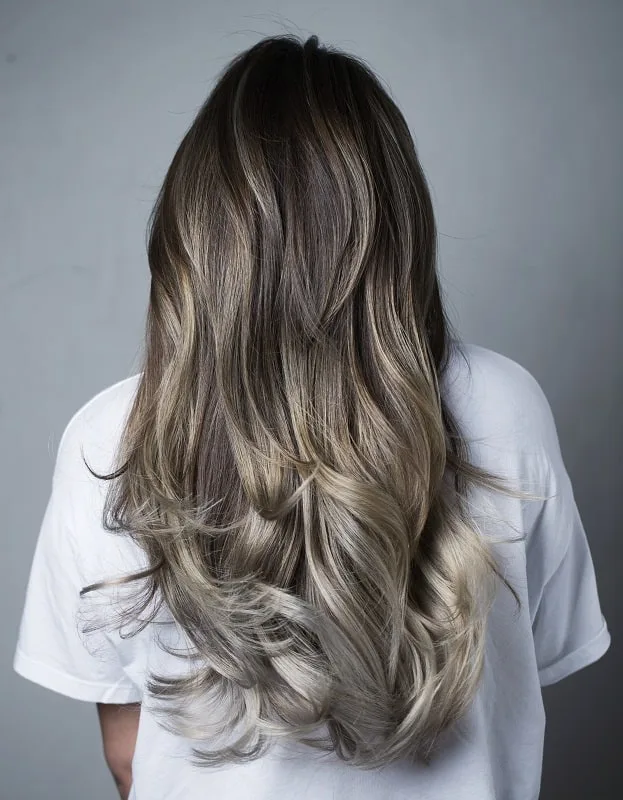 Over the blonde thing but still want highlights in your brown hair? Silver is an unexpected choice but obviously makes your base color edgier.
6. Silver Peekaboo Highlights
Hide a surprise under those dark tresses by opting for a chocolate brown hair shade, if not natural, and dyeing the underlayer completely in a silver tinge or getting highlights instead. Keep the hair down to flaunt those dark tresses and pull them up to reveal the highlighted part underneath.
7. Salt and Pepper Look
Ladies getting on in years can accent their natural grays by opting for full highlights on a brown base to end up with a sexy salt and pepper mane. Recreate the style on a lob, regardless of your hair texture, with soft face-framing money pieces for a rejuvenated look.
8. Frosted Pixie
Pixie cuts are timeless and ageless and ideal to start fresh with your hair. Ask the hairstylist for a lot of texture and layers on top with an undercut along the sides. Get a frosted look by adding silver streaks on an ash brown base and you will definitely love it!
9. Silver Babylights
Ladies who prefer perfectly blended tresses can consider getting babylights. These are delicate fine highlights that cover a greater portion of the hair to merge together seamlessly with the base shade. So, if you want to add a silver shine to your brown hair, babylights are just what you need!
10. Icy Money Pieces
Money pieces are another flattering way to get silver highlights on brown hair. Lighten down the front strands to frame the face keeping the remaining mane untouched. Those who find money pieces too basic can spice up their look with silver halo highlights to achieve lightness around the face with minimal damage.
11. Short Brown Hair with Silver Highlights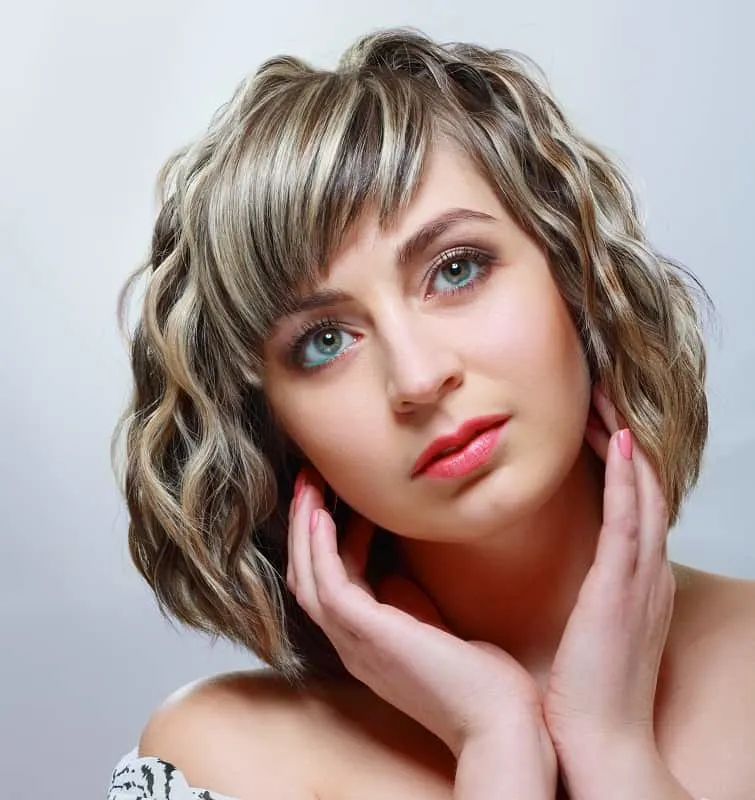 For hair that is shoulder length, fill it up with waves that are given silver highlights. A diagonally cut bang that stops at eyebrows will draw everyone's attention to your eyes.
12. Chocolate Brown Hair with Silver White Highlights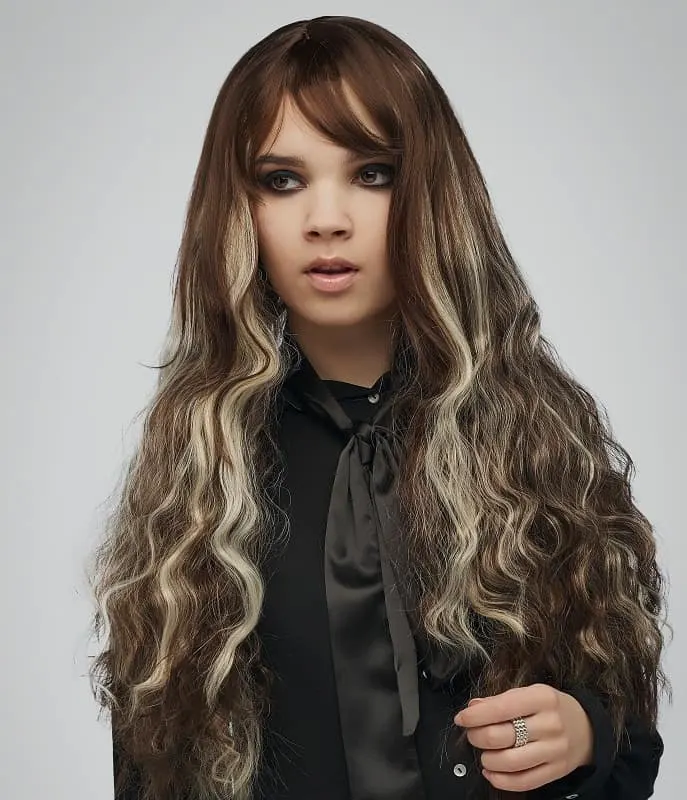 Mix silver and white to get this edgy rock vibe on long brown hair. Keep your bangs one color and part them in the middle for cool face framing.
13. Chunky Silver Highlights on Brown Hair
While blonde chunky highlights used to be the go-to for livening up a brown hairstyle, now it's silver! It's a unique color addition to long brown hair and you'll love the way they look.
14. Silver Blonde Highlights on Brown Hair
To switch up plain silver highlights, add a dash of blonde. You'll get a gorgeous shade that is super pretty on long brown hair parted in the center.
15. Long Brown Hair with Silver Highlights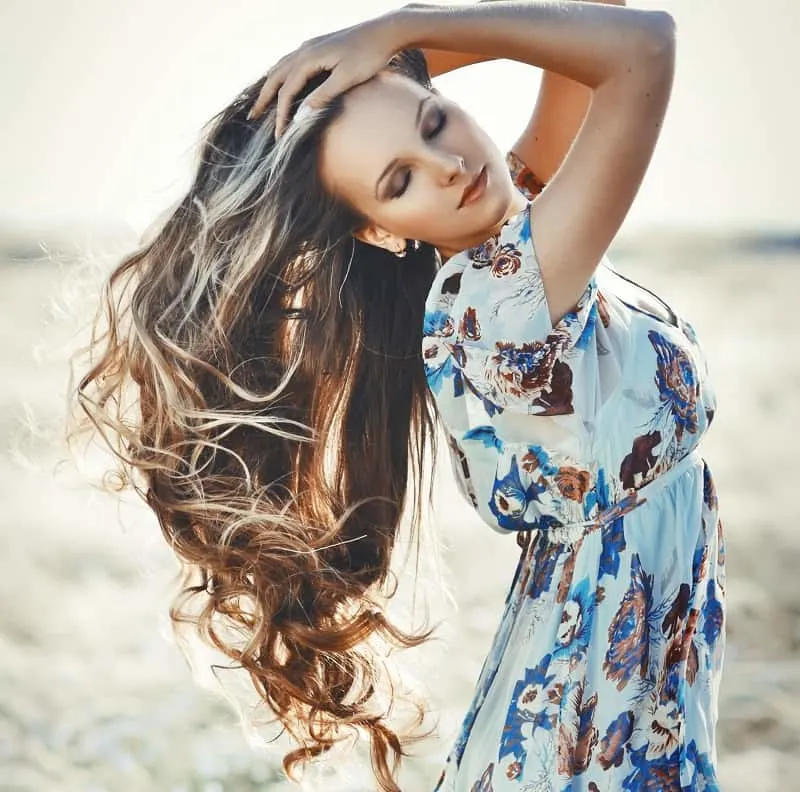 While brown hair is pretty alone, sometimes an addition of another color is needed to punch it up: try heavy silver highlights for a cool color clash.
16. Asian Brown Hair with Silver Highlights
The silver highlights on long brown hair for an Asian woman almost look like a balayage, but the peeks of silver near the top let us know the end goal.
17. Silver Highlights on Light Brown Hair
For us women whose hair is a light shade of brown, straighten your locks to see the full effects of silver highlighting. They will peek through every now and then for a sexy hairstyle.
18. Silver Highlights on Mushroom Brown Hair
For long hair that is neither light nor dark brown, silver will blend perfectly and also be subtly noticeable. You can feel confident wearing this at work won't get you in trouble.
19. Medium Brown Hairstyle with Silver Highlights
We think medium brown hair is one of the best shades to start with before adding silver highlights. On medium length hair with choppy waves, the resulting look is amazing.
20. Ash Brown Hair with Silver Highlights
Add silver highlights and a few pale purple highlights to ash brown hair to liven it up. Worn down in loose waves or up in a pony, the color is just as noticeable and pretty.
21. Silver Highlights on Straight Brown Hair
For straight brown hair, silver highlights look pretty natural. To get a perfect blend, make sure your brown hair is a medium shade. When the light catches it, you'll love the shine!
22. Brown Hair with Silver Balayage Highlights
Silver accents the thick waves gracing a full head of long brown hair. To make sure all the attention is on your new look, ask your stylist for layers.
23. Brown Hair with Silver Lowlights
Lowlighting is when the color is a darker shade than your base color. A dark silver will pop out beautifully from light brown hair, like on this long straight hairstyle.
24. Wavy Brown Hair with Silver Highlights
After adding silver highlights to your long brown hair, go crazy with loading up the body with luscious waves. This is a gorgeous hairstyle to wear to date nights or fun outings with the family.
25. Thin Brown Hair with Silver Highlights
A short brown bob with waves is asymmetrical in style so the front is longer than the back. However, silver highlights on short hair are what make this style truly gorgeous.
26. Straight Brown Hair with Silver Highlighting
While the ends of this brown hairstyle are super pretty, the top is where you'll notice silver highlights the most. Add them in both thick and thin widths for a cool twist on traditional highlighting.
27. Brown Updo with Silver Highlights
On long brown hair, silver highlights will pop beautifully when woven into a loose braided updo. Wear this hairstyle to the office or on dinner date night!
28. Dark Brown Medium Hair with Silver Highlights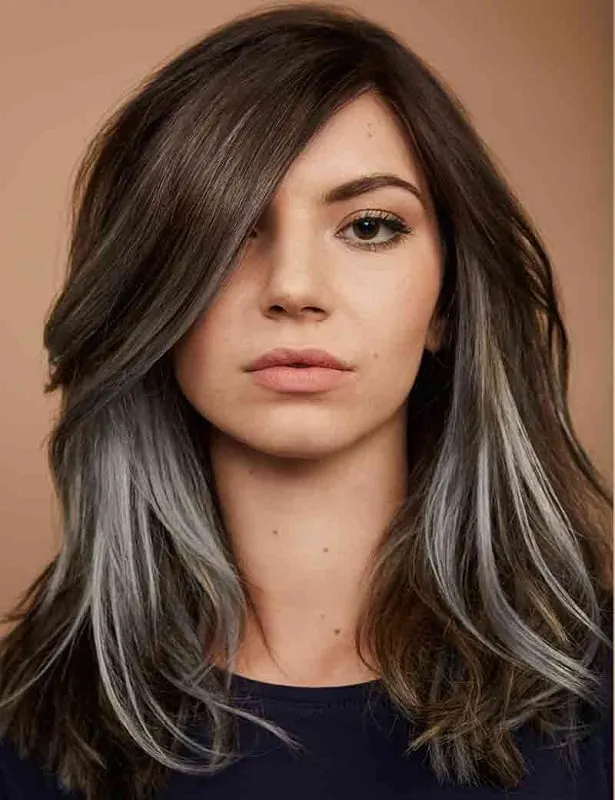 As you can see, the silver highlights on this dark brown hairstyle are more noticeable underneath the top layer of hair and around the face. They make for nice peeks of color.
For any brown hairstyles with silver highlights that you consider, remember the highlights will only last a few months. You will have to touch them up to maintain them but at least you'll always stay looking trendy and gorgeous!