Gone are the days when women feared grey hairs and invested time, money, and energy in covering them all up. Now these very silver tresses are considered a symbol of fine aging, wisdom, grace, authenticity, and self-esteem. If you're a dark-skinned lady over 50 with greying hair, you can still rock a glamorous hairstyle.
Black women are known for the vast diversity of their hairstyles, which they can explore further when hitting their golden years.
From short pixies and buzz cuts to long box braids and curls, the following grey hairstyles for black women over 50 will help you age like fine wine.
Bold Grey Hairstyles for Black Women in their 50s
Grey locks pop beautifully on dark skin tones creating a natural light and dark interplay that won't be ignored. Time to become a sexy silver vixen! We have handpicked some of the trendiest grey hairstyles for black women over 50.
1. Salt and Pepper Faux Hawk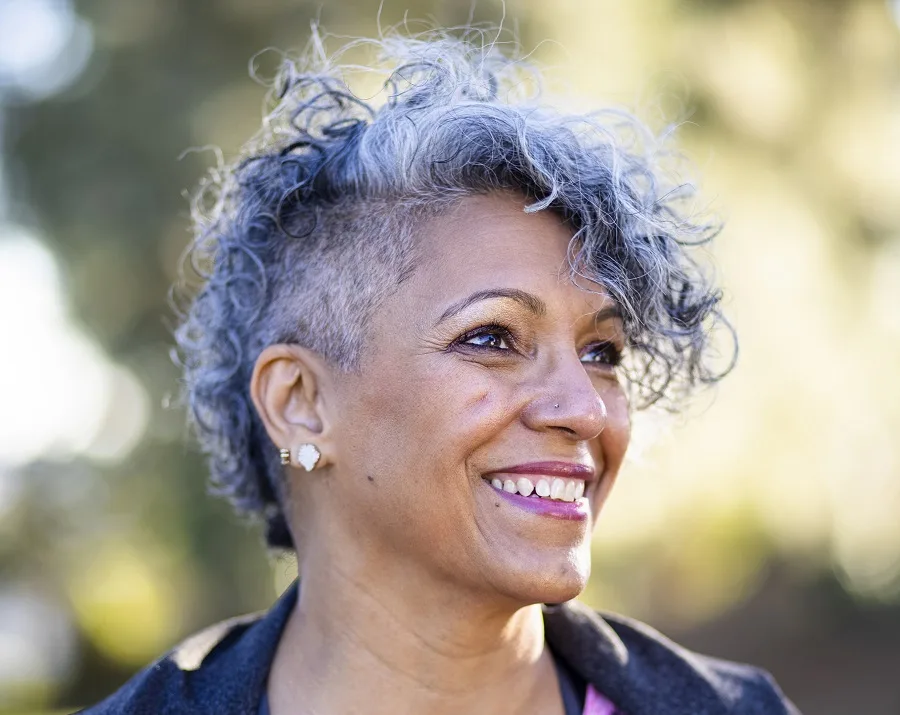 She shed a few years while rocking this salt and pepper mane with a funky faux hawk hairstyle. Opt for a long top and back with neatly buzzed sides and an angular fringe at the front.
Spice up your look further with a shaved side design or some minimalistic slits.
2. Elegant Bob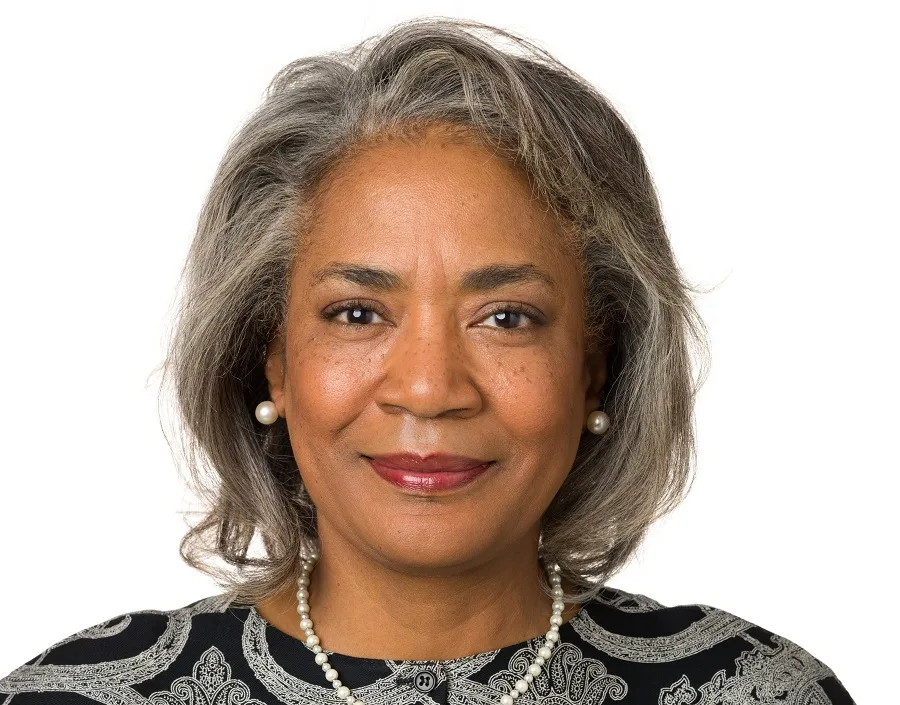 A basic bob is an ideal grey hairstyle for black women over 50 who wish to keep it elegant. Ask for neck-length layers with a simple side parting to soften your face without dragging it down.
A few face-framing silver babylights will make a huge difference.
3. Cornrowed Bun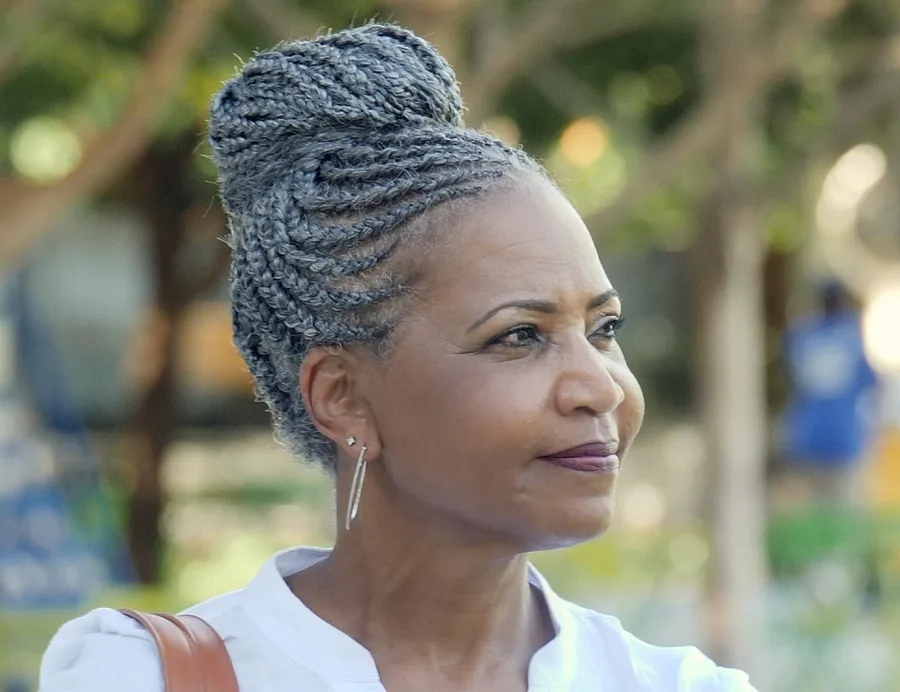 Cornrows are the go-to protective hairstyle for senior black ladies especially when their tresses become thin and weak.
Use matching extensions to go as long as you want with a straight-back or swirled pattern on the scalp. Wrap the braids in a jumbo top knot bun for a subtle facial uplift.
4. Textured French Crop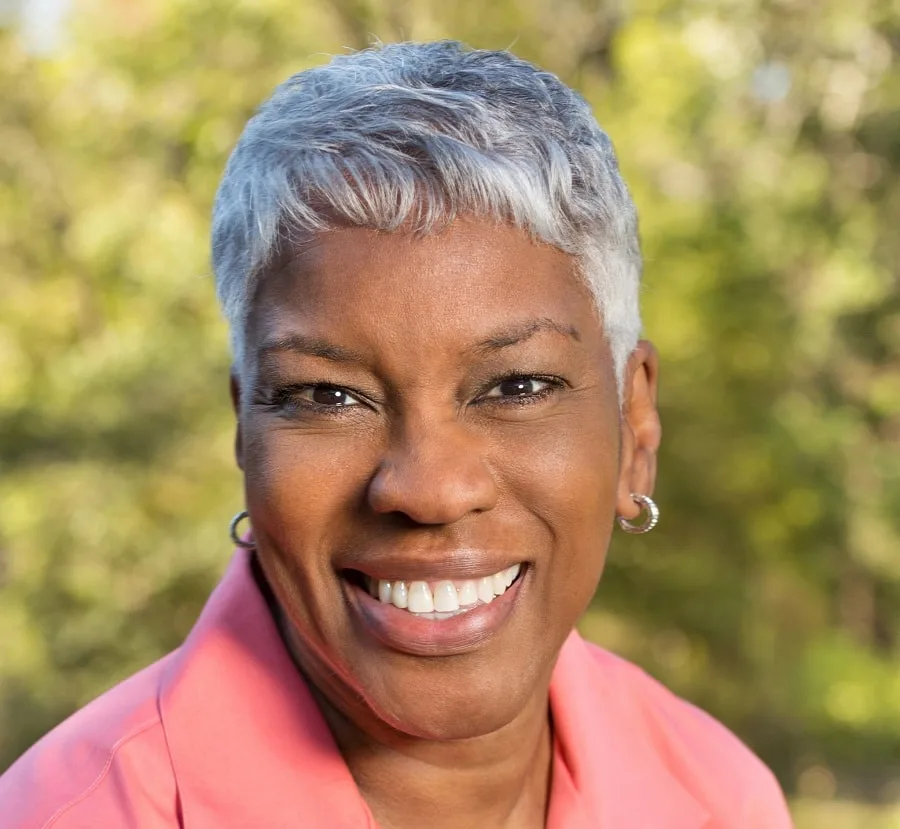 Keep it low maintenance with an edgy French crop featuring a short top with even shorter sides and cute baby bangs at the front.
Layers are a must to achieve texture. A hand tousle is all you need to set each strand in place every single day.
5. Relaxed Drawstring Pony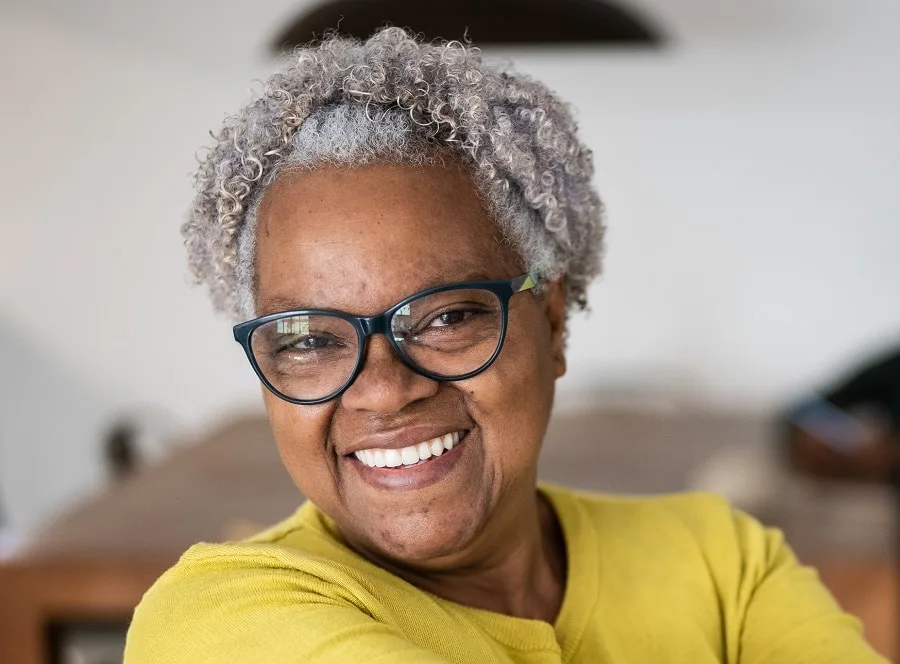 Hairdos styled high up on the head tend to impart a youthful effect on the face. Recreate this look by slicking back the hair in a simple bun and securing a drawstring pony on top.
Spread the curls evenly all around your head and that's it.
6. Sassy Bixie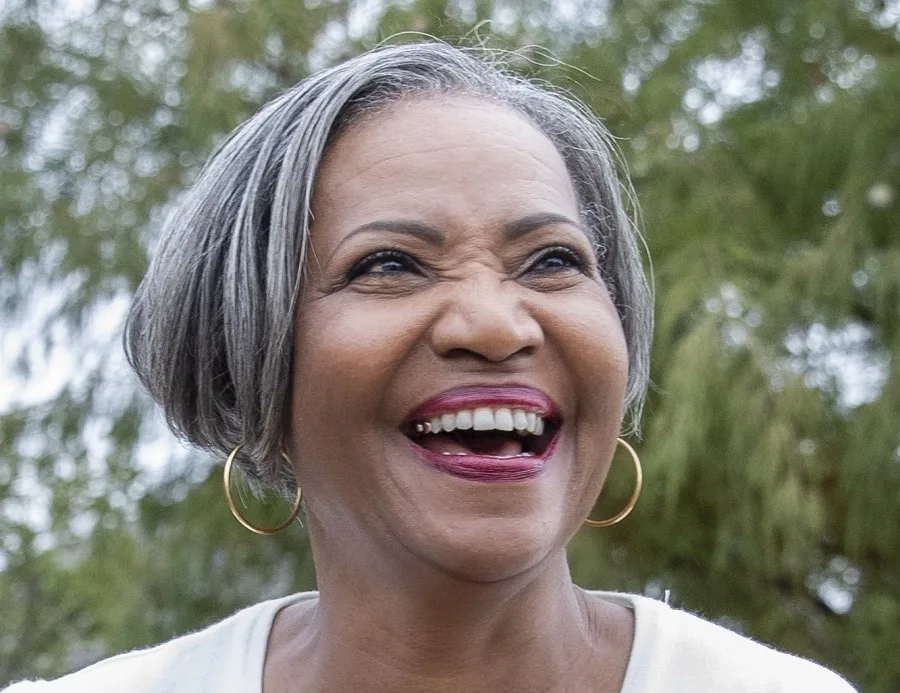 Bixie haircuts have taken over both pixies and bobs. They combine the shortness of the former with the softness of the latter to create the ultimate face frame.
Go grey with an angled, rounded, or straight ear-length snip without bangs to turn around some heads.
7. Clean Buzz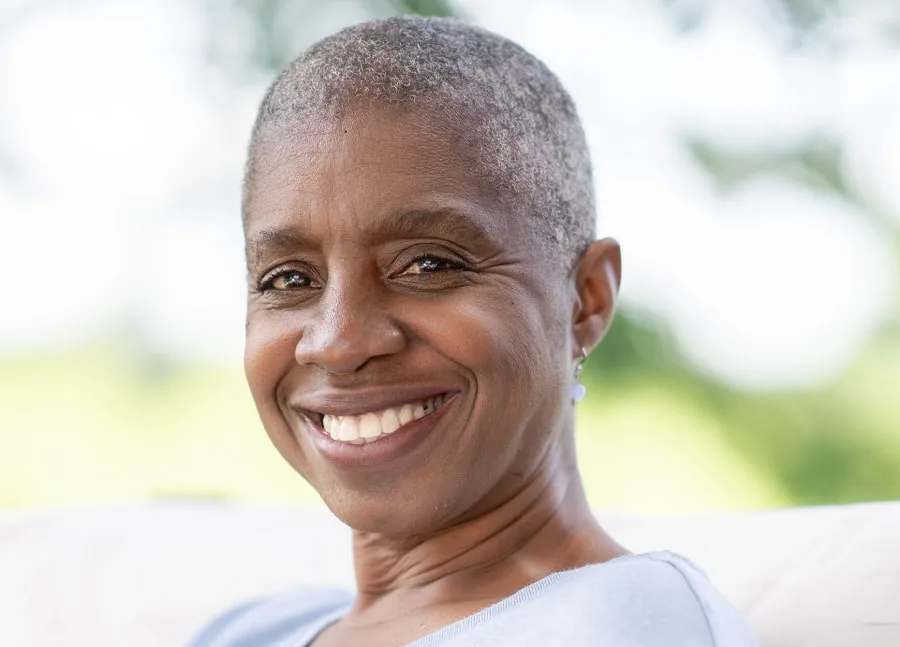 Take a break from years of hair styling with a good old buzz cut. Experiment with a slightly longer top for a little dimension or shave your entire head uniformly to make a fresh start with those greying locks.
No hair brushing is required for weeks!
8. Deva Cut Silver Coils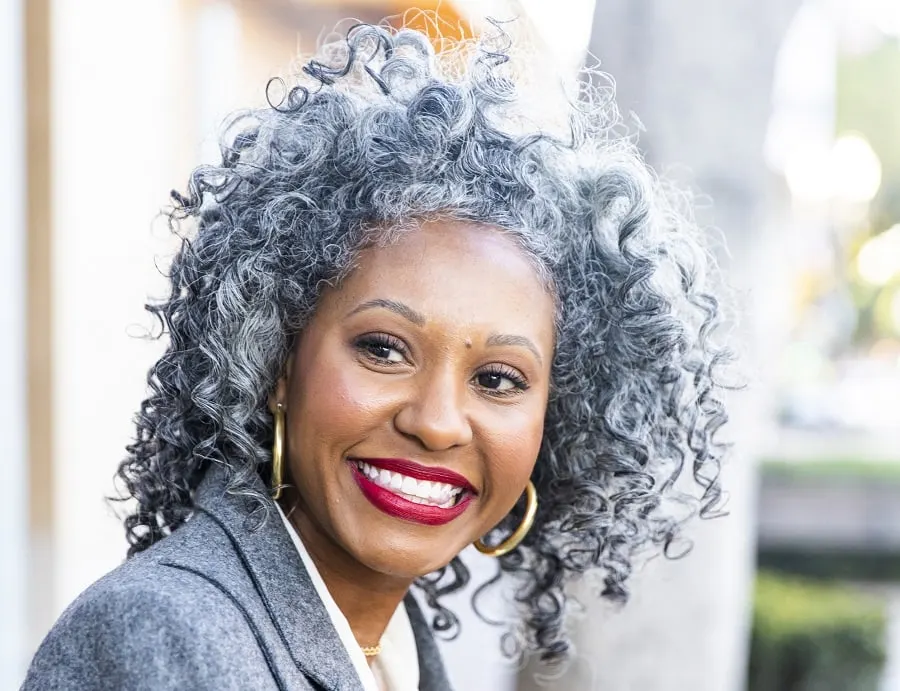 Showcase the true beauty of your natural curls with a refreshing Deva haircut. The technique involves cutting each coil individually when dry to make it fall around the face exactly where intended.
A handful of layers and highlights are all you need.
9. Grey Afro Fluff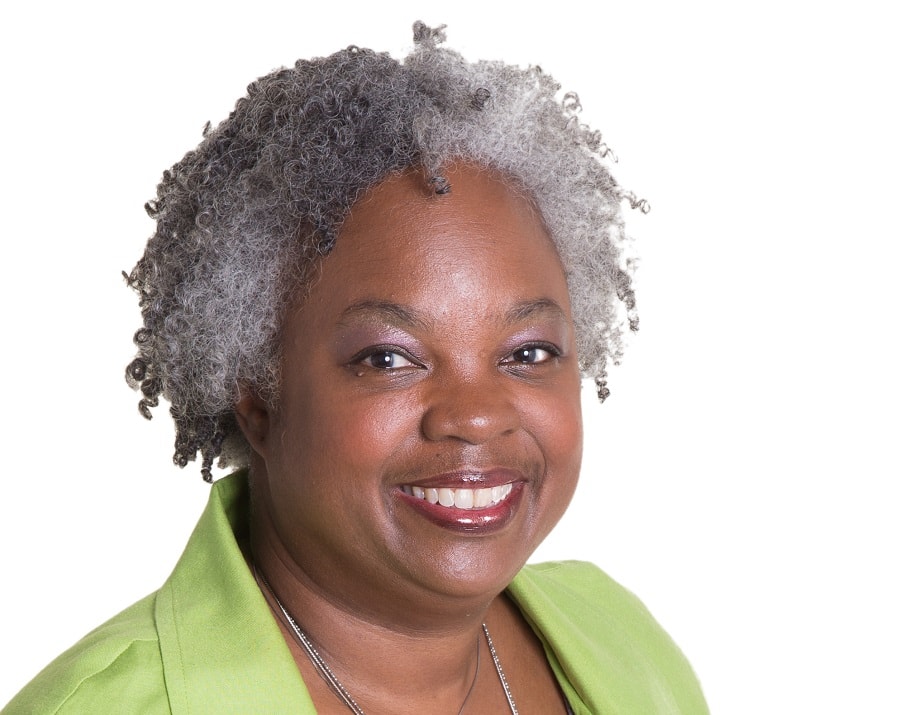 Embrace those silvery grey patches on your head as such for a natural appeal, or enhance them further with highlights or lowlights.
Set your afro fluff on fire with a rounded haircut and soft layers putting your best features on full display. Simple yet stylish!
10. Tapered TWA Hairstyle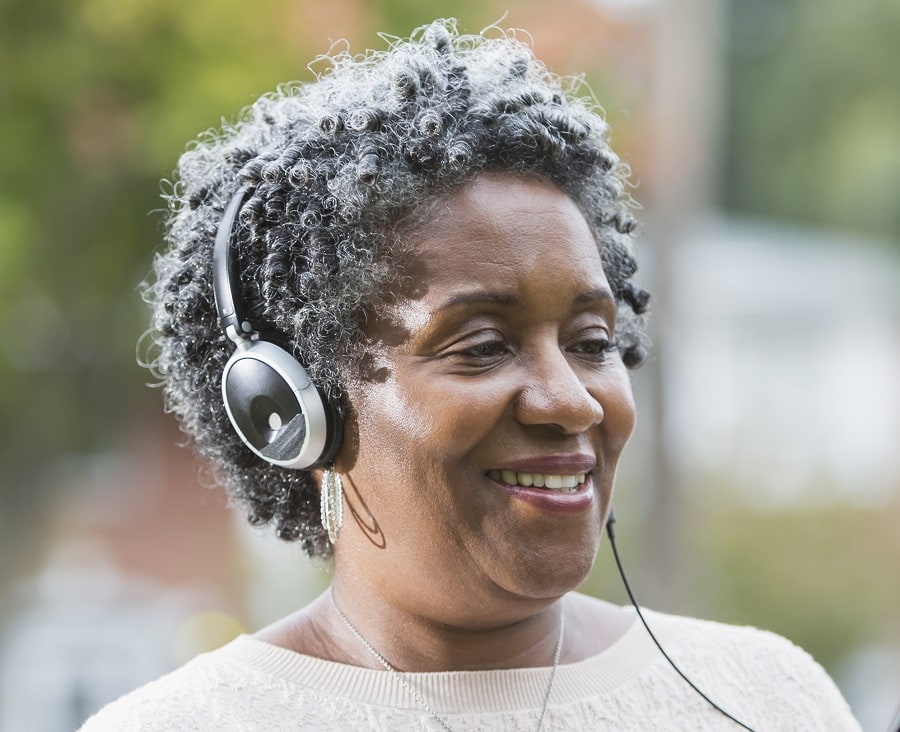 This grey hairstyle for black ladies over 50 is a more refined version of the one mentioned above and is suitable for those with more defined curls.
Rock a chic teeny weeny afro that is short in length with a long fluffy top tapering towards the sides and back.
11. Messy Updo with Bangs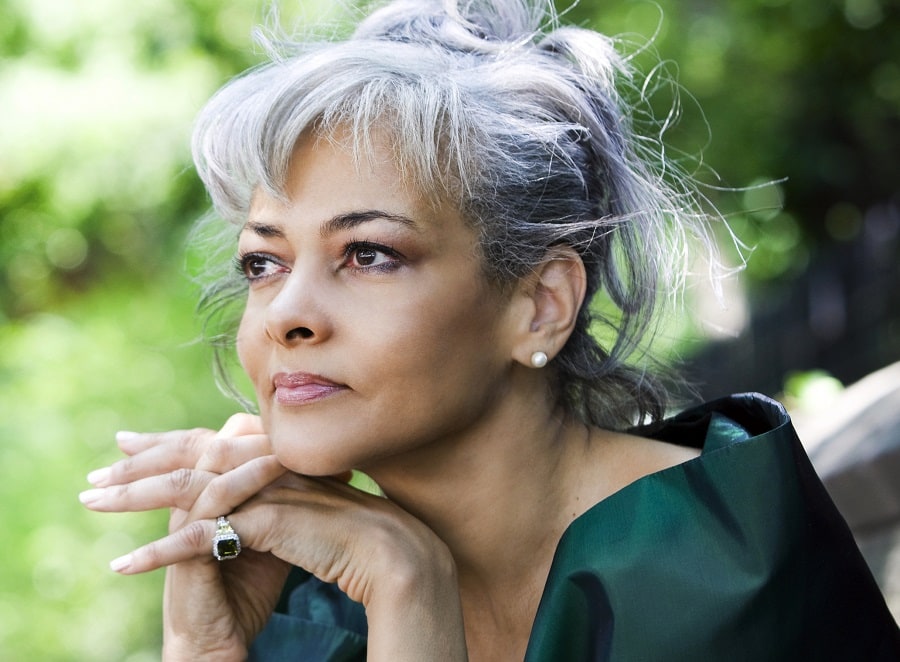 Messy updos never disappoint. Breathe life into those boring grey tresses with layers and wispy bangs to hide your forehead wrinkles.
Assemble all the strands in a relaxed French twist or bun at the back leaving out plenty of chunks for a no-care vibe.
12. Sleek Lob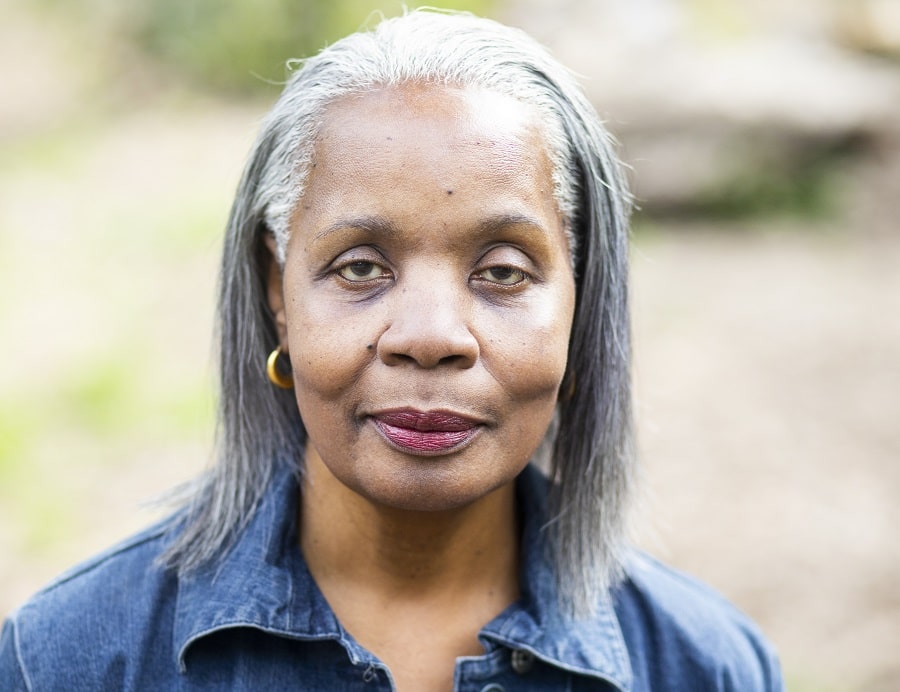 Lobs are still going strong and perfect to show off your natural greys with confidence. Get a shoulder-grazing haircut with layers or a straight blunt chop instead to sharpen your look.
Slick back all the hair using hair gel to rock the much-trending wet look for a change.
13. Classic Ballerina Bun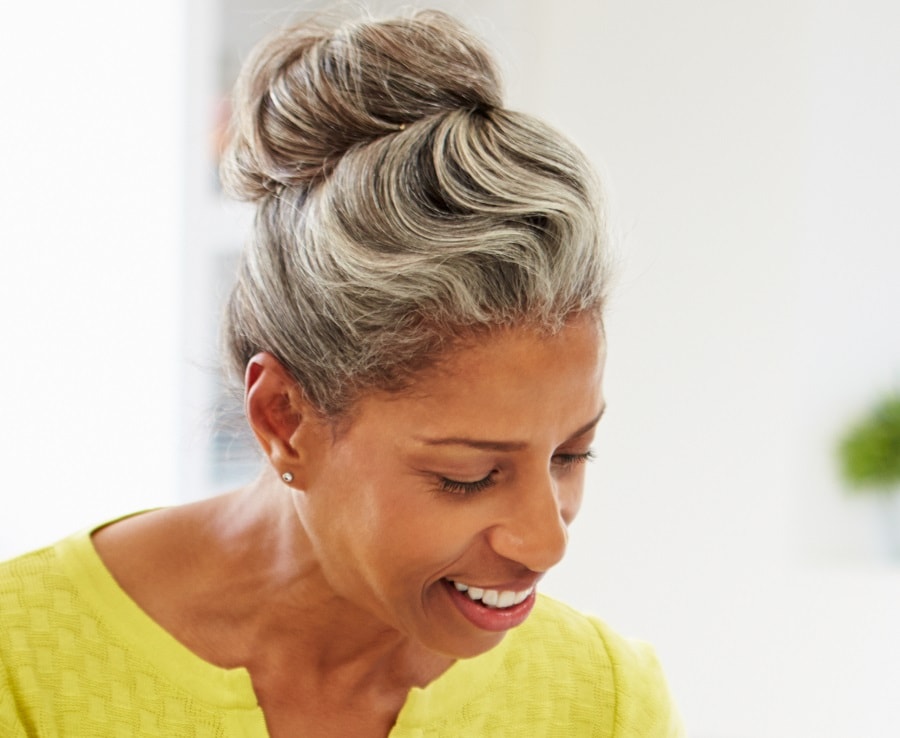 Focus all the attention on your face with a sophisticated ballerina bun. Pull the hair loosely in a high ponytail with a subtle pouf at the front and slip on a hair donut bun maker.
Cover it up and secure it in place with pins. Voila!
14. Bobbed Waves
Bobs are super versatile and are a must-try when climbing the ladder of age. Experiment with a short crop close to the scalp, as depicted here, allowing those wavy strands to fall in place naturally.
A side parting is ideal to add a little asymmetry to an aging face.
15. Long Buzz Cut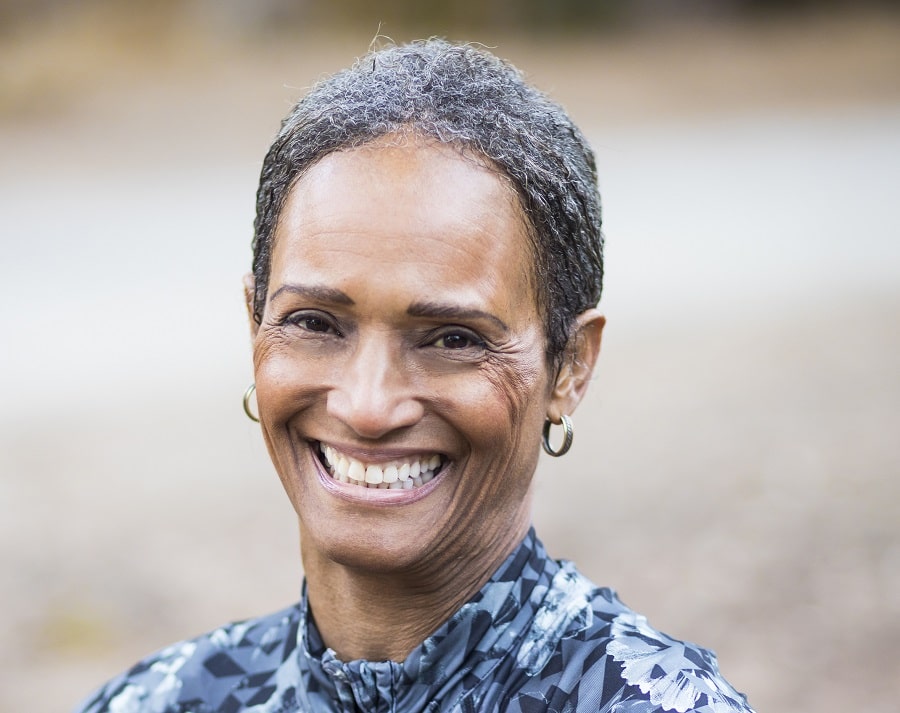 A closely buzzed/shaved head can sometimes make the face appear too big. Avoid the risk by retaining one-third of an inch of hair on the scalp.
Allow the grey curls to fluff up naturally or comb them down using hair wax to end up with a sexy sleek hairdo.
16. High Ponytail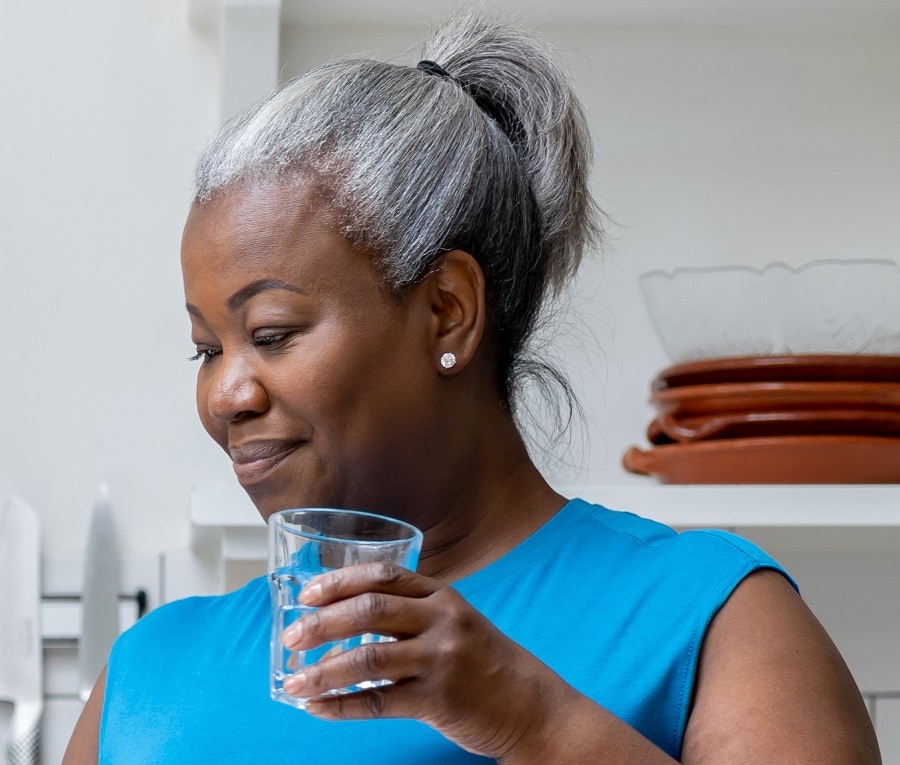 Ponytails are ageless and timeless. Women over 50 look great in ponytails. Look much younger for your age even with greying tresses by slicking them back in a high pony on top of the head that'll bounce as you walk around.
Settle down the baby hairs with hairspray and a toothbrush for a polished look.
17. Long Silvery Grey Tresses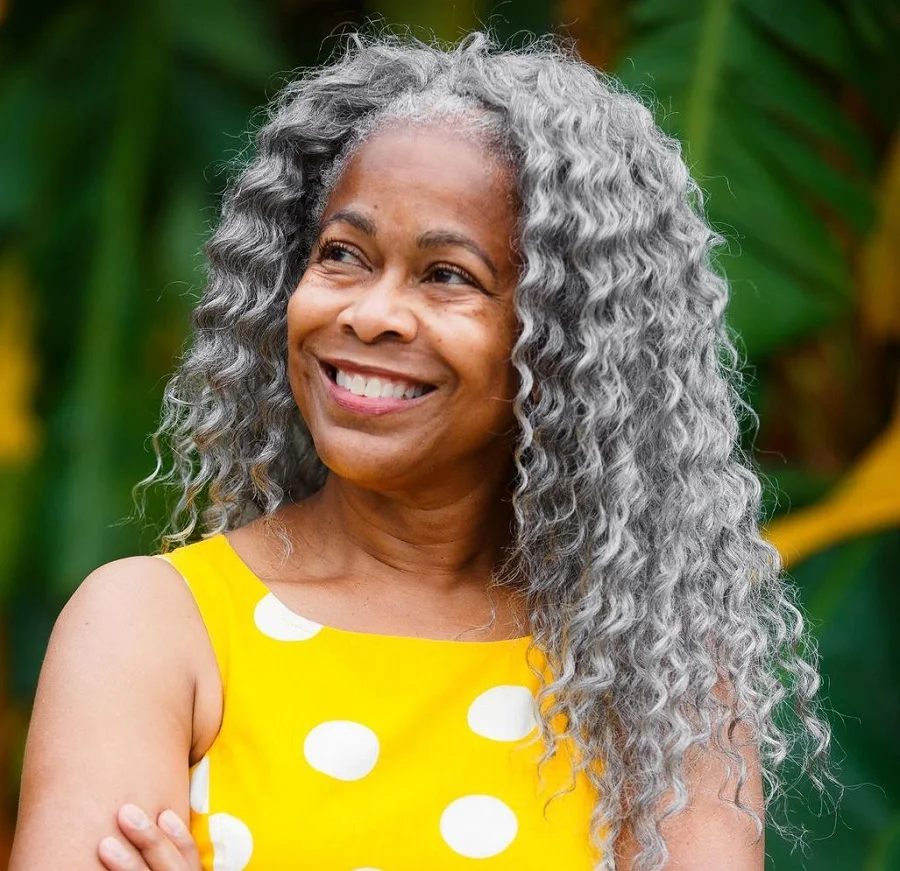 Here's another grey hairstyle for black women aged over 50 who are lucky enough to still have a long mane.
Ask the hairdresser for a dark grey base with shiny silver streaks in between along with a layered V or U-shaped haircut to pop some eyes.
18. Side-Swept Dreads + Undercut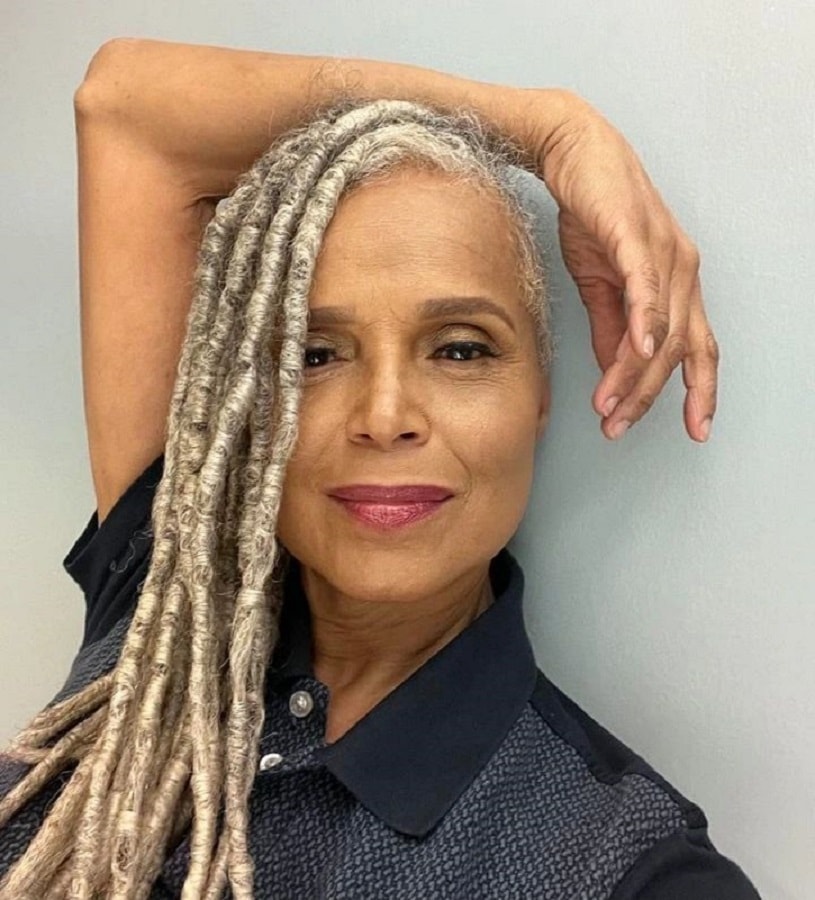 Getting a little wild surely won't hurt. Make a style statement by opting for super long grey dreadlocks on top with a neat buzz on one or both sides of the head.
Tousle the locs on one side and adorn them with beads, hair cuffs, or rings. Or don't!
19. Feminine Pompadour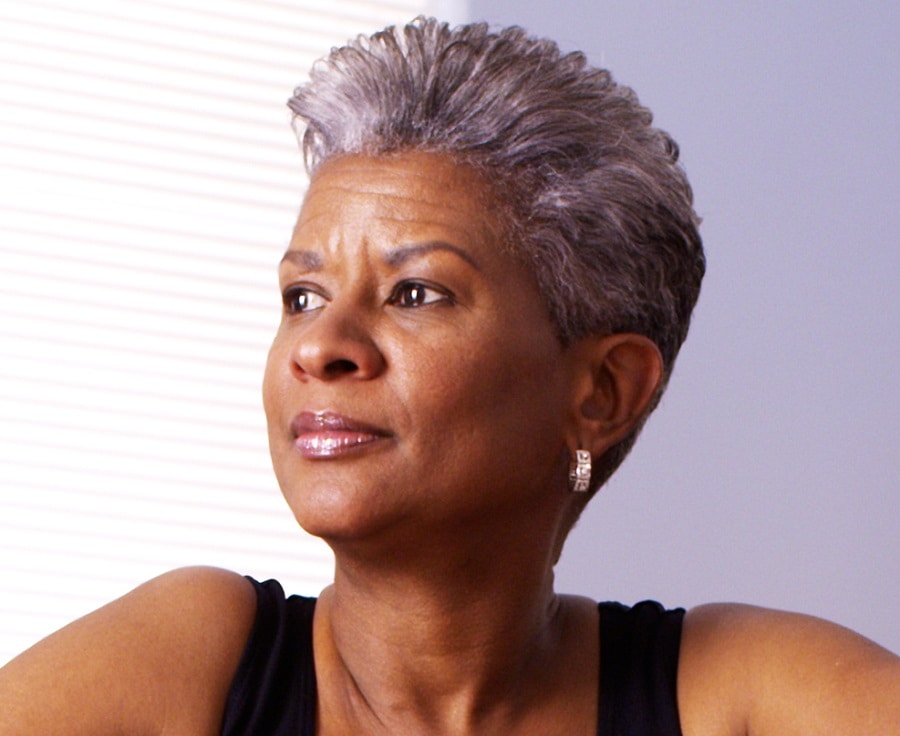 Break stereotypes while keeping it workplace-appropriate with a short pompadour hairdo.
Get a long flowy top that shortens towards the sides with or without some babylights. Brush the strands up and away from the face during blow-drying to achieve a sexy pouf at the front.
20. Voluminous Retro Bob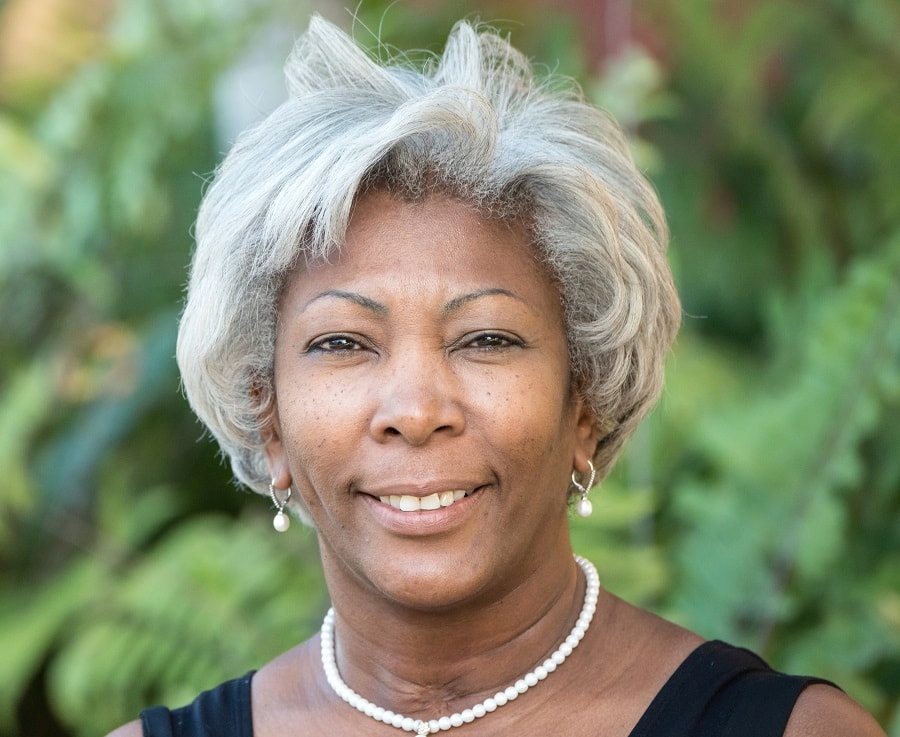 Take away the bulk in the case of thick locks with a retro-chic bob featuring short choppy layers, volume at the roots, and a minimalistic side fringe.
Use a barrel brush to roll the curls inwards to hug the face for an elegant appeal. Don't forget your pearls.
21. Natural Pixie
It would be unfair to skip a pixie haircut in a list of best grey hairstyles for black women over 50.
Play around with layers, angled bangs, and undercuts, or keep it laid-back with a close crop defined by a short top that tapers seamlessly towards the nape.
The above list of grey hairstyles for black women over 50 covers all hair lengths and textures. You can embrace your natural greys as such or enhance them further with highlights or lowlights to achieve a frosted silver or rather a catchy salt and pepper mane of your dreams.