Bobs come in many different shapes. They can be layered, sleek, feathered, or curly. But one thing they all have in common is that they're low-risk, adding movement to your mane, regardless of hair texture, thickness, and face shape. Layered bobs can give an elegant look to women above 50.
These above-chin to below-shoulder haircuts are a go-to for ladies getting over the hill. And with some adjustments, they'll lift up your face like nothing else. Heat styling might still be inevitable to make your hair look on fleek.
So buckle up, as it's time to breathe some life into your thinning locks with the following layered bob hairstyles for over 50.
Fashionable Layered Bobs for Women Over 50
When hitting 50 years of age, it might be a bit late to get out of your comfort zone. Layered bobs, being classy and versatile, are therefore a safe play.
1. Layered Wavy Bob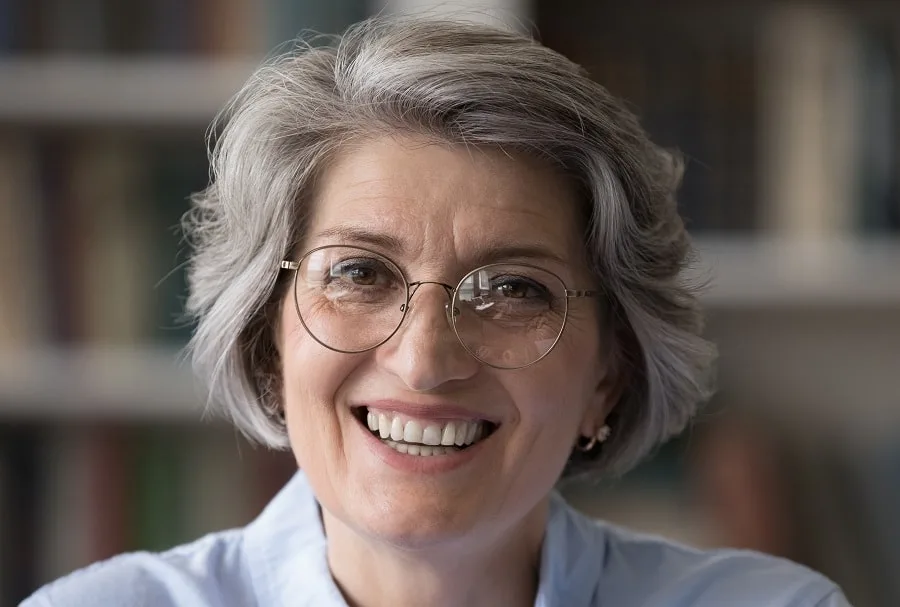 Make use of that natural wave in your hair to end up with a bouncy mane that'll instantly revitalize your look. Opt for layers that round off towards the back with a brushed-back side parting.
Flip the strands away from the face every now and then and call it a day.
2. Salt and Pepper Curls
Curls can prove to be a blessing for women facing hair loss with age. Embrace your natural texture with a heavily layered bob and some bangs to prevent an oblong face from appearing any leaner.
Gray highlights or black lowlights are your way to achieve a salt and pepper mane.
3. Mushroom Bob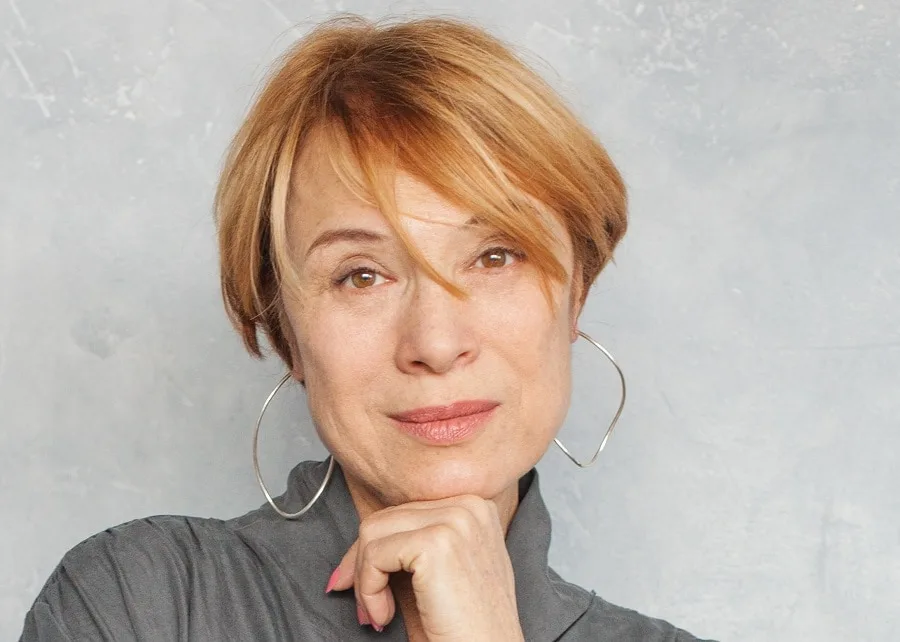 Look younger for your age with an edgy mushroom bob focussing all the attention on your face. Experiment with a long top that might elongate towards the back with clipped or buzzed sides to get that classy mushroom head-like shape.
Throw in some highlights for a natural-looking glow.
4. Classic Lob
A layered long bob hairstyle is ideal for ladies over 50 who want to age like fine wine. While short bobs are a big no for long faces, keeping the length near the shoulders might work exceptionally well.
Couple the cut with long side bangs and you won't regret it.
5. Short Tapered Curls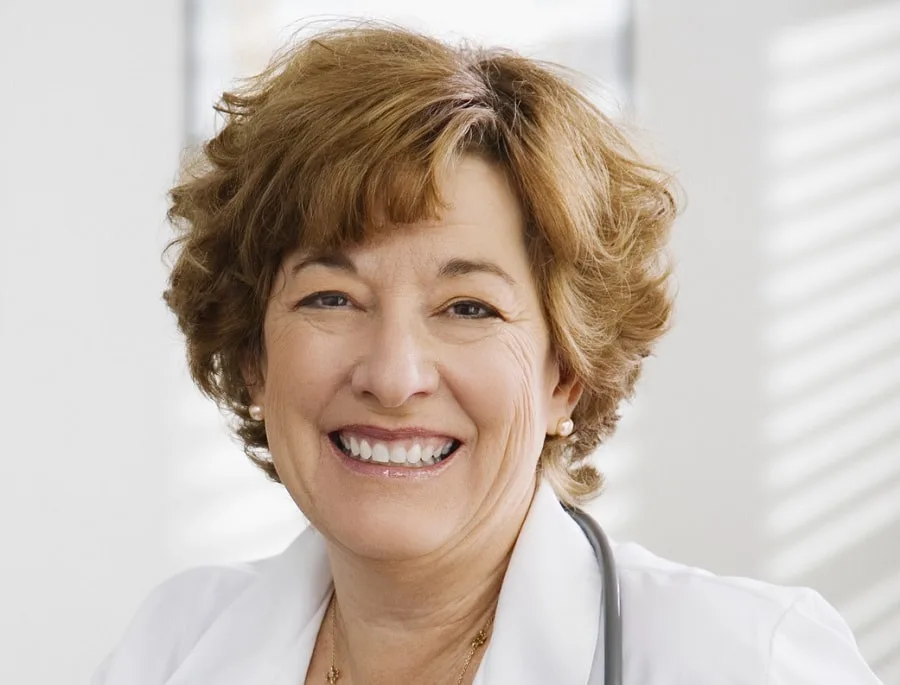 Styling and taking care of curls might be a hassle when entering your senior years. Keep it low maintenance with a handful of short wispy layers that lengthen towards the nape in a rounded shape.
Some inward-curled side-swept bangs will look super cute!
6. Feathered Layers
Bring back those good old feathered layers from your youthful days as they're still in style and probably always will.
Feathering results in thicker roots and thinned-out tips that create the illusion of a healthy mane. A good blowout is essential to bring out the true beauty of your new haircut.
7. Face-Framing Graduation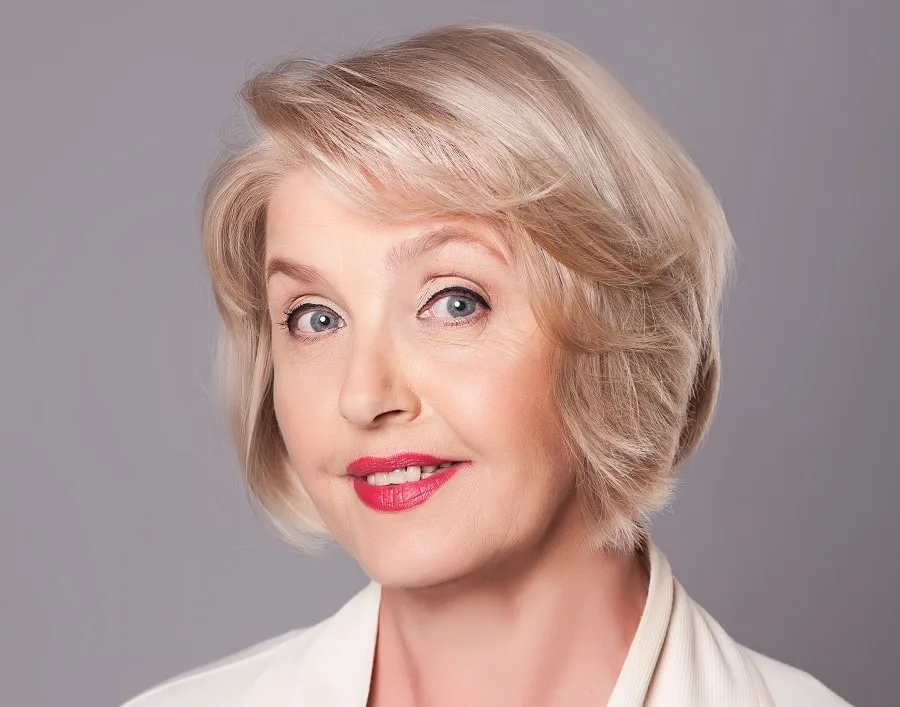 Keep it minimal yet stylish by focusing the layering at the front to frame the face. Snip the strands at an angle and continue to the tips. Try subtle-to-no layers at the back and flip the ones at the front sideward.
Set the look on fire with a creamy blonde hair color.
8. Bob with Baby Bangs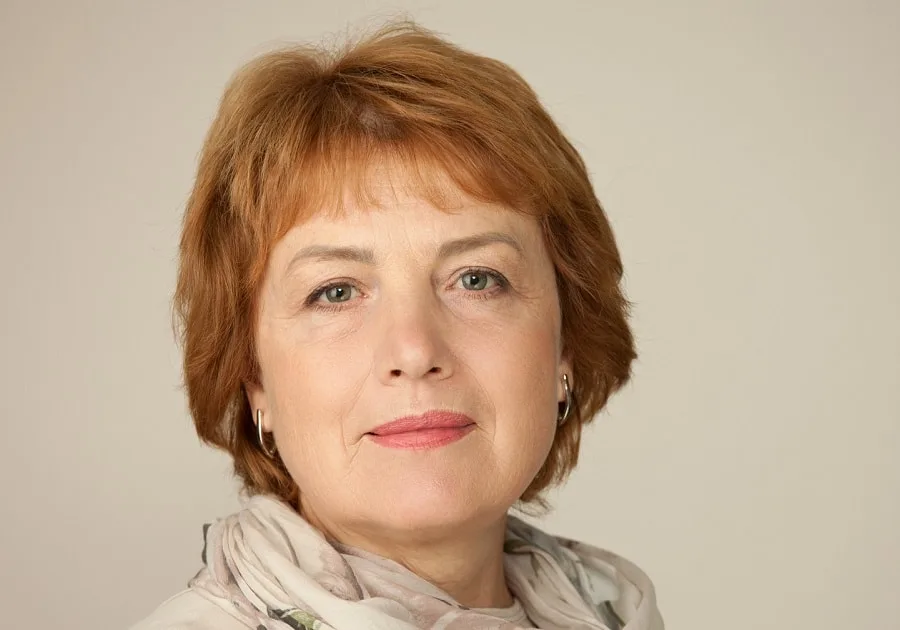 A short blunt bob might bring forth all those wrinkles and under-eye bangs more than ever before. Avoid that by creating lots of texture and movement with layers.
The baby bangs come in handy to soften a square face or conceal a wide forehead.
9. Tucked Bob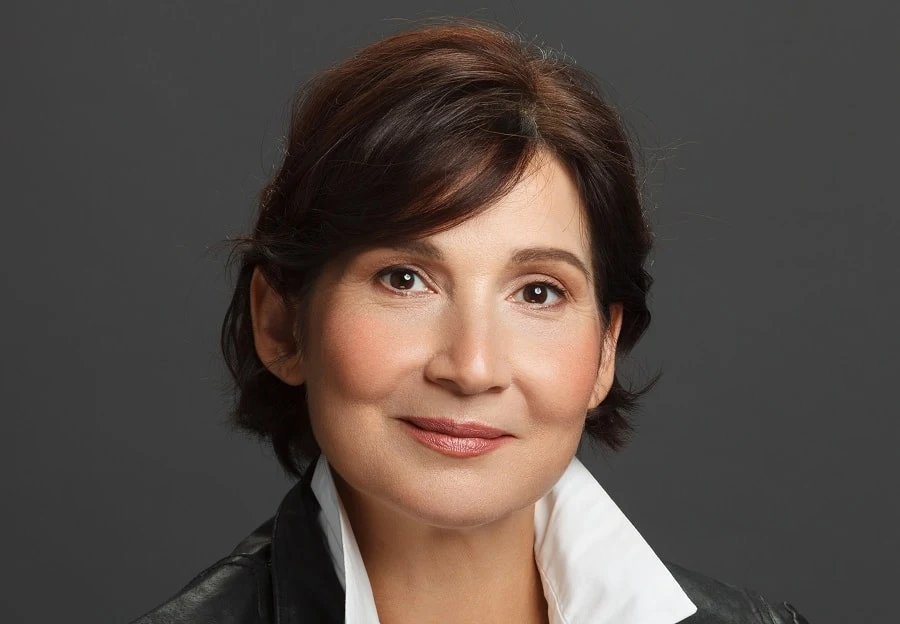 The tucked bob is the latest cool-girl hair trend that can work as a layered bob hairstyle for over 50. It has shorter strands at the front that can be tucked behind the ears to be blended with the remaining longer mane.
Spice it up with a dark hair shade for a change.
10. Flicked Ends with Piece-y Fringe
In the case of naturally wavy-to-curly tresses focus the layers below the ears to make your narrow chin appear less pointy. Flick out the ends using a barrel brush and hair dryer enhancing the hair volume further.
Blunt bangs look suffocating, but their tousled piece-y version is perfect to hide a high hairline.
11. Deva Bob
African-American over 50 beauties can go for a DevaCut when getting a layered bob for their kinky curls. The technique involves cutting the coils individually when dry sculpting them flawlessly around the face.
The shorter top strands fall on the longer ones below for a disconnected or a seamless graduation.
12. Layered Shag for Thin Hair
Thin coarse hair is one of the biggest cons of aging. Make it look better with deep conditioning treatments, zero heat styling, and a heavily layered bob.
Hand-tousle the strands for a careless appeal while building further body around the face. Simple and easy!
13. Soft Sleek Point Layers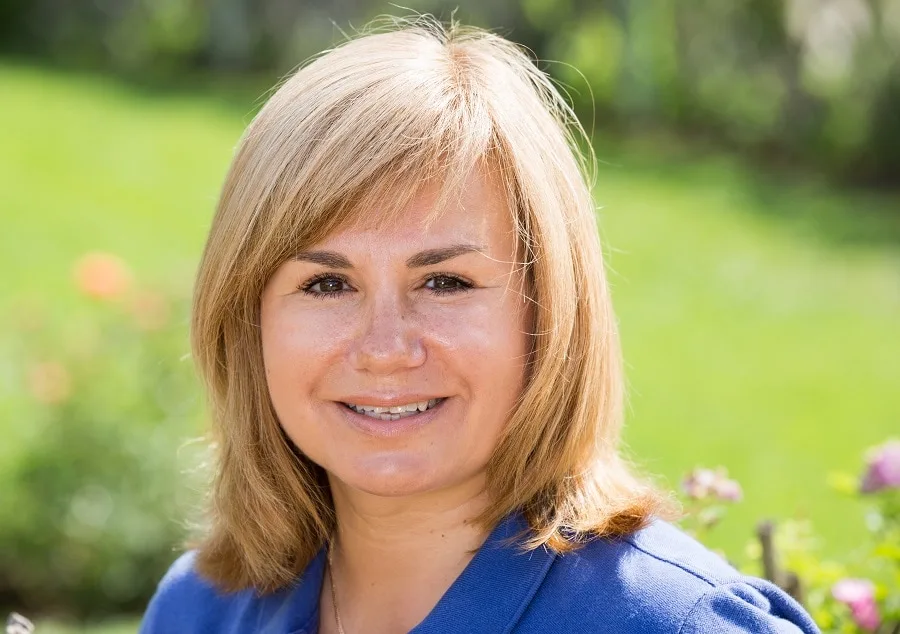 Point cutting focuses on creating texture and movement at the ends. The top is kept smooth with layers emerging towards the tips by cutting through the hair keeping the scissors parallel to the strands.
The result is a light airy bob that'll look even better with side-swept bangs.
14. Side-Swept French Bob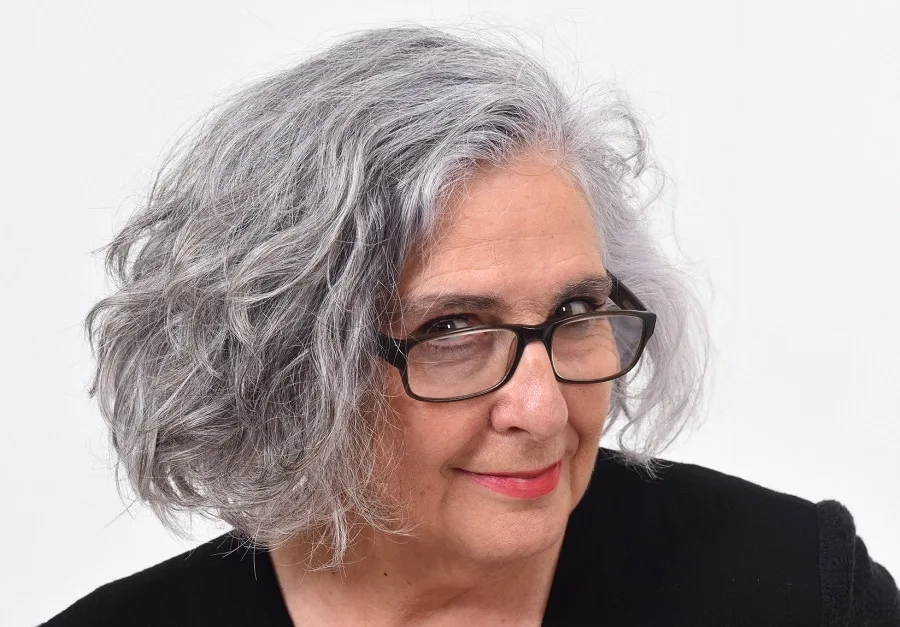 Maintain a Parisian charm with this sexy layered french bob hairstyle for seniors over 50. The beauty lies in getting a blunt cut at or above the chin with plenty of layers.
Skip the bangs and try a deep side parting to achieve a little asymmetry.
15. Angled Bixie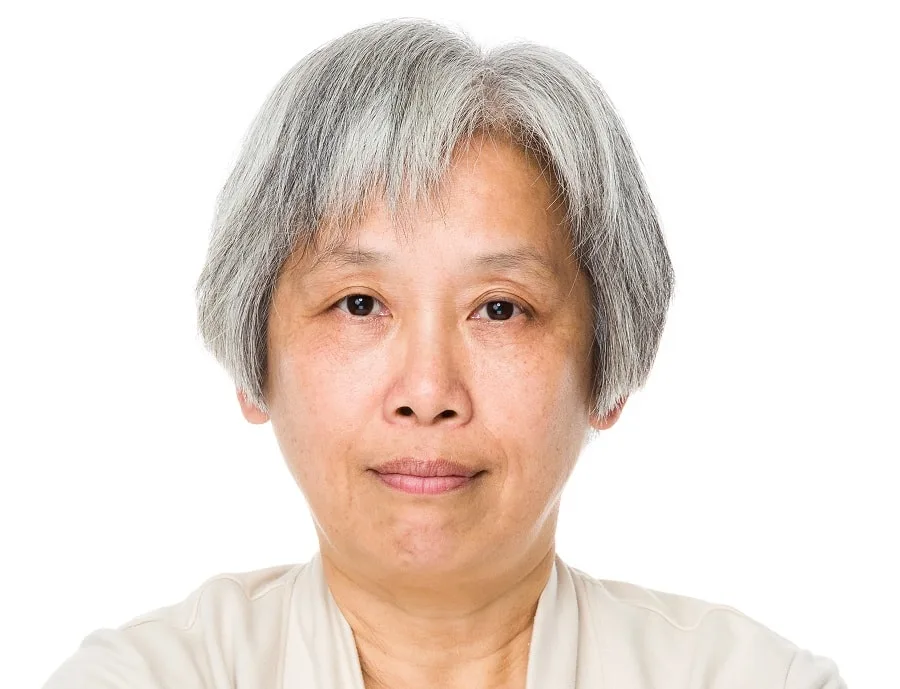 Bixies allow you to go super short while still staying in the family of bob haircuts. Try an angled one with an undercut above the nape and the top strands elongating towards the front at ear level.
Get some choppy side bangs to avoid a boring blunt look.
16. Old-School Vibes
Keeping it old school, this is what comes to mind when considering a layered bob hairstyle in your old age.
The slightly cropped airy bangs with below-chin layers are perfect to accent that gorgeous face. Fresh hair color will make a huge difference though.
17. Long Bob with Side Bangs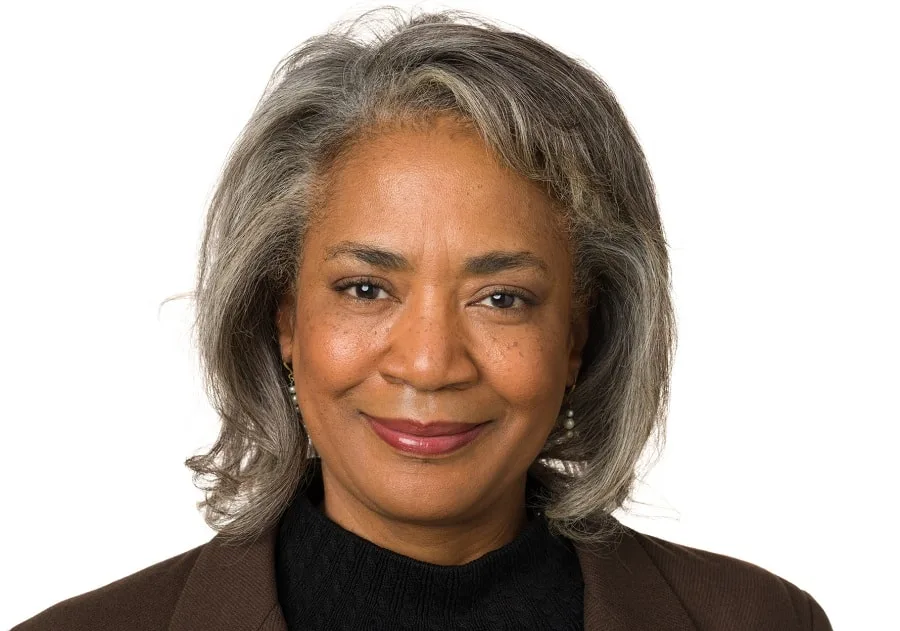 Maintain a professional appeal at the age above 50 with a simple long layered bob and short side bangs. Brush the hair away from the face when drying to create volume near the roots at the front.
Use some hairspray to keep the strands in place all day long.
18. Wedge Cut
The wedge cut is an edgier version of a classic bob featuring cropped strands at the nape with longer layers around the face.
Try a zigzag side parting with an angular long fringe to become the rock star grandma everyone wishes for! Long earrings are a must!
19. Curly Wolf Bob
This curly layered bob hairstyle for women over 50 is inspired by the wolf cut that has been trending for a while now.
The chopped-up layers on top elongate toward the sides and back with or without bangs. Having some natural hair texture is a big plus when getting this haircut.
20. 70s Bob Hairstyle
Feathered short haircuts continue to peak every once in a while. Ladies who want to take away the bulk from their thick tresses can get a classy 70s feel with a fully feathered bob.
Short layered bangs sweeping across the forehead bring the whole look together.
21. The Perfect Blowout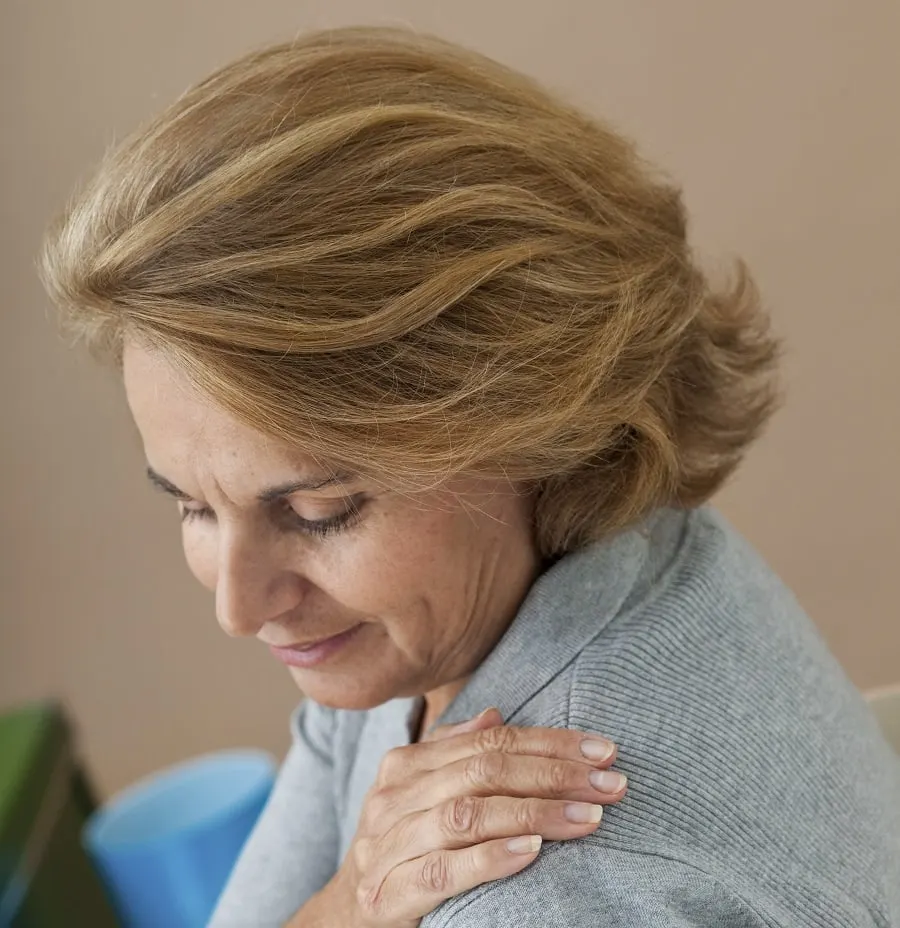 There's no use in getting a layered bob hairstyle if you don't give it a good blowout using a round brush.
Make your layers more noticeable with some gorgeous highlights. Finish off by sweeping the strands backward and letting them fall naturally along the sides.
22. Stacked Bob
Women who prefer to wear their tresses high can consider getting a stacked bob without second thoughts.
The layers are stacked at the back creating a rounded shape and getting longer towards the front. Bangs and highlights are optional but worth a try for sure!
23. Voluminous Crown + Curtain Bangs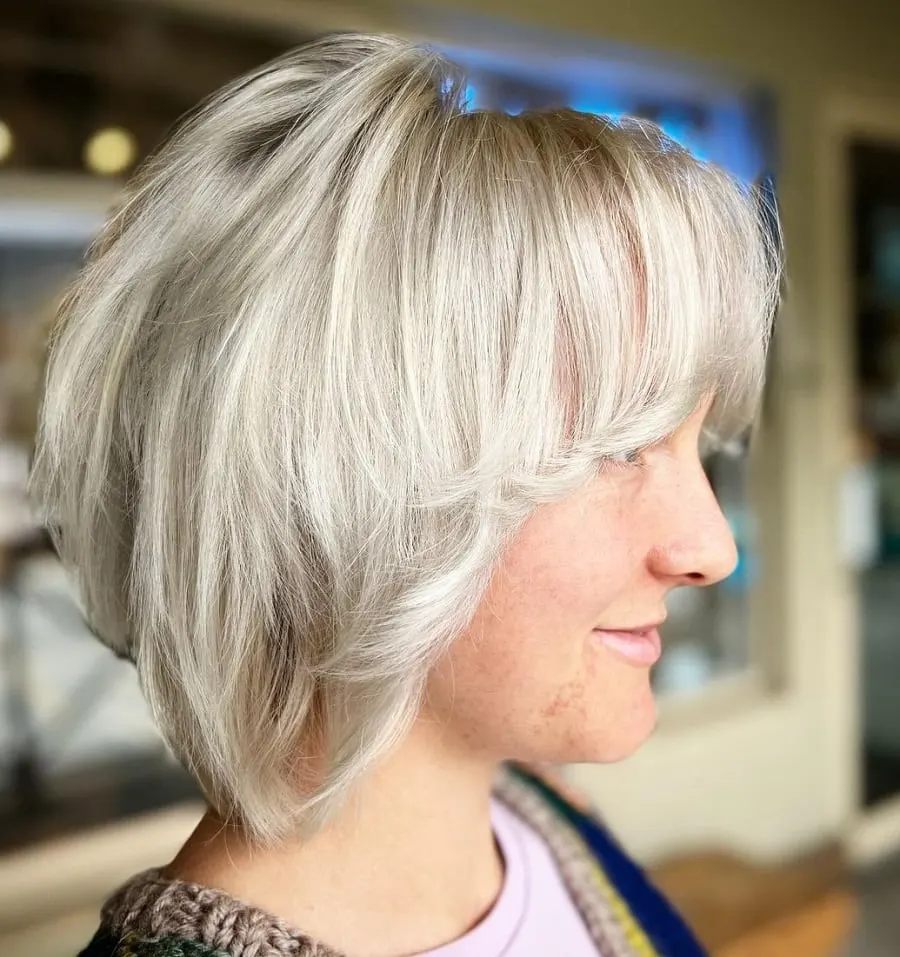 Here's a more jazzed-up version of the graduated bob featuring an angled snip both at the front and back with curtain bangs and piled-up layers, respectively.
The longest strands emerge from the middle of the head with a voluminous disconnected crown that is sure to drop many jaws.
24. Choppy Layers with Halo Highlights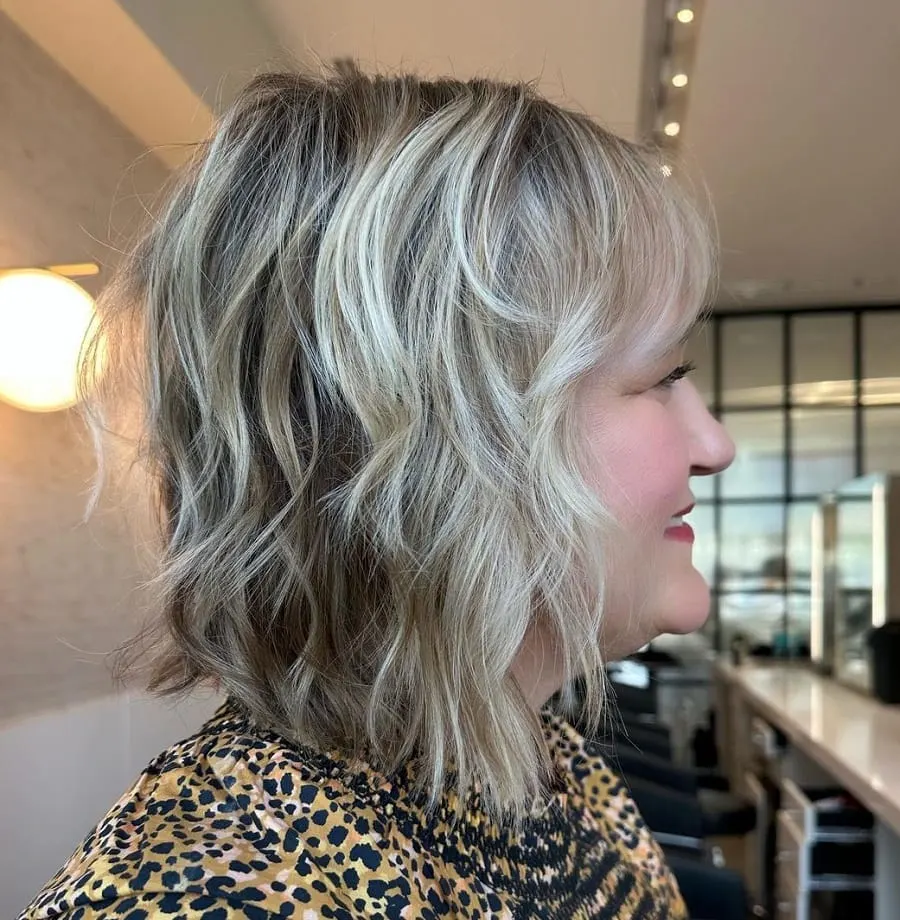 Choppy layers result in eye-catching blunt-textured tips that are suitable for thick and thin locks. Try them with halo highlights to create brightness around the face only keeping the back untouched.
Finish off with beach waves and no one's going to believe you're above 50!
25. Frosted Pink Beach Waves
Who said layered bob hairstyles for over 50 can't be funky? Apart from getting a choppy bob or lob, amp up your look further with unusual hair color instead of going blonde for a change.
This chopped-up frosted pink shag with metallic silver highlights is a good start. Isn't it?
From soft to edgy, these layered bob hairstyles for ladies over 50 are ideal to shed off a few years. Layers add volume to the hair while cropped haircuts make a thin mane seem thick. Both these are the key features of all the hairstyles mentioned above and hence are worth a shot.