There are so many hairstyles that can flatter men with grey hair! If those white strands started to pop, you can easily find ways to transform your appearance into a great salt and pepper look.
Some men struggle with this problem earlier than others, but that doesn't mean you can't find a way to make it look brilliant. Others are in their 20's and crave for silver-gray hair color. Either way, you can opt for short or long hairstyles, highlights, or enlighten your hair to make the white threads blend beautiful.
At What Age Do Men Get Grey Hair?
The average age men begin to get grey hair is 50. Some men will develop grey hair a bit later, and some can even get it as early as their 20s. The age you get grey hair depends entirely on your genetics.
Hairstyles for Men With Grey Hair
If you are an older man, there is no reason to despair; we got you covered! We know you don't necessarily love your gray threads but we are here to help you discover the most suitable hairdo. So, here are the best hairstyles for men with gray hair that you can pull off if you want to look cool and young.
1. Gray Short Hair with High Taper Fade
If you want something fresh, a dark grey hair will work its charms on any men who wish to make a spectacular transformation. Keep a short beard and go for a high fade and top that you can style upwards.
2. Silver Short Cut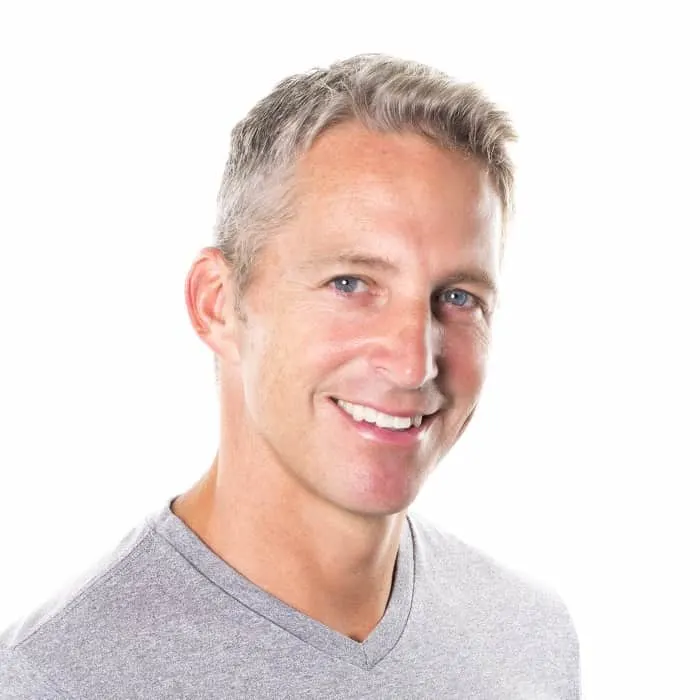 A short grey haircut will be perfect for men who try to make their white threads blend with the darker ones. Use a silver-blonde hair dye to create a unitary look that will make you feel younger and fresh.
3. Ponytail for Older Men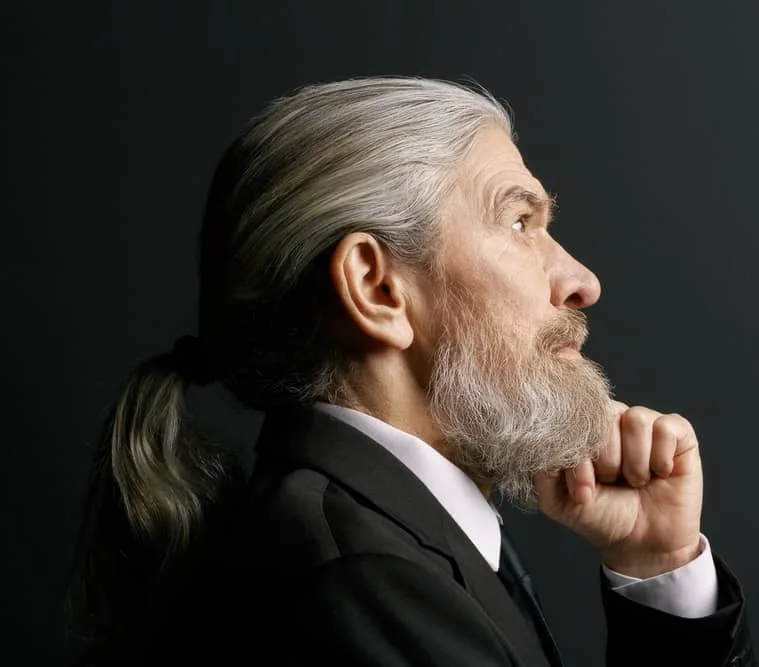 White threads should not get in your way while you have thick long hair that can be arranged in so many ways. If you want a more elegant touch, a simple low ponytail will beautifully work with your beard, and you will be truly stunning.
4. Perfectly White Comb Over
This hairstyle is so simple to recreate and, at the same time, incredibly stylish. Get a taper for the sides to make your face appear longer, while the combed back quiff will become a true statement.
5. Short Grey Haircut for V Hairline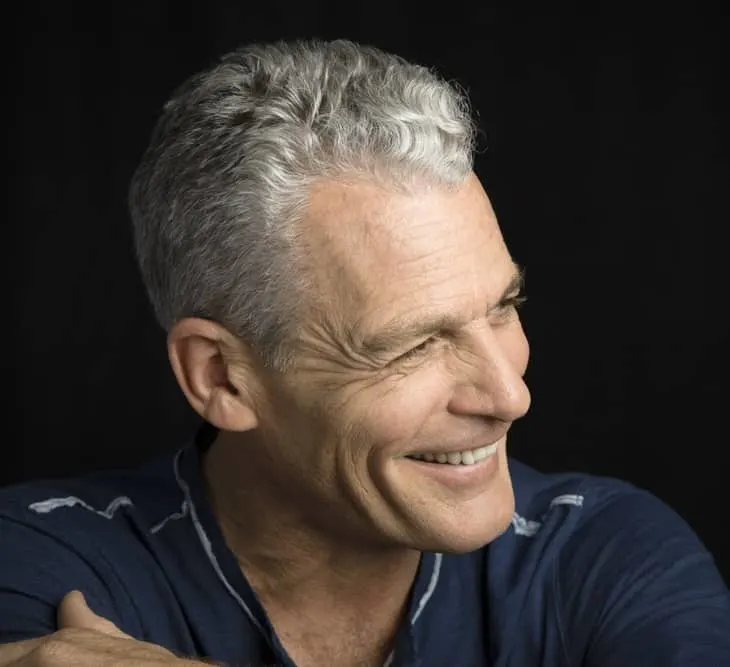 Wavy grey hair will gorgeously suit a man over 50 that started to show off some threads losing their pigment. They will also transform your V hairline into an asset and you will look so elegant without even styling it.
6. White Hair with Side Bangs
When you have full white coverage, grey blonde hair dye will transform any man's look. Even younger folks will become jealous of this trendy hair color that all teenagers want to get. Toss your bangs on one side and backward and get ready to rock your age!
7. Curly Long Hairstyle for Gray Hair
Grey curly hair looks spectacular on men who also have to wear glasses. Layer your hair and let those white threads play their part because your mane will have so much texture. Keep a shortly groomed beard, and you'll look marvelous.
8. Silver Blonde Buzz Cut
A grey haircut with a bald fade on sides will highlight that salt and pepper lookalike color. You can coat that Afro hair with a silver color, and we guarantee it will look amazing.
9. Afro Hair with Temple Fade
A short gray hairstyle is a real blast for black men who want to look cool. Go for a temple fade that will create a disconnection between your long beard and your Afro hair.
10. Gray High Top
Ash grey hair suits men all ages, especially young ones who want to get a new twist. Opt for a bald fade on the sides and maintain a high top that you will style upwards. Use a quality hair gel if you want your hair to look glamorous.
11. Asian Men With Long Grey Hair
A long gray hairstyle is perfect for men who are not afraid to show off their peppered locks. Layer the tips of your hair and go for a goatee beard to complete the whole look. If you are an Asian guy, opt for a thick-framed pair of glasses.
12. Silver Purple Hair
If you are not afraid of bleaching your hair, you will instantly fall in love with this fantastic hairstyle. Get a faded purple silver color for the top and create that casual messy look. Make that gorgeous shade blend with your natural color and continue with a bald fade to accentuate the top.
13. White Pompadour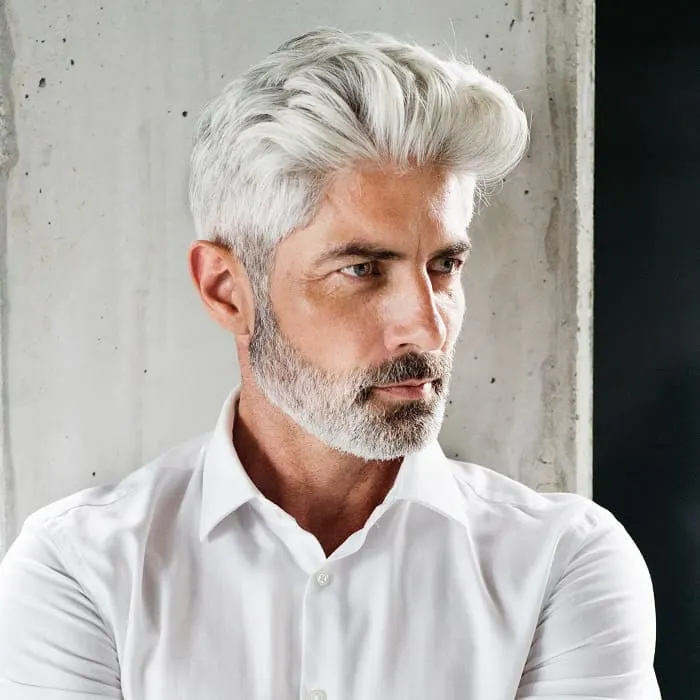 This is a perfect match for men over 50 with long grey hair, and the example above proves it. Maintain that top hair long enough to create a marvelous Pompadour and perfectly groom your beard.
14. Braided Top with Bald Fade
If you want to extend your hair, you will always find a good option in Jumbo hair. Get a bald fade for your sides and back and use your top hair to create the braids. Decorate them with cuffed beads, and everyone will compliment your hair, especially the girls.
15. Half Ponytail for Curly Hair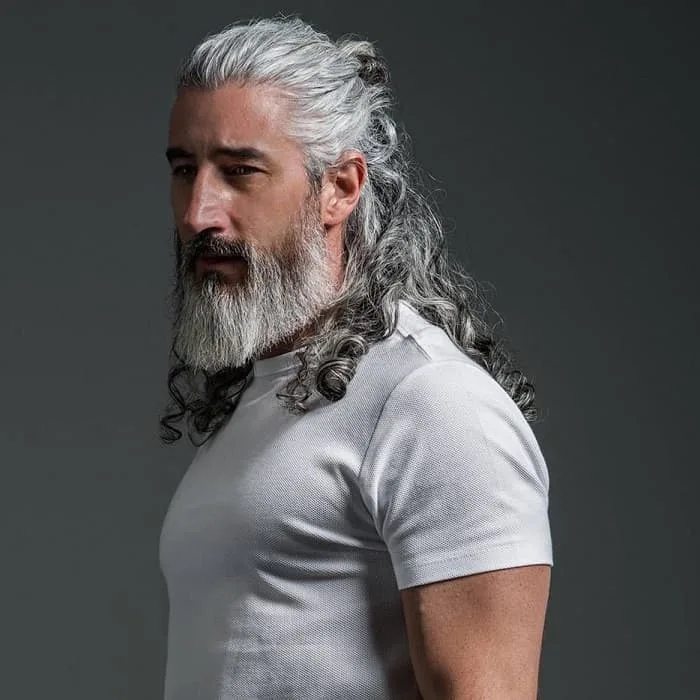 When you have long and curly hair, a half ponytail will define your facial features and make you look like a real badass. As for the beard, keep it long and perfectly groomed. You can even use a mini straightening iron to maintain that flawless aspect.
16. Gray Man Bun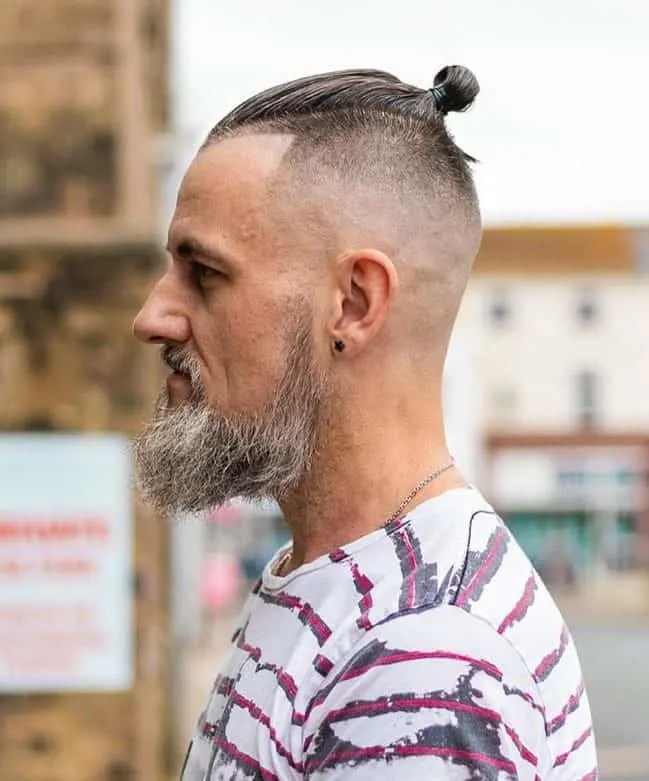 Opt for a high fade on sides and back and use that long top to create a man bun. As for the beard, keep it long and using a mustache, frame your mouth. You'll have a great badass look.
17. White Hairstyle for Men Over 60
This grey haircut is the perfect choice for men over 60 who want to look sharp and presentable at meetings and events. Slightly toss your bangs on one side and maintain a short beard if you want to look professional.
18. Messy Hairstyle
When you are into hipster looks, this curly messy hair will suit you like a glove. Keep a long beard and complete your look with a pair of thick-framed black glasses.
19. Blonde Gray Medium Hairstyle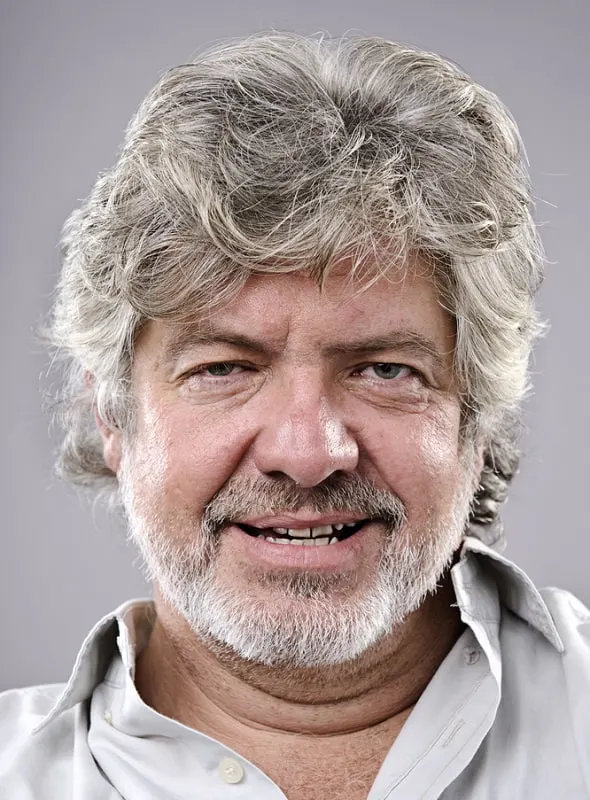 A medium hairstyle with bangs tossed on one side is one of the best options for men with round faces. If you don't want something too fancy, a medium-cut is a right choice.
20. Professional Haircut
When you want to look like a true professional, a classy haircut is a thing you need. Tapered sides and a high top will make your face glow, and a very short beard will make you seem so manly.
21. Brown Hair with Silver Blonde Highlights
Grey highlights are not ideal only for women but also for men who want to give their hair a touch of greatness. Get a medium haircut with long top and bangs tossed on one side and create wide highlights.
22. Salt and Pepper Dreadlocks
Spice up your hairstyling game by transforming your salt and pepper Afro hair into marvelous dreadlocks. They will fabulously work with your beard, and that will have such a fabulous texture.
23. Silver Blue Faux Hawk
When you are a real badass, you don't care about other people's opinions. If you want an absolutely gorgeous hair color, go for a silver-blue shade. It will totally reflect your personality.
There are so many hairstyles for men with gray hair and we understand if it's hard for you to find the proper one. You need to take into consideration a haircut that suits your traits and hair texture. You can go for a short haircut with bald or tapered sides or even consider a half ponytail for those who have long hair.