Little girls are excited about their dresses and tresses from the very beginning. No wonder they are seen looking at mirrors trying out different hairstyles while copying their moms.
As they continue to grow, getting seven years old and above, little girls become more independent and develop a taste for certain hairstyles while starting to dislike others.
Although there are plenty of hairdos for your little princess it all comes down to her comfort and the time you've got to do her hair before school. We hope the following 7-year-old girl hairstyles will help you out in creating a different look every day effortlessly.
Pretty 7-Year-Old Girl Hairstyles
There is much more out there than just basic pigtails, braids, and buns. Check out these haircuts and hairstyle ideas for your 7-year-old little girl.
1. Half-Up Space Buns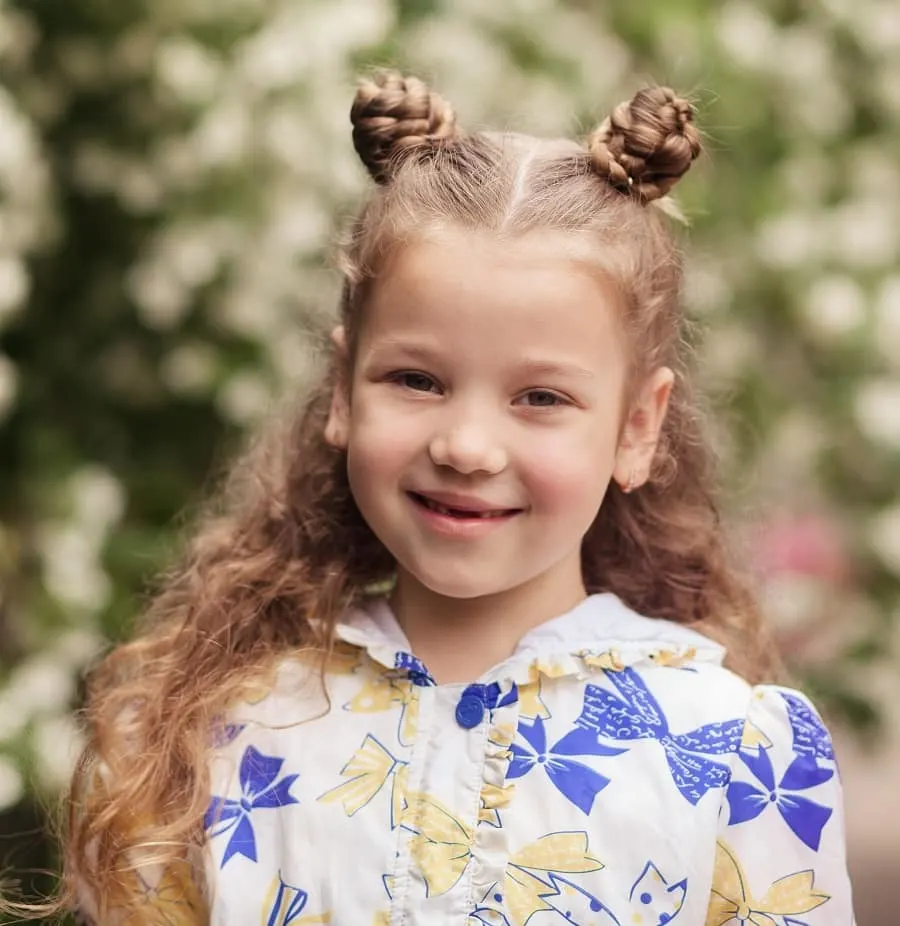 Give space buns a shot if your little one has got long to medium hair. Take the front strands and plait them down before wrapping them around into buns leaving the remaining hair loose at the back. Skip the braiding step or opt for a zigzag parting for a change.
2. Layered Lob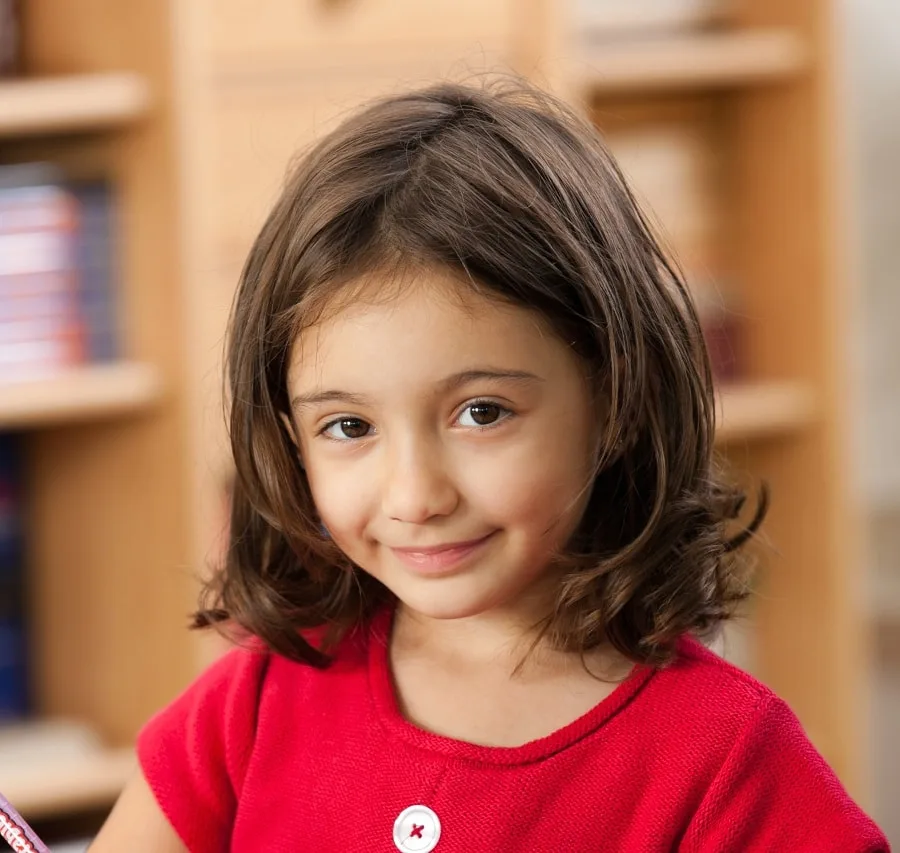 Lobs have remained quite the rage for some time and this layered one is an ideal haircut for 7-year-old girls who have got an eye for fashion at a very young age. The layers dangling above those little shoulders are easy to maintain and look cute even when a bit messy.
3. Side Ponytail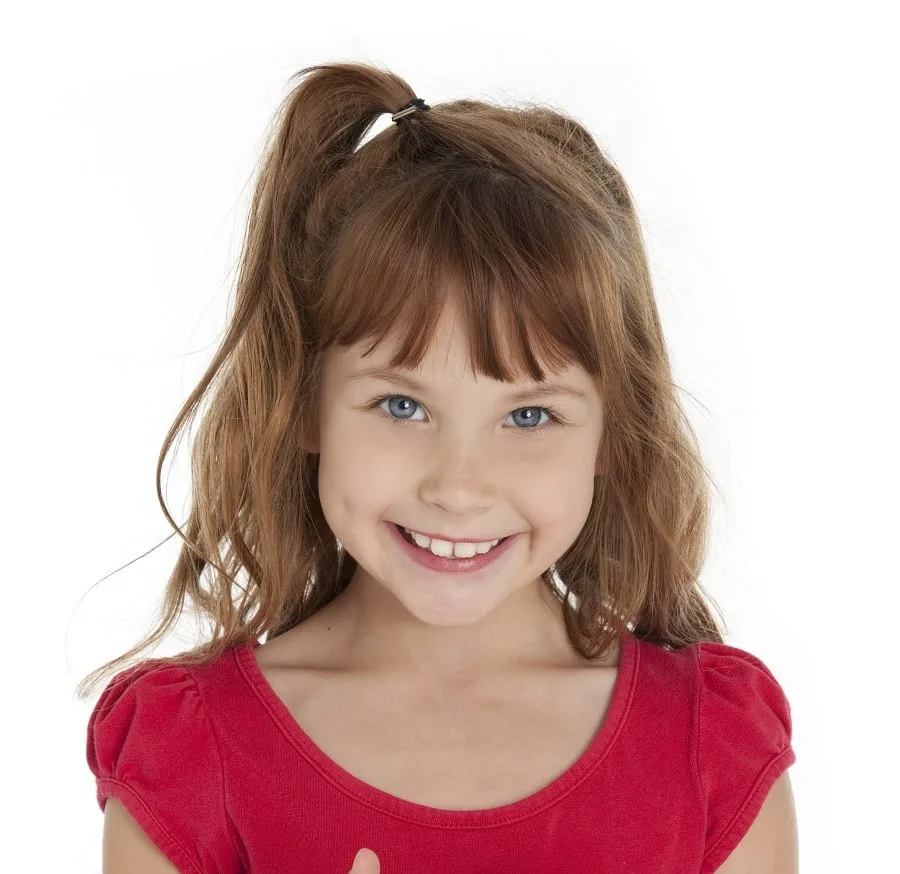 When you get out of ideas or don't have the energy and time for a detailed hairdo a simple yet funky side ponytail has got you covered. Assemble all or only half of the locks in a ponytail sparing those bangs at the front and done! Easy-breezy!
4. Top Knot
A top knot bun is suitable to keep all the hair away from the face with style. Create a high ponytail and swirl it around to be secured with pins. Spice up the look further with a bowknot hairband matching the outfit. Your little princess will love it!
5. Two-Toned Cornrows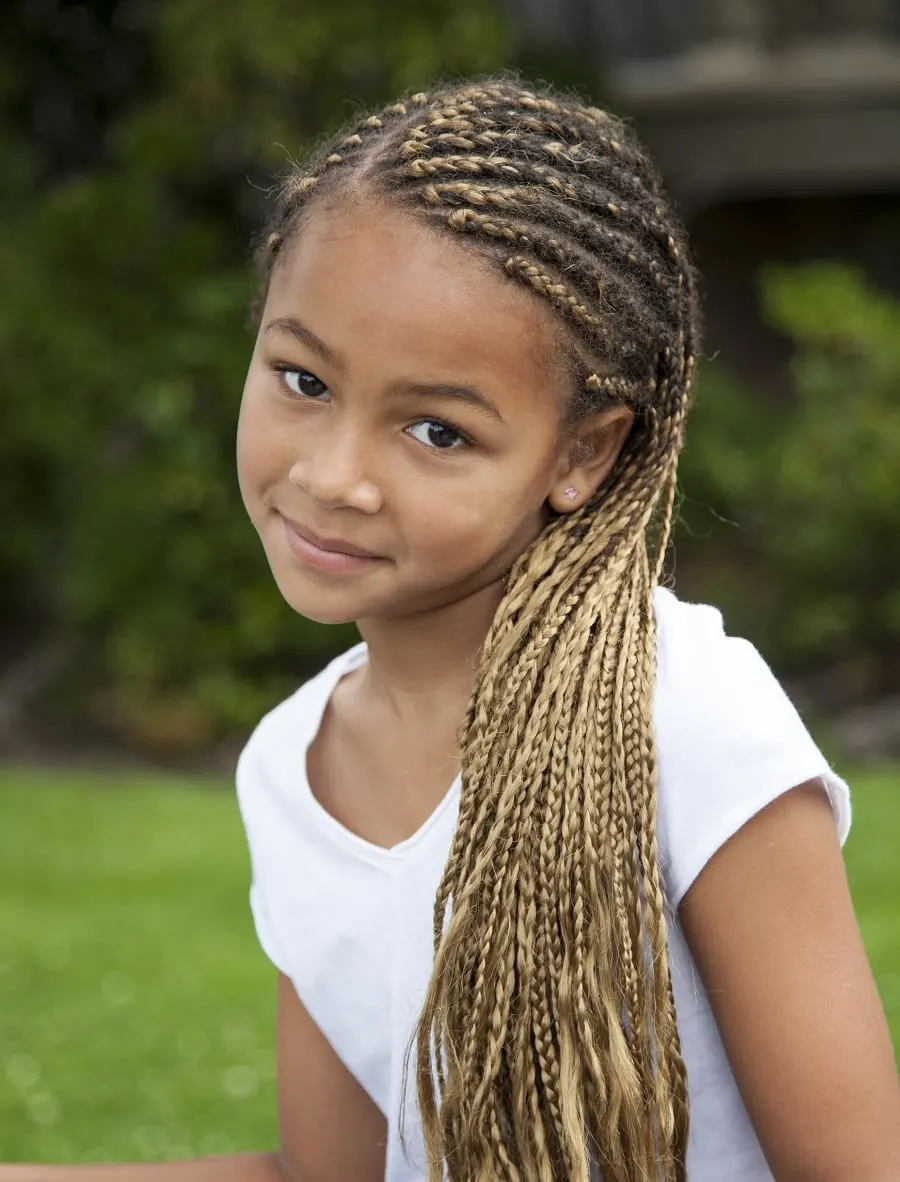 African-American moms can make their 7-year-old little girls with dark skin look like mini versions of Beyoncé by getting their tresses styled into lemonade braids. Ask the hairdresser for side-swept long cornrows with or without a part and blonde extensions for a two-toned look. You'll be happy to see your little ones smile afterward.
6. Twintails with Bangs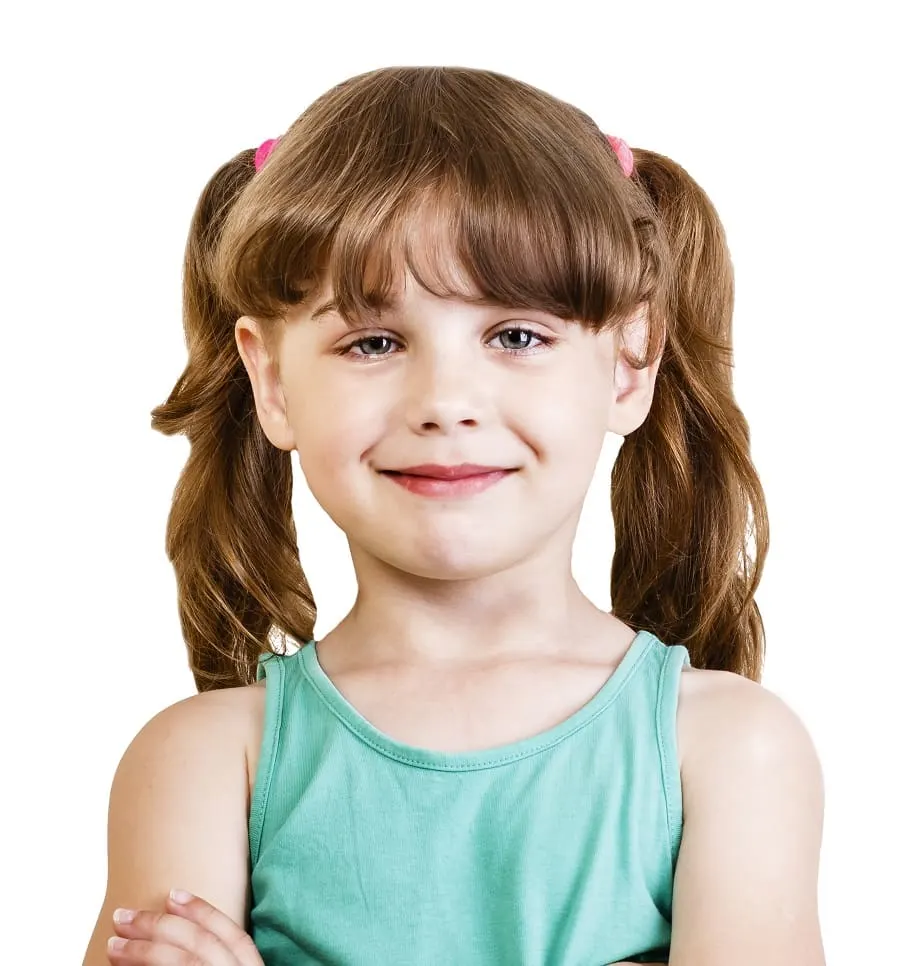 Little girls look super cute in bangs. Twintails never look outdated or boring and are in fact nostalgic as girls in every era have rocked them during their childhood days. Couple those ponytails with thick bangs grazing the eyes and adorn them with cute little hair clips and pins.
7. Wedding Look
Got a wedding coming and looking for a little girl's wedding hairstyle? Recreate this hairdo on your girl and see jaws drop all around her.
Opt for shoulder-length layers with straight bangs and add tight curls all over the head. Finish off the look with a pearl accessory on one or both sides of the head for a fancy appeal.
8. Front-Row Braids
Front-row braids are another easy everyday hairstyle for 7-year-old girls regardless of their hair length.
Separate the front chunks on one or both sides of the parting and plait them down to be secured behind the ears with pins. Simple and chic what more to ask for?
9. Short Round Bob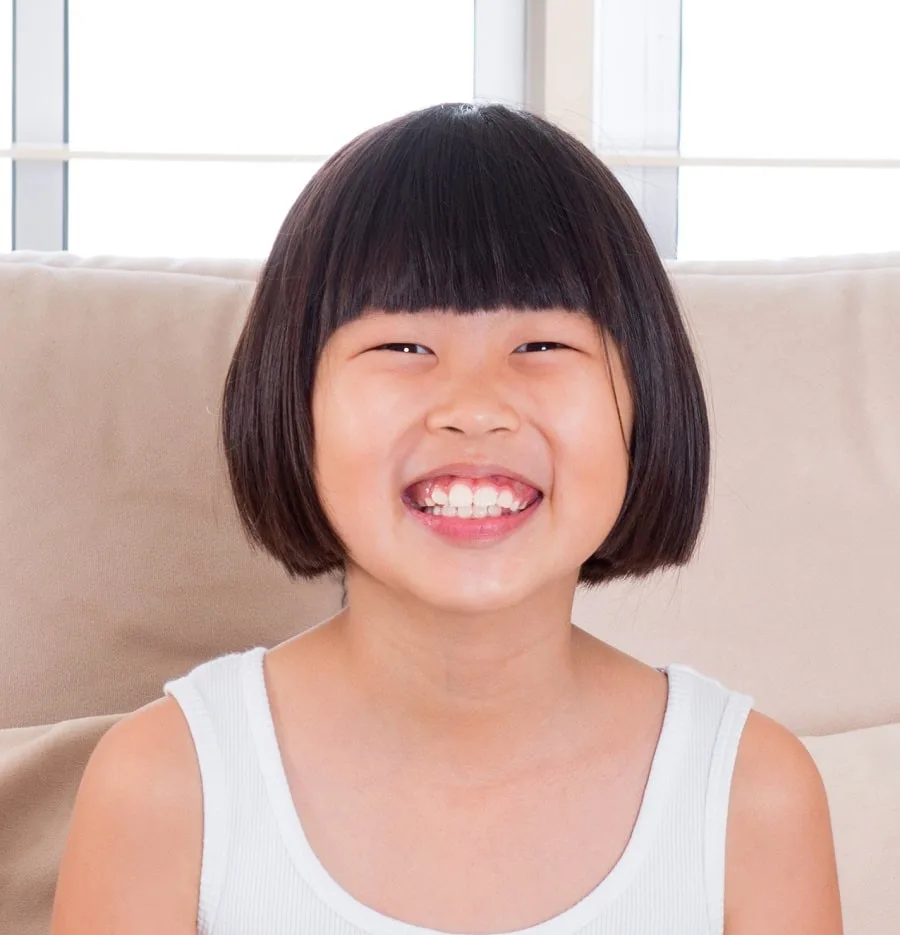 Bob isn't only for adults. Managing long thick tresses can be a difficult task both for mothers and their daughters. So, if you want a low-maintenance haircut, go for a bob cut for little girls.
Managing long thick tresses can be a difficult task both for mothers and their daughters. That is when short haircuts for little girls like this sleek round bob and blunt bangs come into play. All you need is to brush the hair in the morning and voila! Can't get any easier!
10. Plaited Pigtails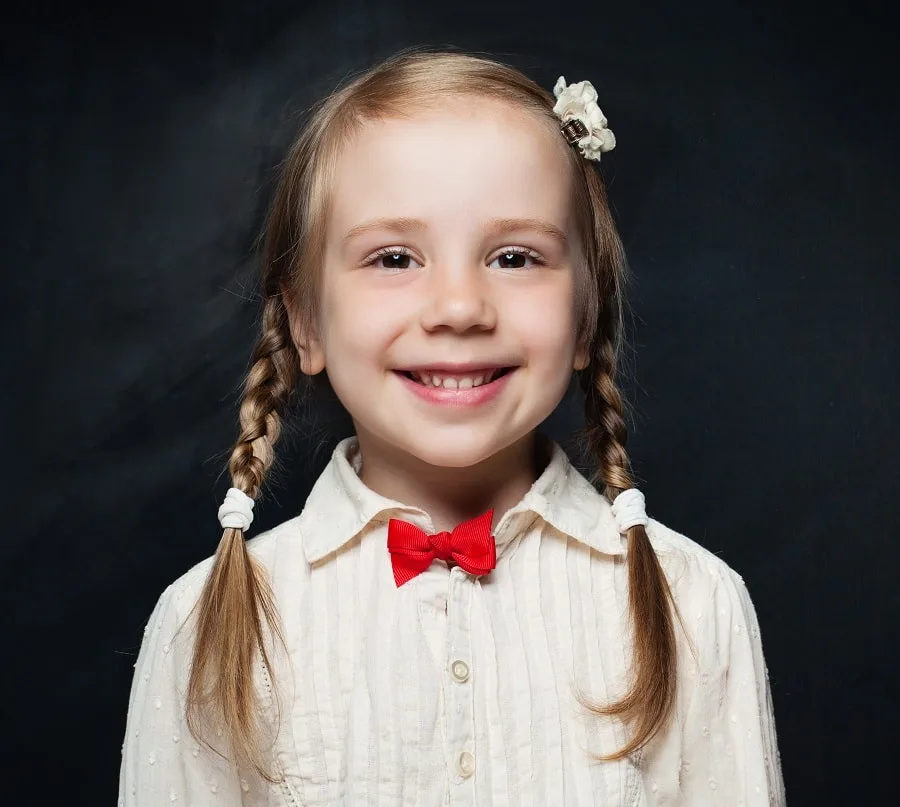 Sticking to the basics, plaited pigtails are perfect for protecting those precious locks for the entire day, especially when going to school. Try out different knits, including French braids, Dutch braids, and fishtail braids for a refreshed look each day. Adorable!
These hairstyles for 7-year-old girls can be copied as such or personalized depending on your little ones liking who is becoming increasingly choosy regarding her hair. There's no need for elaborate hairdos as simpler ones with small details look pretty enough on those innocent faces.
Related Topics: