Toddler girls may have fine or thick hair, curly or bone straight, depending on their genetics. Regardless of hair type, sometimes you're looking for something casual, and sometimes you want something a little more classy for your toddler.
It can be challenging to find hairstyles that she will sit long enough to allow you to complete. We've gathered some cute & easy to do hairstyles for 2-year-old girls, suitable for various hair types.
Cute Two-Year-Old Girl Hairstyles
Most of the below hairstyles for 2 year old toddler girl are simple, while some require a little skill. However, all are easy to learn and will look great on your little girl.
1. Side Part + Hair Clip
Whether your 2-year-old girl has short or long hair, you can create this lovely hairstyle that keeps the hair out of the way and frames their face nicely.
Make a short part on the right side of her head, and use a hair clip of your choosing to pin the loose hair back in the front. Then, gently brush the hair around her head.
2. Half-Ponytail with Bangs
If your little one has wispy bangs, you can do a simple style where you make a circular part using a comb around the crown of her head.
Brush that section of hair into a ponytail, and use a colorful rubber band or hair tie to secure it. Gently brush the rest of her hair to get out any knots or tangles.
3. Side Bangs and Headband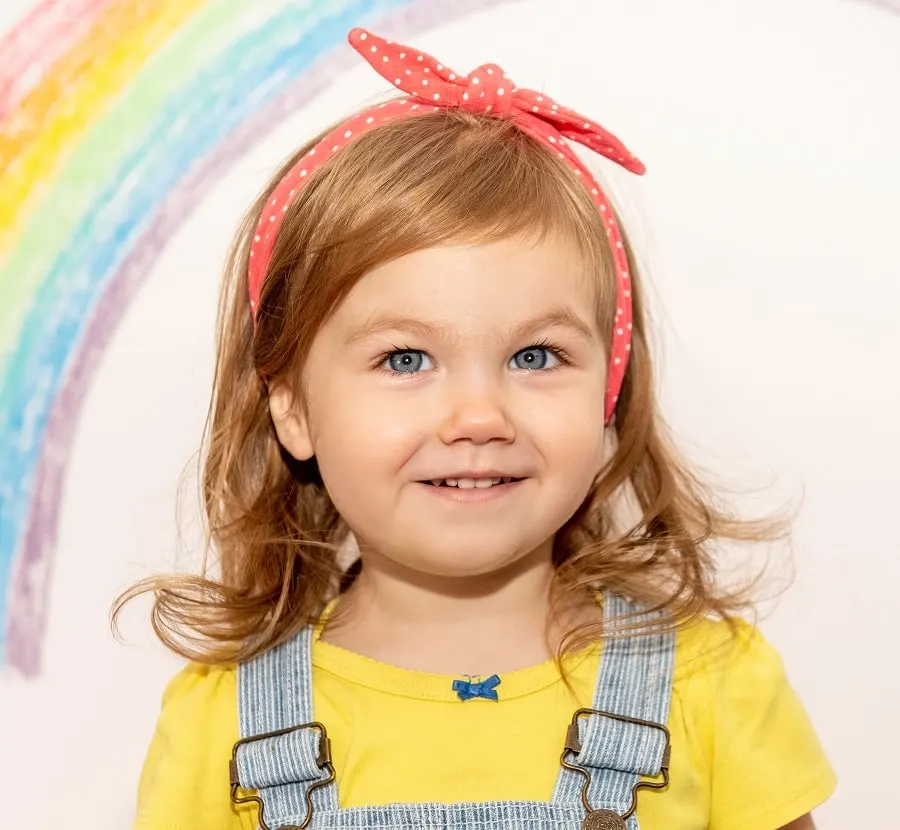 Popular among 2-year-old hairstyles for girls, this one is suitable for any occasion. All you need is a brush and a cute headband.
Brush the hair to remove tangles, sweep the bangs to the side, and place the hand near the middle of her head. Voilà!
4. Jumbo Twists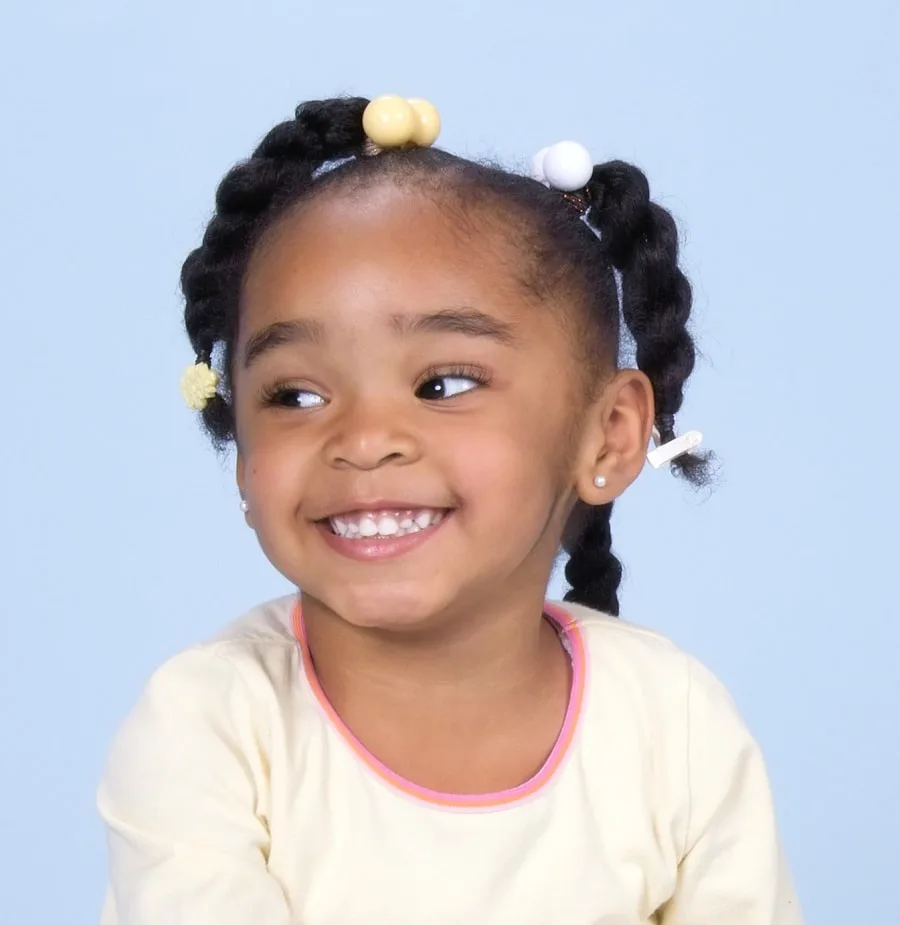 Create five to six sections in her hair, and use a ponytail holder with balls on either end to secure the section.
Twist that section of hair and secure the bottom with barrettes of any color. This is one of the easiest 2-year-old hairstyles for girls on the list.
5. Afro with Half Bun
For African American baby girls or girls with thick curly hair, you can section off a small piece of hair in the front and put the rest of the hair in a ponytail to keep it out of the way.
Next, brush the small section of hair to smooth it out, use a rubber band to create a ponytail, and wrap the hair around to make a bun or knot. Remove the hair tie in the back and fluff the afro.
6. Braided Mohawk
Cornrows are the perfect solution for toddler girls with thicker or coarser hair. Once you detangle her hair, create medium-sized cornrows starting at the hairline and going toward the middle of her hair, from front to back.
Do this on the left and right side of her head. Use rubber bands once you reach the middle of the head and twist the loose pieces.
7. Half Up with Bangs
This style works on curly or straight hair. All you'll need is a brush and a hair tie. Separate the girl's hair into two halves, top and bottom, and brush the top half, use clips to hold them or pull them into a ponytail, and leave the bangs out.
Once you secure it with the hair tie, you'll simply brush the bottom half of the hair to remove tangles and let them loose.
8. Side Ponytail
Make a short part on the front left side of the toddler's head. Brush that hair down, and gather the other section in the front into a ponytail, ensuring you brush the back of the hair down and loose.
Use a hair tie to create a side ponytail in the front on the right-hand side. Brush bangs out of the way if she has them.
Cute & Adorable Hairstyle Ideas For 4, 5 and 6 Year Old Girls
9. Cornrows with Beads
For 2-year-old girls with thick hair, create cornrows in your chosen style all around the head.
This style has twists going from front to back around the head, except for a small front section where the braids go to the side to form a small ponytail.
Use a beader and multicolored beads to add as many as you want to each braid. Use a rubber band at the bottom to secure the beads and prevent them from sliding off.
10. Vintage Style with Bangs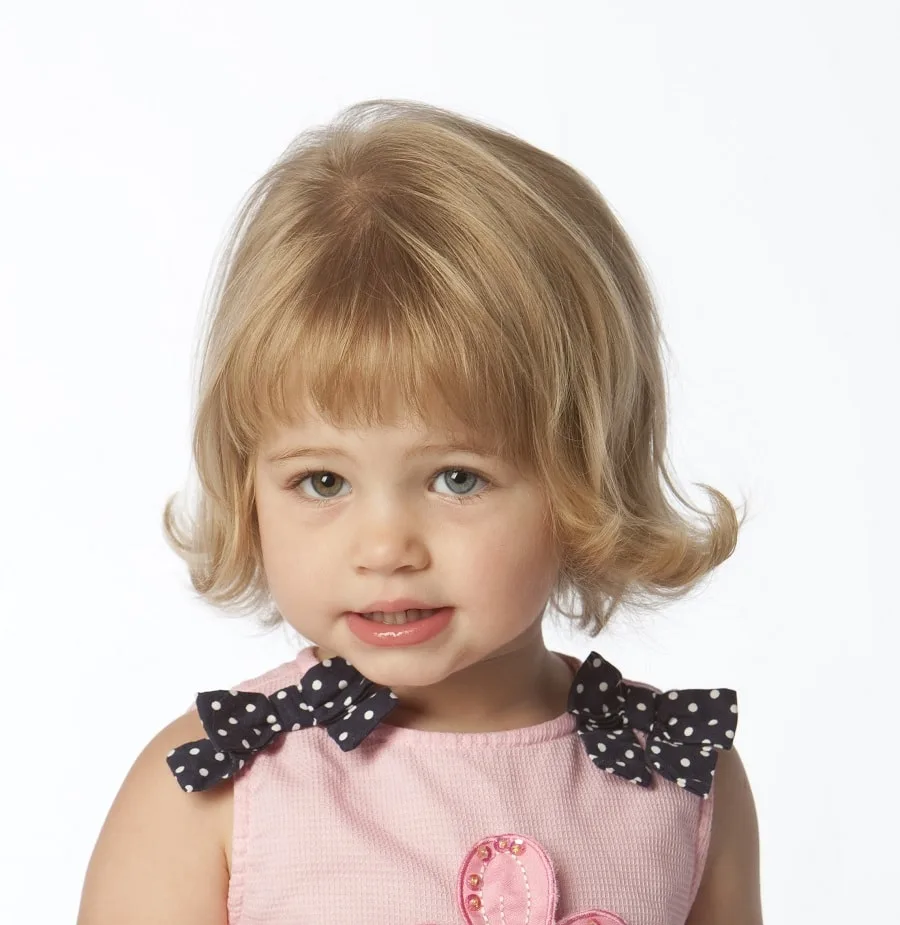 If your toddler has short hair or you're planning to get her hair cut, consider this style with short blunt bangs and flip-up curls. You can maintain this hairstyle with rollers.
Since her head is small, you'll only need to split the hair at the bottom into four to five sections and roll one inch of her hair at the bottom.
11. Mini Front Buns
Start by creating two small ponytails in front of the toddler's hair.
Put a rubberband around each section, and pull the hair through until just before the hair ends, resembling a tiny bun on each side, perfect for playdates.
12. Two Ponytails
Grab a comb and part the toddler's hair from front to back down the middle. Brush one side up into a pigtail, and secure it with a colorful hair tie.
Do the same to the other side, ensuring the two sides are even. If she has bangs, gently sweep them from her face to both sides.
13. Face Framing Hairstyle
Brush the hair all around and create a diagonal part near the middle of the hair in the front. The part should be about two to three inches.
Next, brush the bags to the left and the right so that her forehead is slightly exposed. The style will frame your baby girl's face beautifully.
14. Flower Girl Hairstyle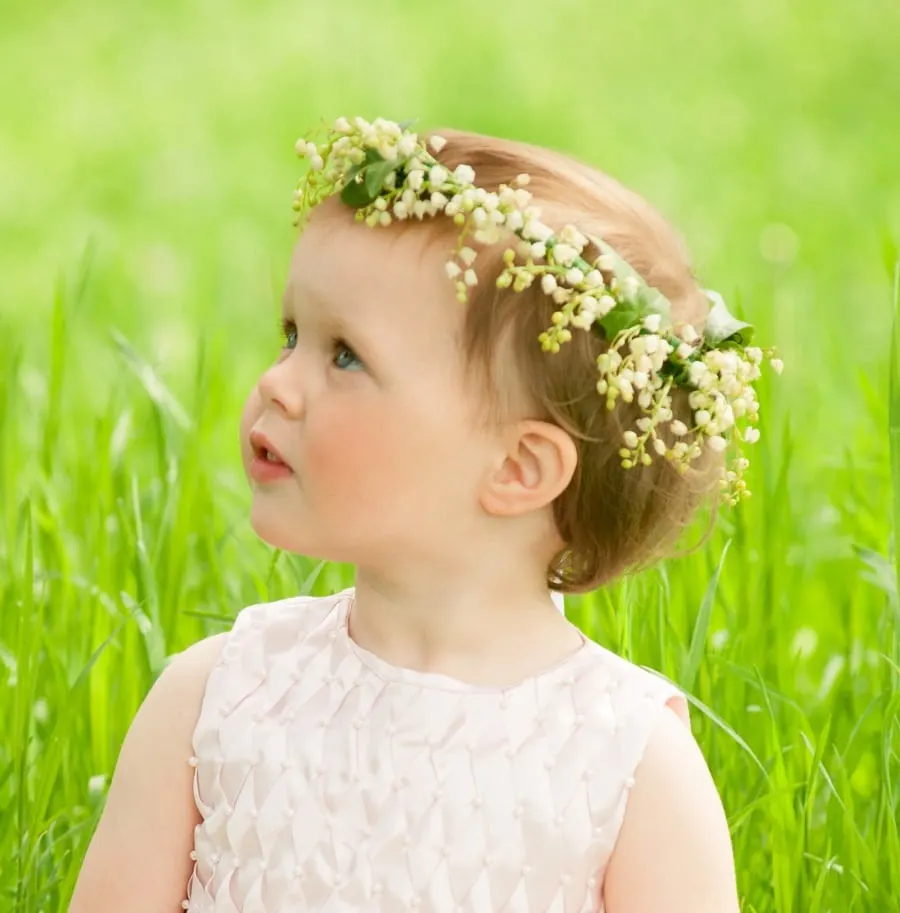 This is particularly nice for 2-year-old flower girls with short hair going to a wedding or an elegant occasion. Just grab a brush and a special flower headband or hairpiece.
Brush the hair forward from the middle and down all around the head. The headpiece is placed on her head, creating a crown look.
15. Half Cornrows
This style is for coarser hair textures that will section your girl's hair from ear to ear, creating a front and back half. Make twists in the back of her head by grabbing a small section of hair, splitting it in two, and twisting it around itself.
In the front, make a diagonal part and do three cornrows in one direction and, on the other side, three to four cornrows in the other direction.
Lastly, put rubber bands where the cornrow reaches the middle of the head and twist the loose hair pieces.
No matter the occasion or hair texture, there are 2-year-old hairstyles for girls that you'll love.
While some are more intricate, you'll love these wholesome styles that make your toddler look like a princess. None of them require many materials, and your toddler will also be happy.
Related Topics: