Short hairstyles are often considered ideal for ladies over 60 as they are easy maintenance and impart a youthful look to the face. But if you're blessed with long hair even when you're over 60, chopping off those precious locks isn't the only option left.
Having a long thick mane when getting on in years is a true blessing and there are a number of options to show off those tresses with style. Opt for layers, vibrant hair shades, or a perm instead.
Wait! No need to brainstorm. Just go through the following fabulous long hairstyles for women over 60 before booking your next salon appointment.
Long Hairstyles for Women Over 60
Most long hairstyles are not low-maintenance, but if you want to style hair you are blessed to have those. If you're above 60 years old and looking to keep your hair length, find all the trendiest long hairstyles for women over 60!
1. Platinum Play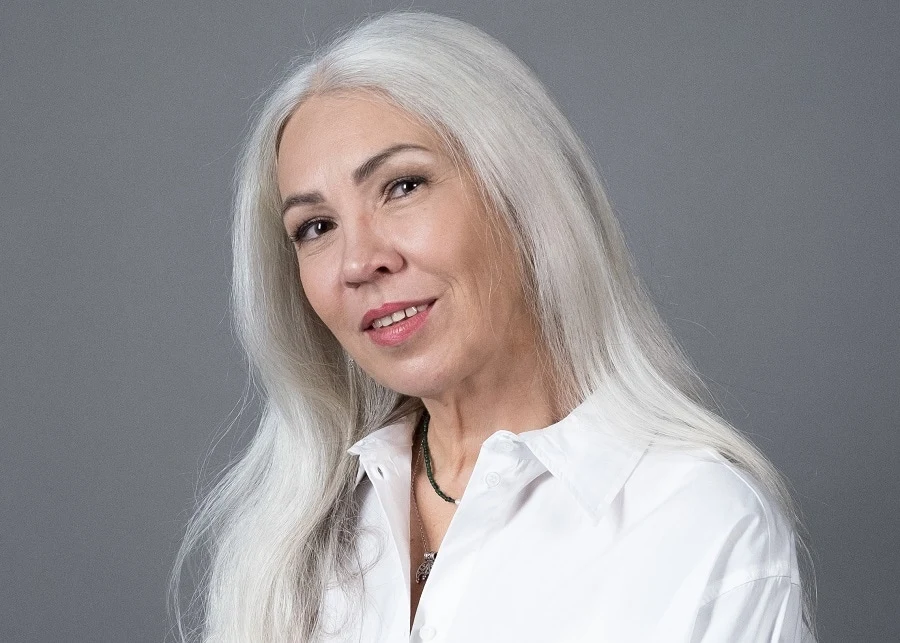 Fighting with your grays all the time? How about painting your long mane entirely in an icy platinum blonde tinge for a change? There's no harm in giving it a shot as this alluring hair color suitable for women over 60 is in full swing this year, with the younger generation going mad for it.
2. Blonde Beauty
Senior ladies with dark hair can rock a color from the opposite spectrum by opting for a sandy blonde hair shade with subtle ashy blonde highlights in between that concentrate towards the tips resulting in a barely-there ombre effect. Finish off the style with layers to avoid a blunt look.
3. Wavy Perm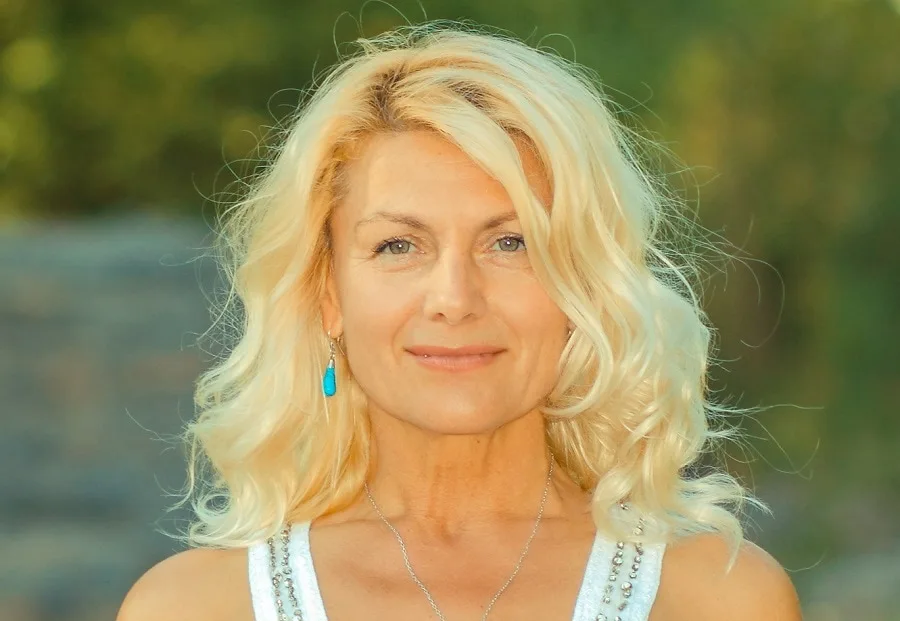 Messy is sexy! Wavy perms can prove to be an ideal long hairstyle for women over 60 who don't have the energy of styling their mane but still don't have the courage to snip it off. They last for a few weeks and demand a mere hand-tousle in the meantime.
4. Shadow Roots
Another low-maintenance yet chic hairstyle for senior ladies. Dark-haired ones can flaunt a gorgeous blonde hair color sparing the roots or leaving them to grow out creating a shadow effect. Light-haired ones, on the other hand, can darken their roots and refresh them regularly at home.
5. Single Length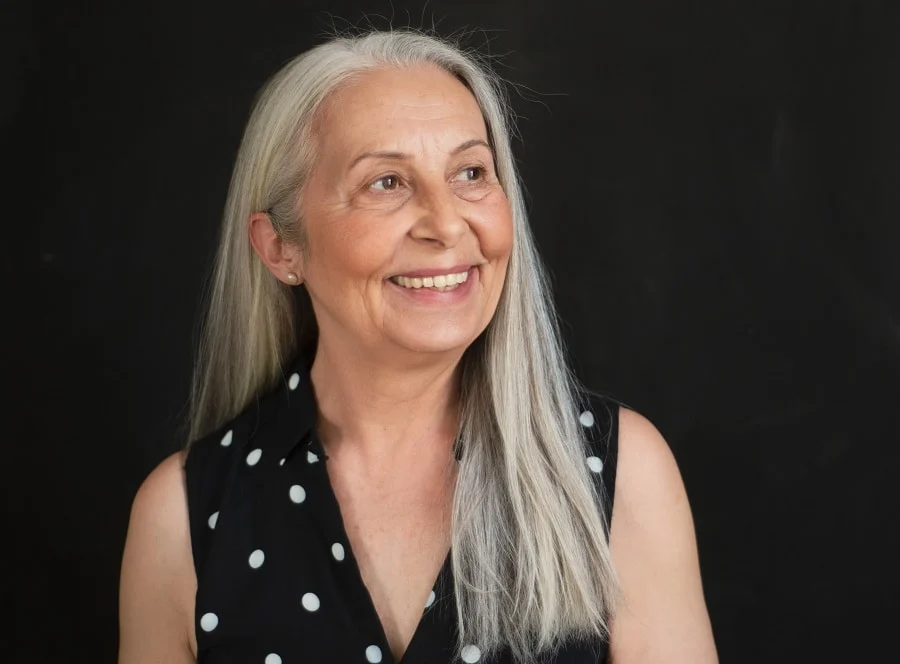 The simpler, the better! Straight haircuts have re-emerged in 2023 and look hotter than before.
Whatever the hair length, a blunt cut is ideal to get rid of all those dead ends while creating the illusion of a thick and healthy mane making it suitable for women with thinning tresses.
6. Faux Lob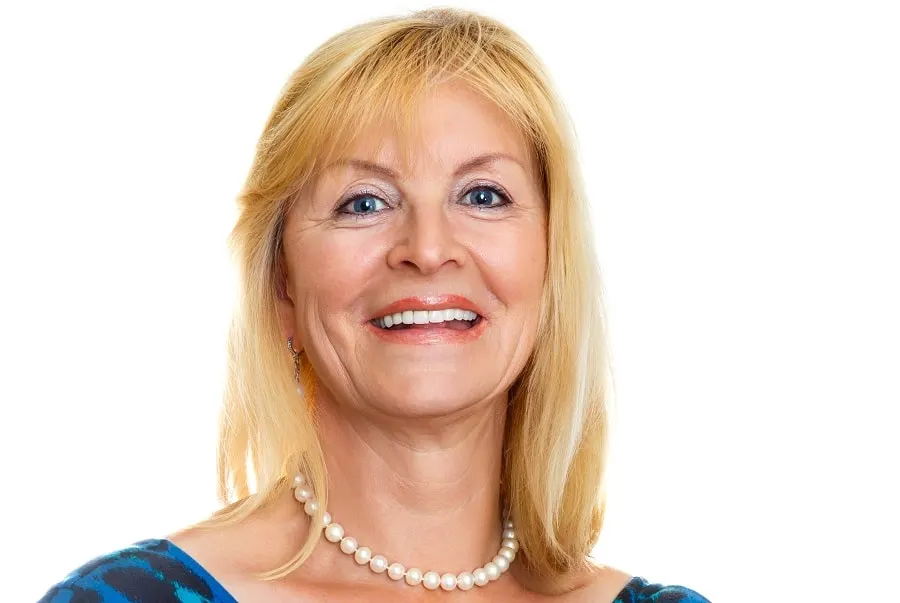 Those who long for a short old lady haircut but know they'll regret it instantly after can experiment with a faux lob or bob.
The trick is simple. Gather the strands in a ponytail near the end and secure it to the base of the head beneath the hair. Eye-catching!
7. Feathered Hair
Bring back those good old days when feathered layers were in full trend. In contrast to layers, the texture is focused on the ends, making them appear like bird feathers and hence the name.
Set the look on fire with a round brush and hairdryer or opt for curls instead.
8. Side-Tousled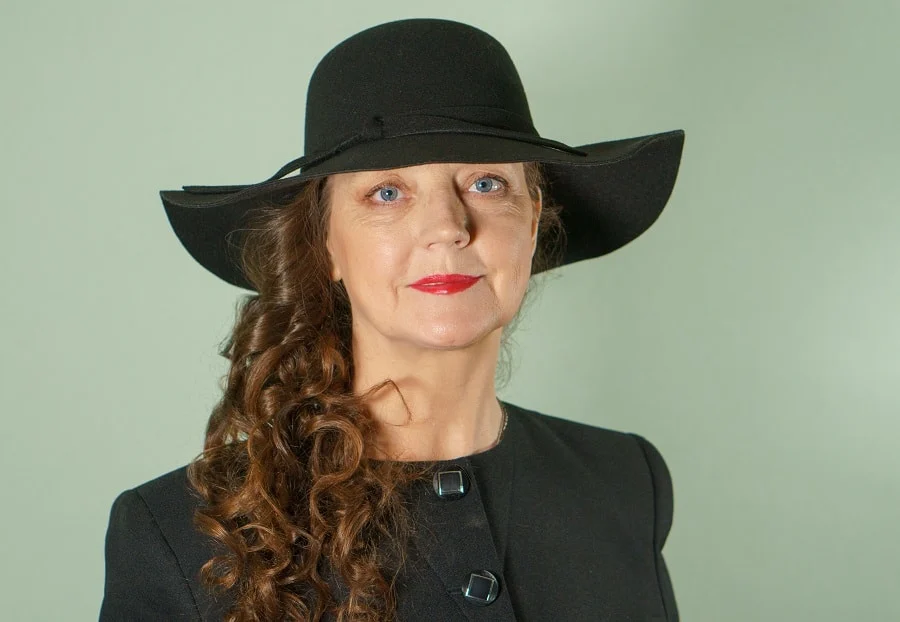 Elderly ladies thinking of sporting a hat with their outfits for a formal event or on a normal day can show off their long locks by tousling them on one side at the front and securing them in place with pins. Add loose waves or curls and voila!
9. Lilac Love
There is no age limit when it comes to rocking vibrant hair colors. Make jaws drop with a bright lilac nuance and couple it with a wild underlayer or peekaboo highlights rather than going for a monochromatic look. You can choose any shade you like. Pinks, blues, greens, purples, the options are endless!
10. Wispy Bangs + Vivid Streaks
This long hairstyle with bangs is perfect for women over 60 with a receding hairline. It is preferable to cover the forehead with a wispy fringe as a blunt one often gives a suffocating look. Add chunky streaks of blonde all over the head or limit them to the front only. Your choice!
11. Classic Bun
Buns are versatile, chic, and easy to style all at the same time making them a popular hairdo among women all over the world. Women over 60 love bun hairstyles as they are easy to style and don't require maintenance.
Whether you are out on your daily routine or attending an event, swirl those long tresses in a high, medium, or low bun with or without a parting.
12. Long Layers
Layers are perfect to breathe some life into a boring long mane. The strands cut at varying lengths create a lot of movement in the hair adding some volume to thin locks and taking away excess bulk from thick tresses on the other hand. Curl up the ends and observe heads turn around you.
13. Medium-Length Tresses For Above 60 Senior Ladies
There is no use in keeping hold of those lifeless thin tresses when they do nothing apart from making you look frumpy and older than you actually are. Gather some courage and chop them at medium length with layers and side-swept bangs. You'll be amazed by the results.
14. Natural Fluff
Elderly ladies who are just not ready for a haircut or hair color can keep their natural fluffy curls untouched. But there is no harm in getting a trim, right? Create a soft U shape and wear the hair loose with no parting at all. Still stylish!
15. High Ponytail
If you think high ponytails are for young girls only think again. Here is a super-hot long hairstyle idea for women over 60 to prove you wrong.
Gather those layered tresses near the top of the head and secure them with a hair tie or preferably a banana clip for an age-defying look that won't be ignored!
16. Half-Up, Half-Down
Keep it classy by accentuating the face with middle-parted curtain bangs and couple them with layers or a blunt haircut. Spare the fringe while slicking back the rest and fixing it in place with pins or a claw clip. Can't get any easier!
17. Salt and Pepper Grandma Look
60 and above is the best age to embrace your grays and rock a salt and pepper mane with utmost confidence. Enhance your look by asking the hairstylist for silver highlights on top or black/brown lowlights near the ends resulting in a natural gradient that will surely be praised.
18. Soft Comb Over
When you just can't think of anything else get a white-blonde hair color with soft layers. Comb over the top for the strands to fall on one shoulder and add a hairpin on the opposite side for a chic finish. Done!
19. Subtle Money Pieces
Senior ladies who want to stay low-key and yet stylish can try money pieces without worry. Choose a tone slightly lighter than your natural brown mane and highlight the strands around the face only keeping the remaining hair untouched.
20. Auburn Glam
When looking through long hairstyles for women over 60 you need to focus both on the haircut and hair shade to find the ultimate look suiting your face shape, skin tone, and taste above all. This winter wow everyone with a rich auburn nuance and V-cut layers. You won't regret!
21. Beach Waves
Nothing can go wrong with beach waves as they look flattering no matter what the situation. All you need is some practice with a curling wand or straightener and if you're not ready for that a body wave perm will save the day. Sexy!
22. Highlights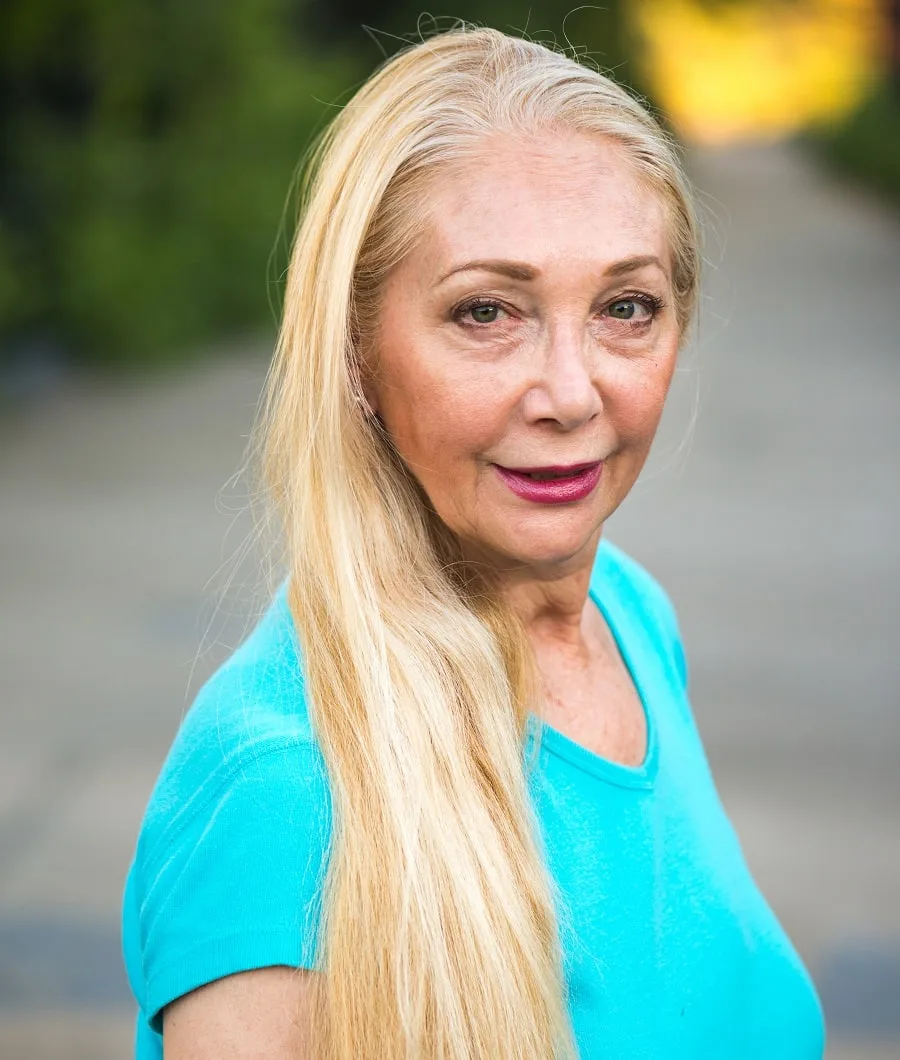 Highlights come with several benefits. They are ideal for lightening down the hair without much damage adding a soft glow to the face while demanding less maintenance in return. Add fine stripes all over the head or experiment with a balayage instead.
23. Front Graduation + Curls
Be that chic old lady everyone aspires to be by getting layers at the front to frame the face coupled with a golden bronde hair color. Curl the strands away from the face and don't worry about the emerging roots as they add up to the look.
24. Off-Center Part
Instead of going for the usual middle or side part that you have rocked most of the years play around with an off-center parting for a change. It breaks up the symmetry of your face while the loose strands are suitable to hide those chubby cheeks and/or a fat neck.
25. Brushed Back
Long hairstyles for women over 60 are incomplete without a classic brushed-back hairdo. Opt for a blowout to achieve a fluffy pouf at the front or use an ample amount of gel for a cool wet look instead.
26. Doughnut Bun
Loose tresses can be irritating for elderly ladies and wrapping them into a knotted bun often looks unattractive. A doughnut bun maker can prove to be handy in this case. Slip it into your high ponytail and cover it with the remaining hair to give off some youthful ballerina vibes.
27. Salt N Pepper Dreadlocks
Considering senior African-American ladies dreadlocks are the easiest to maintain among all. Experiment with chunky dreads or microlocs and dye some strands in a contrasting color for a highlighted appeal. No need to fret about those emerging fluffy roots as they add up to the look.
28. Side Braid
Those with a thin mane and a receding hairline who still don't want to let go of the length can keep the focus away with a chic side braid. Tousle the strands on one side and plait them down. Cover that wide forehead with some wispy fringes and that's all.
29. Classy Updo
Although a doughnut bun makes a suitable everyday hairdo, formal events call for something fancier like this classy updo that is sure to make any woman over 60 with long hair the center of attention. Add curls and pile them up at the back while sparing some face-framing bangs at the front. Gorgeous!
30. High Ponytail
Lastly, if you think high ponytails are for girls only then here is an example to prove you wrong. Senior women can shed off some years without much hassle by gathering their medium-to-long locks on top of their heads. A bit of a mess is ideal to create a carefree appeal.
To wind up, never mind what others say. Age is just a number and there are no limits when it comes to styling your hair as long as you feel comfortable and confident. We hope these long hairstyles for women over 60 will help you out in choosing your new hairdo. Wish you luck!