Do you feel like your current hairstyle makes your face look too long while your hair falls flat on the sides? No worries, as we are here to help you build the proper balance.
So, to create harmony for your look, the most flattering and common techniques involve building layers for the crown, styling bangs that cover the forehead, or bouncy long and medium curls that create volume.
Moreover, if you are a woman over 60 and seeking the right hairstyle for long faces, you should avoid some haircuts such as ultra-long flat hair or cuts that are too short.
Best Hairstyles for Long-Faced Women Over 60
To make it easier for you, we've rounded up some flattering hairstyles for women over 60 with long faces that will help you get the right one for you! Check them out below!
1. Short Bob + Bangs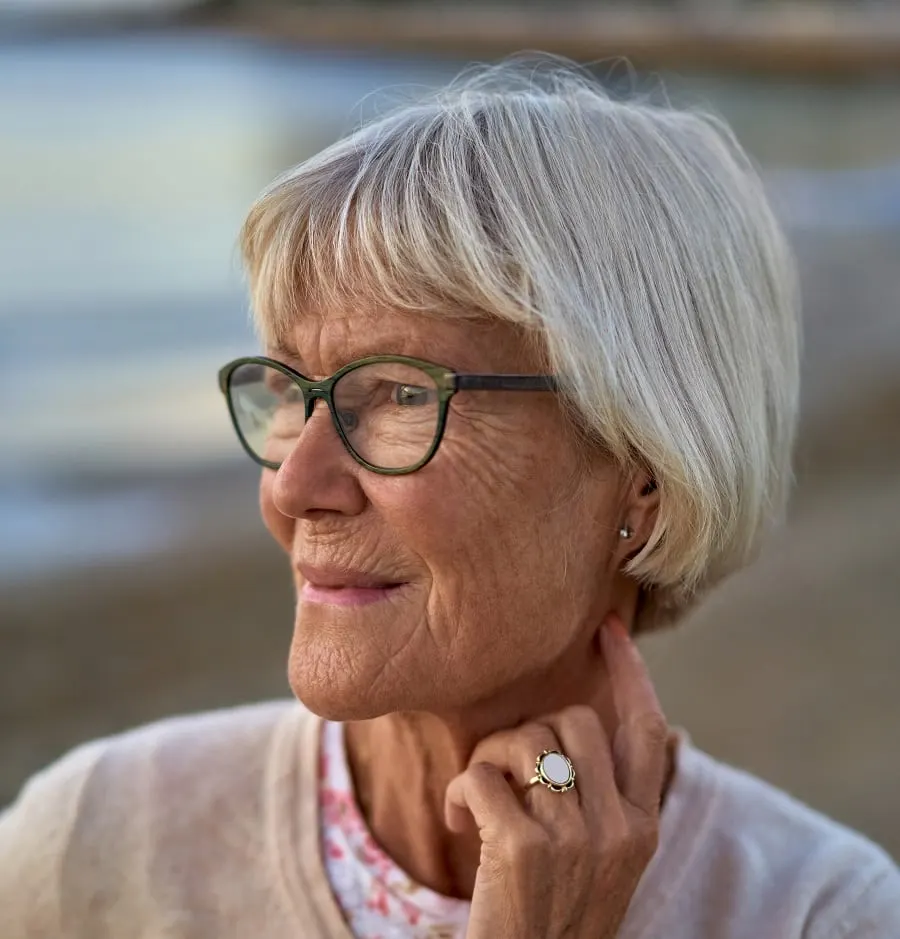 Bangs can be the ace upon your sleeve when you need to make your face look less narrow. If you spread them on the forehead, the fringe will make your face look less oval.
Also, opt for a white-blonde bob that helps you better blend those white threads.
2. Long Side Braid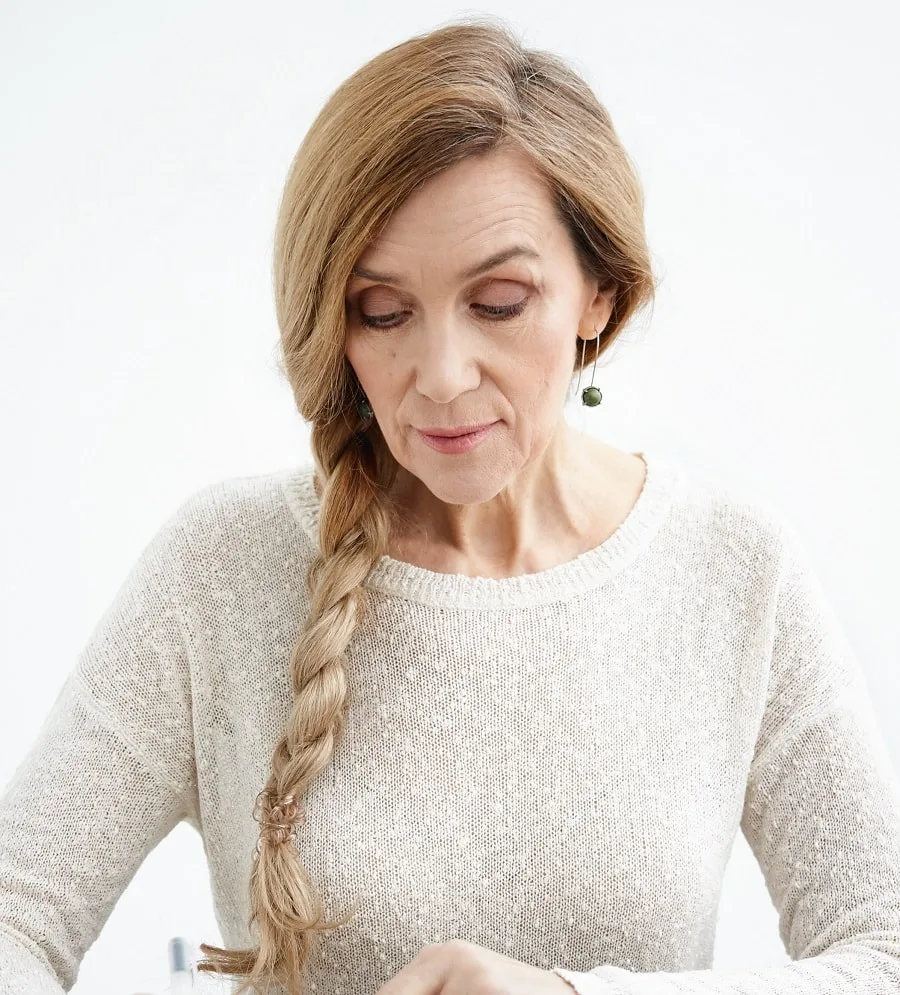 A brown-blonde sombre is a stunning color for a woman over 60 with olive skin. Go for a light brown shade for the top that transits into a sandy blonde.
Do a side part and loosely braid your hair, then secure it with a swirled elastic.
3. Large Tousled Curls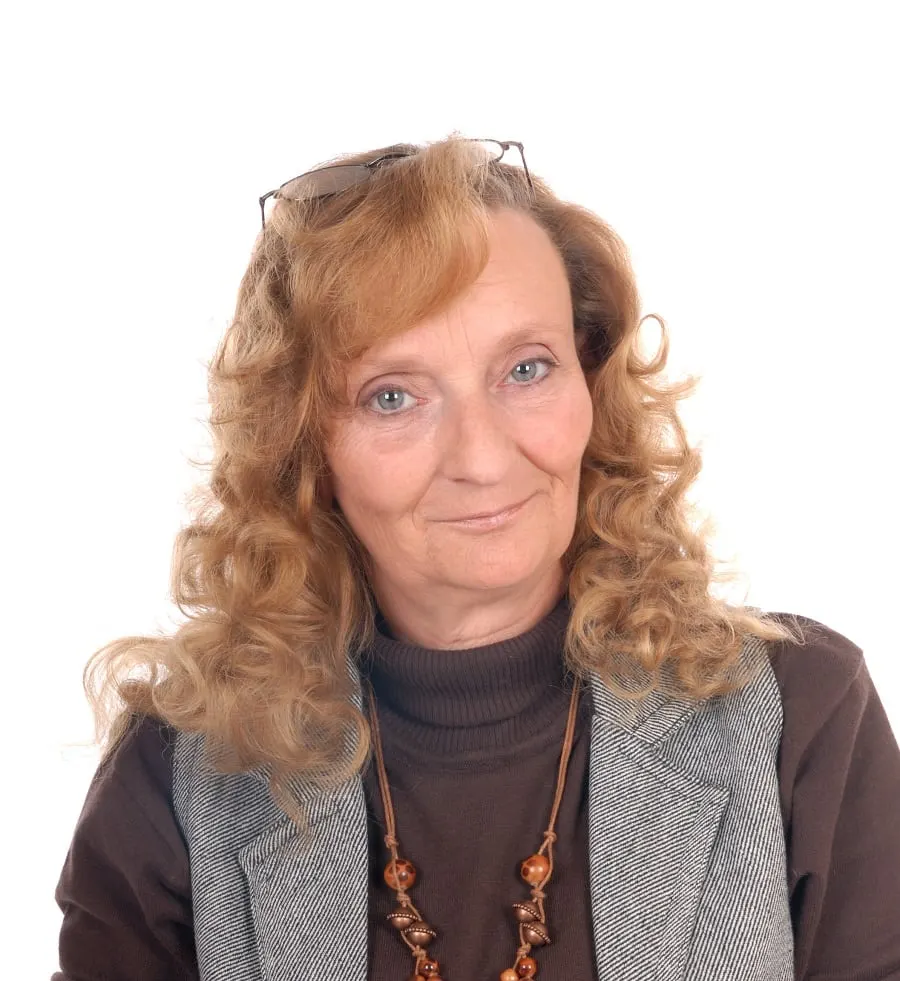 Large curls will help you create balance for your long face shape. Also, combined with side-swept bands, your forehead will look smaller.
Blend waves or curls with a fringe to achieve more volume and texture that will make your face look wider.
4. Short Gray Waves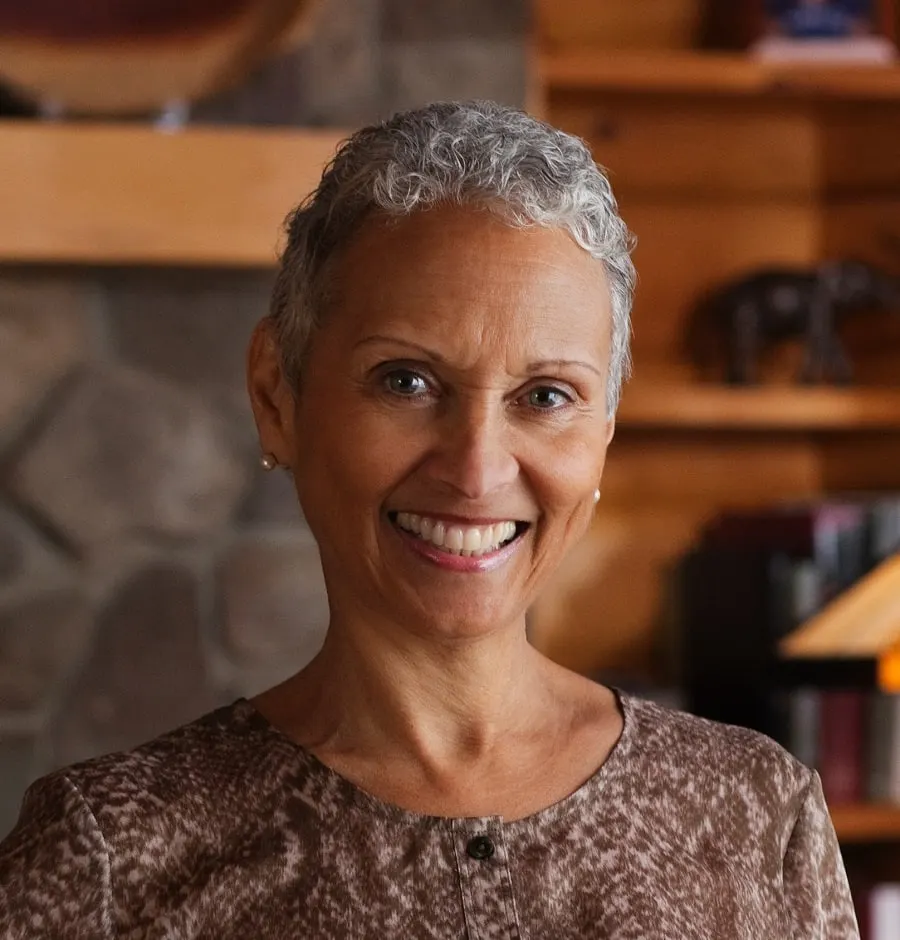 Such a short wavy hairstyle works great for a long-faced older lady over 60 but must have prominent cheekbones. Otherwise, you will only highlight that elongated look.
If your hair is naturally wavy or permed, add some hair gel to make those curls gain a tighter aspect.
5. Flip Out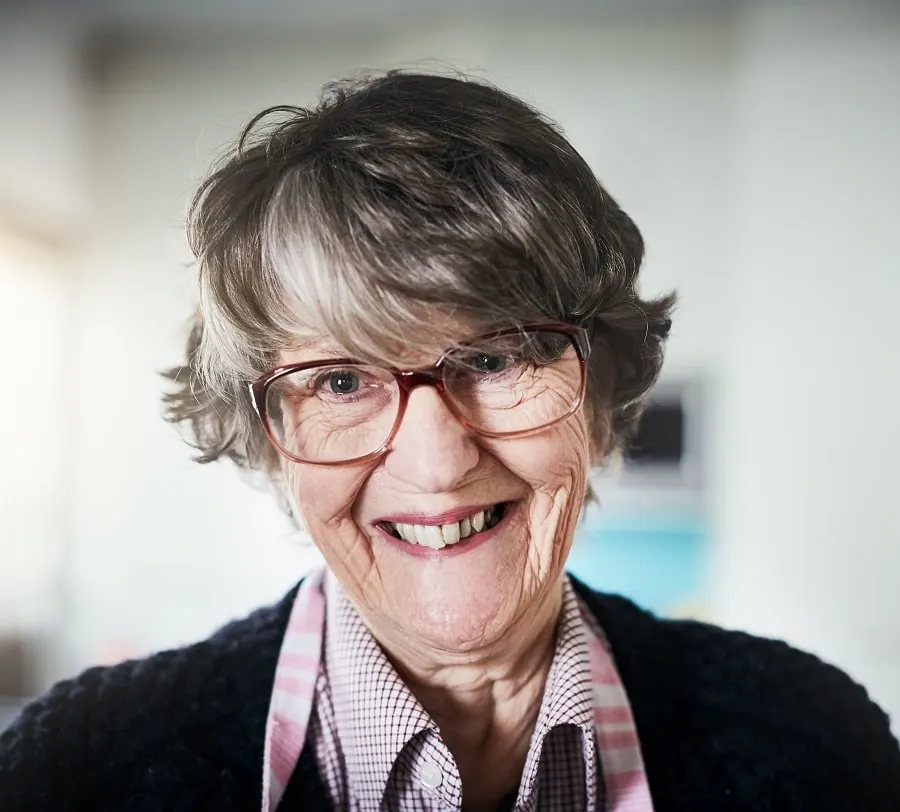 Flip-outs are some of the most suitable hairstyles for long faces for women over 60. You will first start by getting a layered bob with bangs.
Style the tips towards the exterior and tousle the fringe to the side, still covering the forehead.
6. Messy Wavy Pixie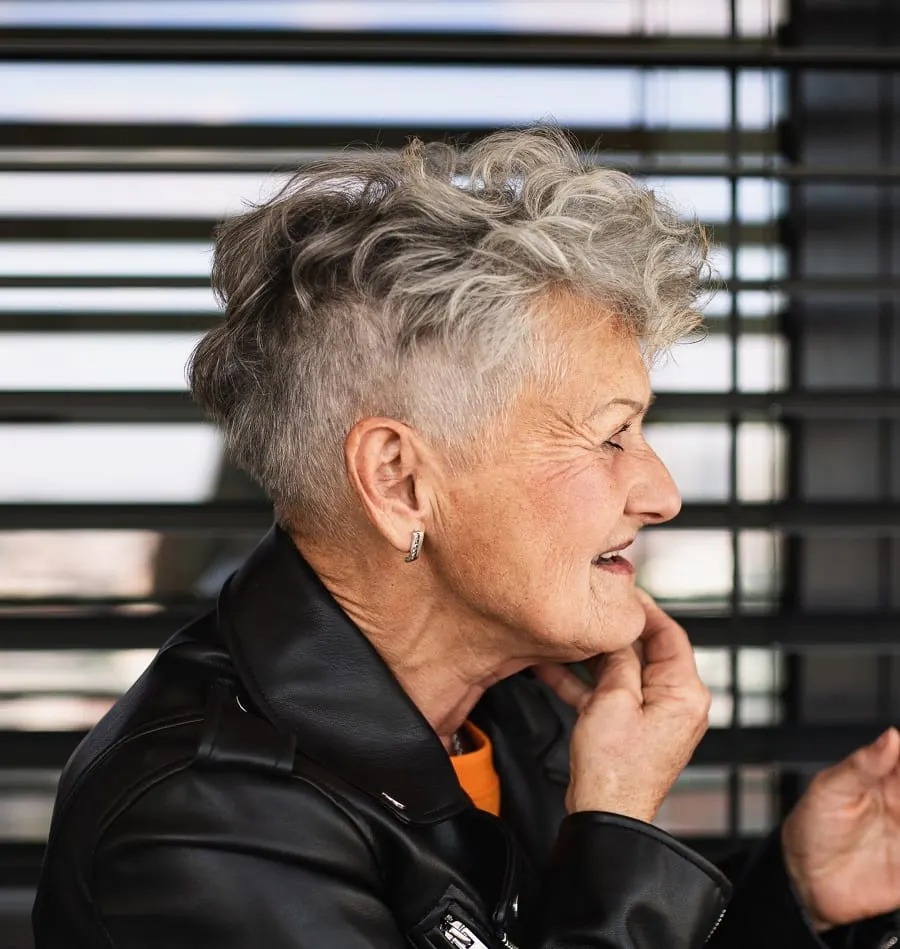 Pixie cuts with one short side are so low maintenance and a wonderful option for women who naturally gained a salt and pepper hair color.
Curls are the perfect finishing touch for this hairstyle, as they create volume and great texture that suits both a badass look and an elegant vibe.
7. Ponytail with Bangs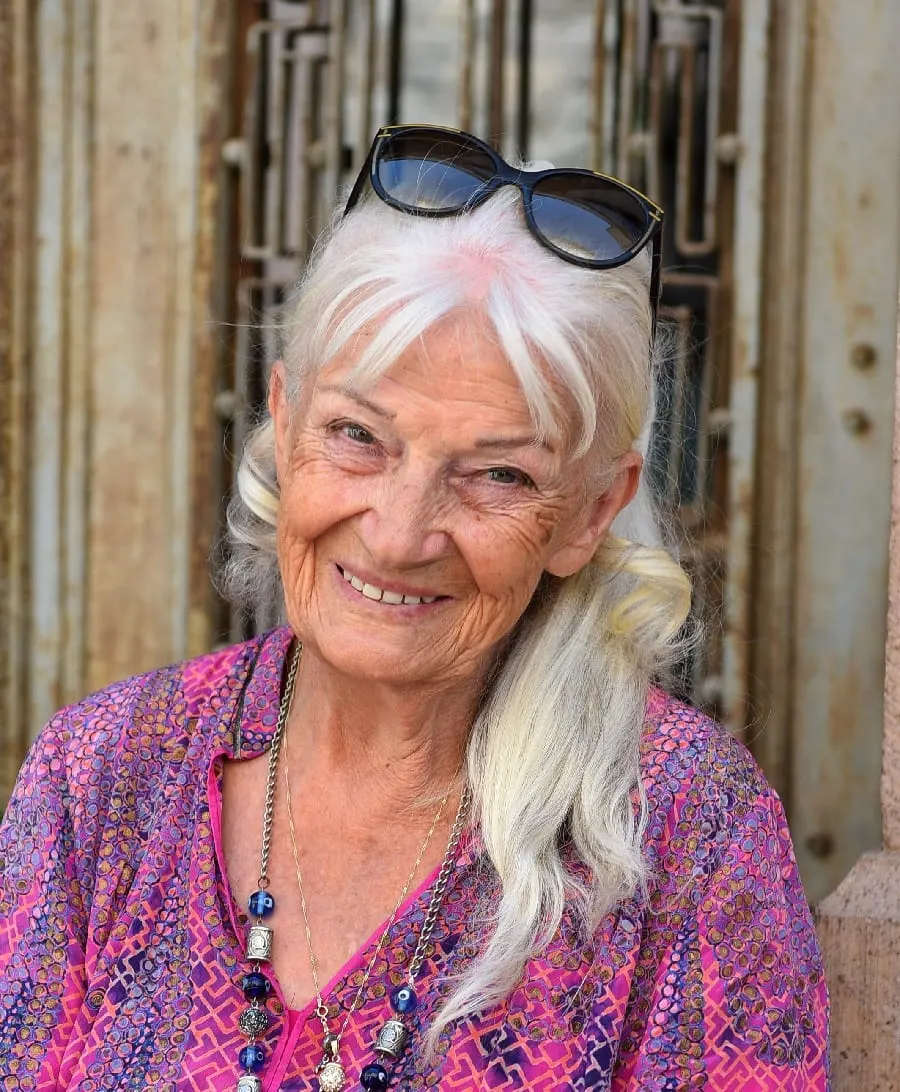 If you've fully embraced your white tresses but need to add some color, you can easily style some blonde pieces that you can later loosely curl.
Go for a half up half down or ponytail hairstyle that keeps the fringe on the forehead parted in the middle. Tie the crown hair in the back and wear your sunglasses on top of the head.
8. Permed Short Waves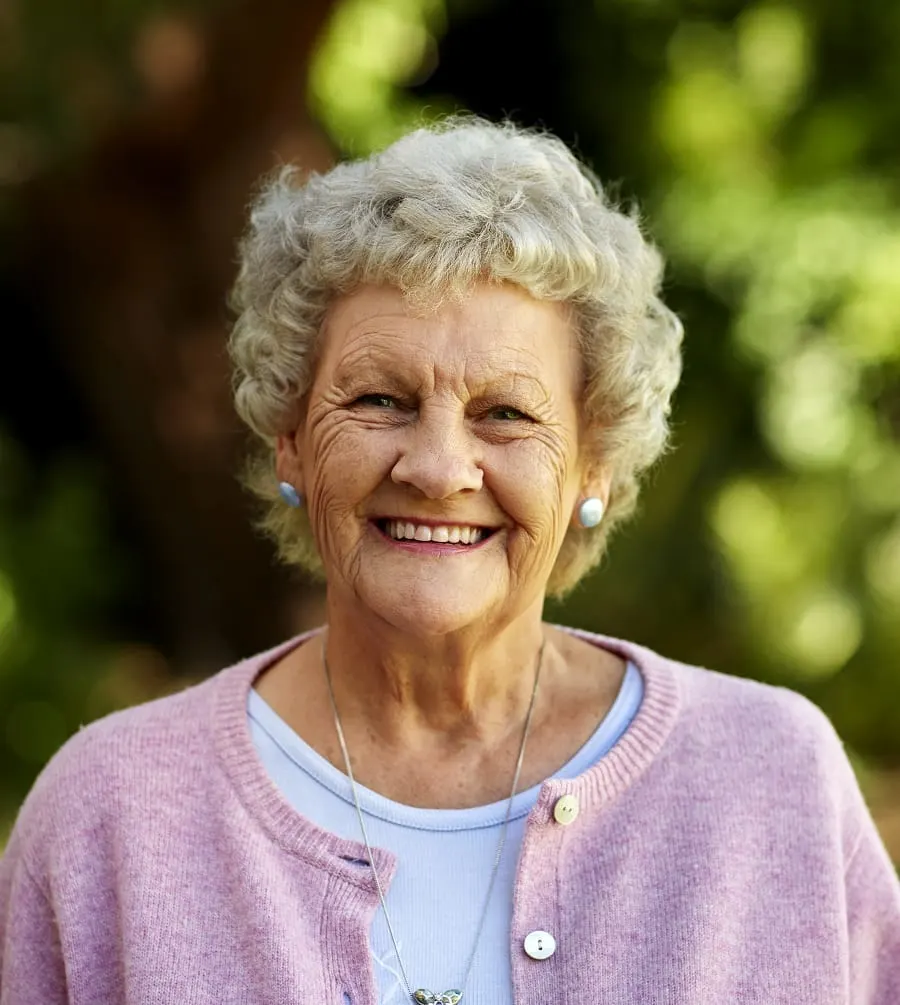 Bangs are your greatest ally when your hairline creates a wider, larger forehead. Their role will be to diminish its aspect and that elongated look.
As a woman over 60, your hair can gain more volume and texture by styling a perm. Comb your hair in the opposite way of its growth to get more dimension.
9. Pixie + Side Bangs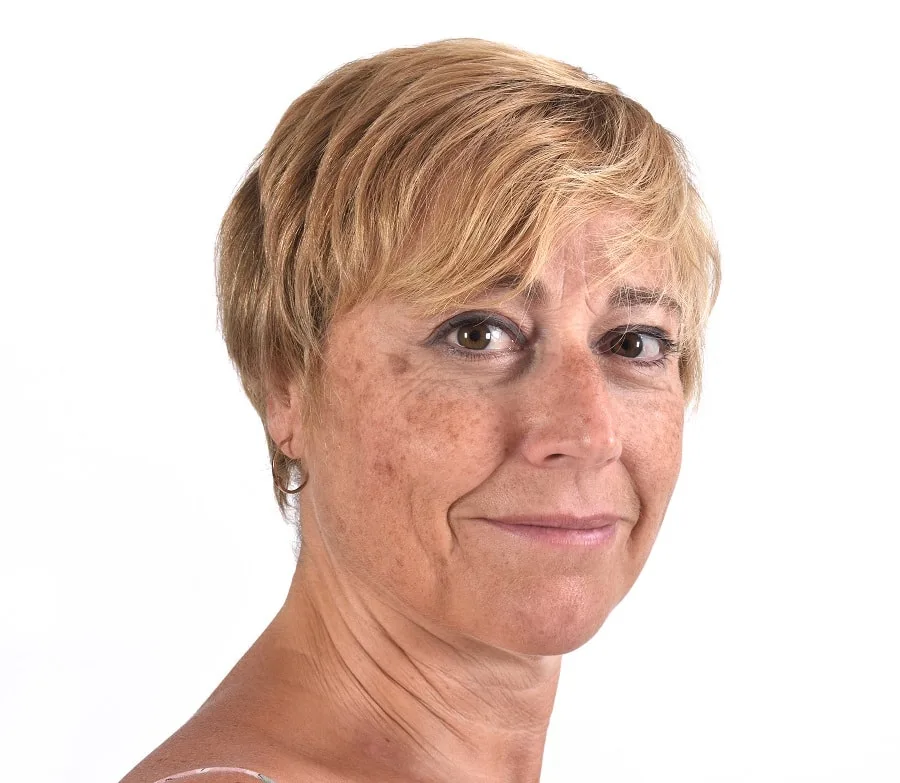 Pixie cuts are amazing ideas for a hairstyle for long faces, especially when it comes to women over 60. They are cool, and with the right shape, this cut can strip years off your face.
To suit a narrow face, get asymmetrical bangs and a side part. Swipe those strands in the opposite direction and spread them on the forehead. Choose a mild warm color that softens your features.
10. Full White Pixie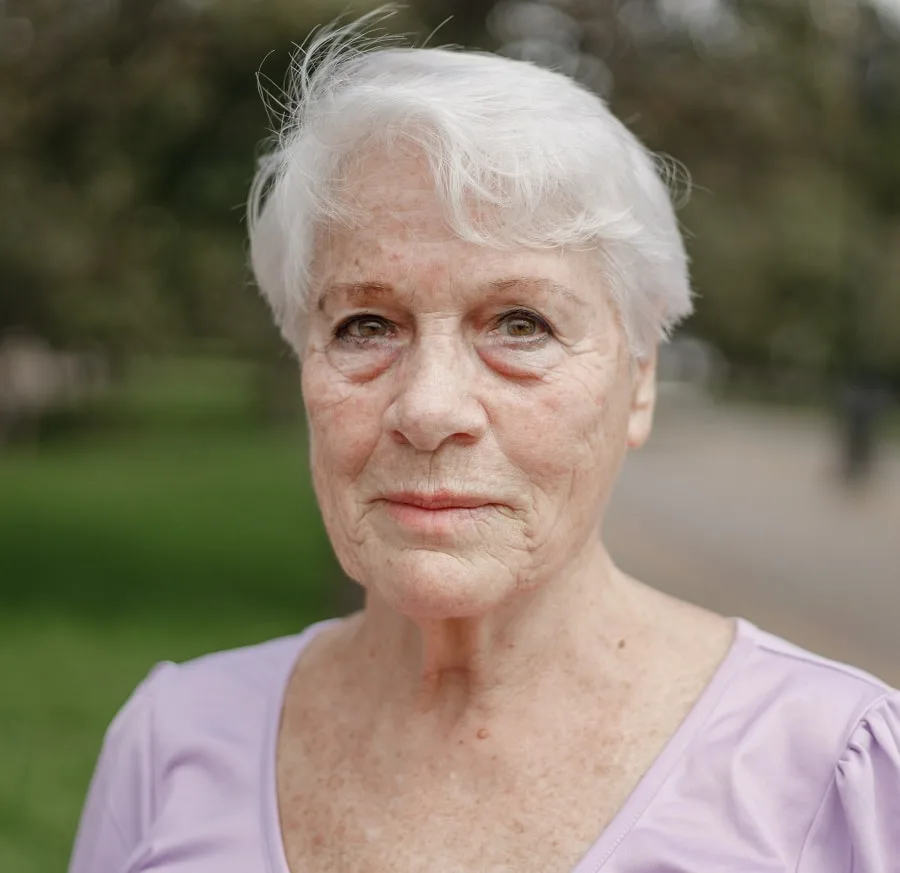 If you want a hairstyle that requires minimal styling, a short pixie cut with bangs can be the best approach.
And if your hair is fully white and you don't mind this natural color, you won't need to keep up the pace with your dyed hair and growing roots.
11. Violet Curly Pixie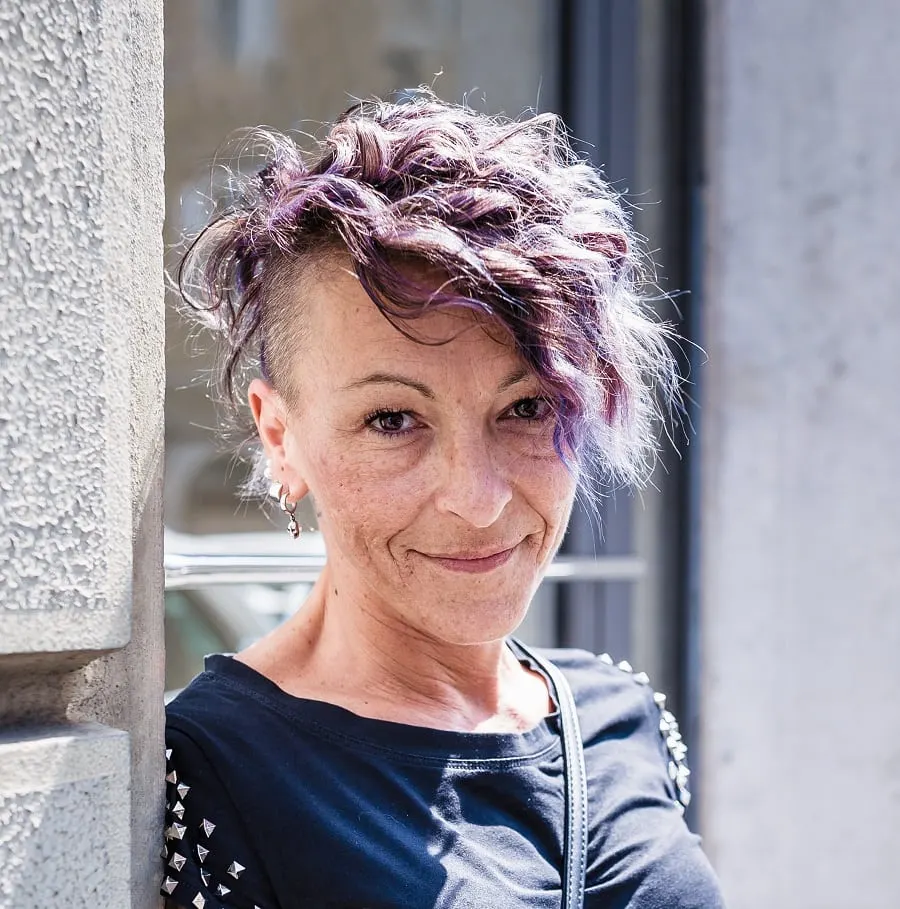 Violet shades and nuances can be adapted to all skin colors, just by playing around with the intensity of the dye. Once you've established the right nuance, get a pixie cut with a shaved side.
The top should be long, to create a great contrast with the undercut and curled with a straightening iron.
12. Coarse Salt and Pepper Look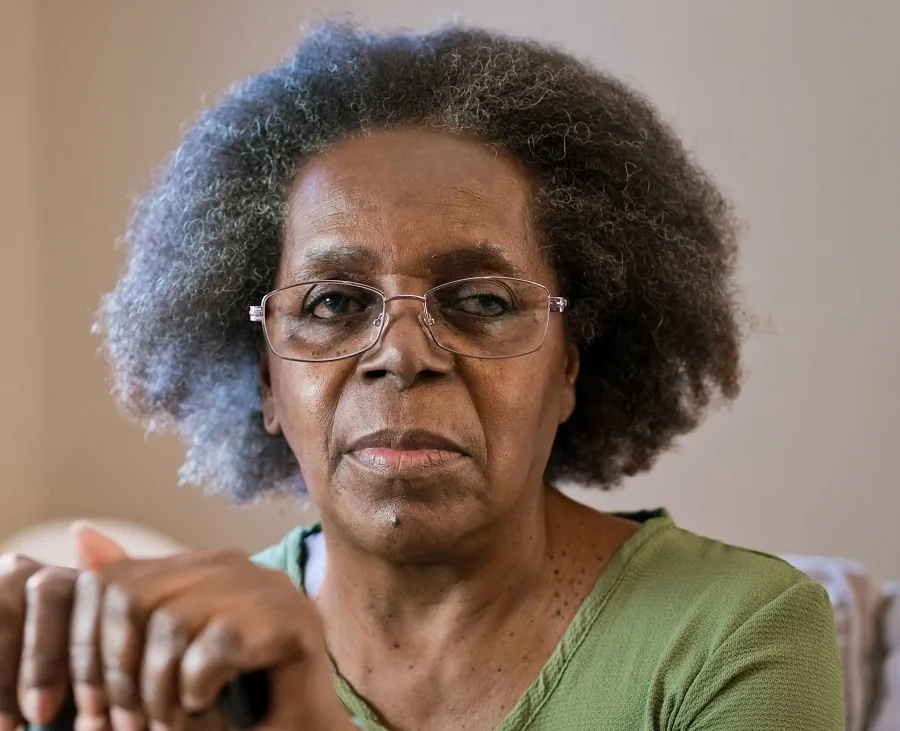 The volume that is concentrated mostly on the sides is the right call for a black woman with coarse salt and pepper hair.
Also, while the sides have enough dimension, the top must be less expansive, so your hair will widen your structure.
13. Layered Bob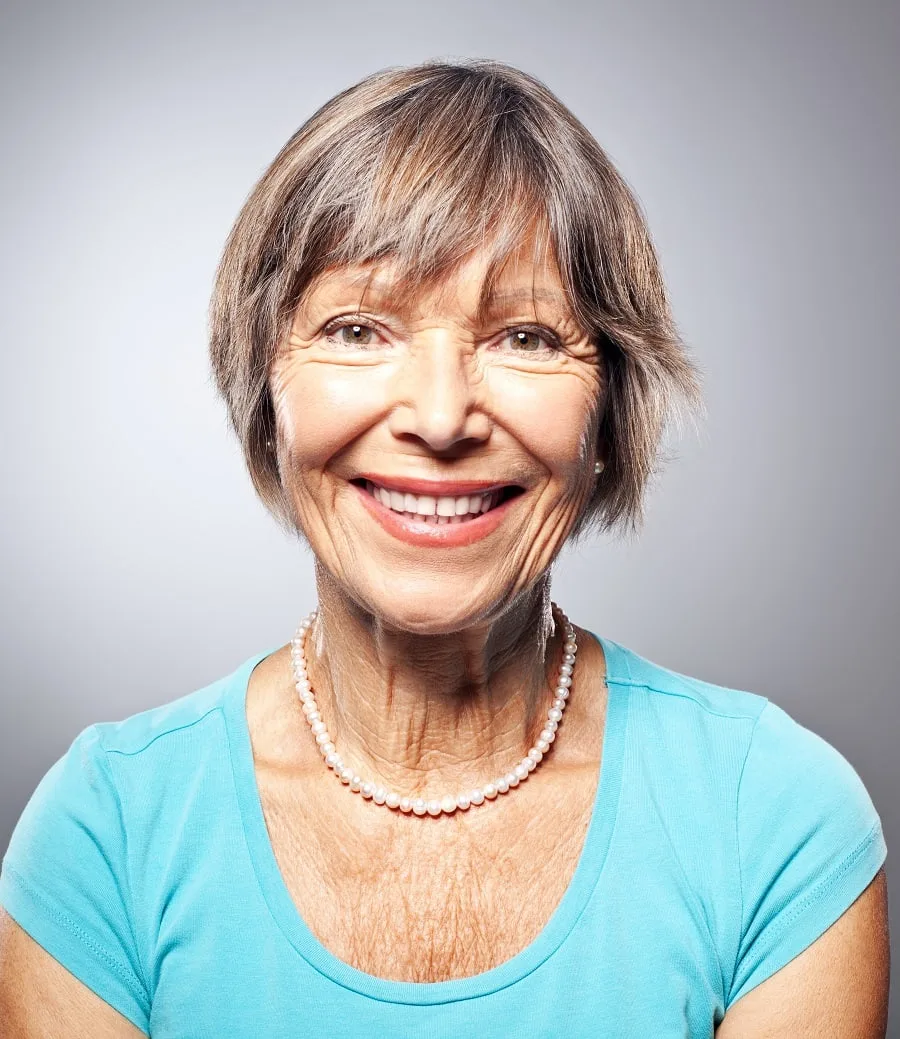 Layered and feathered bob haircuts are a trusted option among women over 60 with elongated faces.
And what makes it a great hairstyle for long faces is the dimension it can create, especially on the upper area. Go for more volume for the temples, and spread the bangs messily on your forehead.
14. Rounded Bob with Fringe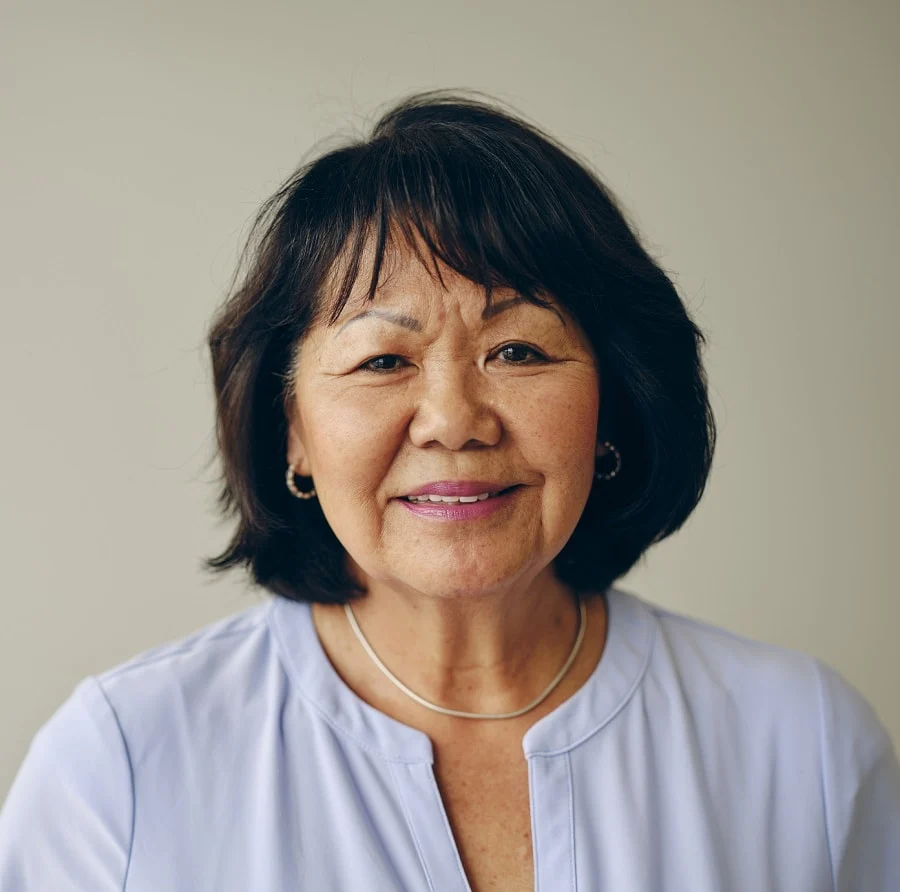 This long bob has a rounded shape, created by layering the hair at the tips while building more volume on the sides.
The bangs are just above the eyebrows and spread messily on the forehead. The color also has a crucial role, as black creates better framing.
15. Top Rolled Bun
This top rolled bun is flattering for women who have long faces and more prominent cheekbones.
The hairstyle is ideal for medium and long hair, can be pulled off within seconds, and requires no special styling or tools. Use a hair needle to secure the updo.
Long faces do not require complicated styling tricks to get a look that works in your favor. They allow you to play around with your tresses and try cool hairstyles that diminish that elongated look. Follow our trips and tricks and let us know how you feel about your new look!
Trending Topics