If you have a fat face, you may wonder if you can pull off a trendy and stylish layered haircut. The truth is, whatever your face shape, you can rock a layered haircut – you simply have to find the one you like best.
Layered hairstyles for women with fat faces tend to be very flattering. Here are our top picks, so choose your favorite and shine with confidence and elegance.
Best Layered Haircuts for Fat Faces
The following list of nine layered hairstyles for women with fat faces will catch your interest with trendy looks and easy upkeep.
1. Frilly Side Part Pixie Cut
A casual and fun pixie cut – this style is perfect for a no-fuss look that's still stylish and put-together. It's both mature and friendly, classic but not too serious.
We like that it doesn't try to hide your face but instead draws attention to your eyes by framing the top part of your face.
2. Short Bob With Side-Swept Fringe
This style is perfect for you if you're looking for a classic bob with a modern twist. It combines the sleekness of a traditional bob with the casual and playful look of a side-swept fringe.
This bob with a fringe is ideal for women with round fat faces, as it helps to slim down the face by directly pointing towards the eyes with the bangs. It also emphasizes symmetry, so it's great for those with symmetrical features.
3. Layered Mid-Length Curls
This unique style is perfect for those with curls, as it helps to define the shape of your curls while also giving your face a more slimming appearance.
Layering tight mid-length curls also give a youthful feel, making it an ideal hairstyle for younger overweight teenagers or people who want to add more youthfulness to their overall look.
4. Wispy Bob
A wispy bob is a cute and trendy hairstyle that you can easily achieve with the help of a good layering technique.
It's the perfect style for people who have thin or fine hair, as the layers can help to add volume and fullness and make the chubby face look too round.
5. Retro Punk Dual Tone Layers
This retro medium-length style is perfect for overweight women who want to make a statement with their hair. It's fun, edgy, and full of personality, youthfulness, and character.
The bleached or highlighted hair in the front paired with the darker hair underneath is ideal for chubby cheeks because it provides a distracting contrast, as well as elongates the face.
6. Wispy Long Layers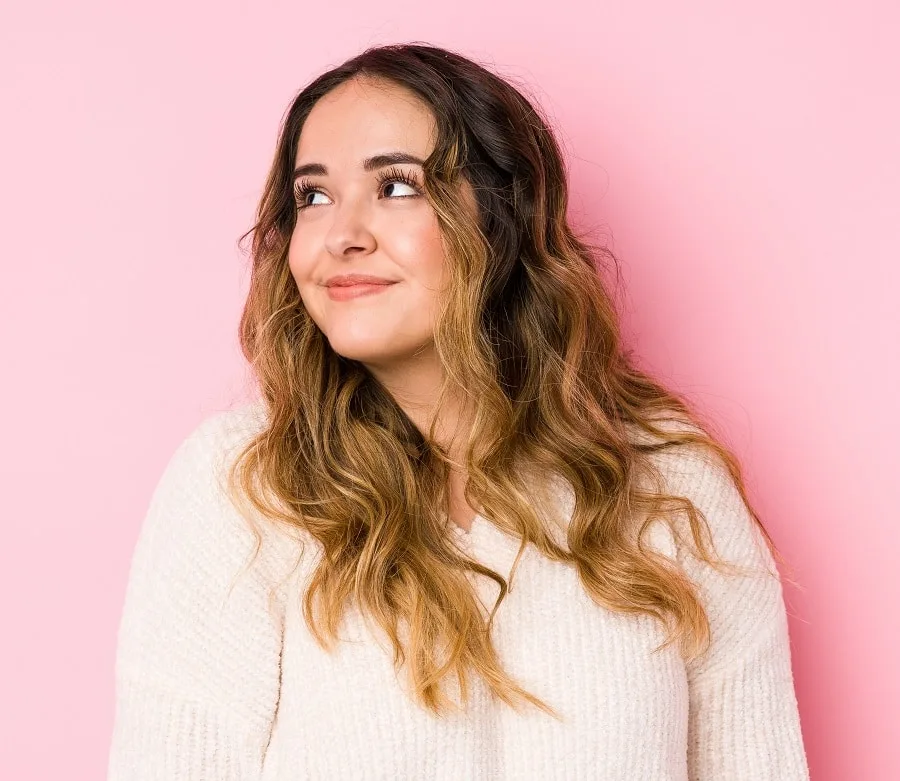 Wispy, long layers are a great way to add texture and interest to your hair without adding too much volume or weight. It's also a lovely look for redoing or growing out a bad haircut.
This is a flattering style for ladies with fat faces, as it helps to slim down the face by elongating it downwards. These long layers are also a good choice for thin hair, as the layers can help to add fullness and volume below the neck.
7. Mid-Length Curls With Headband
A decorated headband is a great accessory for chubby faces because it helps to draw attention away from the fullness of the face and towards the top half of the head.
This particular style also does a good job of framing the face without adding too much volume. Plus, this style's volume centers around the neck region, where the curls are, instead of the face region.
8. Messy Layered Side Braid
This hair's layers and intentional messiness shape a round face nicely because it provides structure and intricate definition without being too heavy or overwhelming.
It's perfect for girls who want a stylish yet low-maintenance hairstyle and those who like to decorate their hair with beads and flowers for a boho appearance.
9. Scattered Pixie With Slight Undercut
Last but not least is this intentionally scattered pixie cut with a subtle undercut. It's both edgy and professional, so you can rock it in various environments.
It's perfect for people who want to emphasize sleek eyebrows and bright eyes while trimming down the appearance of their cheeks and chin.
A chubby fatter face is just like any other face type – it may take time to find the perfect haircut, but there are endless possibilities when it comes to achieving fashionable hairstyles. Plenty of styles work wonderfully for fuller, rounder faces. Layered styles are no exception.
Your best option regarding layered hair will depend on the specific facial features you wish to emphasize, how long your hair is, and what attitude or vibe you'd like to convey.
Fortunately, there's a great layered look for every environment, occasion, and personality, so take your pick and change up your style to a layered hairstyle.