So your limp, over-processed mane tempted you to risk it all with a daring pixie cut. You liked the versatile style of your friends and celebrities. But does the cut suit you?
Gazing in the mirror, you ask, how do you grow out a pixie, and will it work for you?
Countless celebrities have taken the plunge and made that iconic haircut a trend. Audrey Hepburn turned the pixie cut into a classic in the 1950s.
Halle Berry transformed herself into a brand with her close-cropped curls when she transitioned from spokesmodel to actress. Charlize Theron showed off a classic blonde pixie, and thousands of women took inspiration and risked their locks too.
To grow out a pixie, you need the confidence to pull off the dramatic cut in the first place. With our step-by-step guide, we'll transition you through the awkward phase. Here's how.
What Does a Grown-Out Pixie Look Like?
A pixie isn't simply a one-style-fits-all haircut. Pixie cuts are as individual as the person deciding to sport one. The reasons for getting a pixie cut are just as personal as each person's hair texture and color.
A natural transition stage for a grown-out pixie is often the bob. How you tackle the re-shaping of a pixie depends on how drastic the pixie cut you chose is.
Transitioning from a pixie and growing it out again isn't as difficult as you might think. Typically, most people's hair grows at ¼" each month.
The easiest way to grow out a pixie is to allow the top-length room to grow into the chin to shoulder-length from the top down. With a great stylist, this transition is simple and classic.
The versatility of a pixie cut makes it such a great hairstyle. A pixie is a fun way to dramatize your hair's texture and facial features.
A pixie highlights and accentuates big eyes and lips and defines face shapes. Many clients feel liberated and move like a younger version of themselves.
A professional stylist can talk you through which style of pixie cut works best with your hair's natural composition and facial structure and how to transition back.
Types of Pixie Cuts to Grow Out
Of course, the transition period depends on your natural hair growth speed and the type of pixie cut you grow out. Expect to spend six months to a year growing out a pixie cut into a bob or a layered look.
Pixies don't have to be super short. Versatility is key. You decide how daringly short you'll go. If you want to keep the length, a pixie cut allows you to incorporate longer features and playful textures.
If you choose a classic pixie, the transition is easier. If you opted for a dramatic undercut with shaved sides and back and a longer top, you need to allow those short hairs a chance to catch up to achieve a balance.
How To Grow Out a Pixie
Here are some helpful hints on how to grow out a pixie cut.
1. Deciding on a Pixie Style
Deciding on a pixie style will also determine how to grow out and the length of time required. Your stylist can easily incorporate a re-growing and re-shaping phase with you.
When growing out a pixie, a big emphasis is on having a transition plan. Expect a longer grow-out transition if you opted for a dramatic style with shaved sides and nape.
Individuals with fast-growing and thick hair might have a faster turnaround time but also require frequent visits to their stylist to help them manage the regrowth.
2. Stylist Influence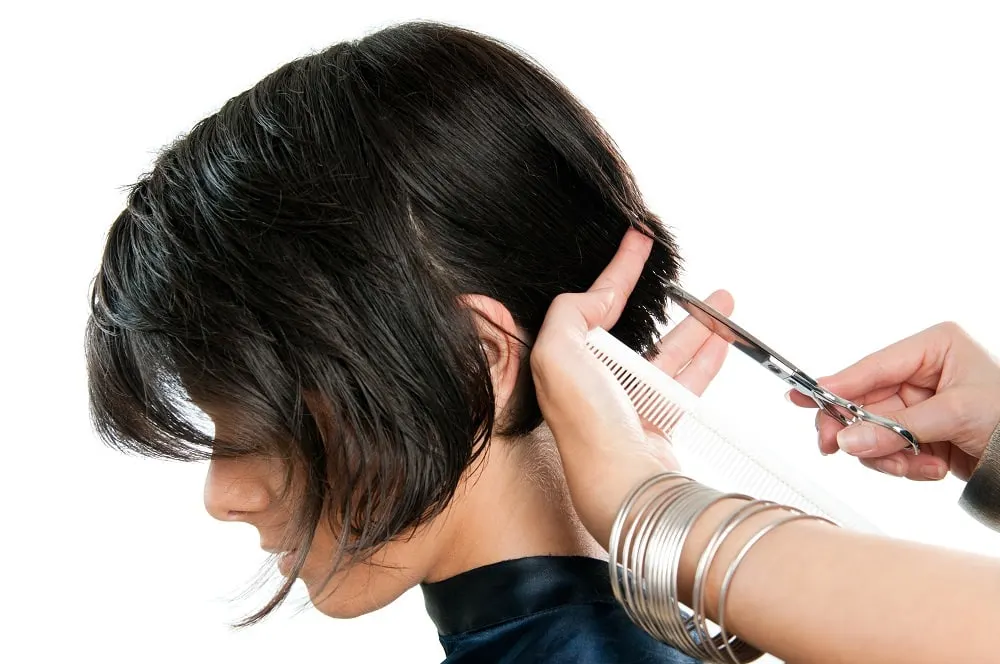 The success of growing out a pixie has a lot to do with your regular stylist. Professional stylists understand hair, growth patterns, and how to layer or blend textures into a healthy transition phase.
A stylist will trim excess bulk in areas prone to thicker growth, like the nape area. Cutting your nape hair will help your hairstyle achieve a natural and professional look regardless of your growth phase.
A good stylist knows how to maximize the length on the top of your head by trimming it only to reshape or revitalize damaged hair.
Having your hair cut in key areas helps build volume in areas where your hair lacks it and taming bulk in others.
Ask your stylist to teach you how to use a product to smooth or texturize the transition stage. You might want to emphasize one area of your style.
Women with fine hair need regular maintenance to grow out a pixie. A healthy trim that doesn't compromise length adds volume and natural shine. It also helps hair be its healthiest best.
3. Adapting Hair Thickness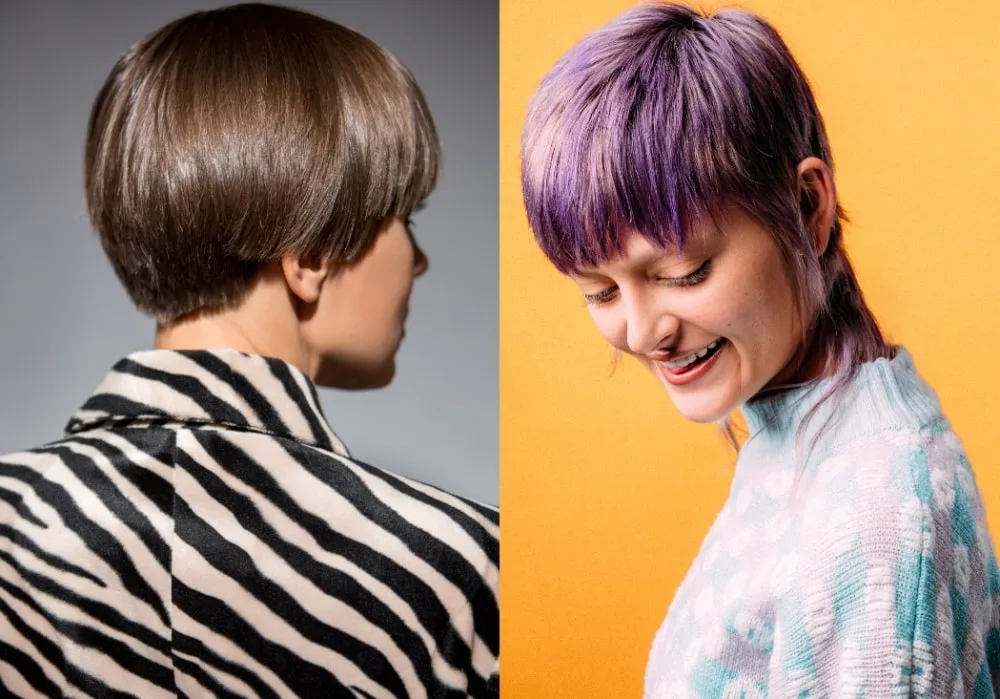 Two things will happen if you don't follow up with your hairstylist during the regrowth stage. You'll end up looking like a mushroom or muffin top. Or you'll have a nice mullet.
One of the key attributes of a well-groomed hairstyle, regardless of stage, is that it allows you to experiment with different intermediary styles.
You can try parting your hair on the side or middle and pushing hair toward your eyes or away. Pixies are all about versatility.
It is a great way to rejuvenate your hair from prolonged chemical processing, sun damage or revamping your style and career look.
What's important is that you maximize the best features of your hair. If you have bulk, tame it. If you have fine hair, volumize and play with texture.
4. Using Styling Products
Styling and haircare products become an essential tool in transitioning your pixie into something extraordinary.
The right styling product that doesn't overpower your hairstyle is a wonderful way to get the utmost out of transition styles.
Ask your stylist if a mousse, gel, or balm is suitable to redefine your transition style. Choose a product that allows you to redistribute your hair volume into many styles.
5. Curls and Directional Texture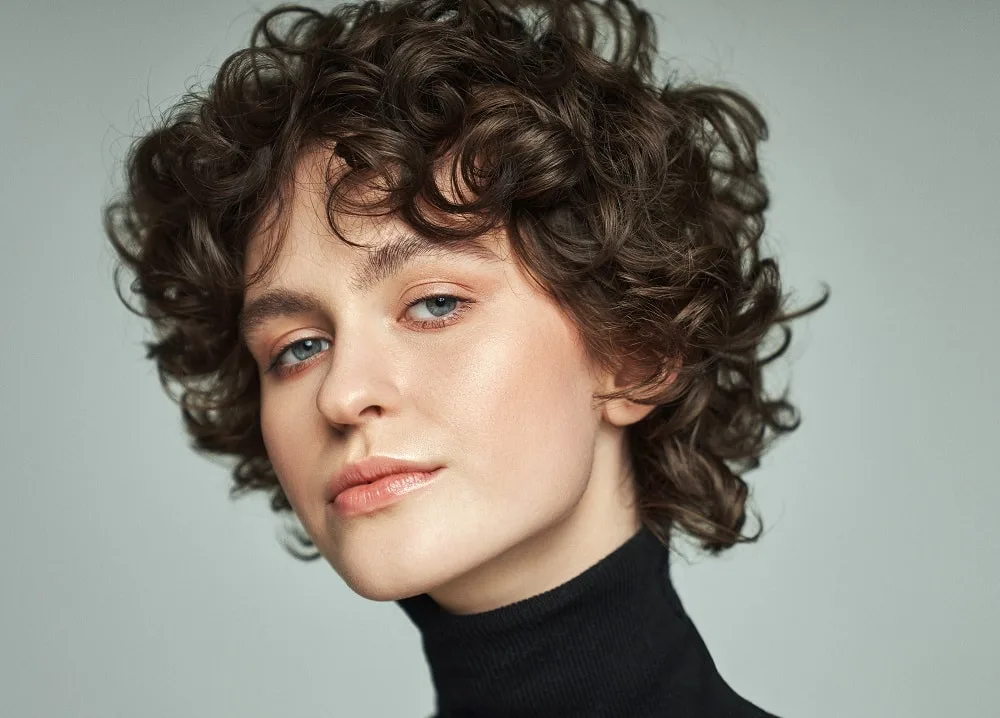 Curls are a great way to add interest and definition to a pixie's growth stage. Optimize the power of a curling or flat iron on shorter lengths. Curls can help to build height and texture and allow you to create that playful look.
Texture and curls are an ingenious way of blending uneven grow-out lengths and subduing those sections of hair that have a mind of their own. Using tongs changes the hair's natural direction.
6. Change Your Shampooing Habits
Clean hair is sometimes easier or more difficult, depending on your hair's chemistry and texture. If shampooing volumizes your hair too much for your current style, consider less frequent shampooing.
Natural oils smooth frizz and add a healthy sheen. The idea is to find a method that works. Try a scalp massage, a healthy diet, and a stress-free lifestyle to stimulate growth.
Don't fall for every miracle cure; talk to your stylist about proven techniques, products, and supplements.
7. Get a Trim
It might sound silly, but to grow out a pixie successfully requires frequent trims by a professional stylist. It fosters steady hair growth.
Do's & Don'ts
Recognizing that everyone's hair has a natural growth pattern, texture, color, and growth rate means generic recommendations don't work equally well for everyone. Here are common tips for outgrowing your pixie.
Do's:
Get regular trims and reshaping by a professional
Use products specific to your hair needs
Shampoo and condition without overdoing
Be patient during the regrowth stage
Use salon brand color and highlight treatments
Have fun with different looks, from prim and proper to messy
Don'ts:
Skip regular haircuts or try cutting at home
Don't overprocess with cheap hair colors and highlights
Get discouraged
Let the nape hairs grow out first (instant mullet)
Overuse the wrong styling products
Pixies are daring haircuts that define individuality and style. Don't let the fear of how to grow out a pixie stop you from trying the whimsical and ultra-feminine haircut. Your stylist is there to guide you.
Most faces benefit from shorter hair, and it may surprise you that people will comment not on your haircut but on the color and shape of your eyes.
FAQs on Growing Out Pixie
Growing out a pixie can be a fun and inventive way to wear your hair in the interim. Pixie haircuts are a unique way to experience something different and unique to reflect your personality.
How long does it take to grow out a pixie?
Expect to transition from a pixie to a new style, like a bob, in about six months to a year. It all depends on your rate of hair growth and how you maintain it in between.
Can you grow out a pixie in two weeks?
No. Most people's hair takes three to six weeks to see a noticeable change. It also depends on our hair texture and thickness and the type of pixie cut you choose.
You Might Also Like: