The pixie cut is classic and timeless. Pixie cuts for thick hair are romantic and edgy at the same time. Trends change, what's in right now may be outdated tomorrow, but a pixie is one of those styles that are always trendy.
They show how soft and gentle you are, but also depict strength and decisiveness. Scroll down to see some of the most amazing thick pixie cuts.
How to Cut a Pixie on Thick Hair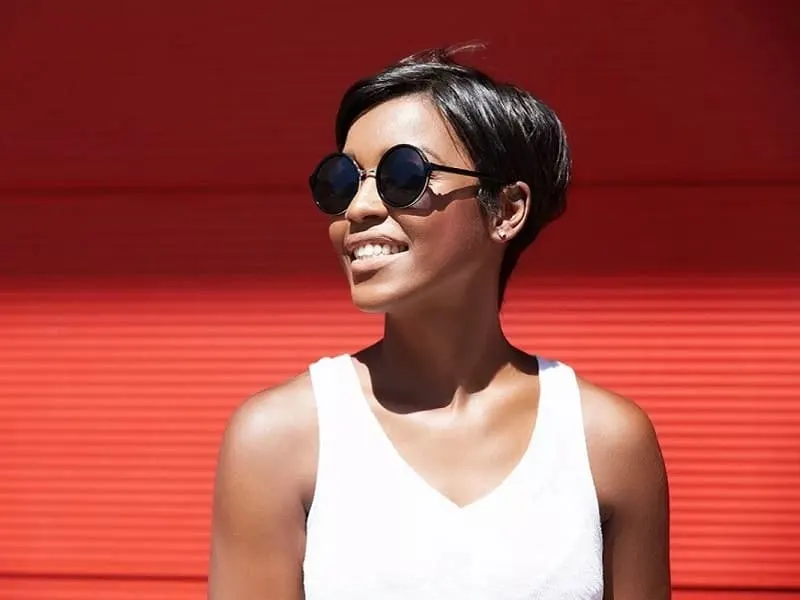 Thick hair has a lot of volume which is a good thing, but it can be difficult to control it. This is especially the case when we're cutting pixies. Dense hair requires a different approach in order to protect it from damage while cutting, but also to achieve the desired look.
When cutting pixie on thick hair, it's important to do pre-texturizing first to knock down the excess density before you consider some other techniques such as disconnection and detachment. Don't be afraid to work around the scalp because that's where the hair is the thickest and heaviest.
That's also where you need to pre-texturize to achieve the lovely thick pixie haircut look you're going for. Avoid cutting on previously cut sections because that would create an uneven look and even more volume. To cut a pixie, you'll need blending shears or scissors with one flat or straight side and the other side with teeth.
Make sure the straight side is against the scalp while the teeth side is on top. This will give you a softer cut. Cutting a pixie on your own is tough but even more so when you have thick hair, so may want to consider letting a hairdresser do it.
Best Pixie Haircuts for Thick Hair
Now that you know how to cut pixie for women with thick hair, let's see some of the most awesome styles. These 40 suggestions will definitely inspire you to get your pixie.
1. Wavy Brown Pixie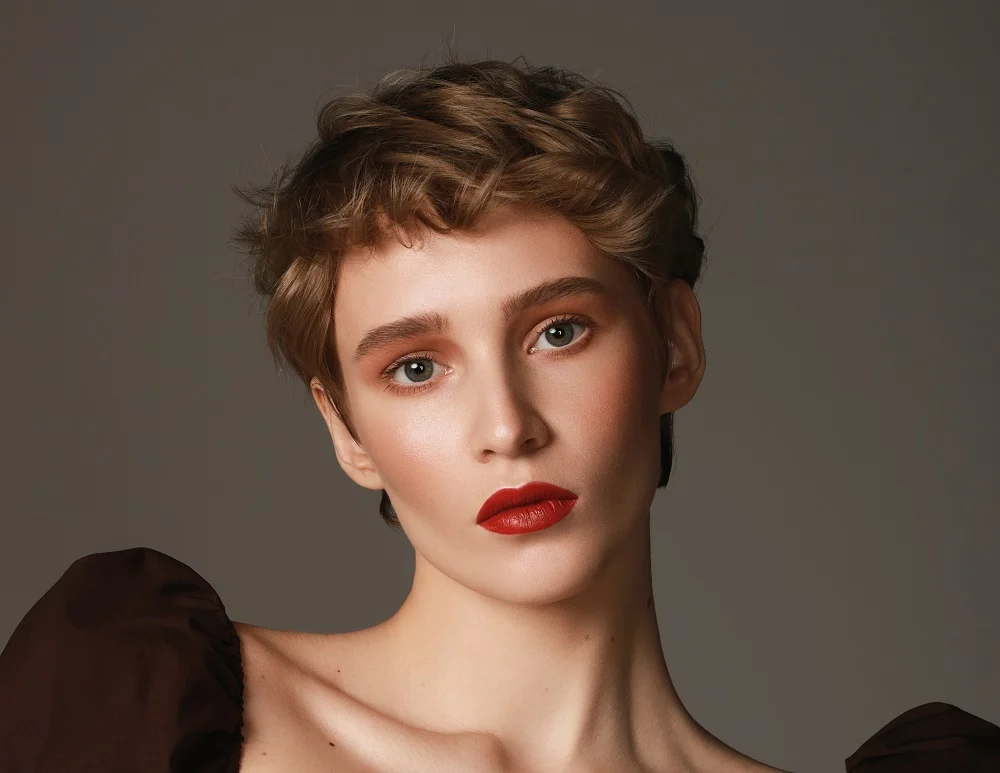 The nice thing about having thick hair is it usually comes with a gorgeous texture. For wavy hair, a soft pixie is ideal. This one features a subtle side part and perfectly shaped wavy locks that lean toward one side of the face.
2. Layered with Thick Bangs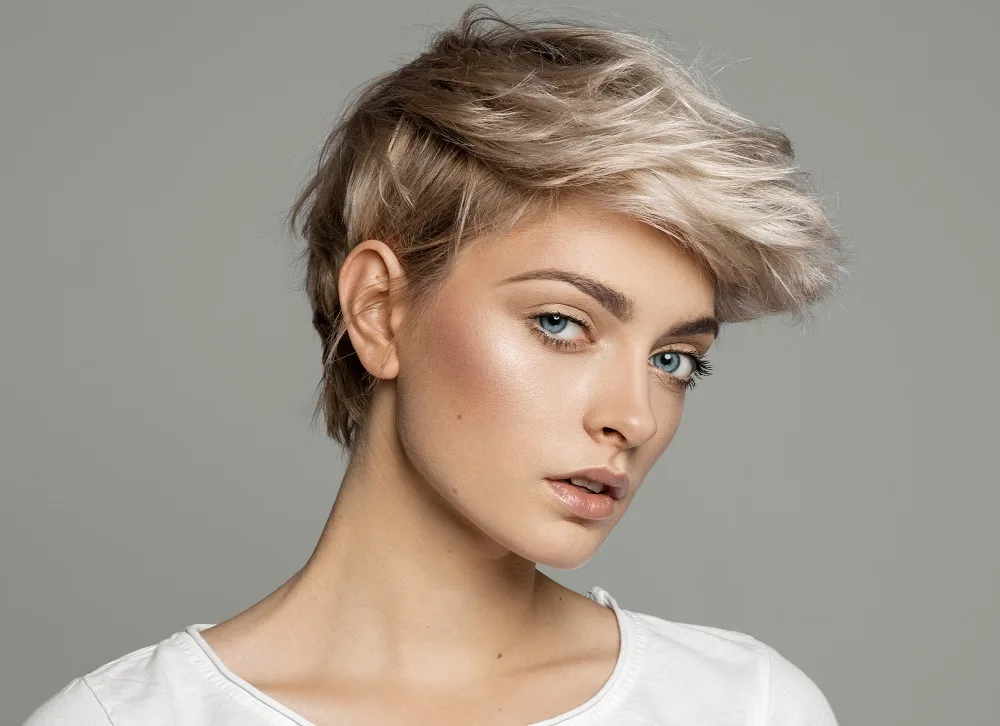 Lots of layers in short thick hair will give you all the shape and body you could want. We like how this pixie is noticeably shorter on the sides, while a thicker top creates a versatile fringe you can either sweep back or comb forward and to the side.
3. Wavy Ginger Pixie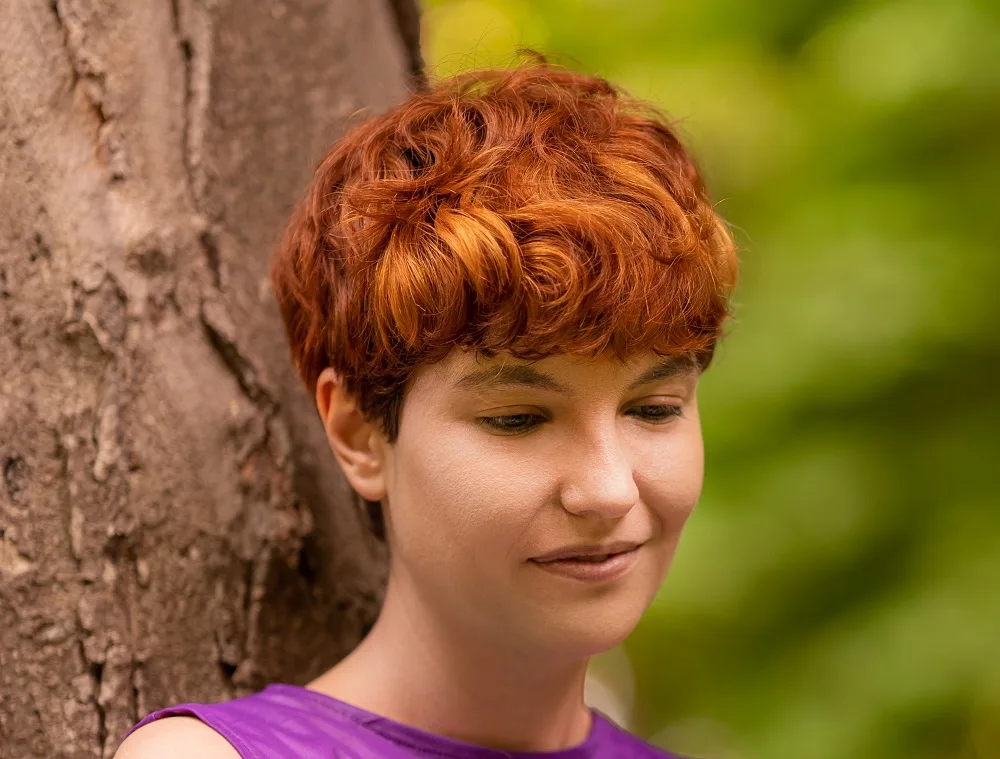 All you ladies out there that are redheads, let that fiery color take front and center stage in a short haircut with long bangs. This pixie is combed straight forward, an easy style you can do with either your fingers or a brush and a little hair mousse.
4. Multi-Colored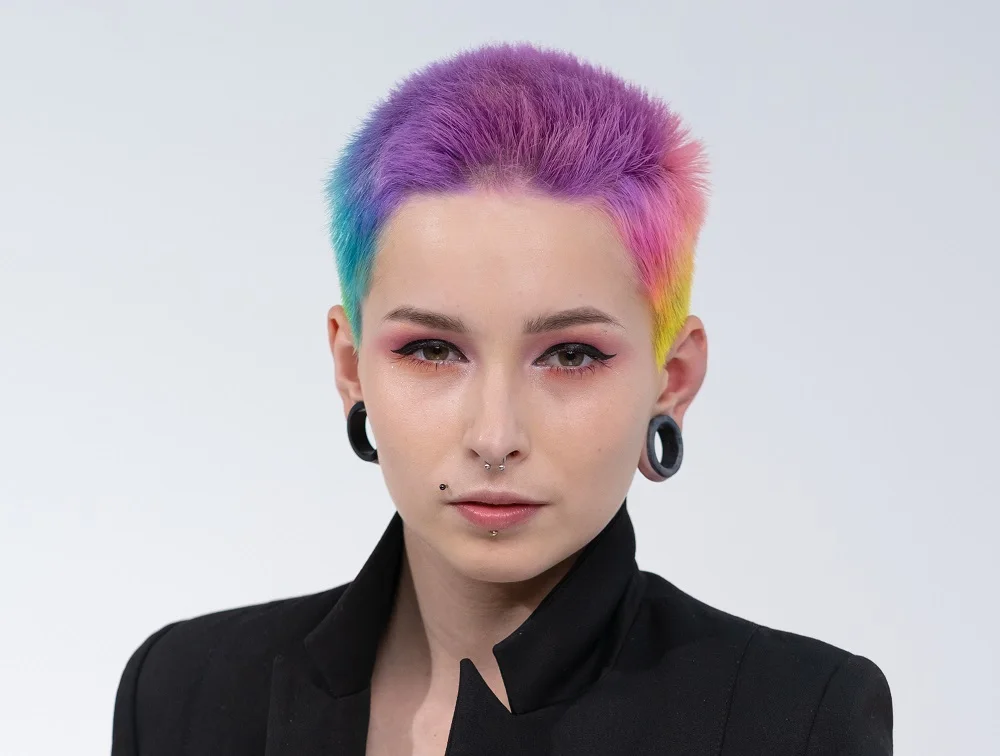 If you're a woman who appreciates a bold hairstyle with vibrant colors, why not go multi-colored? This thick pixie features a long buzzed cut which creates a spiky texture. The large patches of bright yellow, orange, and hot pink will catch everyone's eyes.
5. Long Curly Pixie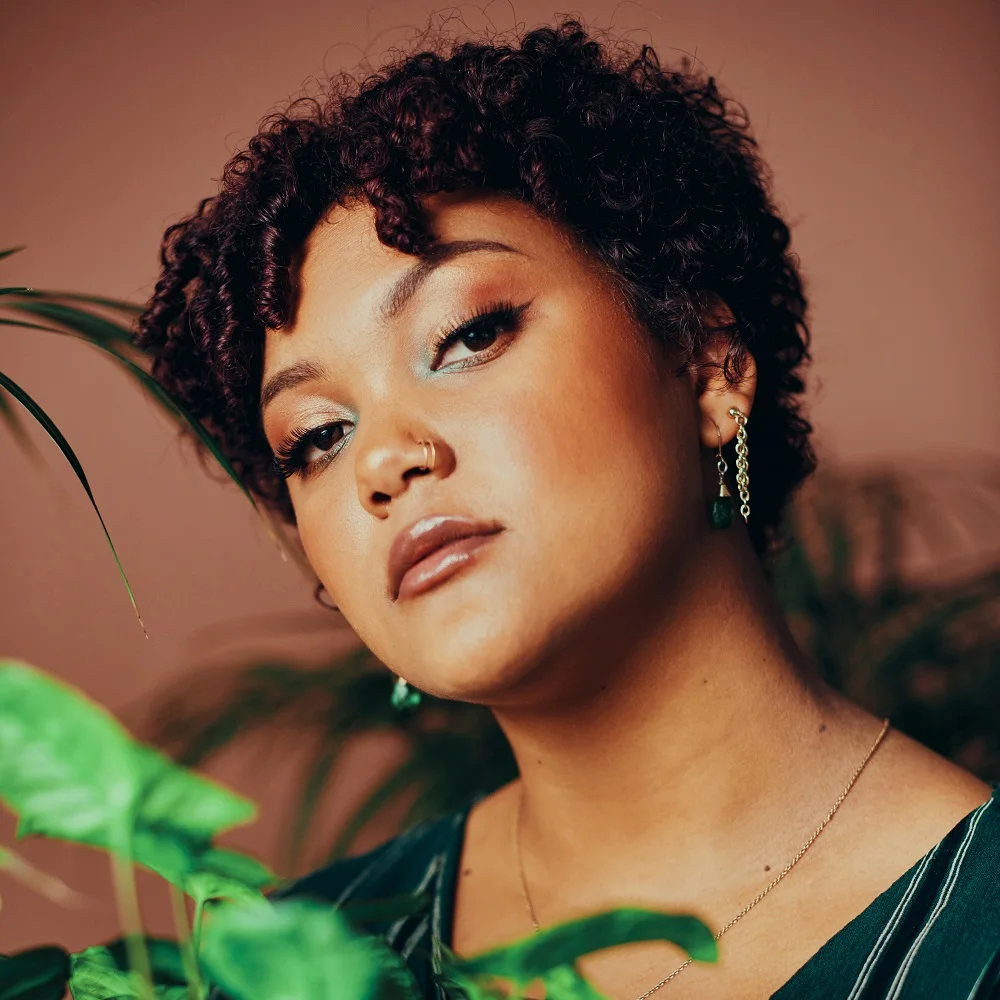 Black women will have a newfound love for their natural hair when they adopt this stunning pixie that perfectly flaunts tight spiral curls. Maintain a longer front, where you can style a side-parted fringe to help with face-framing.
6. Pastel Pink with Undercut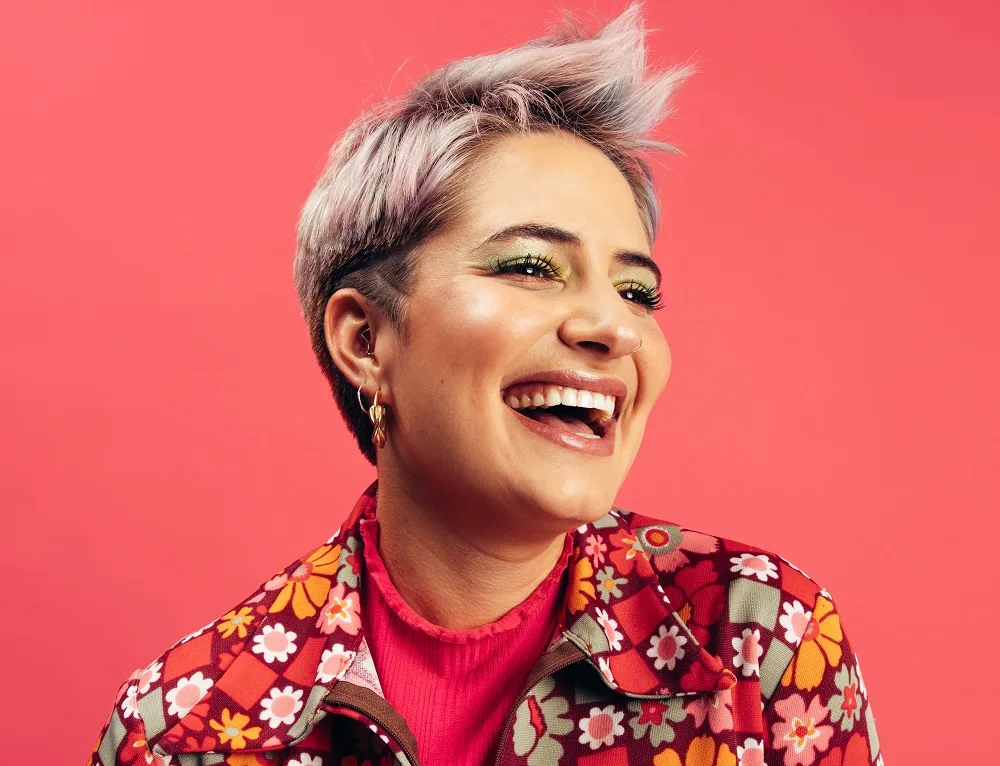 An undercut with a pixie is the best way to give your look an edgy detail. Bonus: it also helps thin out thick, bulky hair. To contrast with the undercut, choose a light shade of pink to give your new hairdo a feminine glow.
7. Pixie Cut for Square Face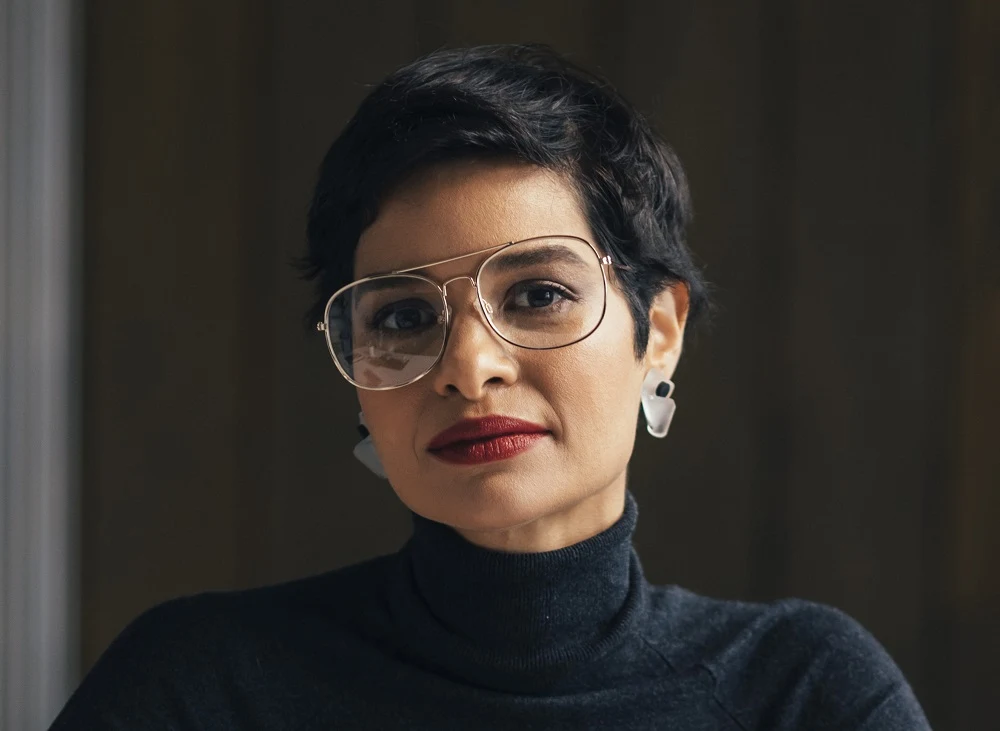 If you have a square face shape, pay attention to what a short haircut with soft layers can do for your defined angles. Forget about blunt cuts, which will negatively emphasize them. The soft texture is the best complementing cut, especially if you wear glasses.
8. Thick Side Swept Waves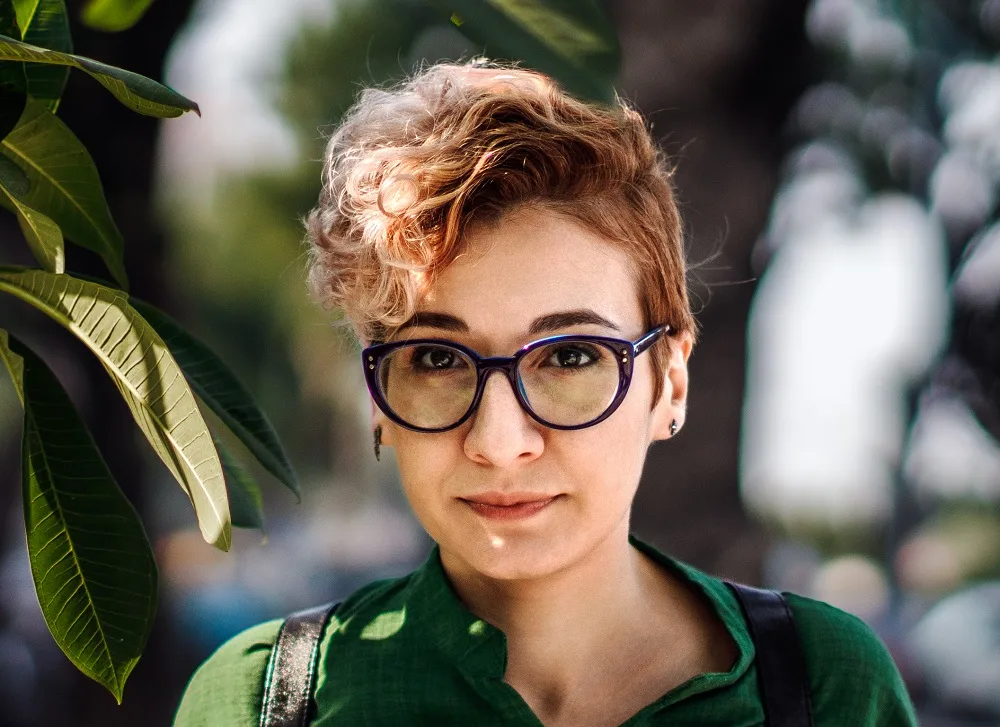 Do you have thick curly hair and an oval face shape? Try this side parted pixie cut which stacks all those curls on one side where they're sure to be seen. Emphasize texture by scrunching in mousse, and smoothing down the opposite side.
9. Short Spikes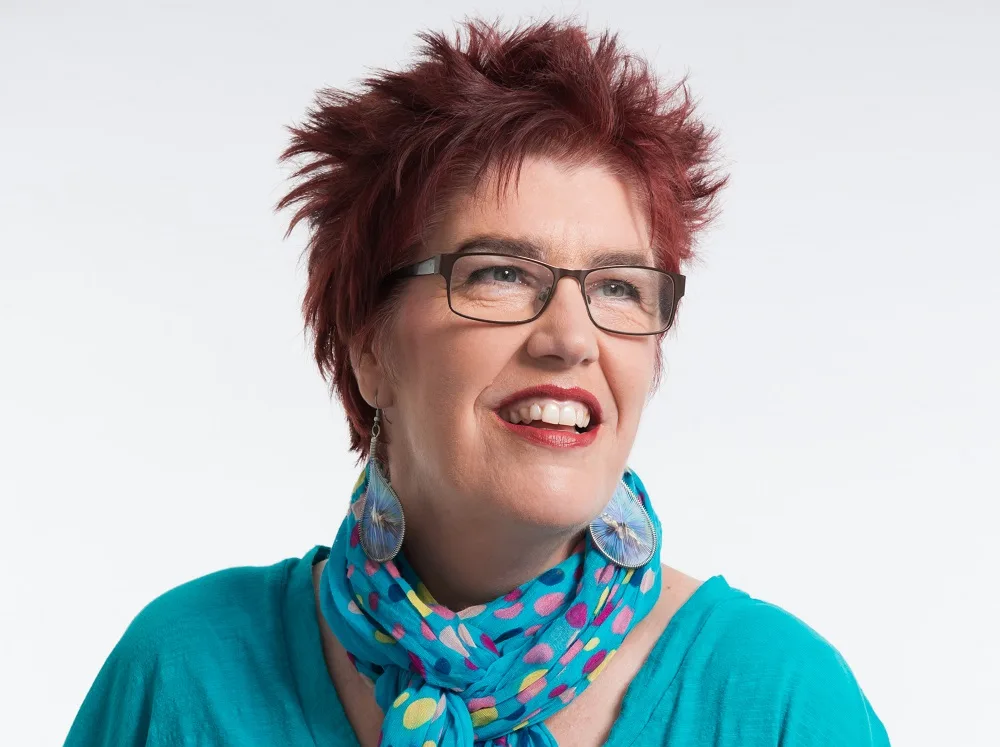 Older women who still have a thick head of hair are pretty much obligated to show their gratitude by rocking a fun haircut. For mostly straight hair, shape locks into short spikes with your fingers.
10. Thick Afro Hair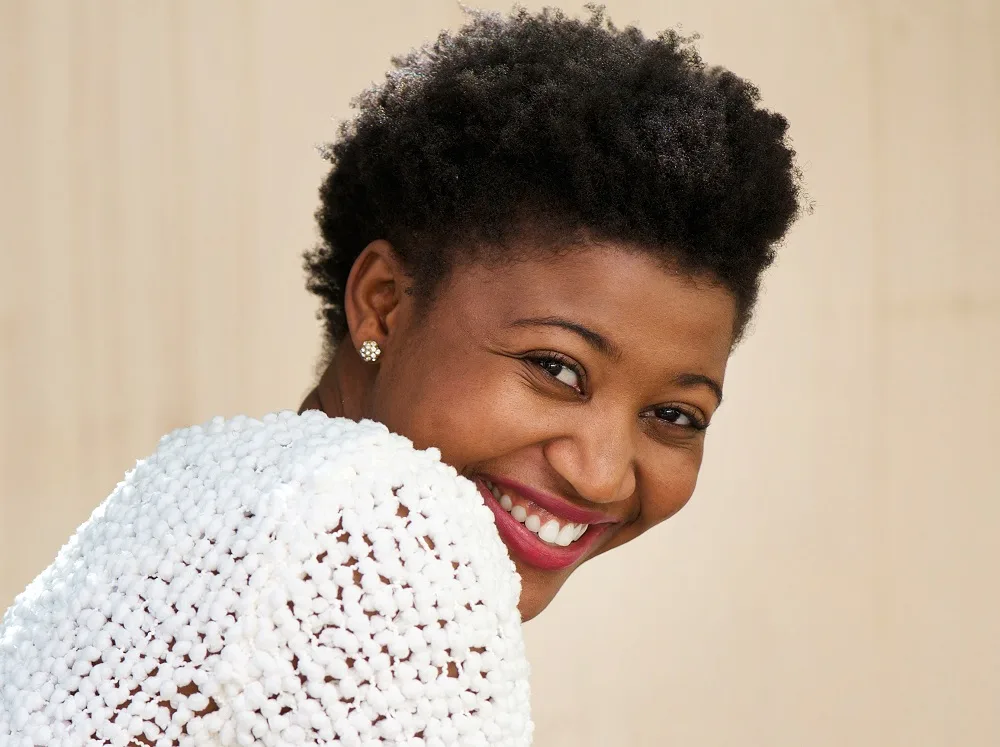 Here's another beautiful hairstyle for Black women wanting to give their thick natural hair a break from processed hair methods. Trim afro locks to just a few inches in length all around, then work in a hair oil to banish frizz and seal in moisture.
11. Red Anime Hair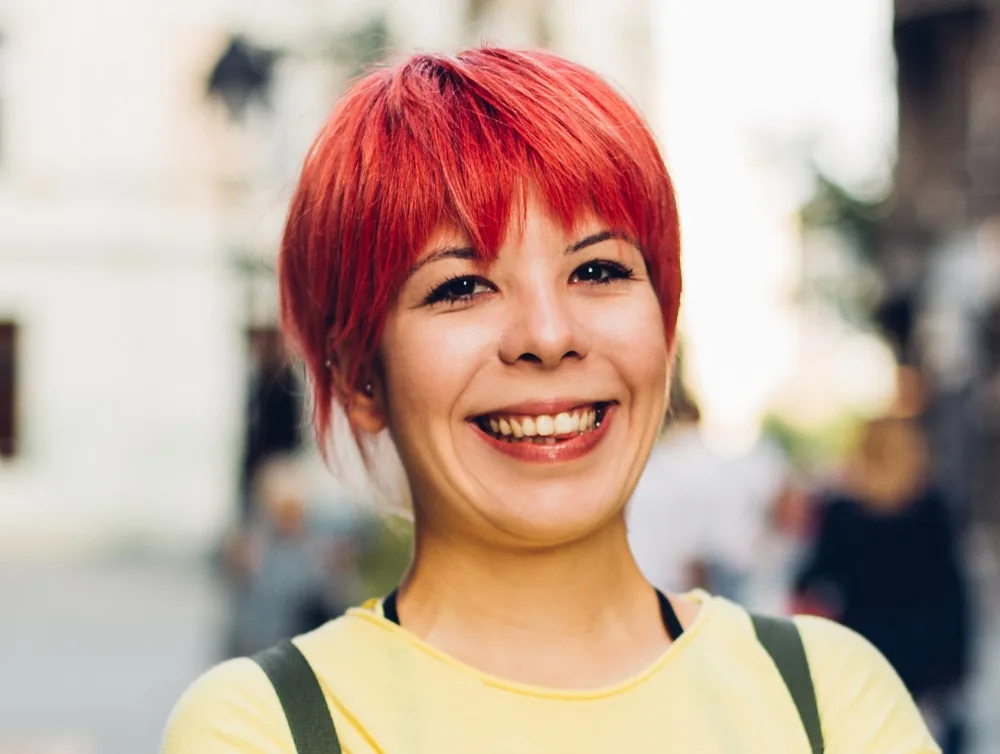 Not having natural waves or curls in your hair doesn't mean you can't still rock the edgy pixie cut. There's no shame in a neat finger-combed style with razor-cut bangs. We recommend styling it mostly toward the front over the forehead for cool framing.
12. Light Blonde and Dark Roots
While soft layers on a pixie cut contrast with its short cut, you can also contrast colors for a trendy effect. If you have naturally dark thick hair, try this light blonde over it and add an undercut for the ultimate look.
13. Thick Dark Brown Waves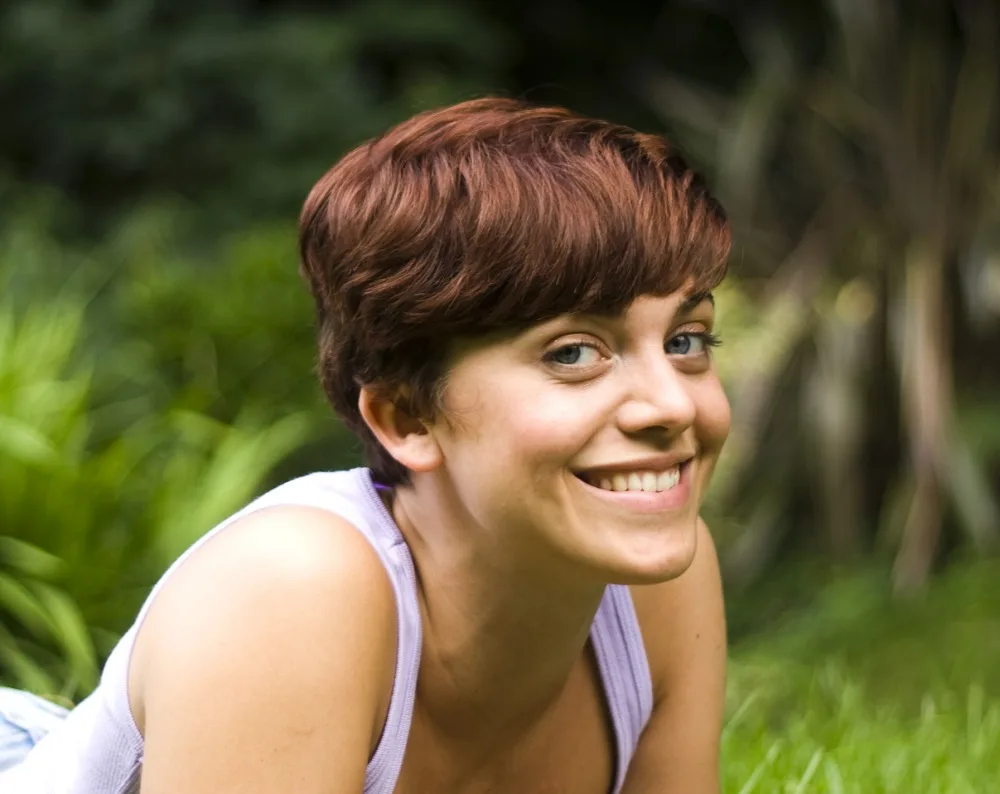 Having barely-there texture is still enough texture to work with when you have thick dark brown hair! We like this short style with a rounded shape, featuring thick bangs that cover the eyebrows and layers that create movement in the mane.
14. Curly & Choppy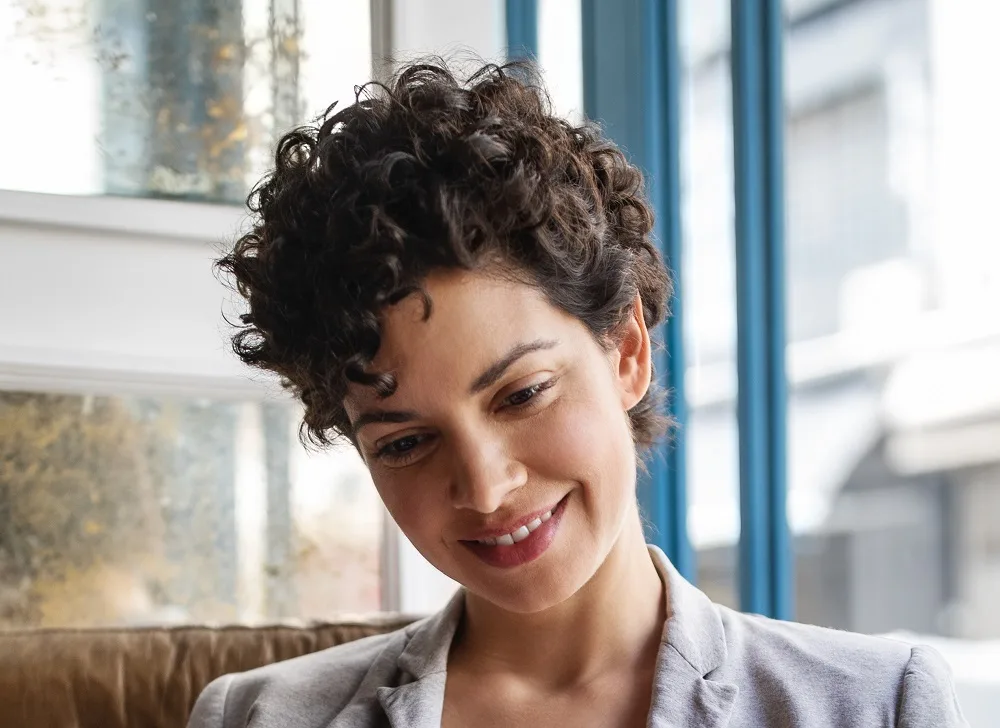 These perfect thick ringlets dress up a pixie cut in the best way. This look is more elegant and chic, with a partial side bang, so you can wear it to the office and feel like a boss babe all day.
15. Salt and Pepper Pixie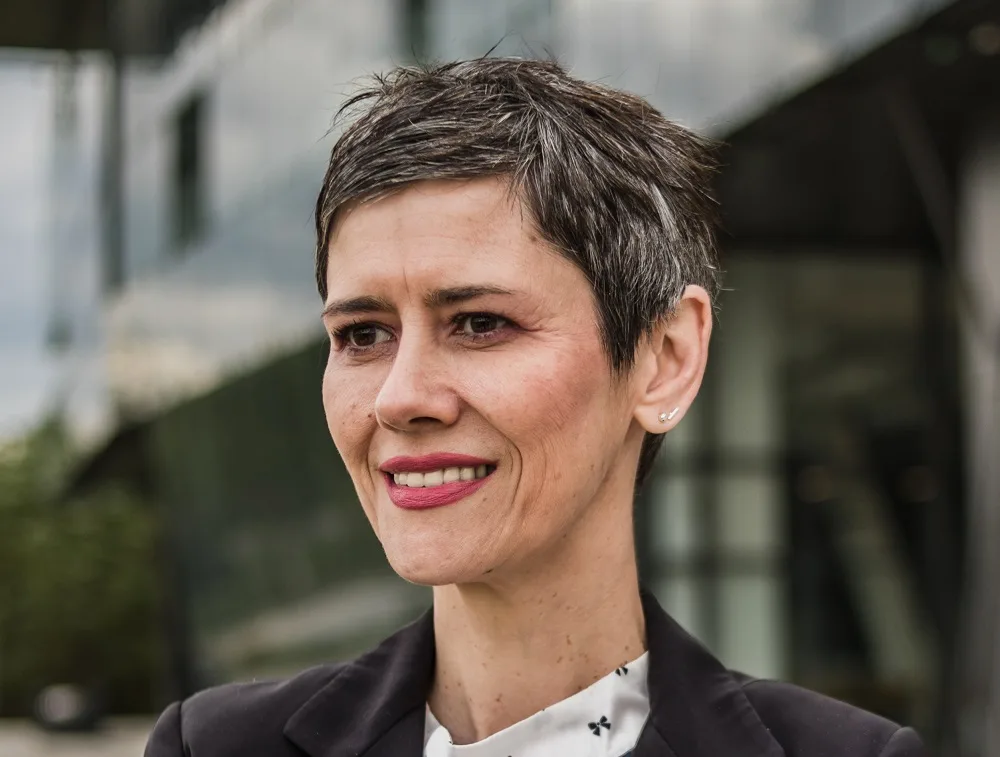 Seeing more gray and white hairs these days? A salt and pepper pixie cut with lots of short layers is your ticket to youth. Start with a side part, smoothing the hair down flat in one direction. Spike up the back for a bit of texture or comb it mostly flat too.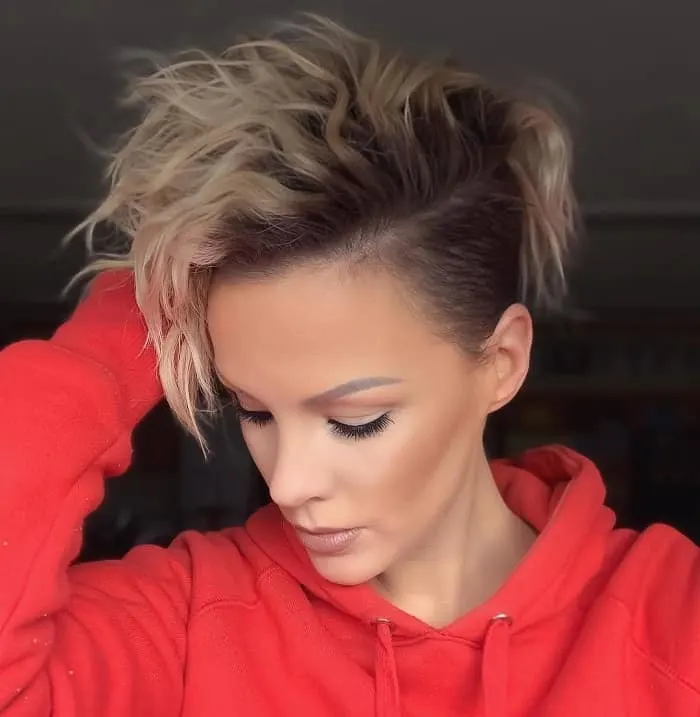 Adventurous girls who love to experiment with their hair don't have to settle for regular pixie unless they want to. Edgy thick-haired pixie indicated by wavy strands and undercut a wonderful choice that shows how fierce and powerful you are. For a complete look, you can choose ombre or highlights.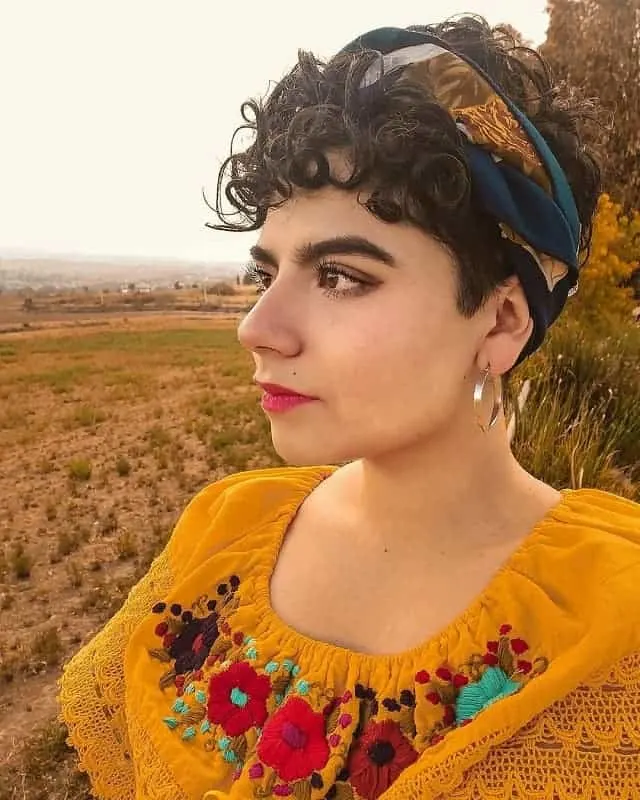 Short curly hair is wild and difficult to tame, which is exactly why we love it. There's nothing cuter than gorgeous, cute curls. Just because your hair is curly, it doesn't mean you're unable to shorten it or do something different with it.
For instance, the curly pixie for thick hair is an adorable choice especially when you use a bandana, or any other scarf and hair accessory to complete the look.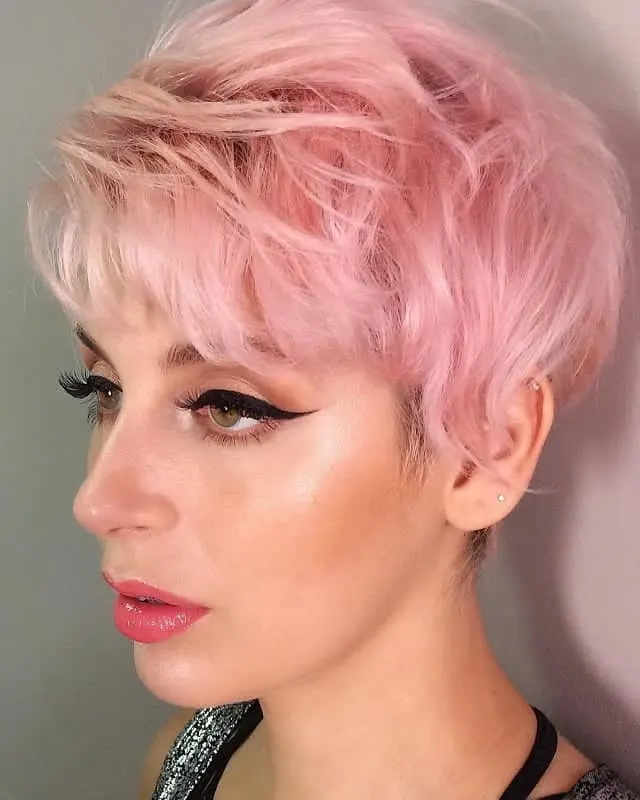 Short pink hair doesn't always have to be "loud," it can also be demure and timid. If you're a fan of softer looks, then this pink pixie with thicker gentle waves is a good choice. Pair it with great eye makeup just like in the photo below, and you'll look absolutely ravishing.
19. Layered Pixie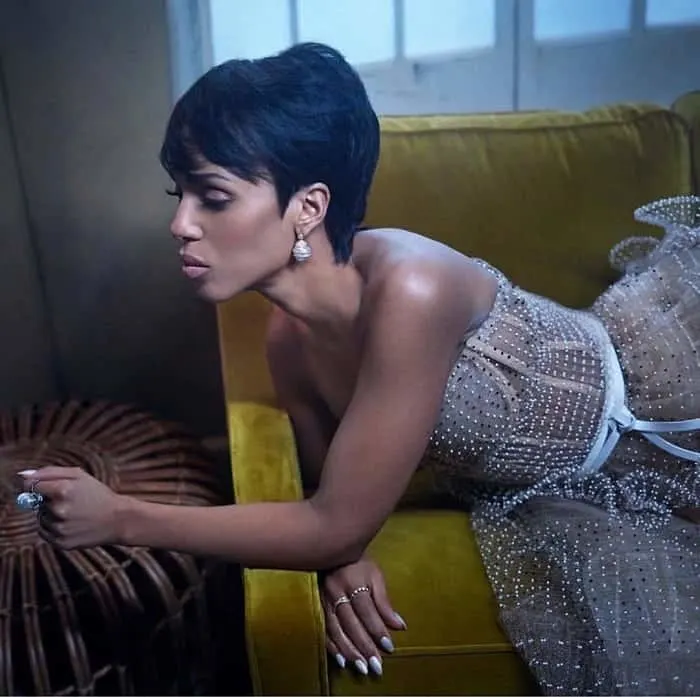 Layered style is one of the best types of thick haircuts because it retains volume while also preserving the shape that pixie haircut requires.
This is particularly the case with black women whose hair is difficult to control. The pixie cut is not only pretty but practical and convenient too.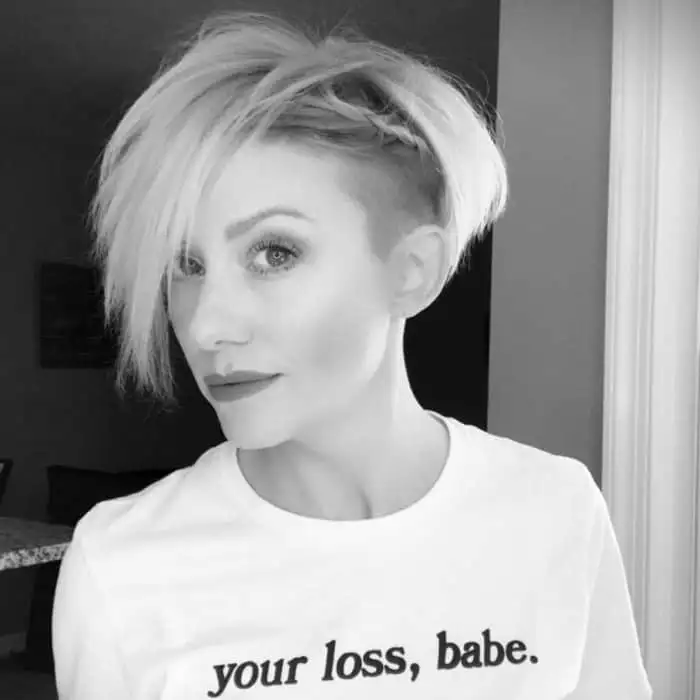 Fan of a bed head style? It's easy to achieve it with pixie too even if your thick hair is straight. Shaved undercut gives you an edgy look. To further accentuate shaven part it's practical to make a tiny braid just as it's shown in the photo below.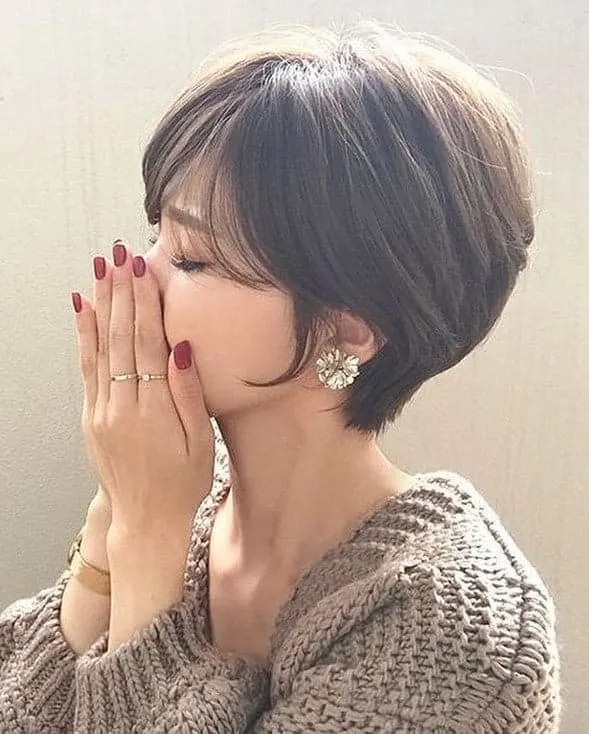 Women with straight, thick hair have the option to further shape their pixie through a layered look that also features see-through bangs and a few longer strands on the sides. Such a delicate hairstyle oozes elegance and sophistication, and it's easy to pull it off.
22. Spiky Pixie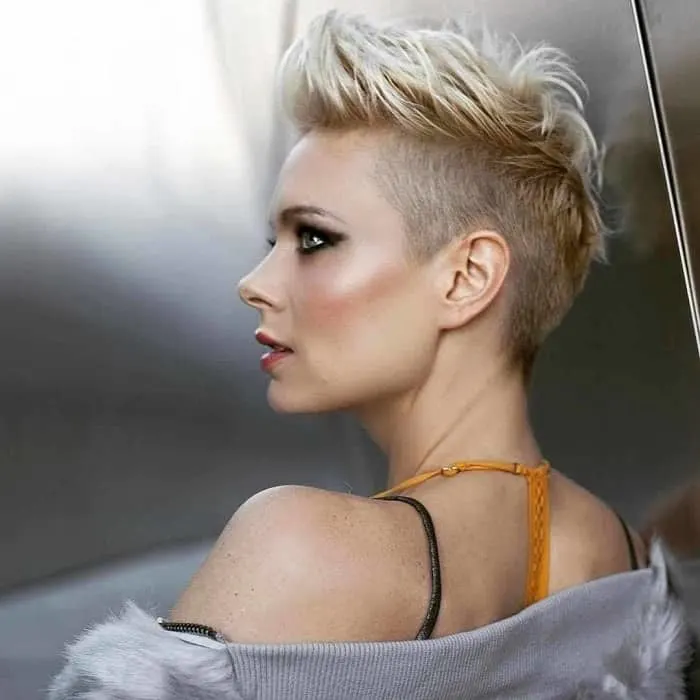 Bring out your wild inner side with spiky pixie haircut on thick hair with side and nape undercut. A kind of haircut that shows you can't be messed with; this pixie is modern, empowering, and fun all at the same time.
Plus, it gives you a lot of freedom to focus on other things without having hair getting in your way.
23. Chic Long Pixie for Oval Face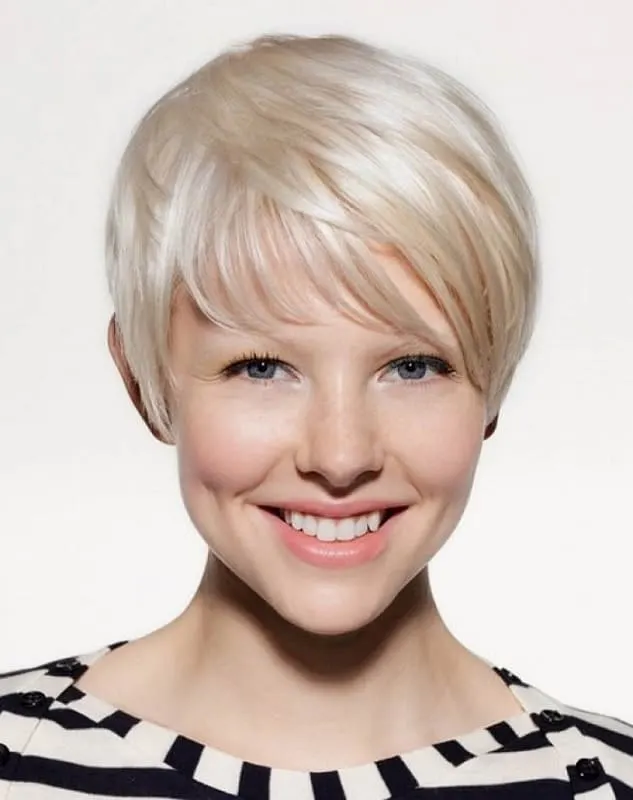 Women with oval faces can rock any hairstyle they want and look fabulous. This Amazing Pixie Cuts for Different Face Shapes allows you to experiment with different cuts and styles to see what you like the most. Straight, the layered thick pixie is such a cute look that frames your face perfectly.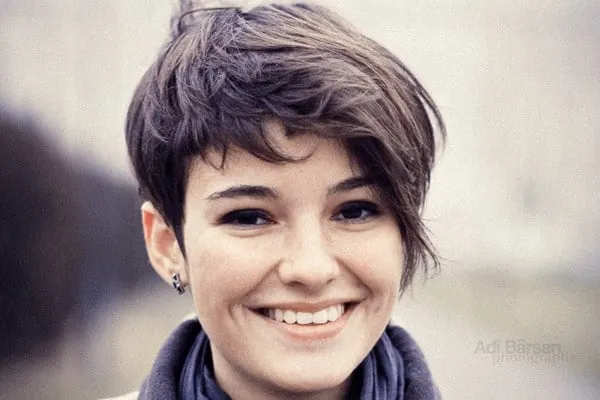 Pixie haircuts are suitable for different face shapes. There's a perfect form of pixie for everyone. Here's an example of pixie cuts for thick hair that women with a round face will adore. Cute, choppy, and messy for an effortlessly chic appearance – you'll love this style.
25. Square Face Pixie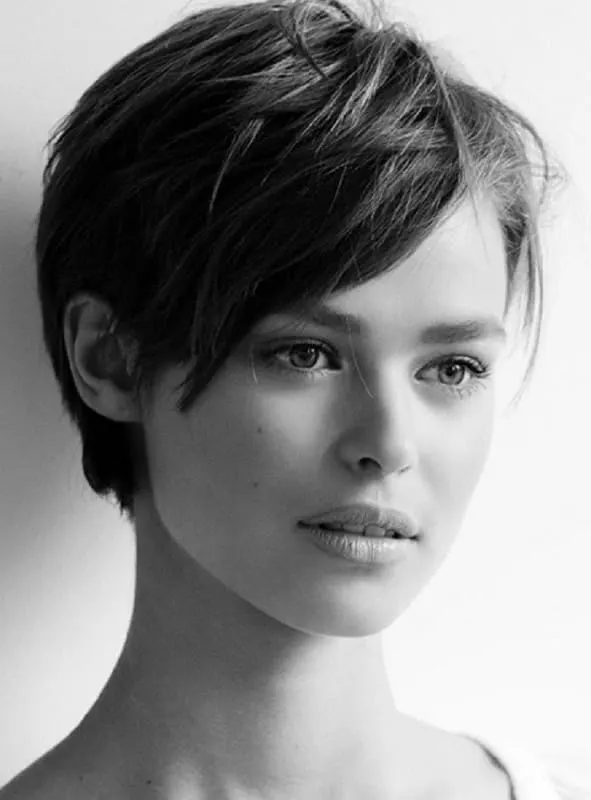 Choppy pixie with longer bangs swept to the side softens jawline in women in girls with a square face. If you've ever wondered whether you'd be able to pull off the pixie cut, this is a proof that shows you can.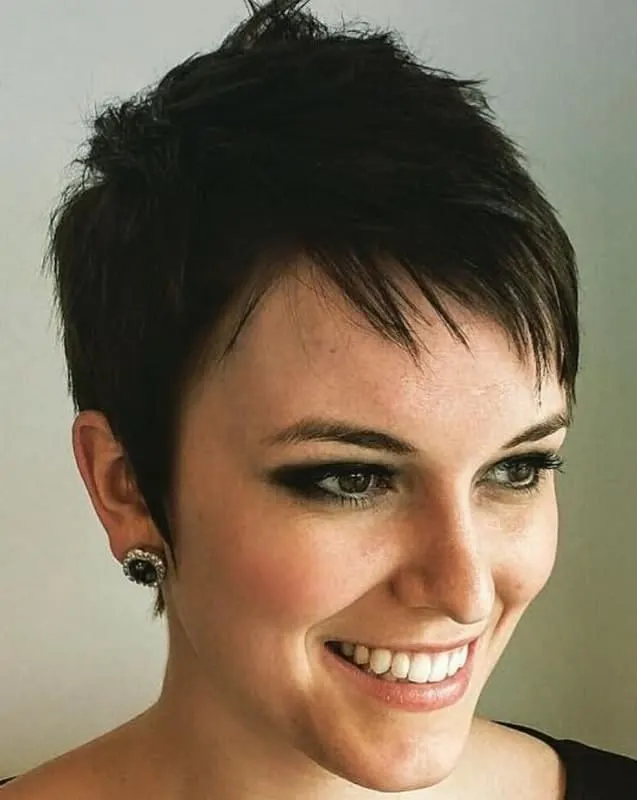 The choppy style gives your pixie more edge, and the bed head looks all of us love. While it may be tricky to achieve this pixie, all you need is a great hairdresser who can make it happen. It's needless to say this short thick haircut saves a lot of time you'd spend on styling your 'do.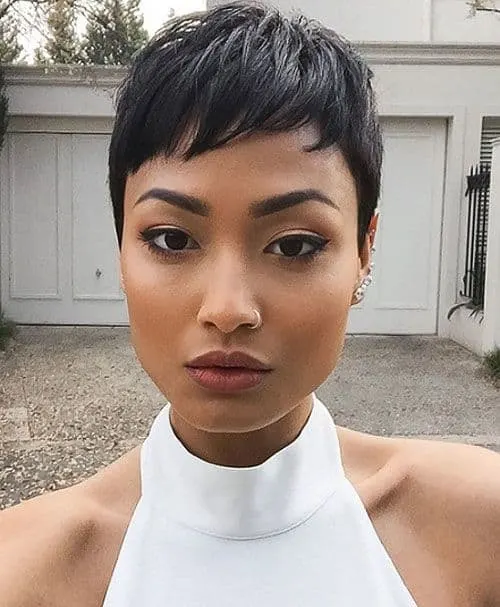 Pixie cut and bangs are a perfect match. Short baby bangs and a choppy thick pixie accentuate your eyes. This hairstyle is easy to maintain meaning it's particularly useful for busy women who don't have too much time on their hands to work on their hair in the morning. As you can see, it looks cute on girls with square face shape too.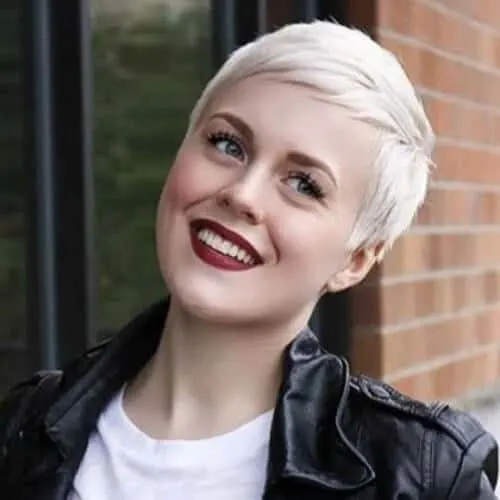 It's easy to think that thick and dense hair requires longer and more voluminous versions of the pixie for fat face women. Super short styles are also at your disposal.
This ultra short platinum blonde pixie for women delivers Parisian chic vibe that acts as an ultimate confidence booster.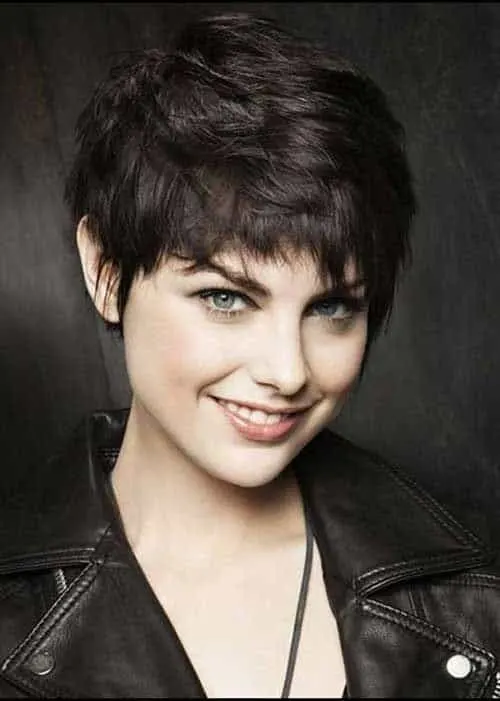 Textured pixie is a perfect style for thick and dense hair. It's easy to maintain this style, and it gives away the effortlessly chic vibe. All you need is to apply a mousse or some other hair styling product and use your fingers to texturize your style gently. It's that simple.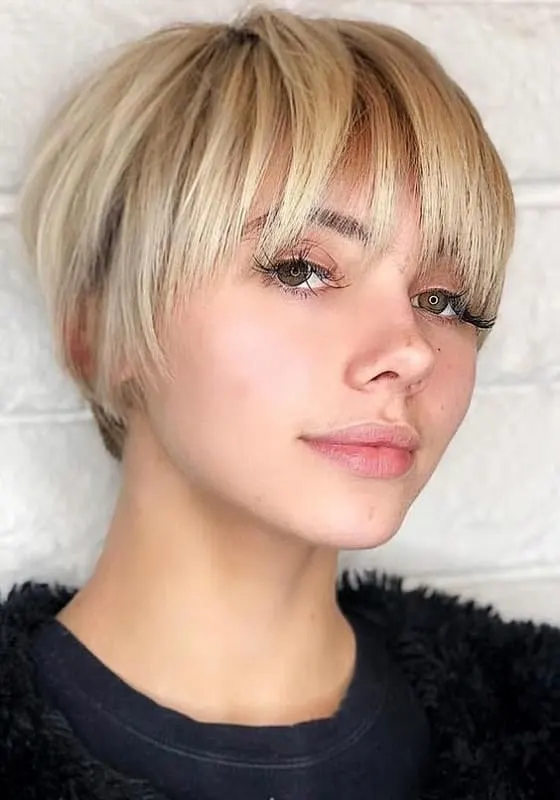 Straight hair is practical as it allows us to style it any way we want. This hair type is also easy to keep under control in pixie cuts which is why it's particularly useful for women with thick and dense hair. Sometimes we want a simple, minimalistic look and this is it.
31. Curly and Free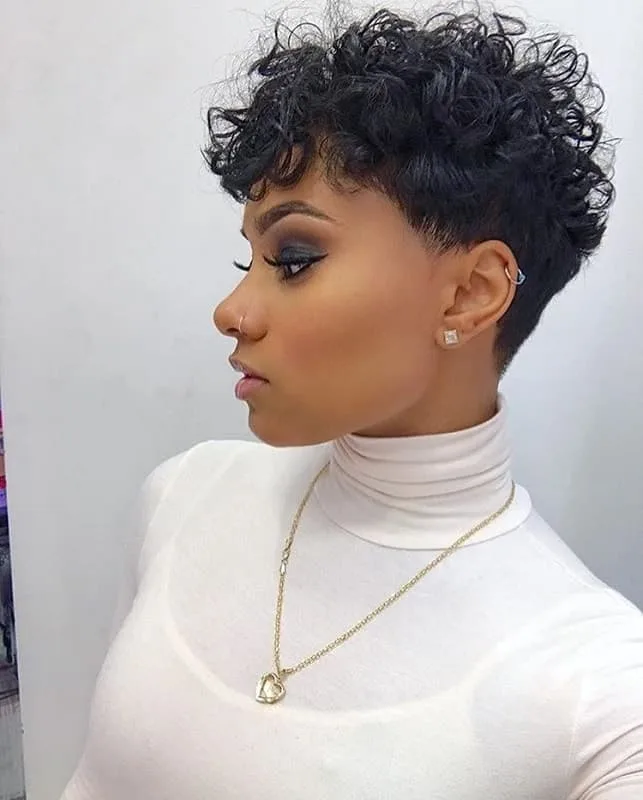 Put your lovely curls on display with this pixie cut for thick hair. Apply a little bit of mousse to shape your curls and give them more definition and control. You'll look absolutely stunning rocking this amazing hairstyle.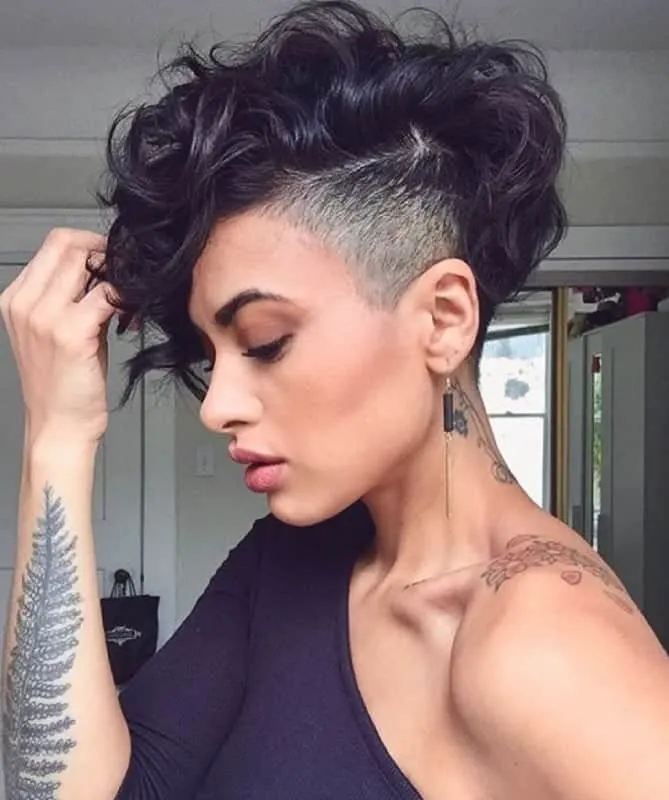 Have a wild side and not afraid to show it? This curly thick pixie with shaven sides is an ideal style, and you'll absolutely love it. Cute and edgy at the same time, what's here not to like? A hairstyle like this defines your jawline and shapes your face.
33. Baby Doll Pixie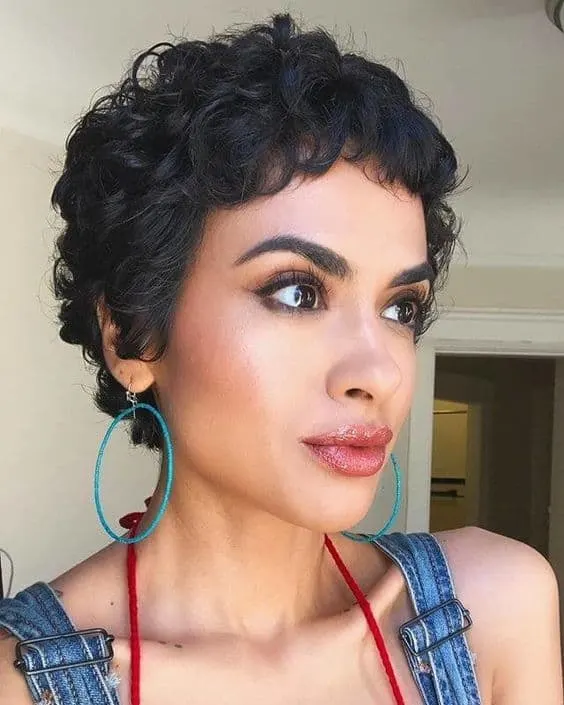 Frame your face with a super short baby doll pixie with cute curls. This is, by far, one of the cutest one. You'll definitely want to rock it. Style your 'do with bandanas and other hair accessories to switch things a little bit from time to time.
34. Ultrashort Pixie
Here's yet another ultra-short thick pixie you can pull off with ease. What we love the most about this hairstyle are its simplicity and low maintenance. You won't be disappointed, try it out.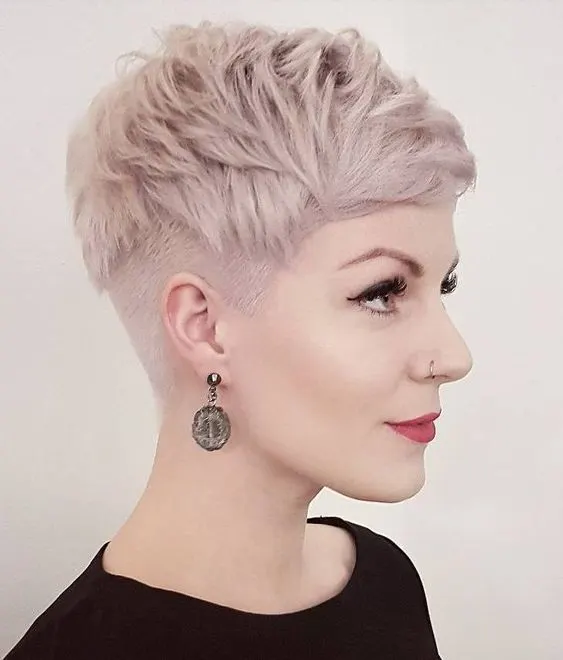 How many times have you wanted to have a haircut that's both edgy and feminine, gentle yet powerful? This thick haired pixie style is the answer! Not only does it give you a feminine look, but it also has a bit of an edge with an undercut.
If you're looking for fun and romantic pixie cuts, then you'll love this one. Curly, voluminous pixie gets more playfulness with cute and vivid highlights. Color options are numerous, including pink strands as shown in the photo.
Suitable Pixie Cuts for Women with Thin Hair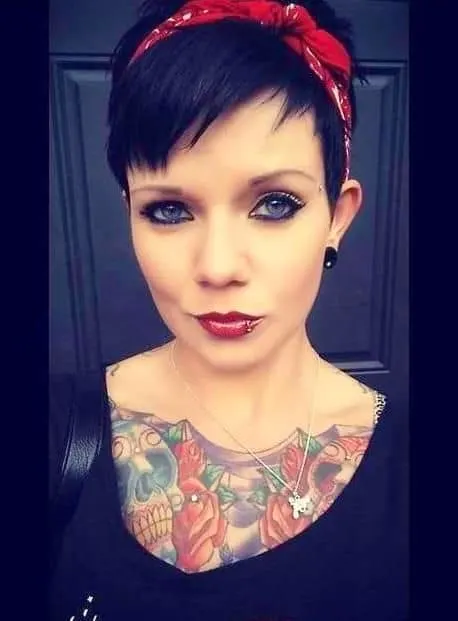 Bandanas are trendy right now, and we love them. They make every hairstyle chic and romantic. Use vivid and bright colors to get more attention to your hair but also to accentuate the shape of your 'do. For instance, red bandanas are a perfect match with black hair color.
38. Bows and Pixies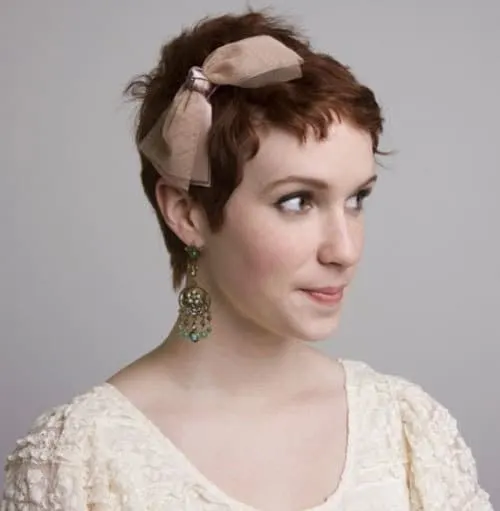 Instead of a bandana, you can use any other hair accessory to make your hairstyle even more romantic. Check out this cute bow that you can easily rock at formal occasions such as the wedding.
Choppy hair is always a good choice due to low maintenance. Here's yet another cool pixie haircut with thick hair that you can rock.
40. Rihanna Style
Rihanna is the queen of hairstyles. She looks great at all times, and she absolutely rocked her thick pixie cut. You can also do that with this lovely style.
What face shapes are best suited for a thick pixie cut?
A thick pixie cut is a versatile hairstyle that can suit a variety of face shapes. However, it is particularly flattering for the following face shapes:
Oval: The balanced proportions of an oval face shape allow for a wide range of hairstyles, including a thick pixie. This style emphasizes the symmetrical features of an oval face and highlights the cheekbones.
Heart: A pixie cut for women thick hair can help balance the width of a heart-shaped face by adding volume around the jawline. This haircut softens the prominent forehead and cheekbones while accentuating the eyes and chin.
Square: For those with a square face shape, a pixie cut can soften the angular jawline and prominent forehead. Opt for a longer, layered pixie with side-swept bangs to create a more delicate and feminine look.
Round: A thick pixie cut with longer layers on top can add height and create the illusion of a more elongated face for round face shapes. Choose a style with side-parted or asymmetric bangs to offset the roundness and bring focus to the eyes.
If you have thick hair, a pixie cut isn't out of reach. All you need is a good pair of scissors or an amazing hairdresser. As seen throughout this post, pixie cut for thick hair works great on everyone regardless of their face shape and hair texture. Use these photos as your source of inspiration to get the hairstyle.