In this article, we will discuss the best hairstyles for long face men. Choosing a haircut is one of the most difficult situations ever. Sometimes, you choose a perfect hairstyle for yourself, but it does not look good on you. This is all, because of the facial shape. You choose a hairstyle that is not made for your facial features.
Men having long faces should select a hairstyle carefully, for example: Having long hair would be a wrong choice for men with long faces.
How to Determine That You Are a Long Face Man?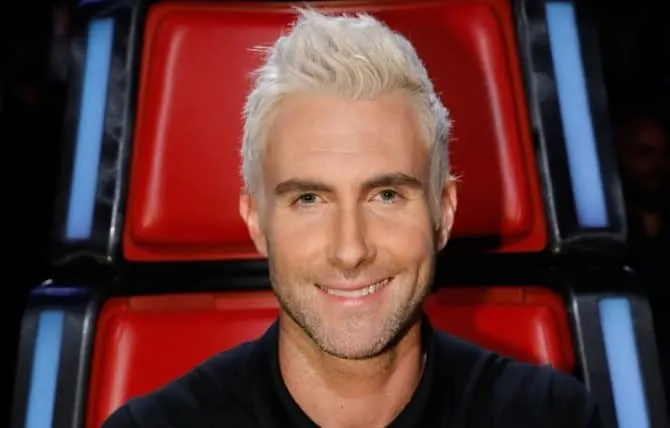 The facial shape is basically determined by four factors/facial feature; Chin, Forehead, Cheekbones, and jawline.
A long face is just similar to a square face but, it is elongated that's why it is also referred to as rectangular. You can easily determine whether you have a long face or not while looking at the mirror. If the features of your face are of even size, and the face is elongated, not wide then it means you are a long face man.
Top Haircuts for Men with Long Face
Choosing the right hairstyle according to the face shape is necessary to look good. Check out below the best hairstyles for long face men.
This should be the first choice of haircut for men having long face. The side parting is combined with the undercut, which gives a classic look for men.
2. Undercut with a Comb Over
This haircut gives an elegant appearance to men with a long face. This hairstyle is all about perfection. Once you have learned, to make the comb-over perfectly, then no one can beat your sparkling personality.
3. Short Spiky Hair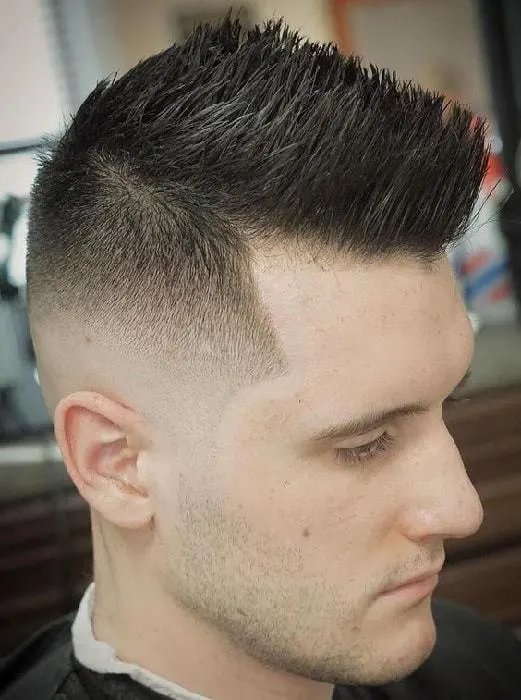 This is one of the suitable hairstyles for a long face man. This haircut is always in fashion and gives a very stylish look.
4. Brush Up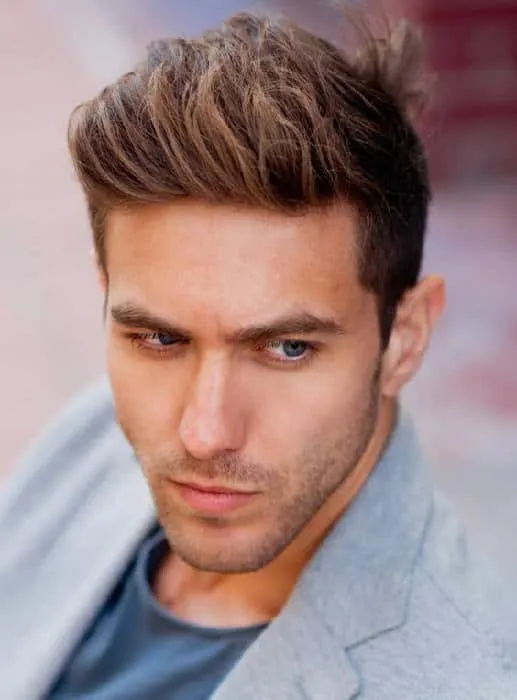 Short brush up makes the classic feature of a long face man, more prominent that, no one can beat their class.
5. Top Puffed Look
This hairstyle let the long face of a man to look smaller than its actual size. It is a unique haircut that every man with an oblong face can adapt. In this hairstyle, the sides of the head are trimmed slightly in order to make the features, more prominent. The top hair of the head, puffed with the help of blow dryer after that, a styling product or cream is applied to fix the puffy appearance.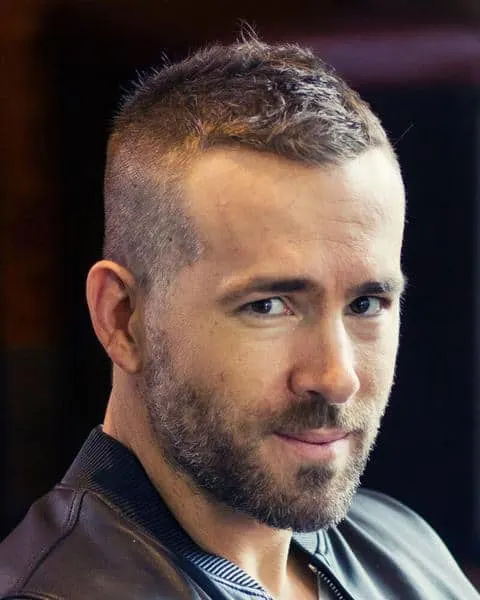 It is the easiest hairstyle among all the haircuts for men with a long face. The sides of the head are trimmed but, not shaven completely and the top is a bit longer, which is swept on the side.
7. Fringe Hairstyle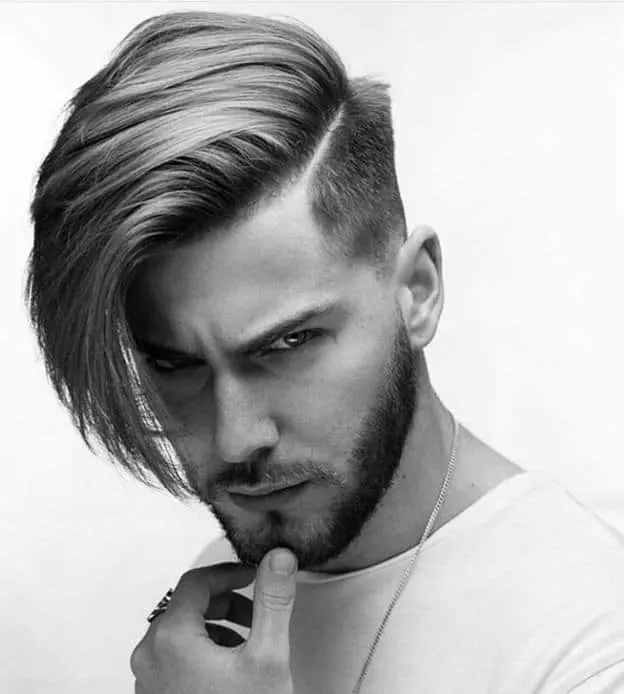 In this haircut, the long side fringe covers the forehead, making the long face of men to look small. You can also combine this haircut with a short beard, to look even more stylish as shown in the image.
This haircut is the combo of the trimmed side, short beard and the trimmed top hair on the head. The purpose of the beard is to drive the attention from the long face shape.
9. Low Man Bun
For men with long faces and a larger nose, try a low man bun. Just slick the hair back with a little hair product and secure the bun right above the nape of the neck
10. Curly Thin Hair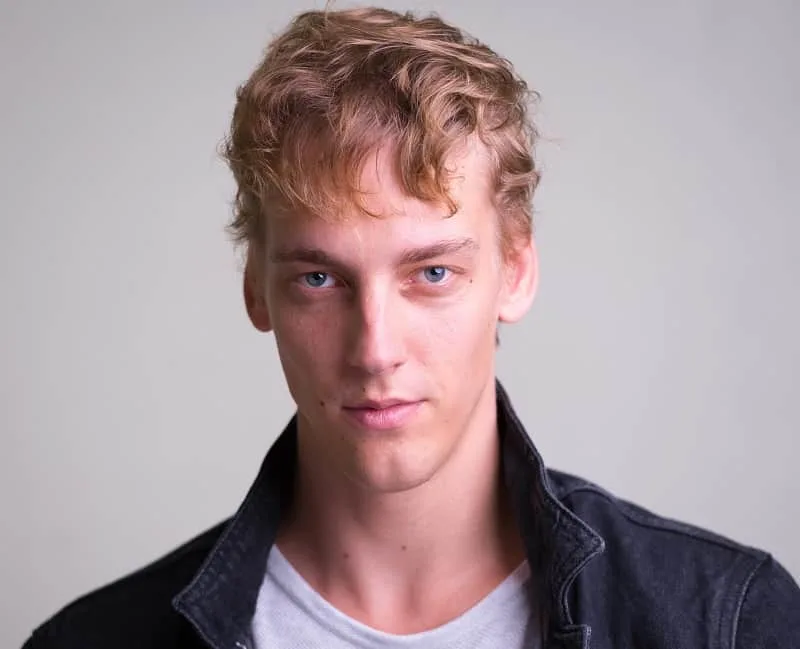 If you have a long face and hair that is on the thin side, get a little body by using mousse to shape curls or enhance waves. This bedhead style is always on trend!
11. Crazy Curls
Another great hairstyle for long-faced men with curly hair is embracing the texture and wearing it loose. A simple side part and some blonde highlights will brighten up your face.
12. Suave Fade
This high gradual fade is super flattering for men with long faces. It works with your angles and cheekbones and requires only combing back the top hair.
If your style is more rugged handsome, try a Viking hairstyle for your long face. While many Viking hairstyles simply feature long loose hair, this one incorporates long blonde braids with a high bald fade for an updated look.
14. Fun with Colors
There's never a wrong time to experiment with funky hair colors. This short haircut features bright blue and a reddish-pink. If you're trying to distract from a long face, playing with hair color will do the trick.
15. Short Twists
Black men with long faces trying to control their natural black hair will love how fresh short twists look. With or without facial hair, overlapping twists on top and short sides are a great style choice.
16. Straight Side Part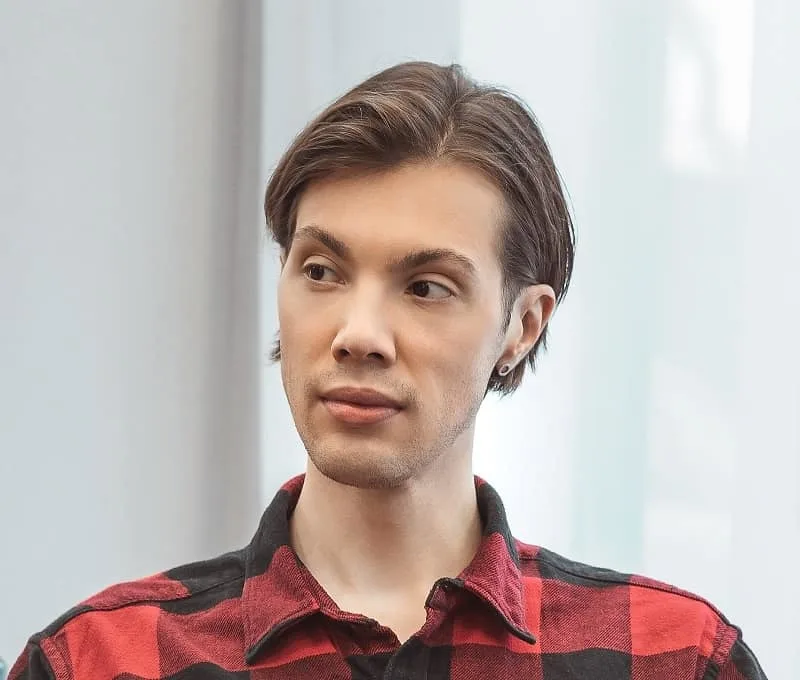 Are you more of a minimalist when it comes to your hair? For straight hair, try this simple yet stylish side part. It's a great look if your hair is on the longer side.
17. Medium Dreads
A long face with a light or pale skin tone would do well with a dark hairstyle like these medium-length dreads. Mix in a few micro-braids for detail.
18. High Man Bun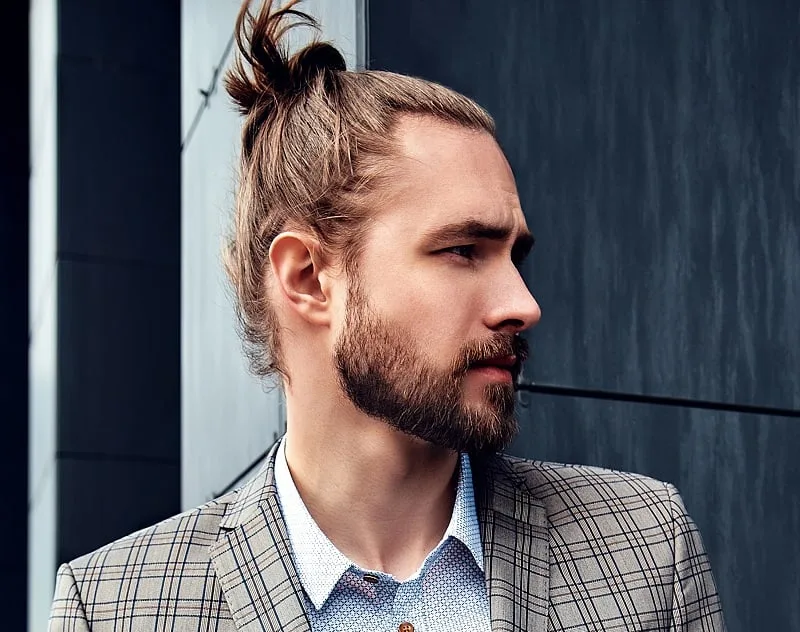 Sometimes emphasizing a long face is the goal and you can do just that with a high man bun. Comb the hair smooth and gather it up at the crown. It's great for casual or office style.
A hard part is the sharp detail separating a buzzed fade from a slickly styled side of the hair. If you like the detail in your hairstyle, this short do is for you.
20. Pompadour
Elvis loved to rock his pompadour, and it's easy to see why. The volume is all up front, something many men covet. With some hair product and a few minutes of styling in the morning, this style can help you love your long face.
Frequently Asked Questions
Here are answers to some of the most frequently asked questions about haircuts for men with long faces.
Will long hair suit long-faced men?
No. If you are trying to de-emphasize the length of your face, avoid significantly long hairstyles. Long hair will drag down the shape of your face, drawing attention to the length of your face.

However, if you are comfortable with having a long face, you can confidently wear your hair long.
What's the best hair length for long-faced men?
Medium-length hairstyles are best for men with longer faces. If you prefer having some length, you can experiment with chin-length and collarbone-length hair. Just be sure to add layers to create texture and a lighter shape.

If you want your hair to be shorter, try to have a hairstyle that is shorter on the side and longer on the top. The contrast can add more balance to your head.
What kind of haircuts are for men with long faces?
Many haircuts work well for men with long faces. A popular option is to have your hair buzzed short on the sides and keep it long on the top. You could also keep your hair longer throughout. The key is to create enough volume and shaping to create more balance for a long and narrow face.
What haircut will make your face look less long?
Haircuts that draw attention to your cheekbones will make your face look less long. Keeping your hair at chin or shoulder-length should help to widen your face horizontally. If you would rather keep your hair shorter, try incorporating some face-framing pieces that emphasize your eyes and cheeks.