It's no secret that the man bun undercut is a popular choice of hairstyle for men and it's also no secret why. The cut allows men who prefer lengthy locks to keep them but the undercut makes the style low maintenance and edgy.
Anyone can rock the look, you just need to have medium to long hair or enough to gather into a man bun. We've gathered 35 of the best man bun undercut hairstyles that you should give some thought to if you're looking to update your look!
Man Bun Undercut
Prepare to be inspired with the 35 man bun undercut hairstyles below!
1. Smooth Hair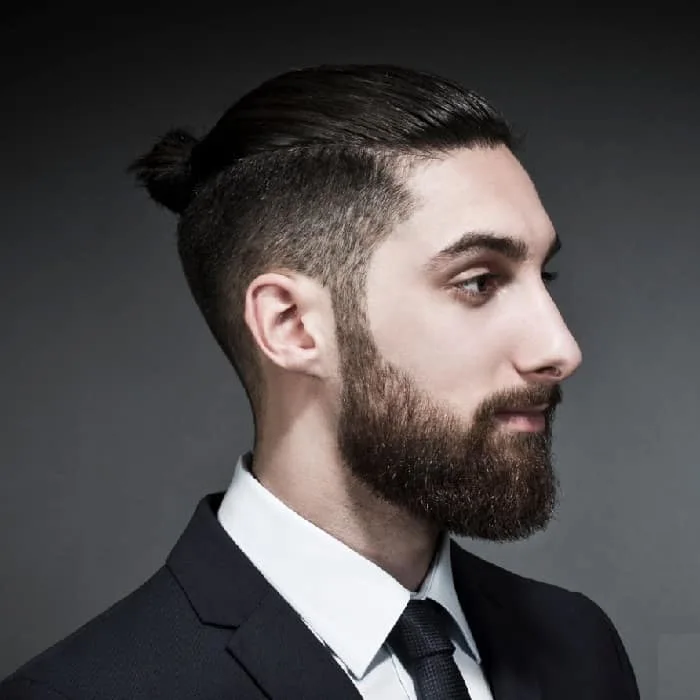 Rock a man bun with your short hair by adding the undercut to it. Smooth back the top hair when you're heading out on a date night or need to look extra spiffy for a special occasion.
2. Gradual Fade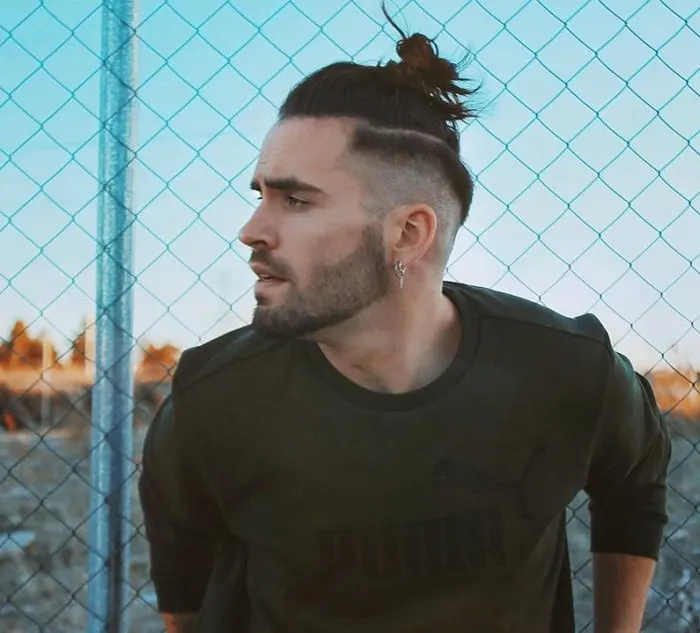 Your undercut fade can look even better with the gradual fade feature. Secure your hair into a messy top knot man bun to draw attention to your detailed sides.
3. Curly Hair
Having a little trouble taming your curly hair? Get those unruly locks into shape by securing them in a man bun with an undercut. This low bun is just above the neck and still shows off texture.
4. Tiny Man Bun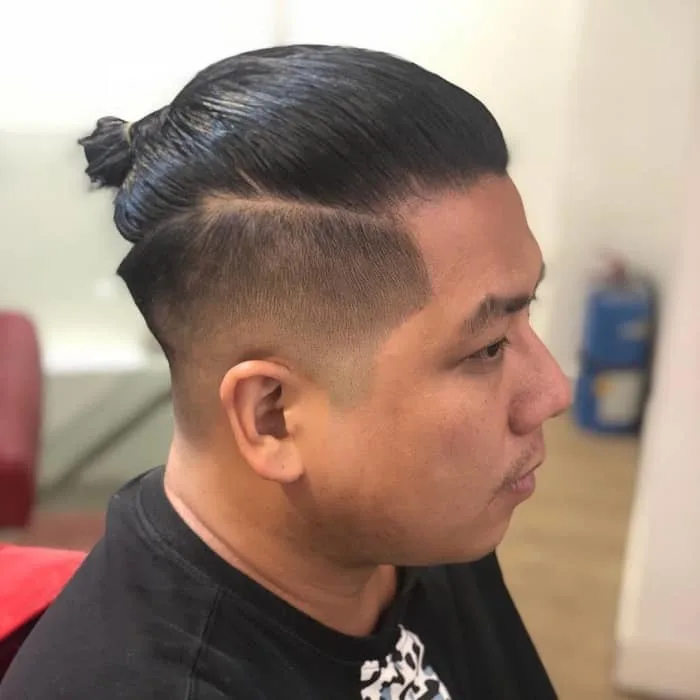 For the Asian man with thin hair, gather it up into a tiny man bun secured midway in the back of the head, using the undercut for edge. Use product to smooth hair free of frizz.
5. Curly Twists
For Black men with twist hair, a large man bun is just the look. With an undercut, you'll draw attention to your handsome cheekbones and you'll still be able to show off those twists.
6. Square Undercut
Long thick hair is extra handsome in a high man bun. Instead of rounding out your undercut fade at the neck, try going for a square shape for an unexpected pop of detail.
7. Undercut Fade with Bushy Beard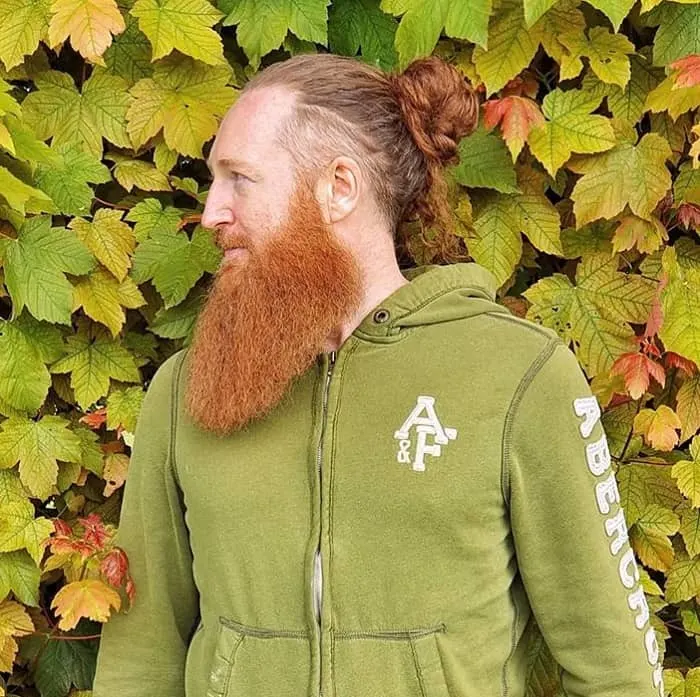 Men with long hair will love how quickly they can pull together this look. Hair is secured in a high rounded man bun and the undercut fade is a great contrast to a bushy beard.
8. Braided Man Bun
A low undercut is not the only detail that decorates this man bun hairstyle. There is a medium braid right above the fade as well as on top and at the back.
9. Thin Hair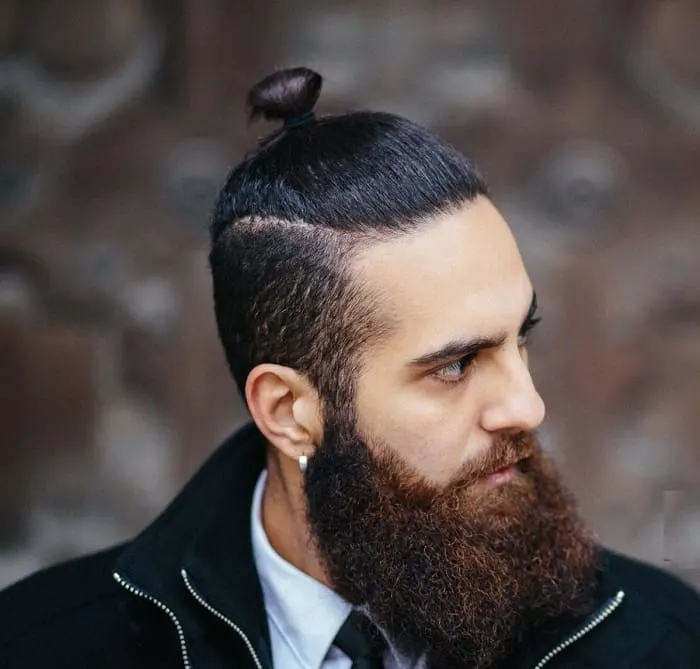 A man with a high fade undercut will distract from your thin hair as well as connecting seamlessly to your trim sideburns. The smooth top makes a bushy beard not seem so scruffy.
10. Highlights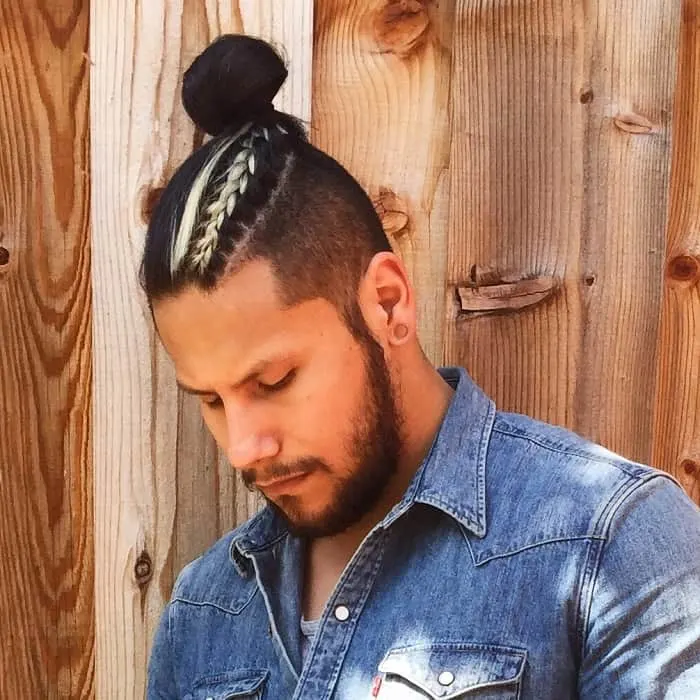 Is your hair dark colored? Add a pop of color to a man bun with an undercut fade with highlights. No need to go chunky – a strip of color up front highlights loose hair and a braided section.
11. Asian Man Bun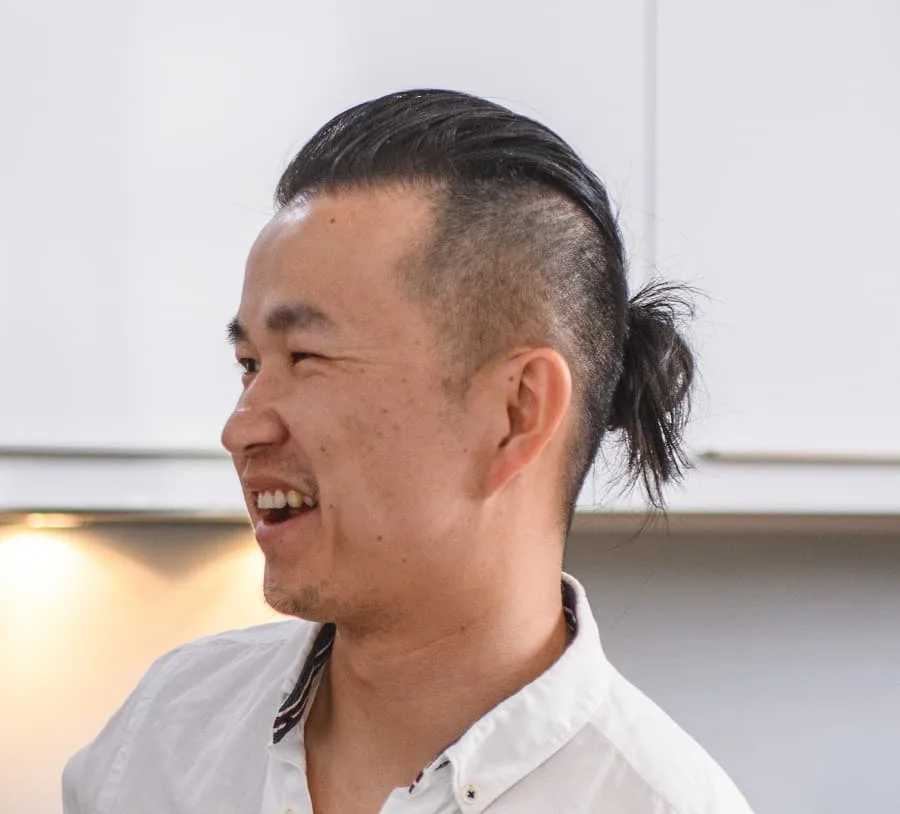 It is a great way to add a touch of style to your look. The key to pulling off this look is to keep the top part of your hair slicked back and the undercut closely trimmed.
12. Faded Undercut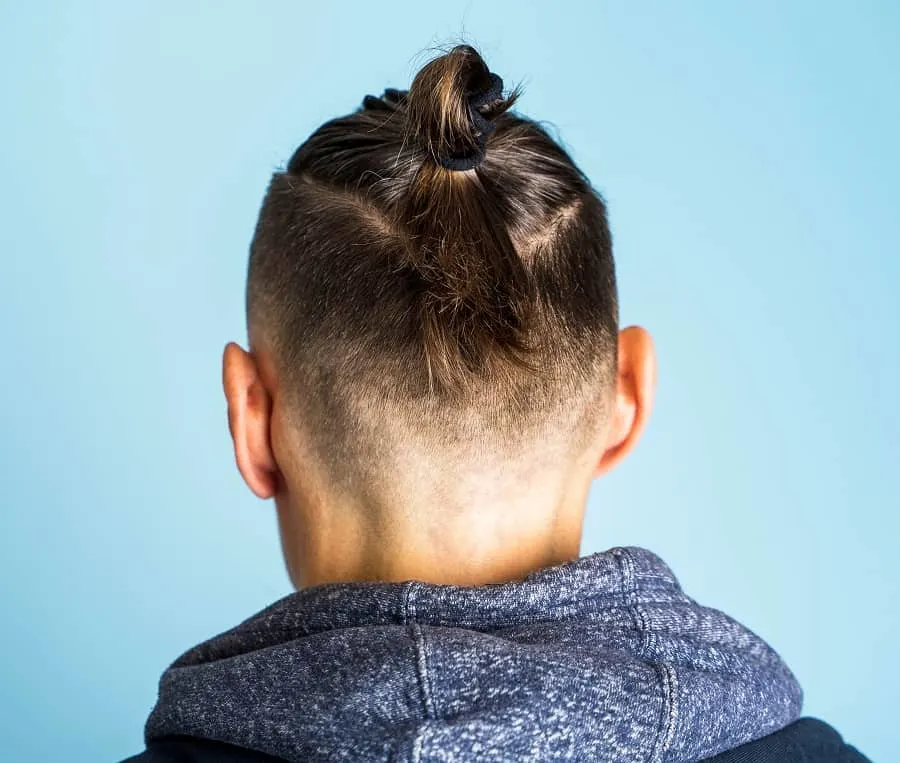 To style this, start by applying some product to your hair. Then, use a comb to slick your hair back into a tight bun at the base of your crown. To complete the look, use a hair band to secure your bun.
13. Low Undercut + Classic Bun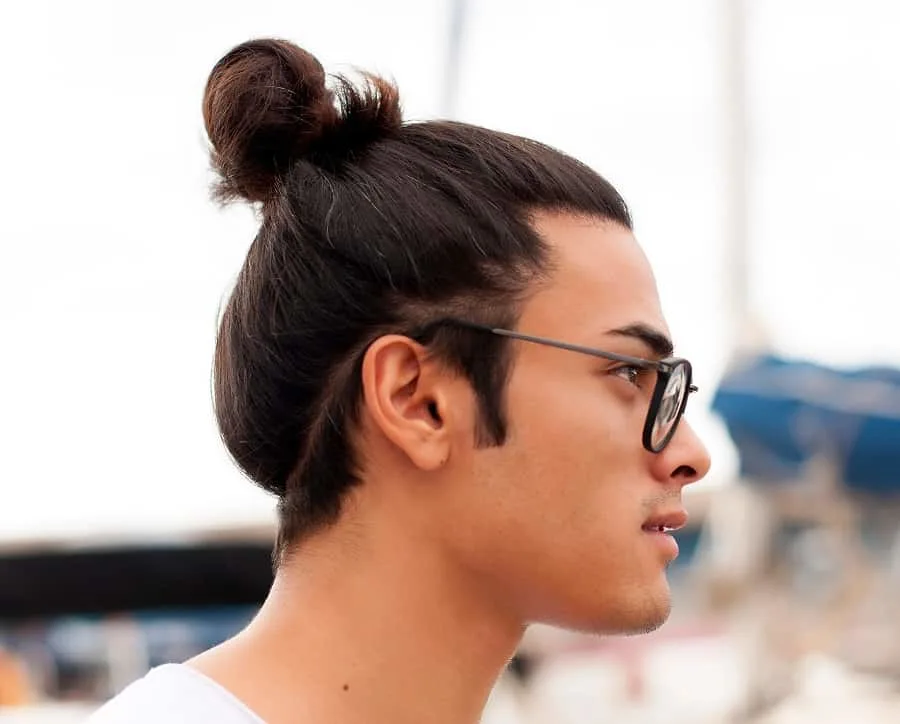 This low undercut hairstyle with a classic bun is a great option for men who want to maintain their appearance while keeping their long hair up. With this style, you can keep your hair pulled back in a sleek bun, which will give your look a touch of sophistication.
14. Top Knot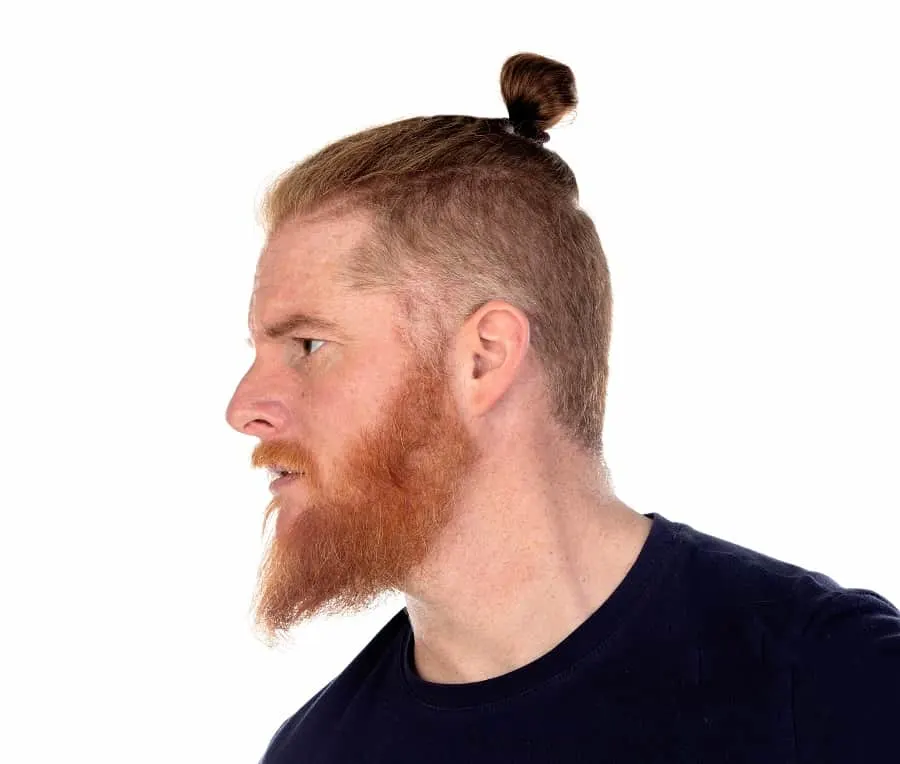 It's a super easy style to do, and it looks great on just about everyone. If you have long hair, you can simply tie it up in a high ponytail and then twist it into a bun. Secure it with a hair band, and you're done.
15. Twisted Locs
The twist provides an interesting and unique look, which is good enough to turn heads. And making a high updo with the dreads adds a new dimension. To get this look, take small parts of your hair and create a number of twisted locs. Finally, gather all the twists to make a high updo.
16. Top Knot with Design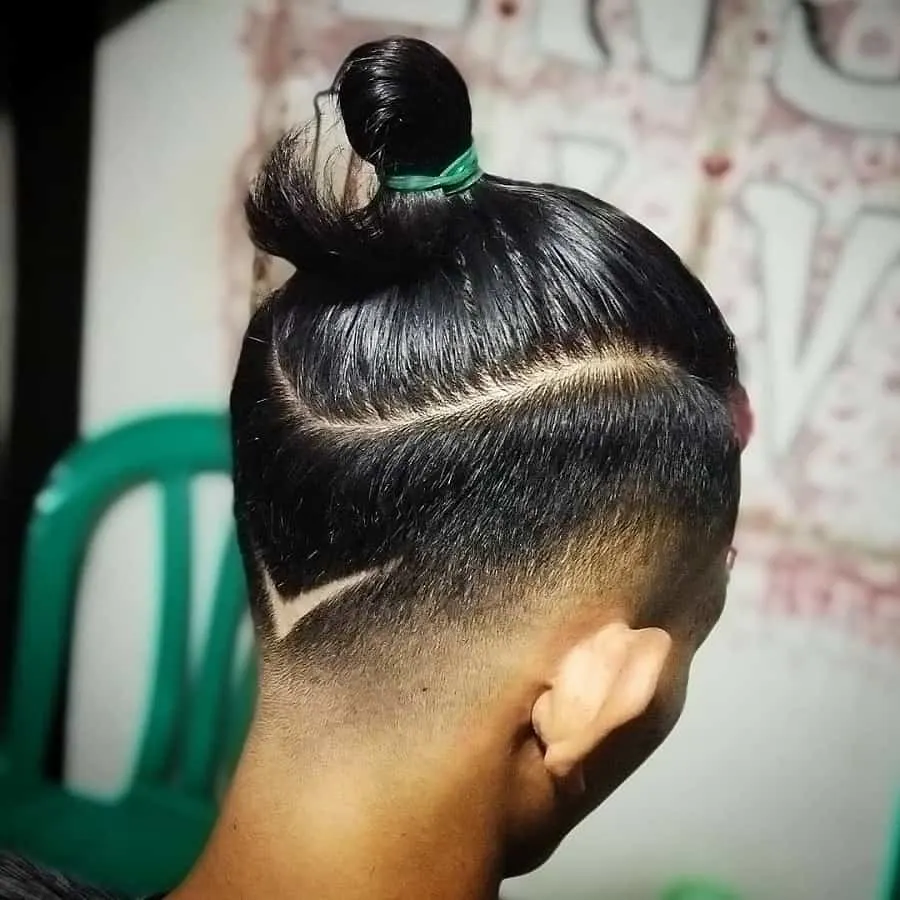 The key to nailing this look is to make sure that your hair is well-moisturized and free of any tangles or knots. To get the perfect top knot, start by gathering all of your hair at the crown of your head and tying it into a high ponytail.
17. Half Up Half Down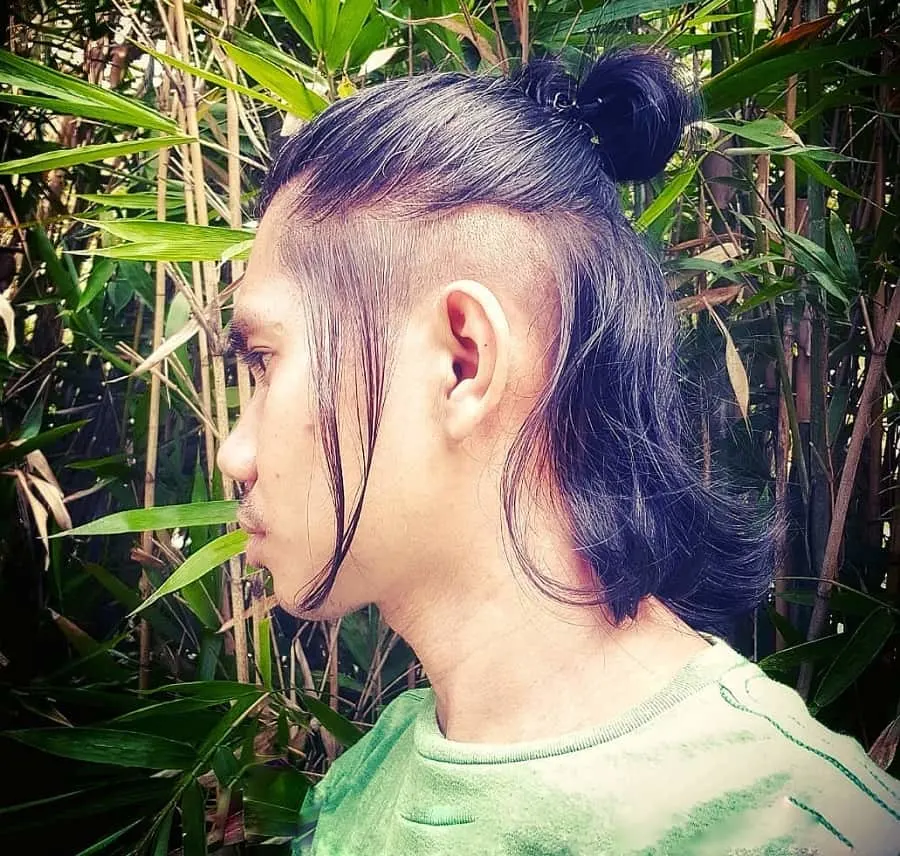 It is a versatile and stylish option for men. To get this look, use a comb to create a clean center part. Next, gather the top half of your hair into a ponytail and secure it with an elastic.
18. Messy Man Bun
To style this look, start by trimming the hair on the sides and back for an undercut. Next, gather your hair into a ponytail at the crown of your head and secure it with a hair tie. Then, twist your hair into a bun and secure it with another hair tie.
19. Undercut Crown Braid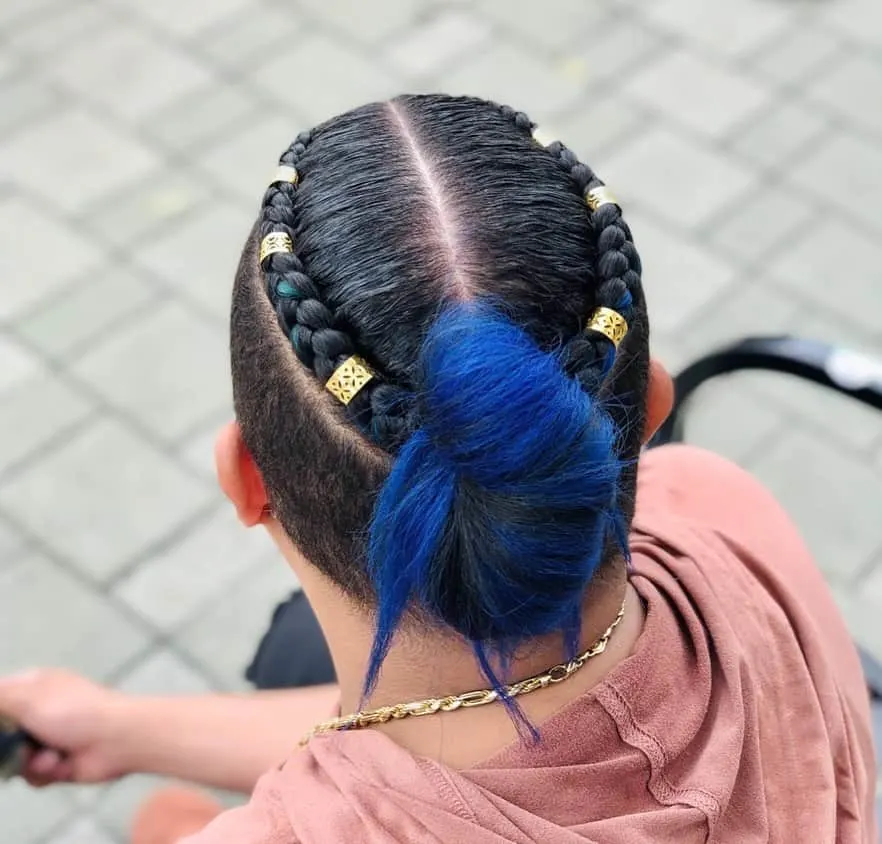 This style is a great choice for those who have thinner hair as it can help give the illusion of fuller, thicker hair. Start by creating a clean center part and then French braiding each side. Next, combine them into a bun.
20. Cornrows Knot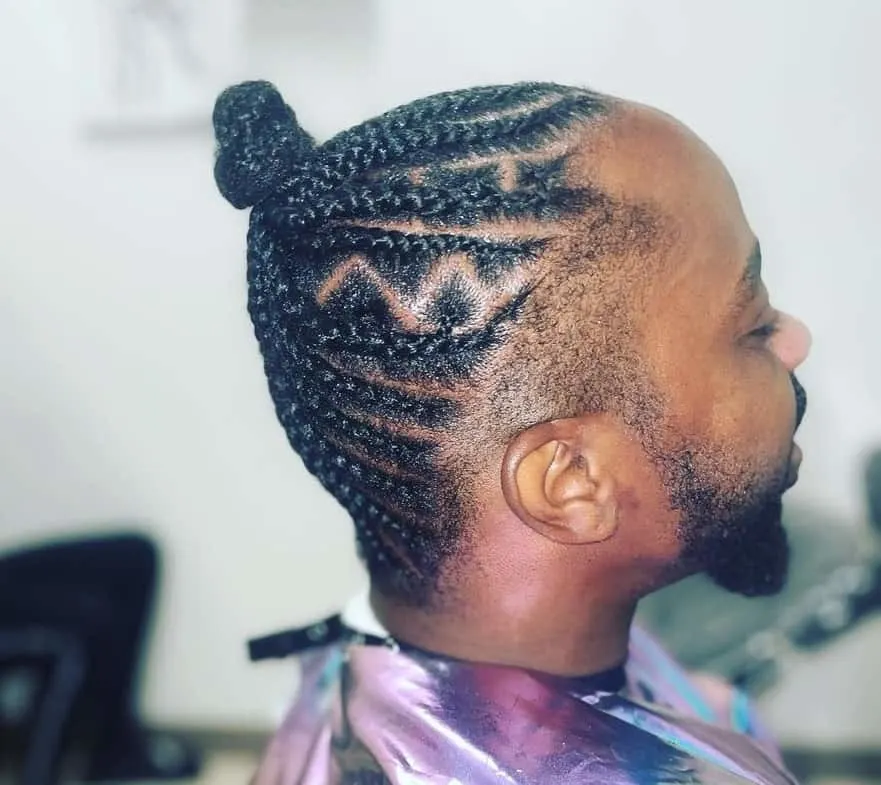 To style cornrows in a knot, begin braiding the hair close to the scalp in cornrows and then knotting or twisting the cornrows together at the crown of the head. Secure it with a rubber band or elastic.
21. Curved Fade Undercut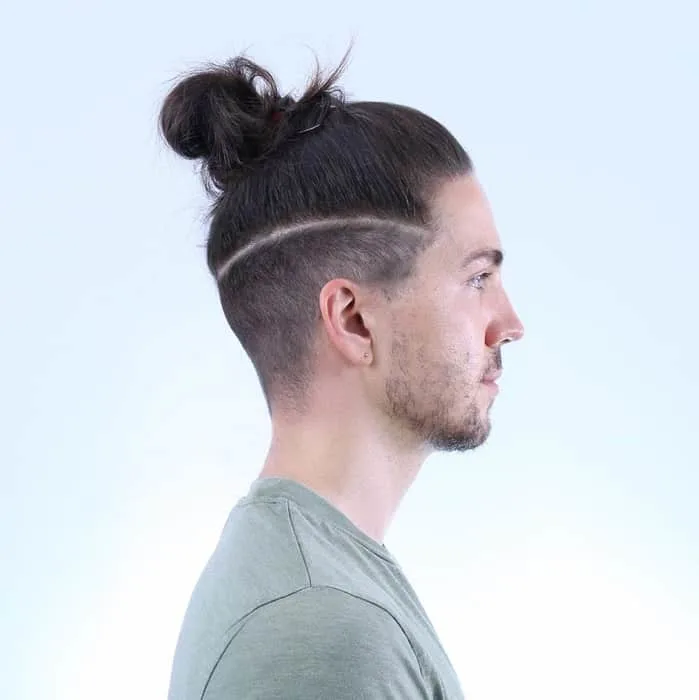 When it comes to your undercut fade man bun hairstyle, add a curved line instead of a straight one. It's a small detail that looks great if it lines up with the natural shape of your head.
22. Dread Man Bun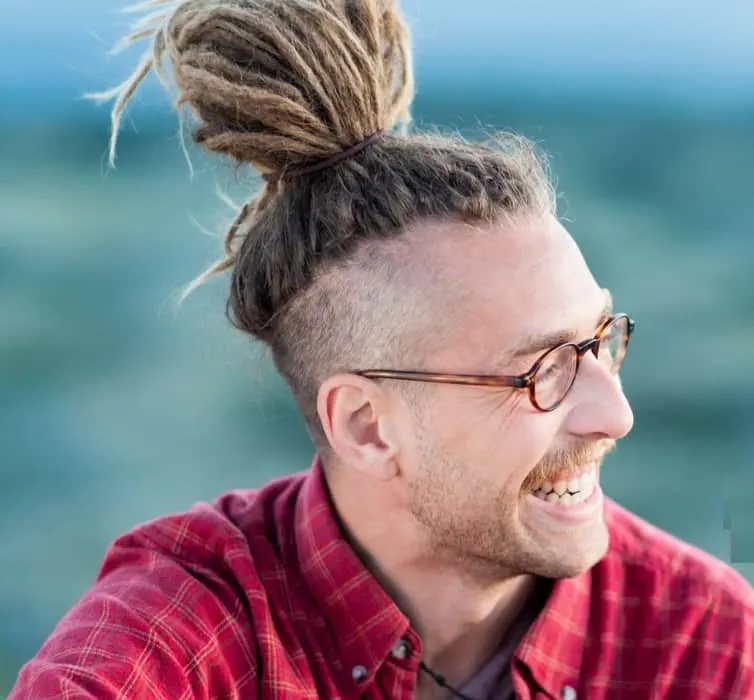 If you have long thin dreads, sometimes you just want to get them out of the way. A man bun with an undercut fade is a stylish way to wear them and even works for professional environments like the office.
23. Greying Hair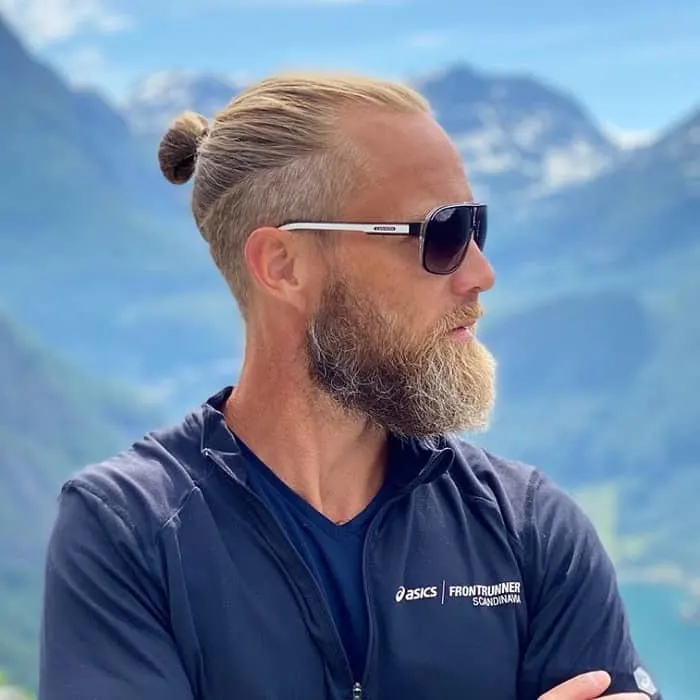 Is your hair starting to grey or go white? Rock those natural hairs on a man bun with an undercut fade. It's an edgy way to embrace your age.
24. Fade Hairline
Round out a man bun hairstyle with an undercut and a faded hairline. It's a trim, precise line up to frame a stylish look and pairing it with scruffy facial hair is subtle hipster.
25. Box Braids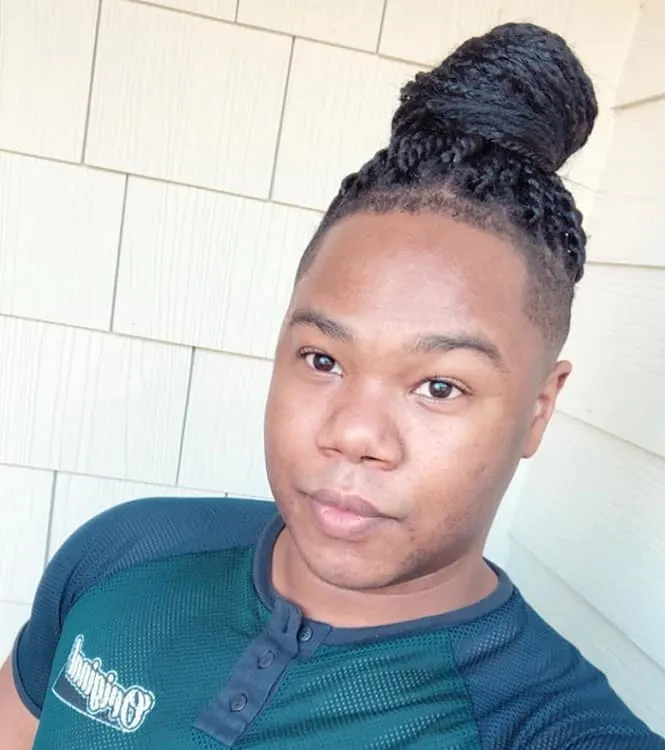 Used to wearing your box braids down? Switch up the look with a man bun. Worn down or up, you'll always notice the fade undercut it comes with.
26. Triple Braid Man Bun with Undercut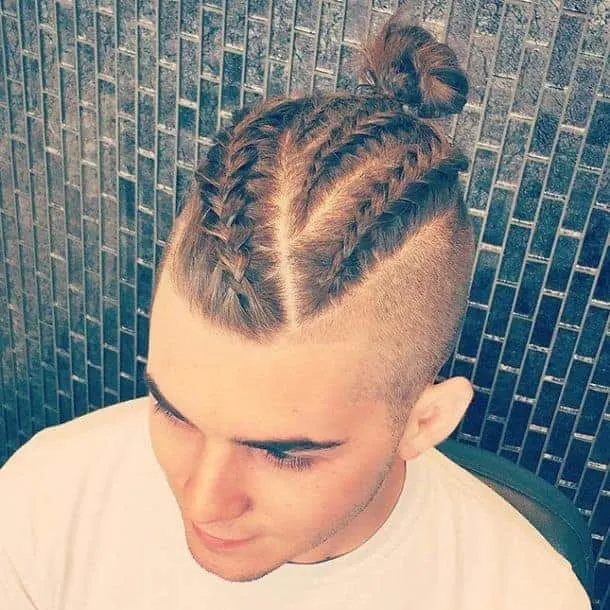 This is where creativity begins. If you know how to make simple 3 strand French braids, then you can wear your bun with 3 French braids on top and the rest of the hair tied into a man bun.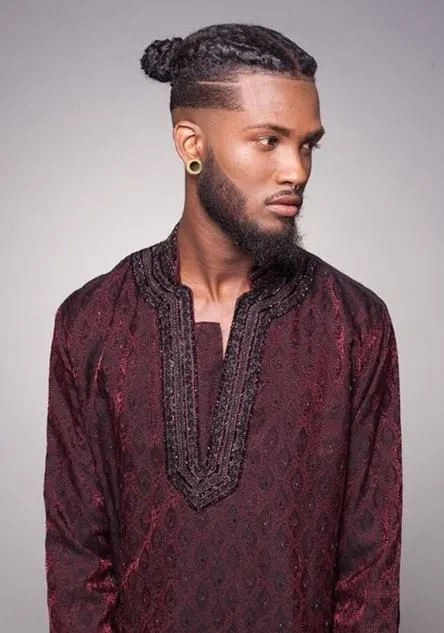 Having afro hair does not mean that you cannot tie your hair up into a man bun. To keep the hair looking neat and tidy in place, make two braids on each top side of the hair and tie the rest of them into a bun at the back with side undercut.
To add more sleekness to this man bun with undercut look, get a nice trimmed underline and a gap between the hair and the beard.
Cool Man Bun with Beard Styles
28. Messy Mohawk Man Bun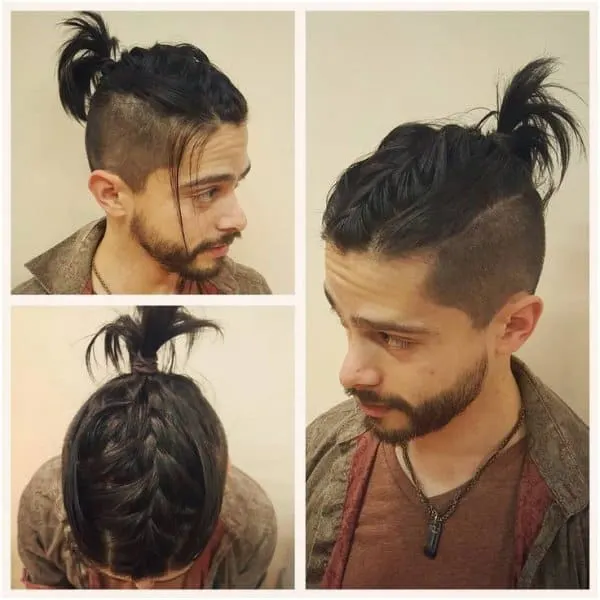 If you have enough time to give to your hair, then go for this messy Mohawk man bun look with an undercut. The top hair is tied into a messy braid reaching to the crown of the head and the rest of the hair is tied into a messy ponytail-like bun. You may pull out some strands on the front to upgrade the look.
29. The Thick Hair Man Bun
Having thick hair is a blessing if you want to make your hair into a bun. The bun has more volume and puffiness when tied nicely and to add more definition to the look, get a centimeter gap undercut between the hair and the beard to create a nice man bun undercut look.
30. Messy Long Dreads Bun with Undercut
Like previously said, there are no barriers on having afro hair and to style them into a bun. Anything is possible if you know the right way of handling and styling your hair according to your hair type. Your lovely afro long locks can be tied up into a man bun with undercuts which would keep them intact in place.
31. Top Knot Faux Bun
If you're out on an adventure to a higher altitude place or a location with strong winds and you don't want your hair to get damaged or coming over the face, then go for this top knot faux bun with undercut as the right option.
32. Double Top Knot Look
If you're running a business and want to look like a proper boss with well-groomed hair, then go for this professional man bun undercut look in which the hair is neatly combed back into a tight double top knot with sharp underlines to accentuate the border between the top hair and the side undercut hair.
33. Bleached Hair Man Bun
If you're feeling lucky, then go for an all bleached hair look. Celebrities, like Justin Bieber, have tried this look and it looked amazing on him. Tie the hair into a nice man bun at the back and get tapered undercut on sides that connect to the dark-brown beard on the face.
34. The Low-Bun Hairstyle
This undercut with man bun hairstyle is for men who have straight jet-black hair. They can wear a low bun with neatly backcombed hair and sides that are completely undercut with a nice full beard.
35. Mid-Way Messy Bun and Undercut
Not every type of hair is strong enough to be held in a high and tight man bun with an undercut. If your hair is thin and weak, then you may go for this mid-way messy bun in which the hair is tied loosely at the middle area of the backside of the head.
FAQs
Here are some questions people always ask when talking about the man bun undercut.
Who should try a man bun undercut?
If you have long hair that can go into a man bun, upgrade your look to the man bun undercut! This style allows those who have rocked a man bun to try styling for the sides of their hair.
Should I go for a full man bun or a man bun with an undercut?
The man bun with an undercut is considered a new, stylish upgrade to the original man bun. With the original man bun concepts going out of style, a man bun with an undercut allows for a new spin on a recent favorite for men with longer hair.
Is a man bun undercut a professional hairstyle?
Yes, it can be, provided you style it correctly. A styled man bun undercut with a sporty but professional outfit will dazzle anyone at your workplace. Just make sure you check the dress code.
There is no reason to shy-off from trying these wonderful man bun undercut hairstyles in your hair. We've mentioned hairstyles for all hair types and how to style them with some serious hair tips to follow.