There's an awful stereotype that all older guys have boring haircuts and don't make an effort. That's simply not true! There are dozens of great medium hairstyles for men over 70, and today we're going to showcase 14 of the easiest.
These looks suit the vast majority of older guys and they'll definitely keep you feeling good. You're only as old as you feel, right? So make sure you feel as youthful as possible.
Modern Medium Hairstyles for Men over 70
We've curated a list of medium hairstyles for over 70 guys that'll look great. Why not try them out and see how you feel?
1. Silver Spikes + Beard
Many people think older men don't suit spiked hair, but it's simply not true. Create soft spikes that look very natural by using a holding gel that won't harden.
Add a beard if you want to make your look the most masculine it can be. It will also stop you from having to shave every day, which is bad for your skin.
2. Bangs + Layers
Bangs look great on guys of any age. Layers can add texture and thickness to your hair. This is especially important for men over 70 as your hair might be thinning, so make sure your hairstyle is medium length and styled smartly to hide that.
Brush your hair over your forehead to hide a receding hairline.
3. Thick and Fluffy
Men with thicker hair should keep their look pretty simple. Fluff up the hair around your hairline but brush the rest of it back.
If you add a long beard, you can totally rock the Santa Claus look for your grandkids at the end of the year.
4. Slick Grey Locks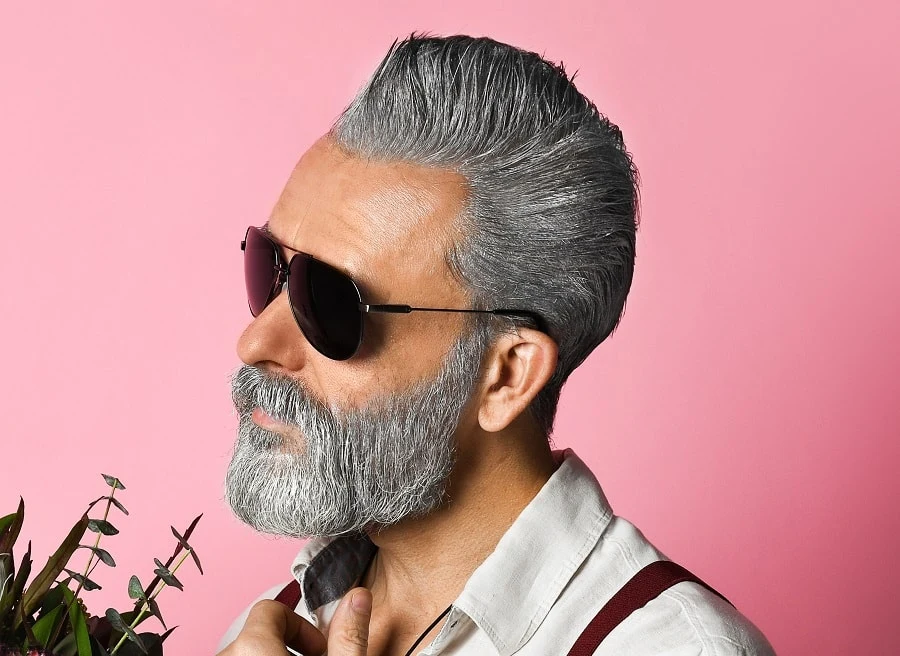 Who says over 70 men can't look cool? Slick your hair upwards at the front to create a pompadour-inspired look. Make sure the gel hardens to create that slick effect.
Give the same treatment to your beard, so it looks straight and neat. There's no better word to describe this look than "cool" if that's the vibe you're going for.
5. Loose Side Parting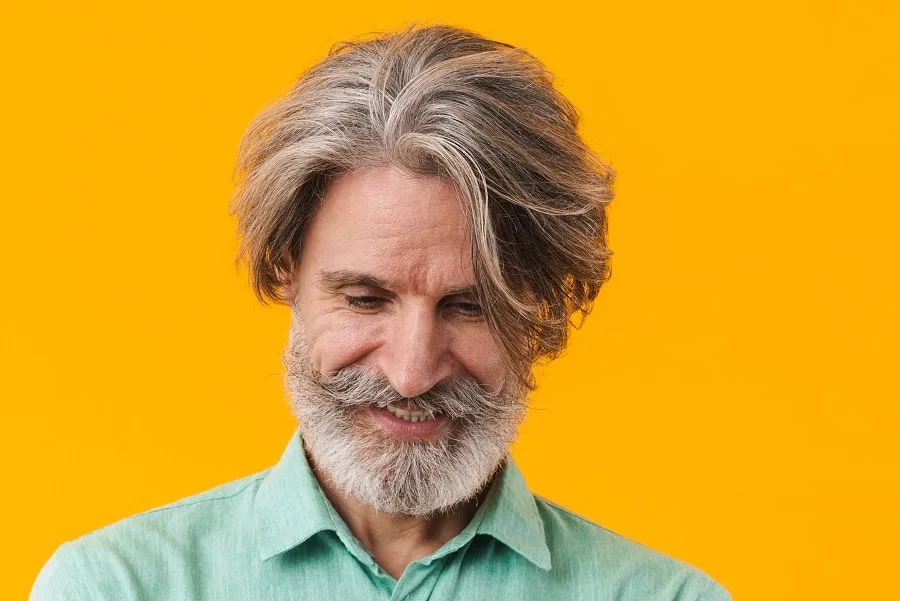 Create a look that will make you look soft and carefree by parting your hair at the side and letting it fall into your face slightly.
Don't let your hair grow much longer than ear length and consider getting some brown highlights, so your hair isn't fully silver.
6. Natural Afro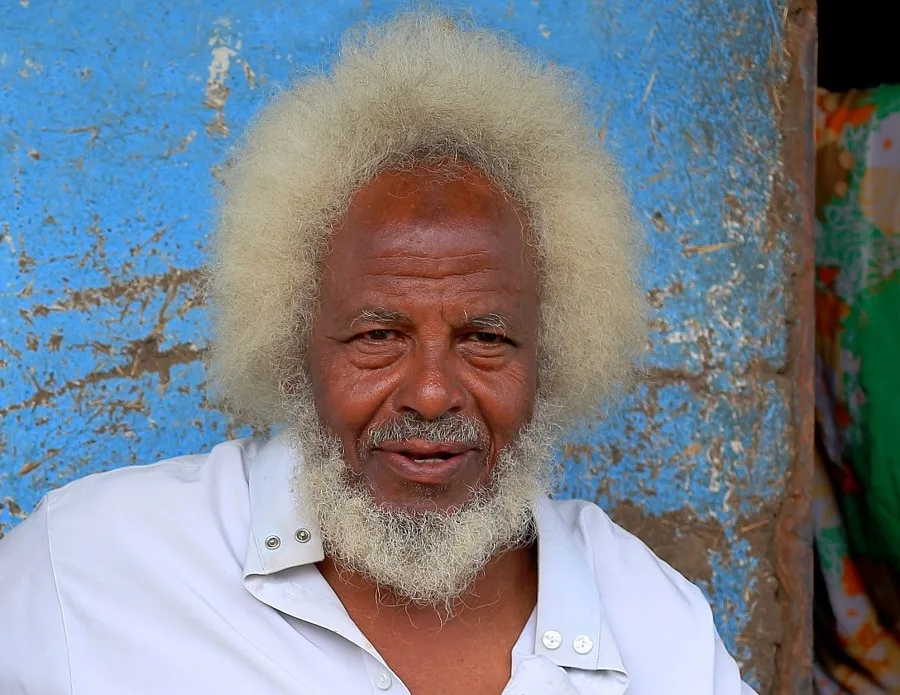 The afro is one of the easiest medium hairstyles to maintain for older black men over 70. Get yourself an afro comb and tease it out as much as you can, then do the same to your beard.
7. Layered Side Parting
If you don't want to spend a lot of time on your hair, keep it simple. Get layers, so your hair always looks good without styling.
Wear the sides shorter than the back and get a side parting, so some of your hairlines is covered.
8. Messy Back Swept Tresses
Everyone can rock a messy manly medium hairstyle, including guys over 70. Brush all your hair back but let the flyaways stand free.
It'll only take a small amount of soft hold gel to keep your hair in place for the entire day.
9. Swept Back + Receding Hairline
Not every man is ashamed of his receding hairline. Brush your hair back and show your hairline off. Brush the hair on the sides of your head down towards your beard, so it all blends seamlessly together.
10. Smart Combover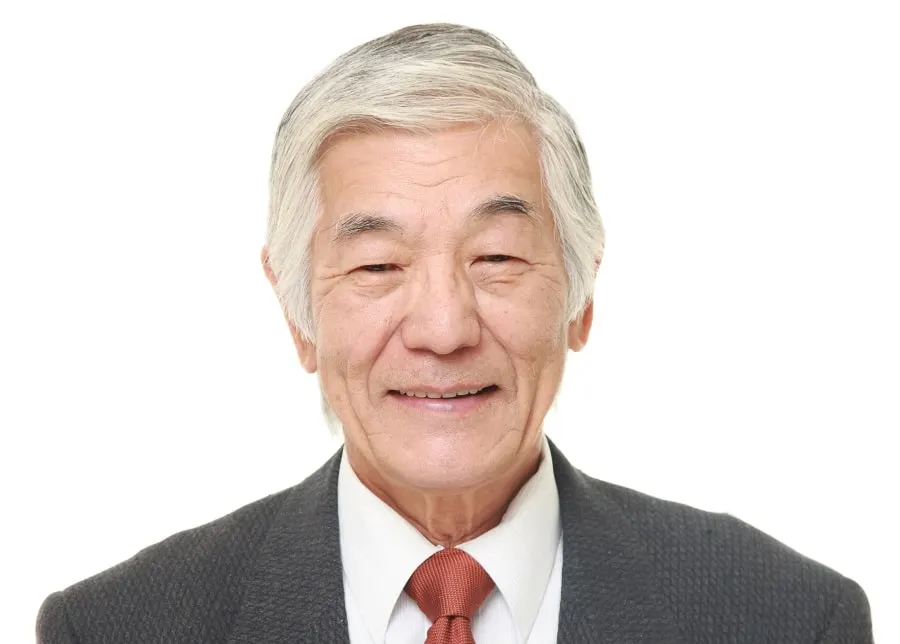 If you have bald or thinning spots, then part your medium hair at the side and brush it over the top of your head. Brush the sides of your hair down, so it looks like you're going for a cohesive look.
11. Messy Waves
Sometimes it's easiest just to let your hair do its own thing. Grow out your thick waves to a medium length that reaches the bottom of your ears. Make it a little shorter in the front so it touches your eyebrows.
Having your hair length like this means it is easy to style it neatly for formal occasions, but for everyday life, you can let it go free.
12. Cloudy Curls
If your hair turned white instead of grey, then consider a curly hairstyle. A loose perm works, but it's best if your hair curls naturally.
Style the sides towards the back of your head but tease the top up a little. Using a curl-holding gel can let you wear this look for days without much effort.
13. Slicked Straight Back
Slicking your hair straight back is often a great over 70s medium-length hairstyle! It requires minimal effort, and sometimes you don't even need styling products.
If you're careful, you can hide a receding hairline. It's also a great way to show off a hairline that isn't receding.
14. Off-Center Part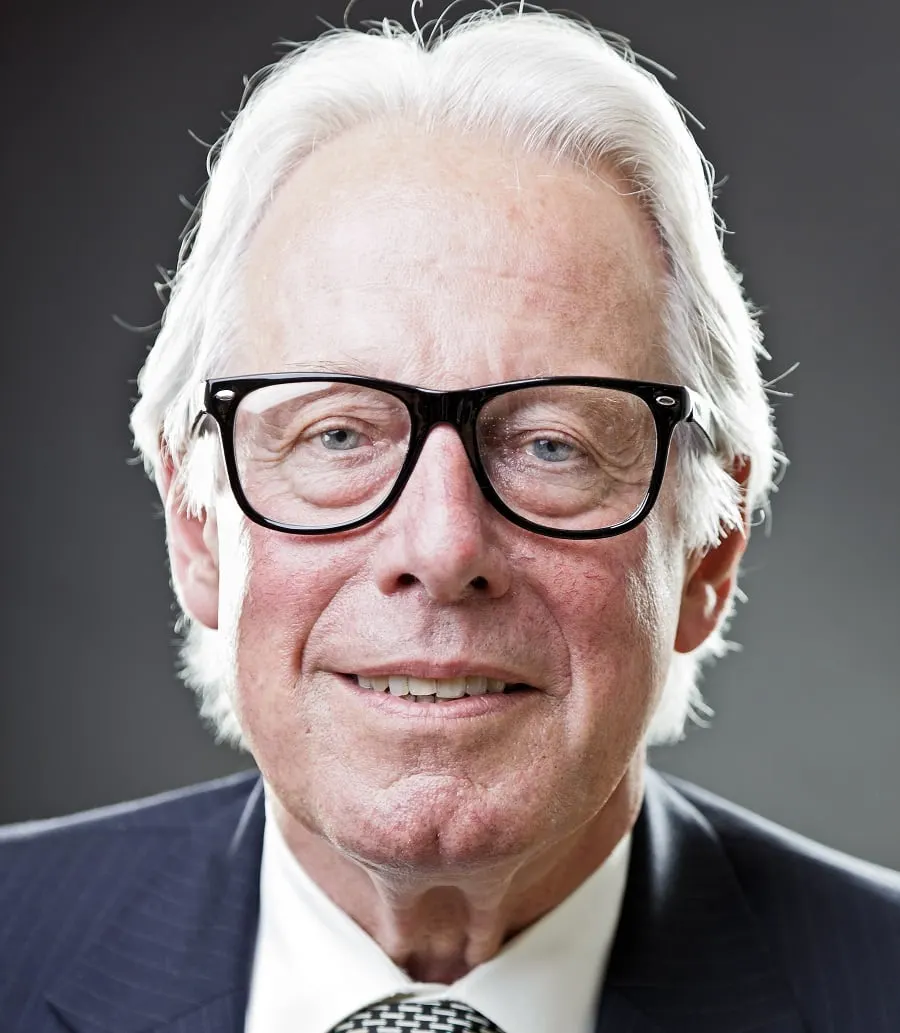 Parting your hair just slightly off-center can make you look very smart. It will give a little extra lift to one side of your hair, too.
Brush the sides of the hair straight down near the front of your head. Once you get behind the ears, start brushing the hair back toward the nape of your neck. It helps if you add a little gel or cream, so the ends of your hair flick upward at the back.
There are numerous fun medium hairstyles for men over 70 that you should definitely try out. Most people can experiment with most of these!
Getting one of the haircuts with layers will be a bigger commitment. But for the styles without layers, you can change up your look every single day.