Men's curly hair is a blessing to everyone who has it, but not everyone realizes their true beauty and importance when it comes to hairstyling. Curly hair can be styled differently such as- curly undercut, curly mohawk, faded curls etc.
Many stylists find it challenging to cut such hair into a particular hairstyle due to its rigid hair texture and twisted locks. However, it isn't difficult to create hairstyles with curly hair. We have compiled here 10 of the most undercut hairstyles for curly haired men.
Funky Men's Curly Undercut Hairstyles
To have a better idea about the different ways of styling your curly hair, read the following types of curly undercut hairstyles for men.
1. Long Curly Fringe Undercut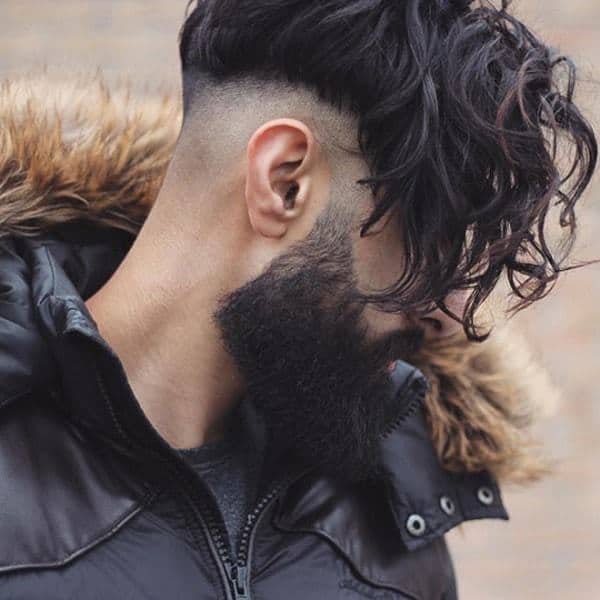 Having front fringes can make one feel super-stylish when it comes to trying out curly undercut styles. If you're bored of a plain undercut, then you may grow out the front hair long enough to reach the bridge of your nose.
2. Curly Hair Bleached Undercut
Bleaching your hair might be a good option to go for if you want to make your top hair pop. This will create a two hair color tone look which sounds fun and will really define the curly undercut and the top hair. To add more style to it, get sidelines trimmed to modify your look to the next level.
3. Side- Swept Curly Undercut
If your hair is not as curly as the above hairstyles, then you may go for a side-swept undercut style. For this look, one can completely shave off the sides and keep the top hair thick and reaching the nape of your neck.
4. Military Curly Hair Undercut
Military haircuts are the neatest and disciplined hairstyles of all. Anything that hits the trends list automatically becomes popular like this hairstyle. If you want a military hairstyle with an undercut, then go for this look which has the top curly hair reaching all the way to the forehead.
5. Curly Undercut with A Bun
Men who love having long curly hair that they never want to get rid of should go for this hairstyle. They can get a curly undercut to really make the top hair more visible and can tie the rest of the hair into a man bun. This way the curls will remain intact and well-maintained.
6. Top Front Bush Curly Undercut
Curly hair can sometimes cause trouble especially if it's thick. Thick curly hair tends to get tangled more often, so to maintain the curly locks into one place without letting it get tangled, get a top bush undercut.
Mohawk style can look even better if one has curly hair. It remains firm in one place as not a lot of hair products are needed to hold it in one place. Combining a curly Mohawk with an undercut will make it look even more amazing.
8. Pompadour Curly Undercut
Pompadour and a curly undercut hairstyle for men is a combination that never fails to run out of trends or styles. They both are classy in their own ways, but when combined into one hairstyle; they create an awesome look that every guy with curly hair would want to have.
9. Blonde Curly Hair Undercut
The lighter the hair color, the more prominent the curly hair and undercut style would look. Having naturally blonde hair along with curls is what anyone would kill for. Try going for a tapered undercut to let the curls on to look as natural as possible.
10. Flaming Hot Color Curly Undercut
If you love flaming hot Cheetos, then you can for sure get a hairstyle just like them. Dying the top curly hair into an eye-catching color tone like, red would just take your curly undercut style onto a whole new level. To make your hairstyle even more perfect, go for high or low faded undercut with a well-trimmed hairline.
Having an undercut, especially if you have curly hair really helps in accentuating the curls that are present on top of the head. The side hair is removed which makes the top hair more prominent and really defines those natural curls that swirl beautifully when winds pass through them.
Try out these amazing curly undercut hairstyles and give your natural curls the attention that they deserve when you walk out on the streets filled with a crowd.