Most of the world's population has brown eyes. That's why choosing the right blonde hairstyles for girls with brown eyes is easy. However, not everyone knows where to start, especially if they never had to deal with blonde shades before.
Brown-eyed girls usually have dark hair. The lightest natural hair color for girls with brown hair is dark blonde. Most of the blonde hair shades are suitable for women with brown eyes. However, there are some hues that suit them the best. It all depends on your skin tone and the natural hair color.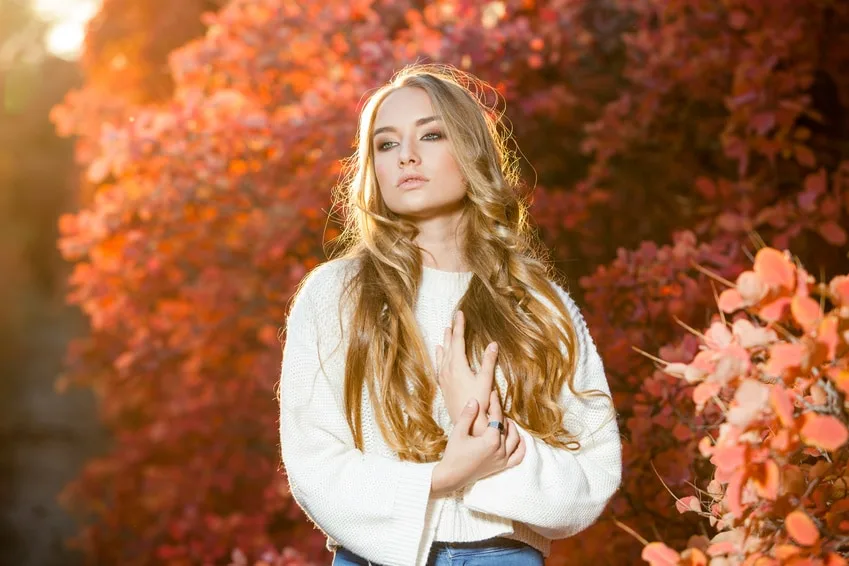 Best Blonde Hairstyles for Girls With Brown Eyes
If you have brown eyes and are thinking about a blonde hairstyle, you are on the right track. Blonde hair is a fail-safe choice. However, there are dozens of blonde shades available for women today. You need to choose the right one for your eyes, skin tone, and hair type. If you have a light skin tone, you can go for lighter blonde hues as strawberry or platinum.
Women with olive skin might want to take advantage of honey and golden blonde. In reality, there is no general rule. You should listen to whatever your fashion sense is telling you. Below are 25 blonde hairstyles that are perfect for girls with brown eyes.
Medium blonde hair color is hard to make a mistake with. If you have light skin and brown eyes, this option is a wonderful choice for you. You can even create a few darker highlights to diversify the appearance.
Girls with darker skin tones can appreciate the ash blonde hues. This blonde hairstyle looks wonderful with any eye color, be it blue or brown. But brown eyes give the overall image more intensity.
Dark blonde hair color is a good choice for girls with brown eyes since it looks very natural. The darker the blonde shade you choose, the easier it can be to deal with the dark roots. It takes some hassle out of hair maintenance.
Girls with brown eyes should have fun with all types of blonde hairstyles, including various dyeing techniques. Creating blonde highlights on brown hair as a wonderful way to change your image.
Blonde Hairstyles With Lowlights
5. Malibu Blonde
This soft and appealing hair color is perfect for women with olive skin and brown eyes. You have to be careful about maintaining the shade since it easily washes out from the dark locks. But it looks truly fantastic.
6. Blonde Ombre
If you are having fun with the blonde hairstyles, don't stop at just simply dyeing your hair. Consider creating a blonde ombre. Keep the darker blonde on top and the lighter shades on the bottom.
If your natural hair is black, getting a perfect blonde hue is tough. You might want to consider starting with partial highlights. Dye just the top layers of your black locks to create a stunning blonde hairstyle with the least effort.
Girls with brown eyes who want to become blonds might want to try an ombre instead. You can leave the top part of the ombre your natural color and try any shade of blonde you want on the bottom.
Platinum blonde is one of the most beautiful shades in the world but achieving it on dark hair is hard. You'll need to go through the bleaching process. However, every effort is worth the breathtaking results.
Girls with brown eyes don't have to struggle to keep their blonde hairstyles perfect. In the modern world, showing dark roots is not a problem, it's a personal style. So allow yourself a couple of months between color touch-ups.
11. Sandy Blonde
Sandy blonde hairstyle is a wonderful choice for girls with brown eyes and light skin tones. If you have long locks, such hairstyle can look absolutely regal even if some dark roots are showing.
12. Caramel Blonde
Caramel blonde is one of the best choices for girls with brown hair. It matches the color of their eyes and doesn't make the maintenance too tedious. Meanwhile, this color is bright and appealing.
This blonde with brown eyes really knows how to wear her blonde balayage hair. Starting from her brown roots to the light blonde hair ends this hairstyle is great for everyday wear as well for special occasions.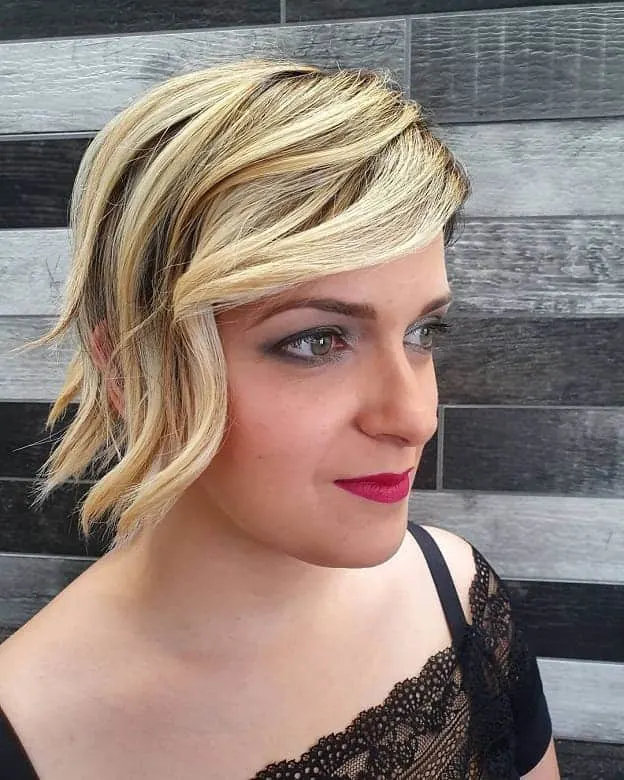 Pixie haircuts are perfect for brave and bold girls that like to show off their style. Blonde hair will highlight your brown eyes, as well as this lovely side pixie haircut. You can wear this hairstyle for many elegant occasions.
Sometimes it is best to go for something classy and already tested. Straight or ironed hair is still in style, so don't hesitate to wear it for multiple occasions. Blonde highlighted hair like this suits all ages and styles.
Platinum blonde hair looks perfect in combination with fair skin tone and brown eyes. However, short hair like this can be worn only by brave girls. Pixie haircuts really take courage to be worn, but once you try it, you won't be able to stop wearing it. So, here we can apply that saying: short hair – don't care!
17. Sun-kissed Balayage
Blonde hair looks even better in the summertime when you get a bit of a tan. It seems lighter and more beautiful, according to your sun-kissed skin. This blonde girl with brown eyes just adds a bit of eyeshadow on her eyelids and make this look complete.
Retro curls are always in style. No matter how old and which style you prefer, this hairstyle would suit you. These curls are great for special occasions – weddings, birthday parties, as well as all other kinds of celebrations.
Long and straight hair never goes out of style. This shade of blonde hair matches with your skin and your brown eyes. No matter where you go, this hairstyle will be one of those day-to-night ones that all girls adore to wear.
You don't need to have long hair to style it like this. A high bun with bangs is perfect for medium blonde hair and for girls with brown eyes. You can wear this hairstyle all day long – from market shop to the night out with friends.
Blonde highlights on dark blonde hair can look nothing but perfect. This length is convenient since it doesn't take much time to style it. Lobs are one of the most popular hairstyles among both girls and older women with brown hair who seek style and classic look. This hairstyle is great for everyday wear.
With brown roots and blonde hair, it is easy to style it however you want it. Every hairstyle will look amazing. These glamorous curls will suit blonde with brown eyes and make your outfits stunning for all kinds of elegant occasions.
23. Side waves
You can pick waves that you want and make them work for you. We suggest going for loose and messy waves if you have long hair, or tight waves if your hair length is medium.
Golden blonde hairstyles are great for summer wear. All that you need is a curling wand that makes these beautiful medium beach waves. This hairstyle is great for everyday wear as well as for beach or pool parties that last all day and night.
For a messy and chic look, comb your fringes or parts of your hair at one side. That is how you will achieve this messy-hair-don't-care look but still look very stylish and ready for all kinds of occasions. Girls with brown eyes and blonde hair can finish off this look with vivid eyeshadows and some neutral lipstick.
Extra Tips: What is the Best Makeup for Blonde Girls with Brown Eyes?
If you have brown eyes and naturally dark hair, you need to change the way you apply makeup once your mane turns blonde. If you have pale skin, you might have had to use bright lipstick and shades to have your features stand out.
Blonde hair has a way of focusing the attention on your facial features, which means you have to think about lighter shades of makeup. Switch your red lipstick for a pink one and dark blue shades for light ones. You also have to rethink your foundation. It doesn't have to be as dark as before. Too much bright makeup is not a good idea for a blonde girl.
These blonde hairstyles for women with brown eyes can be a wonderful choice for anyone who wants to try a new image. No matter what blonde shade you choose, it can surely make you look stunning.