Any woman looking for a fresh style that can make her look younger and is easy to style and maintain will want to consider a shaggy bob.
Bobs have been popular for a long time, but a shaggy bob haircut is a new take on a classic style. The end result is a fresh cut that looks natural and makes any woman look like she didn't try too hard in the morning.
How to Style Shaggy Bob
It's important to know how to correctly style a shaggy bob, or the end result will be messy and unkempt. Understanding what products to use as well as the right cut for your face shape is important, as every face shape will need a slightly different cut to highlight features.
This loose and rocking bob haircut works well on almost any type of hair, no matter how fine or thin it is, as long as there are ample layers scattered throughout to add a lot of texture.
Styling this bob is easy as long as plenty of volume is added to the roots of the hair with product and with backcombing. This messy look is best when it is a little unkempt, as the shaggy hair looks its best when it isn't too controlled or sleek.
1. Messy Shag with Bangs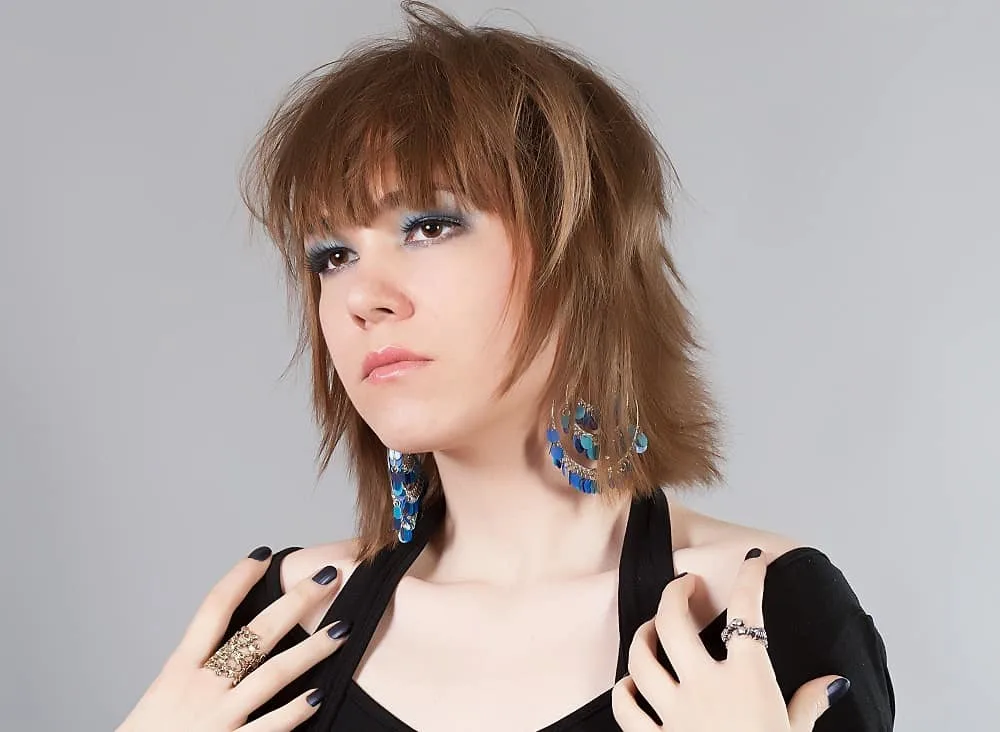 One of the coolest things about shaggy bobs is that the hairstyle is incredibly versatile, and it was adapted each time the trends changed. It is a hairdo that has its origins decades ago and somehow still manages to not only survive but also to still stand out.
2. Textured Shag
Such volume and dimension! Combining baby lights with an amazingly layered bob-shaggy hairstyle is going to turn heads. And it's not only the color that amazes us but also these deep waves that create such a fabulous structure. Also, let's not ignore those long and voluminously styled curtain bangs.
3. Curly Bob
Messy curly hairstyles are back in trends and we can't be happier about it. The collar-bone cut has both dimension and volume and a messy cute vibe. Also, consider going for a dark hair color because it will make your face look slimmer and will provide great face contour.
4. Purple Burgundy Bob
Express your creativity throw a hairstyle that features modern messy waves and a color that won't pass unnoticed. Keep your roots darker for better face contouring and to provide an alluring contrast between the two shades.
5. Taylor Swift Bob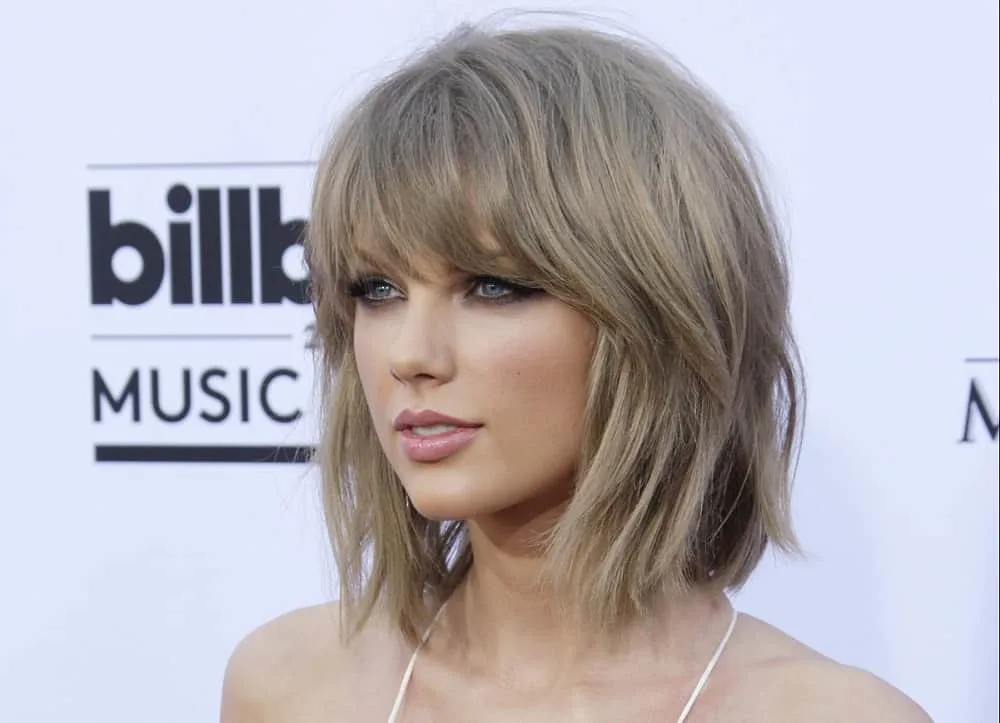 Even if at first glimpse the hairstyle looks common, we're sure that Taylor Swift has an army of hairstylists that helped her get this simple, yet sophisticated look. To recreate this iconic hairdo, go for a shaggy bob with bangs and an ashy blonde hair color that will make your eyes pop.
6. Mauve and Purple Bob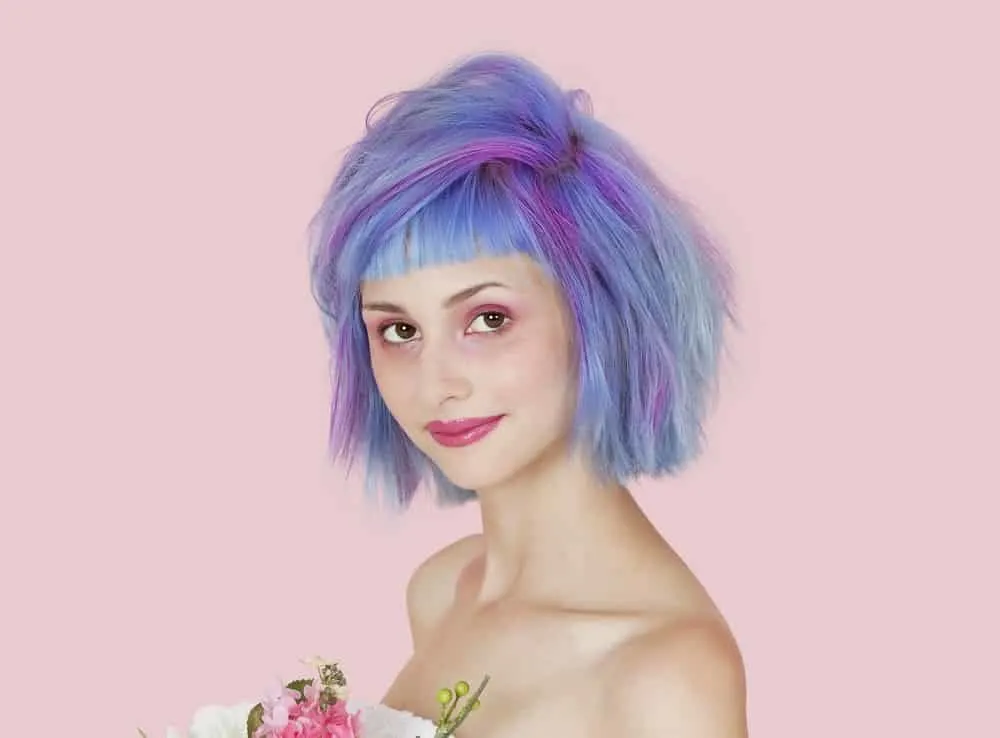 This shaggy bob hairstyle is so fun and appealing! It's one of a kind look because it features a mauve base color and stunning purple and teal highlights. And those short blunt bangs really catch your eyes. For more volume, tease the top strands and flip them to one side.
7. Blonde Balayage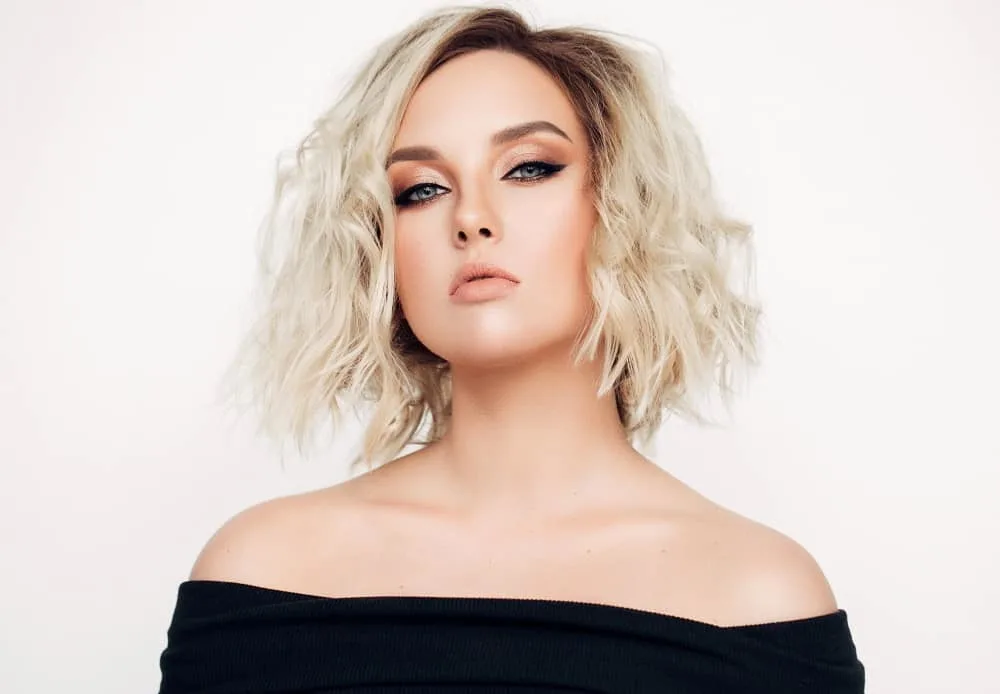 Those layers really have personality and give your whole bob hairstyle body and volume. This shaggy bob has uneven length and the waves are carelessly styled, while the top is flipped to the side. This way, it's building more volume for the crown area.
8. Pale Mauve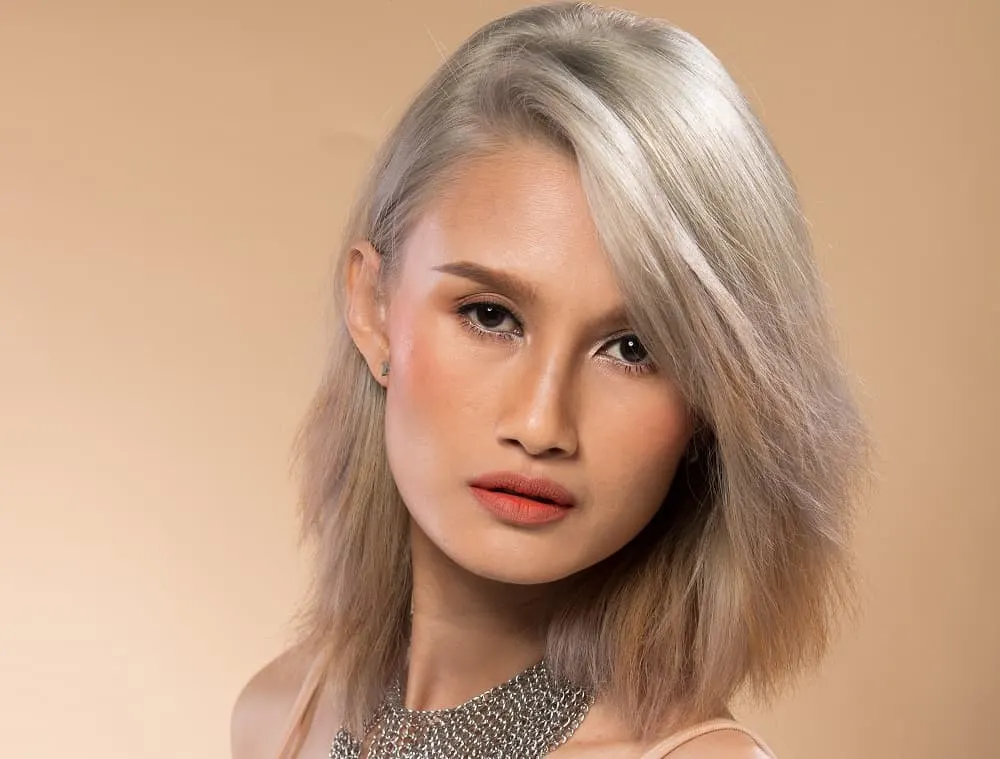 If you want to get a touch of color, you don't have to fully dive in. Picking an intermediate nuance that works just well with your base nuance, a sandy blonde is the best way to create this illusion. Opt for a pale mauve nuance and get ready to receive some compliments.
9. Pink Curls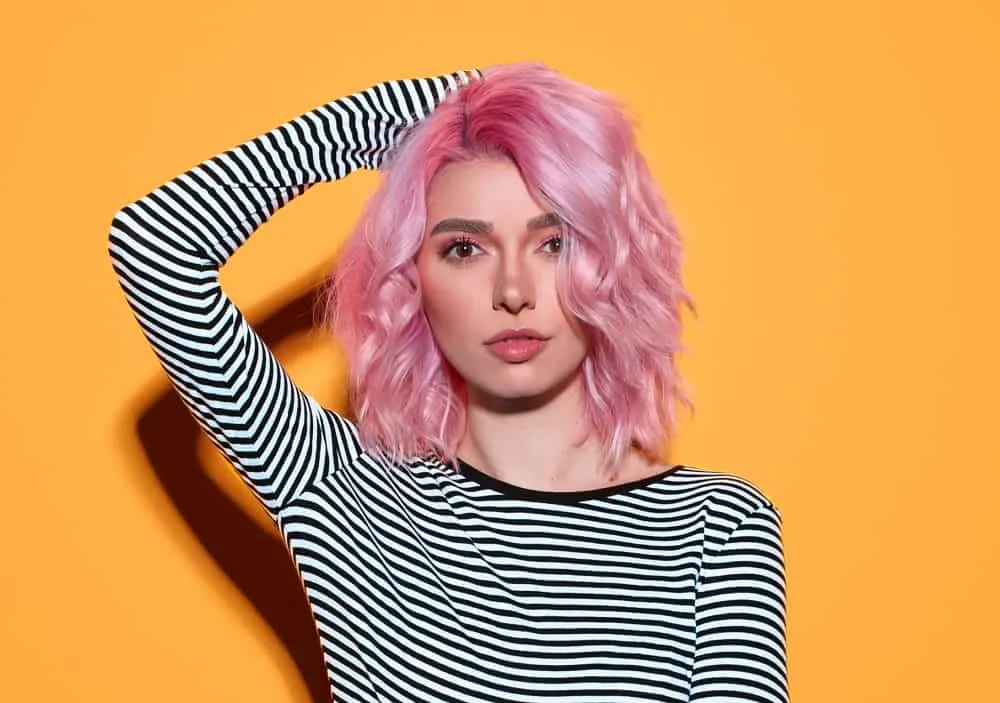 If you have fair skin with pink undertones, you're certainly going to look fabulous, especially if you pick a less intense pink color for your tresses. The shaggy hairstyle will add more value to your colored layers, making them beautifully blend and fall over each other.
10. Messy Shag
This interpretation of shag is a more traditional one as it mixes so many legths, layers and combines them in an outstanding hairdo. Those wispy baby bangs reveal the face and give the hairstyle a modern touch, while the back is more of a retro cut.
11. Short Shaggy Bob
Unkempt strands are not always a bad thing, and the short shaggy bobs provide the best examples. Layers also play an essential role, and thanks to this tousled wavy hair, you can obtain the volume you always craved for.
12. Shaggy Long Bob
Those layers are scattered all over the head, and they are so well defined. Even if it seems a little messy, the strands were previously straightened with an iron. If you want to get all the attention, consider dyeing your tips and bangs in an electric green color.
13. Medium Shaggy Bob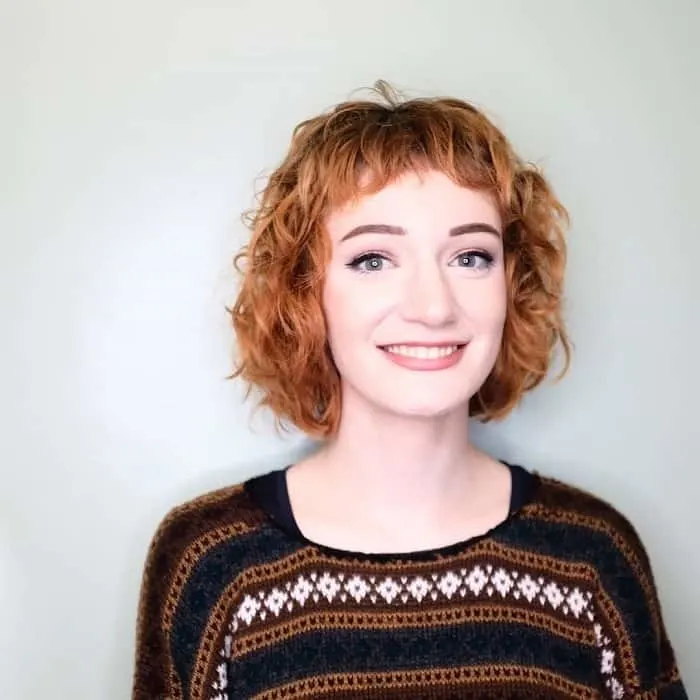 Shaggy bobs work so well on curly or wavy hair mainly because they can provide volume and texture to the locks. The hairstyle has a messy look and is beautifully teamed with short bangs and a pale ginger color.
14. Shaggy Layered Bob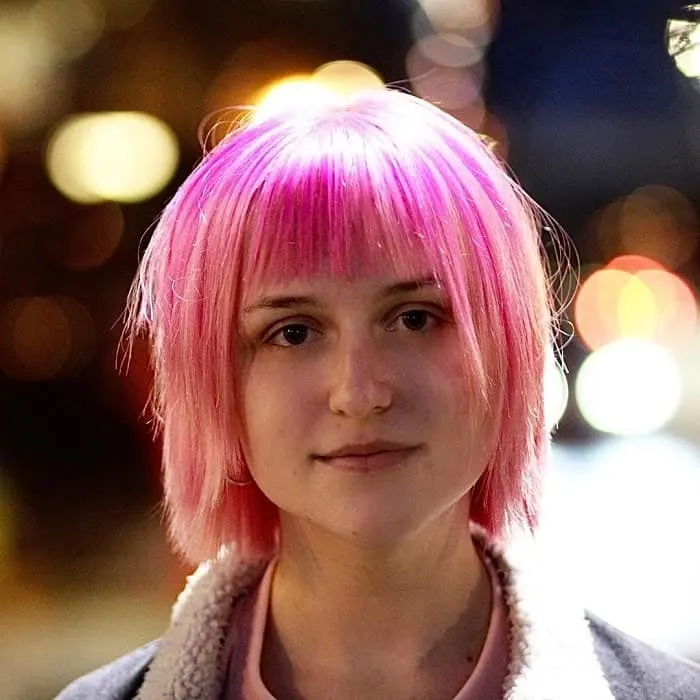 Do you want to stand out in any crowd? Here is the best idea to reach your goal! Dye your hair in electric pink, trim your bangs short, choppy, just above your eyebrows, and build loads of layers. Use a straightening iron to define each lock of hair.
15. Shaggy Bob with Undercut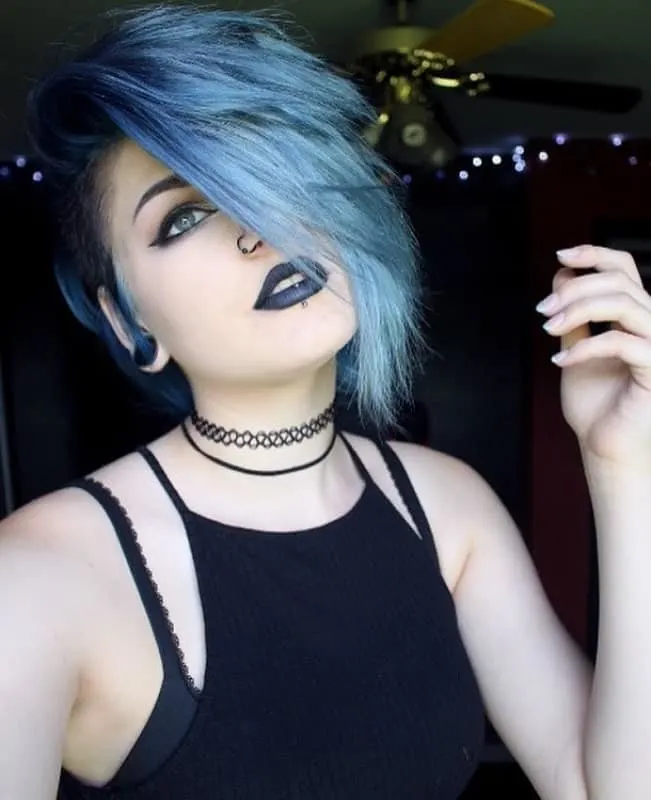 Shaggy bobs are pretty versatile because you can style them in so many surprising ways. First, if you want to pull off a gothic look like the one presented above, start by dyeing the hair into a blue ombre.
The next step is to use a trimming machine to create an undercut for one side. Choppy ends are the main key in developing this shaggy hairstyle.
16. Razor Cut Shaggy Bob
One of the best ways to obtain these well-defined edges is to use a razor for trimming. A grain blonde hair color is ideal, and it will gorgeously team up with middle-parted bangs. Tousle your hair, and you'll get a distinctive gorgeous hairdo.
17. Shaggy Bob for Fine Hair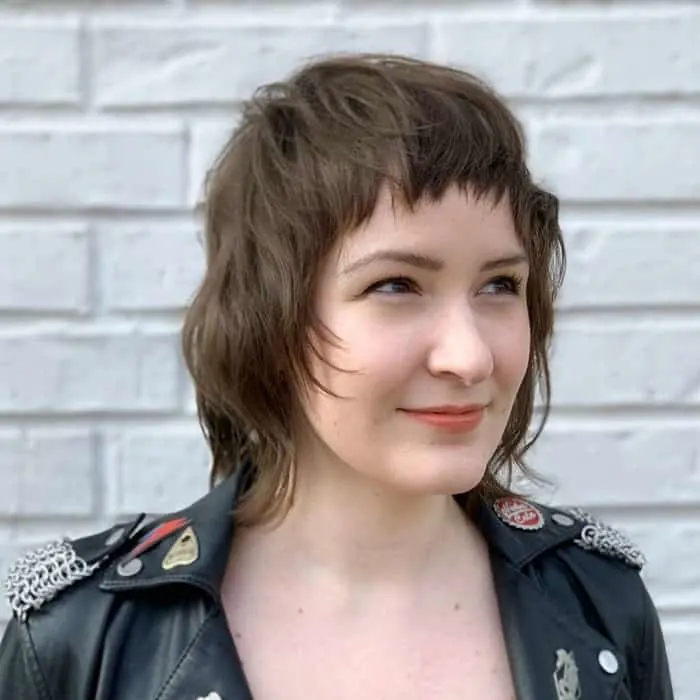 Even if you have fine hair, this shouldn't stop you from getting a fantastic shaggy bob. Baby bangs are ideal when trying to obtain these shaggy bangs. Also, layering the locks is a pretty important step that will be your passport to a marvelous messy look.
18. Shaggy Thick Bob
A shaggy bob for thick hair will not only give the mane volume but also help you express your personality. You can get everybody's admiration with some pale green strands in the middle of your bangs and sideburns.
19. Curly Shaggy Bob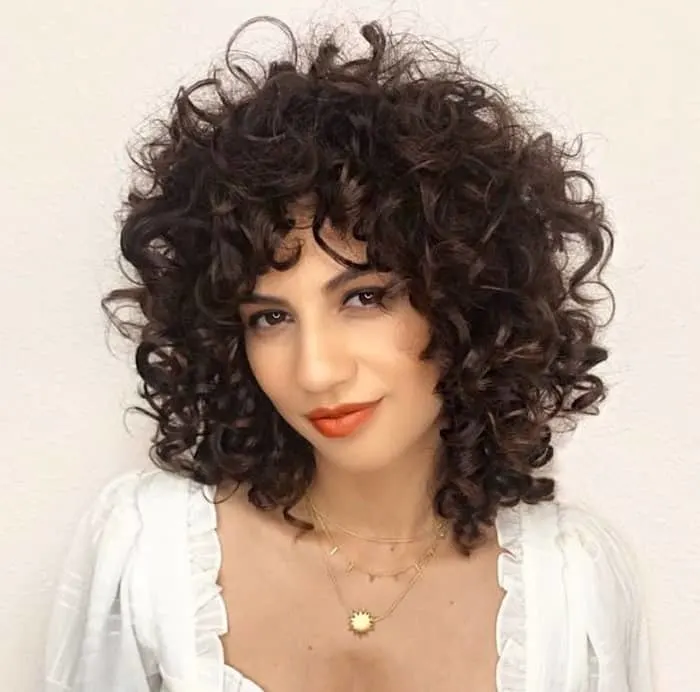 Curly hair makes a fabulous pair with a shaggy hairdo, and all you have to do is to create layers that keep your ringlets bouncy. Also, bangs that cover your forehead can be a real plus to your look. To maintain your curls shape all day, use a strong hair spray.
20. Wavy Shaggy Bob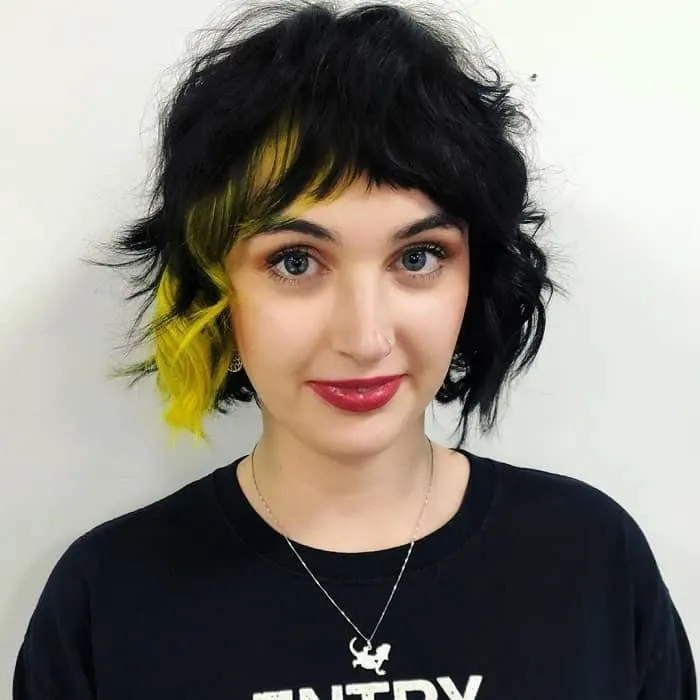 Take your shaggy bob haircut to the next stage with a futuristic look like this one. Opt for uneven short bangs and a wide electric yellow strand on one side that will beautifully blend with the rest of your hair. To give it value and dimension, make some loose waves.
21. Shaggy Inverted Bob
Inverted shaggy bob hairstyles are ideal when you want to obtain loads of volume and textured hair. Combining your natural hair color with long purple ends for the bangs and front strands will get you that gorgeous full effect. Also, consider making some loose waves.
22. Shaggy Angled Bob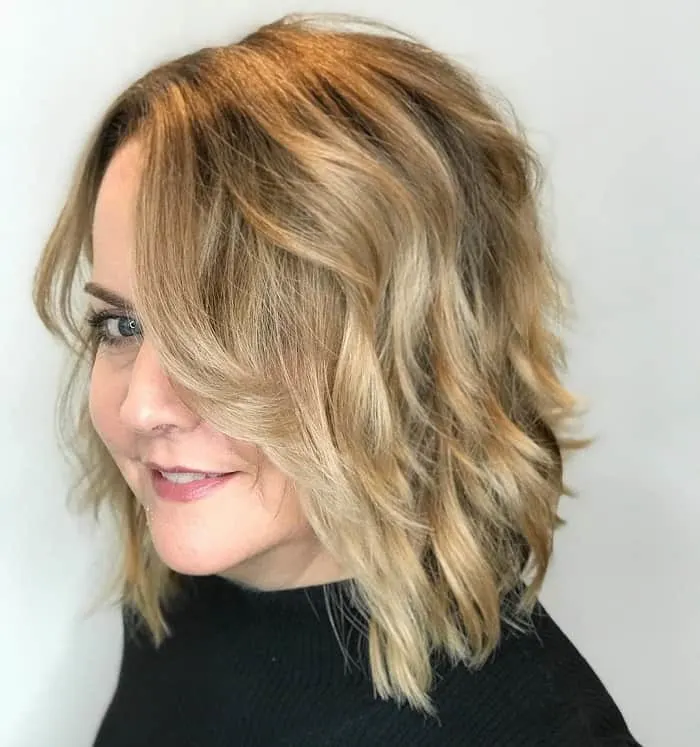 When you have pale skin, a grain hair color will perfectly suit you. Angled shaggy bobs make a real A team with layers, waves, and gradually trimmed bangs that are styled on one side. Remember that for this type of bob the cut must be above the shoulders.
23. Chin Length Shaggy Bob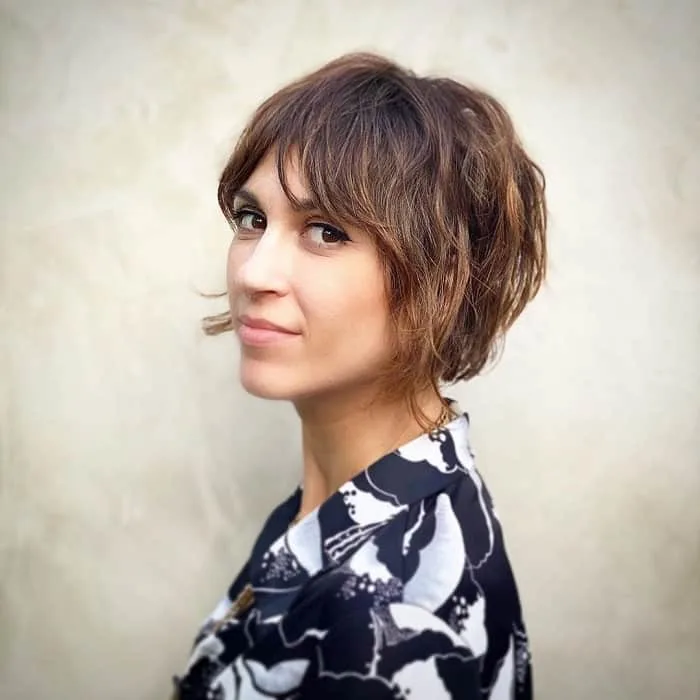 Short hair can be so damn hot and can make any girl feel sassy and sexy! The best example is the chin-length shaggy bob you can see above. Bangs are middle-parted, and some longer strands amazingly blend with the short hair. Also, create some highlights to obtain that gorgeous texture.
24. Asymmetrical Shaggy Bob
Asymmetrical shaggy bob hairdos are modern, cool and can be pulled off by any bold woman who is not afraid to show off her bubbly personality. A haircut that features a ginger color and bangs that cover the forehead will look spectacular for girls with pale skin.
25. Messy Shaggy Bob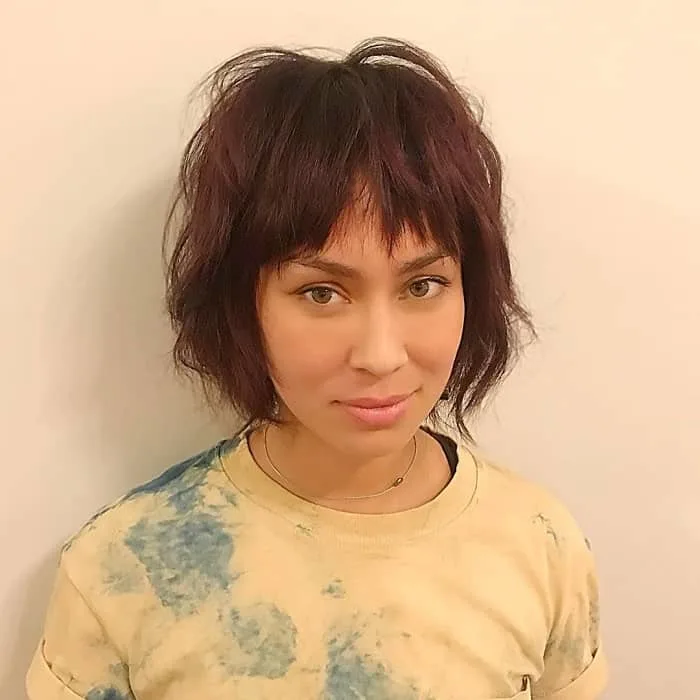 This messy shaggy bob provides tons of volumes for the crown and it's all thanks to those layers and a little tousle. Also, the ends of the hair are feathered, and they mesmerizingly fall one on each other.
26. Shaggy Blunt Cut Bob
A platinum ashy blonde hair color looks so eye-popping and if you recreate that stunning texture, the hair will have a fabulous touch! Get a blunt cut for the ends, but build loads of layers to get that rich top hair. Split the bangs in the middle and feather them.
27. Inverted Shaggy Bob
An inverted bob is a fun style that falls gracefully around the chin and the face, resulting in a look that is unique. It's perfect for women who have angular faces and want to add some softness to their look without detracting from their overall beauty. An inverted short shaggy bob is easy to style and allows the woman wearing the cut to add as much or as little volume as desired.
Adding layers to this cut prevents it from falling flat and from looking droopy or neglected. With perfectly placed layers, a chin-length bob looks unique and has a lot of movement to it. Another great way to add interest to this cut is through highlights and lowlights, which will make the shaggy bob hairstyle look like it has a lot more depth to it.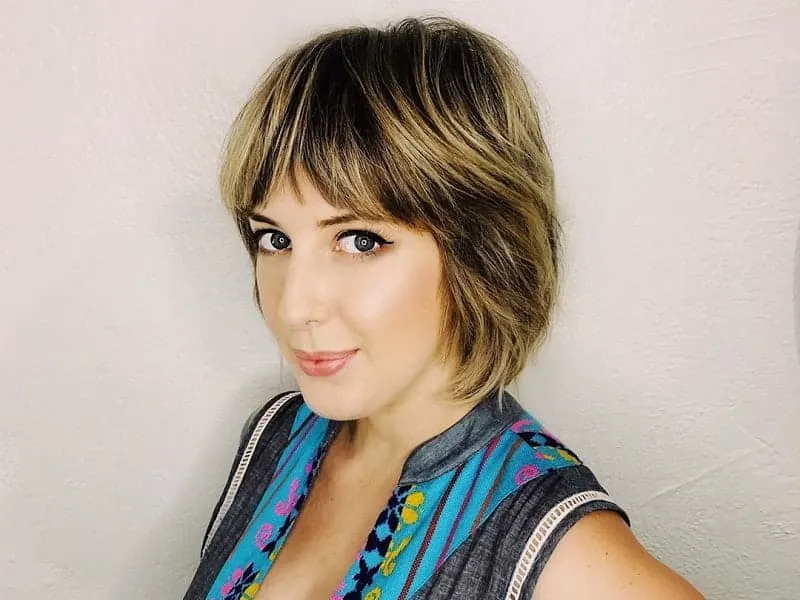 Women who have a lot of hair that tends to hang heavy around the face will want to consider whether or not bangs are a good option for them. Bangs are a great way to break up the heaviness of longer and thicker hair and are a great choice for women who have a medium shaggy bob. The stylist needs to make sure that the bangs are layered as well, or they will appear much too blunt.
Sweeping bangs to the side of the face allows them to frame the face and draw attention to the eyes without being too harsh. Longer bangs pair very well with a shaggy longer or medium bob and help to even out the length of this style.
29. Shaggy Bob for Round Face
Women who have a rounder face can still have this shaggy bob as long as it is cut correctly and fits with their face shape. Longer hair can easily weigh down some women who have rounder faces, making them appear chubbier than they actually are. Keeping the hair shorter and above the shoulders adds length without a lot of weight.
These balayage bobs can be worn sleeker and smoother or a bit messier, giving women a lot of control when choosing their hair. No matter how the hair is worn, this cut helps give women who have a rounder face the appearance of a thinner and more refined look.
Choppy bobs have a lot of texture, thanks to multiple layers being expertly layered and cut throughout the hair. While this looks great for long hair, it really shines when used as a short shaggy bob. Choppy hair is great for women who don't mind their hair appearing a little mussed and messy and are ok with their hair not being overly done.
Choppy and messy bobs look better than ones where all of the strands lay perfectly in place, which can be boring and look too perfect. Rather than blow-drying hair to perfection and allowing all strands to rest in the right spot, using products and a hairdryer to mess up the hair and piece it out a little helps create a choppier look. Scrunching wet hair with products is a great way to achieve this style.
With so many options to choose from when cutting hair into a shaggy bob, it's easy to see how any woman can easily choose the length cut that will work best with her face. Since they are so easy to style in the morning, they work great for women who want a fresh look without a lot of trouble.