Any woman looking for a fresh style that can make her look younger and is easy to style and maintain will want to consider a shaggy bob.
Bobs have been popular for a long time, but a shaggy bob haircut is a new take on a classic style. The end result is a fresh cut that looks natural and makes any woman look like she didn't try too hard in the morning.
How to Style Shaggy Bob Haircuts
It's important to know how to correctly style a shaggy bob, or the end result will be messy and unkempt. Understanding what products to use as well as the right cut for your face shape is important, as every face shape will need a slightly different cut to highlight features.
This loose and rocking bob haircut works well on almost any type of hair, no matter how fine or thin it is, as long as there are ample layers scattered throughout to add a lot of texture.
Styling this bob is easy as long as plenty of volumes is added to the roots of the hair with product and with backcombing. This messy look is best when it is a little unkempt, as the shaggy hair looks its best when it isn't too controlled or sleek.
1. Short Shaggy Bob
2. Shaggy Long Bob
3. Medium Shaggy Bob
4. Shaggy Layered Bob
5. Shaggy Bob with Undercut
6. Razor Cut Shaggy Bob
7. Shaggy Bob for Fine Hair
8. Shaggy Thick Bob
9. Curly Shaggy Bob
10. Wavy Shaggy Bob
11. Shaggy Inverted Bob
12. Shaggy Angled Bob
13. Chin Length Shaggy Bob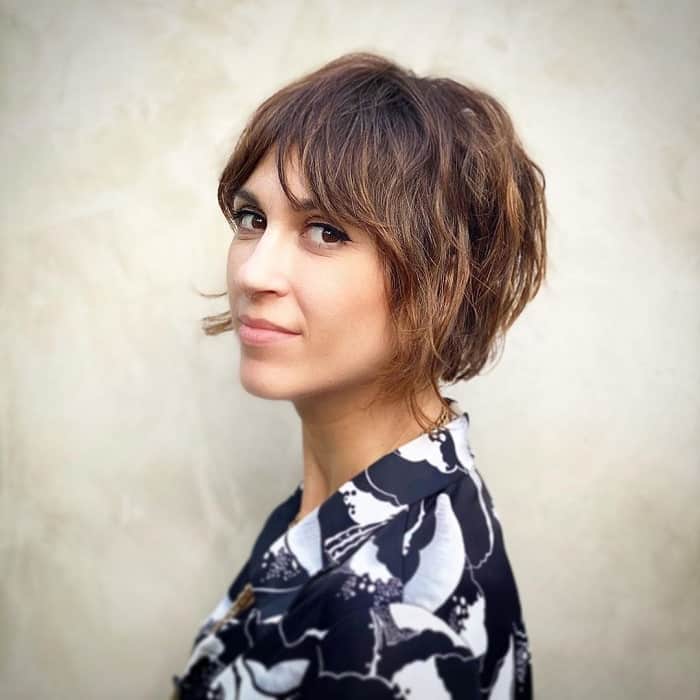 14. Asymmetrical Shaggy Bob
15. Messy Shaggy Bob
16. Shaggy Blunt Cut Bob
17. Inverted Shaggy Bob
An inverted bob is a fun style that falls gracefully around the chin and the face, resulting in a look that is unique. It's perfect for women who have angular faces and want to add some softness to their look without detracting from their overall beauty. An inverted short shaggy bob is easy to style and allows the woman wearing the cut to add as much or as little volume as desired.
Adding layers to this cut prevents it from falling flat and from looking droopy or neglected. With perfectly placed layers, a chin-length bob looks unique and has a lot of movement to it. Another great way to add interest to this cut is through highlights and lowlights, which will make the shaggy bob hairstyle look like it has a lot more depth to it.
Women who have a lot of hair that tends to hang heavy around the face will want to consider whether or not bangs are a good option for them. Bangs are a great way to break up the heaviness of longer and thicker hair and are a great choice for women who have a medium shaggy bob. The stylist needs to make sure that the bangs are layered as well, or they will appear much too blunt.
Sweeping bangs to the side of the face allows them to frame the face and draw attention to the eyes without being too harsh. Longer bangs pair very well with a shaggy longer or medium bob and help to even out the length of this style.
19. Shaggy Bob for Round Face
Women who have a rounder face can still have this shaggy bob as long as it is cut correctly and fits with their face shape. Longer hair can easily weigh down some women who have rounder faces, making them appear chubbier than they actually are. Keeping the hair shorter and above the shoulders adds length without a lot of weight.
These balayage bobs can be worn sleeker and smoother or a bit messier, giving women a lot of control when choosing their hair. No matter how the hair is worn, this cut helps give women who have a rounder face the appearance of a thinner and more refined look.
Choppy bobs have a lot of texture, thanks to multiple layers being expertly layered and cut throughout the hair. While this looks great for long hair, it really shines when used as a short shaggy bob. Choppy hair is great for women who don't mind their hair appearing a little mussed and messy and are ok with their hair not being overly done.
Choppy and messy bobs look better than ones where all of the strands lay perfectly in place, which can be boring and look too perfect. Rather than blow-drying hair to perfection and allowing all strands to rest in the right spot, using products and a hairdryer to mess up the hair and piece it out a little helps create a choppier look. Scrunching wet hair with products is a great way to achieve this style.
With so many options to choose from when cutting hair into a shaggy bob, it's easy to see how any woman can easily choose the length cut that will work best with her face. Since they are so easy to style in the morning, they work great for women who want a fresh look without a lot of trouble.