It can be difficult for many short-haired women with dark brown hair to know how they can pick a suitable hairstyle and look stunning.
Trendiest Short Dark Brown Hairstyles
If you have short hair and want to look fabulous with dark brown hair, have a look at the below hairstyles.
An angled bob is a great look on most women. This is a bit longer than other short styles, which is great for women who aren't ready to commit to a really short haircut.
The front of the style is kept longer than the back is, which gives the hair a lot of movement and interest. It can easily be tucked behind the ears to keep it out of the face.
Tiny bangs are striking on women who are confident enough to wear them, especially when they are paired with a straight bob.
This is a great look for any woman with dark brown hair who wants to have bangs, but doesn't want to have to deal with them constantly getting in the way. They require regular trims to look their best and need to be kept perfectly straight for a chic look.
Waves are a great way to enhance short hairstyle and ensure that a woman really looks the best that she can. This slightly longer bob has a lot of movement.
These waves also add depth to the cut, which is great for women who aren't interested in highlights. A strong middle part really helps to tie the look together.
Short hair looks great when allowed to curl slightly. If the hair is naturally dark brown color and really straight, then it's easy enough to curl it with a curling iron, which will give the hair a bit of movement and interest.
This is a great option for women who are in a hurry and want something that can look great even if it is a bit messy.
5. Short and Sassy on Top
Short hair looks great when it's used to define the face. This pixie bob cut features shorter sides and a longer top, which is then allowed to swoop and fall dramatically across the forehead, if desired.
The end result is attractive and sassy, making it a wonderful choice for incredibly bold women who want to stand out in a crowd.
This short dark brown hair with highlights looks so sassy. Adding some lighter highlights is a great way to break up the monotony of darker hair without making the hair too light.
This is also a fun way for women to play with their hair and give it a little additional personality, which can make them stand out.
Short hair doesn't have to be incredibly short, as this long curly bob shows. The thing that sets this cut and style apart from other similar options is that the hair is then curled at the ends, which adds volume and movement.
This is a wonderful way to ensure that the darker shade of brown hair looks unique and a fun twist on a traditional bob, which prevents boredom.
A short and shaggy style is really sweet on women who want to show off their faces. This cut is a lot of fun as it can easily be styled in a number of different ways, depending on the woman's mood.
Adding a bit of product and messing up the hair makes it look different from day to day, which can help a woman easily express herself.
9. Brushed Back From the Face
Brushing short hair back from the face is a wonderful way to keep it out of the way during the day.
This dark brown medium bob is an ideal hairstyle for any working woman or student who is more focused on the tasks at hand and less on what her hair is doing during the day. The hair can easily be pinned back or tucked behind the ear, if desired.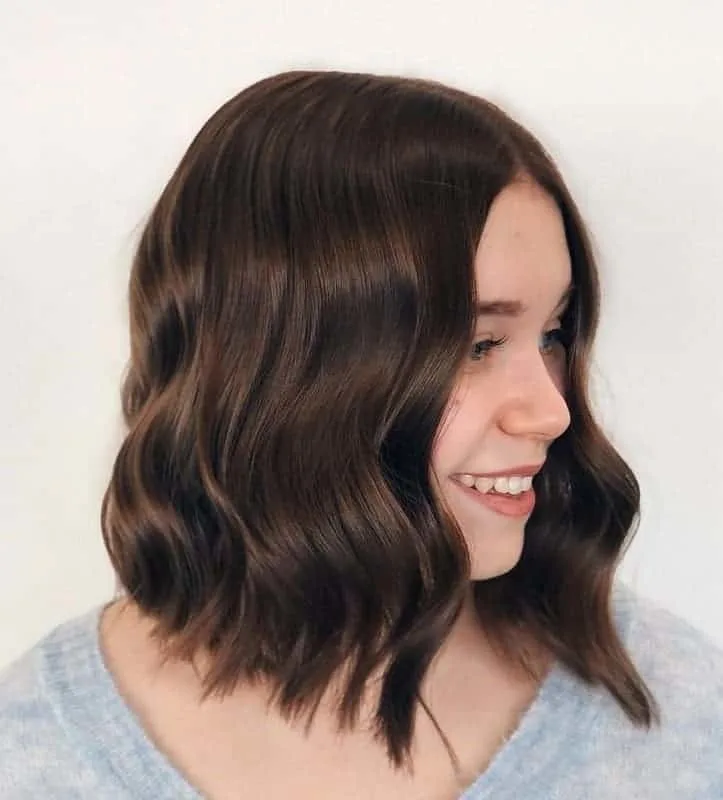 Wavy brown hair looks simple and attractive, which is why this bob cut is such a great style for women to consider. The tips of the hair are left a bit messy, which adds some interest to the cut and keeps it from looking perfect all the time.
Any of these incredible 10 short dark brown hairstyle ideas are sure to make a woman look and feel her best and will inspire any woman to change up her personal style.